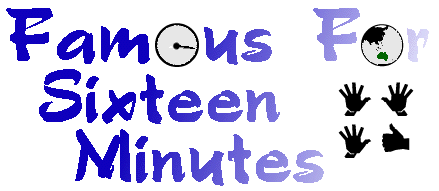 The Life and Times of Peter Green
Archive: 7 April - 20 April 2003
---
April 7th
Well Grays Auction is on, Mushroom,... and I think it's the Murdochs, are getting rid of all these Gold records. I noticed a Split Enz Gold Dizrythmia from New Zealand, and from memory that is the first Gold record the Enz received, so I thought we should get it for the collection. The Auction is tomorrow so I am staying "Mum" about it in case fans push up the prices. See I can keep the odd secret.....well! Some times I just have to do it for the archives.

The White Stripes enter the Australian charts at #4- nice debut, with their album ELEPHANT. I love this album, it's my album of the week- great sound, should suggest the Stripes engineer to the Finn Bros.

Our mate Nathan who managed the Enz for many years and made me laugh a lot, is on the board of Vic Music. It's a good thing to support, and they are trying to keep the live scene active....especially in the week where the Empress Hotel is forced to cut live acts out because of "noise complaints". Anyway support Vic Music...and check out their site. If you are a Victoria Musician and I am sure MANY of you are...see if you can play an active part.
http://www.vicmusic.com/

Hmm chart wise (Mondays are Aria chart days here) our Ex Bardot Sophie Monk debuted at #11 with her 2nd single, GET THE MUSIC ON. What not top 10 (tisk tisk) I'm sure our friends at Warner will be pushing it this week to climb that extra spot. Expect to see David Caprice in many different disguises buying copies (that's a joke...meow!). Seriously it will be interesting to see how this goes and the usual run of In store signings will be the thing that will make it work. I noticed Sophie's one Instore in South Australia sold enough to make it 31 in S.A. Meanwhile it's #20 in Victoria and #38 in W.A. which is far more realistic. Still if she is happy to do that then good luck to the girl- her success can only help the other Bardots.

Before we forget Happy Birthday Astro Boy-Osamu Tezuka who created A.B. in 1950 gave this date as Astro Boys birthdate. Strangely enough they showed some new robots on TV tonight that have VERY fluid movements...old Osamu might of been close...but really Prince Planet craps all over Astro.... that "P" medallion always did it for me...has to be "P" for Peter I always though (hey I was only 6).


---
April 8th
Happy birthday dear Elf..give the girl a card at Babble, 31 one today.... I did look for a book on elves but no luck- so I bought her breaky.

Our mate Bic Runga wins Producer of the Year..one F/16 reader pointed out that she thinks I might be in lurve with Miss Bic...nah she's a mate, don't sleep with your friends (well sometimes) it rarely works out. I just dig her and kind of proud of her. Just Bic , a guitar and her songs makes my world a better place, so to see her Win Producer at the NZ Music Awards (on late April) is great. Hell just seeing a woman get amongst that mans world of producers is good. Is it 6 other nominations for and around BEAUTIFUL COLLISION. If you don't own this CD yet take a punt it's worth it.

Rather happy, we ended up with the N.Z. Gold Dizrythmia award, price wasn't too bad and I did feel weird having to buy an Enz Gold record but it's a good slice of history. Some frantic bidding, the Skyhooks stuff went for high prices- I'm over-joyed with my One Million albums sold for the 'Hooks so I didn't bother too much. I wonder if Greg Mac. got the Gold Bad Company award for his brother?

Have a chat to Nigel and I think his "Codges Tale" will be part of our "Letters to my frenz.." Enz book due out at Christmas.


---
April 9th
Had to help a friend in need so missed Christine White's art launch, one of those things. Andy will understand.

Fave things list I think.

Fave CD-White Stripes- Elephant

Fave Food- slurpy Autumn Pears.

Fave person- at the moment it's Tim Finn, he has been great. Jayne comes a close second for her kindness around SFX...it does make my day (honestly..she never believes me).

Fave DVD- The Godfather. Yep the first movie, Hollywood doesn't make movies like this anymore..and it should.

Most hated things- Soldiers in the war telling locals they had to pay for water....kids playing with bombs, kids with no limbs. The American flag draped over Iraq monuments. Fox News teams- what dickheads...so blindly patriotic I want to puke.

Good things- Saddam gone (hopefully), POW's rescued-especially happy for their families,the Melbourne Sun newspaper for hounding people in Iraq to get that boy with no limbs to a hospital in Saudi.

Fave clothing- Someone on Chapel street with a "So where are the weapons of mass destruction" Tshirt ..and the girl next to him with "Books not War"... maybe Rocket Pocket Books should sell those!! Good point where ARE the weapons of mass destruction...I'm sure some will turn up eventually, after all America can spare some of theirs!!! Funny if the main point of the War didn't exist.


---
April 10th
Four Italian Nuns in the town of Bergaine sideswiped another vehicle with their Citreon and quickly fled the scene.... cool - bad Nuns!

Jim Tulloch-World Health Organisation.
'There is no acceptable level of civilian casualties. They are made up of individuals, children who have third degree burns, children who have had to have their limbs amputated and will never walk again, pregnant woman who are having miscarriages."

He's right, one thing that did freak me out was the huge amount of kids who had to have their limbs amputated without any aesthetic simply because there wasn't any...imagine the pain, truly horrible. Poor buggers.

In the paper today..."Peace, but not at any price".
E. Marsh (age 97) Essendon Victoria.

Happy Birthday to dutch Deb who turned a wonderful 32 today. Chalk up another Babble breaky....and being dutch we had to buy her a Tulip birthday card! Do you know how hard Tulip birthday cards are to find!!!!

Big envelope arrives at the office, oh VERY cool- special invites to the opening night of Xmen 2. A few days before we head off on the road trip, can't wait for this movie, I loved the first Xmen release. Hugh Jackman is brilliant...and any movie with Picard in it...opps Patrick Stewart (sorry)... should be good.


---
April 11th
Bic has been in the studio in Melbourne with her friend Tim Guy. At least Tim emailed me his surname as I kept saying that "guy Tim" (well I was close ...Tim guy). Sounds like they worked long hours on songs etc.

I asked Sony to remove the Aussie release date for "Something Good" off their site as it says March 24th and fans keep emailing me when this 2nd Bic single is out. It now doesn't have a date for here...not sure what's happening.

Mark spots the "Painted Lady" Vali Myers doco. and it's on SBS not ABC as I originally thought. It's on at 2.30 in the afternoon on SBS- Sat. April 19th. Vali shows off some art, does some serious dancing and is in high spirits, just like I remember her.


---
April 12th
Heard from the Pansy Division boys- their new album is TOTAL ENTERTAINMENT and released in the States August 12th. I love the Pansy Division boys, they truly rock, occasionally shock and are in your face hard pop that occasionally gets Punkafied and takes it hard(!!!). Go P.D.'s hope they return to Oz soon.

Oh there is no such word as Punkafied...well there is now.

Eddie Rayner emails me his track title...for the I Like It Rare II CD, it's called "SMD" at this stage..don't even ask...thanks Ed!!!

Today must be Gay day on the F/16 site, Pansy Division and now Richard Morrisons art show at Samuel Gallery (Malthouse). Runs from ...oh I've forgotten..but the show is on now. The Gallery is on Fitzroy Street, Richard does some good work, some times... like Pansy Division- Punkafied, In the face and a bit of cock and shock. Yieks!

Isabelle from France sends me some very cool "advance" birthday presents, a wonderful old Rolling Stones LP with a brilliant gatefold as only the French can do. I love this French product, I will accept it, I will not protest and reject it.......*grin*...cool Isabelle, and the French magazine is hot!

All I can say is GO Great Sasuke!!!! The Great Sasuke is a masked Japanese wrestler who won his local assembly elections. The mask stays on in Parliament. Move over Kiss-Sasuke is in town. I've always thought our PM John Howard should wear something on his face- yes readers you know me too well- MY BUTT!


---
April 13th
I see the media got trapped by our Ex Premier- Jeff Kennett, says he might get back into politics- yeah Jeff like that will happen. Who was it that penned Ego is not a dirty word.....! Get over it man, I know the Victorian Liberal Party doesn't have a leader (just a sock puppet) but does he really think they will welcome him back...dignity..someone give Jeff a job.

Bills bills go away...I'll hide you on my shelf today!

It's Sunday- avoid the world....I must of got up to some trouble..what did I do today. I filled the Compost bin with leaves.... I cuddled with the bunny read some travel books for the trip...got excited about swimming in the underwater lake (thanks Deb Holland)....I think I had SEX....ok I did. After all it's not something one forgets.

Is it just me or do other people get a large amount of "make your Penis even bigger" Spam mail....I get 3 or 5 of those a day... I am good, I forward them onto several of our male buddies who may take up the offer. So weird, every day....do they think one day some one will wake up and go....Oh I'm bored.... time for a Penis enlargement...and how do you not tell your partner about that one....it's not like blowing the milk money on the Mabeleine lipstick just for the picture of Buffy on the box...do you think they won't notice those extra 3 inches....what a weird world... what a strange Sunday. I truly hope I can report that yes indeed one of our artists has had an extra 3 inches added..now that would be a GREAT Press Release for me to do!!!! Maybe Jeff Kennett can run his future election around this... no GST on Penis extensions! Am I waffling? I am ok.....too much coffee.


---
April 14th
Our current Federal Government is the highest taxing government in Australia's history. They collect an extra $31 BILLION a year in hidden taxes (medicare, milk, sugar ,petrol,plane tickets etc). It also breaks John Howards promise that 80% of tax payers would pay 30c in every dollar (or less) on their Tax- that's what he promised last election. The average is currently 42c in every dollar.

Recycle plastic bags today, the recycle box at the Supermarket was nearly empty, hopefully that means that people are just saying no to plastic and not just being slack. Recycling feels good.

I really like the new Hutchison-Telecom #3 network that has those cool 3G video mobile phones, so you can see who you are chatting to. Italy and parts f the U.K. are the only other places that have this network. Bring it on..I want to dress up in disguises and call our friends.

Welcome home Skipper!!! From Gilligan and Mrs Howell.

Lovely Mis Mac sends in my Tax...I am almost up to date...I think that's another Elvis DVD winging it's way to her (: All Tax paid and out of the way...thanks Robin.


---
April 15th
U.S. military tried to stop the media from covering a protest in Baghdad by Iraq's at the Palestine Hotel-Iraq's were angry over the Coalitions failure to restore order and basic commodities like power and water. Plus the lack of the military to try and stop looting probably pissed a few shop keepers off.

Bruce Springstein's Aussie tour lost $1.7 million-the first time a tour by the Boss has lost money. This sent Jaconsen Entertainment shares (who are the promoters), dropping to it's lowest price on the stock market. 20.5c per share. Even our earth Sanctuary shares are worth more. 21c!!!

More protests, this time 6000 Iraq's in the streets of Nasiriyah saying they wanted to rule themselves. "No to America, No to Saddam". American troops killing several civilians in a crowd after someone took some shots at one of their troops, 9 or 10 Iraq citizens were killed who had nothing to do with it, and from reports the shooter escaped. It doesn't sound very promising. Today there was excitement as they thought they found a factory that made chemical weapons, several senior people jumped the gun and said " see we did find some weapons of mass destruction". It ended up being an Iraq company that makes toiletries like bath powders. See it could of been a clean War after all!!!!!!!!!!!!

Heard Colin Powell giving a speech today and I do like him ,one of the few U.S. officials around this War that isn't a tosser- Powell should be president... *grin*


---
April 16th
How great is "The Life Of Mammals" show...!

Saw our Ex Bardot girl Sophie Monks upcoming solo album artwork and it's really bad- who designed this ...crap cover.

Poor old Rocket Pocket Books website, has three times the amount of hits then it usually gets and just couldn't take any more...a few people emailed me that they couldn't get on as it was busy most of the day. We had a lot of people ordering WINGS OFF FLIES and GLAMOUR from the site. Think we will have to take up Kate and Andrews offer as far as the hosting goes, FREE is great but for RPB it gets a bit crazy when the site is busy.

http://www.rocketpocketbooks.com

Mark just found a flyer from a 1979 concert that we attended...the line up was Mental as Anything, The Radiators, The Aliens, Jo Jo Zep and the Falcons, The Sports and Cold Chisel.....the price was $4.00! Yes FOUR dollars, Cold Chisel's price for the upcoming Hordern Pavillion show is close to $100. Inflation or what. Two of our friends that went to that show with us- Jen and Merelyn arrive in Melbourne tomorrow and are staying at our place for a few days, will be fun.


---
April 17th
Call in to see Dr Beng for my tetanus shot, and after waiting for awhile and reading about natural cures from tree's in the Amazon...Dr Beng told me he already gave me a shot when we went to Peru so I'm covered for the next 8 years...great- no spikey needles in my arms. No problem.

Get home in time to greet Jen and Merl. It was a fun few days, and we all still get along like it was yesterday. Rosemaree and Tania call by so we decide to go down to the OLIVE for some food. Matty is still working at BABBLE and comes out and says HI. Jackie is STILL at Babble, has she been their all day?

Jurate is in Greville Books dusting, her massive Book sale is on this weekend, so loads of book bargains at Greville street Bookstore. There is a new Marc Bolan book in the window...I am tempted.

A new girl at the OLIVE spills my drink on Rosemaree and her tartan terror skirt shrinks to the next size. Food was good, and we get our usual spot.

Call by Blockbuster and get a DVD copy of SIGNS.

It's just not a very scary movie, the hype around this is so extreme and it's worth while watching the trailer as that's the only scary stuff. Average at best. Pop some champagne. Not much sleep.


---
April 18th
Happy Easter Christians.
Happy Ostara Pagans
Chocolate pig out for the rest of you.

Thankfully Mum broke open her Easter egg that I hid $20 inside of. It had to rejoin the egg back together, and she dug the "Lady sings the Blues" CD. Sis has her groovy new head scarf that Boo picked for her for Egypt next year, so practical presents from me.

Mark gives me this chocolate Wombat, very Beenami of him, we'll probably see heaps of Wombats on Sunday as we are heading up for a day, possibly two for repairs and to keep the place maintained. Ben says he is going to try and come up after the airport pick up- hope so be good for him to chill out amongst those monstrous gum trees. A friend said to me we are the luckiest people around having such a great property- I wish we used it more.

The DVD double is on showing here tonight- Ghost World and Hedwig. I'm in sleepy mood after having to work for part of the day on set up stuff for the Finn Bros TABAC shows in Auckland. So I climb into a deep bath and drift off. Of course I am back down stairs to see Miss Hedwig in action...I will always have time for Hedwig and her Angry Inch! The house is full of laughter. We pig out on some Hazelnut Cake...never any regrets from anyone from my cake. Note-add 50 more sit ups to my Must Do list.

The girls climb the stairs and crash for the night. I must of been tired, as I fall into a very deep sleep...dream of the Jupiter Two and some rather cool planets. Same old space dream but more defined.


---
April 19th
Wake up and the rest of the house is still asleep. Cosmo stayed inside last night as the weather is getting cold. So I feed him, all the wrong foods of course...put on the Nick cave and the Bad Seeds BEST OF...have a bit of dance with the rabbit...to the "Weeping Song" of course. Cosmo keeps licking me today...maybe my skin is extra salty from the dutch licorice my Mum sent down.

Have a cup of tea in one of the dalton cups and a hot cross bun. Write in the diary for an hour and check a few driving areas to see if we need permits for the aborigine land that we pass through.

I open the back door and let in a very brisk breeze, so snuggle in my chair with some socks on...I like feeling the elements. Too many people over use their heaters and gas fires, their bodies get out of whack with the real world and they start feeling the cold easier. Melbourne really doesn't get that cold, and we all have enough blubber on us, so we should be naturally equipped, instead we all use stimuli to make sure and it weakens our systems. So instead of heating I'm going for lovely alpaca blankets or a bit of a jog this year. I don't want to become an old person who feels the cold , even when it's not ,simply because my body system is crappy.

I read somewhere that the Red Bell peppers have a higher vitamin C content, then the green..I think the Green has a lot of iron though and tomatoes are good for shingles...! That made your day didn't it!

Clean up the leaves, which is a weekly chore now, so the compost bin is full, hundreds of worms in the bin so that's a good sign, mulch mulch mulching away.

Some fans have emailed me that they are flying in for the Finn Bros TABAC shows, a bit of excitement in the air. Good to see...I figure I will be in the middle of the Australian desert when the shows are on.

Head to the solar hutch and pop out some baby vegetable plants that have started to spring up, so I'll transplant them to the vegie patch at Beenami. They will have to take their chances with the wombats I'm afraid, and probably the frost as it gets colder....but they only came from our kitchen vegie seeds so no cost.

The girls head out to Chapel street, some of the shops are open today, still it should be rather quiet as half the city has left to go on Easter holidays, there were traffic jams everywhere, which rarely happens here. Cook a roast for dinner, loads of homemade gravy. Yum! Loads of "good old days" talk- we like that..remember when....

Totally over SBS..the Vali doco- "Painted Lady" wasn't shown, no idea why. They advertised it everywhere and I think we told half the planet...even tried calling SBS and their number in the phone book wasn't connected. Talk about hopeless.


---
April 20th
Up early and drop Merlin off at St Kilda, say good bye for a few days. Deb is waiting, coffee in hand,smile on face, as she is coming up to Beenami with us.

The day goes from grey to sunshine. On the outskirts of Melbourne we see Peter Andre hitchhiking, we don't pick him up.

Call into Yarra Junction for some lunch at "The Ranges" a new cafe they have just launched, it over looks the Sunday bric a brac market.

Drive through the rainforest area and happy to report no road kill at all! That either means 1/ the animals are getting smart, 2/ logging has stopped for Easter so no logging trucks ploughing down animals 3/ no animals left! I spend the day cleaning up the inside of Beenami, Mark and Deb go off on a major hike, mostly to Goosey mans place and Goanna Ridge. Can not get our water system working so decide that we will be heading back tonight, no over night stays, which is a bummer.

Sit in the barn and eat sausage rolls and home made cakes from the bakery. I put in some some vegetable plants that have grown in the solar hutch, the chilli and green pepper plants seem to enjoy Beenami's climate.

Mark and Deb are leech free from the hike, always a good thing (: Pack a few essential things for the drive around Australia- rubber hammer, gas bottle, extra fuel tanks for the 4WD- I have my list as always.

We head back to the city, pass Peter Andre hitch hiking back the other way. Mark shouts us some chicken for dinner, Deb paid for lunch and I paid for fuel, a fine balance.

Cosmo is excited that we are back early, Deb picked a massive bag of fresh country grass for him. he started running in circles, he likes his greens.

Went to bed early, maybe it was the long day, needed sleep. Tomorrow is another public holiday...I'm over it...3 day weekends are long enough.

As our road trip gets closer, it's both exciting and exhausting, so many things to do before we head off...should be good, we keep finding more exciting spots to visit and it should be fun- I like the freedom of just packing up and going.

That's all for now...hope your Easter was enjoyable.

Peter

---
If there are any problems with this site, please contact webmaster@aswas.com.