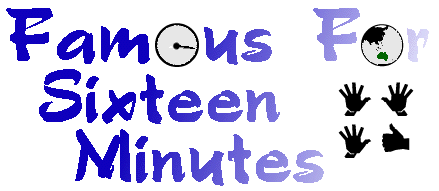 The Life and Times of Peter Green
Archive: 8 September - 21 September 2003
---
September 8th
Dear Reader

you may recall from our recent travels that we called into Snow town, home of the infamous Snow Town murders. Well today two of the people involved were sentenced for Life. The world can be a brutal place sometimes, and an amazing place other times. I'm sure it is cold comfort for the relatives and friends of those killed, that some sort of justice was served. That little town will never be the same, and the image of that disused bank with those cold silver metal doors will always sit in my mind.

Hmm charts are in and it's not a good week for Alex Lloyd, his new single drops from 30 to 48 week three. I always say that week three is the true test of a single if it's going to be a hit. Not sure who designs Alex's album covers but I truly detest the latest cover, pretty much hated all of the artwork so far. I'm sure the songs will make up for it, but the cover art, truly dismal. he's doing some In-stores around the country, one at HMV Melbourne fairly soon, so keep your eyes open, if you like his music (but ignore that cover art!!!).

Speaking of cover art, it's a love or hate it piece of artwork on David Bowie's new CD, I really like it, kinda swanky. It will be interesting to see how this Bowie album goes, a good solid tour at the same time would of made a really big difference instead of that stupid theatre beam in idea. I think they announce the Australian dates really soon.


---
September 9th
Wow hit level 15 on Tetris, twice in the same day. Those blocks were sure falling fast, at one stage Cosmo the bunny was sitting on my chest, now that is really adding a challenge, playing Tetris at Level 15 with a white rabbit determined to escape and run through out the house.

Campbell emails me and all of Bic's U.K shows have now Sold Out, I did let both Tim and Neil know about the gigs in case they make it to London in time and have a night free. You never know. There is talk of maybe adding some more Bic Runga shows, the demand is there.

Will get a chance to catch up with my old buddy Jules, Robbie Williams will be returning to Melbourne December 10th and Duran Duran are special guests. last time Duranies were in town I jokingly spread that horrible rumour that Simon le Bon had been shot, it spread like wild fire and people were coming up to me in the street and saying 'Have you heard, Simon Le Bon was shot'.... I felt really guilty, ok not really that guilty.

Let the ABC have some Crowdies footage for use on the 'Love is in the Air' doco, a bit of a trade off deal, for our Crowded House DVD further down the track. The series starts on the ABC on October 12th, Crowded House will feature on Episode 4, Skyhooks Episode 3...hope it goes well for them. Martin and Carolyn from the series were easy to work with.


---
September 10th
Talk that the GST may climb to 15% in Australia. That is so extreme, I hate that F#@$#%#N stupid tax, it's just created such a tax black market area, it was always due to fail with the public being tax collectors.

Have a chat to my sister about us heading to Egypt in March. Suggest she check out Amr Diab, Egypt's answer to Ricky Martin (Go Jen!) Found a great Egyptian site that allows you to walk around the shops of the main market whilst on line....Egypt is cool, except for the odd Australian tourist going missing (Yieks). My sister and myself are both spending two months working on our kick boxing moves..just in case....and carrying big sticks.

Hey how cool, Christian Bale as the next Batman, he'll be great for the part. Has the Pecs too...and they are real.

Mark is becoming the long lost member of the Osbornes clan, walking around the office swearing... he has Ozzies walk down pat.... I've told the Bats at the Forest House to move out just in case he takes a bite!


---
September 11th
A bit strange, this date will be in everyone's head for many more years. The 11 short movies made by various film makers around the globe was really interesting...a few messed my head up far too much though, in the end stopped watching, was too hard.

Send Lea in Sydney our 'We're all men' video so some parts can be used on Andy Whites EPK that we are putting together for media. We like Lea, she rocks.

Genevieve from a few houses up (aged 6) calls by and we sponsor her for the Skip-a-thon, it's for the Heart Foundation, so we give her $10...she is so into helping raise the money. She's a cool kid, always calls Mark Marky and asks about Cosmo...she will be a Vet..we just know it.

Happy Birthday to 'Cheetah' from the Tarzan movies, he turns 71 today, which is nearly double the normal age of a chimp. Cheetah was cool.

Jen calls by with masses of flowers and George the cat. We are looking after her (George not Jen) for a few days while Ben and Jen are heading off to be married. Oh wrong Jen and Ben...oh that one was called off. Actually Bens away gigging ligging and frigging in the rigging..yep on the road, whilst Jen heads to Bris Vegas, so George comes to stay with Uncle Peter and Uncle Mark. She is a cute cat and is spoilt by us.

Bowie's Cinema 'Event' gets the Thumbs down on the Whats Hot and Whats Not column in the Sun newspaper.


---
September 12th
Johnny Cash Dies age 71.

had a feeling it was close, he has been ill for a long while now, my whole family would be grieving, I was brought up on a stable diet of Johnny Cash songs. A sad day, he was one of the good guys.

George is so hyper, we are exhausted, who needs exercise we have GEORGE!!!! It's a good thing, even if Cosmo is upstairs packing his bags ('It's the cat or me'). Cosmo re considers, takes a stand (literally) on both legs and towers upwards...George runs and hides. Wow macho Bunny on the loose!!!!

Fave Person- Johnny Cash

Fave Snack-Chocettes (Bite sized Cherry Ripes)

Fave Album-Jet -Get Born -great songs, great cover art (simple but cool- take note Alex Lloyd). Plus they rock.

Fave DVD- A Very Brady Sequel- so much better than I remember, especially Alice's line about Sam the Butcher slipping her 'one of his special tube steaks'!!!!!!!!

Fave Accessory- A small silver cartouche' I found that has my name on it in hieroglyphics (Cool!).

Fave Book-The Egyptian Gods- by Alan W.Shorter. It's a well researched collection of Egyptian Deities, not sure if it's available any more.

Revolting Person of the Month - Peter Costello our Treasurer and John Howard's Butt Monkey.

Fave song- SPIRAL -Pansy Division from their Total Entertainment CD (Hidden track The Mall is a must have). Pansy Division kick arse...they also...oh never mind.

Crap Artist- Holly Vallance- like who cares.

Cryptic Award- Neil Finn- at least he returns all my emails, I love those short funny replies. Everyone should have a Boss like Neil (and Sharon).


---
September 13th
Mark has given up trying to sleep with George...nah it's George the Cat and George is a girl...not that he's into animal stuff...am I burying myself here.......ok George can not sleep in Marks room as George loves to explore and keep him awake.... so she is back down in the dining area, Cosmo has been moved up to level two and I am on level three.....anyone want to sign us up for a TV show!!!!!

US secretary of state Colin Powell visits Iraq. yep I think Bush is a dickhead but I truly do like Colin Powell , articulate, intelligent, Bush is very lucky to have him onboard. Not sure why I think he is ok, he just carrys himself well. Plus I've never seen him drop a dog on it's head (ahem).

Rosemaree calls by with an amazing dinner that she has cooked for us, God Bless her, it is delicious as per usual. I make desert and some weird Garlic bread that wasn't garlicy enough. Spend the rest of the night working after she goes home....busy period for us.


---
September 14th
Made an effort to get up early and head into the city to the wonderful State Library. This is tax payers money well spent, it's brilliant and has the best feeling inside the building. Spend a few hours at the micro film area going through a stack of old Juke magazines grabbing Split Enz LIVE shows out of the Gig guide area for my Split Enz book. Great articles in those early Issues, and was kind of nice with the whirl of micro film in the Newspaper room. I have to get myself some glasses just so I look like a sexy library Geek...hey it's not a bad look. Good day, great building and the train station is directly across the road.

Sweden declines the Euro, Britain won't go for it and I seriously doubt Denmark will say Yes, the dream of a single European currency is fading fast.


---
September 15th
Bic has another show tonight at The Garage,(London) I send her a quick email about this weird dream I had...I was holding up this white board that said the word TEMPEST on it!!!! Strange Bic and Tim Finn were trying to outbid each other for the rights to the word and Bic kept elbowing him and laughing... how weird, what did I have to eat that night. I told both Tim and Bic, they both probably think I am even more freakier then usual.

Have breakfast at The Market Cafe, not Babble, it's another of our haunts, they have really great coffee.

Yey Dr Who returns tonight and the ABC are playing every episode, and there are a lot! So cool, nice and B&W all grainy all cool.

Chat to Noel regarding his main interview next week, will be good to see him.

Katie Underwood's DANGER CD single is instores, she's a mate so I grab a few copies, hope she has a hit with it. It's getting some solid airplay.


---
September 16th
Well today we had the biggest run on WINGS OFF FLIES since it's release. The last copies are being gobbled up and heading off to new homes. I guess it is the last chance for people to get this book full of music photos (text) and hell the format is really nice. I know what will happen, we will run out and for months people will email and say "I really wanted this book', happens all the time. So if you are after a copy of WINGS there is still time, but only just, in the week we have gone from 100 to 25 remaining. order now or forever hold your peace (or someone else's piece!). Opps. Thanks also, had some really nice emails from people who bought copies awhile back and it was nice to receive your positive comments.

John Ritter dies, he has been on so many shows, we really dug him as the robot potential Dad for Buffy! His final film Bad Santa is out on November 26th.

Chief Weapons Inspector Hans Blix now believes there has been no weapons of mass destruction in Iraq for at least Ten years maybe fifteen. I remember I received one email from some person because I dare call Bush a liar on his weapons of mass destruction speech. Well I'm sorry but I stand by that, he lied to his people, and as time goes on and more and more evidence from people like Blix comes out the lie will stand out. Hey in some ways it's a good thing, I think I prefer Iraq to not have any WOMD wouldn't you. Go Hans, in my world Truth is one of the most powerful weapons!


---
September 17th
Grant asks me for a copy of Nigel Griggs CD- SLEEPER so pop that in the mail, I can imagine Nigels music being used for movies or TV.

Have been enjoying these early Dr Who episodes, they are currently hanging with a group of cave men...all fake fur etc, except when the odd cave man is knocked out and he falls to the ground and you notice he is wearing Y-fronts under his fake fur!!! Well it was made in 1963.

Hear from Andy White and the Italian launch of Boy 40 went well, loads of good looking people arriving on Mopeds, Tell me Why got some of it's first orders today for us via the mail, so I think people are going to take a punt on our good taste and grab a copy.

Receiving a lot of emails from our USA friends, the best part of touring is that you get to meet some really nice people. That Finn Bros U.S. was the perfect example, we met some really good people, a lot are really good mates hopefully we'll all be world touring in 2004.


---
September 18th
Back to babble today, felt a bit odd, glad when Mark turned up, as I wasn't very talkative.

Kath and Kim return to TV tonight, really funny and it's an all nude episode, so good to see a bony ol' arse on Australian TV again. Go girls.

Send Mum some flowers, try and find a Florist or Nursery in Wollongong that actually takes American Express, it's like it's on another planet, really it's not that impossible.

Wings Off Flies continues to sell, talk about 2nd lease of life, everytime I download our mail, there are a dozen or so requests for it, mostly from America, I have this pile on the floor that's growing higher as people reserve the final few copies. Mark has even signed a couple...how special is that! (: (: (:

My Bic pay check arrives a few days early (yey) so that covers my home loan this month, I've worked for it, even though Bic is fun work, the hours around her stuff have been really long this month. Hope she thinks of me when it's pay rise time....that's always nice.


---
September 19th
Where has the week gone, I can see Santa peeping around the corner, mid September already.

Notice JB Hi Fi are being listed on the share market soon. Around $1.55 per share, should do well. Their prices are still really exceptional compared to all the other CD stores.

Dinner at Freskeys. The waiter asks us how the auditions are going, and if the TV show is popular, he obviously has us confused, we tell him so but he refuses to believe us...o.k. I put on my dark glasses and just ignore everyone like a true TV star. When it's time to sign my credit card, I say I don't do autographs and push it away....totally throws him, I laugh and sign, such a wanker, some people don't get my dry humour.

Will start some basic stuff on the Crowded House retrospective DVD- 'Full House' around October 1st...going to spend a bit of time on this one as I want it to be really good, think the home movie footage will be fun.


---
September 20th
Get a we're leaving to mix the album email from Tim, 'into the belly of the beast', so the Finns are moving it along at a fast rate.

Incredible Spring day in Melbourne, work outside in the garden and decide I need some plants so head to my regular nursery.

Drop some packing boxes into Rebekah as she is moving house soon, and a huge bag of stamps for our church charity fundraiser (thanks to all those people who have been sending in).

Next stop the nursery and after all the fuss they no longer take American Express. Total pain, so I drive to High Street and find a nursery. Of course it has zero hanging baskets for the balcony, is this not my day or what? So I buy huge daisy bushes and empty hangers, plus loads of other plants for Hairballs garden area out back....whilst we are getting the flowers the shop is robbed! A quick cash grab, no guns etc, it ends with me zooming up High Street trying to see a teenager in jeans (that's the description the lady gave me)...it could only be 10,000 or so people out on this fine day. I give up and head back. I think the lady is a bit whacko and I really don't even know if she was really robbed. Just a feeling....

Well the balcony looks great, we'll see how long these ones last, hanging plants never seem to last long in Melbourne, the extreme weather maybe. Yes I do water and feed them and the Possums can't feast on them. I think it's the odd cold morning.

Mark is spending half the day editing on the G4 and complaining about Mac's (grin), at least he hasn't thrown the Titanium off the balcony. He heads down the street to feed the neighbours cat, it has the loudest Meow! Her name is Terra.

Loads of Slim Dusty on the News, just like Johnny cash, Slim was an icon to our family members. What an amazing amount of albums he has released, think it was 106!!!!So he will be missed by many.


---
September 21st
Windy night but a nice day outside, so good to feel some sun on my face. Sit out back and eat my Vita Brits in the sunshine. A baby Kookaburra lands on the fence and watches me, think he's after worms from the garden.

Goodbye Galileo. NASA plans to crash the space probe into Jupiter as it's currently on a collision course with Europa (Jupiters Icy Moon)...fears of Earth bacteria contaminating Europa is one reason. I still think Europa is the best chance to find life... Galileo did a great job. One of the NASA missions that was truly great.

Turn on the computer and more and more people after Wings Off Flies, trying to scrounge up a few more for last minute orders. Feels very strange, it's like a last minute dash to the finish line with a copy of WINGS under ones arm. We're happy so many people enjoy this Finn friendly photo book. better get back into mailing them.

Inshallah (If God is willing).

Peter

---
If there are any problems with this site, please contact webmaster@aswas.com.