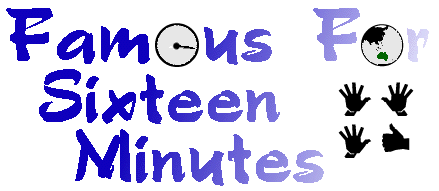 The Life and Times of Peter Green
Archive: 10 May - 23 May 2004
---
May 10th
Wow what a full on two weeks. The wheel of life sure is spinning fast these days, it has all just started again, high speed but a very familiar speed. It's that Pre- Finn album 'stuff'. Suddenly you start getting these 'Must have', "need to know now" emails from media, fans, pretty much everyone. It's a fast world we live in, now Now NOW. If I can't get it NOW...I'll email Peter.

I'm still being Peter the Rock, won't give stuff out unless we are 100% sure, or pretty close; some of the Press are sure determined. It's weird because they make you feel like you are keeping some amazing secret, which we aren't.

I think this one will be a great world tour- there is some sort of buzz happening, not just from fans but people who I would never expect to be interested in the Finn Brothers. So the 2nd part of 2004 could be a good year.

Call in and see Elisa at Flight Centre about the Canada escape later this year, the ball is rolling, need to just get a final 28,000 flight points. Then the fine art of juggling dates to get two frequent flyer seats.

Such an evil act from Abu Musab al-Zarqawi beheading Nick Berg. The rebuilding of Iraq is a total joke and a dangerous one too. His poor family, having to view such a thing, a horrid way to die. Poor bugger, some people are so silly heading to Iraq just for the almighty dollar.


---
May 11th
Hey I know that day, it's my birthday! A year ago we were at Hervey Bay, celebrating, this year it's dinner with some mates at the Olive.

Thank you everyone for the presents and emails. Rebekah only you could time it, so my birthday present is mailed from Canada and arrives on the correct day. Oh Goldmember a furry elephant hot-water bottle *grin*... why do woman always give me things with big trunks? So many books this year, and flowers and Tania handed over a huge pile of scratchies with Cosmo on the front (but no money from Cosmo).... I did win $45 on a lotto ticket (Yey). A surprise for us all as Vivienne calls by at dinner, no telephone in hand, but a gorgeous candle for yours truly. Dutch Deb hadn't met her before- "Yes THE Vivienne, who tried to kill me with a telephone as per HUSSY". She's reached that Valerie S. status of Warhol fame, it's Vivienne....hmm maybe Telstra could sponsor her?

Mark's presents are both perfect and cool, and I love EGGZORCIST boggle creation....wonderfully odd. Sis and Mum spoil me as always, book from True and Robin...and Fran 'Yeti Boy' book...says it all really.

My Mum of course was the first to call, at 7.00+ and after all that she didn't sing, so before I headed out I made her sing 'Happy Birthday', it wouldn't be my birthday without Moogie singing to me.

I was in the city earlier today and a art installation were filming for some movie and I was dragged into it. So I did my bit, felt only slightly silly. I forgot to ask the name of it... (DOH). The camera is my friend.

Came home to find a book from Meredith (always so practical around my countless mistakes *grin*)... made me chuckle.

So a really nice day, felt good.... thanks everyone.


---
May 12th
Been awhile since we have done the What's Hot and Who's Not List.

Fave Book: LIRAEL (Garth Nix)
Fave CD: Morrissey, 'you are the quarry' ( Attack Records Australia).
Fave Accessory: The magical silver square box from Jen & Ben. I feel like a necromancer wearing it, all spooky and very funky. Love it!
Fave Food: Flan Tarts are good. Mum's home-made Vegie soup.
Fave Colour: sunburnt orange/yellow
Fave Place: Cradle Mountain Tasmania...Beenami Tasmania.
Fave Person: Mark Goulding. The only person who can balance out my life.
Fave Movie: Farenheit 9/11
Hated Arsehole: The people who live next door, the most inconsiderate jerks. Time is on our side guys, and the law. Want some packing boxes?

* * *

Finns are home today, back from mixing and all that other stuff. Neil emails me that he will send the new CD as soon as they have their master copy in. I'm fine about waiting, I know it's pretty much all done now, so another week is ok. Very patient, but also excited.

Meeting with the calendar guys for the Skyhooks Calendar. October marks the 30th Anniversary of the wonderful Skyhooks LIVING IN THE SEVENTIES CD. So we are doing some stuff around that. One being a Skyhooks calendar which will be available at all Australia Post shops etc, around August/September.

The calendar guys are happy with the images etc, so we have made it easy on them. Will be fun walking into our post office in the morning and seeing the 'Hooks looking up at me. Shirl giving me that thumbs up.

A massive parcel of stamps arrives from Victoria Sime in NZ as well as Paulette Medlin in the USA. Today we fill up three charity bags for the Church, jammed packed full of stamps. As you know they get re-sold around the world and all monies raised goes to buy prosthetic arms/legs for landmine victims (especially kids). So any spare stamps, used, unused send them in, will happily add them into the charity bags. Thanks everyone, good karma your way.


---
May 13th
Spend a big part of today trying to get some more copies of 'Wings off Flies' back from some shops. This photo-book of ours is starting to become a collectible item. We have been getting emails from the strangest places wanting a copy. It's a good feeling, I'm sure a time is fast approaching where we start seeing it for $100 USA on Ebay like Book Enz.

If you are after one, you can also order it via the Frenz.com merchandise area, there should be a link to the merchandise at the bottom of this diary area. So Deb, we do have some more stock for those who get in early. It is a limit of two copies per person though.

A funny little man calls by today, he reminds me of the 'biscuit' from Ali McBeal. He's part of the insurance group and we are putting the insurance up on the property's because at the moment they are so undervalued, and apparently this guy is one of the few who does this. He loves the house and seems a tad obsessed over the deco phone in the kitchen. He has his little wheel thing to measure the land, house etc and I had to wipe the vision out of my mind of him with a pointy had RIDING the wheel about... sorry, I am evil.

Very restless night, think it's all the pre tour stuff getting to me...I'll dream of small men with pointy hats riding wheels around my house I just know it.


---
May 14th
Neil's manager calls me from the UK about possibly going on the tour and other stuff. It's 50/50 I guess but he now has all my work visa details, felt weird when it said employment time with Finns and I write in 24 years, everyone else has 18 months etc........

Catch up with Spock and go through some graphics for LETTERS TO MY FRENZ BOOK, it is taking longer then expected but I'm not too worried, it will be worth it.

I sent Neil Finn, Morrissey's lyrical description of (I assume) George W. Bush (does the "W" stand for Wanker or Warcrimes?).
"Steely-blue eyes/ with no love in them
scan the world
and a humourless smile with no warmth within/
greets the world"

I like the other line from AMERICA IS NOT THE WORLD that goes
"America/the land of the Free, they said
and of opportunity/in a Just and a Truthful way
but where the President
is never Black, Female or Gay".

That could be Australia too, we have never had a Prime minister who is black, gay or a woman. At least NZ and UK have had a female leader....

Anyway good song, good album Mozza, I'd say this was his second best album ever...a wonderful surprise... and we both know, you loved being that gangster on the cover eh Mozz.... such a Kray groupie still (: I do love that about you.


---
May 15th
Final Bic show tonight, they ended up playing to close to 15,000 people, not bad for a little ol' N.Z. tour. I'm glad it went well, not just for Bic and Campbell's sake but also for Helen and Brent Eccles who worked really hard on the tour. Pretty sure our direct approach with fans is really working well these days. Getting that information out , is a good thing. It's helped keep BEAUTIFUL COLLISION alive too- reaching the 10 platinum mark.

Our friend Lea calls by and will stay tonight, she's Andy White's manager. So while Andy is away playing overseas, Christine White and their son Sebastian drop in. So good to see them, it's been way too long. Cook up some homemade soup and carbonara. They have such a polite son, he's been brought up really well, so good to see.

Early night for us, really worn out, need some shut eye.


---
May 16th
Wake up to cook breakfast for everyone and Lea has already flown the coup. As Mark says, more for us *grin*.

Switch on CNN and watch the Gay Marriage's stuff from the USA. God bless Massachusetts...however most Americans are probably not aware that during March and April this year Multnomah County issued marriage licenses to 3022 gay couples. People like Judge Bearden, Diane Linn and Roey Thorpe deserve huge applause for giving everyone the same chance to be happy.

People like Tim Nashif are really vile, and all that is bitter and dark in the world. He lives on getting people angry, and his little lists of signatures, all done to ignite hatred Conservative style. I pray that all his children turn out Gay. Anyway for those 3022 people, brilliant, one small step... and gee who would of thought George Bush would oppose it, someone vote him out already.


---
May 17th
Incredibly sad that Saleem, head of the Iraq Governing Council was assassinated today, he would of given Iraq a real chance of a bit of stability. He'll be remembered as a writer, philosopher and a political activist. I thought there was some small chance, but not any more, I fear for Iraq and her people.

On a lighter note, an invite arrives for "SAILOR STYLE"-Art-Fashion-Film. Australian National Maritime Museum-Darling Harbour. We've made sure some Enz photos in their sailor gear will be on display as well as the 'Six months in a leaky boat' clip.

Head to Jim's Greek Tavern with Jen and Ben and Marky. The novelty of the slack service place has ran off and we are back to the brilliant table service of Jims. The food is wonderful, the company exuberant, and it's one of those good nights. My stomach is happy, we're all happy. Thank you guys for shouting us- far too kind. My stomach is still happy and I loved my present, very me.


---
May 18th
Start work on the next major mail-out of Finn dates, just getting it all set up. This one is complicated because I am trying to target different countries at different times. Spend the whole day getting this ready. My fingers ache, my head aches, a lot relies on this.

Give Tony Williams of Skyhooks a call, let him know about the 'Hooks calendar and grab some details off him. We have to catch up soon, nice guy. So many good memories when he was lead singer of the band.

Birthday parcel arrives from the delightful Bic Runga and Campbell- a TEN Platinum Award for BEAUTIFUL COLLISION. Got a bit teary folks. As fate would have it, the multi award is the exact shape for the one remaining piece of wall space in the office.... thanks Bic ,Campbell and Sony.

Was all set to head off and buy the new Morrissey CD, Mark beat me to it, a present for the ol' Gryphon. I think I knocked the household over bolting for the player, and yes unlike David Bowie, I can report that the MORRISSEY album is a true return to form.... this deserves to do well. Mozza is back. I'm sure Mark will regret buying this as it will live in the CD player till the Finn CD arrives. Thanks Igor Snr you spoil me.

Rosemaree helps with the update, makes such a difference to our mail outs etc, thanks girl, and we need to mention on line that yes indeed Rosemaree is currently SINGLE. So any would be suitors please email. (Well You told me to get you a sexy man Rosemaree!!!). Photo required! She's into tall, which is odd Rosemaree as you are such a short arse (:

Chris calls from the ABC regarding a possible Crowded House DVD, he's a nice guy, and it's just too early to say Yes, No Maybe....

Mail Noel and Nigel some live CDS.... at least they have copies....the Enz are so lopsided without management.


---
May 20th
Fran's Bird of Paradise are slowly opening in the kitchen. They are one of my favourite flowers, always like how they are scattered all over L.A.

OK the award this week for HERO of the week goes to the Yeti, the scanner is now working. One click and he has the thing under his persuasive power! I am impressed, grateful and overjoyed. Now just to find time to start scanning images for the Enz book.

(Staff Comment: "Thank you Benny, and ignore that evil Peter Green, we don't think you look anything like Jack Black....maybe a bit like Silent Bob... (Jay & Silent Bob strike back) though... JACKASS again ?).

Pick an Enz photo for the back of the Enz book... do some little drawings of what it should look like.... I like drawings roughs, and then you see the final product and you know instantly if you have conveyed the message across.


---
May 21st
Happy Birthday Sharon Finn.

For Melbourne readers, remember to go along to the Collingwood Animal Farm and show some support. The Carpark area has been purchased, which will limit the access to future visitors. So they really need support, so take family and friends and check out the animals. It's great for kids and us big kids too.......

Into the city today and buy more print out labels for the mail out. The Turbo 33O sure does chew them up. Letter after letter after letter.

Leave a message for Noel, chat to Nigel about trying to get this bonus CD for TRUE COLOURS. It takes ages around the Enz, and I understand why, just doesn't make it any easier.

Feeling frazzled and a little voice inside my head says HEAD TO BEENAMI...now. So it's late afternoon, I go up to Mark and say ' you won't like this....but I want to drive to Beenami and stay the night'. He nods.

We have some food, do some shopping and pack the car. Am so happy that Mark agree's as I didn't want to do this by myself.

Call into Coles and run into Bongo Skyhook and his lovely daughter Indianna. Next stop Safeways, and as I'm rolling down the aisles Skyhooks 'Living in the seventies' is playing over the store PA. Bummer that Bongo didn't go into Safeways..would of been funny to see the reaction.

It's 7.00 by the time we hit the road, phone Rosemaree and tell her of our plans, just in case we go missing, the searchers will have some idea where we are.

By the time we reach the turn off road, that goes through the miles of rainforest and tight turns, the mist is settling on the valley. It's spooky but I'm digging it. The cars high beams bounce back, so I change our light setting, Mark is playing the Stones SEVENTIES compilation CD (which I love and c'mon 'B" the Stones are so much better then Bowie).

We pull into Beenami and it's pitch black, a baby wallaby hops out of the barn and runs across our field, disappearing into the fog. He was a cutie and looked very young ('Look Mark WILDLIFE).

We soon have a monstrous fire going, endless candles burning and the gas cooker boiling water.

The lemon tree is very scrawny, so have taken everyone's advice and now encourage people to urinate on it! So out I go to practice what I preach. The stars are amazing, I am talking crystal clear. I turn the dolphin off and am standing here cloaked in black velvet starlight. I have no idea how long I stood and looked up. Mesmerized, intoxicated watched falling stars, a massive bat that eclipsed the moon. Huge crashes in the bush on the property dragged me back to Terra Firma, a Kangaroo was nearby and not a wallaby, as well as some mating calls of a wombat. I head back inside as I'm covered in frost, my stargazing left me looking like a popsicle!!!

Play some music, Mark reads, I do some basic cleaning and some writing by candlelight. I change the candles in the two silver elephants that Johnny and Angie Marr gave me for my birthday. (They are still burning bright guys). I love the Elephants. Snuggle up in my new Beenami tracksuit pants. They have Beenami printed on the side, if all our friends were wearing them up hear we'd look like a cult! The Orange People of Beenami! Righteous and Regal.

We especially enjoy the peace. I hear 2 trucks the whole night. It's a peace that the city will never know!


---
May 22nd
Like to say we awoke early with the Sun but not really. It was icy cold outside, and I used the regular bathroom to have a pee , f**k knows I am NOT going out in the cold mist to pea on a lemon tree. Brrrr.

Cook some bacon and eggs -country style (same as city style but it takes longer) *grin*.

Mark and myself head down to Forest Ally and go visit the giant wombat hole (you know the one Jen... the BIG hole we tried to encourage you to climb down). left a peace offering of some fresh cut apples for the Woolly Wombat who lives in that burrow. He was all snuggled inside but was pleased with some home delivery. yes the animals at Beenami have a harsh lifestyle folks.

Buffy is still up in the barn, well the Buffy poster that Jayne at SFX sent us. Meanwhile the Kylie poster has fallen to the ground and some creature has taken a bite out of Kylie's thigh. (A sign of the times...has she fallen?).

No flowers or bulbs out, but the property is lush. The giant ferns are looking prehistoric.

Head home by lunch time. Call into a lonely park and eat some lunch surrounded by magpies. They are mimicking all these bird noises for us. One magpie falls for Mark and won't leave him alone. We're all just magpie's around MG.

On the way we notice that the Salvation Army Collectors are out in force, this year they are trying to raise $7 million. We give at every set of lights, sometimes a few dollars sometimes just .20c but it all adds up. I am horrified how many people are driving $150,000 cars but refuse to give a cent. I watched some guy in a corvette stop at 8 lights and never gave a dime, where people in beat up cars were always dropping some coins in the donation tins. The Salvo's do a great job, we'll always support them.

Totally knackered from all that country air. An early night for us...well so we thought.


---
May 23rd
I am up early and work on the Net all day. The creeps next door wake Mark at 5.30, so I decide to confront them, if the agents won't take action, I decide we should just sue them. So I let them know, next I call the house owners and let them know. I try to be a good person, and do good things but if you get on the wrong side of me watch out. I will go for the jugular quicker then a Bengal Love Cat! Time our neighbours found that out.

Good to see Michael Moore's 'Fahrenheit 9/11" getting some decent publicity. Yeah OK it's a film about terrorism and the Iraq War. Let the people decide on this one... obviously those at the Cannes Film Festival did- giving the movie top honours.

You know he copped some flag at the Oscars a few years back for daring to fire a shot at Bush over Iraq, but you watch if he gets nominated again, and makes a similar comment now, the Oscar people will kiss his butt, even Hollyweird knows there is something not quite correct about Iraq , and Hollywood is notorious for turning on you and biting your arse. No matter if you are a president or Pee Wee Herman. The world would of been a much better place if Bush would of choked on that Pretzel.

Like I've always said "Truth and Oil come to the surface Mr Bush"!

On that know I wave a fond farewell to all the diary readers.....

Stay naked!

PG

---
If there are any problems with this site, please contact webmaster@aswas.com.