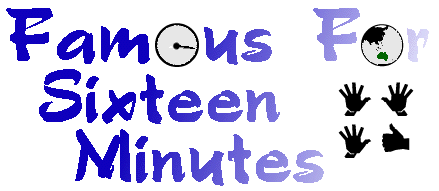 The Life and Times of Peter Green
Archive: 10 October - 24 October 2004
---
October 10th
The Grampians

Leave at a very reasonable hour, no rush to get to this magnificent escarpment, which is located on the plains of the Western & Wimmera districts. The towns of Horsham, Ararat, Stawell, Hamilton and Dunkeld are surrounded by this fantastic National Park.

Traffic is good, music is good, and we arrive just after lunch. Halls Gap is our destination. It has changed a bit, growth but not horrible and ugly. It still seems like sleepy town waking up to the stomping of tourist feet.

There seems to be an abundance of elderly types here 'Nana's' as Mark always tags them. This is good as most of them won't flood the hiking tracks.

We check in to the Colonial Motor Inn (yey Spa in the room) and head off for a hike to the Venus Baths. Am always amazed at how loud some people have to talk when they are hiking in the super quiet bush. You are not in the city now, no need to bellow like a banshee.

The best part of hiking is having the track to yourself. The best way to do that is have a pash with someone of the same sex right near the start of the track. You would be amazed at how many people will do anything to 'pick another track'. I am evil here me roar.

I climbed up the side of the rocks and sat on this massive boulder. It was funny as people couldn't see me till it was too late and I'd startle them. The Gryphon sitting high on his perch, protector of the sky and earth...

I have a real thing for those Australia Ghost Gum Tree's, they calm me down, right down and I love their beauty. In all those outback Australian landscape paintings, the only ones that really capture me are the ones with Ghost gums.... no idea why. This track has endless gums on it, and we haven't spotted a Koala. They might be deeper into the Grampian National Park, some Gums do have evidence of Koala's, chewed up branches and some fresh scratches... ol' tracker Green on the scene.

Head back to the Gap using an old second trail, Mark gives me the 'you have picked the hard way' look as he climbs over broken tree's. I allow my instinct to guide me, we arrive back safe and sound. Good exercise.

As we leave the trail we notice that the Kangaroo's have came along with us to feed on the grasses in the caravan park. It's doubly wonderful as the first time when we came to Halls Gap in the eighties, they were in the same spot, feeding. I sit on the ground, very low, and patient wait and move closer, so they are use to me. I pick some fresh grass but they ignore it. Old man Kangaroo watches me always, he spreads his HUGE claws, I mean big, I mean move over Freddy Krueger...Killer Kanga will kick but.

I sit and wait, he eventually lets me get closer to the centre of the 'Roo circle. I'm only 30cm away and a little head pops out of Mums pouch, a baby joey, ok he's not really a baby he will soon be out and about as he is growing way too big to be in that furry bedroom. As Mum eats, his head pops out and nibbles away too. At one stage she kicks him out and cleans the pouch, I talk to her in a very gentle voice. The only time the big Kangaroo dad gets angry and snorts is when another mail goes close to Mum and the baby....I'm ok to sit but the other Kanga gets an ear bashing and retreats.

Some loud tourists come by and disturb the setting, some Japanese tourists show up and are so quiet, I wish the others would learn something from these sweet Japanese visitors.

The Kangaroos are everywhere, eating in front of the holiday cottages, imagine coming to Australia, waking up in the lovely Halls Gap setting, such clean air, smelling the Gums and outside Kangaroos on the lawn. Too good.

Say goodbye and thank them, and most of them hop away. Except for two. They kind of kiss...and strange as it is, they both gently hop into the wash room together. Are those Kangaroo's camera shy and just want to have a bonk in the wash room....I think Mark almost pee'd his pants with laughter, and yes folks he DID film them....

Heading back to the hotel room and I see some more Japanese tourists who appear lost, I take them across the road, it's dusk and I show them a treat. Two male Kangaroo's having a boxing match. It seems to happen more at dusk, my new Japanese friends are so excited. I bow and leave, I am a regular Sir Les Patterson of the tourist trade.

A long day so nice to soak in the spa.....I am drowning in herbal bubbles, cough...but it feels so good. Sit up and watch the '4400' mini series, it got canned by the critics, but it was OK. It did really well here in the ratings, which shows a lot of people care nothing about what a reviewer says.

Hmmm so far our world under a continuing John hoWARd has not remotely changed.


---
October 11th
Wake up to the sounds of cockatoo's sitting outside our room. TYhose white sulfur crested ones, they really can squawk. Head to Halls Gap and have some breakfast. I but some new sunglasses, I am a Marco's of sunnies. These ones are super tinted and great for hiking.

We eat at The Black Panther Cafe, good country cooking.

After our hearty meal we drive to the Wonderland car park. Wonderland being the start point of several major hiking tracks. Today's hike is 2 1/2 hours to THE PINNACLE. It sounds like a movie title and you'd expect Bruce Willis to play my part! It's only a mere 4.2 kms and the elevation change is something like 280 metres which seems ok. Its close to a 'hard' grading and that is the part that really works on people's leg muscles, probably half the people we see have turned back.

Truly lovely hike. 'Grand Canyon' is the first major section and it is impressive, I can't even imagine what this would be like in Winter with rain water flooding through it. 'Silent Street' is spooky and magnificent. I think it's an old lava flow or some weird fault. You have to climb down a metal ladder to enter 'the street', and yes it is totally silent. Every so often some wind makes the slightest noise and it can startle you and you get the feeling you are being watched, and it's just not the lizards!!!

It narrows at the end and you can just squash through, some people probably couldn't, so they'd have to scale the walls I guess. Yieks!

We have a few breaks, help a few hikers who are totally lost. I still have no idea why people who never hike would try a hard grading hike. Especially when some of them have no idea about marker arrows etc. I took some time to show them as The Grampians is notorious for inexperienced hikers to go missing.

The last 10 minutes are tiring but the views from The Pinnacle are worth it. The wind is picking up and the last place you want to be is near a massive cliff on a plateau. Good that we did it, and the hike back seems easier. Cool off under some natural waterfalls, and go close to slipping into a water crossing as the surface areas are steep. This clean air is doing me in (cough).

Head back to the hotel to grab a few things and then we are off to the Wallaroo Wildlife Park. It's about 8 km out of Halls Gap and worth the visit.

Being a Monday there were maybe 4 other people in the Park, so the animals are yours for the day. We buy some food that comes in those little paper bags... a lady tells me the deer will love me for that. Boy was she right.

We feed some Emu's first, they are so notorious , peck the living daylights out of you. They had some babies running around their feet, all striped. Cute.

The deer's came over, one in particular got obsessed, as did a very long necked duck. A cute chunky swamp wallaby , was kind of shy at first but warmed to me and he let me pat him on the head.

The deer got a bit aggressive, marks filming and suddenly it stole the bag of food, picture this my dear reader, yours truly chasing a deer screaming 'thief thief'. That deer had no table manners. I recovered the remains of the bag, the duck tried it on, got a slap.

Walked through a forest area but no sign of the Koalas. Came upon a monkey cage and the monkeys looked stressed. I found a side area and one young fellow decided he wanted to grab me, but I was too quick- Mark wasn't, a black leather monkey paw got him... strong little buggers. I think the monkeys were sad.

We found this one eared deer that I kind of liked, and it was a two way street, he decided for the next 2 hours he would be our guide, so I surrendered and the deer was in charge. He was sweet, wanted to know all about the camera, licking the eyepiece, nudging Mark when he was slow... hmmm maybe the deer should move in, speed MG up a bit. More Kangaroos and a swamp wallaby with a little bald baby, some Lama's , more Emus and a very fat Osterich that had some eggs. An albino wallaby that looked like a bigger version of Cosmo.... we reached the exit gate and the one eared deer said goodbye, I saved some food just for him so he was rewarded. I miss that one eared deer.

Have a really nice hamburger at Halls Gap... the old fashion way,tasted great, even though I kept wondering, is this Kangaroo meat!?


---
October 12th
There was as Mark put it a 'Nana convention' in the breakfast area. This really grumpy old man was incredibly rude, so I turned on him and told him how rude he was. In the end we walked out, was really annoying. Filled in one of those 'how was your stay' forms... said everything was great except for the breakfast area which sucked.....

We end up eating at the bakery near Ararat which was nice. I noticed in a magazine while eating that Australian director Robert Luketic will be the main man for the Dallas Movie. Based on the TV show from the late seventies/eighties. Wonder who will play JR...I'd like that role. Who shot Peter Green....oh been done already.

Eminem's new video for 'Just lose it' is pretty funny. Of course Michael Jackson see's nothing funny in having the mickey taken out of him.I like how Eminems nose falls off etc etc The Jacko fans are up in arms, so naturally I want to bait them a bit. Bad Gryphon!

Call Tony Williams who replaced Shirl as lead singer for the band. Always a pleasure to chat to him, he's a nice guy.

Tony knackered from the drive back, so sleep well.


---
October 13th
Sydney has it's hottest day ever for October ... Melbourne was o.k. just nice and warm. I like living in Mexico.

Watch 'The Grid' which is a three part telemovie on Terrorism. It's surprisingly very good.

Head to the secret location where the Skyhooks band members are all having their get together. Still no word on Redmond doing it, at least he has been asked.

Speak to Gold Fm and get them some tickets, one double per day as a give away prize for the secret 'event'. Am hoping the listeners get a buzz from this and Skyhooks get some media attention. They should 'Living In the 70's' is such a superb Aussie musical icon.

My sister is sick, some sort of bug, it's made her voice go all croaky, I put Mark on the phone to hear her talking, priceless, what a mean brother. Get well Sis.


---
October 14th
'Everyone is here' gets it's Japan release, with a bonus track. The album has slowed down a bit. EMI keep saying double Platinum for Australia, I still think it will only reach 1x Platinum.

Mushroom help out with some $ for the 'Hooks mini event (see it keeps growing..it was a get together, it's now a mini event, tomorrow it's a very special event, after that it's an extravaganza ...after that...it's over!

The invite art arrives (thanks Spock) for the now extravaganza ... looks damn fine , send it off to the Venue printers. Such a quick turn around.

Get an email from Neil, all sounds good. Sharon is staying here too, so both of us are off the tour.


---
October 15th
First show of the Finns U.K. tour. Tonight it's Newcastle, the good old 'City Hall'.

Mr Macainsh drops in with his wonderful seventies platform shoes. They are the white ones that he wore in the very early days. The shot of him playing bass in the white cowboy suit under the Sydney Harbour bridge ....well he's wearing them in that shot.

Watch THE HUNGER. Thanks Mark, it really did make my week. Once more Australia gets a release before most of the world, not sure why the dates keep changing overseas. I am just happy to have a copy. Bowie is wonderful in this Gothic Chic production. Either you get this movie or fine it way too arty.

As soon as it starts with Bauhaus performing 'Bela Lagosi's Dead' I am hooked. Catherine Deneuve, Bowie, Susan Sarandon all good. Though Susan's hair could get her Dyke of the year (opps).... it's such an odd haircut for her. Beauty and bloodlust, good makeup that ages David (they probably just reversed the make up that he uses these days to keep him young). 92 minutes long, loads of candles and curtains blowing... and remember when everyone wanted one of those crosses on a chain, that you can rip apart and it is a knife....I think at one stage Mortisha's Goth store in Melbourne was making them. Undead undead undead....

The perfect present. I am a happy man.


---
October 16th
Well I did try and warn her. One positive lesson learnt from the election. Jacinta Collins, the Labor right winger who voted against Gay marriage, lost her Victorian Senate seat. At least she got back to me with her views and some answers. I think she took the pink vote for granted and in many ways had no concept of what the community wanted.... and she shouldn't of worn those hideous pearls in her PR shot, lets really look like Mrs Straight and dorky. It was a horrible photo.

Ken Francis calls by and gets his Hooks Invite. We were nice, I know how much the band does mean to him, so it's all fine. He'll have a good time.


---
October 17th
More election results are coming in. Labors Julie Owens has now beaten Liberal adulterer Ross Cameron in the final seat count for Parramatta in NSW. I think he thought the average Joe wouldn't care that he fu*ked around on his wife, obviously it played some part in his defeat and Julie Owens is kind of hip.

Meanwhile in the A.C.T. state(territory) election, Labor became the first party to gain a majority government. So strange Labor win nearly all the State Governemnt and Liberals the Federal. Who knows....

At 10.00 we head off to Healvesville- Jen, Mark and myself. What a lovely day (of course). Jen is one minute late, very unlike her, Mark pays out (:

We take the scenic route to the Healesville Animal Sanctuary, a nice drive, loads of cows.

It seems like it has grown, really spread out. I love all the seated areas as they have really old photos of the Sanctuary 70 or so years ago..maybe more. Lots of babies around today... a baby orphan Wombat, and he was cute, loved to play with the keepers shoes. Gave him a major scratching and he just smiled at me, I was totally suckered, nice little guy.

The Koala's looked healthy and one mother also had a baby. Headed into the reptile area and learnt a lot, stroked a python (no that isn't some secret code line for masturbation!). It was a carpet snake, and he obviously recently shed his skin as he was soft and quite exotic looking. The reptile keeper had some nice reptilian tattoo's on his sexy Australian games keeper legs. It's a well known fact that Australian men, especially those who wear green shorts have great legs! isn't that right guys.

Two skanky girls who obviously didn't want to be at the Sanctuary , so so evil, loud and hideous. I was happy they made some stupid comment as it gave me a chance to tell them how hideous they were, in front of their dumb arse parents. I swear if I was close by on the bridge over the wetland area they would of went in . Damn missed my chance.

If you head to Healesville take a lunch or have a BBQ, incredible facility's inside, loads of table area and electric BBQ's. On the way out make a donation near the gate, coins are welcome. It's really well maintained, and worth supporting.

Our final thing were the Birds of Prey, and they have impressive Wedge Tail Eagles here, gorgeous wings. They are fairly well free and are a bit spoilt. The kite is one such bird of prey that has his own way, going for some major flying and only returning when he is happy... he was such a little dot in the sky but what a speedster. It's good that the Birds are not a mere circus act, and while in captivity they have huge flying areas and are let out several times daily. As we left the kite is still having his way... but he'll come back eventually, simply because it's such a lovely place to live. Hell I'd live in Healesville if I was a animal.

Get home in time to watch the ARIA awards.

Overall it was a good award night. Guy Sebastian sucked big time. The newspapers pointed out that he was receiving a Platinum award for his new single, which is meant to be sales of 70,000 units. They pointed out that although it had shipped 70,000 units, it had only sold 28,000+, which isn't even a Gold award and nowhere near Platinum. he's not as popular as people are led to believe.

What is wrong with Shannon Noll's voice, he sounds like Jimmy Barnes on helium. Freaky. He was better then Guy Sebastian but really if it wasn't for Australian Idol, there are a thousand Shannon Noll's.

Missy Higgins on the other hand was brilliant, and Roves drag impersonation was hysterical...as was his Shannon Noll's send up. Rove did well, though some jokes fell flat in typical ARIA fashion.

As my friend Greg Mac. said, the ARIA's are always best watched on TV. he is right.

JET, the wonderful Jet scoop the pool, 6 Aria awards, all deserved. Missy Higgins with SCAR beats Kylie, and Kate Cebrano's breasts and arse scared us, who dresses these people? John Butler, he is the man. Of course next day you get white trash like The Sun's Andrew Bolt targeting Butler. It must of killed the Andrew Bolts of the world to see someone like John Butler win. he stands for everything that Bolt doesn't. Go John Butler go! Just the fact that Andrew Bolt hates you so much means you are exceptional.

Was watching the 2 girls from 'V" channel doing the arrivals.... they were far too Australian Pub Rock. 'Arghhh who's gonna get pissed the most and be first on the floor'.... such class! Though it was kind of funny.

The awards ended half an hour late, yet again, and a tough rocking version of Stevie Wrings EVIE was the finale performed by a super group of Jet, Living End, Spiderbait members...

Little Rive Bland (opps Band) were inducted into the hall of fame, and even though musically they are dull, they deserve it simply because of overseas success. Isn't it time Crowded House were inducted into the hall of fame.?


---
October 18th
Our Skyhooks 2005 calendar arrived today, so 30 years later Shirl, Red, Greg, Fred and Bongo will once again appear on Australian kitchen walls, how wonderfully perverse.

The Finns album is still in the Australian Top 40 (#38) hanging in there for week #8.

Mail in my wage invoice, so good to get paid, where did all these bills come from.... be nice if I have something left over for Mr Gryphon. Staff wages, car rego. maybe not. Oh well easy come easy go.

Call in and see Bongo Skyhook. So funny that his new flat, is my friend Spocks old flat. It's interesting to see what people do differently. fascinating. I pay out on little Bongo, saying he got the words to Toorak Cowboy wrong and he had to get them right if he was going to sing that song on the night. He sits me down, pulls out a guitar and plays an acoustic version, and gets it right! God lad.

Walk with Mg to Venue 'X", and see if the DVDr works in their machine, it doesn't so that means we have to supply a DVD player, it's ok, but we have so much crap to carry already...oh well.

Calendar guy arrives and it's really great, a few mistakes on the date stuff but it came up well, the 'Hook fans will love it.

Head off for endless night meetings and rehearsals.


---
October 19th
Happy 21st Birthday Kate Ebbott.

Head into Mushroom Records for a quick meeting. Dean hands me the new Kylie Minogue single ' I believe in you' , I like it but it seems very short. I'm playing it in the car so maybe it's my concentration. Sounds like the tickets for her show in the UK are going through the roof.

Head into the old Mushroom building and it's a bit weird, all those years of going into the building etc, even seeing the small off at Premier Booking agency gave me a bit of a flashback. Smile at a girl on the way out, and I find out later that she is actually Liam Finns new girlfriend. Small world.

head home and remember to water the balcony plants. They are starting to look pretty good, all purple and blue flowers blooming , and starting to drape over the sides. One of the big trees out front is sprouting leaves again.... it's that time of year.


---
October 20th
I love all these books that Mercedes Lackey sent me, she is still pretty much my favourite writer. She sends me, off I go on a little trip into her realms. JOUST and ALTA are both brilliant. I am addicted to them. The parcel of signed books she sent is still messing my head, possibly pulled me out of some sadness over my Uncle. So Misty if you are reading this- thank you.

The Finns are playing the Manchester Apollo tonight, I have fond memories of that Venue, the crowd should be good. The weather in the U.K. looks pretty shitty though.

On the phone to Uschi Flett who designed so many incredible stage outfits for bands in the Seventies. She makes me laugh, what a wicked sense of humour. Have suggested that we film her, sitting amongst some of the costumes. We can run her drawings and ideas as well as original shots of the bands wearing them... not sure what we would do with the footage but it should be good fun.

Qantas Florist stuffs up my flower order to Mum, and are really apologetic. They waiver costs etc and send her the biggest pile of flowers, including vases etc. They should mess up more often.

It was 40 years ago today that the wonderful Aussie cop show HOMICIDE first appeared on our screens. It should be on DVD....I am amazed that it's not.

Talk to Paul Stewart at The Sun on a Skyhooks feature, hope it happens.

It's a good day, TWO new series of The West Wing (Season 3 and Season 4) are out in Australia. I think the USA is still up to Season 2 only on DVD. hey I'm not complaining but it seems odd.

We are in the middle of Season Three and we love it just as much as one and two. You never know if they would of exhausted the scripts and subject matter but it appears not- some very strong scenes. We can't get enough.

Bartlett for President I say!!!!!!


---
October 21st
Those Skyhook boys are back in the news- Page 3 of The Age. We prepare for the deluge and it starts. Calls, emails, even a few people begging. Lots of fans travelling, some flying in from overseas I hear. This will be fun.

British author Alan Hollinghurst won the Booker Prize with his 4th novel 'the line of beauty', the first gay related book to win the prize in it's 36 year history. Damn and I so much wanted Hussy to win. *GRIN*.

Kind of surrendering around work, this 'Hooks stuff is really taking over, so till the 28th of this month I guess it will be the main thing, and everything else will have to come second.

It's such a nice time of year to be in Melbourne, incredible days, loads of warmth, and the people seem happier. For that alone I am glad I am not on the road in the U.K. I'll miss the show and especially the fans but it feels alright, lets put it this way, am not missing it that much. Sharons in N.Z. still working on her stuff, so both of us are off the road. (:


---
October 22nd
have been listening in to Wilbur Wilde's radio show on Gold FM. Gold are the number one station in Victoria. Have given Wilbur tickets for the special now mega gigantus event.... and he gives 1 double away each day. The callers are going nuts, Wilbur now has to beg- 'no more phone calls'... I love it.

Send my 2nd uncle a cactus for his birthday, no idea why, just what I do. Hmm a cactus, OK I will send that. At least it is easy to look after. I sent my sister one for the same reason, she kills all plants, we are so different in that area.

Tania, Rosemaree and Jake call by, mainly to pick up tickets. The local Wollongong paper want to do some article on Mark and myself, so I will probably surrender to that, providing they get my name right this time *grin*.

Have a chat on the phone to Gerald who used to see both Skyhooks and Split Enz in the early days, nice guy and it's always good when someone else loves music so much. I talk to him about our archives. The Archives are probably one of the best things I've set up. Really handy for people to get a chance sometimes to see things like the band costumes and original material. We've had some of the exhibits travel to really remote areas. I always worry when people have real historical stuff just thrown in cupboards, mostly around fires and break ins. So many people would have no idea that something has historical significance, I wonder how much stuff has been lost that way. Anyway it was nice to have a chat, good to see so many real music lovers out there still.


---
October 23rd
Mark is editing away, endless Final Cut-Pro work. He has stayed up really late every night, I am amazed by his determination. The stuff looks fantastic so far.

Our old friend Michelle calls by and we reminisce to the point of tears in our eyes. We only ever see each other every year or two but it's good, love the Melbourne Hookscrew.

Betchadupa launch tonight and we can't make it, work work work. Liam calls and it's good to chat, am looking for a new house for the Betchadupa boys, will see what I can find. The Sydney launch went well, looks like Rolling Stone magazine will be doing a live review on them.

Have a nap as I am really tired, I stupidly woke up at 4.30 in the morning and decided to head down to Prahran to buy the paper and bread rolls. Wanted to see what Press was in it. Page 9 today, doing well. Waited for the bakery to open, and read the paper while some guy who had obviously partied too hard was passed out on a park bench. He was breathing so I didn't have to call the ambulance. Anyway Mad Dog wakes me from my nap, I mumble words, with probably no meaning...


---
October 24th
Up early and buy more rolls, and the piece wasn't in The Sun. Not sure why, maybe the Age jumping in, pissed off the opposition paper... maybe they are holding back till later on during the week.

Watch some cable and see some interesting debates. One line I liked about Afganistan. Just because some people get a chance to vote does not mean democracy has arrived. Having clean air, water, electricity and freedom is in some ways more important, so if democracy is really what people are considering when they invade a country, they should finish the important parts of the job first.

Mark spends the day working on the DVD for the event. I head off with Rosemaree to catch up with Bongo Skyhook before he starts his Chuck Berry show. Help with load in, I wish load in was this simple at every gig.

Have voddy with Rosemaree and a chat to the manager. The Bostons Red Sox are playing on the TV, I get side tracked.

Have to head off to the Arts Museum to see what they have done with the cossies. Rosemaree calls in a parking spot so it's all free.

What a nice surprise, the costumes and Living In the 70's display is really nice. I thought they'd just be in a few cases, but it looks brilliant, they did a good job. Quite a few people reading and looking at it, felt good.

I get bought a really nice icecream (thanks Ms Taverna)..YUM.

Home again and head back to work.... wow the USA election is almost upon them. Once more it's a close one, so nice to be waving goodbye to Bush, but hey Australia still has little Johnny hoWARd so anything is possible.

As long as you do vote, that is the main thing. Have your say.

Peace!

Peter

---
If there are any problems with this site, please contact webmaster@aswas.com.