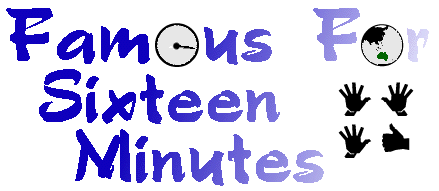 The Life and Times of Peter Green
Archive: 1 January - 18 January 2004
---
January 1st 2004
Happy New Year and Happy Birthday Merelyn. How old? (Cool!). We can't believe how incredible our street was last night, one of the main Melbourne streets and it was the quietest night of the year-brilliant. The Melbourne girl for the New Years presentations on TV was so cool, the Sydney girl with predictable 'put me to sleep' Richard Wilkins was so bouncy and annoying that one hoped a Texas chainsaw massacre would of taken place before my eyes, and we thought Bimbo's only grew on trees!

So the start of a new year, it wreaks of adventure.


---
January 2nd
Back to Babble for a few weeks whilst Market Cafe is closed, same 'good' service (ahem) but the staff are happy to see us, so that was nice. The excuse of 'needed a break, was bored' just doesn't seem to cut it. Some nice greetings from the Finns, they have all gone to the beach for the holidays.

First sale of the year was a Famous for 16 Minutes Diary book-Glamour, an omen. Augie and Emmeline send this totally cute new years eve card from Hollywood of their son Ethan- the cutest card of the year, I think he's going to be a movie producer, only a producer would wear a funky red hat like that-the worlds all yours Ethan! Just grab it.

Bongo Skyhook slips an equally cool card of him in his white Travolta suit with his youngest kid Arabella in a sequin jumpsuit and a nice message. Thanks Bong- hope this year is much better for you.


---
January 3rd
Put in the years first DVD order from Jet DVD cave in New York, FedEx have lowered the bag weight so less DVDs, well that sucks. Finally Lost in Space TV series is on DVD- season one box set- it even comes with the un-aired pilot episode (no Dr Smith in the pilot). I was asked recently on a radio show who I would have a threesome with, my mind was wandering and I said Don and Judy from Lost in Space (hey it's better then Will and Dr Smith Yiek!). I like those silver tin foil space suits. Mrs Robinsons rather obvious pointy bra was light years ahead! If ever I find that spaceship in all those weird dreams I have I would have to call it Jupiter One-(I wander what happened to Jupiter one...they never did say did they?).

Think Mark is making a DVDr copy of Queer as folk season 3 from SBs and that funky digital box, works out to be $15 for the whole season... just season three on DVD is a rippoff- less episodes-only 14 this time, same price though.


---
January 4th
Well Mad Dog Morgan arrives from the States and it's good to see her. She keeps leaving bits of lung on the household furniture from her new hobby of smoking, not sure how a far more than average IQ'd person like Peggy can not see just how bad cancer sticks are...her body I suppose, just be nice Peggles if you are still staying at our place for Christmas when you are ninety and not having to say Happy 2051 through a hole in your neck.

Give Bongo a call to tell him MD is in town and some crackly voice mail is on his phone, ah technology.

Oh two bottles of Yukon Jack- god she's trying to kill us....nice night a few drinks and it's 'photo-time'! Some nice shots, extremely funny, and a few PG does Zoolander Poses....but after I go through them all I find that nearly everyone that lived with us had the urge to be a super-model in front of the camera, hmm like some of these will never see the light of day. I bite the bullet and pull out the 'PG on rocks with waves crashing, ripping off board-shorts to reveal, some scantily clad bod in wet blue underwear (oh my!-Peggles please let go of that snap!!!!!!!!!!!!!!!). A long night, a fun night and I end up framing a picture of myself, extremely skinny with an axe about to chop Marks head off , taken in the grape-fields of Mildura.


---
January 5th
Temperature hit 49 degree's at the small QLD town of Birdsville today, a record temperature for that area, Christ that is hot.

Greg Skyhook and Gabrielle drop in for the 'royal art tour' today- I think she's a fine arts grad. The Roie painting blew her away, she was fully aware of the Witch of Kings Cross's work... and had a chance to touch the canvas...or whatever Rosaleen has painted on...it was weird it dawned on us that it could be human skin!!!! It's the weirdest textured canvas, have never seen canvas like that.

Cook a nice honey soy vegetable/chicken stir fry for dinner, getting good at these, kind of healthy.

Looks like the Finn Brothers are going to keep working on songs till Jan 20th in the N.Z. studios, after that date Betchadupa kick them out and start work on their second album. The MOVE OVER single with those cool other 2 tracks is out in Oz in March.


---
January 6th
Email and remind Fred to pick up his sales award for One Million albums sold whilst in Melbourne for his hippy beach wedding, clearing these out of our spare room.

My friend Fee emails me and she is in town soon for a few days, will be great to catch up, cherish her, and all our fond days at the Enz office.

Lock in the Andy White album launch for his 'Boy 40' CD in Melbourne. It's back at the Corner Hotel Richmond on January 31st. We are having a 'Meet and Greet' upstairs on the roof of the Corner- it has this beer gardens covered in plants, perfect and the M&G is at 8pm (it's free) the gig is on downstairs from 9.30pm and tickets at the door. Had some really nice emails from people who are coming on down to show their support, if I hear 'I'm old and have to go to work next day' I just tell people not to bother, if a night out is an effort people should just stay at home with their dog.


---
January 7th
The people at Targus have a really good USB hub with a free optical mouse, think I'll grab one for the office...you can never have enough USB ports.

Jet are at #66 in the USA this week with 'Are you gonna be my girl' - go guys! The album is already in the seventies and climbing.

How cool are the Mars photos, they look like the Australian out-back.

Work on the Enz book, so much to do still, locked in the live dates and sent them on...so another section completed.

Melissa drops by and returns the Afro wig, and we head to Outlook Cafe for some food. We thought the service at Babble is slow, Outlook is really slow. We sit at one of the tables in the window and watch the trade walk by. Commercial Road is busy today, some good looks, the camouflage pants are so 'out' it's not funny...time to move on people, the War is over...well...!

Good ol' Jacqui Dennis, my new Mushroom Publishing bag arrives, it smells so new, the old one was starting to decay, really good bags- thanks Jacqui!


---
January 8th
Into the city, bills to pay, people to see, wander the alley ways calling into the small hidden beatnick coffee shops, where the poets and artists hang out. It's funny as every so often I consider just staying, not caring about the real world...I wonder if they ever close, or if they stay open for ever, 24/7. They all talk in hushed whispers, and black is still the only colour in town, carrying Keats and Yeats and Andre' Maurois 'Ariel'.

So I turned to the Garden of Love
That so many sweet flowers bore;
And I saw it was filled with graves.

I love that William Blake verse....I do love Maurois...

Then with a charming coquetry she gave him a tap on the cheek with her closed fan....

Yeah I could sit here forever wishful whimsy on my part.... I chat with the students, the Gypsy from all parts Europe, the feral poets with their vagabond existence so like the Gypsy in many ways but so polar opposite in all the rest. I never see them drink their thick coffee but they do, something that thick could never evaporate on it's own, it needs human intervention of the mouth. They ache for the sadness in their lives, they call it in, methinks, well some of them. I wonder what they would do if success of the other world out there lands at their feet, would they become sumptously obvious and lose their flavour like pricked with a thousand pins and needles. I like these alley way escapes, fantasising of escaping the castle grandeur and floating into their world..just for an hour and a day. But that's all I could really hack, they carry such darkness topped off with a lingering bitterness that success = selling out, and hell maybe it does. I heed their words, they float in my head as I walk off & shed my disquise and re enter the real world.

I do love the city and it's welcoming bosom.


---
January 9th
Check my lotto and not a win this week, the last day of 2003 was good, Mr Lotto handed over $86.00, which dragged me across the line that year, so I wn more then I gave them...I play so little, but good to win for the small buzz we get. The big buzz must be around the corner!!!!

Fee Fee leaves a message on our machine so she is in town. So many years have gone by since we worked together at the Enz office, all fond memories.

Spend the day packing bit and pieces for Beenami, having a BBQ and a major clean up, nice that some of our friends have offered to help, I remember things like that, those that didn't I remember too. Thanks guys.

Dear Jayne, what a gift, 'The Quotable Slayer'. A must have in this life, and it has captivated me, and out of the blue. I still love the one...

"I can beat up demons till the cows come home, and then I can beat up the cows". (Buffy- "Intervention")

It's passing has left a hole in the TV tube....not many shows do that.


---
January 10th
Well Ben and Jen pretty much on time so we will get a full day in. OK Mr Yeti could be sleep walking buy we four are here and off. A nice day, all that sunshine, all that sun stroke....

Pick up some 'land for sale' flyers for Melissa who is thinking of buying, some good porperty's.

Beenami is a wild rose, and we tame some of it. I bring the chains so Ben is attached to the mower and sent on an unrelentless battle to lower the grass, hey it's only an acre to mow...the rest is giant gum trees...how long could it take.......we glue a global tracking device on his back, just in case.

Our big shears have gone astray so I drive off to Neerim Sth but of course all the stores are shut (GRRRRR), I do see a pair of red tipped black cockatoo's flying overhead, they are meant to be on the endangered list so a nice surprise. Several Llamas have been shorn at the Llama farm and they are so funny with such skinny necks, they look embarrassed.

The BBQ is underway, I found these great small sausages that seem to have very little fat, taste good...throw on some prawns (how Australian of us). Old eagle-eyes Jen spots a mother possum in the roof of the Barn and she is a pretty thing. All fox brown (not foxcroft brown...the other type of brow!!!!) and we see a huge nest with the cutest baby possum tail hanging out of it asleep. Mark (of course) tries to get closer but the mother Possum just looks from her safe vantage point. We leave a selection of food for her as a goodwill gesture.

A bit more work, and Beenami is starting to look not great but magnificent. feels a bit sad to head home, back to the traffic, to our other home... a nice day, good people, good BBQ surrounded by amazing gum tree's, sounds like a good day to me.


---
January 11th
Edit, write, re type, work and work. new people move in next door, they are loud all night and removal bands arrive till the wee hours. Oh joy on masse!!!!


---
January 12th
Well Fred Skyhook married young Becci on Rippleside Beach near Geelong today, in a white Kaftan, three times lucky we hope.

Jacqui and Genevieve tell us that the rental next door is going for $850 per week.......yieks.

Have a chat to The Corner about using the roof for an Andy White meet and greet, get the ok....now pray for the nice balmy night.

1.00 Andy meeting now back by a few hours, he's so efficient, calls etc. Good meeting, get a lot done.

Mail a card to Karen in Holland who turns 50 any day now, 50.... how amazing, she's holding together quite well. Have fun girl.

Jet climb back into the National Top 10 with their GET BORN album, good to see that our Album of the Year is proving to have a long shelf and chart life.


---
January 13th
Mark records DALLAS-The Return of JR. Loved it, so wonderfully corny and a few parts were bordering on being 'soft porn'. Larry Hagman has those eyebrows that Jack Nicholson has, they kind of curl up like the devil... maybe all TV and movie villians have them. Linda Gray still has good legs and those soulful eyes, Bobby Ewing, our favourite Man from Atlantis... it was fun.

Goldmember returned from her USA/Europe trip a few days ago, straight back to work, guess we'll catch up soon. Must be strange going from Europe's snow covered fields to Melbourne's Summer.

See Bongo Skyhook and he tells me he is thinking of being a Political Activist around the environment- all good I say, just don't kill anyone.


---
January 14th
Oh what is Steve Irwin doing, the more he tries to justify that silly stunt with the baby and Croc., the more deeper he sinks. 'Crikey I'm a drongo' Tshirts are selling well. he should of just said "I am an idiot, it won't happen again' and just shut up...the ego is creeping in, so easy to spot.

Hmm the new people next door are starting to make noise... annoying.

I was reading on the couch today, and Cosmo hopped inside, spotted me, jumped up and planted a huge rabbit pash on my chin. What a spunky bunny.

N.Z. charts are finally in operation again, they seem to close for 2 or 3 weeks, Bic is still in the Top 10, but Betchadupa are gone with MOVE OVER...last year it was at #14, I expected it would fall, with a young Indie band singles never hang around long, #14 is still pretty good.


---
January 15th
Does anyone else think that Richard Quest from CNN is both the Ugliest and annoying man on TV. What an English tosser, what the fu*k is wrong with his voice, time to change channels.....I'll be back I promise.

Happy Birthday Belinda Bardot, happy birthday to you, sexy Miss Boo. Call her and of course she is out socializing. Have a nice night.


---
January 16th
I let this addition of the F/16 diary take a few more days so I can round it off to a Sunday.....usually I write the diary's on Sunday's every 2 weeks but the end of the year tends to mess that schedule up...but we are back on track now.

Our 5 free DVS arrived safely yesterday- High Crimes, Entrapment, Roadkill, Ever After and Ice Age. Hey free is good...

1.00 Fiona and Soren and her tribe arrive, she hasn't seen the new place and I think she digs it. She gets some fun birthday presents. The kids go crazy for the FJ pinball machine and it takes a battering- good kids though,real good manners.

Andy W. arrives in the middle of it all to collect our media CDS and to drop in more work... the lovely Lea has sent down our photocopied Bio sheets and media passes etc, so we are ready to rock.

Next up is Bongo Skyhook, pass on Peggles Christmas present..hey Peggy he likes the HARD chocolates. He also collects his million selling award for the various Skyhooks albums over the years and we take a few photos.

Rebekah drops in, in the evening, open some wine and have a really nice night.

The only thing that messed the day up were the new tenants next door, who invited masses of friends and decided to take far too much ecstasy all night, which became really loud and annoying. Nothing worse than people on 'E" who become really loud and annoying... the odd broken beer bottle pissed us off too. Time for the Gryphon to lay down some ground rules if they are renting next to us.....so we do!!!


---
January 17th
The owners and agents call all apologetic about their new tenants, and they get the twice and you are out rule.... we feel like shit all day, get nothing done and take forever to recover.

Next door is really quiet, hmm maybe they are dead, could we be THAT lucky? (opps).

The latest Morgan Poll arrived (no it's not created by Peggy)...anyway it showed support for Labor in Australia rising. Up 2.5% to 45, the Liberal vote down to 40 percent. If a Federal election had to be held in January, Labor would of won. The few Liberal people we know seem to be abandoning ship. I personally believe it's neck and neck because there are a lot of old people out their who would vote for Howard, simply because they believe the scare tactics that he spins.

Michael Jackson goes to court... and gee look at the fans that turned up, they all have that look... and when interviewed it would be nice if at least one of them was articulate. I want to know who it was in the crowd that set Jackson off. One moment his ego has him gloating and weeing his disposable diapers and the next he is climbing across his mother in the limo. waving his fist and screaming at someone......if we had the money we were sending Nana across to wave her 'Guilty you freak' sign.... I'd love Jacko to attack Nana....she's kick his white sometimes speckled ar$e from here to Neverland. Does Jackson molest all kids- NO, totally not. Has he molested some kids, yes totally so. That alone should be reason to bust him. I think he could get off as the evidence is limited and the Jackson people are spinning as much propaganda as possible, be nice if justice prevails for once and he gets what's coming to him. Thankfully some people are smart enough to see through the PR machine. Some just don't want to believe it and with a few it runs deeper and is more to do with their own life....oh it's all too hard isn't it....come to bed Bubbles....and turn off the light. Oh Bubbles that is you under the sheet isn't it!!!? Oh McCaulay get out of that suit......


---
January 18th
Finally UNDERWORLD starts at the cinema's Jan 22nd, our copy arrives on Monday, New Zealand had this movie months ago....

Bush's announcement of the new space race is so far removed from Kennedy's it's an obvious election stunt- saying all that if it helps Nasa and helps move space travel forward, even an inch, all good. Who said it was because they were trying to find intelligent life elsewhere in the Galaxy because there was none in Washington or Canberra....oh you people are so brutal! *grin*.

Deb Goldmember calls by and helps us with our Andy White media stuff, so nice that she offers, she gets one of our last few media passes as a present. She looks great, her holiday away was obviously nice a relaxing, must of been that millionaires chalet in Belgium. !

That's it for now, I think it could be an interesting year, hopefully some good music and a tour. Wow I'm in Egypt in just over a month, am looking forward to that.

Have a good one.
Peter

P.s. Nothings changed, I'm not checking spelling or grammar on this one, flat out...so sorry folks.

---
If there are any problems with this site, please contact webmaster@aswas.com.