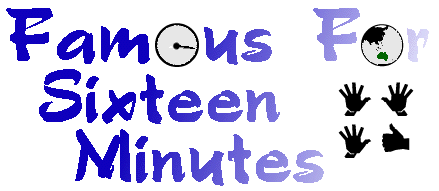 The Life and Times of Peter Green
Archive: 20 December 2004 - 9 January 2005
---
December 20th
Melbourne to L.A.-Vegas

Spend the morning running about getting some last minute things done before the flight. It always seems to be this way now, as much as I can get done before we head off. At some stage you draw the line and say, 'well that will have to wait till we return'.

It's weird not having the boy around, Cosmo's leave a gap in our life, and we miss him already, wish we could throw him in a back pack and take him to Canada. he'd probably escape into the snow...what are the odds of finding a pure white bunny in all that white snow?

Taxi to the airport, long lines in economy, stretching the length of the airport, I say a small thank you to the Goddess and join the Business class line of 6 people.

In the freaky flyer lounge and check the charts. Robbie Williams keeps Australian Idol girl Casey Donovan from debuting at number one on the album chart.

Board the plane and we are very happy, the first flight to L.A. with the new Qantas sleeper seats, WOAH way to go. Read sleep order food, annoy Mark, all the usual on board activity's.

Arrive L.A. and the sheep corral at Customs hasn't changed... scan index fingers, digital photo and answer stupid questions. No neither of us have come from Mexico...last time I looked Qantas QF93 never went via Mexico.

Get our gear and transit it to the American Airlines QF3165 flight. Hmm pretzels and water...such quality internal air flights in the States (urgh).

Vegas airport sucks even more then usual, finally arrive at Circus Circus. Nothing like checking in with several hundred others. That place is always busy.

Have a shower, and we go in search of food. On the way out the door put a dollar into the big roller machine and win $20.00 instantly. Argh Vegas you cheap shiny whore, I love you. Clink clink clink.

Japanese tourists screaming up and down the hotel walkway...Mark opens the door and tells them to 'fuck off' people are trying to sleep. They basically ignore him so a semi naked Gryphon says 'fuck it' and ventures out and lets them have it. Not sure if it was the nudity or the bellowing ****$##@@##@##@ that did it but they shut up and headed to their room. So weird the Japanese are so damn polite at home, and when they escape Japan some can be the loudest shits in the world. Guess they have to cut loose from all that politeness.? We both laugh about it.


---
December 21st.
Las Vegas

Up at 9.00 for the Circus Circus Buffet, with all the Circus freaks. The line for fresh fruit is empty, except for me. The lines for fried fatty foods are overflowing. Lose count of the Texans with huge pot bellies in that line and their matching pot bellied kids. A young kid joins my solo line with his Mum ...spots food on the opposite counter and says 'forget the fruit...doughnuts!'. We decide to ignore all future Buffets at the Casino's.

We head to the local Post Office, a funny sight walking down the main road, 8 bags packed full of mail. 'You want how many stamps sir?"...ok. All American mail done, yey.

In the afternoon hit the one armed bandits and it goes well. We win $360 silver dollars from shelling out $50. The winnings in one bucket the playing money in another. It's the only way.

Go for a walk, and head to Bonanza- the Worlds Largest Gift Shop. So many fun things in this store. Buy and Elvis wig and glasses, plan to be filmed as Elvis playing the slot machines and hitching down the main stretch, hey gotta do it. Viva Las Vegas.

Eat at the Blue Iguana tonight. Much better.


---
December 22nd
Grand Canyon Caverns

Up early and we walk to Dennys ...once more play the BIG slot machine, the one that you need both hands to pull the handle, win a further $10, I like this town. We walk miles, my feet ache.

Pick up hire car at hotel, drive through Boulder City one of our favourite towns and visit our favourite shop- DEAD COW. (415 Nevada Highway, Boulder City NV). http://www.deadcowsforsale.com

It's the place where we buy all our Indian Tiles. We claim the record for the most tiles bought from the store. Our bags are full again, already.

Head along what's left of Route 66, am amazed by the endless deserted buildings, all ramshackle and collapsing. Thankfully we stumble upon the Hualapai Lodge at Peach Springs on our way to the caverns. The Hualapai Indians are the stewards of 108 miles of Grand Canyon Frontage. The one question we ask is why anyone would build a Hotel right next to the busiest freight track in America. Two trains every 15 minutes, all night, all day, they sound their horns right in front of the hotel. No sleep.... I lost count when the 64th train went through. Oh well the rooms are clean and comfy, and beats sleeping in the car.


---
December 23rd
Grand Canyon Caverns- Las Vegas

Breakfast at the Morning Platter at hotel, easy over eggs and bacon. Huge crows descend on the car park and 2 dogs fucking (not the Indian joke, there really were two dogs fucking, in front of the restaurant window).

Drive 10 miles to Grand Canyon Caverns. It's really isolated, not many people come here. We get a lift down 500 feet with another couple and our guide. The Caverns are brilliant- a must see. In the days of the cold war and the cuban missile crisis, the government wanted the caverns used as an emergency bunker. The water rations and emergency packs still remain, weird to see them just sitting in the middle of the huge cavern. These are dry caverns and they believe that there are 2-3 more massive caverns underneath these ones that have yet to be explored. They are 35 million years in the making, and the air inside is actually drawn from the Grand Canyon itself through 60 miles of limestone caves and crevasses. Inside there is also a 15 foot sloth and a mummified Bobcat. We felt a bit sad for the Bob cat as he had obviously fallen in and was unable to escape, the dry air mummifying him. The best bit is when they turn off all the lights, pitch black. Boo!

Drive back to Vegas and jet lag and lack of sleep last night , limit my driving skills. Coffee and food do help.

We drive to the Hilton to see the Star Trek Experience exhibit. It's great and the attraction also has 2 full on 'rides'. Klimgon Encounter and the new Borg Invasion. Not for the faint hearted (or pregnant we are told). As a Star Trek freak it's a lot of fun. Nothing like a Borg drone walking around while you are sipping on a soda in Quarks Bar.

Wow win a chunk of money on the slots, I can understand why this could be addictive. Should MG dinner from our winnings.


---
December 24th
Las Vegas- Vancouver-Canada

Taxi to Terminal 1 (Vegas) insane driver almost side swipes us, Christmas brings out the worst in people on the road. Mark gets his shoes off and body search at the airport, the start of numerous such searches. C'mon America, let's be a bit more paranoid. We call home on the USA mobile and speak to everyone. feel a bit sad not being in Oz but every so often you just have to go off on an adventure, otherwise life is damn boring. It's way too short and sitting around at home growing old is just not how we are going to live it.

Alaska Airlines flight was o.k., just another flight really. Arrive in Vancouver and Canadian customs are really nice to us, such a difference between the USA and Canada customs, no paranoid dickheads.

The taxi driver taking us to the hotel has some huge head-wrap on, freaky Indian man that he is, some serious chanting going down. We are staying at the glamorous Fairmont Hotel in the heart of Vancouver, it's old world charm. Gryphons are everywhere, in the carpet design, etched into the copper in the elevator doors. Our room is to die for, huge Edwardian beds.

We walk to Melina's Greek tavern and have a meal, and a few drinks. It's at #1065 Granville Street, and you are sure to get offered some good Pot on the way. In bed by midnight, it's raining outside, that Vancouver drizzle, which I kind of love.


---
December 25th
Fairmont Hotel- Vancouver

Christmas breakfast in the room, it's so dark outside, kind of threw me, my body clock is a bit confused. Still raining. Possible light snow tomorrow.

We head to the Vancouver look-out, the tallest building in town. The clouds clear and the views and impressive. Astronaut Neil Armstrong opened the Vancouver Lookout on August 13th 1977. We get some coffee from the Aussie girl behind the counter, and sit and sip it and just take in the view. You can't go to Vancouver and not go to the Lookout.

Next it's a taxi to the Aquarium. Our timing is good as we got to see the crazy Beluga being fed. They are so smart, one of them 'sings' near us. Such freaks- super cool. The sea lions are next, I'm holding the massive Fairmont umbrella while MG is filming, yes it is still raining. Spiniker the dolphin manages to drench a woman, her child and pram from head to foot, smartarse dolphin, glad we moved out of target range. It's a good Aquarium but Sydney and Melbourne is better...still the Beluga gives them bonus points.

The darkness sets in and Taxi's are impossible, so we walk all the way to Georgia Street and jump on a bus and it stops exactly out the front of the Hotel.

Head off for dinner and watch a movie (Sky captain and the world of tomorrow) in the room....and yes the rain continues to fall.


---
December 26th
Get to sleep in, a bit anyway. The rooms are nice and quiet. All of the Boxing Day sales are on, so we head to Moores as I want to buy a new coat for the upcoming freezing weather and snow. Buy a down-filled, fake fur hooded Parka type creation and save $80. It even has a built in compass.

Buy Marky a cashmink scarf (yes 100% fake) but super soft. We go to Lorraines , the best cheesecake in Vancouver, and look out across the bay at the snow building on the peaks of the mountains. The wind (and yes rain) is getting colder.

Mark returns to the hotel for his hot date with Mavis. She is the Fairmont's dog and she failed Guide dog exams because she was too friendly. So she now lives at the Fairmont and guests can take her for a walk.

Buy more books (yes I know), at Virgin who have a 15% sale on. I do find a copy of Voltaire's 'What is Goth' book and it's signed by the writer himself. For those who are unaware of Voltaire (hey that Rhymes) he lives in NYC and is signed to the wonderful Project label. He has released the same number of books as me and they are almost the same size and he signs most of them. So had to buy this and show some support. Mark finds the last Stones book that he needs, it's put together by Rolling Stones fans, a really fun book.

Much as I am excited by our train journey, it will be sad leaving wet, punky-goth Vancouver...we had a nice wet time.


---
December 27th
The Rocky Mountaineer (Kamloops)

In the lobby by 6.30...bus takes us to the train. It's brilliant, our seats are in the upper deck, the lower is the dining carriage. Vancouver is shrouded in Fog. The train goes from Vancouver to Kamloops...and a few days later we join the 2nd train to go all the way to Toronto.

We travel through New Westminster and cross the Fraser river swing bridge. The snow starts to appear, first in little clusters and then on the tree's. A lot of small animal tracks by the side of the train-tracks.

The food on board is excellent, and it's worth paying for the extra Gold-Leaf service. They really do spoil you on-board. The train is about 85% full of Australian's... all in search of a white Christmas.

It's so dark outside, our final stop for the day is Kamloops, and it blinks like a diamond in the night. As we pull into town the houses are all covered in Christmas lights, every single one of them, really pretty. It's been snowing all day so that just adds to it.

The lady at the hotel is a cow and is rude to a few people, I do return the favour which seems to have the effect of her running into a brick wall, obviously people don't talk back to this crappy old bird.

Mark and myself hike down the road through the ice and snow and we find a Future Store open...if nothing else it is warm inside. Discover another Best Of Split Enz CD..the band will detest the cover shot, where did this one come from...$7 so I buy it.

We call Benny for his birthday, think he was happily surprised to hear from us. We'll celebrate your birthday when we get back, we promise.


---
December 28th
The Rocky Mountaineer (Banff)

We love Banff, it's managed to climb to the #3 spot on places we would consider living (behind Melbourne and Cusco). Not surprisingly a huge part of the local population is Australian, I could spot those accents behind the counters at numerous stores.

We are staying at the Banff Springs Hotel (owned by Fairmont's) and it is so pretty...will give a history of it further down the track).

We walk into town, down the icy snowed covered road, excellent. We stock up on food, water and I find a huge bag of cherries, they came all the way from Chile!!! Consumed by lips and teeth all the way from Australia. Taste great.

We head into the Quest gallery (105 Banff Ave) great art prices, I wish I had the room. Head back to the Hotel to get the movie cameras and to defrost our fingers and toes. It has warmed up a fraction, now only -10. I stand under a pine tree, loaded in snow and purposely shake a branch for the camera. Hey presto-Peter White.

I take an arty shot of a Safeway trolley in the frozen river next to the stone bridge, the mammoth snow covered peaks behind it....man & nature..we suck. Dinner again at 'Balkan'. We call into the Banff book & art den (94 Banff Ave), we love this shop. A cute Banff girl and her amazing Husky dog keep us entertained-we hang out- so cool. Walk back to the hotel and the snow flakes are falling all around us. The golden glow from the street lamps just adds to this wonderland...I sigh as another tree branch drops ice and snow on yours truly. This is great.

Fave Book- THE CANADIAN ROCKIES-A HISTORY IN PHOTOGRAPHS (Altitude Books) www.altitudepublishing.com

Fave Jewellery-Amolite Necklace. Banff jewels!


---
December 29th
Banff -Canada- Banff Springs Hotel

Try to sleep in, my throat is stuffed, so I keep poor old Mark awake most of the night. A few people on the train surrounding us were coughing and I just knew I'd get this 'disease' from them... all the air conditioning doesn't help. So MG is crappy and I do understand, I try to be extra nice today.

Open the drapes in our Palace style room, oh my God what a view. When they say- 'we'll give you a room with a view' they were not kidding. It is mind blowing. Massive mountain peaks covered in snow, frozen rivers and endless tree's - it's like the world nicest Christmas card has came to life. I am so glad we are seeing this in Winter.

Much as I adore this hotel, it is a rip-off food wise. Two 10 inch pizzas and 2 cokes- $43 USA!!!! We avoid eating here.

The hotels history is great. In 1886 the Canadian Pacific Railway began construction of the pride of it's mountain hotels. It cost $250,000 at the time. During construction the CPRs vice president visited the site and was horrified to see that someone had oriented the site plans back the front and most of the hotel faced the wrong way-so he sketched additional bits onto the plan to fix it. The 250 room hotel, complete with hot sulphur water springs, opened on June 1st 1888. It was the largest hotel in the world at the time and room rates started at $3.50 per day. In 1903 the capacity grew to 500. When you consider that when it opened the population of Banff was only about 100 people, it was rather a bold place to build.

The view in Winter is totally breathtaking, but for us the town of Banff itself and it's people is our real love. We rug up again and head to Banff Ave. It snowed again this morning so everything is extra white and it's now minus 18, and extra cold. Mark films some of the scenery and we worry about the camera, the cold could really destroy it. So we take it back inside.

Lunch is at Balkan Greek Tavern (120 Banff Ave)-really great, both food and service. Next I visit Pharmacist Jeff and he gives me some extra strong Benylin for my cough and chest. It helps a bit. We sleep well tonight.


---
December 30th
Jasper-Canada

Up early but we refuse to eat at this expensive hotel. It's snowing outside , and 'The Castle' as it is nicknamed is looking picturesque. The tourists are all rugged up and some of the old men have icicles forming on their noses.

Today is a bus day, it's the only part of the train trip that is via bus, and we are not really looking forward to it. I've been on enough buses lately.

It's a nice surprise that only 12 of us are on the bus and it's all very relaxed and the people are all nice. We are the youngest , which is always funny. It gets better as a bonus they take us to Lake Louise. Out of a protest we refused to stay at the Lake as the hotel looks really ugly perched on the lake foreshore. There have been numerous protests about the Hotel over the years destroying the natural beauty etc, and as everyone says unless you are into hiking there is very little to do at the Lake itself.

Still as a stopover we got to see it. A giant ice castle had been built for the skaters, and a natural skating rink. We head out and film and lap up the scenery.

We leave Lake Louise and head down the Ice-fields Parkway, surrounded by Blue Glaciers, and striking scenery. Lunch is at Simpsons Num-it-Jah Lodge and it's all covered in the cost (we like that). Our bus mates all seem to like us , and we get along fine. The bus driver pisses us off as he won't shut up and try's to push all these Fur is Good views on us...so you can imagine how Mark and myself reacted to that..you blew your Tip buddy- big time. We see Moose and loads of Elk, but the best creature was the Big Horn sheep that was sitting by the road side, Mark god some cool footage of him. he was such a proud creature and didn't give a hoot about a bus load of creatures staring at him.

We arrive at Jasper, accommodation tonight is Jasper Park Lodge , yep another exotic Fairmont Hotel.


---
December 31st
New Years Eve- Jasper

Sleep well in my huge wooden bed, in our log cabin. Snuggly stuffed pillows and you could stay in bed all day. Instead of building 'upwards' they have stretched the 'hotel' into cabins over countless acres of land, surrounding a massive (now frozen) lake. The sun comes up at 9.00, it's snowing outside and major wind-chill today. We leave when it is minus 20, it peaks at minus 40, and even the locals say that is cold.

Taxi into town, food at the Corner cafe , hot chocolate never tasted so good. We buy a new bag for the 2nd train as it has a cabin luggage limitation. Some Glayva too , too celebrate the New year. The streets of jasper are pretty empty and not as pretty as our lovely Banff, we high tail it back to the Hotel.

At 2.30 we go for a hike, around the lake. It's getting obvious that the temperatures are still falling... I walk out on the frozen lake and Mark takes some photos. he hopes I fall in, I can tell. We pose for a snap together, when I look at the photo I am buried somewhere in my giant fake fur hat. Our fingers and toes start to freeze, and frostbite is around the corner so we bolt back to the room while all our digits are still attached.

Hell imagine if your dick snapped off..how would you explain that???

In a warm bath, a Rocky Mountaineer balloon glass full of Glayva I can't think of a nicer way to recover. Happy New Year everyone!


---
January 1st 2005
Train #2- 'The Canadian'

Up early, finish packing bags for pick up, still cold outside, only minus 24 today. Almost balmy weather (:

Taxi takes us to the train station, a herd of Elk are grazing by the road side and a family of Big Horn Sheep are on the hillside above them watching us.

'The Canadian' will take us across to Toronto, and we have our own sleeper cabin on board. We are at the station early, so Mark goes outside to film, he forgets to wear his gloves and 10 minutes later he is back inside, with no feelings in his fingers. We take him into the bathroom and soak his hands under warm water. Minor frostbite.

I have a hoarse sexy voice, and no amount of cough mixture seems to help.

We board the train, the last carriage and meet Brian our man servant *grin*. he promises to make our journey easier, that does sound a bit suss!!!

Am half way through my Henry Rollins 'Broken Summers' book and loving it. It's a behind the scenes look at the making of 'Rise Above' CD and the benefit shows for the West Memphis Three. I still love Rollin's no hold barred style of writing, this book is one of his best.

We request dinner tonight in our private cabin, the people next door seem to endlessly flush their toilet, and the loo paper roller makes this weird clinking sound. So all throughout our dinner we hear these weird noises. Mark has poached fish and Risotto, I'm having Pacific Rim salad and Lamb.

I don't seem to have a fever but I feel trippy, I find myself staring endlessly at the snow outside, sometimes for hours without saying a word.


---
January 2nd
Winnipeg

Cross the Prairie close to the border of Saskatchewan and Manitoba...in Summer they are wheat and canola fields. It's still cold outside and the pipes on the sink in our cabin have frozen solid.

We sit with a Judge at breakfast and we hit it off, she's fun, I like Judges and she has a wicked sense of humour. Very cool, very noble. She was born in the area where the train is crossing and tells me a bit about it.

We are next told that the showers have frozen solid, the snow continues to fall, small diamonds glittering in the sunlight. The snow seems different here, more like a fine powder.

Lunch is in our room, our new attendant is Brian who looks the same as Jeff, or is it Jeff looking like Brian, I give up, and the odds are 50/50 that I will get his name right.

I am a bit trippy from the cough mixture, I know I am out of it when I get destroyed at Level 1 on Game boy.

Mark has even more salmon, I have a Baggel and soup...and some sort of exotic looking desert.

The adjoining vestibule between the carriages is now looking like a huge ice cave, icicles hanging down from the roof, I want to add a carving of The Christ and some candles.... we sneak out and take photos, yours truly in the holier then thou pose...brr cold or what.

I need to confess, I did try Bison on this trip. I tortured myself over eating it, guilted out, but can I say, it tasted wonderful. I will never eat it again, but it was delicious... I'm a murderer anyway as I do eat chicken, and who says that a chicken isn't as important as a Bison.?


---
January 3rd
At the township of Ednglac the train breaks down, the power fades...the start of a long day. We then get told of a major derailment, which forced us to take a major detour, meaning 12-20 hours late. We tell Jeff to keep our beds down...we might as well be super comfortable. We eat in our room. Read, write and lap up the views.

Mark finds a map, we are currently at Schreiber, on Lake Superior, feels a bit better to see us as a dot. The Lakes are incredible, massive ice flows.

The train crew are grumbling, it appears that we are going to be very late getting into Toronto, so our accommodation at the Royal York Hotel is blown out.


---
January 4th
Toronto (finally).

Today is a long one, numerous stopping and starting, in the end the train people decide we must bus it to Toronto. It sucks.

The head guy from the government train comes on board the bus and is so damn flippant, and finishes with 'we hope you will travel with us again'. Mark and myself start a small uprising...and tell him he sucks.

It is a total blessing to arrive in Toronto. Nearly all the snow has melted, the air has a bite to it but compared to minus 40 this is a summers day in Australia.

The Royal York in Toronto is exceptional and I think the Rocky Mountaineer people have upgraded our room again as it is huge with massive chairs and beds. Edwardian everything...not much on TV. XXX Movie 'Big Cock' is on, gee what is that one about, has anyone seen this movie, who stars in it??? (grin).

Good to hear some news from N.Z. that so many Gay rights supporters are celebrating in N.Z, after officials approved the Civil Union Bill. Members of Parliament voted 65-55 in favour of the bill, which gives legal recognition for same sex couples, and it starts April 26th. Good move NZ.


---
January 5th
Toronto- Royal York Hotel.

Danny Sugerman (age 50) dies of lung cancer at his L.A. home. He penned the 1980 biography on Jim Morrison 'No one here gets out alive' and the 1989 memoir 'Wonderland avenue'. he loved The Doors and thanks to Jim reached their inner circle and helped get many re issues etc happening. A fan to the end (I can relate).

We go to Flight Centre and re-book some flights to L.A., seeing American Airlines are too paranoid to let non- USA citizens book tickets over the phone using credit cards. While our tickets are being booked we go to the 'Croissant Tree' for breakfast. Fresh food and free internet, weird going online after three weeks, I haven't missed it one bit.

The wind is blowing outside and Toronto people are all rugged up, Mark is wearing thongs, shorts and a Hawaiian shirt, it's really not that cold.

We walk down Younge street and track down the 'Urban Outfitters' store. It's a great shop. I buy MG a 'cat'. www.urbanoutfitters.com

Go to the WBB (20 Edward St) the worlds Largest Book store. Buy Rosemaree 'Ozzie knows best'... and they have the hardcover copy of Biocosm.

We head to Benihana the Japanese restaurant downstairs, they are total pains so we walk out...they want to make your food selection so complicated and we wanted simple...so we change from Japanese to Indian. Go to KAMA (214 King St West, Toronto. Ph: 416599262)...GREAT Indian, and their buffet is superb. Much cheaper then Benihama and much better.


---
January 6th
Toronto - Los Angeles.

Get to Toronto airport and go through absolute bullshit with the American Immigration people, huge lines, and they are totally hopeless, people getting the wrong forms, being delayed for stupid reasons...if we could avoid going back into America we probably would of by this stage.

Finally we board the plane, have a great seat by the wing and watch the plane getting de-iced. This is a ride all on it's own..the giant machine with it's huge light 'eye' spraying it's de-icing mix all over the wings very cool.

Taxi to our apartment in West Hollywood. The doorman recognises me and he's always helpful. They have our room all ready and they gave us a larger suite.

We walk up to Tower records and call into Book Soup. So funny as the girl behind the counter looks so much like Lisa from Neil's band (7 Worlds).... can't stop staring, she turns and goes 'Oh my god, Peter Green'....

It IS Lisa.... little to my knowledge she sometimes works at Book Soup.... we have been going to this shop for a decade....all too weird. So great to see her, we chat in between customers. I like Lisa, kind hearted lovely woman.

We end up buying XXX 30 Pornstar Portraits, great photos and text, how weird Lisa is reading the same book. Spooky.

I wave to the ghost of Jim Morrison as he is looking out at me from the Alta Vista La Cienga in Hollywood. Jim lived at the hotel for quite awhile and it's just up the road from our suite.

Head to the Coffee Bean and the boy at the counter asks me out on a date... flattered and just giggle...does this mean I have to pay for my coffee????

The bird shop down the road is always a good place to visit as it's full of exotic parrots and they fly about and climb around the cages. We just go in and check out the South American parrots...lovely creatures.

Dinner that night at the Spanish Kitchen (826 N.La Cienega). They make a killer Midori Margaritta... I need it to soothe my throat..I need several..my throat is very sore. The door girl is from Tasmania. El Coyote is dead, long live the Spanish Kitchen.

Mark pulls out a present, the Tim Burton Stick Boy and match Girl set... I am a spoilt Gryphon.

Snuggle up in our comfy beds and watch the rain fall down on the city of Angels.


---
January 7th
Los Angeles

Wake up early, or should I say get woken up by the radio. Some idiot pre-set it for 7.00. Nothing like loud American radio voices to start the day (ych).

It's still raining outside, I've only ever seen it rain once in L.A., sothis is kind of strange. It's not heavy rain, just like a broken sink- drip drip drip.

Finish reading The Motorcycle Diaries (good movie)...you can see the change in Che....and it explains why he became such a major freedom fighter.

Watch Mark run, watch Mark bolt...I've never seen him move so fast, anything so he won't get wet. He is the Cathy Freeman of Wollongong today... one drop of rain and he's off. We call into Drug Mart and purchase umbrella's.

Grab a taxi to Amoeba Music store (6400 Sunset Blvd Hollywood), where a signed copy of Henry Rollins 'Black Coffee Blues Part Two' awaits me...thanks to Mark...I am being very spoilt these days. This is so cool, can't believe Hank has signed this...a great book for the collection.

head to Hollywood and it's looking really ugly, shops all closed down, nothing like it was 20 years ago, it's the last gasp... depressing.

Call Qantas and yes our upgrades come through- thank you Qantas, we do love you.


---
January 8th & 9th
Los Angeles-Melbourne

The rain has stopped for a moment anyway. They are expecting 2 big storms to roll in, and I hope we are in the air as I don't want to get stranded at LAX. We go for a walk to the Beverly Centre to check out Z Gallerie. It's one of my favourite shops. Spy Di got me turned onto the stores all those years ago. A quick breakfast at the corner cafe, the waitress is super cute with her 1950's hairstyle...hot.

Z Gallerie is still the best, amazing couches and endless goodies, and very reasonable prices. I am good and only spend $92.24. With the upgrade we can take more baggage. I am saving some $$ for the World Vision donation package onboard as they are doing a lot for the Tsumani victims. Australians can also head into their local ANZ bank and make an instant donation, takes 10 seconds and you can claim it back as a tax deduction if you wish.

Back to Z Gallerie, if you live in Houston a new Z Gallerie store is just opening on Woodlands market Street.

The book shop has a sale on so we buy this massive U2 book for 50% off... it's like $20. It would be $80 in Oz.

Call into the small gallery to check out the Carmen Lucerno art. Amazing paintings on cigar boxes, 95% sold already, she's in demand already.

next it's Objects D'Art & Spirit, on La Cienga, still full of spooky women and a few interesting wicca bits and pieces. I remember when all of the LA witches used to call in here for their bits and pieces.... off to Melrose next and it's like Hollywood a dying gasp...absolute crap shops. I DID buy a FUCK BUSH T-shirt. Nice and subtle eh? I wear it back to the hotel.

Back to the hotel, we pack, jump in a cab and arrive at LAX with heaps of time to spare. have a fight at the freaky flyer lounge with the woman in charge as she was an idiot, in the end everyone had a fight with her... it was kind of fun.

An hour delay, but soon we are up in the air before the first major storm breaks. I feel very relaxed... very content, and happy to be heading home.

I wave to America, I blow kisses to Canada....life is an adventure and I feel like we just had several weeks of exploring (and ok some shopping).

2005....bring it on!

Long live the revolution.

Gryphon.

---
If there are any problems with this site, please contact webmaster@aswas.com.