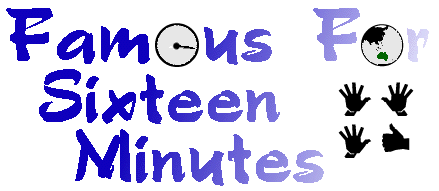 The Life and Times of Peter Green
Archive: 22 November - 5 December 2004
---
November 22nd
Finns-Adelaide

Good vibe from this show, lots of people dancing towards the end. I like that, hate it when people sit on their arses, time to shake it folks.

The second Royal Albert Hall Finn show is on sale, pretty sure they will do three at this rate, tickets are running out the door.

Call up Vegas and book some rooms over the Christmas period, rates are so good for Vegas during the week, guess they want you to stay at their Hotels so they can grab your silver dollars. I plan to make more then give...


---
November 23rd
Finns-Music Max-Melbourne

Head into the Vic Arts Centre for sound-check, back at the Fairfax studio. The cable TV people have dressed up the mobile music max stage set, looks great, all freaky lights and backdrops.

Finns and band on the stage rehearsing 'Nothing wrong with you', Hessie and Liam Finn sitting down the front enjoying it all. Peter Farnan from BCO drops in to see old friend Tim Smith. Pete is in another area of the Arts Centre playing in one of the productions... And Pete Collins who was in The Sharp is walking about too.

They bring some VIP's in, some of the boys from Jet and the Living End and some lucky prize winners who get to sit at the band's feet and ask some questions halfway though the set.

Paul has a play during sound-check and also for the stuff to be shown on TV.

It sounds good, looks good and will be shown on MAX TV (cable) on Christmas day. I catch a tram home and blow it as it's the wrong number (opps)...so end up a mile away from home.


---
November 24th
Finn Brothers-Palais Theatre #1

So great to see the crew boys again, they are like strange big brothers who have been away on vacation. Caroline at the Palais lets me leave my car in her private car park, so I appreciate that a lot.

Bungie comes down for sound-check to see Tim Smith, as Jellyfish used to hang out with BCO while they were in L.A. The Palais looks grand, and Sharon's chandeliers..now numbered five, suit the venue and décor.

I check out the band room to make sure it's all good, and nothing to do there. Head outside and catch up with some Life members who have been waiting and bring them in for the sound-check. It's funny as a giant airbrushing of the Finns is on the main board for the Palais... They look a bit odd...especially the depiction of Tim...alien-ish.

Sound-check goes well and just as I'm walking the Lifers back out Hessie climbs up for a play on Distant Sun...

I head off with Doe our purple loving tour manager for the Oz shows. Acland street is packed and it seems like nearly all the people are going to the Finn show. The waiter asks us if we have good seats.....'the best in the house' I say. The service at Cicciolina is good but the kitchen is very very slow...good food though.

Give Tim Marks MAYBE clip and he comes back from time at the hotel saying he loves it, really loves it. Neil see's it later and says it's possibly the best Enz footage to date....good one Marky!

The show is really good tonight, and naturally the Hester addition goes over a storm...add to that Finn x4 Liam and Elroy joining Tim and Neil onstage for I GOT YOU...the audience laps it up.

Dean from Mushroom Records has the best time and it's good to see so many of our 'family' in the crowd. Good to see Goldmember and Joost Toast..great seats guys. Grab journo Nui in the foyer and have a chat, the next few days Nui writes some nice positive articles on the show (thanks mate).

Drive the Yeti home, promises me dinner . I eat less these days anyway so happy to forage. Finally home, Mark is up and makes me a cuppa...what a good day. The drive took the last of my energy.


---
November 25th
Finns-Palais Melbourne #2

Call various VIP's that their tickets will be at the door,say 'no tickets' to half the world today, so many people expect stuff for free, great that so many people we know bought tickets. Gotta support the music industry.

Sound-check is blown out today, email club members and let them know, we usually lose a few sound-checks each tour. Still not sure why this one didn't happen.

Work on some stuff, say a quick hello to Missy Higgins who is the special guest for the tour. I can never get sick of hearing SCAR what a classic. She's nice, but a backstage person from one of the venues said she has to have several types of lemons...no idea what that means.

Another fine show, Paul has me in stitches side stage and Mark and myself get a song from the Finns (argggggh guys) feels special. Doing some torch work at the show with Doe, basically means the guys don't trip over leads and boxes and they gather side stage in a cluster, have a drink and what ever and wait to see if the crowd calls for more. Elroy and Liam played exceptionally well tonight...especially El who peaked...it's all downhill now (: Neil is a proud Dad.

Good to see Deborah turn up (love those boots girlfriend), and Marky B is back on the crew which has a good feel to it, he brings me my calm zone and just makes it good. Tells me I am the man of the people. I wish.

Neil's manager Alec is in town and things have improved out of sight from our mammoth run in on the USA tour...maybe we can find a balance after all, it's good, and I do hope so.

Mark, Bec and Rosemaree have incredibly good seats, possibly the best of the comps. I run into Ruth who saved our lives many a time when we lived at Cape Patterson. Her family used to run the only food place and made these killer hamburgers...while they locked the store and we played pinball, lovely people and she looks drop dead gorgeous. Still can't believe she was at the show.

Grab a pass for Greg Skyhook and Gabrielle. A lot of family and people backstage tonight, so I do security and basically direct them to the room. Extra special for one of the Stacey's as he used to go out with Gabrielle... Over a decade ago, what a small world. Bongo Skyhook grabs me and takes me upstairs and gets NF and says how they love me (hic hic hic it's that sorta Melbourne love-in tonight)....I point out that they have another thing in common, they were both my landlords at Osborne Street houses....

Tonight was funny onstage, Tim mentioned the complete address for our old Murchison Street apartment where Woodface was recorded...Holy Fan invasion Batman...I wonder if anyone will turn up on their Finn pilgrimage, Neil has a chuckle over it.

Paul Kelly comes up and says hello, he's looking skinny but healthy, I sat him almost next to Greg Macainsh tonight...so several of Australia's key songwriters together. Am I perverse or what.

Little Pink is there and Sally Crombie (Noel turned up last night)... Pink cracks me up...we are all squashed in backstage ...it's really squashy... I hand out beers and water and whatever, it's nice to do that when we have guests. Liam gives me the new address for the Betchadupa boys, so we can drop in a Christmas survival parcel seeing how they are staying in Melbourne.

I escape just after Tim and Marie depart, and in bed by 2.30. Night!


---
November 26th
Have breakfast with Marky and Spock calls in with some CD artwork for the bonus disc for Letters to my Frenz book...so that can go in soonish. Call Toija and wish her a happy birthday. How old?

Spock gives me a ride down to the hotel and I hop on the bus with the band and we pick up the crew on the way. Tim looks sleepy, think he got woken up last night by his strange bedside phone.

Jeremy films me saying HI to Cameron C in England who is an old mate and produces a lot of bands, he knows the Stacy's. Small world.

Depart on the 2.00 flight. Have a small run in with the Qantas Club as I try to get several people in... They are right but hey...gotta try, this is tour life.

Get revenge by abusing their photocopier and eating all the watermelon.

Arrive Sydney and a tour bus pulls in while we are waiting for our vans to take us to Wollongong. It's Tina Arena.. who bores me shitless musically. The good thing is that our buddy Dugald is on the tour...so good to see the old married man.

Arrive Wollongong and I call and surprise my Sis...she picks me up and we head to Mums and surprise her. My sisters boyfriend calls in and we all dine on chicken tonight, even Snowy the dog-Woof!

The Hotel manager gives me a suite 'seeing I'm a Wollongong boy'... Such weird rooms, they feel very empty even with me staying in the room.


---
November 27th
Wollongong-WIN Arena

Sleep in, no chance, major construction across the road from the hotel, so wake up to the sound of jack-hammers and pounding. Taxi to Mums and we head on down to the supermarket. Call into the club for a drink and a quick game on the Pokies. Mum wins, her favourite ZORRO machine always pays out to her. We sit under some gum trees and have a nice talk.

Sis and Mum drop me off at the Venue, takes me awhile to get inside, talk about locked up tight. Incredible sunny day, perfect for a surf and the venue sits right next to one of Wollongongs golden beaches. So shorts on and towels out... and into the big wet. Everyone Finns, band crew.

It's amazing how the sea re-charges you, did everyone the world of good.

We have 2000 punters tonight, and the venue has a moving stage so you can change the shape of the room and give that, nearly full feel.

My sister and other half have really good seats, thanks to Doe and Nick, and I run into them almost instantly. They come along early to see Missy Higgins. I sit for awhile with them. My Sis likes Missy.

Head out the front to get a ticket count and the girl behind the counter used to go to school with me and recognises me...! Kind of freaks me a bit, she tells me about other class mates, David Hawkins getting killed a few weeks ago in a freak car accident, he was standing by a tree and got slammed by two cars, sounds like a strange scene from Final Destination #3. I wonder to myself how many other class mates haven't made it this far. Live life today people...

Really good crowd, except for the very loud kiwi's up back who were obsessed with 'Mean to me'.... Get a "Peter Green is a local Wollongong Boy' mention which was nice. I was added to the final parts of the tour at the very last second...so I'm glad I'm at the 'Gong gig.

Lots of laughter from the band room tonight, Tim Finn dripping wet needing a spare T-shirt, I won't make the same mistake and hide my Nasa shirt *grin*.

The Stacey Brothers romping around naked wet huge hairy men, like it's a day at the Sunnydale Nudist Colony....maybe the Finns and Co should play nude during an encore, that would freak out the crowd!!!!

Head off straight away and Sis drops me home to Mums where I'm staying for the night, raid the fridge and make a ham and cheese sandwich.

Watch the last of Australia kicking Great Britain's butt in the Rugby. Willie Tonga, what a great player and a nice guy... Was happy for him. Those British Lions are just big pussy cats tonight...felt very sad for Britain, it was such a slaughter by the Aussies. Go Kanga's!


---
November 28th
Wollongong- Canberra (Royal Theatre)

Early morning and the smell of crispy bacon on toast wakes me up. I love coming home. Sis and Mum drop me off at the hotel so I can jump on the tour bus to Canberra.

The day changes as I'm told that in the wee hours of the morning one of the truck drivers rammed into the overhang at Wollongong stadium and ripped the top off the truck like a huge metal sardine tin.

So I head down with the crew and we re load a brand new truck. I am not talking basic stage gear, I'm talking about the 6 people needed to lift it type road-cases. Serious muscle power...and I end up with extra bumps on my arms...what are those things...oh extra muscle! (: Doing this once is a novelty, but even by the end the novelty was wearing a bit thin...still felt good and gotta help the crew.

We are soon zooming on our way to Canberra. It takes several hours but the ice cream stop halfway makes it bearable.

Seeing how the truck left so late there is no sound-check today but plenty of loaders so the show will run on time. Our hotel is within walking distance to the gig, our regular spot so I head there first... And plug in the G4 and freak that there are so many emails.

Head to the show and rush through all my 'stuff'. Run into Missy Higgins and she is always happy. Tim Smith is asleep on the couch, and we all look a bit sleepy today.

Scoff some food down with the Finns and I head back to the hotel as soon as they are onstage to do emails. So I basically miss most of the gig tonight. I do hear that Neil made a security person get up on stage and sing!

Spiderman 2 or Porn on the Hotel TV, it's a hard call. The Porn supermarket is only a short distance from the hotel too, such is Canberra. Politicians and Porn.


---
November 29th
Canberra- Brisbane (Convention Centre)

In the foyer at 7.00, get a room service breakfast so I am ready for the day, plus all that cranberry juice. The streets around Canberra are so empty, it's like a bomb went off. Oh can't say bomb in Canberra, I forgot, our PM is as paranoid as Bush when it comes to homeland security.

Head into the Canberra Freaky flyer lounge and I take Andy in as the guest. They are tightening back on the guests these days..maybe they eat too much. Neil heads off and watches the cricket on the giant TV, I go into the business area and abuse the photocopier and go online.

So many political lounge lizards in cheap suits, watch as some steal the jam and pop it in their bags. Cheapo's.

Land in Brisbane, can not remember the flight, I think I was an in flight Zombie. Walk around Brisbane and I buy TIME magazine, for it's 'Cosmic Conundrum' article. It has an article on James Gardners BIOCOSM book- a novel perspective of humankinds role in the universe...one of my faves.

Taxi to Venue, N.Z. Losing the cricket, wonder if this will cause a ripple in the show, the Finns like their cricket. John Walsh from our crew is all upset over it. Cricket bores me shitless. I do point that out. *GRIN*.

It ends up being a really great gig, I work hard, loads to do, meet and greets with Doe the tour manager, Richard Finn and family turning up. Walk them to their seats...great crowd and I love it when they are on their feet.

Sound-check got blown out again today, this time because the truck had to drive from Canberra to Brisbane so it was never ever going to arrive early. Meet some Frenz and tell them the bad news, but nice to chat to everyone.

At the hotel, we head to Neil's suite for a chill session, it's so rare that he has these room parties and it would be the only hotel where the elevators have obsessive security card locks on all floors. Frustrating have guests stuck between floors. I have an early night, say goodnight to the boss and head off with Marie and Tim. My pillows are the big fluffy ones...so comfy. We are spoilt. I consider stealing the pillows.


---
November 30th
Brisbane-Sydney

Late check out- 10.30 today. Luxury.

Read in bed, do some writing, steal a chocolate bar from the mini bar. Guilt out and pay for it.

MMM show details changes, well the venue, from Circular Quay to Bondi Beach.

Arrive Sydney and our driver can't shut up.... Have a headache..

Arrive at our hotel by the Harbour and the rooms are ace, nice and cool against the Sydney heat. Most people head to the beach and it's packed but still nice. Several crew have meetings about the MMM Bondi show.

Work and watch movies at the same time, Spiderman 2 and Fahrenheit are both on so chill out and watch them. Internet and dinner.


---
December 1st
Sydney State Theatre #1

Breakfast at Quayside by Circular Quay. Sleep well, these hotels all have great pillows. Was a hot night outside, but our tower of steel and glass has super duper cooling. A pigeon sits on the chair next to me and watches me eat breaky.

Am a bit flat today, not sure why too much sleep maybe?

Neil calls re: tour presents, and Doe calls about a room for a crew get together tonight. Small tour celebration- Yey! I wonder if everyone will be too sleepy to party tomorrow as the Bondi beach free mini show for Triple M is on as well as the second gig at the State theatre.

I get a small something signed for Jayne in the U.K. What's one more thing in the pile of signatures (: The Finns are very patient, and we slowly get through everything from CD covers to Lithographs.

About half way though the set Andy from our crew runs over asking if we have tweezers, he shows me and the ear piece from the 'in-ears' has snapped off, and it's inside Andys ear! Missy Higgins has some tweezers in her band room, so Dr Higgins and Dr Green perform some rather unique ear surgery on Andy, and out it pops! Dr Higgins and Greens shake hands, a job well done. I suggest she could always become a doctor if the next album fails, she tells me her Dad already is one...see genetics.

Great first gig, passionate crowd, Neil telling the Ushers where to go so the crowd can dance during the encores. Of course Neil Finn using the word 'prick' makes the papers next day, the media likes that he is getting people up to dance, so do I... I get so bored of that sit in the seat crowd, hell are we old enough already...a bit of energy please.

Weather with you is added to the encore and a healthy crowd sing-a long.

NF : 'It's great to be back in Sydney but ever since John Howard got back in I've been feeling a bit uneasy'....

Tell us about it Neil.

Say goodnight to Dr Missy and get home to the Hotel in time to call Marky.


---
December 2nd
Sydney-Finns-State Theatre #2

Breakfast again at Gateway Quayside. Buy a new battery for my camera, the Nikon 6006- I hope that it was the problem. So nice to be using B&W film again. Digital is soooo last year, film is the new cool.

Overcast day, drizzle, I've promised everyone serious weather magics for the free beach show. I hang on the phone at the Bose company, and manage to get this wonderful Bose woman (thanks carol) who supplies some of the new soundproof headphones...

In the foyer at 12.30 and we all head to the beach- Finns and family and myself all squashed in the van. As we get close to Bondi a burst of sunshine breaks through and I know it will be ok (thanks Sun God and little magics).

We sound-check at the beach at 1.00, quite a few Frenz down here early, hi Sue, Hi Gretchen, Craig and his boyfriend from the N.T. etc...so Neil extends sound-check for them. EMI and Triple M people everywhere, Liam is in the crowd and the Triple M man freaks out a bit when he says a 'C' word on air (: (opps).

The waves are just too tempting so I leave the stage area and head down the beach, away from the masses. I strip off and go in for a swim. It's a tough surf, which explains why so few are swimming...still nice to swim for awhile. Head on back looking like a wet shaggy dog.

About 1600 people turn up (yep I count them) which is good for a week day and a change of venue. Neil tries to call the surfers but the wind is blowing the sound back in so they have no idea. The Triple M guy likes the sound etc so much that the whole gig goes to air not just 4 songs.

Tim wants to leave quickly so I jump in the van with him, Marie and one of the Stacey brothers, who climbs back out as he has lost his passport. Tim Smith is sitting in the back seat, he is such an easy person to get along with, a nice calm about him. We call into Macro at Bondi Junction, nice smoothies and good food. YUM.

I shower at the hotel and head to the venue with the guys. Another fine show, chat to loads of Frenz and people from our past. Hi Katja.

A good gig but once again Andy's 'in-ears' snap and no sign of Missy or her makeup purse. I find the emergency first aid kit and it has the longest tweezers in the world....Liam holds the torch while I get the rubber ear bit out. It's much deeper and these tweezers are sharp, I almost say no and send him to hospital but I manage to achieve the impossible...and out pops the plastic (Phew). Andy you owe me one.

I leave during the encore, a van takes me to The basement for a private party. The manager shows me the room, it's all ready, I slip out and get changed into my Morrissey pants and shirt.

Susannah the bar gal is from Dunedin and mixes some very good vodka combinations. I am door bitch, but very well dressed and only let in our lot to the room. Sam Neil turns up first. Funny the posters are up from the night before and a Crowded House cover band were playing here.

I walk around with Neil's manager Alec and we give out tour jackets to the long term serving crew, means I can finally pull mine out of hiding and yes Giles you are now happy (:

It's been a long day, we are all slightly sunburnt despite the block I put on people. Yeti is the first to leave, Marky B always the gentleman offers to walk me to the hotel in case I am mugged (serious alley's around the Basement)...I have my kick boxing boots on so I'm really only afraid of a bullet. So I say no and I slip out by myself. Who was that fine woman Elroy Finn was chatting to on the love couch...oh see they just get old, good to see. Go El!

Neil pulls me aside and is just the best boss, he says all the things I've always wanted him to say, and I am loving my work, loving the music and it can't get any better then this.... Talk about perfect timing, it's times like this when I appreciate just how lucky I am. All good.

Of course I can't sleep even on my luxury pillows, so I watch Predator V's Alien.... It's actually ok for late night viewing....

I notice that the Finns enjoy the Margaret River Vasse Felix that I added to the band room supply. I think Alec bought a bottle too, so I've made a note of two very easy Xmas presents for them....Vasse all round.


---
December 3rd
Sydney-State Theatre #3

Lunch with my mate Ben Yeti, one of the few times on this tour that we have hung out, always a pleasure. Some good people on this tour- Benny, Marky B and Andy, trust them totally. Touring is such a bubble, areas of respect, allowing people space and work areas, it's a complicated beast. Even after all these tours it puzzles me, a love hate thing.

Walk with Marky B, Ben and John to the Venue, my toes start to tingle, rain is on the way. Get all my stuff done with time to spare so have cheesecake and coffee ay café Retro next to the Venue, it's a regular hangout with my friend Marilyn. She was at the gig, such a short time after having the new baby, and looking fantastic.

People are bolting about everywhere, bumping people, elbows flying, too insane for me. As expected the rain comes and it's major, weird electrical stuff and sound-check gets blown out. Go out and have to tell some of the Life members, nice to chat for awhile though. We lose another one.

Run into Skip and his lovely family in the foyer, take several friends of the Finns VIP access passes, and run my little legs off. All work.

The final show and the stage sheets have '?' on the second encore section.

It's another fantastic gig, and everyone is called up onstage. Doe and Marie Finn grab me but I'm not going out there..... As soon as I see the crew slowly stepping up I decide it's the right thing to do...so I take a deep breath and wander out across the stage and dive between Ben and Marky, thankfully they catch me our I would of ended up in the first row. I blow a kiss, wave a peace sign with my fingers and depart. What a show off! Did anyone take a picture???? It is so packed even the side rows are full with GA guests. The only person who doesn't collect his tickets is Peter Garrett

Walk the band through the underground passages of the Venue to the EMI record reception party. Michael Gudinski from Mushroom is here as well and wife Sue, Reg Mombassa and his daughter Lucy and friend.

Mark P from EMI gives a charming speech, straight from the heart, he's a nice guy, plenty of time for him. I'm called up for an award, and give old Mark a very Paul Hester man-pash *grin* just to shake it up a bit. I wave the award- 1 platinum, one more to go I yell! What a silly geek I am.

Lucy and friend turn me on to some new exotic drink made from crushed leaves.. Very refreshing, very riddled in vodka (hic). Talk to Reg, Robert Moore who used to be in the TWT band, Pete & Sue O'Doherty. A few of the guys from Jet are here, chat to Mr Cester again, I do prattle on how much I love Jet and say I know 'everyone' says that...and he laughs.

The room is full of love.... The only bad vibe comes from Michael Gudinski who corners me and just goes on how I don't like him and it's because of Nathan and the Enz days and all this other stuff, which really is crap. I do have loads of respect for Gudinski for what he has done but I DO lose respect for someone when they verbally go on a rampage at a function where the vibe is so good. It sounds far more like Michael has a problem more then I do, and I try to think of how many times he has ever asked how I am and what I'm up to....never- It's just so silly. Pisses me only a fraction. I thankfully didn't back down or even raised my voice but I felt it was really uncalled for and if it was meant to intimidate me , it failed.

Tim gives me the departing signal so I go and check on the two vans, one is away taking Michael Coppell off into the night so I delay the Finn departure by the best method I know....walking very slow back to the function. I get the Finns in the car, it took so long to get everyone moving...I even used 'the voice' yes I'm afraid so... It had no effect on Neil, Marie jumped though *grin*.... The vans are packed solid, so I walk back to the Hotel with Doe. The streets are crazy and we are both road worn but happy.

I see the Finn van driving off like a musical Kennedy family. It;'s so unfair I always wanted to be Jacqui O-Finn!!!! (:

Yeti calls and we head to the seven eleven, I finally get a chance to repay him for his generous breakfast. Head up to Does room and I spend the wee hours wrapping her relatives endless supply of UGG boot Xmas presents, Doe you know I do love you after all that effort!


---
December 4th
Sydney-Melbourne

No sleep, till wee hours... And the breakfast woman wakes me up, she fusses so much I consider killing her and hiding her body in the man trap above the shower (would this make it a woman trap?).

I think back, what a great tour, I loved this tour. It has to be in my Top 3. That is a big statement. Taxi takes us to the airport, head to the freaky flyer lounge to eat. Flight is boring and I'm eager to get home. Liam is on board so we almost give him a lift but one of the other cabs is going closer. Liam is really his own man these days, probably for awhile now, it's fascinating to watch how they are growing and where they are heading. Kids no longer.

Andy has given me a 7 track cd of rough mixes of his band X-RATED COWBOYS, I've grown to love their song' Seventies Popstar', 'what comes around' is also really good. A good bar band..I can imagine. It's the first thing I play when I get home.

Homemade sausage rolls await me...how spoilt am I! Thanks Marky.

Cosmo is happy to see me and shows his affection by hiding..... He later taps on the door and gives me a huge kiss on the hand. Big bunny love.

Nice to see Maria Julia Martilla from Peru win Miss World, those Peruvians would be celebrating. Quite a natural beauty.


---
December 5th
25 years ago today since Rosaleen Norton died. I look at her painting THE CAT and think good Roie thoughts. She's probably sitting at Gods bar with Vali celebrating... Go girls.

I sleep in, coma state, Mark scares the shit out of me when he bursts into my room 'Rosemaree is here in 5 minutes'....I bolt out of bed and have a 3 minute shower, Rosemaree is early but I'm ready. We head off to Daguerres for breaky. I buy 500 more Christmas cards and spend the afternoon signing them....my fingers are actually blleeding..I should sign some in blood... Very Mark Ryden of me.

That's it from me....just think in 2 weeks we are flying out for our holiday (yey)......how cool is that. A white Christmas.

Take care all, and thanks to those of you who attended the Aussie shows and special thanks for all your kindness.

Cheers
PG

---
If there are any problems with this site, please contact webmaster@aswas.com.