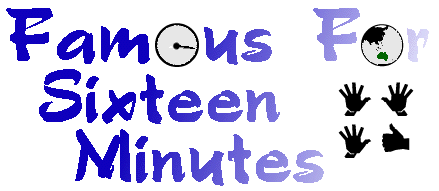 The Life and Times of Peter Green
Archive: 24 May - 6 June 2004
---
May 24th
THE FINN BROTHERS 'EVERYONE IS HERE' arrives. Mozza's CD is removed off the player, and the Finns are on. Three plays in and I am so addicted, I love this album, like I love my favourite Crowded House album. It feels very right. The office asked me for my favourite track, talk about way too hard, it truly does change every day. I think that is a good thing.

I spend ages dancing romantically around the kitchen to 'Luckiest Man Alive'. Strangely enough the song I probably like least is 'Edible Flowers', I don't hate it or anything, I just love that version on '7 Worlds Collide' as the live feel adds so much. I shouldn't compare, live /studio. Possibly because it's the only 'oldie' on the CD.

Still wish 'Land Torments the Sea' was on the CD, it will be a bonus track or on a single I am sure ... lovely song.

It's strange as one track 'Disembodied Voices' never grabbed me...it's like a killer in a dark alley way on a foggy night, it slowly creeps up on you and Oh No too late it rips into you and just stays. It finds it's musical mark, and I'll submit to it. I like it a lot now.

As time goes on you can lose faith around artists who have had numerous decades of amazing music, and thankfully I can say that there is no end in sight. Hell I am wondering if the Finns have even peaked yet!!!!!!

Go Spiderbait. OK it's a cover- 'Black Betty' but it's number one and platinum here on the Australian singles chart, and sitting at #1 (again) are Jet (album chart) and they have hit triple Platinum. Hey Jet guys where's my damn T-shirt you ba$tard$ *grin*.

Funny to see The Hilton Sisters on our street, arriving at a Club in a Lamborghini at 1.30 in the morning. They really are not very attractive. They got heckled at The Palace Nightclub a few hours before. Well at least Paris can say she is now #1. On the Porn DVD chart. Yes 'One Night In Paris' is the #1 Porn DVD in Australia. Australia the lucky country, the classy country... the cheap slutty buying country.


---
May 25th
Morrissey album at #2 on the U.K chart and his single at #3, how twisted is that, they'll be throwing flowers again Mozza you just watch. Fine album, the old Queen deserves it. God Bless the Queen God bless Morrissey.

Go hunting for Robins birthday present, yeah it has to be Elvis- we know. (:

Put the Rubbish out, but damn Paris won't sit still in the bin. (opps).

Oh a new record- 1000+ emails today. That is far too insane even for me. First of all I thought the computer was really screwed up but they kept on coming. Endless. Was there someone who didn't email today? So cancelled everything for the whole day to get through them. Loads of quick replies but at least I do reply. I just hope people don't reply to my replies or I am stuffed tomorrow!!!!

Neil calls today around some film footage, good to hear from him. Asks me if I am on the tour, too strange, I'll be the last to know (no pun).


---
May 26th
Happy Birthday Robin. We love our Robi, you have a kind heart girl.

Start mentioning USA/Canada Finn Brothers Tour Dates, have to be careful as some are not locked in, so play it by the book (mostly). I can't believe that some people complain that they are only playing one show in some areas, at least you guys get a show, think of the countless fans who just happen to live in remote places who never get to see these guys. You should be happy, you get The Finns first.

Truly thought of finishing up today, 24 years and going oh I have had enough. The 12 hour days are starting to wear me out, and yeah the up side of the job is so great, but every so often you just want the main people to say something simple as thanks... and who said the word 'pay rise'! I guess it would be strange, it all just stops. Hmm I could fake my own death and live on a tropical (non Magnetic ) Island eh Marky? Maybe I am being a prat and just need more sleep? It will pass I am sure. I dunno, it's a weird feeling and it feels weirder mentioning it here.


---
May 27th
Happy Birthday Neil Finn

And the May Birthdays keep on coming.

Mark watched Music Max- Lunch with The Rolling Stones and talk about predictable, same old clips... who put this lame arse thing together, and the quality of the clips sucked.

Thanks Rosemaree, you came through again. Oh she says all candidates for her hot date must also be tall, dark haired and rich.... gee well that is about 99% of my readers. You've blown it. (:

To break up today we had a wonderful surprise from our Ex Babble Boy- Michael (trumpets please). He's fun, and of course that led to Glayva and Hic Hic Hic. Mikie was much worst then us rolling around on my gorgeous office chair chanting I am a Dalek! *GRIN*. Was great to hang out, he is one of the good guys, always time for him. But a short visit always becomes a party, life is tough.


---
May 28th
Happy Birthday Andy White (oh and you too Kylie Minogue).

Run out of internet time... means we have used 120 hours this month, and masses of work done off-line. Crazy.

Get a call from 'the person who doesn't want to be mentioned on the website', drive across town to visit . Just had to escape my computer before I go insane. A roast this weekend, Preston markets has great meat, and even better vegies.

Traffic endless traffic coming back from 'the person who doesn't want to be mentioned on the website (TPWDWTBMOTW for short) so blow out calling into Rosemaree's ...oh she is more then happy to be mentioned on the website folks *grin*... providing you are rich tall and dark haired. I shall stop now.

Have a fun night at home, loved my present, we decided to have a fun long night, no sleep till Brooklyn. Wear sunglasses (just like the good old days Peggy) and watch the sun come up. Full of love folks just full of lurve.


---
May 29th
Put the phone on, big mistake. Jackie wakes me and is at The Market for coffee...on a weekend!!!... never gonna happen girl, (waves goodbye) a night with no sleep, the world is not ready for that look.

Family calls, pretend I have been up for hours instead of going to sleep an hour ago. If Paris can do it so can I. That's party you fools NOT make a Porn DVD. (well Mark does have the camera that all Porn companys use).... but no Peetys Porn Flick won't be on the Merchandise Area any time soon, so Paris can relax I won't bump her off the top spot.

Harry calls on by with some wonderful Bowie presents, very generous. Harry does not comment why my hair seems to be a copy of Evel Keneval Jump Ramp .... I need sleep. Or maybe comb my mop.

Have some food, recharge, rake leaves. Do some more work on the LETTERS TO MY FRENZ (Enz Book)... more scans... (you did a good job Mr Yeti on that scanner).

Notice Michael Jackson's trial is set for September 13th. I wonder if that will be an unlucky thirteen for Whacko. I'm sure he will make it into a circus.

Cook a roast for dinner, really great, excellent meat from Preston Markets and just what my body needed.


---
May 30th
Good to see BIG BROTHER flopping in the ratings, I don't think it's ever been in the Melbourne Top 20- can someone bury this dog with fleas TV show. Isn't it time people embraced their own reality's?

If anyone gets to see 'Easy Riders Raging Bulls' doco. (made in 2003) do so, its' really great, a fantastic look at a period of movie making and the behind the scenes stuff. It's interesting that they point out when Cocaine started becoming rather obvious. At the infamous award ceremony to highlight Alfred Hitchcocks longevity in the industry, as the speeches started and the audience applause stopped, all you could hear was the sound of countless people snorting and tooting! Fascinating.

Off to do some shopping and we end up having breakfast at Daguerre's. I like the coffee here, almost as good as the Market cafe. The tables are just as small though, so reading the Sunday Papers is great if you are a contortionist . Mark dreams of a cafe with HUGE tables.

Hear from our travel agent, and she's leaving soon, we go through travel agents, I jokingly us if it was our fault, and she laughs (she doesn't say NO though). Our new agents surname is Green so I am asking for a family discount on all future tickets!


---
May 31st
Send Mum some flowers, via Qantas florists. They do a great job. I think it makes her neighbours jealous. *grin*.

Into the city to pay some bills and other fun stuff. It's a windy old city today, no smilers, all frowners. Is this what we have become, the boy next door with the cheeky grin now has a perpetual frown. Maybe it's a Wintery thing, or just the state of the world. I feel if I smile people might really think I am insane(r). Scary.

Wait till midnight and the Finn USA/Canada tour dates are up on the NEWS board. Which is what I promised. Australia being a day ahead of the States means the fans get an extra days notice and I can keep my promise as far as releasing the dates.

Watch the final season of Buffy on DVD, (well we have for the past week). All sad all over again, you really notice just how clever the show was script wise, it really should of won more awards.

Stay in the office till 3.00 in the morning getting everything ready for the mail-out. It's a target mail out so a bit more complicated. Start nodding off in my chair.


---
June 1st
Happy Birthday to us too- Famous for 16 Minutes Diary site celebrates it's Sixth Year of operation. In the words of Miss Candee- we just keep getting better. By the time you read this the 200,000th visitor would of clicked on. How freaky is that?

Feels weird saying that, June 1st... already, didn't we just celebrate Christmas? Hmm thirty years ago those Skyhook boys were entering the TCS recording studio to work on "Living In The Seventies' album. It really did change all of our lives, if it wasn't for the band and the success of that album, we probably wouldn't be in Melbourne, of walked into the Mushroom office when Enz manager Nathan was in Gudinski's office etc etc So it cost like $13,000 to make and ended up selling Ten Platinum's worth, #1 in Victoria for SIX MONTHS and probably saved Mushroom Records Musical Arse.

So here we all are, three decades, Shirl's missing in action, but never forgotten. A swag full of memories and those Greg Macainsh penned tunes are loved by us as much as in 1974. It's funny, away from America and England there was this band, they were bumping ALL the overseas bands off the top spot on the Australian charts, they sang songs about places that we all visited locally and they had a sense of humour like no other. The rest of the world never got them (OK Top 10 in Jacksonville Florida!!!), there's something good even in that, it's like knowing you have the 'best kept secret' in the back pocket of your jeans, we didn't mind sharing it with Australia but kind of good that the rest of the planet was unaware.

So to the 'Hooks, like old (always young at heart guys) soldiers you have earn't a very special place in Australia's musical history- so thumbs up guys, you still mean a lot to us.

Did the Rocket Pocket Books Sales report for the month (hey we are a professional company after all) and Shock Gasp, the biggest seller this month was GLAMOUR. The third F/16 Diary book. It must be all those people who have Hussy and Bang! and are desperate for something to read on Summer vacation .... or the parrot cage has ran out of paper again.

We've just ok'd the artwork for our Rocket Pocket Books ...BookMarks and shall have them in a week. Free is good, we like sending out free stuff. So these weird little bookmarks will start appearing in peoples mailboxes.

Spend the afternoon scanning more Enz images, for the Enz Book, and for the Finns and Nettwerk our USA record company. It's now 1.00 in the morning so I think i'll call it a night, while my blue eyes are still blue.

I decide tonight I am going to eat dinner, away from the office and the computer, at a normal time. Work can wait. Head up to Windsor and Mark loiters in front of this really small restaurant. So we go in. It's called SHAIRVINS and is a Persian Restaurant. For those visiting Melbourne it is located at 50 Chapel St, Prahran (PH:95336499).

A really nice selection of food: Ash-e-reshteh...which is basically vegetarian. We cop out and have Shishlik and the owner also adds some Koobedah, which I really love, It's kind of a mince skewer, but tastes exceptional. Had to try Akbar-Mashdi for desert. A pistachio and rosewater Icecream, a golden yellow colour, just the best. Really cute Persian decore' (yep all those rugs on the wall)..... so if you want a nice place to go that's not too expensive or packed- head to SHAIRVINS.


---
June 2nd
I think 'Won't Give In' will be the first single to radio in the States from the Finn Brothers album. Number one track on the album, kind of obvious but people will like it.

Go Jennifer Hawkins. The Newcastle (Australia) cutie wins Miss Universe. We want to know why no Vulcans were represented (well it is Miss UNIVERSE). Just imagine when we get our first visitors from outer space (the one's that everyone will know about) and we can truly have a Universal selection of contestants... and we will have to really look at ourselves and define what beauty is....scales, tentacles etc... I like Jen she's really passionate, and I hear quite a good surfer. The thunder from down-under indeed. Still a meat market in many ways but at least she seems fun.

What Morrissey's YOU ARE THE QUARRY debuts at #11 in the USA, (Top 10 in the UK I'd expect) but America.....especially with songs like 'America is Not The World' as the opening track. Wasn't far off, by making it my 'album of the month'. JET at #22 in the UK too with the album, I can't wait for the Finns to start showing up on the charts.

Oh Popstars #4 is really Flopstars. Only 292,000 watch the final show in Melbourne, pretty dreadful really. The show has gone from the #1 rating show in Australia when our Bardot Girls were created, to...well almost nothing- why are they bothering.?

Lesley in the USA sends me numerous packets of Natures Illusions. 3D Pop up stickers that her company makes. These ones are butterfly's, which is great as little Genevieve down the road has to do a school assignment on Butterflys... so thanks Lesley I am now her hero.


---
June 3rd
Liam Finn called yesterday and the Betchadupa boys are coming to Melbourne to live for awhile. Sometimes you just have to leave N.Z. for fame and fortune and the big adventure.

Call into the hotel and grab some signed MOVE OVER covers. What a great 3 track CD that is. It has just been picked up by MMM network (radio) in Australia. So could be a sleeper on the charts.

Qantas shares on the stock-market are expected to rise again as passenger numbers increased in April by 15%. I think they are one of the few airlines making a profit.

Coolest holiday destination is the Andalucia area of Spain. It stretches across the bottom of Spain. Seville and Granada are pretty spectacular. Dramatic mountains, whitewashed villas, narrow streets overlooked by cast iron balconys. Also visit Alhambra, it's a walled city, an old fortress, very popular spot to head to.... so yep pack your bags and head to the Andalucia area. I've added it to my list.

Work work work...have I ever worked this hard before?


---
June 4th
Well officially I am on the USA/Canada tour. (trumpet blast please). I still have to get things like my P1 working Visa, so it's down to the last minute which drives me crazy but out of my control.... will just go with the flow. Now that I have the OK it's kind of a buzz, some really great places to play and I keep saying it, but I think this is my last tour. Be fun, back on the road with my old mate the Yeti, keeping each other sane. (or driving each other insane). Nah all good, bring it on.

Too many messages on the machine, seems everyone is in town or coming to town, Miss Belinda Chapple left the worlds longest answering machine message- did she mention a new solo single? Chris Bourke is over from NZ and Jen from Sydney is down. Hopefully we can catch up with them all.

Catch the train into the city and notice that on June 6th there is a rally to Save the Tasmania Forests. It's in front of the State Library around Noon. Paul Kelly will be supplying the music. Not sure if this will make it up in time, but it's always good to support Forest Rallies... may see some of you at the State Library. Save those tree's.

Zoom to Rosemaree's, who has helped again with the mail out (bless you).

Afternoon is spent taking mail bags to letter boxes and filling them to the top. Got to get those USA dates out, wish we were given more notice. After the 10th letter box we have had enough. Head to the Black Olive for dinner, too tired to cook. The owner makes a special burger for us, very healthy.


---
June 5th
Welcome home Rebekah. Nice that you called, you are probably still sleeping.

Grey day outside, spend most of the day working, hmm in truth it was all day. Get my list of work visa forms that I need for the States, christ so much red-tape, I know the security factor is important but it can all make your head swim.

No crunchy combo at the super market, so Cosmo gets sprouts. He looks at me discusted as if to say 'what the hell is this, rabbit food'? Well you are a rabbit Cosmo. He hates it, we have to go on a crunchy combo search tomorrow. Fussy bloody rabbit of ours.

Finally find some time to watch Lord of the Rings III on DVD. It's so long you have to make time. Like the other two, just love it, except for the ending which drags on and on and on, it's the only thing I can fault with it. The first LOTR movie is the best though.

Pick up plastic bottles and rubbish on Greville st, it is World Environment Day after all.


---
June 6th
Sun is out in Melbourne, how weird so go for a walk. Find crunchy combo for the bunny. Do some washing, clean the leaves off the balcony and all domestic stiff taken care of. Play White Stripes albums for most of the day.

For those USA fans heading to the last 2 shows on the Finns USA/Canada tour (New Orleans and Austin). Check out this link for Fan Tickets. We expect them to sell out fast, but it's nice to be able to offer them.

www.thefinnbrothers.tickets.musictoday.com

The papers are full of the Olympic Torch relays, where the Olympic flame is being carried through the streets of Melbourne. The Greek community are really out and supporting it, should be another successful games for Australia. I think Miss Boo Belinda Bardot was singing at one of the Relay Concerts this weekend, she left some message that was almost impossible to understand...what was that Miss Boo?

Hmm that's it for me, 4 more weeks (and hopefully) i'm on that tour bus in America. One thing, I am totally great with faces and hopeless with names, so if you come up to me on the tour PLEASE introduce yourself so you will save me staring going 'what's their name again'- I truly suck at names.

Stay Real!

PG

---
If there are any problems with this site, please contact webmaster@aswas.com.