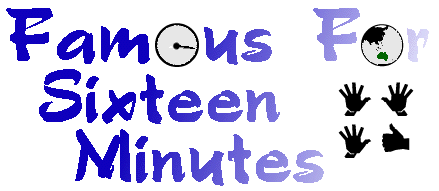 The Life and Times of Peter Green
Archive: 27 April - 9 May 2004
---
April 27th
Into the city today. I love approaching Melbourne's heart, especially on the train. It still feels so very open as a city, where Sydney central always feels suffocating to me. There's something about Melbourne....

The lunchtime crowds are all huddled in their alley way cafe bars, nibbling and sipping and watching, always watching. Watching the shoes and coats walk by, watching the hair colours change like Melbourne's seasonal leaves, it must be Autumn and there seems to be a lot more red and gold in people's hair. We are the lost city of the watchers.

I've lost some of the Egyptian black and headed to some golden browns myself this year. Grey urgh, sorry not a big fan of grey... grey must go.

The David Jones lady tells me of some new truffles, and she looks from side to side like a KGB agent and sneakily gives me one to try. Not bad, if I was quick I could grab the tray and bolt out the side door. I could eat them while running off...instant exercise and calorie loss.

Just get to the office and Andy White calls. He's at Prahran and wants to have a coffee, so I put my bag down and head back out, Mark shakes his head and gives me some 'social butterfly' comments, while he spends the afternoon trying to conquer Final Cut Pro.

Andy's good, Andy is Andy, he has a new haircut as well, see it's a Melbourne thing. We sit in a small Greville street coffee bar, it's one of my secret business places, one I never mention on the Net, no one can find me here unless I want to be found. It looks so tiny on the outside that the whole establishment could disappear down one of the numerous cracks on the sidewalk. They make good coffee, not Market Cafe standard but still good. Too much coffee for me so I have a juice. Andy is so passionate, he's off soon to play more shows overseas. Boy 40 never ends.

I come home and one of the noisy neighbours outside is banging on his door trying to get in...I offer him the choice of coming inside our place and climbing around the balcony's... it's a bit death-defying but hey I was nice. I don't think they can handle me being nice... it throws them....! hey he could of fallen , one less neighbour, maybe I did have ulterior motives?


---
April 28th
Work all day to earn my pay.... oh ayyyyy ohhhhh!

How come when the Finns are off the road I get more phone calls and emails then when we are touring. Some great Bic Runga comments coming in from England- 'Beautiful Collision' continues to sell well in the U.K.

Miss Lea is in town and I miss her by a few minutes- hope your speech went well girl.

Off to the other side of town and have some food with Benny and Jenny, sorry had to say that! (: We go to the slow cafe, no idea what it's really called but the service is horrible, the orders are always wrong and I really love it. New staff appear to be on every day, and they walk around like freshly raised Zombies..platters of food and unsure of the table numbers. Of course I swap as many around as possible just to create more bedlam. Bad boy!

Tonight it's Jen's turn for food to be late, entree arrives after main, and dips with no turkish bread..... please can I have a straw so I can suck up the Hummus!!!

Throw some bombshell into the conversation of moving to Tasmania to live and work, a few jaws drop, it's only an 'idea' and they start stomping their feet and asking about inherited insanity in my family!!!!!! It's like 5% guys......Mark is more worried about me living on Magnetic Island..... that rates about 6%. I could just run away from everyone.

Yet again a nice night, and we get home around midnight.... turn back into Peter Pumpkin-eater.


---
April 29th
Amazing Grace calls by, she lives behind us, well a street away. Wants to know if our neighbours keep us awake too- are you kidding....YES. She's going to complain, poor old bugger she has cancer and probably not too long to live, at least the old dear deserves some sleep. It will be weird when she goes, she's one of those figures around Prahran that all of us recognize.

The office gets me to call the consulate re: working visa's and such, takes 4 weeks these days, they obviously double check everyone. I'm a good boy, honest I am...let me into your damn country.

Rebekah calls by and we give her, a very handy birthday present, a huge box of video tapes for her camera so she can film thousands of hours of footage in Canada.... it's going to be a very long 'So this is my holiday' video night. None of that porn either Bec with those wild Canadian men.

We grab Angel Season 4 on DVD, it really pays to look about, KMart and Woolworths are cheaper then JB HI FI these days. Since JB launched itself onto the stock market I think their prices have gone up a bit.


---
April 30th
Spend the day on a VIP Finn mail out, these things take forever, it's a free service thing that we offer but I end up with an aching back and correcting endless old email addresses.

We have a theory that the Yeti had his hair cut because people were stopping him on the street asking him to sign their Jack Black CDS!!!! (I'm sure there will be pay back for that comment).

The ABC sends us the 'Best of Both Worlds' DVD set from Midnight Oil. It debuted at #1 (and spent 3 weeks at the top of the DVD chart). It's two old shows that have been re worked, the Capitol Theatre show and the infamous Goat Island Gig from Sydney Harbour. The Capitol gig is 1982 and Goat Island 1985. There is also a bonus Oils on the water CD that comes with this DVD, so it's very fan friendly in deed. I know the ABC really want to do Crowded House's FAREWELL TO THE WORLD Opera House show, as do a few other people, they did a great job with the Oils...so you never know. I'm glad this one did well for them.


---
May 1st
Goodbye Rebekah have a fun time and misbehave a lot and get arrested!!!

Ben calls by and we head to our favourite Office Works for some shopping. I let him out shop me, he knows I did. I bought some A4 lever-arch Fileworks folders, all different colours. So all the accounts are nice and neat for when the tax man decides to raid us. Might as well make it easy on them! O.K. it just makes it much neater.

Buy print out labels for the DYMO label-writer Turbo 330 (Phew) and some super fine pens for Mark. Office works is fun. Decide to try some Eclipse Flash Peppermint breath strips. The Listerine pocketpaks are great...the Eclipse are truly revolting. Urgh. Even the Office works checkout person screws up her face. I feel like if I breath on someone after having one of these breath strips their face will melt..the peppermint is so strong. Toxic.

We are bad and call into Macca's....and later on I cook some pasta. Only little bowls of carbonara .... Mark is still working on Final Cut Pro. Each day he figures out some more ....

Hey it's May. Wow my birthday is only 10 days away (11th) that has come around fast. It means it's been a year since we started our drive around Australia. We still have half to do, and we will too.... not sure when. Some days I just want to leave and see how long it takes for people to realiZe I am gone.

How weird, BANG! has now taken over Hussy for biggest selling F/16 book. Glamour was the biggest selling book this month from Rocket Pocket Books, which was a surprise. Every day these little books go forth into the world, it's a delight to mail them off at the Magic Mail Box. I drop them in and wave them goodbye- I would love to see people's reaction when they get them in their letter box ,especially overseas. I should home deliver them when I am touring , weird idea #2007. It's great that so many people love and collect the F/16 diary books. Thanks.


---
May 2nd
Wake up, look outside it's kind of grey and wet. Ignore the elements and we head off to Beenami.

We pass through Gladysville where the Apple & Wine Festival is taking place..and can we tell you, it is packed. Looks like fun, people everywhere, I hope the weather holds as it is so unpredictable up here.

I buy my Mum a Mothers Day card on the way and check my receipt and it reads MOTHERS DAY ASS. I am assuming that means 'assorted', their was no ass on the card, and I wonder to myself what a Mothers Day Ass (Arse) looks like..does it have glorious flowers around it. I am tempted to include the receipt as my Mum would find that very funny...now you know where I get 'it' from.

Beenami is grand. I lean against the cottage and watch huge clouds of mist rise above the rainforest area and the air is so healthy I think it is almost bad for me... my lungs can't take all this goodness.

We wait for the mist to break and head off for a hike, only 10 kms or so, and some of the trails are overgrown, and signs of some big kangaroo's. (aka- big roo poo)

The river is really full and it looks like the perfect habitat for Platypus.

We get back before the rain starts and sit by the big open fire It's funny to look at the ghost gums through the stained glass windows, they change both shape and colour and no I haven't been smoking any of the dreaded weed. Hmm when did I last have some pot etc, seems like years. Maybe it's a sign of some balance in one's life not to crave pot or booze etc. Sometimes I think alcohol is a lonely old escape for some people, I mean we all enjoy a drink or two but it is a funny thing the old booze.

We cook some sausages on the BBQ in the Barn, we use our metal plate instead of the real BBQ, it seems to taste better and we can burn all this spare kindling. Some of the BBQ smoke blows towards one of the Wombat holes and he pokes his inquisitive nose out...they are such wacky creatures. We love wombats.

One apple is on the tree, just one...I pick it and it is the best apple ever grown in the history of the world. So sweet, so lush, damn perfect. I give the apple core to the wombat. He tells me, it really was the best apple in the world and we will never ever have an apple as good as that. We raise our apple core to the people at the Gladysville Apple and Wine festival. May all their apples be as enjoyable as this one... which is impossible because it was the best etc etc etc

Drive home just as the fog starts covering the valley.


---
May 3rd
Human Nature debut at #12 with their album- they really suck. What a shitty group. I hope it drops next week- they come from the John Farnham school of music, kill them all I say (wink). No remove the wink, Human Nature must die.

I notice Alex Lloyd is doing a major tour, I told Billy C. I didn't like Alex's last album much, but I have to say I think it's a really fine thing to do such a tour to remote places around Oz. So people should go and see Alex play if they get the chance, tours like this are rare, you'll enjoy his show. Change that cover art (opps sorry B.C.).

Have a chat to Bill today, I found a slide of him at the Crowdies 'Farewell to the World' show so popped it in the mail. I do miss seeing the Cullens and we are so rarely in Sydney. Good people.

I head over and visit Nathan today. He was Split Enz manager for many years, and probably one of the main reasons I started work in the music industry. I have a very big soft spot for Nathan and will always try to help him when I can. He makes me laugh and I think my honesty scares him. It's a good visit and I think we both enjoyed the others company.

Have a box of Nathan's BOOK ENZ. I know it never recouped so, they are going out via the Internet and all money will go to him and probably Nigel who took the photos. He had faith in the project so it's good to help. Plus the fans will do well, copies of Book Enz have been spotted as high as $100+ USA on the WWW. I walk in with the box and Mark says 'Book Enz.. I thought we got rid of all those in 1983!'. He rolls his eyes, like I've brought home another lost puppy. In some ways I guess I have.

Deborah calls and asks if we would like a mate for Cosmo, she found a bunny in the park...I sadly decline, we are a one rabbit family, and I don't think Cosmo thinks he is a bunny anymore either, not sure what he think he is but it's not a rabbit. he'd miss all the attention being an only child/bunny.

Thanks Merelyn for the birthday card, really fun, a great card!!!!!!! It takes a lot to impress me with birthday cards, this was a good one. I hope I don't get any E-Cards for my birthday, ungrateful as it sounds I avoid them.

Melissa turns 38 , and still not out! OK she IS out, go girl. I am hopeless and miss out on calling her, but I did buy some presents. The Topp Twins book (Topp twins are from N.Z. and I will not even try to explain the Topp Twins)... and other fun Lesbian related stuff!

All the good birthdays are in May.... May people are the best... we love big presents (opps)... delete that. We have big egos' (delete that) we have big......lets just stop this now. We have no writing skills (better).


---
May 4th
Did you ever have a week where it just went by so fast it was like being on a carousel that was going at warp speed. This week was like that, I got some work done... as my 'real' diary shows me, but still a few things I never had time for. May is zooming by.

Miss Belinda Bardot calls and tells me all her secrets about her recent magazine front cover shoot. Very funny Boo- nice photos.

We send our Mum flowers via the Qantas website. Yeah our airline has a built in florist. They even deliver on Sundays... so this Mothers day they will get some very cool flowers.

Hmm a late night walk on Chapel Street and we spot Delta Goodrem, Andrew G and Judge Dicko from Idol dining at caffe E Cucina. Everyone eats on Chapel St, they all say hello and I ignore them like I have no idea who they are, let them admire us from a far. Not sure about Delta's new haircut, or is it a wig still, makes her head look like it has been shrunken by a Papua New Guinea head hunter. She has a nice face but some hairstyles obviously work better then others.

We go home and put the rubbish out. I remind Delta to put hers out, or maybe she doesn't in case psycho fans go through her bins...!


---
May 5th
Picasso's 'Garcon a la Pipe' (1905) has set a new world record for an art sale. $104 million U.S. Hmm that much money could feed a lot of starving people. I have never thought this to be a good Picasso, it kind of annoys me.

More Qantas points come rolling in, just need 30,000 now and the trip to Canada is free... up in that business class area.

Jet are on the ABC (Rage) on Saturday...live- 14 songs. Much better then the 'bonus' DVD you get with the re issue of BORN.... only a few songs, I think live DVDs should be a huge chunk of a show not just a few songs. I don't mind CD's being only a few bonus live tracks but DVD is different.

Bic is at #8 with Beautiful Collision IN NZ. 90th week on the NZ chart and 9 platinum, it just continues to sell, I guess the touring doesn't hurt. Still getting mail from England.


---
May 6th
Morrissey YOU ARE THE QUARRY could well be the album to see the old fruit return to massive popularity. It's out in Australia May 24th. Go Mozza, hell is he having sex yet? I think we may have to draw him a diagram, before it's too late.

Fresh watermelon Juice from The Juice Station... it just calls out to me when I go past.

What no mention of Iraq? Hell enough has been said. It will only get worse which is damn well depressing. Notice all the War supporters are very quiet these days. Lynndie Redneck England- just send her back to the Iraqs. Let them deal with her.


---
May 7th
Friday night and our old buddy Melissa wants to go to The Greyhound Pub to see the local Drag Show, with a few of the girls..and me! I'm in, so re dye the hair, pick out the right clothes (and YES there is etiquette around Drag.. well attending Drag).

Will probably run into Rebekahs housemates Stu and Rod, so will know some boys amongst all these woman. I feel like dancing, so tonight is a good enough reason.

Worked on Nathans Book Enz stuff today, tried to find out if this Festival for the Finn Brothers in the USA (mid July) is 100% yet... and spent too long on this computer.

It's a cold night outside so wear a (fake) fur lined jacket, nice and snug.

Mel arrives and we head out into the night. The Greyhound is a typical Melbourne pub, pool tables, loads of leather jackets, beer beer beer. Hell even I have a beer. One of the alleyways nearby has some serious pot smoking going down, it looked like a seventies cock rock clip was being filmed, all that smoke. You could get stoned just looking down the alley way.

Well someone f*cked up, the Drag show is tomorrow night. I thought the toothless guys playing pool didn't look like your usual lovers of Drag.

The people are really friendly at this pub, one lady comments that we were smiling a lot, and not many people smile today. Gave Mel her birthday present, books, one was the TOPP TWINS book as mentioned ... those NZ girls sure are fun.

I promise Melissa trip to see the Topp Twins when next they are in town... she has no idea who they are.

Mishka and friends turn up, so the girls are off playing pool while we all chat, in our cosy corner table.

Get home around 1.00 so it's not too late, it's very cold and Mark has the fires burning at home. Snuggle up in the Peruvian blankets tonight. Brrrrr have dreams of landing the Jupiter Two on Mars....I sneaked my sister on board so she could walk out and be the first woman on Mars. Yes I am a freak. Major Tom... there's something wrong...


---
May 8th
I think it's Rebekahs Birthday today...have a good one wherever you are Bec, on the train heading across Canada I think. Don't drink too much Yukon Jack.

Sleep in because I want to. I am like Cosmo, he doesn't want to go outside early in the morning as he's all snug and rabbit warm. I climb further down into the Peruvian blankets.... eventually I make the effort.

Mark is snappish as the idiots next door kept him awake, and he turns on me because I ask him why he didn't tell them to shut up or call the noise cops. Snappish snappish snappish....

Wow the price of crude oil hit a 13 year high, U$US 40 a barrel. Hmm probably a lot of pissed off Arab people out there over the treatment of Iraq prisoners etc... you never know it could be pay back. Oil is one of the few things that the USA government get in a flap over.

Finish off the Cranberry juice and start on the Apple and Mango. I love juice.... my blood must resemble fruit salad by now.

Spend most of the day working on the internet, have some interesting emails form the various spies, makes for good reading- and a huge *chuckle*.

By accident we turn on Channel V (cable) and Jet are live from Sydney showgrounds....ok a 3 second delay, as one of the members says the "C" work and gets semi beeped. Great Aussie crowd, and a real homecoming event. Tim Rogers joins them onstage..what has he combed his hair??? and he looks a bit like Keith Richards. He sings "Gray' which was good till the sound went (where is Ben Shapiro when we need him)...he also plays guitar on 'Get me outta here' Tim Rogers and Jet's Nick almost have to get a room, so much male to male straight kissing going on.. what is this, loads of straight men having a pash. Too much ecstasy someone says (: Several encores demanded, 'Take it or leave it' kicks major ar$e. So glad Jet are doing well against all the lame ar$e shit, they are the only good thing on the USA chart- the rest is truly shite.

'Move On' finishes the set, one of the best version I've seen them do. More power to them, I hope they move even further up the ladder.

In a Jet saturation RAGE has them LIVE tonight too, add to this the regular gigs, a reissue of the Get Born CD with a 5 track DVD and you know someone is flexing their muscles to sell albums.

The Rage Jet show is from the recent Forum gig in Melbourne, hometown crowd very passionate. Got to see the new Jet merchandise, love the Tshirt, great logo. Guess they do win our 'band of the year' vote.


---
May 9th
Happy Mothers Day Mum.

It's a very cold morning in Melbourne again. I climb out of bed and make the call and of course Mum is already out the door and god knows where. I think Sis picked her up so they are off on some adventure for the day.

She calls me back and the flowers arrived, nothing like Sunday deliveries. Mark sent his Mum the same bunch, we dig our Mums. They dig our flowers.

Still catching up on work here, heard from the UK about some more Finn dates, so we will be announcing them soon. That's when it really starts getting busy.

Fill up two more charity stamps bags for the church, so many people sending in used and unused stamps, all helps, and thanks readers. Even if it's only a few it does help, so good karma your way guys. You keep sending them, we'll keep filling up the charity bags.

That's it from this neck of the woods. As Jack Black would say

GET NAKED AND START THE REVOLUTION!!!

Dig it!

Peter

---
If there are any problems with this site, please contact webmaster@aswas.com.