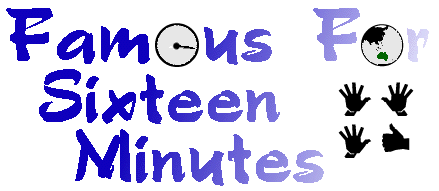 The Life and Times of Peter Green
Archive: 28 February - 13 March 2004
---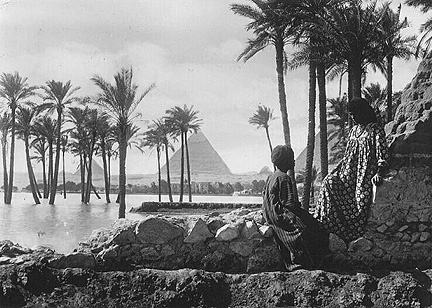 Welcome to Egypt! This shot was taken 100 years ago (March 1904) before the dam was constructed at the top of the Nile. In 1904 the water would sometimes come up to the base of the Pyramids. Cool eh?
---
February 28th
I'm never very good the night before a major flight, so I had very little sleep, climbed out of bed before the alarm... showered, grabbed some toast and tea and gave Cosmo a scratch behind his ears. He looked up at me with those pink rabbit eyes as if to say 'o.k. what's happening here, going nocturnal like me or catching a flight...'. Yep no sun yet. Mark stumbles down the staircase just before Robin arrives to drive me to the airport. Feel o.k. leaving for a few weeks, leaving Mark in charge of the office is never a problem, I trust him with my life, totally.

Robin parks the 4WD and it's strange handing over my keys. We head inside and check in is nice and quick, the freaky flyer line is empty, the regular check in line is endless.

Having a coffee and who should wander past but my friend RB, the Yeti's housemate. He's off on the last leg of the David Bowie tour. So we sit and chat. Both our flights are called at the same time, so off we go.

Arrive Sydney and hitch a ride with the transit bus, avoid immigration and head out the front of the airport to see Mum, Uncle Des and to make sure Sis has checked in. Sydney International is a flutter of travelers, all bee's with wings heading somewhere...all eager. It must be weird for Mum her two kids heading off to what some think is a risky country to visit after the Iraq invasion by the west. I reassure her as best I can, she knows I am protective over Sis and even a bit 'bossy' (unquote)!!!

Mum only cry's a bit, Mums should cry, it's a good thing, if I was a Mum I'd cry, I laugh and she knows we will call, and being a Mum she will always score the MOST presents from our adventures.

Arrive Hong Kong and watch a glorious red sunset from the British Airways flight club. The club is a relief from the sticky heat outside, and yeah...showers! I try to hog the flight lounge showers as much as I can, every chance I get...helps recharge. I make Sis take her micro communicator when she heads off to call Mum and inspect the airport shops.

Our B.A. flight to London departs on time. We climb the golden staircase, and sit in my favourite area, the top of the plane. The sleeper seats are good, but Qantas have better food then B.A. 14 hours- Hong Kong to London. get some sleep, the new onboard TV terminals have heaps of computer games, and watch some Matrix 3. Give Marky a call using Sky Phone, always fun to call someone from 38,000 feet. The conversations are quick, at $10 USA every 30 seconds explains why!!!


---
February 29th
Arrive London 0505. It sure looks grey and cold down there, and the pilot says, they might get some snow. Snow...cool. Considering all the paranoid security stuff worldwide, it's weird to arrive and no customs searches at all, in fact no customs people, just immigration and we are the first through. Immigration was nice, probably because I didn't have Mark with me saying he is 'here to shag the Queen'!!!

Get the magnificent Heathrow Express to Paddington, exceptional service, less than 15 minutes from the airport. However the Tube doesn't open till 7.00 so we have an hour to kill at Paddington, so we grab a coffee and watch the clubbers heading back to Reading. All the girls wearing micro mini skirts, those plump white English legs all goose bumpy from the cold, looking like Christmas hams. Some good fluffy leg covers though, all happy and one too many 'E's for some of them... kids having fun.

Get off at Green Park for Victoria, and while waiting on the platform, it starts to snow. I have a thing about snow, nah not a fetish, just love that each snow flake is different, maybe I have a thing about individuality (grin) whatever... I get a small buzz about being snowed on.

Arrive Victoria, and we carry our suitcases through what is the start of the rush hour, I'll never forget Sis carrying that damn bag with wheels up those steps. Of course I helped, but every so often she had to do it herself, and she did, no complaints. The hotel at Victoria is never ever ready for early morning check ins, so we head to the breakfast area, I am pleased that they have added Cranberry to their breakfast fruit juice selection. One of the room maids recognizes me from previous visits and comes up and says hello, and she will get her staff to try and 'move a room along' for us... so we won't have to wait till 1.00!!! She does and we scamper down the line an hour or so later.

Quick shower and we head to Camden Town Markets. Sis hasn't been before so it's a worthwhile trip. Can't remember her buying much, she walks slow, how can I walk so fast and she so slow.... I tell her she is adopted. We come from a fast walking family. It's nice to be back (briefly) in London. The English seem to like Australian's, think it's a Sun thing.

The Markets are packed as always, so I visit a few regular places.... hmm am tempted to buy some Pornish presents for some friends.... the 'wanking G.I.' was a bit fun, and a few other sex toys..in the end I don't, more scared in case Muslim Egyptian Customs men open my bag, they mightn't find the items funny...

We have dinner at Victoria Station, a regular restaurant, where my notoriety is from me trying to cut some small cherry tomatoes and they launched themselves into the air and hit a few people (yieks). As I cut the cherry tomatoes this time it went close to a similar thing happening, my hand/eye co ordination is better and I catch the evil fruit before it becomes a missile.

In bed by 10.15...wake up at 3.33....as does Sis... all those 333's again, my life is haunted by them. The Hotel is wonderfully quiet.


---
March 1st
London

Breakfast at 8.00... so awake fairly early. The snow has almost gone, it was so light I didn't expect a white footpath, would of been nice though. It's cold outside, you can feel it on my face (go on have a feel...see...cold eh?).

Someone has stolen the Victoria Post Office, the whole street removed to make way for some jumbo building project, soon track down a small Post Office and we carry our endless bags of mail to that one. We wait in line for the doors to open. I get such a miserable dick of a Postal worker, I just keep on being nice, polite etc...he is just a grump, obviously loves his job. I keep smiling, knowing in my head I can walk out that door, while Mr Miserable is stuck here, sad that some people will always have such misery in their lives. Still no reason for him to be rude to everyone else, so I wish him well and tell him I hope he has an amazing day (yeah right).

Spend most of the day fulfilling a favour for a friend, who wanted two Bay City Roller books, (no I didn't go in disguise) it took forever but we finally found two copies. It ended up being a horrible book, so I can understand why it didn't sell many- makes Hussy look like a brilliant classic (OK you guys are right Hussy IS a masterpiece.......I wish).

Keep another promise and take Sis to Harrods for lunch. Get one of the best tables in the place, and it's charming and calm, and I love watching 'old wealth' walk by and sit next to us. I watch them rattle their diamonds and pearls (and swine?) and I wonder if they sold the jewels how many starving people it would feed. Oh well, can't save everyone. Just a thought. It's like people who buy really expensive cars, if they bought something cheaper, they could make such a difference to people who suffer. Then again if I had a pie instead of Harrods I could buy ten more copies of the Big Issue instead of one....Guilty as charged. At least I buy one I guess.

Sis is having a good time, watching people, we both admire the beautiful Harrods escalators, all Egyptian deco design....fantastic...classy. She has a look at the Di and DoDo (opps Doddy..?) shrine.

Head to Piccadilly Circus next, and see the headlines that Lord of the Rings has scooped the Oscars. Need to buy a stamp and find a very small postal shop. Spot the UK Lord of the Rings stamp set and it is the last one they have, so it is a good present for a certain Melbourne sound man.

There seems to be a lot of Police Cars and Fire Engines around and as we head to Soho we find out why. Someone was stabbed so all the streets are closed off.

Go with Sis to Madame Tussauds, I agree mainly because I want to go to the Planetarium. It isn't as bad as I thought, the Robin Williams figure is incredible so life like. Stand in line with numerous Australians who pose next to our PM's statue with our fingers down our throats (charming). The Planetarium section is brilliant as always, I wonder if they will include SEDNA the latest planet (just smaller than Pluto) to be found in our Solar SAystem.


---
March 2nd
London

Wake up early, sore throat, think it's all the flying...and yours truly leaving the window open all night, that London fresh air. Sis wakes early, 6.00.

We head off tomorrow so it's a light day for us. Kensington first as I want to visit MUJI and see what they have on offer. Buy a few things and realise later that the shop person didn't remove the huge security tag (DOH)... so that's one top I can't wear till I get home.

Check out some music shops, was hoping UK band The Boyfriends had a release but nothing yet, apparently they sounds like Morrissey/The Smiths.

Go for a walk through Kensington Gardens and take Sis to the Orangery (Little Palace as I call it) for some tea and scones. Such a lovely building and the staff are great, a nice way to waste an hour.

Keep dreaming that The Sphinx was speaking to me and I couldn't quite hear what it was saying- weird.


---
March 3rd
London-Egypt.

Fly British Airways to Cairo. Up those stairs again (thanks B.A.) and relax in the sleeper seats. After the last few long flights this one is quick. Arrive just before midnight, trepidation, airport is dark, scary and dusty. Feels exactly like it did the first time I flew into Egypt all those years ago...

Met by Marhamed who is a nice guy and walks us through immigration. Usual games by the Immigration people, they hold your passport, call you over, ignore you, whisper to no one in particular, look at you, and finally stamp it. It's best to keep a serious face and look a bit scared, so they feel they have won, whatever it takes to get over the yellow line.

The drive to Le Meridien is long, the airport is a distance from Cairo and the Hotel a good 15 minutes from Cairo at Giza.

I'll never forget the various looks on my sisters face as donkey drawn carts gallop by and Egyptians playing cards having a puff on their pipes, the shops all open at midnight and that crazy crazy traffic, that doesn't use indicators but honks their horns.

We arrive at Le Meridien which does feel like an Oasis and has really good security. Check in is fine, and the staff are jolly and helpful. God bless baksheesh... the fine art of tipping that Egypt relies on. At least I remember how to say Thank You (Shukran)... which I say endlessly... Shukran for everything!!! (:

The room is great, very comfortable beds, totally fine. I open the window and the smells of Egypt drift in, no not dust and camel shit, it's kind of nice, like the finest touches of spices mixed with sand and 1% car exhaust!

tisbaHu 'ala kher (Goodnight).


---
March 4th
Egypt- Giza/Cairo

Head to the breakfast bar for food, it comes with the accommodation, watch Sis look at the various meat dishes, some of the food is fine, other no idea, so being early days we play it safe. The toaster is a confusing machine, will work on that one tomorrow.

Notice the people staying here, Germans, English , Australians (the only people wearing shorts). The only American couple we see are wearing the most ridiculous safari outfits, good god what were they thinking. All too scary and hey lets paint a red target on ourselves and asked to be ripped off. Apart from those two people no Americans in sight, and it could be the Iraq stuff, previously Egypt was always a holiday destination. Guess the world is changing.

We can walk to the Pyramids from Le Meridien. Of course we take the wrong way, Sis asks a nice Englishman and we about face and head the right way. It's not so much as to where they are- they are so huge , but the massive stone wall that surrounds the plateau has only two (official) entrances and we finally find one. About 12 attempts to hussle us fail (well we think) and we climb the road to the entry gate. Buy our tickets and head on in. Sis is so happy, Her dream fulfilled, as she reaches out to touch this massive last of the original seven wonders of the world. I guess it must be like a fair tale, and it makes me happy that I can occasionally grant wishes.

We spot the Safari couple and I tell them off as they discard their Pepsi can and leave it on the Pyramid...o.k. I did go off. hell Cairo has enough rubbish without badly dressed tourists leaving more.

The Giza Pyramids were built by Father, Son and Grandson and they were around 2500 years old when Christ was born. Despite all the Hollywood bullshit, the Pyramids were mostly constructed by farmers not slaves, who volunteered while the Nile flooded and covered fields (Season of Inundation). The flood waters also made it easier to transport the stones to the site as the Nile use to come all the way up (till the Dam was built hundreds of years later). The three Pyramids (Khufu, Khafre and Menkaure) have other fascinating structures nearby, the small queens Pyramids, the Solar Barque Museum of course the wonderful Sphinx.

You can no longer climb the Pyramids, too many have died, I've climbed part of the way on previous visits, but I can see why as the desert sands and rubble make the Pyramids slippery. Even near the entry area of Khufu I spotted a tourist slip and fall down a few blocks (ouch).

We spend the day walking, visiting the incredible Solar Barque on the eastern and southern sides of the Great Pyramid.The Boats brought the mummy of the dead Pharaoh across the Nile to the valley temple and would provide transport for the Pharaoh in the next world. The one on display was discovered in 1954 and was restored and encased in the museum. It's a chance to wear these rather freaky shoe covers....and I think they are really a joke on tourists so we secretly wax the floor *grin*.

Sit and have a drink and one of the local camel guys comes over and I surrender and send Sis off for a ride around the block. Always within eyesight of her trusting brother and hey she's MY Sister so if push came to shove she could kick butt, probably better then myself. She's enjoying herself and I love the expression when the Camel lowers to let her off. Some good footage today Sis *grin*.

All this walking has tired us, so we catch a horse carriage down the hill, and are surrounded by young girl cheering and one asks me if I am Pop singer (it's the wild hair today)....I laugh and put on my funky glasses. They scream and giggle some more...hey I love Egypt- even I can be a Pop star!

The Sphinx (known in Arabic as Abu-al-Hol)...Father of Terror...sits at the bottom of the Plateau. It is carved from natural bed rock and was carved around the time of Khafre's reign. The face was probably Khafre's framed by the striped nemes headcloth worn by the ancient royals. The beard of the Sphinx has half fallen off and the British carried it away to the London Museum in the 19th century....I've always believed England should return it to Egypt. The Sphinx is suffering and the experts still don't know why.It's like Cancer of the Stone and several attempts to stop it have actually sped up the decay. I love it if not more then the Pyramids...c'mon I'm a 'Father of Terror' sort of guy arn't I?

The sun is heating up, my water holder is almost empty, and our 70+ sun block is starting to give in. I watch as very pink English students go by, and I offer them some block- terrified when they tell me they have none on. Gee really I thought radioactive red was your natural colour. My favourite Sister (hey my only sister) lends me her cap. We start our hike back up the causeway and bus loads of school children see us and are shouting 'whats your name, what's your name' as they dance around us. The Arabic girl touch my sisters hair and say 'she is so pretty'..my sister red blush matches the radioactive English people. We escape to the other side of the road and Sis buy some 'nemes' complete with elastic headcloth holder....I intermix my Keith Richards skull scarf...just to keep my 'father of terror' reputation intact.

We run into Harry and his Donkey Alexandra, an old man and his gorgeous beast of burden near the Queens Pyramids. We happily let him con us, it works out we gave him $3... and we just posed for a snap and didn't want to climb on poor old Alexandra... the Pyramid Police are trying to get rid of the Harry & Alexandra's but I think they add to it...maybe he can sell sun block? Nice old tyrant- we liked him, he loved Australians and showed us his Aussie keyring! He pointed to the donkeys arse and said 'Bush' (meaning George) which had a lot of us in stitches.

We start heading back as I can feel a sand storm coming, and here they turn up fast. Watch the locals, they know and when they go, we go. As we escaped down the road, I watched this twirling mass of sand and Cairo trash hit the plateau and thank the goddess for being so quick.

Back at the hotel, go for a swim, and the Pyramids are the setting behind the hotel. Weird as the sandstorm is still churning up the Giza Plateau, it never blows near the hotel. Le Meridien must have a deal with Seth (Godo of chaotic forces...no relation to Seth Green...who is no relation to Peter Green). What a huge pool, kind of like a giant wheel with a bar in the centre and bridges...and even though the swim areas are connected the pool depths are different...nice to stretch and be Peter porpoise.

Catch up with Sis at Harris's Cafe and she has discovered the joys of Opera Cake...(Chocolate Ganache, mocca biscuit)... more swimming after this pigging out.

Call Mum as it's her birthday in Australia, she asks Sis if she is enjoying herself and she is....


---
March 5th
Cairo- Khan Al- Khalili

I always thought that the infamous market Al- Khalili was strange how it was called Khan Al Khalili...as Khan tends to mean 'merchants inn' in arabic (I think?) where as this is no Inn. It's a market (as-suq)..so shouldn't it be suq Al-Khalili...oh I give up...maybe it started as an Inn?

Wow how does one describe The Khan... it started around the 14th century... and is a massive conglomeration of markets and shops where you can find almost anything. It has the smells of Egypt, the tastes of Egypt and you will be bothered, set upon, highlighted and enticed. We love it.

Our security person reminds me it is 'Public' day, where the Mosque will be packed the outside packed and it is right next to the market. It's probably the most dangerous day to attend, if the Iraq bullshit will come into play and cause us grief it could be today. Sis is sensibly well covered up, I am in black, wearing long sleeves. Our driver who breaks the land speed record (145 on the road!) leaves the two Greens looking very Green, he was insane but very controlled.... and driving in Cairo should only be left to the experts, like I said no indicating just honk the horn and muscle in...at 145 kms.

We reach the markets and straight into it, I think Sis and myself have the similar travel brains..toe in first...no jumping in unless we have to... we 'tow in' with Al Khalili... I've forgotten how nutty this place is. There would have to be half a million stores...and there is some method to the madness, there are some rough 'areas'.

I look into Jennifer's eyes and I see the pain and pleasure of shopping...and the pleasure outweighs the pain... she goes for it. We are offered spices, hash, a huge stone head (like how to carry this), after 15 minutes we settle in and understand it, we head down side areas that are thousands of years old. There is a beautiful David Roberts painting of The Khan where slaves were sold, and the people and shapes of the buildings are the same. A man runs past with a wooden cart that has a fire oven on it cooking sweet potato. I buy some Cleopatra cigarettes (local brand..really!) for RB and Becky... like I should encourage my friends to smoke...but hey they look great (nice logo). Rolls and rolls of material, Mary Ann Peinapple would love it here...we track down Fishawi's Coffee House. It's a bit infamous and has operated for 200 years and is open every day , 24 hours a day. (except on Ramdan). The kids sneak in and sell trinkets, I buy sis a stone heart, and the owner sits next to us with his Hash pipe ablaze. Jen has diet coke, I have a real Egyptian coffee and the spices fuck my brains (well maybe it wasn't spice). For days the spice I smell and taste in everything that is Egypt. It's the scene from Dune where Paul Atreides is on Arakas (Dune) and finds spice in everything...I was hoping my eyes would go that lovely Dune Violet (darn). It makes me feel ill but not sick, if you know what I mean, maybe it is just too foreign ... you know me, I tend to believe I can handle it... but I'm a lame arse white boy from Oz...lesson learnt, and so much for 'toe in' only!

We spend hours (or was it days) at The Khan, I wake up and a whole century has passed, the outside world is surrounded by glass towers and rocket cars but Al Khalili is the same.... my eyes snap open and i'm back. Wow, all this from a 35c coffee.

Sis is felt up by Mr Creepy the belly Dancing Outfit seller, she is pissed, but instead of me having a fight we just leave knowing he has lost the sale... he pursues but Sis does the voice 'NO'. He gets the point (or will).

Find my friend Jackie's veils with gold coins on them, she wanted a replacement, I buy extra for Rosemaree and Tania (such practical gifts).

The Sun is setting soon and we are still going, I force us up a side street so I can escape, otherwise Sis would still be shopping- she has been known to resurrect whole economy's with her shopping. The exchange rate is around 5x1, we've picked a great time to do this... my 100% Egyptian Cotton shirt cost me $6! less then a packet of ciggys at home.

We grab a local Taxi who takes us 'home' at a nice 80km speed....he gets an extra tip for driving slower.

We head to a Tex Mex food place and the DJ plays Pop songs from the Eighties for us... all too weird. So much food, half is heaps.

Reconfirm the flight to Luxor and find out that Marhamed already had-cool. The Safari Couple stumble in and I hear them say they were screamed at all day... I was tempted to say 'dress down' but hey Egypt is part of Africa so for some it's Bwana's big adventure.

Oh I bought a red Fez at The Khan so I will look as silly as they do.

Soak in some Body Shop Grape Seed Bath stuff.... smell nice and my weary bones love the attention.


---
March 6th
Cairo- Luxor

The Limo takes us to the airport, terminal 2 for domestic flight. Egypt Air this time around- should we be scared? The drive in was great, and the driver showed us his old neighbourhood. The building codes around cairo have changed and there is a height limitation, so the government have smashed down anything over 6 stories (or was it three)...so all these building have the tops knocked off them. So off. A new freeway and bridge go through a part of town that when I was here last was all green fields.... we cross over the Nile and even thought it's an evil bacterial mess it looks radiant.

Egypt Air... my arabic is so limited....

emta qiyam mata

But I could f asked when does my Donkey leave for all I know...... I spoke to a guy who I thought was a porter and ended up being one of the GM's for Egypt Air... and he was great, really great.

We were offered a free juice, Sis was too scared to take one in case she had to Pee, no Loo's at Terminal two. We were amused watch the horrible french woman complaining non stop, she had such bow legs, silly cow, it's Egypt not the Riviera.

However that soon changed to fear when we noticed that everyone else around us had green tickets...and our tickets were pink..not subtle pink, Sydney Mardi Gra Pink.... we just laughed and thought, oh great we really ARE travelling cattle class- goats, pigs etc. What on earth did I say to that man..... as the bus took us to the plane we wondered if our seats would actually be ON the inside....

Imagine our surprise when our new friend gave us seats in first class. Mardi Gra Pink is obvious very special here.... I kept sitting on these chunky love nest seats polishing the Gold, several empty rows, just us. Eventually the GM came in just nodded and ignored us, several business men, one looking a tad too much like Saddam arrived in a huge stretch Limo. I now thank whoever that I was wearing my Morrissey good pants and shirt.

So there we were, sadly only one hour of flying....over so much desert.

I kept humming The Pretenders 'So Special....so special' (Brass in pocket)... what a kind man.

Luxor airport, you kind of fly in low over the desert and suddenly there it is. The airport has a huge tent like structure on the roof... weird.

We only had carry on so no waiting, we were first out the door. We ask the Pilot where we could get a Taxi- he laughs and points to a line of 150 men behind a rope. They are ALL Taxi drivers. It's like a troop of Taxi driver, a gaggle of Taxi drivers...an invasion of taxi drivers. The first one that runs up we get.

It's a short drive and Luxor has such a calm, after wacky old Cairo. We soon set up home at Winter Palace. This is brilliant. Yep a real Palace, what's above 5 stars, make this ten stars. So warm, such massive high ceilings, old world charm but really maintained. Our room is brilliant, so damn good. The balcony looks out over the gardens, and that was probably thanks to Mahamed Al Dib at reception- he offered us dinner with his family.

After a shower we head out, just a little bit of exploring...just a little... we were off out the door. A trail of desert dust spiraling up behind us..even my sister walked fast this evening *grin*.

We head towards the Luxor Temple which is a short walk down the road, it's kind of like going to buy milk. Some bread, milk and a New Kingdom temple please.

We get side tracked by Gaddis & Co. A really great shop, it's been here for 100 years, photos of everyone shopping here from the Royals to movie stars and the same little old lady who is easily 150 years old sits behind the cash register. This shop actually has Tea Towels, touristy Egyptian Tea Towels are now hard to find, we buy them all for the rels.

We head down the street, just another 5 minutes and wow...Luxor Temple. The sun is setting and I know it does get lit up at night, but it would be great to explore it before the sun sets. It was built around 1390-1352 BC...by Pharaoh Amenhotep IIIand the Temple actually sits on the site of an older one built by Hatshepsut (dedicated to Amun- God of creation). The structure has had several additions and the wonderful Obelisk out the front is perfect as are the great halls and stone pillars. The Romans constructed a militar fort around the Temple that the Arabs called Al-Uqsur. Pretty much everyone added something here- Ramses II, Tutankhamun, Alexander the Great etc etc.

The avenue of The Sphinx is located here too, some of you would of spotted that in movies etc..they lead to Karnak. The statues of Ramses II are just incredible, hell the whole place is... it feel like a place of worship, even now with thousands coming here every day, just the vibe. I would of liked to of seen it with all the statues and the two Obelisks (only one remains and half the statues). You can imagine people walking into the Great Court (once more one of Ramses II additions). Tutankhamun decorated the walls and a lot of it remains.

A dutch woman offers to take our photo together in the Great Hall, so we are all smiles. I'm still standing on the spot amazed at the walk way of massive columns long after the kind hearted lady has gone.

It's now night and the ruins are lit up, adding a whole new dimension, I lap it up, just love it. Jennifer is earning a lot, hell we both are. Wonderful.

We ignore the offer of a ride in the carriage back and walk, we buy ice creams and watch the cruise boats depart with their floatila of tourists.

Back at the hotel we call room service, a craving for tomato soup and other things...can I say this is the best tomato soup ever..ever, I love it so much I call the kitchen and thank the cook. The prayer service is blaring into the night air, louder here then Cairo... we open the windows as it's wonderful background 'music'. Desert is this combination icecream that is almost the best ice cream I have ever had.

Sis falls asleep at the drop of a hat, her boyfriend thinks she is dead sometimes in the morning, the odd snort which tells me she is ok. Poor tired little creature, it's so much for someone to take in- she's digging it I can tell. Night Sis, night Mark, night Cosmo.


---
March 7th
Luxor- Valley of the Kings.

We are up early again, some breakfast in the best dining room in the world of the nicest hotel in the world. Still no cranberry juice. Their toaster is simple though, at the Le Meridian, I ended up making toast for the guests as they could not work the toaster. I even scored several tips. Not from Mr and Mrs Bwana though- they didn't even say thanks.

We have our own guide today, a local boy and he is really good. Silly boy hurt his foot yesterday playing footy. Our air conditioned van takes us to The Place of Truth...now known as The Valley of The Kings. You know straight away who it was chosen, a place of death, desolate, dry, distant and majestic as all hell- massive cliffs surround the canyon. 62 tombs are here, they think there are 2 still to find. A few are open to the public, and each tomb has a number in the order that it was found. The most recent tomb discovered by Carter was the famous Tutankhamun's...it's one of the smallest. If anyone has seen the treasures found in this small one- imagine what was in the BIG tombs... all removed by tomb robbers over time. There are several Ramses tombs here and they are better then the Tutankhamun tomb if you are limited with ticket money. Amenhotep tomb was great, it's one of the longest, deepest and the entire ceiling is covered in stars. I think this was the one that has the 12 gateways from the Book of the Dead, one has to give the right answer to the gateways to continue to 'the other life'. You will see the various protectors and beastys trying to stop the Pharaoh. Some of this I knew, a tad I could even read and a few things I knew what to look for. The goddess NUT (sky goddess) is portrayed on the star spangled arches across the ceiling. She swallows the sun each evening and gives birth to it again every morning...truly lovely art work.

I have my cave torch with me, and a security guy, allows me to climb under a huge stone sarcophagus where the royal mummy would normally go. Very few people get this chance....under this massive piece of stone I was in awe, the inside was decorated and two giant embracing hands were perfectly chiseled out...plus some graffiti (Hairball was here)..ok kidding about Miss Ball... but all the rest was true, now to get out before the thing comes crashing down sealing me in forever (some would wish).

The guides are banned from the Tombs, which is great, they give you a brief history outside and you explore inside. It's Winter here, and I'd hate to come here in Summer, most of the guides refuse, the temperatures are insane.

As you leave the Valley you notice grave holes where treasure seekers have been searching, always believing there is more hidden. It reminds me of the story of the family who lived in this small town closest to the Valley. Some brothers found a secret passage into several of the burial chambers and for 7 years they stole bits and pieces, apparently they only did this 3 times, so they wouldn't get caught. They were busted when several pieces turned up on the European market and were traced back...eventually the government located the passages... they are fairly infamous in archeology circles. When you are here you can imagine these brothers tomb robbing...very spooky.

Next stop is Temple of Hatshepsut. The first ever Drag King of Egypt! Sure I hear you say..but it's kind of true. He was a she. The daughter of Tuthmosis I, Hatshepsut was married to her half brother Tuthmosis II. She basically became regent, and with Egypts strict male Pharaoh rule, she is shown countless times in the relief scenes wearing a fake beard. In others she is femine. She ruled for 20 years and for Egypt this was a time of peace and growth. She was obviously our guides favourite- he glowed at the sound of her name. No one knows how she died but I kept saying Tuthmosis III killed her..I just know it. He was obsessive, and it was him who removed her from the walls and relief scenes, even her name... he was such a jealous prat.

The Temple of Hatshepsut is (sadly) famous for another reason, only a few years back the tourists and locals were killed in a massacre by an Egyptian extremist group, it destroyed Egypt's tourism for many years. The locals are still incredibly sad over this.

The Temple is lovely and the history is depicted in parts... sadly the early Christians who took it over defaced many of the scenes (usual anti-Pagan tripe from the Christians)...still much remains.

On the way home we call into the Colossi of Memnon. Two huge statues, they rise 18m from the grassy plain. Faceless statues (one lost an arm in an earthquake) they are all that remains of what was once the largest funery temple on the west bank. It was originally filled with hundreds of statues and some were saved and are in the Cairo museum. The huge dyad of Amenhotep & Tiy that is in the central court of the Cairo museum comes from this spot.

The northern statue used to emit a spooky musical sound at sunrise and the other would weep tears of dew...oh spooky old Egypt-we love it.

Head back to Winter Palace...need more of that soup. Not as good tonight. A mosquito bites sis, so I call her Miss Malaria, feel restless, call home and watch the bats fly over the palm trees under a full moon.


---
March 8th
Luxor - Cairo

Up at 5.00- where did all these early mornings come from? Moon is shining over the Nile while we eat breakfast all on our lonesome in this massive kings breakfast room. Morning prayer starts and the birds fly out of the Palms.

Say goodbye to this amazing place and vow to return. This rude old German cow gets a swift kick from me at the airport, I know she was related to Hitler. So terrible to everyone, I was not in the mood...I was quick, just a small kick to know 'I care'. She kept clear of me for the rest of the flight..Sis laughed. I am such a good example....

ZimZam is at the airport waiting and I have a new sign....it's goodbye to the Mr Creep PERU sign...and welcome 'Mr Better Green' had to have a photo (: I am the better man, always told Ed Vedder that was me...and I have the sign to prove it.

The staff welcome back Mr Peter (That's Mr Better please)...they are so nice, even without baksheesh.

Head to The Golden Door to fulfil a promise to the owner. Sis buys pure essence as a gift (great perfume) and I grab a few things.

Head back and spend the afternoon stripped down to my infamous red speedo's by the pool while my board shorts dry. Lots of people perving, I roll over and my speedo's say Aussie Bums on the back *grin*. The old muslims probably hate me for this but I do need to try and get some sun.

Head to a Nubian dinner which was good, Sis tried some new food, as did I, plus hey great Lentil soup. Long day sleep well.


---
March 9th
Cairo- Le Meridian

Breakfast, they ran out of my favourite yoghurt-bummer. Yet again I make endless toasts for the tourists. See the new Incubus clip on MTV- 'meglomaniac' I like it, Sis says it's too weird. Kylie is on next.

Get a driver to take us to the Cairo museum, to fill up that ol' brain of mine. You realise Egypt's history when you visit this place, it goes on forever. The Museum is moving next year I'm told...bigger. I like this one, hope the new one isn't too modern.

We manage to get into the Mummy room...and you get to see Mummys up very very close. One still has hair, they all have weird teeth. Sis digs it.

On the West Bank I bought mark a stone relief of Anubis the patron of embalmers leaning over a Pharaoh...very cool....the mummy men used to wear Anubis masks when they pulled the brains etc out..that's after they pulped them (cool..maybe not).

Several hours later we are out of the museum and have some lunch at a little food bar above the insane traffic.

We both decide to go for a walk, and Cairo has no crossing lights, you just walk out, run, pray to your deity, stop, walk, run...and hopefully make it to the other side...we did. We visit the real shops, buy clothes from people who rarely see tourists. Hells it's so cheap- $35 Australian 2 new shirts and a pair of pants...great quality. Gotta love that.

Back to Le Meridien and time for a hair cut, short and black.

Sis walks with me to the Meridien Hairdresser...the infamous Maha Osman. She is her own celebrity and whispers weird shit in my sisters ear. I end up with Ali, and Sis heads off.

Now Ali is fun, he speaks almost zilch English and that's cool- teaches me some more arabic. Cuts my hair just right...pulls out a safety razor for my sideburns etc....I ask him how long he has been cutting hair (and peoples necks) oh long time, one year! Great I have this man with a razor, 1 mm from my face; one slip and I'm a goner. Anyway he is fun... it's starting to get weird, he is very close and something is rubbing on my hand, oh it's just you Ali!!!!!!!!!!!! Ok how weird will this get. I'm use to Arab boys kissing, holding hands all day, totally normal, and kinda no biggy. Unlike Westerners who make such a lame big deal. I tell him I was thinking of a massage but they charge too much (plus for that price I was scared what sort of massage it was)...he says no worries, reaches into a drawer and pulls out this weird black box with a strap on it. It looks like a singer sewing machine shrunk in half...has wires on it...he makes me lean forward (God don't let this be a new sex toy)....oh it's a massager...and it's great. 'Made in Italy' he says....it's still feakin' weird looking. Hmm he's doing my arms, my Pecs..hmm ok...my chest. Ali why are we moving downwards...ah Ali....that's not my arm...yieks. I was fine and told him quickly it was my turn and how did it work.....well I did Ali's shoulders and that was it. The toy was away....well at least it's good for the Diary I mutter in my mind.

Hmm all the stiffness has gone from my neck..if Ali would of continued it could of ended up elsewhere! he laughed, oh funny...and it was. Just lucky it was me I guess....oh those wacky Egyptian hairdressers. (!)

The haircut is great, very happy. head to the room, tell Sis all about Ali's fun toy, and she gives me this Egypt Camel shirt I have been admiring, very sweet.

In the foyer at 6.00 and head to the Light Show at the Pyramids. Ihab organisers a driver. This is as touristy as I get and I think I'll hate it. We end up with front row seats, next to some English travellers who are really nice- 'we love Australians'...I share the last of my crunchy M&M's with them. My sister returns with a blanket she 'borrowed', my sister is wise, everyone else freezes as the sun goes down...did I tell you my sister is very wise....everyone else is shivering.

Now the light show, if you go to Egypt SEE IT. Forget the cheesey dialogue, just seeing the Pyramids and the Plateau lit up with lights and lasers is exceptional. Hieroglyphics on the walls of the tomb in laser and overlayed images... and the final 'harrah' from me...the Sphinx with it's true face. So clear and it's eyes open...it's this overlay on the real thing and the story of the Giza Pyramids etc is told via the Sphinx. Just gotta do it.

Drive down Sphinx Ave back to the hotel.


---
March 10th
Our last full day and we are relaxing. Decide to take Sis shopping and buy her a camel. Only a plaster one but she does love them. So we are on Sphinx street and already I notice we are very different travellers to when we arrive. We thank the locals in their tongue (our version of it), I even swear at one. More confident and it's interesting to watch how we are treated, not hassled as much.

Back to harris Cafe for lunch, hard call Mozzarella Brushetta or Opera Cake...so nutritional, I'll have the cake...all gone- Egyptian Chocolate Mousse.

Catch Placebo on MTV singing 'Summer Rain' good clip.

Try to call Mark and he is off partying with Rosemaree or running off to bed with Belinda or one of the girls. Busted Marky! (:

Call Mum and she spends the whole time working out our arrival time... hopeless but we wouldn't have her any other way.

Afternoon final swim, Sis watched from the balcony, I flash those red speedo's one last time. Think I've lost weight with all the walking and swimming and eating of Opera cake (ahem).

Pack bags, wish I did weigh more then I could sit on Sis's bag and close it. I think she has packed a real camel.


---
March 11th & 12th
Cairo-London-Singapore

Who would of thought- up early again. 5.00 just in time for morning prayer..maybe I should convert I'd be on time for prayer.

last night the manager dropped in with a massive basket of fruit for Mr Peter... from the staff. Sis is so jealous, love it... I gave her an apple, she threw it at me (laughs).

We dash to breakfast, we are on time, Marhamad drives us to the airport. The Hotel staff all come out and wave (and grab the last of our tip money *wink*). Its so early Cairo is at peace, very little traffic it's almost normal.

The red of red suns glows over the citadels. I leave feeling I have touched Egypts soul, I feel different and I like this place, no I love it. We had several people ask why Australia was involved in the Iraq war, and you know we are a bigger target because of our involvement. It had in the paper that Howard thought this wasn't the case, he really needs to get out more and visit places like this- he may understand them better.

Go through a security check, a huge bag from some idiot nearly crushes my sisters hand and her precious souvenirs. She gives the guy her 'look of death'.

Clear out the last of the Egyptian pounds, buy some books and hand some cleaning lady a wad. It probably equals her years pay (am serious) but is nothing for us. I hold a finger to my lips shaker her hand and smile, none of my haphazard arabic needed. A tear rolls out of her eye, I offer her my sisters huge sheet of papyrus (no I don't)...I quickly walk away and don't tell Sis, after all I have a reputation to uphold (father of terror). It's a good thing.

Board our B.A. flight and Sis is given a good ol' body search by some security lady. I though Jen was fooling around so I pound on the plastic sheeted area to hurry up....(:

Head to the flight lounge for a drink, urgh too many smokers, leave.

We take off and wave our last goodbye to Egypt. 5 hours later back at Heathrow, in transit. Living in the B.A. lounge. Have a shower, while Sis looks for a book. She spots the woman from 'Without a trace' TV show, all very exciting. We eat at Garfunkels and I check some emails at the flight lounge. Oh only 3000, maybe I won't come home.

It's 10.00 and we board our lovely Qantas flight and yep the new sleeper seats, bigger then British Airways and much better. hell they even have a built in massage machine in the bed. As I get my massage I wonder if it's like Ali's machine....and yes I keep this massager strictly on my back!

Great magazines on this flight and the stewart makes me a roll with chicken and cheese in the middle of the night. It's part of the service, they will make you food. This is great.

I wake up and decide to have a shave, head into the lovely first class bathroom. Note I say bathroom as it's not a toilet it is BIG and even has a window. I lower the screen and there she is MT Everest... like a jewel, the only thing I can see. All so surreal, in a plane, having a shave in a big bathroom looking at Mt Everest, this is my life?

We lose a day, so no idea what day it is when our flight touches down in Singapore. I get Sis to bolt to the Freaky Flyer lounge before everyone else so we can use the showers. They only have a few and the transit time is only 40 minutes. I score lucky, and come out smelling good.

We are in the sky again, new cabin crew, all nice.

Lights are out, read, write, chat with Jennifer. Sleep some. Breakfast arrive, play Tetris and just manage to beat Sis, she scores better in the match the food game. Keep filming her, I've filmed all of this trip. I think she is over the camera.


---
March 13th
6.10 arrive Melbourne , ten minutes early. Immigration are great, Customs even better. First bag out, first person through immigration and first out the golden doors. There she is lovely Robin right where I left her (kidding) she came out to pick me up, nice to see a familiar face.

We walk Sis to the domestic area so she can fly home to Sydney. A lovely holiday, and all fine. A baggage security guy goes all nutty because I film my sister waving goodbye, security stuff and he quotes rules and regulations and offers to arrest me. he's so obviously a member of the John Howard Fridge Magnet paranoid about terrorists brigade. Dickhead...welcome home.

I drop Robin off and head home, make good time and Mark is still asleep. I feel ok, knowing it's false and I will crash and burn later, 30 hours of waking and flying is too much. Cosmo runs over and kisses my ankle. I have missed this funny bunny and his dad Marky.

It's nice to be home, but that's always the case, I like to think I learn a few things not just about the places we visit but about ourselves, travel should broaden all areas. Australia is so far away, but even that feels good. Hope this was the same for my lovely Sister.

In the words of Bic Runga- get some sleep...and I'm about too.

ma'as salama (go in safety).

Peter x

p.s. it's a long one...won't check it..thanks Deb

---
If there are any problems with this site, please contact webmaster@aswas.com.