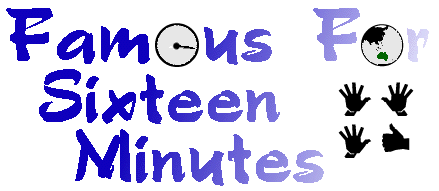 The Life and Times of Peter Green
Archive: 30 August - 12 September 2004
---
August 30th
Up early, birds are a chirpin' frogs are a croaking...throat feels weird so I'm croaking, think I slept with the window open in my bedroom at home. Must be force of habit, all those times when I sneaked out when I was a teenager, getting tangled in the CB radio antenna that was connected to my room.

Mum is up already cooking breakfast. Wonder if I will get breakfast in bed, I think Mum once said to me: 'If you want breakfast in bed, sleep in the kitchen'.!

I stumble out, nice hairstyle, kind of Flock of Seagulls meets Duran Duran... hey maybe I should leave it like this, isn't Eighties Retro all the go (again).

Say goodbye, always hard to do, head off back to Sydney to get my flight. The Hertz guy is a dick and makes me move the car 3 spots. I reverse back and just miss 4 of the Hertz people by several cm's. No wonder Paul Hester threw a tizzy at them after the farewell to the World show- some mornings you just don't need this shit. Grrrr Marge Simpson Growl Grrrrrrrrrrr

My second nightmare, somehow I am booked on a flight that flies out of the International Terminal. I look at my watch and there is no way I can make it, so I have to reschedule and get hit with a $33 changeover fee. I make a break to the Qantas Lounge and consider eating, drinking, Emailing, magazine swiping my $33.00 back. Such a scam.

I check our charts and after the morning I have had, I know in my head that there is no way on earth that the Finn Brothers album will debut at #1. It's like Neil's omens about DONT DREAM ITS OVER.... as soon as the plane's window next to him cracked, he knew they were at #2. Well my window didn't crack but I knew we would be #2....and yes there we are Finn Brothers debuting at #2. The good news, no make that GREAT news is that in Victoria we are the NUMBER ONE album. The only State to be at #1. We worked our butts off for that, so it just feels good when you see it at the top of the tree.

Arrive Melbourne, and we land through some thick fog, cold outside. The valet delivers the car and of course there is a pile up on the freeway so it adds an extra 30 minutes to the journey. I am so patient, and smile as the drivers around me are cursing and waving their arms ... and building up their blood pressure. I Zen out and just make it inside before the rain falls.


---
August 31st
We mail off yet another huge bag of Finn Brothers CDS. The trouble with CDs is that they are considered parcels and get scanned by International mail, just can add a further 2 weeks onto postage. Drives me batty, I wonder if they have ever found any terrorist stuff mailed from Australia- I bet not. All it does is delay the mail even further.

Drive to the Palais and re-do the display window for the Finn Brothers shows. It was a really ugly folded over poster. Caroline makes me a fine cuppa tea and I re work the display board. It's one of those things I do, not in my job description (whatever that is) and it's not like I'll get paid for it- and to be honest don't care. If it just makes the gig look more presentable I am happy. She (God) must of heard my thoughts as a $20 note blows past in the breeze and stops at my feet. I thanks the denizens of God-zone for their generosity.

Caroline comes out and gives me a major thumbs up over the display, we've gone from having the ugliest display to the best. I am happy.

Call into the Post Office and mail some Finn Brothers badges (pins) to EMI NZ and Australia. Very retro, I'm sure they can use them for something.


---
September 1st
What September already ? - how is that possible?

It means it's Laura's birthday, call and she is out- bingy bingy bingy Laura, on your birthday (you know what I mean).

Mark finishes the final cut pro editing on the Greg Macainsh Interview. It's kept nice and simple and works really well.

We get our N.Z. charts in and those Finn Brothers debut at #1 on the album chart. It sells in Gold and has already hit Platinum. It will be a monster album in N.Z. I have this feeling that it will do really well in N.Z., (Triple Platinum) healthy sales in Australia (Platinum), and OK in England (Gold), hey I could be wrong...guess we will soon know.

I head to the bank to pay some VISA money and run into Mr Tippett. he was on Skyways and Prisoner TV shows and I can never remember his real name. he looks old, well he is old.... funny the people you see on Chapel street.

I run into our friend Michael, one of the previous owners of Babble and we have some coffee. Yet another coffee place has opened next door to the Prahran Post Office. They tell me they did it for my stalkers and the people who wait at P.O. Box 333, now they can come and have a coffee while they wait. (Yeah right).

Michael has some sort of beard happening, I could never grow a beard. Urgh hate kissing men, woman, monkeys with facial hair... Cosmo the rabbit is ok as his is more fur then facial beard, so Cosmo is always fine for a pash.

We are having a coffee and 'The Cape Woman' (add in Intro music here) wanders in. She is dutch and wears and sells capes and is from Utecht where our friend Karen lives. She gets all excited about me even knowing where Utrecht is! The Cape Woman hates John hoWARd, far more then I do.

Head home and Michael comes along, we are good, one Glayva , and then I cook dinner. Domestic bliss.


---
September 2nd
Happy Birthday Mr Wolf. Turns 21.

Hmmm if Peter Costello is such a great treasurer for Australia, why is Australia's Net foreign debt our highest ever. It breaks down to $19,480.00 per Australian. Where are the Liberal Policy's to bring down foreign debt, the government never discuss this.

I get suckered (well kind of) by Sigrid Thornton's 'odourless fish oil gel tabs. I've had them before but the adverts have sold me all over again. Sigrid's good, kind of a sexy old MILF. (Opps).

Send Nigel Griggs a Money order for some more sales of his solo CD- SLEEPER. Our Split Enz Bass player is now into his second pressing of the CD. Go Nige.

Dean from Mushroom drops by and he has the nicest wife. What a fun person.


---
September 3rd
Finn Brothers tickets for the Australian Tour go on sale. They sell out in Sydney in just over 10 minutes. By the end of the day the Melbourne Palais is 97% sold out.

We have been telling people that the best place to get tickets for the show is direct from the Palais itself. It opens at 8.00 in the morning and Caroline looks after the fans.

I call into EMI and it's weird having the building so close. All these new faces and people. It's very odd. When you have worked for an artist as long as I have it's funny to see the people come and go. Record companies around the globe have really taken the pruning shears to their staff over the last decade, I'm not sure how much more they can chop back.

I keep having thoughts about moving on, I guess I should realize how lucky I am to be working with some great people. All head stuff, I work hard but every so often you just want someone to say thanks I guess. Hmm the odd pay rise would be nice too.


---
September 4th
Breslan, so depressing, those poor parents, and friends. You know that this will just get added to the 'world terrorist' pile. It's been this way in Russia for quite awhile, but being kids and such soft targets just makes it a million times worse. head to the bank today as a support fund has been set up for the Breslan families and donate all that's in my wallet.

We have some sausages at home so call up Rebekah and she calls by for dinner. She sits in Marks chair , oh crime and punishment is coming her way. *GRIN*. One day he will put some electric mat on 'his chair', damn Leo's got to have their favourite places (: (: (:

Head to the outer outer to do stuff around the Finn Brothers CD, it seems endless, but we are doing a full solid month of work.

Spend the late evening replying to Bic Runga emails, most around her Irish tour. She's starting work on some new songs soon, for album #3.


---
September 5th
Fathers Day, and a sad one for some. The 1000th American soldier died in Iraq today, around 1200 total for the Coalition, and something like 20,000 Iraq's at a guess. Is this War really worth it? I'm sure a lot of families today would happily turn back time if they had a choice, especially on days like today when your Dad is no longer around.

It's a strange day for many of us, 85% of our friends are fatherless , not sure why so many just one of those strange 'gathering instincts' maybe?


---
September 6th
After the hype it's interesting to see that Killing Heidi's new album comes in at #7. The record company really pushed it, to the point where they sold Gold to the CD stores (doesn't mean the public bought a Gold Records worth). It does however mean that Killing Heidi are #7 and the Finn Brothers are #3 this second week on the chart. So we are still selling very well. I'd love to see the Finns in the National Top 10 for at least a month, so here's hoping.

After breakfast we decide to take the day off, and I need to recharge and head to the Forest. Beenami is calling.....

It's a nice day, and Mark takes the video camera with him. Nature Boy Productions is shooting today and we hope to catch some wild life on video.

Beenami is a sea of Gold, thousands of daffodils and other flowers have popped up and it looks incredible. The grass is still short so our tenants the Wombats have been doing a fine job.

It's warm enough not to light the fire, and perfect for some hiking. We end up by the big creek, on Goosey mans property. A big upturned tree has a reptilian tenant. I spot him first, a snake. he's a young one, and I hold Mark back so we don't disturb him sun-baking. Glad we have never seen a snake at our place. I never want to kill snakes but I don't have an affinity for them either. So we film him and head off to the giant tree's.

The tree's are great, someone has created a huge ladder on the side, so if you are brave enough you can climb (and climb and climb) up the side...

I climb, Mark films, I pretend to fall. Nature Boy Productions has high dramatic value in all it's features.

The city, music and everything else has been pushed to the back of my mind, and I just appreciate the day. Pick armfuls of Daffys for home, other wise they will end up as Wombat desert. I leave about 500, and there are maybe another 500 still to open.

Arrive home at dusk, Beenami is a long day, and although it re-charges it takes massive energy to do the complete journey in one day.


---
September 7th
We watch 'Real Woman Have Curves'. Brilliant movie starring Lupe Ontiveros. A Mexican-American Girl who is torn between tradition and her future. We love this movie, it's on the Gryphon's MUST SEE list. When you watch something like this you know there is still hope as far as movie making goes.

The promoters add a third Sydney show at the State Theatre, so number one and two have pretty much sold out. A second Palais will be on sale tomorrow for Melbourne. people are just rushing to get tickets. Australia still loves it's Finns.

Melbourne seems to have endless drizzle this week. Grey clouds, cold days and fine misty rain. Cosmo spends more time inside then outside. He likes that, and if he sees the door open for 10 seconds he is inside.

It was a cold day yesterday, I head up to my room and I find this little white bunny head lying on my pillow, body covered in the Inca blanket, altogether now- C-U-T-E!


---
September 8th
Oh had to call some band people today and tell them that someone they know has died. I only vaguely knew them but I thought I'd do the right thing. It's strange ,there is no easy way.

That afternoon I called my other Uncle to make sure he is alright, and he's doing well. It was nice to have a talk. When you lose a family member I guess you embrace those remaining even tighter.

We all come into the world alone and die alone but it's all that stuff in the middle that defines what we are and how we used our bit of time while we were alive.


---
September 9th
Finns CD achieves a Silver award in England, Gold here and Platinum in N.Z. So they are kicking some goals with this one. I really want that first FINN debut album to go Gold here, we are getting close.

Box up some stuff for our softball game, that's if it is on, the rain just keeps on falling.

Get my Pay a few days early and it's all gone on bills and bills. Blink of an eye stuff. I wave at the money as it dissolves before my eyes. Oh well such is life eh Ned?


---
September 10th
Hey our Gas bill was 20% cheaper then this time last year. Could be the funky new hot water system, it's eco-friendly and water saving. Cosmo likes to snuggle by it. It's white like a huge mummy bunny.

I am on the balcony planting Lobelias in the hanging baskets and our friend Louise turns up. She helps in the office every so often, and out of the blue has some presents for us. presents are good but not needed ...did I say they are good though!!!

Nice to see her, it's been too long, and yep that's part of having a baby. So she hangs with us for the afternoon. I finish up on the hanging baskets and she admires the New Orleans view from the balcony.

* foot note- a small trick to make those hanging basket flowers...flower quicker. Add in some tomato food. Not too often but every so often, will speed things up I promise.

Mark likes Louise as she dislikes all sport as much as he does. I only dislike 95% of sport (: (:

Wave goodbye to Louise and head off shopping, food for the big game. I will have to call in the favours with a few wicca deities to stop all this rain for Sunday. We'll see. I know a friend in down town Preston who is probably out back in his yard doing a series of rain dances just to avoid the softball game/picnic *grin*.


---
September 11th
That date,(again) guess for quite a long time people will think of those events on that day. I'm for moving on so you won't find much here. I know everyone must mend and grieve in their own way and their own time, I just get a bit pissed that every year this day will sell newspapers and T-shirts, a lot like Diana's passing.

Tim Guy calls on by. (great rhyming Green).

Drops in his album BLAZEY. Bic produced this one but adds some vocals, and guitar and especially Drums on numerous tracks.

The track 'Question' I've heard before and like a lot, some fine songs on this album. I'm glad Bic's involved but even without her special sort of magic it would have some gems. Tim's looking for an Aussie release as we speak so keep an eye out for BLAZEY. he was part of the Bic NZ tour so some of the readers would of bought Tim Guys album at the show and you know what I mean , it has some fine moments.

He catches me in the middle of cooking for the picnic, my Kofta balls (be nice) are ready....(thats Mr Kofta Balls to you Sir). All the good things like breaking up chicken and squashing all this into the ESKY.

I even manage to fit in my washing.

Do some vacuuming down stairs with EARLY AC/DC playing rather loud- it's after 10.00 so the evil neighbours who keep us awake can get some back. let Bon Scott invade your sleep.

We only listen to the Bon Scott AC/DC, all the music after that is lame arse AC/DC. OK 'You shook me all night long' was ok.....but really those early ACDC albums are the best. Ask Jet they'd tell you which ACDC rocked the best. It's like the first Bowie tour, you had to of been there... nothing Bowie does these days comes close to that first Aussie tour (and gee won't that comment be like a stick in a hornets nest *grin*).

Thanks Merelyn for the video, took us awhile to figure out how to use a video again but if it means that we will see the last 2 episodes of Angel we will work it out *GRIN*... mucho appreciato gal.

Before I go to bed , sit over the old Tarot card table and go all black haired Willow and where did those veins come from....???? Time to call in those weather spirits (hic hic hic).... I just want this endless rain..to well...end! Only for Sunday, it can start again on Monday. Do my stuff... so it's me up against the Foxtel weather girl (who's far cuter). She says showers.....


---
September 12th.
I wake up with something shining in my eyes. What is that- oh sunlight. Huge Grin on the Gryphons face. The days not over yet I remind myself- I am such a cocky bastard.

In the shower and there is so much sunshine coming through the window I am thinking of slapping on some sun-block!

Mark stumbles downstairs and goes 'I can't believe it- yes I can you always get what you want'.... and he is so wrong I don't always. Just every so often.

Pluck out the odd grey hair that sprouted overnight from calling this in. head to the bread shop to buy rolls.

Calls start coming in, they usually all start with the line 'Wow it's such a nice day.... guess the games on...'.

Head to the Park and mark finds a spot with tables and benches and surrounded by huge tree's. People start turning up. Tania, Jake and Rosemaree are first. Jake is what 7? He is very excited. Rebekah is next in her fake black fur coat, the lovely Gold member and Joost Toast in tow, a car with downtown Preston number plates pulls up- Fran, Pete, Jen and Ben all ready to 'play ball'. Toija has her Sporty Spice look happening. Trudi bails and is in Sydney and Robin just fails to show, which sucks as she is our Umpire. So we are one short but it will all work out.

The game is on, Jake is one Captain, Fran the other and we draw the names out of a hat. The ground has moments of being waterlogged, we all expect to get down and dirty. I look around during play and realize how much I love these guys. More-so for making the effort. Yep it's nice outside but it is still cold, was wet and hell it's Sunday.

Play Ball!

We shuffled the rules a bit, Foxy Jen will probably never forgive me for getting her out. The Yeti is considering signing on for the major league 'bloke with stick and ball available' it IS a Zen thing! The perfect alignment of ball and bat, you can feel it.

Rosemaree's proud that (for once) she didn't fall over and making it to home base. Fran was happy that we met her boyfriend and he has the Mark G. seal of approval, Goldmember watched as Joost powered a ball down the centre of the field and through the goal post (the team screaming that he gets another 2 points), Toija so close to catching me out, and Tanya taking a young son home who will (probably) ,finally use up all that excess kids energy that they seem to carry around.

Myself, I'm just happy to hang with my mates, and hear the crack of the ball on the bat and send the loaded bases all the way home. A fine day and guys we did damn well- Rebekah wanting to make this a fortnightly thing. The way my feet ached I think yearly ol' friend. (: and Mark well he is archival man and has filmed the 'event' for when we are all really old and zooming about the old people home in those wheelchairs.

Who won- I think we all did.

Home to a warm tub, I sink down into the bath and it is the best bath I have had for years.

We eat dinner while the 60 Minutes- HoWARd V's Latham Great Debate is on TV. The in studio audience give the debate Lathams way- 67% to 33%. I was surprised how good Latham was, his first time to do this. On areas like Iraq and trust hoWARd was punished by the studio audience which was so good to see. The end of the day, it will help Lathan's campaign and hoWARd will shrug it off. The Australian election will be yet another close one, you never know things like this might just give Australia a new PM....with some help from the GREEN vote (the Party not me ... but hey!). Four weeks to go.

That's it for me, loving being at home, Finn tours coming up and am just happy to stay here. Don't have an urge to be on the road, so I'd say there is a good chance that I'll be staying in Melbourne. Which I am into totally.

Take care and stay Green.

Gryph.

---
If there are any problems with this site, please contact webmaster@aswas.com.