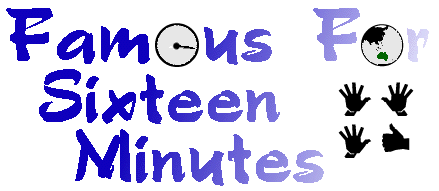 The Life and Times of Peter Green
Archive: 6 December - 19 December 2004
---
December 6th
The best thing about touring can be coming home. I'm not sure how our crew do it sometimes, slipping back into reality... the day to day movement just ceasing like that, the day to day tour rituals replaced by home life. I'm lucky I only get small doses of tour life, so my fix isn't as potent.

Rocket Pocket Books likes Christmas, all the books are being ordered for stocking stuffers and for presents, I spend part of the day dropping endless copies of Hussy, Bang and Glamour in the mail to destinations unknown.

The Finn Brothers album is a bullet performer this week on the Australian charts. I notice it is part of the HMV store advert, and the tour would of helped.

BEAT magazine in Melbourne give the concert a huge thumbs up.


---
December 7th
Check on ticket prices for the DEBBIE DOES DALLAS Musical... it opens on valentines day in Melbourne and I thought 2 tickets for a friend would make a nice Christmas present... the whole concept is freaky, I wonder what takes place of the Porn...and the singing and stuff.... and will Mr and Mrs Hardwick be in the musical that's what I want to know.

Book my return ticket from Sydney as I have to go back home soon for an early Christmas.... seems I am living at the airport, ten flights in a month. Qantas must love us.


---
December 8th
Call the Arts Museum and collect all our Skyhooks bits and pieces from the exhibition. They give me back Greg Skyhooks chunky 1974 platform shoes too, Maryanne Pineapple head would love these.

Go Melina! Our lovely Prahran mayor collected the most primary votes for Sth Ward in the recent election. I thought it would all go well, good to see. I wonder how the hippy boy went in the voting?

Head into the city and buy some last minute Christmas presents for my sister, I find a really lovely carved wooden jewel case, so I grab that too and fill it with pegs for Mum. After all we did give her a new washing machine... so pegs are probably a necessity.

Hmm starting to think that Ambien sleeping tablets are not available in Australia, have to see what other knock out tablets my doctor friend can script us out for on the flight.


---
December 9th
Call my council person and get an exemption for my 4WD so it can stay parked for a month without a ticket.

Hmm time for my favourites list...

Fave Drink: Capriosca or Caprahina...and I'm sure I've spelt them both wrong...or is it Mohito?

Fave food- Isabelle from France's chocolates. Super Lindt! YUM.

Fave CD- Neil Young Greatest Hits- master Mixes! 'Rockin' in the free world' is still totally awesome.

Fave single- Green Day- I walk alone.

Fave People- my sister and Mum, happy Xmas guys.

Fave Movie- GRASS

Fave Colour- blood red

Dickhead of the month- Hey it's Christmas, you can pick.

Fave present- Really love all the people who have sent in some extra postage stamps with little notes saying ' thought these might come in handy'...really nice.

Fave Actor- Gael Garcia Bernal- The Motorcycle Doaries


---
December 10th
Not much sleep- up early before the alarm goes off. Breakfast at the freaky flyer, get a seat on the plane by myself, I like that. Just watch the clouds, no sign of any UFO activity or any sleighs full of presents.

I am missing Betchadupa playing Federation Square in Melbourne for MMM's The garage sessions, would of liked to of seen them play.

As I enter the boundary of Wollongong I think I trigger a speed camera... only just I have been driving really carefully, the changing of the speed zones came out of nowhere, it's a money raiser...hopefully I will get away with it....

Call in and visit my Uncle, Pop and Dad's graves, couldn't find a flower shop so I swipe a rose off a bush. A few old people wandering around today, I wonder when they visit if they think "I'll end up here soon'? All of the roses are blossoming and the smell is trippy. The huge Buddhist temple just towers over the crematorium these days... like one of the Lord of the Rings towers.

Mum is waiting on the balcony, and it's like 'hello again' no surprise... even Snowy the dog looks bored to see me.

Unpack my bag and Mums cute little dog goes to wee on my sisters big present... I scream at him just in time... dirty dog.

Go shopping and buy a slab of Nimbin cheese, tell the relatives that the only thing better then the cheese at Nimbin is their organic pot. Everyone ignores me.

A storm rolls on in, lightening etc, I read till the wee hours.


---
December 11th
Christmas Day (EARLY).... yeah today the family celebrates Christmas because we are away having a white one in Canada. So my Sydney family have two Christmas celebrations..the with Gryphon....without Gryphon.

Help Mum prepare food, a real homemade Christmas pudding is bubbling away on the stove and it all smells great. Hang paper lanterns over the food table, the tree is piled up with presents...

The family dinner goes well, I think of Uncle Jack a few times as I'm sure everyone does, but there is good humour in our family and Mum does a fine job with the food.... my carving skills are limited.

We are all opening presents, I get some amazing things, the Egyptian book from my Sister is totally trippy, not to mention all the other cool things. The strange ceramic chicken salt holder is really odd...really odd.... arghh thanks...

Read the rest of the Rhett Hutchence book, but no sleep, too many fizzy drinks, so read and toss and turn. I am awake by 4.30 in the morning so have a shower and finish packing.


---
December 12th
Leave home by 5.00..and it's wet and cold and the sun isn't up yet. As I drive towards Sydney the valleys and road is covered in fog.... for quite awhile I am the only car on the road.

I pull over and check which side my petrol cap is on...and the valleys are full of lyrebirds and bellbirds calling each other in the fog. I stand and listen, incredibly calming.

Arrive Sydney airport and the fog has lifted, a huge orange ball that is the sun has risen and it's making me feel sleepy.

I use the new auto ticket system at the airport, it is fast...

Have breakfast again at the Sydney Freaky Flyer lounge, a new copy of Time magazine arrives and I 'borrow' one of them.... as I haven't the time to read it. Flight home is dull, still no UFO's or reindeers.... dear.

Valet manages to lose my car, but not for long. Home again 30 minutes later.

Brunch at Daguerres.


---
December 13th
My clock must of been bumped in my bag as I wake up and it's 45 minutes ahead..so once again dark outside... decide to stay up and do some work as I seriously don't think I'll get back to sleep.

Isabelle in France spoils us, the most divine chocolates in the known universe arrive as well as a selection of extremely hard to find Rolling Stones vinyl. I think 'Belle must spend all year looking for these amazing collectors items... it's way too much and does our head in. Happy Christmas Isabelle.

Cleaning out the lower bathroom at the house and manage to break Marks shower nozzle... so I replace it with mine...so guess it's long exotic baths till we return home and I will get a replacement. Too many last minute things to do.

Have dinner at Windsor and write out a day to day...NEED TO DO list... about 20 things each day, before we fly out. At least it means I will leave the country with most of the stuff done.

Book in our security people who are adding some new locks and new alarms and video cameras. There goes my Christmas bonus.

Get a great price on our tickets from Vegas to Vancouver, only 2 more things to do for the holiday and then it should be easy sailing. A real holiday, no emails, nothing am so looking forward to a break.

Rosemaree copies our itinerary for us as our printer has died (again). I will never buy Epson again...or Sony for that matter...


---
December 14th
Had to drive to Moorabbin yesterday so used our GPS system in the car. It really is amazing how it works...GPS has a network of 24 satellites (and 3 spares I think) orbiting around the Earth at 20,000 km/hr. They constantly send a low powered high frequency radio signal which the receiver picks up and is used to pinpoint your position. So cool and each time we use it , it seems to lock onto the satellite(s) quicker.

Worked on Finn stuff today, bought 5 more boxes of charity cards, and mailed all those off to fans... trying to get through the mountain of emails. Am hoping I have done this by the 17th which is the final day before our office closes. So everyone no emails after the 17th.... (till Jan 13th).


---
December 15th
Still not sleeping very well. Not sure if it's the holiday, excitement, being too frisky or just Christmas stuff.

Off to Prahran Post Office bright and early, I'm the first person in and basically buy up all of Georgia's postage stamps. How many stamps she says horrified! (:

Wanted to buy some new runners but they were all so bad-American Rap...bailed, forget it...will stick with the old ones.

The girls call by tonight, Trudi and Robin, arms full of presents and food... a good hour or two of catching up...our next big trip-Africa!


---
December 16th
Manage to get Greg Skyhook and Gabrielle some tickets for Debbie Does Dallas (The Musical) opens on Valentines day in Melbourne...great seats, row 6 in the Stalls.

Finally find a supermarket that hasn't sold out of Macleans Xtreme toothpaste. It has micro foaming bubbles..so it froths in your mouth and a really odd taste- I think I'm addicted..my breath smells so sweet!!! I do look like I have rabies when it starts frothing though.

Send out the last batch of Christmas cards, I've ran out so a few people will probably miss out.... brilliant parcel arrives from Merl in Sydney, nice snaps too...what a couple (:

Email everyone to bring some limes to the Xmas get together...they are hard to find. I do manage to get a wooden mortal and pestle for a mere $5 which is brilliant for pounding the limes for the drink...

I pay Marks travel insurance as part of his Christmas present, how boringly practical is that.


---
December 17th
OK I have decided that I am going to make endless MOHITO's tonight for everyone.

Basically they consist of: limes, vodka, cointreau, mint, and some raw sugar...and loads of shaved ice. I'm making some of this up, they are probably a glorified Caipirinha!!!

You cut the limes into quarters. Crush lime in the wooden mortar and add 2 mint leaves...no more. Drop in some shaved ice and some Cointreau and Vodka... really pound the limes. I also use a strainer as the excess pounded lime and mint leaves can be a bit too much..... top up with some extra Cointreau...and shaved ice. A very refreshing beverage (hic).

Spock calls by at midday and shows some roughs of the Letters to my Frenz book, in the middle of all the text and layout, it's looking good. Will be worth the wait. He gives us some presents too...gotta like that.

Spend the afternoon booking and preparing nibbley's for the mates who are calling by. Greg Skyhook and Gabe calls on by with a huge bottle of expensive champas.

Later on a pile of friends arrive and it's such a lovely night, everyone has a great time... it feels really special. Ben and Jen have adopted a Goat for us via World Vision. basically you buy a goat for a starving family in a third world country and they use them for Milk and goat hair (they don't eat them)... a brilliant present. We are forever going to be associated with goats.

Ten thousand Mohito's later....... and it's 3.00 in the morning.. say good night and we finally get a cab for Rebekah. Happy Christmas gang.


---
December 18th
Our office is now closed but we catch up on some last minute work.

Wash clothes, pack endless mail into our suit cases....get Cosmo ready to go to the Pet Hotel.... I cat nap and catch up on some sleep.


---
December 19th
Restless sleep, Melbourne's nights are very warm ....not much sleep and the security system is making weird noises.

Breakfast with Rosemaree at Daguerre's and that is really relaxing.

We drive Cosmo to the Pet Hotel, it's about 25 kms away... feel sad as it's very empty in the Atrium without Mr Bunny. They look after him really well...

The good news is that our friends at Qantas have upgraded us to Business Class (yppee) we are both over the moon....we get our Xmas wish- thanks Qantas.

Dr Bob calls by and writes me a script for some Temazepam in case we have trouble sleeping.... bring on the drugs! Hopefully we won't need it.

That's it for us....the adventure is about to begin again and it looks like we might have a white Christmas.

Have a great Christmas everyone and let's hope 2005 is a special year... I feel that good things are around the corner just waiting.....

Special Christmas thank you to Debbie Levitt for keeping the diary going [ed. note: Aw, thanks! I love you and you know that! :)]... and to my best friend in the world Mark for keeping me going! (:

Ho Ho Ho

Gryph.

---
If there are any problems with this site, please contact webmaster@aswas.com.