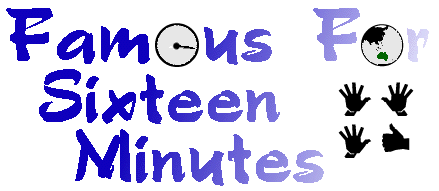 The Life and Times of Peter Green
Archive: 11 July - 25 July 2005
---
July 11th
Head to Spock's to do some last minute work on the Enz book, looking good... was hoping it would be the final session but a few more photo's to be added. Talk about the never ending book. Still good work done, closer closer....

My shoes arrive from Sis and Mum, over the moon, new tour shoes, comfort zone.

Final bit of washing done for the tour, I always leave it till the last minute. Pick up banshee's name tag , she will soon be able to go out into the big world, so if she does stray we will find her.


---
July 12th
The first night of the Aussie Finn Brothers tour, I'm staying in Melbourne for the first two shows purely to deal with the lead up for the Enz Aria Hall of Fame.

It's going to be a big night , can't imagine how much stuff the ARIA people have to go through to make this event happen. Viv locks in the last of our media for the Enz boys, we have a small cluster of photographers on the day, am after some classic group shots, if all goes well it will mean the Enz feature majorly in the newspapers...all across Australia.

head to Acland street that night for some coffee with Rebekah and we watch the crowds wander by. Nice balmy St Kilda night.


---
July 13th
Opera House shows are going great guns in Sydney, all sold out and people flying in from all around the globe, one of the last chance to see the Finn Brothers.

Spend the day packing my bags and tour stuff...good ol' faithful suitcase, it always seems to fit, and I expect it to burst at the seams but it never does.

Eddie misses his flight from NZ, so he has to get the red eye to attend the ceremony and play...at least we allowed for that in the plan (Phew).


---
July 14th
Split Enz-Aria Hall Of Fame-Melbourne

Head into the city early and suss out the Venue, Noel Crombie arrives before me and is carrying a very suspect suitcase. We all wonder what is inside!!!! New costumes? Enz rehearsal is put back (again) so I head out- am off to meet Robert Gillies with his tickets for the show. Whilst outside I spot a very familiar tangle of dark curls heading down the street, it has to be Mal Green! Mal is with his girlfriend Di and we all settle in for a decent coffee...Robert and friend join us...this is fun.

Eventually the Enz get their rehearsal, sit with Sharon and Pink and it's funny, just like the old days, they sound good, very good. Pink grabs my video camera and films some stuff, ok she also films closeups of her face, the kitchen and food and PG bossing the band around a bit (as much as I can!!!!). Overall they ignore me per usual (:

Our photographic herd arrive and we take them to the stage, I know if we do this right the Enz will get some major media in the papers....they pose for a group photo and allow some live shots, it all goes very well.

I head home for a quick change, Mark tells me that Rosemaree isn't dropping the copying around, so all our club stuff for the tour I'll have to organise on a day to day basis..thank god for Qantas frequent flyer office zone. Oh well next time people have problems with their cable or car battery I guess we won't be available either.

Haven't even time to scratch, before we are back at the hotel. head to the Finns room and how good do we all look. Have to say it, All that crushed velvet and jackets and suits...Neil wearing his red waistcoat, Pinky in her velvet and Sharon in this incredible classic. Eddie has used a corckscrew on his costume...I am tempted to ask, but I want to be surprised.

Downstairs we could of had the Hall of Fame in the foyer, Jimmy Barnes and family, Peter Garret, Renee Geyer , Mark Seymour...Alec organises some cars and we cruise in..walk the red carpet. Mal does a sensation trip on Noel's mystery case. Noel signs the most autographs...the fans love him.

I've organised the tables, and the seating, so many Enz together- Robert Gillies,Mal Green, Nigel Griggs, Eddie Rayner, Wally Wilkinson, Neil and Tim Finn, Phil Judd and Paul Crowther...I squash in next to a friend and Juddy and Noel and sally are on the other side of me.

We have the best tables, and the who's who of the industry are about...we are fed, filmed, fell in love with Smokey Dawson...aged 92 and John Clarke did the perfect speech for the Enz to be inducted (abducted?) ...the band play..entering the stage in a whirl of smoke, a cluster of black suits all shredded and ripped, band members tearing each others suits to pieces, Mal Green copying a serious elbow from Neil which will make him sings soprano for awhile (ouch) an entrance that only Split Enz could do. Poor Boy is first...Noel walking over to Neil between songs and ripping a final piece off...'that's been annoying me all night'. I Got You the 2nd song...the whole industry on it's feet applauding. Tim Finn on the podium a fine speech, Phil leaning over saying it was good. I head off to colelct the golden spikes that are the awards, had them made for pretty much all the Enz members. The early guys especially rarely received awards, simply because the albums never went Gold, so I wanted them all to get something tonight-and a huge thank you to Mark Pope and the ARIA people for making this happen. In the dark backstage area I'm also presented with one which will sit in the office, truly flattered.

It's a fun night, very proud of the band and finally they are in the Hall of Fame and rightly so. Best moment had to be Phil and Tim being positive and having a hug...all felt really good. Some headaches next day I can imagine.


---
July 15th
Melbourne-Sydney-Finn Bros

Wake up early and head off with mark for a quick breakfast. Our Enz media stuff is in every paper..the photos are great, really great. A few hours later I'm at the airport with Renee Geyer, Ross Hannaford, Normie Rowe and Tim and Marie Finn...flight bound for Sydney. back to the Finn tour for the third night at the Opera House.

I watch the show with Miss Deb and she is the best dancer in the room...the set changes and Message to My Girl is added much to the delight of Karen from Canberra. I have a serious howl during the song for Paul. Hope I don't do this every night.

Peter Garrett and the O'Doherty's are at the show,say hi to Bill Cullen backstage, I'm really worn out so depart quickly.


---
July 16th
Head to Quayside for breakfast, a seagull eats my sandwich! So brazen just flew in and stole it.

Take some of the Frenz life members in for soundcheck... Neil waves them goodbye...soundchecks are really fascinating things.

Robyn Ball turns up on her Police horse...i consider being in the horse suit onstage..maybe a later date like Perth.

Get in this weeks movie figures and great to see Fantastic Four hit #1 on the Oz movie charts, it's taken $74 million last weekend in the USA, it's a hit. Go FF!

Good show again tonight, am locked in the Sydney Opera House, security eventually lets me out.


---
July 17th
Sydney-Newcastle

Go see Craig at karma Juice before I leave..he makes the best juices.

Drive in the van with Paul Stacey and Tim Finn. Creedence and The Stones get's a good thrashing on the CD player.

Call into the Coolabah Tree Cafe...the elderly lady serving says to me 'you are the most well mannered popstars I've served'. I own up that i'm not a 'Popstar' and wanted to ask just how many she has served!

We enter Newcastle with The Stones Let It Bleed playing and Paul talking about Keith Richards special way he tunes his guitar (cool).

Take San,Tim,Liz and David into soundcheck...the Keith tuning buzz has hit soundcheck and they play a wild version of Brown Sugar.

Watch Mercury Rev's soundcheck, in fact all of us do, the Finns, band and myself...I want to like the Revers so much..I fight it every night...nice guys though.

Drive back to Sydney with Dee, neil and Elroy. Put the seat back and watch the stars, chat to El, god he's growing up fast.


---
July 18th
Travel Day-Sydney-Perth

In the foyer by 10.45, bus takes us to the airport. We invade freaky flyer lounge, Neil almost leaves his hat (again) he seems to find it at the very last second.

Flight wasn't too long. have dinner with Leanne and Ben...Seizan Japanese on Hay Street. Great to see L again.

Went for a swim and slept.


---
July 19th
Perth-Burswood Theatre

Go for a swim after breakfast and the Mercury Rev guys are poolside, we all listen to Nick Caves albums.

Was meant to be in the horse suit in Perth but John W put it on the Brisbane truck ...so we escape another day of wearing it (Phew) I'm not sure the idea appealed to Leanne.

The Brunch International Coffee Lounge makes the best homemade sandwiches.

Show was good tonight, funny not to have the angel wings backdrop that the Crombies made. Still it goes well.

After the show we end up in the hotel bar for drinks,chat to the always nice Tim Smith good to sit and hang out with Neil, one of those fun evenings.


---
July 20th
Perth-Burswood Theatre #2

back at the International Coffee Lounge for breakfast.

Read in the paper that 25,000 Iraqi deaths since the US Invasion, 37% from US Militar and 9% from Insurgents.

Have some coffee and cake with Leanne. On the way back we run into Mark Seymour who is playing a corporate show next door, he sneaks us in to watch the 2 songs that he does.

Afterwards he is backstage at our show, ends up performing a rousing version of 'Thrown your arms' with the Finns, The crowd is still talking about it in the foyer afterwards.

At the soundcheck today they played Sunset Swim, Black Magic Woman and Manys the time.


---
July 21st
Travel day- Perth to Brisbane

Happy birthday Trudi and Fran..give them a call and leave messages.

Very fast winds in the jet stream, plane arrives early. I sit next to a drummer from a young Brisbane band, he knows the guys from The Grates.


---
July 22nd
Brisbane Convention Centre

Breakfast at Bite Express.

Henry, Eleanor, James, Alex, Penny, Steve and Katherine are in for soundcheck. We all have fun.

Horse tonight with James who does the lighting for Mercury Rev. A nice bloke and we get along well, got to have someone you can trust in that suit. he is the horses rear, I've grabbed the head....like to see where I am going. In that suit though the line of vision is impossible...and if it wasn't for Andys loud voice calling 'Go Left' I'd end up in the drum riser. The crowd love the horse..huge reaction, people applauding and laughing..James shaven head dripping sweat...we lose 2 litres of water in that 5 minutes. Urgh this is art!

Catch up with Jen's sisters and see a few other people I know, a nice night. Drive back with the crew who are crazy tonight. hysterical.


---
July 23rd
Day Of

What a day off...I go and see Batman Begins..really good...

That night have some room service with Benny and watch the Aria Hall of Fame replay.

The Sharm-El-Sheik Red Sea area in Egypt is hit by terrorists, 80 killed, full on. They are really trying to wipe out the tourism and disrupt the government.

Dee our tour manager is really leaving some fine day sheets, eager to see them every night, I try to catch him sliding them under my door as many times as possible-he's fun- great to have him back


---
July 24th
Byron Bay-Splendour in the Grass Festival

I stay in town and have some meetings and catch up on work and emails....Byron goes off, am amazing crowd I'm told going nuts for the Finns.

I call into Coles Express and the girl behind the counter freaks out at my Finn Tour jacket...wasn't expecting that!


---
July 25th
Hamer Hall -Melbourne

Home town and loving it. So good to see Marky, the animals and my own bed. We have some lunch at Prahran Market cafe..and way too soon I am heading into soundcheck.

It starts to rain, and we let in quite a few extra Life members....only three times as many (my head might roll but the boss says it's ok). Phew

Back in that horse suit with James, we are so damn professional...ok as professional as one can be in a horse suit. having fun too.

Melbourne is home town and the Finns get a huge reaction....lock in tickets for Rebekah, Rosemaree and Mark...the shows are full but will make this happen.

Back in my own bed for a night...feels great...... more tour news in the next diary....as we head off to New Zealand..... won't even try to correct the typing mistakes..this is done on the road..so apologies up front......

The last of the Finn dates are approaching fast...can't believe the touring has nearly finished......

Take care

Gryph

---
If there are any problems with this site, please contact webmaster@aswas.com.