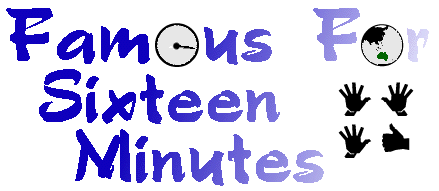 The Life and Times of Peter Green
Archive: 13 June - 26 June 2005
---
June 13th
What it's diary time again? Well that went by fast. It seems weekly not fortnightly.

Keeping an eye on the Australian charts, notice that Oasis debut at #5, it's a bit of an average album, can't see this hanging around for very long. It will be interesting to see if they still cut it live.

Find a rather cool birthday present for Isabelle in France, she is always sending us these amazing chocolates, so it's nice to be able to post her something that she will really like, and just in case she is reading this, I'm not telling...but 'it's' on it's way.

Seem to be playing a lot of SUEDE lately, it could be the weather. 'Sci-Fi Lullabies' what a great album.


---
June 14th
Finns are playing in Germany tonight, those few European dates will be good as it seems like ages since they were in Europe.

Today we just worked away in the office, I looked over and Mark is busy on his computer, I'm on mine, the phones are endlessly ringing, we are even giving the right answers! A functioning office , how scary are we!

The Split Enz stuff tends to drive me nuts a bit, am amazed how Nathan Brenner put up with it all those years- he must of really loved the Enz a lot, he worked hard for them. Depending who you speak to, history may paint Nathan in a different light, but from my memory and being in that office for quite a few years he really did a LOT for the Enz, I just hope they give him a major mention at the ARIA Hall of Fame as he rightfully deserves it. He's the only non-Enz member they should thank.


---
June 15th
Red's Skyhooks piece in the Bulletin was well written, still a surprise why Skyhooks are featuring in Red's life so much. It's a mystery but hey, maybe it's just time that he really does understand they played a rather big part of his past. It's good to see but still feels odd.

We head on down to Gabrielle Bates art show at the Jackman Gallery, it's on till July 3rd. Mark still has no idea that his birthday present is inside, on the wall with the other art in the show. A small bead of sweat rolls down my neck and I know he is going to kill me!!!

Gabrielle's work looks great, really love the wall of small works, seems sad to break them up. Tania buys 'Little Greg Macainsh' which is a nice piece of art.

I tell Mark I like 'that one' pointing to him..and he looks at the one next to it...am I pointing crookedly? 'THAT one...' he realises , he gives me the murderous look... and I know he hates surprises. People come up and say how cool it is, and it IS. Very different to the other pieces in the show.

Eventually he settles down, he fights looking at it, and you know I'd do the same, having a painting of yourself thrown at you can be a shock. We eventually escape and I survive another day.

Some of Gabrielle's pieces are at: http://www.jackmangallery.com.au

Go to artists and type in Gabrielle Bates. (Mark's isn't on display..that would be too much *grin*).

I see an old friend Isla at the show, she is also on the wall as 'Mona Lisa Over Drive' which sells on the night too.

Greg Macainsh is in a few pieces of art, we loved how he was 'The Sentinel' and it was hung next to a Mao painting. I jokingly say 'argh the two dictators!". Hmm that went over well (opps).


---
June 16th
People are so freaked out over Apple's move to Intel. It's a processor change guys not a windows take over... too freaky and a bit too precious. Why are so many Mac people paranoid?

Lock in Banshee for her de-sexing and micro-chipping. She'll love that (not), 11 days girl, it might even settle her down a bit. Naturally we will take endless photos of her with her 'bucket' on her head.

Batman opens today here, it's taken $47 million the first week at the box office in the U.S. So it's doing well. Am still amazed at Mr Bales change from his walking skeleton in the 'Machinist' to the Buff Bat.

Head over to the hills and visit Spock to work on the 'Letters to my Frenz' Split Enz book. Added a few more live dates to that area of the book, but mostly photo 'drop ins'. It's one of the hardest areas as it moves all the text forward, and causes other editorial grief. At least we have a few shots to choose from so the horizontal/vertical decisions are easier, because of the variety. It's coming together.

Get some serious work done, we are about half way, hopefully one more session in 10 days to finish up the photos and after that it's final proof read, layout ok and next the printing. Having to go through new printers is always a pain as it's so much easier when people have already made one or two of your books. It's is out of our hands and I get a bit worried over that. After the Enz book, it's a few weeks off and then straight into the next diary book- 'TRIP'.

Was tempted to buy a Play station 2 today just to play 'Destroy all humans', it looks like a fun retro looking shoot 'em up! With Play Station #3 on the horizon I guess the prices for #2 will really drop soon. Thankfully JB didn't have the game so I didn't invest in the machine.

I notice 'Hunters & Collectors' were announced as part of the ARIA 'Hall of Fame' today, they are going to play a few songs too, I don't think the H&C guys see each other that much so it will be an interesting reunion. Am hoping for a major fight and some bloodletting (:

Hear from our tour manger of years gone by Dee, will be nice to see him as he was always fun on the road- just went the extra yard all the time. Plus I always felt really safe when he was around. He's been missed.

Give Fran a call at home and she is out of hospital and recovering, which is a relief for us all.


---
June 17th
Another wonderful Dr Who batch of episodes turn up from Jayne, loving it big time. ABC Australia has nearly caught up, now we just have to remember to watch them on Saturday.

Spot loads of huge billboards around town for the Batman movie and a few for the Fantastic Four movie as well, they will be huge. The Bat and the FF are my faves. As a young lad of 5 sneaking off at school and putting on a batman suit for the day...and saying 'My Mum sent me to school like this...' will always be one of those moments that my mother remembers fondly (NOT).

At 4.00 these huge dark storm clouds roll in, and it's suddenly night- very Batman semi-Goth weather. Melbourne looks like a Tim Burton sound stage.

Hear from my Mum and it's not really good news, so I'm dealing with that. It's been a shitty 12 months as far as death goes and I'm refusing to lose my Mum as well- so my focus is well and truly on her- just don't want to deal with anyone else's problems at the moment, so a few of our friends are going to have to deal with that. A part of me understand Nigel Grigg's hermit-ish existence and it is very tempting. Destroying a friends 'I love the spotlight theory'- just goes to show they haven't a fucking clue as far as knowing the real me. You'd think some would know what's real and what's not. Another branch of the tree chopped off.

Call Western Australia and have a chat to Deborah. She sent this huge pile of soaps from Hidden Valley Handcrafts. Natural soaps and they rock. The Oz Inspired and Fragranced soaps are excellent- Honey Myrtle, Bush Dreaming and Rosalina are good but Red Heart is the one. It's deep, warm and earthy- with vetiver, patchoulli (Hi Paul), Sandalwood, juniper, rosalina etc.

You can call for a catalogue (08) 91937036 or Email: hiddenvalleyhc@westnet.com.au

They have a host of other good stuff too, am thinking of some 'Achy Breaky' herbal cream which is designed to ease muscular and arthritic cream for my Mum. Great surprise presents! and hell the world could smell better (:


---
June 18th
Finn Brothers tour hits Ireland and that will go off, the Irish gigs are always exceptional shows. I haven't been emailing the boss, hard to respond when on the road so I just keep out of his way. They will be home soon enough.

Call in and see Caroline at The Palais and she spoils me with 2 free tickets for Alice Cooper. These are normally $125 each. The amazing part is that they are front row and the show has sold out. Just way too spoilt.

I love the Palais, I hope it stays around for years, such a lovely Venue and so many marvelous gigs at that place. From Skyhooks farewell show to the night Neil Finn got a major electric shock during the Enz days (probably not the best memory for Neil)... and it was the place where Paul played his last show with the Finns and was over the moon happy. Some talk of upgrading the area, I just hope they don't make it a modern boring cold place. I'll always remember the exact spot behind the stage curtain talking and laughing with Paul, holding his coat and other stuff while he did his thing- his gorgeous laugh just ringing in my ear ' Now Petty I'm just going to run on and do this... look at those Finn boys, how good is this'. A lovely memory, and I think that is the moment I will remember- and really the Palais was the perfect setting for this.

Mark is working away on the DVD of the Canada trip...if I hear 'Viva Las Vegas' once more I will scream. It's looking good...something funny about faking a hitch in an Elvis costume on the main stretch of Vegas! Mark is the man- I think he is digging the world of DVD construction.

Health wise, back on the Fish Oil tablets, all that Omega 3, good for the cardiovascular and arthritis...and it's not the horrid burpy kind of Fish Oil (Ych). I wonder if I will grow gills or start swimming up the Yarra to reproduce?

Rosemaree drops in a new spare ironing board that she had. My Mum will be happy she will have something to iron on in March 2006 when they visit! Such luxury.


---
June 19th
Wow! we have lived here at this house for 7 years now. It's a great place and all good memories. Still feeling settled. One of the houses in the same block is apparently up for sale soon, so says Amazing Grace (and she'd know). They started renovating the balcony and painting today so that's a good sign. We are always intrigued as it gives a rough value of what our place is worth. I'm sure all the body corporate will be in having a look and watching the $ mount at the auction.

We watch 'Scary Movie #3' on cable TV and it's funny. The Michael Jackson scene is brilliant, especially when his nose comes off!

As expected Oasis drop from #5 to #15 this week, I played the album again and it's kind of boring, think it will end up in the bargain bin at the next record fair. It's just a bit predictable and far too hyped by the Press- it's not the 'comeback' album that some people are saying it is.

Hmmm my back is still sore when I go to bed, like a pinched nerve, have a feeling I slept at some strange angle. (no not strange sex positions).


---
June 20th
OK end up booking a chiropractor and head down today. Her name is Dr Keira and she is from Canada and I do like her, she knows her stuff... my back will be resurrected.

Does an assessment and puts me through my paces, little drawings and pressure areas and in the end I head off for a full body X-ray!

That's kind of cool right?... in a never really had an X-ray sort of way. I even get to wear the back the front gown. Thankfully I have good underpants on, if you are going to have your butt hanging out it's good to have good undies on. A girl in the corridor goes 'Hey cool tattoo'. I thank her and feel rather naked.

The girl at the X-ray place is from Ireland and we hit it off, and have each other in stitches. She re-shoots me a few times and the best news is that all the X-ray costs are covered by Medicare. Despite the moans around our health care, sometimes it does work and we are lucky here. I'd be horrified to see what a full session at a Chiro. and full body X-Ray's would cost in the USA.

I head home and do my exercises and it already feels a bit better.

I win $28 on Tattslotto so that covers half of my costs (thanks God). The whole day was just around $60- not bad.


---
June 21st
INXS launch their reality TV show 'INXS Rockstar' from the Civic Hotel in Sydney where they played in their very very early days. Mark and myself did see them a few times, probably the first few weeks that they started playing in Sydney- about 12 people at each show and we knew about 10 of the 12. They were bottom of the ladder when they started as noted on some of our posters from that period. The INXS guys seem to think Michael would find this all funny...I think he'd think it was a sad arse big wank and has nothing to do with the music but all to do with resurrecting some career. Urgh, horrid and sure to be huge! Sure to be massive, INXS excess.

Robi calls by and grabs the last of her Elvis DVD's. She's looking healthy and happy. How much Elvis can one woman absorb.

Well good news in, a small positive reaction. Japan has failed it's bid to push through a document which resumes commercial whaling. It was voted down 29 to 23- so fuck you very much Japan! The dark ages of commercial whaling won't return and one can hope that people like Joji Morishita- the head of the Japanese delegation meet their end in the jaws of a killer whale! Bite Me!!! It still sucks that they are out their killing though.

Whales 1- Japan-0

Interesting letter in The Sun newspaper asking that someone please torpedo the whaling ships...and oddly enough it wasn't from me. Maybe we can do a group donation on torpedo's after all- seems to be a demand for the idea.

Margaret from the Performing Arts Museum returns our bits and pieces from the Paul Tribute that they had up. Nice that they did this.


---
June 22nd
A second Western Australia show has been added to the Finn Aussie tour. I'm glad WA are getting a chance as they miss out a lot- be nice if Tassie was included on a future tour as they miss out all the time. No idea why Adelaide doesn't have a show on the tour. Could be a travel thing around gear coming in from WA or getting a Venue- no idea.

Back in the safe hands of Dr Keira who goes for it. The report says that my Vertebral alignment is satisfactory. I do have minor anterior spondylotic lipping on the C5-6, L3-4 and L4-5 levels. My pelvis and hip joints are normal (it's all that dancing). So not too bad, L2-3 discs have some slight narrowing which is where the problem is...nerve stuff (ouch). The X-rays are very cool and no weird cancer areas or stuff. The first thing she says is that it's obvious I don't smoke as that shows up easily.

I arrived at the clinic early and it was closed, so headed across the road to Herricks and blew my Amex card. Bought this wooden french stool... well more like a seat, for the kicthen. Saw some ear rings from Paris for my lovely sister so what the hell, it's pay day soon. Only have one sister so got to spoil her a bit. If my money doesn't go to her it will go to the Tax people.

Get a letter from the Wilderness Society so they get our monthly donation this time around. Anything to help them fight the GUNNS organisation. We still donate to one charity or cause every month.


---
June 23rd
Spend some quiet time and go through the 'Sorry Everybody' book that Meredith sent us. Pretty much the USA saying sorry that the chump got in again. At least he will go eventually. I'm sure the families of the American soldiers killed in Iraq will be happy when that happens.

The figures are such a worry, almost 2000 dead so far.

January-107, February 58, March 36, April 52, May-80 and so far in June 68.

They read as numbers to us, but they were once living passionate young men and woman. Such a total waste and Bush sits in the White House keeping these people in a country where they shouldn't be. When will this madness stop? I vote we just send Bush to Iraq- forever!


---
June 24th
The Sun is out but the air feels cold, it's snowing in the Alps.

Go through the Aria stuff for the day and send off the Artist release form for the Enz footage. A form for this, a form for that.

Send John & Tina a huge thank you for my 'So many right wing christian...so few lions' Tee. I have been living in this. Funny, as people stop me on the street and want to buy the Tshirt. Thanks guys, at this rate I'll wear it out! (: (Glad you sent two!).

The Foxtel magazine arrives and Noel Crombie from the Enz stands out on the cover, looking so dapper in that pin striped suit. The cover folds open and Neil & Tim Finn and Eddie Rayner are on the inside. Some of the other Aria 'Hall of Fame' people are on the cover too, but we all agree it's Noel's moment, he looks the best! Noel is God! he should get his own award. Best Nose!


---
June 25th
Happy Birthday Tim Finn

Stock weekend at the office, and freak out as we open the very last box of BANG! We have 2 boxes of Hussy. I didn't know that the stock has dropped to this level. So I'm guessing the first two diary books will run out sometime this year. Don't think I'll do another reprint. It's kind of nice for them to become hard to find.

Spend the afternoon addressing the CD mailers for the last lot of signed True Colours. They go out in about 10 days, maybe less. Finally all out of the way. I chat to Eddie around some other Enz CD stuff- which might happen.

Mark is working away, so I head out to Prahran Market to buy some Winter plants for the hanging baskets on the balcony, just adding a touch of colour. Mostly oranges and yellows. So my afternoon is spent getting my hands dirty re-potting and working in the garden. I let Banshee wander out on the balcony with me, the motor bikes and cars flip her out a bit, skitty kitty!

Was watching cable and there was a documentary on Iraq, and the image of an Iraq mother holding her dead child and staring down the camera lens just continues to burn into my head. I wander what she would do if she had a chance to travel and confront the Coalition on the slaughter of her family.

Sitting on the balcony watching a very safe Australia go by it's and I started scribbling lines down on the price docket from the markets.

.....she will come from Iraq
with a gun by her side
and with a beauty
you can't deny.

or she will come from Afghanistan
with no love in her eyes
asking the government
why did you kill my child

and the dark tide will rise.....


---
June 26th
Banshee turns 6 months young today, which means it's been 6 months since the Tsunami. It seems longer. Banshee is definitely longer!!!

Mum spills the beans that my Sister has bought a motorbike, something that she has always wanted, and my fear or Mums fear that she will be hit by some terrible driver will be ignored and the best we can do is make sure she rides it well.

Of course a good bike jacket is a must, so I raid my wardrobe upstairs and surrender my incredibly GREAT bike jacket that I bought in New York from the November '98 tour. A friend promised me he'll teach me to ride but managed to get side tracked by life, so I might as well hand it over to someone who will use it, unless I end up teaching myself which is a possibility. It will offer some protection when she comes off, and looks damn fine. I won't even ask why my sister forgot to mention she is now a biker! At least the smell of scorched leather around the house will be a nice touch. I'll have to giver her some Suzi Quatro CDs for Christmas *grin*.

Clipping away some of the Ivy on the picket fence out front and a lady tells me she loves our house. She made the blood red curtains in the lounge room for the people who owned it before us. Some of you might of spotted them as backing for various Interviews on DVD's etc.

Down at Prahran having some lunch and we find that JB HI FI have FIREFLY the series for a mere $26- this is a huge saving so I grab a copy. Gotta support Joss, after all he did give us Buffy! I know it's had some mixed reviews but $26, el cheapo.

...and finally Shane Warne, wow it has really taken his wife ten years to wake up and realise what a pig he is. Guess he easily takes our Creep of the Month Award! OINK.

Life is good.

Gryph

---
If there are any problems with this site, please contact webmaster@aswas.com.