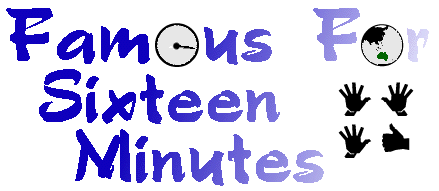 The Life and Times of Peter Green
Archive: 18 April - 1 May 2005
---
April 18th
Welcome to another diary update, it's been a record month, the most readers we have ever had since the diary started over 9 years ago. Nine years and my spelling has not improved! Thay sayy id addz charactur! (that was very Noel Crombie of me writing like that *grin*).

I make some extra effort today to get on and do some work, keep the cart rolling before the wheels drop off. A part of me just wants to climb into bed today and ignore the world, the phones, even friends. Maybe it is crunch time. Mark slaps me and I snap out of it and get on with the job.

It's funny to have the phones quiet, just a few dozen calls a day, it is good. I think Neil is recovering at the beach house, just the smell of the sea would make my day better...he's lucky.


---
April 19th
Pick up some enlargements for Mum of yours truly in the suit. She will be happy now, a good suit snap. I am tempted to get a very short short hair cut, US marine style... who knows.

Wake up and weird shit has happened in the house. First off, a rather large bag of cookies, baked by one of the diary readers from o/s has been moved around the lounge-room, and one of the cookies lies uneaten on the big rug.

I find this jumbo size packet of photos which was under a metal 'IN' basket has been removed and left up against the wall, it contains all the photos I've taken recently of Paul's dogs.

I vaguely recall hearing strange noises in the house and assumed it was Banshee destroying my bathroom. For those of you who have ventured into our archaic mansion you would know that we have 3 security systems and lock down window bars and security doors (it doesn't look as full on as it sounds) but it certainly is very secure. The only house on the street that has never been burgled...so it's not like someone broke in and moved a bag of cookies and photos. It wreaks of Uncle Hessie, I can see him now going 'Wow I'm Invisible what fun....gotta visit the boys'. Yep still mischievous even if not in a corporeal form. I wondered if maybe I have been sleep walking, but 3 flights of staircases and not crashing down them would be fairly miraculous. I decide it must be a cookie eating photo loving Possum... till Mardi tells me that Paul loves cookies.... a last visit from Uncle Hessie?

During the day 2 other very close friends report on Paul sightings before I tell them our night visit story....hmm maybe he is just saying goodbye and wants one last cookie. Who knows, maybe I've lost it big time. *grin*

Midday and the Newsletter proofs arrive and the Paul collage is really nice, some fun shots, the fans will dig it.

Pete & Susan O'Doherty are in town so I chat to them and they will drop around, I hope the guys like where we have hung their art.


---
April 20th
Walking home from breakfast at the Market Cafe and Liam Finn drives past us in the Betchadupa Van...he waves and gives us the hard rockin' devil sign... made us laugh. Found out that the latest Betchadupa release 'My Army of Birds & Gulls' only has a NZ release, it is radio only in Australia. Once again it is a 4 track CD- 'My Army...', 'Cut me Down', 'Hell's What It's Coming To' and 'He is the Devils Advocate'...love track 4.
www.marbecks.co.nz would have it.
I am hoping that Liberation Australia have a spare copy, it's one of my favourite tracks from the new album.

Call in and see Greg Skyhook, lend him 5 of our camera tapes from Hooks stuff that we have filmed, he wants to play around with it on his computer. He signs a few covers and stuff. We talk a little about the Ego Is Not A Dirty Word re-issue so hopefully that will happen.

On the way home I cruise down Carlisle street as I want to grab some rum balls from this family bakery. I spot Crazy Vivienne and she has a huge frown as she walks through the masses....maybe she has a telephone in that brown paper bag and is on a mission to try and kill some other unsuspecting soul, I keep clear.


---
April 21st
Red Symons arrives (late) and is like a tornado, he just rolls into our house and very frantic, sticks his head into rooms, I ask him if this is an inspection organised by my mother.... he is very odd today. Electric nervous. Lend him a folder of Hooks photos for a TV project. I want them back Redmond!

Have a chat to Sharon Finn, that always puts me in a good mood, onya Dawny!

We confirm that the Finns are playing at the 'Splendour in the Grass' gig at Byron Bay, there will be around 10 days of other shows before that, hopefully.


---
April 22nd
Just did a break down on where the F/16 diary books have gone too. It's odd, Hussy and Bang! 55% have gone to the USA, with Glamour the UK readers have bought a whole three copies more then the USA so technically most of the copies of Glamour have gone to the UK. I guess that will change if 4 more USA readers by Glamour. Not sure why the English prefer the third book, could be all the cross dressing on the back cover....maybe they just like Paulo dressed as Mrs Hairylegs!!! England has a solid history of men in frocks.

We hear from Billy, and Polly the dog has settled in and the family love her, same for Lorraine and Wednesday. Neil tells me that Lorraine has been vying for attention with the other Finn dog Milla. After the month poor old Lozzie has had no wonder. I'm just happy they are all being loved.

Mark is getting obsessed with the G5 and staying awake till the wee hours working away....computer geek!


---
April 23rd
Hear from Mike Hester, Paul's Dad, have a chat he really loved the copy of Wings off flies that was on the shelf at Paul's so I'm mailing Mike one. He is a great storyteller, told me all the Paul stories, he still has Paul's first tooth too and baby shoes.

Rosemaree visits and helps with some Finn work. All three of us sit on the balcony and the 1 1/2 bedroom apartment across the road is up for Auction and I am intrigued to see what it goes for. I expected $420,000 and it sells for around $410,000, so I am close. Location location location. I tickle Rosemaree mid bid and her hand goes up...she is hidden by our massive tree's so her bid doesn't count.

Sir Joh Bjelke Petersen dies, putting an end to one of the most tumultuous chapters in Queensland's political history. The people from that Era were so corrupt and QlD was a brutal Police state....

Nice day outside, almost an Indian Summer, love it. What a great place to live...Melbourne in April.


---
April 24th
We head to Daguerres for breakfast, it was a bit average, I am thinking we might find a new Sunday eatery, my Amex card wouldn't work properly on their new machine. Hopeless.

Ben and Jen drop in and we head to Windsor for lunch... the food bars are overflowing so we try a new place that is open. Just good company is all I need, makes me feel grounded.

Walking back home say Hi to so many people, shop keepers and just people on the street. I feel like the Pope of Prahran.

Keep seeing Donavon Frankenreiters clip for FREE on cable music channels, really like it, really really like it. His album has done well in NZ.

Check the ARIA DVD chart and Crowded House's DREAMING THE VIDEO'S is at #33 and has sold Platinum.


---
April 25th
Anzac Day Holiday. Head to Noel Crombie and Nigel Griggs place(s) just to hang out. See lots of old diggers on the streets and give them a big cheerio and wave, poor old buggers. I hate War, really detest it but I can't find any anger towards these guys who fought, it was different then, times were different, but these days we have arse-holes like George W Bush- he should just be sent to War, just him...but yeah the diggers are ok. Growing up I always heard stories about my grandfathers brother coming back from the horrible Japanese POW camps, stick thin and a broken man, but at least he had the will to survive and make it home, so many didn't. War sucks.

Always a good thing to see the Crombie's. All the kids are around today making a movie, Sunday Hester is there too and tells me the sub-plot for the latest production. Just good to see everyone laughing after such an ordeal. Sunday has such a good mate in Hedwig and the rest, she is lucky, she'll get through these sad times, plus they have a good Mum.

The Crombie's show me their Blue Tongue Lizard that they found, only a baby compared to the one's on our property...Mark picks it up and I think the lizard fancy's him.

Have a chat and a cuppa...just what we needed. Sal loves the Satellite navigation system in the 4WD, chicks dig the Navman *grin*.

Lock in Nigel's place up in the Dandenong's and we are off. Catch Nigel finishing up outside and we spend the afternoon chatting. Talk to him about the 'secret' Enz business (not related to Secret Woman's Business) and c'mon guys it's a secret so don't even ask yet...all will be revealed next F/16 diary in 2 weeks. For once I think I've timed this ok, well fate has...so am hoping the vibe is strong....go Enz!

Voodoo.. Nige's last remaining cat has doubled in size but very healthy.

Mark shares a joint and we are all chilled out and I could happily wander on down and sleep in a tree limb. (and I didn't even have a puff dear reader). Just the tree's and the air....Puffing Billy toots as it steams past with carriages full of kids, such a lovely train ride.

Finally make it home at dusk and Ben Yeti calls by and works with Marky on the computer. The lads are in the computer Zone..so I go and bake cakes and mend socks (not). Night guys.


---
April 26th
How good is it to see the X-Factor show stiffing in the ratings, the best it could do this week was the #72 'most' watched show, the channel 7 off air test pattern gets more viewers. The judges are abysmal, someone kick this turkey off the air please.

Much as the title messes with our heads this month, one of our favourite shows is 'Dead like me' extremely funny. Bummer that it only made 2 seasons.

Mark from the Aria awards calls in and we have a meeting and a coffee. All good.

Drive to the printers and pick up some covers and stuff, pay cash as they have some weird primitive credit card machine that never seems to work and stresses me...so cold hard cash.

Indian for dinner..no not a real Indian but food from India. I love the weird onion things they do, they are not Pakora's but something else. tasty.


---
April 27th
Been getting a lot of really nice emails, not just about Paul but stuff in general, and it's funny as it is easy to forget how many good people exist in the real world. Not sure where my world is anymore, it all seems lost in smoke and veils and some confusion.

I do notice that Ana Bagayan has her art showing at la Luz de Jesus gallery. She was born in Armenia in 1983- really like her stuff. 'The Club House Machination' is her first solo exhibition. One piece I really love....oh don't do this to me Ana. I'll be eating beans again....

The A380-world largest passenger plane made it's maiden flight today in France. Can't wait for them to fit them out with a spa pool or a hot tub.

Was about to recycle an old padded envelope that the gorgeous Jayne in the UK sent and out fell a small metallic Dr WHO pin. So an extra bonus. I do like the new series of Dr Who...bring on the Daleks. It starts in Australia in a few weeks. Thanks Jayne those 3 episodes gave me a major much needed escape.

Head into Liberation and drop in some Poster art and bits and pieces for the ExtravagENZa inside cover....thanks to Llody who walks out with the 'My Army of Birds and Gulls' CD. Yey...how good is the cover art.

Pay water rates, it's nearly double which is a worry...think about water pipes snapping in my sleep.


---
April 28th
Drive to Paul's place and arrive by 10.30 Big Kev is already at it chopping away and filling up the dumpster...so just the two of us at first. I start around the edge of the pool. It's been a month and it really needs a clean up. Obviously the house will be sold and just good that we can help. A hands on way. Mardi and Kath and the guys turn up and Simon...and we go for it. Worker bee's all of us.

It's funny as we forget just how much crap there can be.

When we first came back from our around Australia epic trip, I was talking to Paul about wanting a Winter escape on Magnetic Island. He promised to buy me a Boogie board for the surf. Well today I was given one, Paul's black Boogie board was going to be thrown, it's in such good condition so I salvaged it- just couldn't let it get thrown away. I remember tipping him off it a few times in that pool of his. So thanks Hessie, I kept my promise around the animals and you kept yours around the board! It feels alright too, family members keep photos and other keepsakes, I keep a boogie board!!!

It's a bit strange being here, some shed tears, I was Peter the Rock, I find it very hard to cry these days, maybe it's welling up like a huge dam, oh well it will happen when it's meant to...i'll give it a few more days and probably forced myself to let it all out.

Mardi gives us the Countdown Music Awards for Best Debut Act 1996, it's for Crowded House and I've put it in the Archives. I spend the night shining it up, so tarnished. Normally I'd leave it but it felt like it had to be cleaned.

Home by 2.00, limbs aching from carrying and cleaning....

Newsletters arrive so we both work till 4.00 in the morning on those. I manage to fall asleep in the chair....night! I dream of boogie-boarding some serious waves in Hawaii!


---
April 29th
Think Mark must of carried me to bed as I can't remember getting here, he worked the complete night just to get the mail out partially done (it takes a week to do the whole thing) can always depend on my better half.

Horrible day in Iraq. Insurgents unleash several car bombs and at least 41 people are killed, 3 of those American soldiers. This month already 44 military deaths have occurred in Iraq. It seems to be getting worse.

Telstra pays us a dividend from shares which was quite welcome.

I get our sales figures in from NZ and Crowded House's 'Recurring Dream' has sold 9 Platinum albums worth in that country, we are heading towards 11 Platinum in Australia- amazing. I find out that it is a mere 600 copies short in Australia of reaching the magic 11 Platinum mark.
http://www.hmv.com.au If anyone is after a spare copy.

I sit in the sun for an hour and sign some more diary books, the orders have tripled this month, little books all flying out around the world. I wish they contained words of wisdom ...oh well people seem to enjoy them.

Mark spoils me rotten and buys me both the DVD and CD of Morrissey LIVE. I am a happy man. You are the best Igor Snr!


---
April 30th
Favourites for this fortnight

Fave DVD- 'Don's Party' with Doco disc. Just great. More people should use the line 'You shit me' in day to day life! Such a classic.

Fave Drink-Lemon Pelegrino and Wild Child juices.

Fave Clip- FREE Donavon Frankenreiter

Fave Music DVD- 'Who Put the M in Manchester' Morrissey Live. (thanks MG)
Fave CD/EP- My Army of Birds and Gulls- Betchadupa (and Morrissey live at Earls Court).

Fave accessory- Silver cockring. (for shock value)...I'm making this up.

Dickhead of the fortnight-Tony Abbott-Liberal Party for f*cking with the IVF program in Australia. Plus he just shits me *grin*

Person of the Month- Morrissey and Marky...are they one of the same?


---
May 1st
May already, it's my birthday in 10 days, another year towards becoming an old fart. Cool, I embrace it.....

Both Bec and Rosemaree call by, so I think of this as a damn fine excuse to cook up those sausages on the BBQ. It's also my first chance to get really really messy. Whatever it takes to get on with stuff around Paulo's passing away. Sometimes to get on with life you have just got to get well and truly shit-faced with friends. Coming from an alcoholic family it's something I wouldn't recommend or embrace all that often but today it seems the perfect solution.

I feel ok doing this as these 3 people I trust totally and I know they will be there to pick me up when I fall. As I say goodbye to both Rosemaree and Rebekah I head to the bathroom for a technicolour yawn as our old friend Sir Les Patterson calls it. I've reached messy, could it be the Glavya, Champayne and Tequila..OUCH! Potent.

I miss the Logie Awards but Mark tapes it, so happy to have Rove's acceptance speech 'This is fucking awesome' (not bleeped) when he scored the main award! he really said that. Great to see 'Love My Way' get best drama , the first time a Pay TV show has won a Logie award. The segment from the upcoming 'Grease' epic was totally dreadful and anyone supporting this shite should be shot...so incredibly bad. So another rather terrible Logie awards rolls on by....a good chance to bitch about what people were wearing.

I do manage to make it all the way up the staircases, and get changed and climb into bed....I am matching the planets spin in my head and it is hurting. After tonight I think it is going to be awhile before the Gryphon does this again, such a silly boy....

It's midnight and the world in my head has stopped spinning ... I feel ok, my stomach is very very flat, and I don't feel sick anymore (or any less?) so I'm close to recovered.

Meanwhile in Sydney town Rene Rivkin the 61 year old stockbroker takes his own life... I wonder what baby soul will replace his. I get a call and my question is answered... our friends Marco and Toija are to become proud parents, Toija is pregnant, we are about to become 'Uncles', she tells us.

So in the midst of sadness there are bundles of joy and when it's two people you really like it just makes me incredibly happy. Roll on life!!!!

Dig it.

Peter

---
If there are any problems with this site, please contact webmaster@aswas.com.