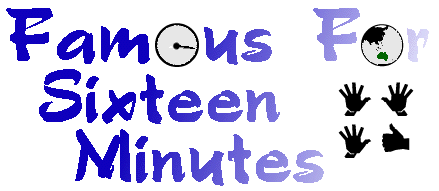 The Life and Times of Peter Green
Archive: 21 February - 6 March 2005
---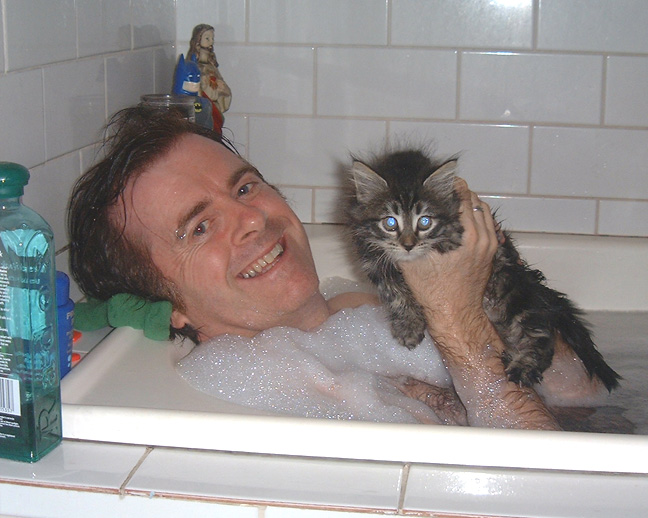 Bath-time for 'Banshee'!


---
February 21st
Has it really been two weeks already? Have I been asleep that long? It seems like a blink of an eye and suddenly it's Diary time again. I guess I should be thankful it's every 2 weeks and not every week (: Deb is such a slave driver and whips me into getting these done on time *grin*.

I wonder how many Diaries are out there on the Net? A lot I guess.

Hunter S. Thompson shot himself dead today, so it's that sorta day. He penned 'Fear & Loathing in Las Vegas', 'Hells Angels', Generation of swine' etc all of the classics. Infamous writers seem to be popping off one per week now, it must be time. I doubt many people will go 'He penned Hussy, Bang and Glamour' when I die....I need to get more notorious!!!

The Quarantine people seem to take major joy in holding back Judy's wonderful BISCOTTI that she so kindly sent, at least they didn't sample any of it. I'm surprised they wern't tempted.

I notice that Pacific Brands share price on the stock-market dropped. The Kylie brand knickers couldn't keep it afloat and Investors sliced 2c from the P.C. shares...is this a sign that Miss Minogue's popularity is waning?


---
February 22nd
Well tonight is Bic Runga's first night back on the road with the Finns since her Dad passed away. Had a lot of emails from Bic music lovers who are going and will give her a positive reception. Music is a good tonic so it is sure to help with such sad times.

OK as expected Patty Bouvier- sister of Marge Simpson came out of the closet on last nights episode. It just had to be Patty...though Principal Skinner is a bit suss too.....

No sleep tonight, very restless, even pop a pill, brain is ticking over like time bomb. Tick Tick Tick, worse then Captain Hooks Crocodile... with that infernal clock. Tick Tick Tick. Sleep by no means comes too soon...

Mark had a bad dream last night that the idiots next door were replaced by even bigger idiots. (Is that possible) We are counting the days (yey).


---
February 23rd
Run into Russell Love Muscle at the P.O. Box, he tells me he is judging the new battle of the bands for Australian music week. I like how NZ gets a whole Music Month and we get a lame arse week.

The Insurance guy drops in with regards to re painting some water damaged ceiling, it's all fine, no rush and all due to those extreme storms. We've just paid our insurance too so that was lucky. Some fresh paint, always a good thing.

Marks LCD TV arrives for the bedroom, it's pretty amazing..... it can go on the wall but probably safer on a stand. Looks pretty cool though. So back to eating beans for another week, and some gorgeous Biscotti. Judy you saved our life.

We call into Pet Wonderland on Chapel Street, the same shop where we bought beautiful Miss Hairball for $5.00. The centre of the shop has a huge cage and it's full of kittens...they all ignore us except one. She is obsessed with us both and puts on a show, talks to us and climbs the side of the cage... she is almost begging for us to take her. We pat her and it is tempting but we exit before she totally seduces us.


---
February 24th
Really sleep in today, guess my body needed it, who am I to argue. Woke up in a blind panic, I was only 30 minutes late but it's rare that my body clock doesn't naturally wake me.

Clear the mail, have breakfast and that little kitten is on my mind, and I think on Marks too.

I go for a drive to pick up more laminates, and then onto Kmart who have a 15% sale...so buy the Trek DVD box and save $40. On the way back the little Tabby pops into my head so I head to Pet Wonderland (again)...and there she is..she spots me and runs to the wire and says hello. I call Mark, and he comes down.....15 minutes later we have a new kitten. That's a big thing for us.

It feels pretty weird as hairball was THE cat, and we will never forget her, just some guilt as no cat could replace her...and this one won't she'll be her own bit of our history.

She is a silver grey Tabby...fairly long hair and was born on Boxing day. She is almost named Tsunami but some people might think we are making something of the sadness....strangely enough BANSHEE is the name out of 5000 that Mark and myself both find (separately) ... her middle secret name is ECHO..... so she is 9 weeks old (nearly) and so little.

I can hold her in my hand...I worry that I can feel her rib cage , and she must of been the runt of the litter. She has beautiful eyes, incredibly deep pools ...and the pads on her feet are dark chocolate colour and soft like velvet. She follows us around, walking that odd way like kittens do.

Cosmo checks her out, and he doesn't attack her (Phew), he DOES take it all out on me and thumps his back legs when I am around. We give the bunny extra attention...but he knows there is a new stranger in the house...not totally happy.

She truly loves us from the first moment... try's to follow us everywhere, I mean EVERYWHERE, and she slips and slides all over the Baltic pine floor boards. In the morning she climbs up my leg, to my shoulder and sits on my head while I have a shave. It looks like I have some feral Daniel Boone cap on. Cute!

She is a BANSHEE and she gets that crazy cat look in her eye and turns... chasing shadows, climbing up legs biting toes..... we love it of course, in an exhausting sort of way.

She's sitting on my lap, and just falls asleep. Mark puts her in her Igloo fake fur house and she nods back asleep again, in an upright position....it's been a long day BANSHEE girl, welcome to our world.

We decide that 'Problem Child' by AC/DC is HER song!!!!!


---
February 25th
SLUT the documentary is on SBS TV tonight...the linguistics professor explaining the origins of the word is interesting. God bless SBS!

Today is spent addressing boxes, CD mailers, padded envelopes, tough packs, re checking addresses... not very exciting but has to be done. Our office looks more like Prahran Post Office then PPO itself.... I will have to get Aussie Post uniforms for Mark & myself soon and cute plastic name tags. Hi my name is TED!

Great Suzi Quatro Live review in The Sun newspaper. Her next album DETROIT CITY USA is out soon, 35 years on and she can still kick musical butt. Go little Suzi!!!

Speak to Rosemaree and Spock about which day is best for them to start on the Enz book proof reading, yep it's up to that stage...

Australia is now the worlds top share owning nation. Among adults 55% now own shares of some kind. Good to see GUNNS shares dropping.


---
February 26th
Yey -March 16th- May 8th, 40 of the 600 Andy Warhol 'Time Capsules' will be on display in Melbourne (NGV-St Kilda Rd). On loan from the Warhol Museum in PIttsburgh...it's something like 3000+ items. MY ancient cross came from Andy's collection, it is really old and has etched symbols on the back of it, a real wicca item... that spooky old Peter Green, he would have something like that *grin*. Yeah you all know me... BOO! I think Andy bought all the crosses from the same shop in New York, he'd go there almost every day....

Miss Jen visits at 2.00 to see BANSHEE and she falls in love with her, especially when the kitty finally falls asleep, way, way too cute. (and so was the cat).


---
February 27th
...and speaking of Pittsburgh, the Finns are at Mr Smalls Theatre tonight in Pittsburgh, wish I was there, I know it will be a great gig. Grrrrr.

Daddy Cool are at the Bowl with a lot of other bands playing the Tsunami show, 10,000 people turn up to do the Eagle Rock, I'm glad they have finally played a show, it's been a long time since DC had a play.

The Labor Party are returned to power in Western Australia, so Geoff Gallop must be happy, means Labor still holds power in every state in Australia. That will put a small thorn in John hoWARds side...feels good.


---
February 28th
How great did Johnny Depp and Vanessa Paradis look at the Oscars, see people can dress both fun and tasteful ... JD is the man...and gorgeous ol' Cate Blanchett winning that Oscar, for once they got it right.

Well BEN LEE's album is out. AWAKE IS THE NEW SLEEP. Is it good? Yes very good, some songs are even brilliant. The next single CATCH MY DISEASE is truly radio friendly and sits on your head (like a baby kitten???)... and there he is on the back looking like some Hobbit from Lord of the Rings. BEN LEE IS THE NEW SLEEP??? Bic emails me that she likes his stuff too.

I received around 100 emails from F/16 diary readers who bought the 'Gamble everything for love' CD single and only one of you didn't like it, that's pretty good....so yeah give the album a try as well. Spotted a few people with it in their hands so I am hoping it is a Top 10 debut for Mr Lee, and yeah of course it's my album of the week! (It debuts at #7).


---
March 1st
Mark gets a royalty for his Wings Off Flies sales, he can't give up his day job but getting any sort of royalty from a book is rare (:

Cosmo got some extra attention today, we have been cuddling him a bit just so he doesn't think he has been replaced, you know how sensitive the big bunny is.

Meanwhile BANSHEE has shown a natural love for water. OK a love for walking around the edge of the bath while I am in it, she hasn't belly flopped in yet, but she does seem to get wet, and keeps coming back for more... she is like The Borg, resistance is futile. We should of called her Aqua!

Had a look at a 2 week Detox program, which I'll do soon. It's one of those natural herbal programs that gives your various body areas time to rejuvenate and recover.... it will probably drive me nuts but it seems like a good idea.

It seems years since I have taken any drugs, if someone asked me what the kids are taking these days I wouldn't have a clue, hell I've become an old fart. (: Seriously though, haven't had any major hankerings for any substances. Mr Goody two shoes that I am. Time to get messy????


---
March 2nd
The Invites arrive from Kirsten at the Ballarat Fine Art Gallery. They have the Screen Printing in the 70s-Whatever happened to the revolution exhibition on (March 11th till May 8th). It's Ballarat so quite a drive and feeling a bit lazy, so who knows....but Greg Skyhook is opening the show so it is tempting to go and show some support.

Order some flowers for Mum for her birthday, she keeps saying she wants NO FUSS. Instead of the usual vase and masses of blooms I decided on a basket full of flowers, that way she can put bread or whatever in it, see I am practical and boring now.

Spock and Rosemaree turn up right on time and we start proof reading the 'Letters to my Frenz' text. It's a big job, and I trust old eagle eyes Rosemaree.

Make a chicken salad and that homemade chocolate Mousse for everyone.

Get a lot done and finish by 9.30. One more session to go in a week and then that part is finished, next it's photo drop ins. Looks like the book may be an extra 12 pages long, add to that the bonus CD of Enz Live and $ wise we will be lucky to break square. Which is ok as projects like this are just good to do, as long as it doesn't kill us financially, I prefer the fans to be happy and get good value.


---
March 3rd
The Finn Bros are playing New York's Canal Room tonight, which I have to stop calling the (c)Anal Room!!! I am bad.

Notice that Green Day are at #2 in the USA with Boulevard of Broken Dreams, truly amazing- brilliant guys and nice to see.

Head to Greg Skyhooks place and he signs some bits and pieces. He also has the Missy Higgins version of Skyhooks 'You just like me cos I'm good in bed'. I really like it, it's going to be an extra track on the next Missy single 'The special Two'....she should really do a clip for 'Bed' and have some pole dancers in it...would be good to do live too.

Good to see that the second season of 'Love My Way' commences filming soon, Nigel Griggs will be happy (:

Pay the evil Wollongong speeding fine...it sucks but now it's paid and out of the way. I can move on.


---
March 4th
Mum gets her flowers and sounds sad, I am worried about her, she's not that well. Think I'll have to make a trip home soon just to check on things and hang out with the family... do some painting and mowing and all of that.

We are working really long hours at the moment, sometimes till 4.00 in the morning..Mark has a G5 for a face, I can't remember what he looks like without a computer. He is spending days editing the various interviews. He just completed a Neil Interview that I did in his turret at Murchison street many years ago, it's never really been seen, so that's kind of neat. I think I used a few sections of it for the Crowded House exhibit at the Performing Arts Museum.

We post two huge bags of mail, we could just carry them. At 4.00 in the morning we head off and mail more stuff, it seems endless.

We both work through the whole night and reply to emails, update stuff in the office. By 9.00 in the morning we have finished, the Finns certainly got good value from us this week.


---
March 5th
Happy Birthday Moogie. Love Ya!

Sleepy, should of had some sleep. I hand wash the car and those big seats look very tempting for a nap. Do the washing up and play with both Cosmo and Banshee. Climb onto my bed and drag Cosmo up too and have a chat to the bunny, I know he is sulking. He's getting more attention these days then before.

Am outside gardening and a grey haired man is standing on the street, it turns out he is looking at the house next door, so he might be our new neighbour, which is perfect, oldish people surely make little noise. I think the creeps move this weekend...have to sit on the balcony and wave goodbye (with 1 finger).

It rains and Mark is forced to stay in a shop on Chapel street till it finishes. The Grand Prix is on so it's nice to hear the rain instead of the dull revving of engines. Still a lot of people enjoy it, who am I to argue.


---
March 6th
Up at 7.00 and start loading the car for the Collectors Fair. It's at Box Hill this time and when I eventually leave the feeling is that the collectors fairs are a dying thing. The good thing is that we get to meet a few new people (Hi Karen, Lisa, John) and some of the usual gang. It's nice to see these people and we chat all day.

I'm a bit off centre today, lack of sleep from the long work hours I guess. It all feels a bit blurry. The only thing I buy are 4 Fantastic Four comics which are collector type issues...just decided to do it. Sit & talk most of the day.

Home by 3.30.

Good to see some of Sydney's Gay &Lesbian Mardi Gra on TV, especially loved the Gay marriage float with George Bush and Johnny hoWARd having a huge pash under the wedding arch....made me laugh. Imagine if they really did it (URGH).

Head to Topelz for dinner, they make a nice ravioli and home made Tartufo.

I'm still staggered that it's March already....which means Easter is around the corner. I'm into designing a few Easter Cards this year..I like the idea of the Easter Bunny on a cross and Jesus in a bunny suit hopping about.... or Pope J.P squatting and laying Easter Eggs (the Faberge' type)...can't work out what I dislike the most, the religious extremes of Easter or the brutal flog those eggs as soon as Christmas is over approach....and lets not even get into having hot cross buns during the first week of January! Oh well at least Cosmo finally brings in an income this time of year.

That's it from me...hope you enjoy the slightly wet Banshee photo...and did you all like how I positioned perfectly the various soap suds... no nude bits on this site. PG goes XXX maybe later! (Not).

Take care and love life.

Gryph.

---
If there are any problems with this site, please contact webmaster@aswas.com.