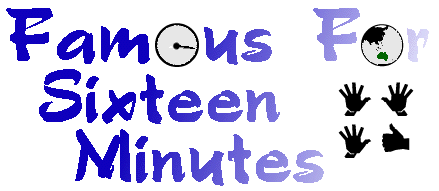 The Life and Times of Peter Green
Archive: 21 March - 4 April 2005
---
---
March 21st
Mail in our Commonwealth Games Ticket sheet, my Mum and Sis are coming down, so thought I'd treat them for the opening of the games, some swimming and hockey. The opening of the games tickets are damn expensive but it's something to do with my family, so back to eating beans again. Anyone got a spare $100,000 they could send? Ok thought not.

There was a really good drug report in The Sun newspaper today, covering everything from Cannabis to Ketamine, all recreational drug users should read it and all parents. Especially around long term effects.

I notice that the old bird lady is back in Prahran Park, feeding the Pigeons and chatting to them, the brown Pigeon loves her. I always smile at her.

This Easter I'm encouraging friends to buy a Choc Crocodile instead of an egg. With 'Choc Crocs' all monies raised goes to East Timor Woman Australia (ETWA)...the Environment Shop Hawthorn, Northcote or call EYWA ($5 a packet) 96639626. I'm sure they will still have some left.


---
March 22nd
Weird- BANG! is once more outselling Hussy, and Glamour has some weird rush on it like it's going to run out. Have to start on TRIP June 1st. It will be double the length of the other 3 books.

Take Banshee to the vet for her shot. What a performance, she screamed and it was the smallest needle in the world. They had to get a second assistant in to hold her... Cosmo was so well behaved when he had his shots. Good Bunny Bad Cat! (:


---
March 23rd
Start on DETOX today- feels odd like you have an upset stomach, the first 3 days are the worst. It's a good sign I'm told, all the toxins being released.

Sharon emails me that she did a ten day one recently, the soup one, you end up hating soup. She urges me on, God bless her.

Spend the afternoon calling band members around work stuff, nice to talk to everyone, it's been awhile.


---
March 24th
Day 2 of Detox, wake up feeling queasy,my morning water and juice settles me a little. No real headaches yet....we'll see.

Run into Jacqui and she really wants me to go see Alice Cooper with her, I give in and agree to do so. The things I do for friends, actually I do like Alice so it will be good.

Natalie Imbruglia covers Crowded House's 'Pineapple Head' on her new single 'Shiver'....shoot me now, but what a weird choice.


---
March 25th
Finn Bros MAX Repeat on today. Good to see Uncle Hessie having a play.

Spend the day putting in hedge shrubs out the front by the walk way, they look good, money well spent.

It's the long weekend and Easter and guess which bunny can't have any chocolate, oddly enough the temptation isn't that strong, nothing has forced me to have a chocolate relapse.


---
March 26th
Lovely Sunny Melbourne Day.

Well I'm just had a call from Kevin, horrible news and I still can't believe this. I thought he was joking, our friend Paul Hester has taken his own life. When I started on the media stuff today Mark pointed out that 'taken his own life' never sounds as brutal as committed suicide, in the end Paul isn't here anymore and I can't stop crying. First shock, anger as he has left those 2 lovely kids and now the tears, hell maybe I am normal after all. Full run of emotion....

I speak to 2 friends in the Press who make a promise that they will hold back the media for the day, this is SO rare, and I can probably never return a favour that big. Speak to Mardi and the others and have the horrible task of calling about 150 people and trying to tell them this sad news before it breaks in the Press. The 1 day grace also gives Mardi and the kids some time,it's probably the one good thing I can do to help. Poor buggers, this sucks.

I am on the phone till 3.00 in the morning, am so grateful that Sharon Finn will tell Neil. We let him sleep awhile. He gives me a call when he wakes up. We are all still dazed, shocked, saddened into tears. I can't seem to stop crying and it's nearly always after I have to tell a new person.

My first night of many with no sleep. Thanks God for Visine.

My final act is to email the fans, I want them to hear this from me and not on some crappy TV news broadcast or in the papers with horrible details. They all deserve that much.


---
March 27th
From what I am gathering this was a very quick decision for Paulo to do this, it would have to be to leave Olive and Sunday, years down the track if you two girls are reading this, I can tell you now that your Dad loved you beyond anything else, even his music, but for the first time all the dark stuff must of taken over. he would never intentionally hurt you.

The News has really broken, and apart from the media, people who I hadn't contacted, the fans are sending in endless emails. 2000 arrived this morning alone, it is a hell of a job to reply, I try all short answers....

Speak to Mardi and get a short statement from the family that goes out, also have a chat to Caroline (Paul's Sister) and Mike his Dad who has just flown in. I've instantly thrown a secure Net around Mardi so in theory she won't get bothered by the media, I hope.

I really only give 2 short Interviews, mainly as favours for the people who helped us, and Nui because Paul liked speaking to Nui- he was the person he wanted to speak to when he left Crowded House. Nui does make his usual lot of mistakes but even that is ok.

The world has gone to hell in a way, it's starting to get very surreal, people stopping us in the street, a few people calling up, crying so much, even to this day we still have no idea whom it was. I'm hoping Paul can see this, just how loved he is, and I'm sure he would of felt everything BUT loved when he took his life. I'm back to anger again, the raw emotions just burst out, Mark is angry too even more then me. Paul really loved my better half (Mark)and it was just such a pleasure when we three got together. I think that's why Mark is also angry, we'll never see Hessie again. Selfish but honest.

I stay up the whole of tonight speaking to people and answering emails. Chatted to Nick at some great expense on mobile International, and I am glad Neil found him before me.

Neil has been great, his sorrow is running so deep, I just want to tell him it's not real, but it is and we still can't say why this happened. He was Pauls best friend for quite awhile. I'm glad Nick is with him.


---
March 28th
Finns play the first Royal Albert Hall, 'Don't dream it's over' is the first song, the empty snare drum sitting side stage, tears on the boss's face... it must of been so hard. Nick flies in from Dublin just to play for Paulo and the Hall is just full of tears. Music is a powerful healing thing, I'm glad they did these shows.

Meetings at Mardi's very early in the morning. Olive just helps me out so much, she shows me her gorgeous bunnies which are so gigantic compared to our Cosmo. I think she hides her PJs inside them, I keep looking for a zip.

On the way home I have to drive past Elsternwick Park and I have no idea how Paul could of done this in broad daylight on a sunny day, in the afternoon in a Park full of people..it makes no sense.

The worst thing is that I have to pull the car over, Mark just called and to make this the shittiest week ever, my Mum has been rushed to hospital. I call and make arrangements to jump on a flight. The Doctor tells me to stay in Melbourne she will be ok...I still make the booking anyway. My Mum is living , Paul is no longer here...family first.

Speak to Sis and she tells me to wait a day at least, so I do...with that in my head and only Mark knowing I try to focus on the endless calls, and stuff and talk to people about the private memorial Wake. The funeral is going to be kept very private.

Laurie Zion calls, he was with everyone on the Crowdies tour bus in Atlanta, a lovely guy and he is writing Pauls Obituary for The Australian newspaper. he wanted me to go through it first, and it's really good.

This is my third night with almost zero sleep, Neil calls again and his daily calls are helping a lot. Robin and Trudi drop in with a huge bunch of roses for us. We love flowers in the house.


---
March 29th
Mum is taken in for her first operation to stop the bleeding. For once I play the Crowded House card and do it as I don't care about anyone else. I tell the nurse I have lost Paul I can not lose my Mum the same week. I am trying not to tell people, the world is already sad over Paul, it is so hard to go through the Hessie stuff and you just are thinking about your MUm.

The hospital wheel her to the phone straight away and she assures me she is good, I am by this stage crying with total joy, which makes everyone else cry....you'd think by now I'd be cried out. I try to toughen up, it lasts 3.5 minutes.

The office is now getting 400+ calls a day and emails are up to 6000. Everyone has story, and people just want to send their respects, it's great.

Neil tells me he was reading the Frenz Forum and was so touched by all the stories. I've read every email...my head feels like it's stuffed full of cotton wool.

I finally sleep tonight.


---
March 30th
The Finns play their third Royal Albert Hall, am emailing the boss before he goes on. All day 'Better be home soon' has been echoing through my head, I want the Fins and Nick here, they want to be home too...it seemed the song.

Neil later tells me dedicates it to me onstage, they turn off the PA and the audience sings it- sensational. I can picture it in that vast cavern of a venue. Is it true that Jayne from SFX got up on stage?

We take time out and head to visit Toija and Marco and Toija cuts Marks hair for the funeral....it's nice just to sit and talk..away from the phones and emails....I think my shoulders sag and I relax.


---
March 31st
Back over to Mardi's for a meeting....Sunday Hester & Hedwig Crombie have made a movie and Sunday is editing away...I get to see the final product... 'what fun' as Sally Crombie would say.

The Megadeth guy gives a tribute to Paul, as does Bette Midler and others, even Jeff Kennett is talking about it...this thing is a runaway train. Cable TV running 24 hours special, Hessie's been in the newspapers every day.... and the Emails have hit 8000. Insane.

I ask Sharon for a pay advance and Mark and myself go and but new suits, we look damn fine, what two hunks we are! (: Mark says I look like a gangster, that's your fantasy baby! *grin*)

Only Paul would get Mark into a suit, Hessie's sitting on that cloud playing drums having a huge chuckle.

Kevin and Dr John want to do this Tribute- Memorial Wake at the Prince of Wales....they have given me 150 on my door list, funny everyone else gets 20 I get 150, yeah I'm really that popular (NOT)!!! I say I'll fill it, I do.


---
April 1st
Well it wasn't some bad taste Hester joke, April Fools day has come and gone...Uncle Hessie doesn't show.

Give Banshee her flea shot and worm paste, we are good parents. Born at the time of the Tsunami she is still wild...and bites us endlessly...seems to love water more and more each day...especially when I try to relax in a bath. Every tried relaxing with a cat on your head?

Have a chat to Kashan, the girl that Paul spent the last 2 years of his life with, she's ok, we both have a howl , a laugh and yep another cry.

Catch up with Sharon, Elroy and Liam at the Japanese Food place. Liam bolts as he has to soundcheck with Betchadupa. Great to see Shazza, it's times like this when you really know who your mates are, and she provides a good escape and good company.

Head to the hotel after some shoe perving (as I call it)...talk for ages and Neil arrives with Nick and Tim...just in from the flight. They look ok al things considered, well on the outside. We all talk, how happy am I that the family are home....I'm all smiles.

Neil's on UK time and we are all wide awake, so the three of us head down to see Liam and the Betchadupa boys at the corner. I need music, I want music, I want rock, hard arsed butt kicking and Betchadupa deliver. It's one of the tightest sets I've seen them do...they are one of my favourite bands and nothing to do with the Finn factor..they are just exceptional. Matt Eccles manages to break the snare drum metal piece of the kit, we have never seen that happen...ever! A sign from Hessie???? They dedicate a song to him, maybe he didn't like the song *grin*. Add to the myth.

Our old crew mate Lloydy drives me home, and we chat about the Hester days on the road. There is such strength that you get from the people who really knew him


---
April 2nd
Claire calls by and we go through photos for the Memorial Service, she is putting together 2 framed boards of snaps...I didn't give her the shot of Paulo and myself Tango-ing in our underpants...too rude!..kind of funny though, Paul is pulling that rubber face..made me laugh.

'Edible Flowers' debuts at #32 on the UK chart, I've forgotten how many Finn related UK Top 50 hits they have now had, it's been a lot over the years.

Lloydy calls and reminds me that Paul is on Rockquiz tonight, so funny as always God bless him. Finishes the show with a duet with the girl from the Waifs, Paul just had his shit together..they sang Peter Tosh's 'Gotta walk and don't look back'..seems fitting. Loved Dugald as the score girl....I'd know those legs anywhere.

People have started sending us gifts, endless flowers, an Apache tear- Grieving Stones from gorgeous Marilyn which I now carry around in my pocket...and Sue from Sydney who knows me far far too well sends me chocolate...blissed out or what.

I spend the day answering the phones, emails..and for some variety I answer emails and then the phones. I sit a picture of Paulo in a small car waving goodbye on my desk, that impish grin, I can almost reach out and touch him.

It's strange I remember what this burgundy cardigan of his felt like, no idea why, guess all the senses kick in around death too.


---
April 3rd
Paul Hester RIP 1959-2005
Prahran- Blackwood.

Wake up early and we get ready for our trip to Blackwood. Ex Crowdies manager Grant Thomas who's a good friend and Mark Hart who has flown in 'all the way from America' arrive on time. Mark says he likes our house.

We lock in the satellite and are on our way over the West-Gate bridge, heading towards Ballarat but turn right towards Blackwood.

Dark clouds are forming and the wind is strong as we approach this small town (one shop) , the cemetery is up on the hill with a lovely view. The Hester clan are all buried here and the car with Paul's coffin is sitting in the cemetery as we arrive. The Goth in me loves these days.

Grant does an remarkable job of tying my tie (thanks Dad as I sometimes call him)...the 4 of us in our dark suits and glasses walk in line into the cemetery and I swear we must look like we are out of Reservoir Dogs (hell I am Mr Green) movie.

The funeral starts at 12.00 and the closest dearest are with him today... tears are shed, laughter, but mostly tears, Neil and Sharon to my left, Tim to the right and Noel and Sally behind me. I sometimes lean on Mark for support and we are all crying.

Later I talk to Liam and say funerals are marvelous as it's one of the few times that grown men will show emotion and openly weep without care, in fact woman too... it feels good to not have social boundaries about tears and sadness, and I'm sure this crying will add some closure. I know it did for me.

Mid service a massive white cockatoo flies over and squawks , really LOUD...he swoops and flies with the tempestuous wind...all that was missing was a pair of drum sticks in his claws... c'mon it just had to be 'him'.

Friends childhood friend Cathy Farr is exceptional, the most honest speech and it somehow shows me Paul in all his colours...from school years to now. It is wonderful- Cathy you are the best.

I walk over with Mark and we drop some soil in, ok there might of been 2 marijuana seeds in that soil...so in a few years if you are at Blackwood and a huge marijuana bush is growing next to Hessie...it was an accident...ok.

I make a promise that I will find homes for his dogs Lozzie (Lorraine) and Polly and the cat Wednesday...I say 'goodbye old friend'.

As the rain starts to spit, Kutcha Edwards starts to sing and play , the most beautiful underrated voice in Australia, the raindrops cease and the sun shines, every single person smiles. Kutcha has such soul.

Our friend Trevor from The Shed has prepared a picnic lunch at the oval, I surrender some fine bottles of red which just happen to be in an esky in the back of my car (imagine that)....people chat, and this is family, you can tell that we are all making an extra effort, sometimes we waste life, and don't really get to know people, maybe Paul's sad passing can rectify that even a little.

Grant shares the journey home with Mark and myself and it's fun, and good to talk. He says I'm amazing how I've kept the media away.... I think it was a fluke...but still mission accomplished.

Before I go to bed, I do something that I rarely do and pray, yep on my knees, and ask for whatever God or power watches over us, to look after this little bloke that we've lost. It takes a lot for me to do this, so he must of been special, I just hope someone was listening and Hessie's up on a cloud upsetting the Pope with lectures on the necessity of condoms and stuff. If it ain't on it ain't on Paulo! *grin* Love ya mate...say hello to Karol from me (The Pope). Paul Hester the Pope of Elwood.


---
April 4th
Melbourne- Ripponlea

Wake up feeling good, rested and good, the funeral was perfect.

We head off to Ripponlea early as I need to check the security lists and reshuffle people and add and subtract. Security is good, they have their shit together. Ripponlea is beautiful, incredible mansion with lovely grounds. After I have checked in with everyone we go for a walk through the flower gardens and into the rain forest, it seems like a good place to have a pash. No idea why but I behave...

Today 200 of Paul's closest friends are here, and we all fit snuggly into the Grand ballroom, the same place where Split Enz filmed I HOPE I NEVER all those years back. All that was missing was Nathan Brenner and his own Enz costume! Simon Zaicz our old Enz tour manager was here, he is now Australias oldest trance music DJ..Simon you crazy bugger who would of thought. Noel and Nige and Nick are talking by the pool, Steve Cummings Greg Macainsh and Jo Camilleri are by the doors. Deb Conway looking fantastic is walking in behind Magda and little Olive Hester takes my hand and tells me about her bunny rabbits.

Numerous speeches all good all different, more tears all good all different... no cockatoo's but a ladies had down front looks like a huge black bird! I am daring, no tie today but my full suit. Mark is sitting next to Rebekah as Bec worked at Platinum around the time of Together Alone and is still the best dancer at the Largest Living Things shows (George used to hold up a 9/10 card!!!!!!Opps).

I stand up the back with the Crombies, and Bill and Eidre are here form Sydney and I just watch them, and it's good....the funeral had given me more closure then I thought so that is good.

The three of us leave quickly avoid the Wake and go to Windsor for dinner, Bec shouts so we feel special (thanks gal)....I get home and call my Mum as she is now out of hospital much to my relief.

I never want a week like this, I can't imagine a time when I have seen so many people cry, not even for John Lennon's death in Australia. One of Australia's dearest sons has left the building...and his impact and exit has left us staggered.

Even as I am writing this a car is in front of the office and I can clearly hear Crowded House playing, I know that exceptional drumming anywhere...who was it that said the Rolls Royce of drummers? I like to think of his as the EK Holden of drummers....

That's it for this one, a huge thank you to the endless amount of people who have shown such caring, love , understanding, the cards, flowers , gifts and opening of your hearts....even the anger is good. The funny thing is that Paul has also created more sales for the Recurring Dream album, where it is starting to look like it will overtake Savage Garden as Biggest selling Australian Album by an Aussie group. It's just so perverse that Paul could once more find a way to get us over the line inadvertently and horribly but still Hesteresque of him. If nothing else the sales are an extra legacy for his 2 kids and their future. So even by doing the 'wrong' thing he still helps secure a financial future for them. Weird that.

As Paulo would say...Stay Reel.

Love (and no more tears...ever!)

Gryph

---
If there are any problems with this site, please contact webmaster@aswas.com.