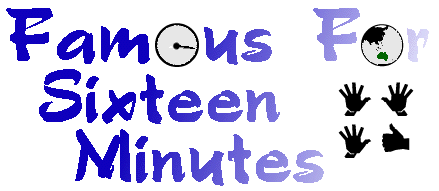 The Life and Times of Peter Green
Archive: 27 June - 10 July 2005
---
June 27th
A big day for Miss Banshee the cat, off to the vets for de-sexing & micro-chipping. Take the weird head bucket so that she won't lick her stitches. She will love that (NOT).

Always feel strange leaving our animals at the vet when they have to be knocked out, as a certain percentage don't come out of the operation, I wonder if this is the last time we will see our little fluff ball of energy.

We head back to the office and work for most of the day. A friend sends me a picture of Gwyneth Paltrow in the mud at Glastonbury-cool!

Vet calls later and Banshee is fine (Phew) so we pick her up, she is wearing her silly bucket and hates it. Within an hour the bucket has been cast aside, despite a dozen efforts of trying to make it stay on her head-even reducing her collar down to 3 holes below last one, she still removes it. We give up! Just have to take the risk that she won't remove her stitches herself. She does somehow remove her micro chip on the way home, it happens to 1 in 1000 cats...should of known she would beat the odds.

Get an invite to see Red Phoenix, which is Doc Neeson of the Angels new band. I'm intrigued but I think they play while we are away. I didn't even recognise Doc in the photo.


---
June 28th
Our advance stock of ExtravagENZa arrives, the main stock isn't out till August 8th, as Liberation want to cash in on the Enz Aria Hall of Fame performance. This live CD came out really well, hopefully the fans will love it. Looks great too, Noel's drawing of Paul is cool.

I'm out and about and grab a much discounted silver Play station 2 and the only game I really want. 'Destroy all Humans'. It's brilliant, cheesey sci-fi , that late fifties/sixties type feel. Hey how many times do you get to use an anal probe to steal some human DNA!!!!! I dig flying that saucer and also sending the cows flying into the air. My kind of game.... I may take that Anal Probe on tour! (Bang!).

Looks like Australia will be the country where the new Batman movie has the most success, that's per head....since they found mice at the Gold Cinema at the Jam Factory we have held off going to see any movie. Those big comfy chairs full of rodents....remind me to avoid the cheese platter when they bring it around.


---
June 29th
Head off to see Dr Keira for my chiropractic needs, seems like a very short session today. Relieved as I'm in a pretty weird emotional spot, just want to run away for awhile. It will pass, every so often I feel all alone. Thankfully it's not often, guess we all feel like that at times. Good to see that I'm as messed up as the next guy.

My homework from Dr Keira consists of: Pelvic Tilts, Knee to chest stretch, roll down and chest stretch. I like Knee to chest and Pelvic Tilts are always wacky-kind of like doing 'the time warp' lying down. Dr Keira did not get that joke, I think I scare her.

Am glad today is over, escape to my room and don't come out.


---
June 30th
I promised my friend Jackie that I would take her to see Alice Cooper and today is the day. Alice is playing at The Palais Theatre, St Kilda... I love this Venue.

Caroline and Pete give us the keys for the private car park and Jackie's car just fits.

I'm so glad we both wore black- EVERYONE was in black, except for one lone soul who was wearing a denim jacket.

We walk down to our exceptional front row seats, and they are directly in front of the micro phone. We both can't believe how good the seats are, Caroline you are a goddess.

Alice is on stage close to on time... he starts with 'Department of Youth', I mean c'mon instantly into it and it's brilliant. Being this close you get to see all those wrinkles, and spikey bits of hair, but you know- this man has these crystal clear eyes- they totally amaze me and I didn't expect that after all those years of alcohol abuse. He makes total eye contact with the front row and gives us a sly Alice wink. Alice is cool.

The Palais is dancing and the aisles are full, all the classics- Elected, Only woman Bleed, No More Mr Nice Guy, Welcome to my Nightmare, Poison, You & Me. Out of all the songs it was probably 'I'm Eighteen' that had the crowd singing along, many singing it were about 16...and wouldn't of been born when Alice was Top Ten. Good to see that some youth can appreciate this guy.

I'm sure he is Marilyn Manson's grandaddy!

All the fun stuff- fake Alice money, hunchbacks and straightjackets, the resurrection of Alice for the encore in that white tux and hat.... killing it with Schools Out and I wanna be Elected.

The hunchback tongue kissing the chopped off Alice Cooper head, I grabbed Jackie in time before the fake blood flew out all over the couple next to us. All the classic Cooper stage stuff, mannequins coming alive... all that was missing were the Pythons. Can it really be 3 decades since 'Department of Youth' was released.... since I was forced to write about 'Only Woman Bleed' in my High School Music class....whoa!

The giant balloons full of confetti are thrown out to the crowd, Alice expertly pops them over our heads with the sword he pulled out of his cane.

An old trick maybe but one that people never seem to employ in these days of high tech stage stuff- that's Alice, hands on, total contact and a true show man. If he ever plays near you, go and see this show- he is both a survivor and an Icon. His band were good too, some great Tattoo's and that Los Angeles leather style stage clothes. Jackie had the best time, and I'm stoked she made me take her. Check out THE DEFFINITIVE ALICE COOPER CD on WSM/Warner in Australia and Rhino elsewhere. Thanks Caroline for ticket A18!

Save the Palais!


---
July 1st
Movie of the week has to be the Australian made 'Oyster Farmer'. Filmed in the backwaters of the NSW Hawkesbury River...Alex O'Lachlan plays Jack Flange... a film with some substance.

Am tempted to jump on a flight for Sept 28th for the Rolling Stones Pittsburgh Show, also because it's the one show where Pearl Jam are special guest. It is so very very tempting, I always guilt out having to ask the Vedder Man for some tickets...what a double....guest we'll know in a few months. I do wanna go......

Head across town to those rolling hills to visit Spock for more work on the 'Letters to my Frenz' book. Add in another huge chunk of live shows in the Enz Live section. We work on more photo drop ins, about 3/4 done. Do about 4 hours, the next get together in a few weeks should hopefully complete the photo stuff...so getting close.

Arrive home and make a few phone calls to the various Enz members to make sure they are invited to the upcoming Aria Hall of Fame. Gave Phil Judd a call, which probably threw him a bit- was good. Had a chat, and it really was fine for both of us. No big deal either way. Am delighted that, not just Phil but also people like Wally and Crowth and Mal are attending.

My next thing is to get the Aria people to make sure all the Enz get a real award on the night. Aria have been great, the budget is so tight but they have been really good and today MP told me that my request for all those Enz boys to get an award was ok'd. I felt so weird that only those playing would of received something, the Mental Notes guys have received so little, mainly because the album never made Gold etc, so this time they will be looked after, as best that I can do. Should be a good night, the wine will flow...... who knows bridges might be mended, really their business, not ours or the fans.


---
July 2nd
The Live 8 show(s) run for nearly 12 hours on Foxtel, and that is great, Channel 9 here have some pissy 1.5 hours of Live 8.... thank the gods for cable. So we watch it, and Green Day never fail to win me over, brilliant...

how abysmal was Pete Doherty with Elton murdering 'Children of the revolution' is this guy an English tosser or what- all flash and zero substance....Elton's vocals saved that song. I hope the Live 8 shows do shake up the Political landscape around Africa, but my fear is that the '8' will all agree on stuff that will happen in 5 years 10 years and in that time millions will die. They need help now! Still anything positive must be a good thing.

While watching the show I sat addressing CD boxes for I Like It Rare #3, which is the Paul fundraiser, got a lot done.

We are getting old, we fail to stay up the whole night, kind of glad, the USA side of Live 8 came on later as there were some crappy people on that. I don't know about Will Smith these days, I mean it's a good thing to do but he seems to annoy me and just make me switch off, in this case fall asleep.

The 2xB's did well- Bob & Bono..God Bless 'Em their hearts are in the right place.


---
July 3rd
We wander on down to Windsor and have breakfast at The Social Club. It's fairly new and the service is so so slow. The words 'never again' dribble out of our lips.

One more of the 12 Apostle's collapses into the sea. That just leaves 8 now on the Victorian coastline. The Green Family were watching it (not us another lot) when it crumbled and fell. The sea was quick to claim the crumbled ruins, almost nothing left by the time the 5.00 news was on. Glad we went down their 6 months back and filmed, we kept saying that one would be next to go as it was wearing at it's limestone base and very top heavy.

I needed to buy a glue stick today- my life is so damn exciting.

Alec emails and asks if I want to do the Australian Tour, he emails me again an hour later and asks if I want to do the NZ tour too. Cool. Yes & Yes.

I decide to miss the first 2 Opera House shows because I want to stay here for Aria Hall of Fame stuff. Just worried about small disasters... so good to be on hand, in lovely Melbourne town.

It's cold tonight, snuggle up with my best friend near the big open fire in the lounge room. Can't believe I am giving up all of this to be on the road for a few weeks. I will miss you! (and the critters). How damn romantic am I? Wearing it on my internet sleeve for all of you to read!


---
July 4th
Move my car with a minute to spare, the parking inspectors were circling hoping I would be late...ha ha ha I escape the $60 fine. Two other cars are not as lucky. I guess someone has to pay for those huge new Palm trees in Greville street Park-glad it's not me. The big Lesbian parking woman is always nice so I'm hoping she'd be kind, guess they all have a quota to fill.

On the way to the Yeti's I call into the gallery and pick up Marks painting. Each time I see it I like it more and more. No idea where we are going to hang it though. Thought Gabrielle might do one of me for the back of the next Diary book TRIP. She's pretty good.

Head out for some shopping with the Yeti, I get the ultimate bargain on a pin striped suit and he shirts up for the Oz tour. Men of style and fashion we are(n't)...well occasionally we are....

Start mailing out all those Rare #3 CD's. We are checking the address on every order so it takes some time. Our office is a post office again.


---
July 5th
The first Finn Brothers Aussie show is in one weeks time.

I hear from Isabelle in France and she loved her Angel Tarot cards, have to admit the designs were striking. Nice to make people happy.

Speak to Ex Enz man Wally Wilkinson and he is really excited about the Hall of Fame. I'm starting to think that all the other Enz guys are more excited then the ones playing.

Rebekah drops by with her new 4WD car, it's really good, loads of room inside and the seats are very comfy. We have a few car things for her, always nice to give car products!

Book in for a haircut with The Elf. Usually Toija cuts our hair but she is about to do Marks so I felt I was pushing my luck with her doing both. The Elf gives a good haircut at her salon LIQUID.


---
July 6th
Melbourne artist SHEA has his art opening at the Jackman tonight, one piece ANGEL ONE I like but I am keeping clear, meant to be saving up, and where on earth would we put more art at home. C'mon even I can be realistic sometimes. (well...) and yep it's killing me.

Tania, Jake and Rosemaree are at breakfast, Jake wants to know all about the Aliens anal probe gun in the ''Destroy all humans' game..nice gross subject at breakfast. I resist and behave.

Our fave TV show at the moment just has to be DEADWOOD. Al Swearengen is THE man. It seems to be getting some major publicity here. I think I've met a few Al Swearengen's on the road.....

Our best buy of the month was FIREFLY series box set for $26.00! The reviews and the axing of this scared us off, so glad we took the punt and bought this...I mean $26 for the season..bargain. It's REALLY good, we should of had far more confidence in Buffy creator Joss.... this series did NOT deserve to be axed- the characters were just starting to grow- at least the FIREFLY movie is being made. More power to Joss Whedon!!! Fuck Reality shows!

Off to see the Elf and get my short short haircut... it is only two times short instead of short, short ,short. A rustic copper...and I can say it does look good. Really just wanted neat and out of the way for the tour.

Considered a Melbourne sharpie retro '74 cut but chickened out.


---
July 7th
Fantastic Four opens in Oz, mostly 2 1/2 star reviews, it was always going to be a hard one and will be compared to the Xmen. Still I hope it does well for them. Mark convinces me to avoid the cinema today as it is school holidays......good point MG! I hope the FF hits the #1 spot. How hot is Jessica as Sue Storm- what a fox!

Have a list of things to do or maybe do. Some talk about putting together a 2 hour podcast 'show' every week. Now that iTunes 4.9 latest edition has one click podcast access it might be a good, fun thing. Need to do more fun stuff, and this could be part of it.... who knows, if nothing else I could get some cool guests in for a chat.

Bec drops in and we three are in Fajita heaven, stuff ourselves on both chicken and Flinders Island beef fajitas. (Burp).

I'm in the bath and Marks having a shave and the phones are ringing like crazy. I eventually walk naked and dripping water from all body parts and answer.

'Check out the news now, terrorists hit London' says the voice.

I run down stairs still naked and wet and watch the BBC and CNN news reports. It's those early reports, 7 explosions etc, horrible still but at least it was less. The image of that bus haunts me. I consider phoning and emailing all our London mates but have a feeling they are ok and really I probably don't need to add to London's fried phone system.

After all the excitement about the Olympic win and proud English faces on the news, it is the reverse side of the coin to see this. People at the G8 trying to make life good, evil in London making it bad. Feel so sad for England.

This was expected, supporting Bush in Iraq is just a big red bulls eye on the country and Australia well I'm sure we are on the list too. It's still horrid, no one deserves this shit.

How many hundreds of times have I been on the Underground system, and I know how packed some of those carriages are, it must of been bedlam. The Australia girl who escaped the train explosion and then boarded that bus, just how unlucky is that. I eventually put some clothes on, feeling sad again, but what can you do. Give in and they win. Enjoy life; we all die anyway might as well enjoy it as much as we can.

I hated Bush's terrorist speech, the blood on his hands from Iraq still fresh, he is probably just as evil, just he doesn't strap the explosives to his body. His upturned slit of a mouth and beady eyes. How many days left before he has to go....gawd I really detest him. I just feel so bad for England....hell the World, we are all in this together. It's a fragile little boat sometimes and people blowing holes in it never helps.


---
July 8th
Some flowers arrive for Mum. This weekend it is a year since my Uncle Jack died, whilst I was away on that Finn Brothers USA/Canada tour. Just wanted Mum to have some flowers and I know she is going to the grave, so she can take some of those with her. My Sis has visited her too, we both just checking on her and yep fussing.

Speak to Noel Crombie and I tell him that he may well be on the front cover of The Age newspapers METRO magazine next week- that's several front covers now Crombie...he's overtaking those Finn boys....! Watch out Neil & Tim, Noel is back in fashion!

Banshee has her stitches out and a new micro chip, took 5 minutes. The micro chip 'gun' freaked her out a bit, as she was shaking, poor little bugger. We get her home and she is obviously ok as she woofs her food down... little kittens sure do eat a lot.

Work out the table lay out for the Enz Aria night, around 22 of us, the Enz are taking over! 3 course meal, even know what they all are eating, I'm onto it.

I'm off to Paul's in a few days to reclaim 2 of Neil's guitars, I always worry someone else will try and grab them, just want to make sure they go to the right person, back to NZ.

I have some strange dreams tonight, obviously been working on the Enz stuff way too much. I dream about the 'Enz of Summer' Tour, the Enz playing the Melbourne Palais and the sign said December 17th.....it is the Mental Notes line up and Neil Finn as support. Too weird, I think it was the carob licorice that did it, such a detailed dream. I guess anything is possible maybe I should mention this dream and test the waters....?


---
July 9th
I thought of my uncle when I woke up this morning, kind of laid around in bed, just drifting on and off, really cold outside and wet, feel sad, all those family Christmas parties without him, as Australians say 'he was a good bloke". He was a brilliant uncle, maybe God does take the good ones early? hell I'm still here, I'll be the last to go.

I do so little today, just stuff around the house, avoid work, have zero energy, watch the news, plant some bulbs, feed the animals and annoy Mark.

Afternoon, retreat back to the bed. Today is a lost one.

Get up in time to watch 'Back to the Bat Cave' which has Adam West and his side kick, was kind of fun, cheesey but good. Helped pull me out of some sadness.


---
July 10th
A long long day- made up for Saturday and did heaps of work. Finished up on the VIP emails, worked on tour related stuff.... even had an early breakfast at Daguerres, for once the coffee was ok.

The Finn Brothers album EVERYONE IS HERE must of climbed up the National chart again as it has re entered to #17 on the Australasian artist chart. Say it's Gold which is weird as it reached Platinum in December 2004.

Watch endless documentary's on cable, one on Fidel and Cuba.... one on The American Mafia ..... all good wholesome stuff. Wow the Finn tour starts in Sydney in a few days, I miss the first few shows so I come on board mid Sydney. Will be fun, glad it isn't long and endless. I like those week long runs of gigs. Email lucky Life members who are coming to Soundcheck.

Hey all those readers who emailed Port Phillip Council in support of the Paul Hester Reserve, thank you a lot- let's hope it happens. It's so good of so many to support this.
http://www.portphillip.vic.gov.au/paulhester.html

The above is the link if you would like to Email the council and tell them it's a great idea. You have another week to do so.

The next diary report will be from the Finn Brothers Aussie tour, so visit again in 2 weeks for life on the road.

Roll On!

Peter

---
If there are any problems with this site, please contact webmaster@aswas.com.