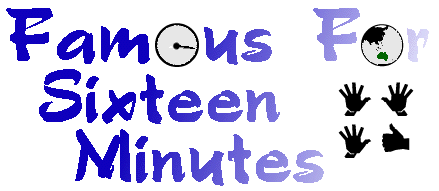 The Life and Times of Peter Green
Archive: 28 November - 23 December 2005
---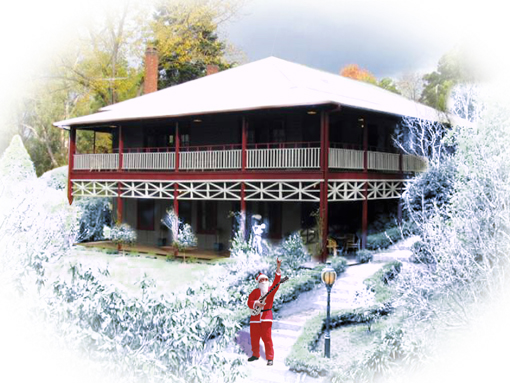 Happy Christmas, F/16 Readers
From Kalorama
Ho Ho Ho
---
November 28th
It feels like today is our first normal day at Kalorama. No work men, no vans delivering stuff, no endless phone calls.

Of course we are still setting the place up, the office is insane, it's going to be a brilliant work space...and I'm not sure if I can spend each day not having Marks chair colliding with mine. I peep around the corner just to say hello.

The view is great, all those trees and birds...so whenever...if ever work gets stressy I'll just look at the trees, instant calm.

A few people don't get why we did this move, they question us time and time again, only a few, and maybe one or two who are keeping it to themselves. The few visitors we have, leave usually understanding EXACTLY why. Even to the point of telling me my eyes and skin look great! maybe we can bottle it?


---
November 29th
Well the security company are proving to be a nightmare, totally un-together we wait and wait and they never show, call, ten thousand excuses. I'm being patient but I can see the time approaching where I'm going to have to tell them they suck... it's no way to run a company, and the left hand blames the right. I'm sure all the security doors and extra electronic stuff will be done but I'm going to have to whip a few bare buttocks to make sure (pleasure, pain?)


---
November 30th
Racist Ron and Destructo the Cockatoo were up early and waiting to be fed when I woke up... these parrots are so demanding and they know a good thing when they see it. Ron is starting to talk, he's trying anyway.

LOST is on DVD, Dick Smith has Season One for the cheapest price, but if you are buying the box set check it as disc #5 in ours was scratched and we had to return it. Grrr hate that.

The office officially opens in over a week...but do an hours worth of work... we won't be catching up on everything till the 2nd week of January, going to take longer then I expected...but by mid January it will be rolling along as normal.

I OK the Santa photo for the Xmas card, it's going to be a late card but at leats there will be one...and what a spunk Santa is (cough).

Hmmm same the Pizza from Porta Nuova at Olinda...it's pretty good and fairly healthy as far as Pizza goes.


---
December 1st
Yieks December....Christmas mode....

The Enmore Theatre show is on in Sydney tonight and I really should be at this Finn show, considering we did so much around it and it's a fanclub warm up gig. Neil mentioned about a ticket but he probably had ten million other things on his mind so I don't bug him about it. It would of been brilliant as many of the old crew are on hand but hey I'm not losing any sleep over it, and neither should you NF if you are reading this, you've spoilt us rotten so many times.

The Aunty Jack show, season one is out on DVD. I won't even try and describe this show, just too too freaky.... early seventies Aussie TV...a largish man with a moustache, and a golden boxing club that rides a Harley Davidson and threatens to rip your bloody arms off. My first moment of fame came from the Aunty Jack show...I was very very very very young and they needed kids as extras...high on Bulli Pass overlooking Wollongong...there were several groups all waving our Golden gloves....I've seen the young PG footage once. but I think they used the other group in the show....oh well it was exciting seeing cameras and 'stars' (ok men with moustaches dressing as large angry women!).

I'm here on the side of the house, repairing a plant stand when I hear a squawk and Racist Ron the red king parrot lands next to me. He is obviously trusting me a lot, we have a chat and I feed him. It is a huge effort to find me in this area, so I think I have a new friend...or at least a dining partner... he loves sunflower seeds. I've started growing some in the solar hatch for the garden....

Hear from a lot of Frenz that the Enmore show just rocked...great to be able to offer those special private gigs.


---
December 2nd
Siss arrives today...well she was meant to.

We drive to Greville street and clean and clean and pack...

Neil calls me on the mobile and tells me I should come up for Homebake as he totally blew it with the Enmore show, I can't with my Sis arriving and he offers to fly her up too....he's brilliantly crazy..I love my boss. he must think it weird that I decline, such a nice thing to do. Thanks NF.

Fill the car and do things like tidy up the garden. The tolet had a weird noise so we get in a plumber, really want the place to be good for the new owners, even the drains get a good cleaning out. Costs me a few hundred dollars but it's a good thing to do around a house.

Call into the Market cafe and see everyone, Cons coffee is as brilliant as ever. Kristina and Vicki are happy to see us so we have a gossip.

Fill the magic mail box to overflowing...lots of parcels going out.

We drive to the airport and the flight is delayed, it's now become the last flight in, an hour later it is cancelled, Sydney is hit with a wild electrical storm and all flights are blown out. The airport don't tell the passengers that the flight is scrapped.... I call Sis on her mobile. I know it's a drag but it is just safer...so she re books for next weekend.... and we get home by midnight. Too tired to unload the car.


---
December 3rd
Finns- Homebake Sydney.

A younger audience goes off... great media reports around the show.

Call into the infamous Knox City for some shopping....people everywhere and most pushing prams.

It's a huge Mall type place....they do have a wide variety of shops though.

I Xmas shop and can't get 'Jingle bell Rock' out of my brain...arghhhhh


---
December 4th
Actually get to sleep in today, just did it.....

At 1.00 Pete & Susan O'Doherty were meant to arrive but no sign so I give them a call thinking they might be lost. No all ok'd just delayed! So I jump in the car and head to RIPE and buy a selection of rolls for a late lunch.

Little do I know it but Pete & Susan have arrived and Mark is in the library sorting books and can't hear them....they call me on the mobile, I'm almost home and spot them, reassure them they DO have the right house.

They forgot to write our number down and had to ask the locals (: (:

Wonderfully surprised with some art presents from both of them, Susan an abstract Ukelele ( a real one) and Pete an apartment block in some 'new tones' that I've never seen him use before. Just great and we hang with the O'D's for the afternoon, go for a bit of a walk... they love the place, we feel pretty lucky.


---
December 5th
head to Prahran for another car load of stuff. The great news is that we won't be needing the 2 cooling systems that we thought the house may have to have. Ailsa Craig is amazingly cool...and by chance the cost of the new Pool table from Alcocks at Prahran is the same price....so the money is recycled and the dark wood of the Pool room will actually have a half decent pool table. How cool is that......!

Stef looks after me and puts us as some sort of priority and instead of taking 6 weeks he promises to get it to Kalorama the day before most of the mates drop in for Xmas.


---
December 6th
Still feels ok heading back to the Greville street house, thought I'd be feeling very sad by now but nothing still....

Robert S. calls by for us to sign off on the artwork for the Kalorama Xmas card. I must be insane, suddenly at the last minute to get thousands of these done..and even signing them. Talk about the Christmas spirit.

The shot looks good and Wolfo did a great job with the snow.

Bic's BIRDS cd debuts at #1 on the NZ charts, which was expected, still nice to see that people still support her and the new music she is making.


---
December 7th
Fantastic Four is out on DVD, it gets a bit better each time we see it. My favourite comic book hero's so gotta support it.

I create a triangle fenced in area for Cosmo so he can go outside and eat the grass...it's just old doors put together and will do till i can find a real thing. he loves it...all that grass to eat- munch munch.

Call my solicitor and all is going well, not sure if I'll get the deposit money before settlement but it's all ok.


---
December 8th
Unpacking some boxes and find some unfinished PG art from the ANDY Goes Pop art series... so many of these are unfinished. I'm in the shed looking for a clear coating for the painting and stumble upon a can of Tung Oil. It's a natural organic oil extracted from the nut of the Tung tree...from China I think.

I changed the Warhol art a bit and decided to stencil in ANDY SAYS.... and aerosol black the screen lines a bit more...... the TUNG OIl just made it extra special...made the finished creation look like one of those old posters hanging on the walls of an alley way in CUBA. VERY happy with this...my new art outlook is now focused on the finished intergrain covering as much as the art...I'm finding whatever I'm coating the paint in tends to change the feeling of the work.... so I'm doing all this on the decking while the parrots are flying around...squawking ...hmm maybe they are my best critics. Funny after a decade to be finishing some of these works and actually like them......I have some sort of vibe.


---
December 9th
Sis will make her second attempt to arrive this evening....Mark checks the weather report and all ok.

I head to Prahran very early and do more cleaning. Get to meet the new owners who are really lovely, I think they get how special #55 is, and hopefully it will be a magical place for them- nice people and I'm glad they were the ones who got it.

They bring their architect and come back so I let him do his stuff.... happy to. Spend a further 3 hours cleaning up bits and pieces and then decide to go do some Xmas shopping on Chapel street. My final shop was Route 66 and the owner is still at the premises, he gives me all these discounts and I also buy 2 Mexican Wrestling masks for Mark and myself just to be perverse.

Still some time left so call in and visit Rosemaree and Mindy for a cuppa tea- really what I needed.

Sis's plane is an hour late so I visit The Wizard at the airport and for $2.00 he tells me quite a few things, all in a handy print out.....'Readiness is the basic quality in business'.

I spot Sis when she exits the plane and she is all perky...we head off in the car crammed full of Greville street stuff and do the long drive to the mountains.

Mark has all the blue icicle lights on so the house is glowing in the darkness, very cool.


---
December 10th
The Bunnings outdoor settings arrive today, from several different stores, so Mark stays at home and awaits the delivery.

Take Sis to RIPE via the Olinda Antique store. We also wander through the local produce market and I buy Pumpkins and potatoes. RIPE is busy as always and the food is great.

Head to the infamous Knox City as my Sis loves to shop so she is set lose here.... I buy the final few Xmas presents and my feet ache. Home in time for dinner..Fahita's!


---
December 11th
The 3 of us head to the William Ricketts Sanctuary and it is brilliant... amazing sculptures rising out of the rock and ferns, all natives and animals and it is breathtaking....this is a must see, the best $6 ever spent. If you live in Melbourne make a day and head up here and see this incredible place. It will change your life.

Spock and a very pregnant Bob turn up for the afternoon, and it's great, both are getting ready to be proud parents.

Take Sis back to the airport, after Mark does an interview with her for the RATED PG dvd...it has a fun ending.

It's a long day and sleep really well when I get home.


---
December 12th
head to Beenami today, it's only about 40 minutes from here... need to pick up the lawn mower and some bits and pieces.

The Kangaroo's have taken over the barn and 2 baby possums watch me from the rafters.

The grass is in need of a serious cutting but I couldn't get the mower started so I avoid it. One of the wombats is rolling along through the grass, like some strange fur covered tank.

Another storm hits the Dandenongs, and I have a case of tonsilitis, Mr Wizard is right I am run down and am trying to do too much at once.


---
December 13th
The security door and window people were meant to arrive today and they didn't and we never received even a call, so we are a bit pissed off.

Mow some of the lawn at Ailsa Craig and make a total tool of myself as the mower slips of the steep slope and I fall arse over head. At one stage on the main lawn, I let go of the mower to pick some weeds and it takes off...it's like a strange B&W movie with yours truly chasing this mower.

Some black cockatoo's fly over head today, Cosmo is in his new cage and stares up at them hoping they are not hawks.

Be brave Cosmo all is ok.

Banshee is now amazing so sleek and happy she just loves all the walking trails and bushes, a very happy kitten.


---
December 14th
Still catching up on the mail and Emails...no end in sight. Start addressing envelopes and signing some of the 10,000 Christmas cards.

Holy writers cramp Batman.

Breakfast today at The Verandah and JOY the owner sits with us and has a chat. The view is incredible, so lush.

Neil emails me that the recording with Nick Seymour is going great guns, he loves that desk previously owned by The Who.


---
December 15th
The 2nd attempt of the security Installation fails and I tell the company how shite they are. They are so in denial.

Spend the afternoon wrapping Xmas presents and sending out cards.

Start begging people not to send us Ecards for Xmas. I can honestly say I hate Ecards and never look at them.

New Anne Rice book is out, I am saving it to read on the plane home.


---
December 16th
Pool Table arrives today, Alcocks are a great company, I wish they ran the security company....!!!! The Pool table guys are so onto it and set the table up, they comment on the house and say it's the perfect room for this.

mark and myself have a game as soon as they leave, I am hopeless, Mark is minimally better .... only just.

How sexy is director Bryan Singer...he is the sexiest man on earth, move over Brad. he also has his finger on the pulse when it comes to the Xmen movies...I worry about Xmen III not having him guiding the ship.


---
December 17th
A lot of our friends turn up today, it's pretty much the weekend before Xmas so a good time to see everyone and yours truly cooks!

A rainstorm arrives 10 minutes before the guests and yep it even hails... I start building an Ark. It stops the sun comes out and a lovely day is had by all.

Gabrielle is a slightly better pool player then Greg Skyhook but her trick shots are not always a success. She stuns me later by showing me a painting she did of me, I am so moved (or tired) I cry. It's such an honour to be painted, when ol' Juddsy did that one ages ago it was really an honour and equally so with Gabrielle Bates...in Gabes I do look more handsome! She says it's not finished but I love it, everyone does.

The Christmas presents are passed around and it's a good day. So much food (yes I know MG I always make too much). My first every Christmas Pudding made from scratch by moi...and it worked! Anyway thanks to those of you who came up.... and happy Xmas.


---
December 18th
Spend the day packing stuff away and hanging some more art. I work in my vegetable patch which is a success... and it's now double in size. Next week I am going to add a third piece.

We have to find the correct spot for this marvelous Cherry Tree that Ben and Jen gave us. The Yeti knows I LOVE cherry's so it is a welcome gift, amazing.

It has to be right though, I want endless charry's....


---
December 19th
Jayne sends some parcels as does Isabelle and Merl ...and they are all under the tree, opening them in a few days, I love Christmas.

The office wall is covered in Christmas cards, and I am still doing my one good deed a day as promised. I almost forget but someone or something in need comes along. Remember Christmas can be a very sad period for some people, so do whatever you can to help at least one person. It can be a cold old world.


---
December 20th
Finally the security people arrive and do 90% of the job yey, but they forget one piece so still not finished but close.

NZ calls and Bics album is double Platinum and should hit triple Platinum by Christmas. The Australian shows will be in March.

Was a bit worried about Racist Ron the Parrot when he landed on the balcony next to me and today he brought along THREE of his girlfriends....what a slut he is. He is trying so hard to talk. he gets jealous as one of the green girl king parrots starts eating the bird seed out of my hand. Ron lets me pat his feathers, major trust going on here.

Call home and chat to Mum, finally she is all Xmas vibey... so it should be nice being at home. Sis will love her present, I'm taking her to nepal and Tibet in September 2006. heading to Katmandu and also to the Mt Everest base camp. It will be a surprise as she won't read this till after Christmas, pretty cool eh?


---
December 21st
Call into the Solicitors office and leave the Greville street keys, that's it, almost done. Movie on to another new journey.

Mark has a black mountain bike for his Christmas present and we are both going to start riding everywhere, he already has explored various old roads and stuff.... I need to catch up...and close the office for a week (yes it's only just opened).


---
December 22nd
It's a great day today, get a lot done. massive mail outs and answer around 600 emails. Finish work at 3.00 in the morning, so a bit tired.

Two days to Christmas Eve, it just came upon me like that, suddenly it IS Christmas.

Pay off one of the credit cards totally, have cut it up, it's the card I hated the most so am delighted by this. Snip snip snip the delightful sound of scissors.


---
December 23rd
A huge box arrives from our friends at Market Cafe and it is the most lovely present. This beautiful carved blood red box. I expected a pudding, I was way off the mark.

Saw this homeless guy again today and slipped him a $5 note. Wanted to be subtle and just said Happy Christmas. It's not much but his little cap had about 45c in it so it helps. I still don't understand why in 2006 we have so many people on the street struggling.

Reading last weeks newspaper and totally hate how George Bush simply says 30,000 people in Iraq have been killed so far and oh 1000 Americans. It was such a throw away line. How many people did Saddam kill, a lot, but 30,000 by the hand of Bush, he is just as evil, I hope this creep has a truly miserable Christmas and if all goes well another one of those tricky pretzels does the right job this time. He wins my award for Evil Creep of the Year and don't get me started on the stupid people who voted for this dickhead Grrrrrrrrrrr my Christmas wish is that he leaves soon... not just the White House but the planet.

Hmm maybe that was my last political angry Bush attack for 2006...we all hope so.........

Well tomorrow is Christmas Eve, we fly out to go home for 2 days with the family.

I hope you all have a fantastic Christmas, and if by some chance you are alone, read a good book and listen to some great music, and hey presto Christmas will be gone for another year.

Stay safe, misbehave a bit and just do one good thing and you'll be amazed how good you will feel....

2006 is just around the corner.....

cheers
Peter (who's not going to check the spelling etc).

p.s. a huge Christmas thanks to Debbie for her endless work , not just Frenz.com but suffering my diary too- have a great one Deb.[editor's note: thanks. frenz.com could use some helpers, but frenz forum is looking great! :)]

---
If there are any problems with this site, please contact webmaster@aswas.com.