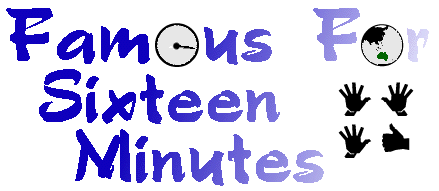 The Life and Times of Peter Green
Archive: 2 May - 15 May 2005
---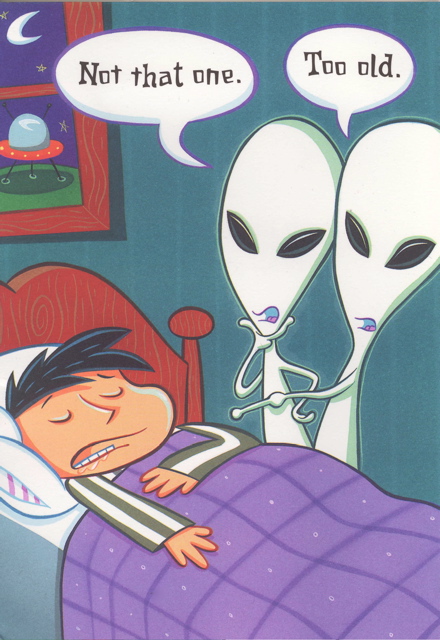 Happy Birthday To Me...damn Aliens!

---
May 2nd
I found out today that the number of the beast is really 616 not 666. Apparently all these years they got it wrong. New photographic techniques on the third century historical fragment found at Oxyrhynchus in Egypt proved it to be 616. Doesn't quite feel right, all those Heavy metal bands singing 616...and all those NZ HM bands singing Sex One Sex is even weirder!!! (:

It's a nice day outside, and the sun feels fantastic. Walk naked down Chapel street.

Book in Banshee today for the Vets, hopefully less of a drama queen this time...it's such a small needle.


---
May 3rd
Have some breakfast with Toija and that is always good. The Cafe is packed today, not the regular crowd, must be the weather bringing them in. By the time Mark arrives it's almost empty.

Wake up with a strange pain in the back of my neck, must of slept upside down or watched Cosmo run from one side of the room to the other , one too many times. It's an omen for what sort of day it will be.

I pick up a Paul B&W shot for Mardi that she liked and mail it off to her.

We watch 'Laurel Canyon' on cable and it's a really really good movie.


---
May 4th
Bob Hunter died in Canada yesterday. He was one of the originals who co-founded Greenpeace 34 years ago. He died of prostate cancer, which reminds me , all of us guys should make an effort to get checked. It's such a guy thing, we just put it off, myself included. Will set an example when I next visit the doctor and get a check.

Hmm what has Spike done to himself. James Marsters of Buffy fame now has boring dark hair, he looks like everyone else, incredible what a dye job can do for someone. Bring back the blonde.

Mail Mike, Paul's Dad, a copy of 'Wings off flies', he really liked it so I've sent him his own copy. Took awhile to do it, our postage just keeps getting gobbled up.


---
May 5th
Well Tony Blair's Labour Party win Britains general election for a historic third term, with a reduced majority- the Iraq War playing a major role as expected. I have never disliked Blair as much as I do Bush...did you guys kind of figure out that I hate President Bush...not subtle was I!?

Dinner tonight, extra trim Tagine casserole. It's a bit average.

Send Liberation some final stuff for the Split Enz ExtravagENZa CD. Mid year release still I think. Sounds great in the car.


---
May 6th
Betchadupa play The Tote Hotel tonight and tomorrow night, the surprise news is that they will be leaving Australia soon to be based in London. Keep an eye out for 'Lester Osborne' who will be special guests on the Finn Bros UK/Europe week of shows. Could well be someone's Animal-Porn name.

The security guy arrives and we fix up the new security systems. Talk about Fort Knox. It's good to have it all fully operational. We are higher then high tech...Everest tech that's us.

Take Banshee to the vets for her final F3 shot, a new vet just grabs her and gives her the shot, no fuss, he is the man...Banshee just does as she is told. She actually hisses at the Vet nurse which is interesting! We've never heard her hiss. Cool.

Banshee does everything she can to attract Cosmo's attention while he is in the atrium. She throws herself at the glass doors and windows and goes up really close while he is eating. Cosmo is the coolest, he just totally ignores this hyperactive kitten. Banshee won't be detoured and continues... it reminds me of that Morrissey song 'The more you ignore me, the closer I get'!

Speaking of Mozza, having a love affair with his song 'First of the gang to die' from the 'Live at Earls Court' CD....such a cool song.


---
May 7th
My grandfather would of turned 100 today if he was still around. Imagine being a century old, as long as parts of my brain still work it would be interesting. If I'm fucked, hit me over the head with a brick, you don't want to be old and losing all the marbles. 100...here's to you Pop!

Go through Enz photo images for some future 'stuff'... all will be revealed soon. It's a goal that I always wanted the band to obtain...getting close.

Rosemaree drops in with some work she did for me, have a chat and hang out for awhile.

It's funny since the last diary entry, the third F/16 book 'Glamour' has had extra sales from the USA. One more copy sold to America and it means that all three diary books highest selling area is the USA. Not sure what that means? The UK was the biggest selling area for Glamour but now it looks like the USA will grab that title too...should I do a USA book tour?

Liam Finn calls and has a chat, sounds excited about the move to the UK.


---
May 8th
Mothers Day and a huge Happy Birthday to one of our best friends Rebekah!

Qantas flowers totally stuff up our Mothers day flower delivery's, not very happy about this- of all days to mess this up.

Call Bec on the way to Beenami and wish her all the best... just manage to do this before the mobile stops working. It's all the granite in the hills, creates quite a few black spots for mobile phones and Telstra seem to be doing nothing about this. Considering one of the conditions of sale of Telstra by the hoWARd government is improved service in country areas, I can certainly say nothing has improved near Beenami since we have owned it.

We go for a decent hike, try a few new tracks and some serious up hill walking. The creek is crystal clear and small specks of gold dust line the sandbars. Make a note to bring our gold pans next time.

Lots of birds are out, bright greens and blues, no sign of any Kookaburra's which is strange for up here.

My energy levels crash so I snuggle on the bed-couch with the big open fire roaring away while Mark works outside clipping back the jasmine around the arch ways. he is such a hard worker and made me write this.

Driving back at dusk we are confronted by two total moron drivers who have to be doing 140 on the roads in their Porsche and some other yuppie pick up machine. One idiot overtakes us and try's for the car in front...totally ignoring the 2 cars heading his way. He is totally off the mark, and won't make it, meanwhile the stupid woman in the Porsche is so close to our car that if I break she will ram into me...so I slowly flash my brakes and manage to make a space for this dimwit to get back in before having a head on collision. Grrrrrrrrrrrrr.

Next they decide to have a race going even faster, just missing 2 kids on the side of the road...by this stage we have had enough and I hope they get stuck at the upcoming traffic lights....they do. We drive very close behind the Porsche mole and sound our very LOUD car horn every few metres, wind down the windows and tell her how totally f*cked she is. They both decide to exit the highway much to the delight of other motorists giving them the finger and some nice verbal. One hopes they ended up wrapped around a tree somewhere before they managed to smash into some innocent person on the road. With our stomach full of road rage and content we make it home nice and safe. I am always amazed that some people with fast cars can be the worst drivers on the planet. I see several high speed cars wrapped around tree's on the news and wonder if it was these two dickheads.


---
May 9th
Get up early and work the day away, seems like a list of endless tasks that need to be done for our various bands.

Benny calls on by at 2.00, and the office computers get a good working over. Where would we be without the Yeti's kindness.

I spend the day answering emails and posting out mail and parcels.

Find a birthday card for Neil and Sharon...has a dog on the front that looks a lot like Lozzie on a skateboard. Perfect.

Paulette in the States sends me the Aliens/PG in bed card! Excellent, hopefully it will be at the start of the diary area....and yes I do have green and white striped PJ's just like in the picture.


---
May 10th
Head into the city and stumble upon another packet of Tim Burton's 'Tragic Toys'. This set has: Mummy Boy, Roy the toxic boy and Jimmy the hideous Penguin Boy. We only need to get the set that has: Robot Boy, Stain Boy and The Girl with Many eyes. We can't find it anywhere in Oz. Hoping it will eventually turn up- we love Tim Burton's 'stuff'.

Finally the last lot of signed Skyhooks 'Living in the 70's arrive. Seems forever to get all of these signed but finally. Am hoping that we can get EGO is not a dirty word reissued and remastered....June 2005 is the 30th year since it was released. Both albums sound great re-mastered.

Rebekah really liked Betchadupa's 'Aiming for your head' album, so I tracked down one copy while I was in town. So many shops had sold out or had no stock, took me four CD stores to find it.

Jayne in the UK and Isabelle in France sent some great birthday presents. It's true I admit it I do love presents, I am so lame I still get excited by birthdays.


---
May 11th
Happy Birthday to the ol' Gryphon...yep I'm another year older and certainly not wiser!

Thank you readers for the endless email birthday wishes. Had such a nice day, the first time ever that my Mum hasn't sung 'Happy Birthday' she's lost her voice again. So Rosemaree does the honours...and a tad more in tune.

Catch up with friends at Topelz...this year it was flowers and lotto tickets, and a groovy BBQ set. Goldmember being dutch gives us massive amounts of tulip bulbs! It's a nice night, I love these gatherings of ten and less, you just get to chat to people more. I am well behaved and have a diet coke! Yep still no alcohol (Phew says my liver). Back to being healthy for a few months.

Good to see that the Rolling Stones announce a new world tour. It starts in Boston on August 21st. This year instead of the USA we are probably going to see them in the UK or Europe. After all these years they are still an amazing live band....wonder if they need a 'hostess' again, could be fun doing the Stones band-room again. I come back home with such grandeur as to what to do backstage for the Finns!


---
May 12th
Damn coffee I had at dinner, guess who didn't sleep, not a wink. I decide the world is very peaceful at 5.00 in the morning as I read my book. I climb out of bed and watch the fog roll down the street, no people all quiet, just me in my boxer shorts and a book.

My lunch date stands me up, so I eat in today.

The Michael Jackson case is heating up, I still think he will walk as the evidence is hard to confirm .... I still think he did it without a doubt.


---
May 13th
Do my washing today, I hate doing the washing... if I lived in NSW i'd simply pass it all onto my gorgeous sister for one of her laundromats to do, now that would be both cool and a blessing.

Decide to cook a roast for the weekend so buy all the bits and pieces. Whilst in the supermarket I notice that the 5 shelves of coco pops are now empty. It's because Darth Vader is on the cover of the box and all the Star Wars fanatics have bought them up. I manage to get the very last box that has Yoda on the front for the Yeti. A guy offers me double for the box, how weird to be offered extra cash for breakfast cereal. I annoy him by saying no. Out of control. Get to see some more stuff from the Star Wars movie and it's good, all nice and dark. Anything is an improvement on the Jar jar Binks stuff.


---
May 14th
Am appalled that Japan want to hunt even more whales. They truly should be ashamed and I hope they choke on the whale meet. Australia's government is so gutless when it comes to protecting whales- if anyone has a spare submarine with live torpedoes please rent it to me as I would happily take out a few whaling ships, without a second glance. A good way to protest whaling is to stop buying Japanese products...print out some stickers saying DON'T BUY JAPANESE TILL THEY STOP WHALING. Donations to Greenpeace are always good if you don't want to help load the torpedoes!!!

Get rather spoilt at Cafe Rosco by Ben and Jen.... come back home and watch the 2nd Batman movie with gorgeous M.P. as Catwoman- so much better than the horrid recent catwoman movie. Loved my birthday present guys.


---
May 15th
Sleep well, it's nice in this bed, climb down further into the soft downy Peruvian blankets, I could live here all week.

We watch 'Uptown Girls' on cable and it's really fun...dig that piggy! Oink.

Holy chart action Batman. Our friend and occasional tenant Belinda Chapple, formerly of Bardot , (occasionally Buffy's stunt double) took us by surprise tonight by being the 2nd highest debut on the Australian singles chart with her new song MOVE TOGETHER. It entered the chart at #26, #9 on the Australian artists chart and is a whopping #5 on the dance chart. Go Miss Boo!!!!! We are so proud that you stuck with this and hey anyone that is so far ahead of Guy Sebastian on the chart gets our vote! (:

Ben Lee is doing well too, his album jumped to #12 and has finally hit the magic Gold status mark, the new single 'Catch my disease' is at #29 (was #40), hey I bought a copy.

Anyway incredibly happy for Belinda Chapple, nice to see friends doing well. On that positive note I will exit the diary site (I'm waving guys...goodbye). Be good to each other and protest the murdering of whales by the Japanese in anyway possible! It is totally shite.

Gryphon

---
If there are any problems with this site, please contact webmaster@aswas.com.