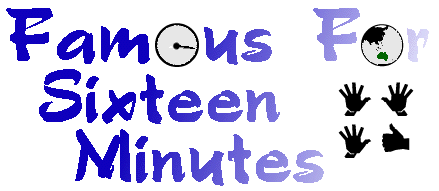 The Life and Times of Peter Green
Archive: 30 May - 12 June 2005
---
May 30th
The ARIA 'Hall of Fame' stuff for Split Enz seems to be taking over, from media requests to simply making sure each of the Split Enz guys is kept up to date. The ARIA's is a lot more work then I expected.

It would be easier if the Hall of Fame wasn't in the middle of the Finn Brothers Australian tour. I just know a third Sydney show will be added at the start which will put an end to any chance of a decent rehearsal.

It's funny as strong rumors are flying around Melbourne that the Enz are doing an Australian Tour, so that keeps our phones running hot- I suddenly become CJ from the West Wing and give witty replies (well I thought so) to the collective media.

Meanwhile French voters voted NO and will reject the European Union Constitution- anything that fucks over Chirac is ok by me, it all seems very weird, but hey I don't live in Europe so I'm oblivious to what it all 'really' means.


---
May 31st
Graham Kennedy's Funeral is in Mittagong NSW today. The Aussie television community flies in. I wonder what Kennedy would think of all this fuss.

The woman from Spicks & Specks TV show calls and they want to try and get one of the Enz guys in for the show, it's basically impossible, so I knock it on the head. Sometimes it's just easier saying 'impossible' but in a nice way.

We take some time off and head in to see the latest Star Wars in the luxury of the Gold Pass Cinema. Those big comfy chairs that fold out, drinks and deserts arrive and it all feels good. Yep the movie is better then the past 2 efforts, but Lucas's dialogue is so damn average, 6/10... and was that Alvin Purple in the funeral scene .... nothing like an Australian Seventies Icon in a Star Wars film...you can tell that some of it was filmed in Sydney.

Check out a smoke machine and juice for the main room at the house. Really want to use it for the 'Rated PG' DVD. It's looking good for a 100 only Limited Edition Box for the Famous for 16 Minutes book series....and one special part will be the 'Rated PG' DVD. More news on this as time goes on...can't you see the Intro now... I'll emerge from massive amounts of smoke and fog in the main bedroom.... have to have the 2001 Theme playing!!!! *grin*


---
June 1st
The first day of Winter in Australia and it is cold in Melbourne. You can tell this was coming our way all week, the early hours of the morning are pretty cold.

Greg Skyhook drops in and we fix him some dinner, watch some DVD rough stuff and he takes home the special Pint On Punt footage.

Give Banshee her worm paste which she hates but I stick food under her nose as soon as the paste is in her mouth so her natural gluttonous behaviour takes over and she scoffs the food down with the paste. She has settled down a bit, not as vicious much to the delight of my bitten and scratched arms.


---
June 2nd
We head off early to the Grampians for some Winter rock scaling. Quite a few cliff faces up here, and after the scars from the cat, what's a few more dozen cuts and scratches. Our fingers ache, a bit of blood but not too bad.

Our upper body muscles are working over time, glad it's not a long climb. I rub my face on some outcrop and have a half decent tear in the skin.

Mark and myself sit on one of the small ledges and have lunch and take in the view. Got to let it digest a bit before we start again, your body kind of groans enjoying the lack of muscle work. I'm in my army green singlet as the sun is out, it feels good.

We reach the summit and have a short break before hiking back down. A few wallaby's and Kangaroos are about, they seem to say 'how did you two get up here'.

We get home by sunset and it is so incredibly nice to soak in a tub.


---
June 3rd
West Wing Season 5 out on DVD. Am so disgusted with the TV stations in Australia, it's only when you get the DVD box you realise that TV only played half the episodes. Pretty poor form. Good in one way as it means you get to watch several episodes you have never seen before.

Japan take note- this is what decent people do. The headlines in the Herald Sun show 1500 people turn up to help 100 whales stranded in shallow water south of Perth. Braving biting cold conditions these people tended the distressed animals. All were saved , but one, and released back into the deep water. None were killed OR EATEN!

Finn Brothers tickets went on sale today, well officially, many fans were able to get in early and grab some tickets in the last few days. Both Opera House shows Sold Out and a 2nd Melbourne show is also on sale. Looks like Perth is going through the roof too and I am fairly certain a 2nd Perth show will be added.

Use my tax return to buy a new La Cie 250gig external hard drive for the extra computer in the office. Can lob all the emails and Jpegs onto that.


---
June 4th
Have my flight booked for Wollongong. It's the maiden flight, first time Qantas has ever flown direct from Melbourne to Wollongong, 36 of us are making history...I guess.

Watch the Nick Cave Doco. on the ABC, it was ok, thought it would be better, not sure how or why....just didn'tseem very 'Nick cave-ish'.

Pack my bags for the 'Gong, make sure my Airwalks are packed so my Sis can return them and get me a size that fits *grin* (sorry Sis)...how big do you think my feet are?

Did some work around the house today, just small things that needed repairing or cleaning, throwing out. Cuddled the Cat and the Rabbit and Mark...all got equal time. Mark scratches less then the cat!


---
June 5th
Get up early and cook breakfast for the household.

Book my Etag, and have to cancel my 6 hour pamper session at the health Spa till I return. It's the one thing I have really been looking forward to.

'Elvis By The Presleys' is on the ABC tonight. It's good, my favourite stuff is always the home movie footage....Priscilla and that 'big hair, thick mascara' look is just great. A happy Elvis.

I find myself staring at Lisa Marie, and I ask aloud how could she marry Michael Jackson, too weird. Elvis would of hated that.


---
June 6th
Wow no sleep last night, brain ticking over. I beat the alarm by a good 30 minutes and wandering around the house at 4.00 in the morning. The house always seems massive during the wee hours. Hell it's cold.

I'm driving down the street, it's like a scene from Split Enz 'Next Exit' video with my car pushing banks of fog to the side as it cruises through. The streets are empty, obviously no late night dance parties last night.

I go to the Qantas counter and I'm asked my destination. I say Wollongong, the lady is about to correct me that Qantas don't fly to the 'Gong. She suddenly goes 'Oh!' like she discovered a gold nugget, and checks me in.

Breakfast courtesy of the freaky flyer lounge. Loads of politicians eating around me, so I chat to a few of them. They seem ok, considering the nature of the beast.

Head to gate 30 and the flight is delayed from boarding by 10 minutes. We have to walk across the tarmac to board the flight. I'm given a special 'maiden voyage' flight to Wollongong pack- it contains wine, pens and other Wollongonian stuff.

I stare at those damn propellers and manage to score a pillow from the perky stewardess. 36 of us on the plane. I kept trying to remember how many plane crash survivors there were on LOST!

Once we are in the air, it's a very smooth flight, the food sucks, but it's ok, I have tea. We approach Wollongong via Kiama and the ranges and it's really beautiful. Lush and green, the valleys filled in with fog all the way to the sea. Impressive, maybe the most scenic approach to a landing that I can recall. Awesome.

As we near the airport I spot hundreds of cars blinking lights and people waving. As we hit the tarmac I'm amused by a lady in her nightie filming the landing from her backyard with a big chunky video camera. The little airport is overrun with people, somewhere between 500 and 1000 of them. 1000 to the 36 of us. The various Mayors and Qantas managers and a mass of media are at the door, shaking hands and handing out special pins. The Qantas person asks if I want to be interviewed, the word NO comes to mind. I'm here to see my Mum, Sis and to have a great dinner.

A camera crew runs onto the tarmac and one guys trips, and the public are all squashed behind this cyclone fence..someone calls out 'help, set us free'...I laugh and the TV crew at least capture me with a smile, in my funky suit.

Marks Mum and step Dad are there to meet me which is just great as I was about to Taxi it. I can't believe this is such a big deal, but hey, history was made today and the 36 of us arrived safely, and on time.

Hang out with Mum for the day, manage to catch up on some sleep, almost coma like. A great roast dinner with the family makes the trip worth every sleepless minute.


---
June 7th
I should of been a steward I think to myself as I once more get up before the sun and get ready to jump on a flight. How many early flights, hell how many flights, is it 600, 700 I've lost count again.

Sis takes me to the airport and we sit and have a coffee. I have to call her when I get back to Melbourne so she can book tickets for Mum and herself to fly to Melbourne and stay with us for the 2006 Commonwealth games. She just wants me to guarantee that the flight is safe, once more I am the families guinea pig.

It's another easy flight, I notice that there is no security checks or metal detectors at Wollongong airport. It's weird as you go through the security check when you arrive at Melbourne....just in case you are boarding another flight. So what's stopping a terrorist from grabbing the plane at Wollongong and crashing it into John hoWARd's house?

The traffic flow from Melbourne airport is ok. Arrive at the office, put my bag down and head off to get the mail etc. So straight into work. It's like I didn't go anywhere. What a whirlwind few days.


---
June 8th
Spend the day working away. At 1.00 I get the urge to drive, so I head off alone to Beenami. I've been wanting to go up and get the bale of hay and goat food for Nigel's goat IGOR. So off I head. Drop into Ben and Jens place and leave some presents outside, swing the car around the drive down the freeway to Beenami. I've locked in the satellite so I can find the quickest route to Nigel Griggs house from the Forest House. It has to be quick as I have a 5.30 artwork meeting with Spock for the Enz book.

The black face wallaby has been hanging around the barn again, he isn't as scared as he used to be and watches me from the bushes. I leave a huge plate of goat food for him, he might like it?

The dew is starting to rise from the grass at Beenami, and a kookaburra sits on the chimney laughing at me.

I load up the 4WD and click in Nigel's address and stupidly head the wrong way. I work it out (Phew) and I'm off. The satellite tells me to turn down this very small road. This is when you have to decide if you trust the machine. I do, and such a good decision. I drive through the smallest townships, past Alpaca farms teeming with mixed variety's of Alpaca's all different colours. Australia may be partially in drought but up here everything is green, it looks like I've entered the Emerald City of Oz.

Several small roads, weird turns and I arrive at Nigel's. Incredibly impressed with the Navman as it probably saved me 30 minutes. Which means that instead of falling behind -time wise I've made up some extra time.

I discover Nigel pulling blackberries out of an old rain water tank, and Igor the goat right behind him. Igor spots the bale of hay and runs at me and chomps away. What a lovely goat, and totally in awe of Nige.

We carry the goat supplies to Igor's house and Nigel signs some True Colours covers, and that's it, no time for a cuppa, I'm off.

I check with Mark and El Wolfy has blown out the artwork meeting till tomorrow, so I am no longer in a rush. So an easy drive home. I end up doing 260+ kms today by the time I get to the house. Crazy.


---
June 9th
We spend the morning working and catching up on work that has fallen by thew wayside. Midday is Aria stuff for the Enz...the afternoon Finn stuff.

Bongo Skyhook arrives around 1.30 and hangs out with us. Spock arrives at 2.00, it's really strange as Bongo lives at Spock's old apartment- no plan or anything it just happened- too strange.

Sit down with Spock and we run through the latest text corrections for 'Letters to my Frenz' and by the end of it a further 12 more pages have been added. We start picking photos and images, I am not trying to think how many extra pages will be in the Enz book- possibly 30+ more!!!!!!! Hey if nothing else the fans get some good value from it.

I miss IRAQ-my country on SBS, so hope they repeat it.


---
June 10th
Finn Brothers first show at Portsmouth Guild Hall tonight, some great reports coming in.

We prepare for the long weekend, will be nice having a few spare days for the Queens Birthday. Such a strange holiday as it's not even her real birthday. Then again Melbourne is full of Queens so it must be one Queen's birthday.

I notice it's 8 months later and Liberal head honcho Robert Doyle still has not honoured his pledge for a toll free Mitcham-Frankston freeway. What a lame duck he is, actually he's just lame, I wouldn't insult ducks like that. Why would anyone even consider voting for this wind bag?

Head into the city for some meetings, my PA is with me and we have some time to do some shopping. I nearly walk past Shop 17 in the Royal Arcade. It's called The Spellbox and is a bit wicca-ish. Buy this tailor made book that has a special lock on it- just too nice, might spend some time drawing in it. Has some lovely 'elementals' on the front. The PA is spoilt and gets a new Blaq shirt- such nice shirts and such cheap prices courtesy of the Myer sale.

Home again before the suits jump on the trains.


---
June 11th
Banshee spends a record amount of time downstairs today. She thinks something is wrong and almost (I said almost) relaxes!

Cook chicken Fajita's tonight, Rosemaree calls by (bearing gifts) so the three of us pig out.

Was talking to Mark and we were chatting about suicide and he pointed out that 40,000 people a year commit suicide in the USA alone. That is mind boggling, 40,000, scary figures.

Watch 'In America' the movie, about an Irish family that moves to New York...how good is this movie!!!

The teenagers next door are a bit drunk of the balcony so tell them to keep it down. I bet they think we are old farts *grin*. Maybe I should freak them out and ask if they would like to buy some smack! (kidding).


---
June 12th
Watch the Skyhooks story that Red put together for SUNDAY TV show. It turned out ok, the B&W photos we lent him came up really well. It looks like there will be a 4 page article in The Bulletin magazine as well- so strange Redmond promoting Skyhooks.

Not long till we find out Michael Jackson's fate, it's sure to be another OJ Simpson debacle and he will get off. I don't believe Jackson molested every kid, but I DO believe he did the wrong thing with some of them and that is really bad. If nothing else, 'when' he gets off and let's be real, money, fame and all of that will get him off- he might look inward and go and get some help. But hey Michael Jackson asking for help would also say 'I'm Guilty' so maybe not. Guess we'll all know soon enough but really he'll escape it for sure.

Head to the Jackman gallery to catch up with artist Gabrielle Bates and Greg Skyhook. I like Gabrielle's art. The upcoming exhibition has Gabrielle specialising in getting a photo of someone at a young age and painting them but adding her own arty 'bits'.

Mark's birthday is coming up soon, and little does he know but he will be one of the Portraits at the show. I've been in kahoots with his Mum and managed to get an early shot of Mark and Gabrielle has worked her creative arty stuff and the result is brilliant. Mark has no idea.

Of course he will hate me for doing this and putting him on public display, but he should really be honoured to be painted and included in this display. The art of Gabrielle Bates is on at Melbourne's Jackman Gallery (June 15th-July 3rd). 60 Inkerman St, St Kilda.

Head off from the gallery and have coffee with Greg and Gabrielle and chatted about life.

Very late that night we find out that Michael Jackson escaped going to Jail, and received a not Guilty verdict. Gee that's surprising (cough).

Makes you lose a lot of faith in the legal system.

Stay safe, and Hasta la Victoria Siempre (Ever onward to Victory).

Peter

---
If there are any problems with this site, please contact webmaster@aswas.com.