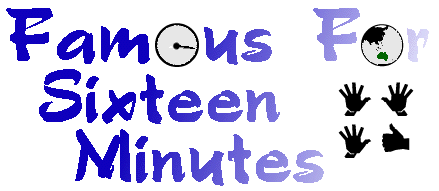 The Life and Times of Peter Green
Archive: 5 April - 17 April 2005
---
---
April 5th
The calls are still coming in, all nice, some people wanting to talk about Paulo, some needing to. It's hard, people start crying in the middle of a sentence, I just let them get it all out. Not sure what all this is doing to me, at it's peak of weirdness, we were getting around 400 calls and you start to build a brick wall around yourself... well in your head anyway. If you don't, you start taking it all on and the spaces between normality and this overwhelming sadness are fewer and you would end up being nothing but sad.

Claire calls by and returns all the photos from the framed collage tributes that were up at the private memorial. I sit and look at them and some make me laugh aloud. That feels good, Paul could always make me laugh, sometimes for hours.

Email Nic and she tops up my USA mobile, so good of her and one less thing I have to worry about in the middle of all of this. By the time I get to the USA again I'll have so much mobile time, but it's handy having a USA phone.

Call Kashan and work out some stuff around Lozzie and Polly , Paul's 2 dogs, really want to make sure they have their M5 shots so they don't get kennel cough. The good thing about Hessie is that he always kept the animals shots up to date, means he was a very caring owner indeed. I tell Kashan that I found the master reel of material that she was working on with Paul, so really she should be given this....so have to grab it from Sunny studio.

Finns are now back in NZ, doctors orders, telling them they have to take a month off, I've been told to do the same and will after the dust has settled and the animals are away and any other last minute stuff. It means the Finns shows in Europe and UK are either postponed or blown out- would be hard as I don't think Neil has ever cancelled a show.


---
April 6th
The memorial wake at the Prince of Wales is on tonight, I'm all grieved out so I do avoid it. My heart and head are so full if people come up to me all night I just couldn't deal...so staying at home with all phones off. I'm in hiding.

Have to go to Paul's place today, felt weird on 2 levels. The first as I walked in the door Paul's Patchouli oil smell knocked me for a six, it's the smell that I associate Hessie with (not his bad farts! *grin*) and I kept thinking he was going to walk out. I sit on the small front wall where I have sat a hundred times with him, felt strange like Paulo was just off making a cuppa. Go through the house and give some art evaluations for the accountants, scares me that I do know these things... maybe art world is my other escape place. I check on a few to make sure they are real and not copies...

The studio is another area of Paul's essence and it feels different to the house without him, I can deal with the studio more. The first thing I spot is a photo of Paul and myself on his studio wall, and that's the only time I nearly cried. So sweet that he thought that much to even put a snap up, god bless him. We both look damn gorgeous in it, naturally *grin*.

I grab the snare drum which is going into the archives and being used for things like the upcoming Paul tribute at the Melbourne Arts Museum.

I get through the house stuff ok, chat to Paul's dad and sister... they get some early Paul photos. They seem to be ok.

I grab Wednesday the cat, she cuddles into me, recognizing my voice, I think she's been in hiding a bit since Paul departed. I love Wednesday the cat and she just purrs with delight at some attention, Yeti and Jen will give her the best home, my friends have gorgeous hearts and if I was a stray animal I'd be knocking on their door first. Maybe in the next life guys.

Home in time to meet up with the lovely Von Foxcroft, Banshee keeps her amused and Wednesday the cat instantly takes a shine to Jen, Goes straight for the lap and a huge purrrrrr. This is all good.

One animal away, two to go.


---
April 7th
Well Dr Who returns to Australian TV in May, I'm being spoilt as the lovely Miss Jayne is sending me a few episodes early....got to love that. Thanks x

Been a weird day, had a record number of people order Glamour the third F/16 book. Had to open up a new box, and spend some of the afternoon scribbling stuff on the signing page. I think it was mostly new diary readers who bought these as a few of the names I only vaguely knew. So Glamour is the book to get this month from what I can see, funny how people's tastes change from month to month. I can see secret sects appearing years from now each pulling out the diary books, secret handshakes and weird hats, all under the guise of the Diary site. Maybe we should carve the books in stone... I've always liked that Moses look .....

Deb sends me a bulk email of Rare II orders that came through Frenz.com. I guess people are really interested in the 2 Paul tracks and the unreleased Neil song that is on Rare 2. We were lucky as the CD plant did an overrun by a few dozen so we do have copies of Rare 2 left, I played it in the car to Hessie's and loved Paul's tracks. I remember Nicole saying how much she enjoys the Hessie songs...Hessie & Betchadupa..you rock.

Apart from that it's emails and phone calls, they both keep on coming in. The media are not calling as much, which I am happy about, being very careful what I say as they seems to get the quotes wrong...a lot. So I'm non-commenting today.

WHO magazine calls and they are doing a 3 page story.


---
April 8th
Call Neil, and both Sharon and Neil pick up the phone at the same time, they are joined at the hip. Tell them the bad news on how much it is going to cost to get Lozzie to NZ, and they are so good , and committed...it's almost cheaper to fly around the globe. I know the dog will bring some extra Hessie love with her. Happy they have taken her.

Goodbye to the wonderful Jeff at the NZ office, thanks for all your help.

Call Deb and Marky B in WA, we miss them. Just wanted to see how they were suffering through 37o super hot days at Broome. Especially after being in Melbourne for so long.

Mark takes some photos of myself in my suit for my Mum. She (like most Mums) always wants a good suit photo of their sons, so instead of flowers she can have this.... hopefully I won't look like a total dick. Even combed my hair.

The newspaper calls and they say they have had hundreds of calls and emails about Paul's dogs, and so have we....so a small chat and it will appear in the weekend papers. Sometimes just having this in the paper will put a stop to the calls etc. I tell them to mention the Cranborne Lost Dogs home who have been brilliant around Paul's doggies.


---
April 9th
Hmmm check in with my friend in Iraq, who tells me that tens of thousands of Shia protestors flooded into the centre of Baghdad today to demand the US troops leave Iraq. 29 people were killed in attacks on this the 2nd anniversary of Saddam Hussein's down fall. 1546 US soldiers are now dead, 1723 for the coalition total, even now one soldier dies every day. So somewhere someone's family grieves a sad loss. After the past few weeks of grieving , I can't imagine it being done 1723 times around the world by people who have lost their kids and relatives in a battle that does not have to be fought. What a waste. How many more people must die in a country that doesn't want to be 'liberated' by America, did anyone even ask them?


---
April 10th
A hot 35+ in Melbourne today, 2nd hottest April day on record.

Ben and Jen call on by for a on the spot visit and that was nice, good to hear that Wednesday is settling in. She'll be a fine addition to their family.

Get a lovely email from Bic Runga, she's at the airport, made me laugh, have to catch up, seems like forever. bring on some new Bic music, I'm starving for some new Runga songs.

Visit Rebekah for a 4 hour chat and we just hang out, which is a welcome relief from the phones. She has a new sexy croaky voice. Love it!

Come home and watch the extra Osborne's footage that MG has put together on DVD. It's the episode where the dogs and Osborne mansion is full of fleas.

The episode and the heat of the night, leave me scratching endlessly...I climb out of bed at 4.00 in the morning and check my sheets for fleas. Of course there weren't any, but still I itched. Drove me nuts.


---
April 11th
Mark Seymour dedicates 'Throw your arms around me' to Hessie at his show tonight (The Forum).

I really think it's time that either Split Enz or Crowded House get nominated in the ARIA Awards 'Hall of fame'. The one thing that worries me if it's the Crowdies is that people will say it's because of Paul dying.

I like the idea that Split Enz get nominated, and the Arias do a memorial for Paul on the show, and maybe Crowded House next year being the 10th year of the split. Oh who knows, just seems crazy that neither are nominated.

The Enz are ok to get in as they were registered here, lived here, wrote songs here and recorded here....a combination of kiwi's and aussie and 2 Poms.... so fine to get in...they hail from NZ but they are considered Australasian during the main parts of their career.

Meanwhile Crowded House's 'Recurring Dream' continues to sell strongly and is slowly catching up (overtaking) Savage Garden for Biggest selling Australian album by a Group. So if you are planning on buying an album for a friend get an Australian copy of Recurring Dream, as it will help. 11 Platinum here now.
http://www.hmv.com.au
If you live overseas HMV have it tax free for o/s buyers.

The Australia ARIA charts (as expected) have the Crowdies appearing again. Recurring Dream re-enters at #62, and the Crowded House/Crowded House debut CD at #94, the Dreaming the Videos DVD at #27 (was 17)...but now Platinum. I guess a lot of the public show their support by buying music when someone passes away. Guess it helps with the family members who are left behind (financially). Still feels a bit weird to see them on the chart....but prefer Crowded House to Guy 'I support a Homophobic Church' Sebastian.

We turn all the Guy Sebastain CDs upside down at Kmart today...childish arn't we.


---
April 12th
Little Princess Genevieve calls on by today for a quick visit, I've told her she has to do a drawing for us of her in the new mansion. She has her pony Candy with her (of course).

One of the book stores has ran out of Glamour and Bang so I take a small box of stock, we are so professional here at Rocket Pocket Books *GRIN*. I always try to find out what sort of people buy the books, strange I know but I am intrigued..fat ones skinny ones, straight ones, gay one, Iraq's or Iran hell if they enjoy it all good. Unlike the Family First Party all are welcome here.

Call my Mum, my daily checking in and she seems much better, dying to go and do some gardening so that's always a good sign. She sent me a parcel of clippings on Paul and $20 and a note saying 'go and have a drink for Paulo' which was really cool.

Jennifer G and Michelle K have spoilt me beyond repair, a six hour session at the Aurora Spa, so I can refresh my soul, re awaken my spirit and just chill ... it is exactly what I need....even more then chocolate (rare I say that). I am truly lost for words (rare about that as well). The kindness of so many people over the last few weeks is astounding and sometimes we forget just how good people can be. So much shit in the world, but some things shine through and you are just left feeling marvelous by such acts. Thanks guys, am blissed out at just the thought.


---
April 13th
Was going to call ROPAR the artist today but remembered that the Affordable Art Show is on so he will probably be getting ready for that.

Had a laugh that a horse race in the UK out-rated the Charles and Camilla wedding in the UK. On TV the usual old pasty faced straight Royal lovers cooing over it- utter bullshit, f@ck the royals, so glad when Australia cuts those strings, it will be a truly great day to celebrate.

Had to go into the city and was stuck on the train with someone asking me endless questions about Paulo, considered getting off at the next stop but gave one word answers, felt like a damn interview, wasn't ready for it.

My soul was saved by having the best tasting Barny Banana Smoothy (with honey) from Feeling Fruity in the city. Yum, worth every cent.

Finally paid some bills, something normal for a change.


---
April 14th
Get Paul's vest with all the embroidery out for the Hester Arts Museum display, it's a funny one as all the guys wore this...Tim, Neil, Mark Hart, Paul...can't remember Nick in it. If you see it at the Arts Centre in a few weeks take note of the stitching as it is some of the lyrics from Chocolate Cake on it.

When I return from the city I run into Peter Jones who played drums for Crowded House after Hessie left, we had a chat, was nice. He did catch up with Nick down at the beach so I'm glad someone hung out with Seymour. Not sure if Nick has gone weird on me but I haven't heard from him lately, who knows.... probably just a lot on his mind. Jonesy is great, playing some shows with Jo Camilleri and perving at the beautiful girls walking by on Greville street *grin*.


---
April 15th
Margaret calls by from the Arts Museum and collects the stuff for the Paul display, it's a subtle one but nice that they are doing this. Some of Mardi's B&Ws of Paul are up too.

Bill and Amanda drop into the office and we head off and have a coffee, we work out a time to head to Cranbourne to pick up Polly.

Take the portable Satellite navigation system and it just makes it much easier, even a short cut or two. Amanda worked in the Crowdies office and Bill was our tour manager for awhile, so I've known and worked with them a long time- this drive is nice to catch up.

The Lost Dogs home is full of the cutest variety of dogs.... and you just want to take them all. I spot Polly and Lozzie...I worry a bit about Lozzie as she will miss Polly more then Polly will miss Lozzie (Polly is very independent) ...so I manage to climb into the very secure dog kennel, of course getting out is another thing. I am locked in - YIEKS. So I hang with Lozzie and talk to her , have a doggy cuddle and she licks me with such love, I think that Paul must be watching and as that thought sits in my head Lozzie stares at the roof of the kennel ... and barks (spooky)...a wiff of Patchouli is in the air.

Bill is so happy with Polly and calls the family, it's love at first sight so I am relieved, so two too good homes. I say good bye to Lorraine (Lozzie) who leaves in a few days and whimp out as a few tears drop- so hard just leaving one of the critters. The Dogs home girls said they will take extra good care of her.

Miss Navwoman gets us home safely, god bless her and I wave as a rather happy Begal speeds off into the distance to get her flight to Sydney. I wonder if Polly will get Frequent Flyer points?


---
April 16th
Long dreams last night, my body feels rather worn out today, like the Aliens came again and took me away, damn human experiments, couldn't they of waited a week.

Possibly it's just my blood sugar acting up and the events leading to exhaustion...but all day I just crash and burn. Need endless sleep, so I figure the best thing is just surrender and recover. Today is a lost one.... but that's ok I'm sure it was meant to be.

Favourite Movie- 'Before Night Falls'. Mark discovered this one and I totally loved it. It's the story of the Poet/Writer who is in Cuba and was incarcerated and eventually makes it to America. His failed effort to get to the States in an inner-tube shows the lengths that people would go to escape. He penned many books, 'Before Night Falls' being one of the most popular. It's movies like this that makes the World Movie Channel a must.

People should be brave enough to stop watching absolute shit like Julia Roberts and Hugh Grant and take a small leap of faith and see wonderful enterprises like 'Before Night Falls'. SBS have also aired this fine work.

Love Johnny Depp's cameo's. One as Drag Queen Bon Bon (and watch him walk as he has the hidden manuscript in areas where you would not normally 'store' one)...his second role is as a Cuban military/Police officer...in very tight pants! Sean Penn is also in the movie, once more a cameo. 9/10.

Favourite saying- Marvelous.

Favourite Book- Noddy & the Bunkey.

Favourite Person- the endless amount of people who have been so kind to us this month. All of you.

Favourite fashion piece - fine black suits.

Favourite food- Jackie J's chocolate cookies.

Favourite look- Jessica Alba- as Sue Storm (Fantastic Four) gone is her dark 'Max' hair from Dark Angel, replaced by the blonding cream and she is a total sex kitten!!! Especially in that FF bodysuit.


---
April 17th
Up fairly early, must of been the excess of sleep/recovery yesterday, so we walk to Chapel street for breakfast.

Home again and get a call from Ben and lend a hand moving a friends few bits and pieces for storage. Head to Acland street for some food for the stomach and some food for the soul (the Grotto).

Feels good to hang with the Yeti, and as always we bring out the wacky's. It's kind of good, the food shop lady wanting to talk about Nicole and Tom Cruises marriage....the Grotto woman deep starring into eyes and reading some aura's as she does....I add to it by pulling out a few tarot cards.
(Hmm Love Triangle? anyone...that's a new card)

Sometimes the only way to get through wacky is to be wacky....so trippy Gryphon comes out and we are protected, and send the madness back down Acland street. A spoilt Gryphon arrives on home. Love my photo album mate.

Work on emails and this diary in the afternoon....Banshee is running around my feet, her tail all fluffed out like a feather duster, and Cosmo is tapping on the door reminding us all that he is the Alpha male of the animal section of Gryphon lair.

My head is still in an odd space, a few more days to go and then some time off, decided that everything can wait, just have to learn to breath again, it really feel's like I have been holding my breath for weeks now, gotta let it all out.

So I'm hoping everyone is getting through all of this, it is getting better, I can feel that, I just think of kind thoughts of little Paulo and that sweet smile and it feels much better.

Long live the (R)evolution.

Gryph

P.s.-thanks to Deb for rushing the last diary through (and the memorial Picture of Paulo) really great. [ed. note: you're very welcome. :)]

---
If there are any problems with this site, please contact webmaster@aswas.com.