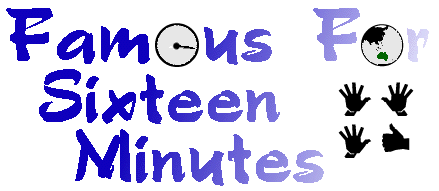 The Life and Times of Peter Green
Archive: 7 February - 20 February 2005
---
February 7th
Greetings creatures, another diary update. I ponder how long I have been doing this now, sitting here in the office. Usually I start on Friday's during any quiet periods where the phones are not ringing and my endless task of bumping down the pile of Emails that have arrived. The F/16 diary is a good break, I can escape, waffle and type what ever...Deb just lets me say whatever I want, well so far I've gotten away with it *grin (Thanks D.L.).

That Missy Higgins, yet another Finn 'special guest' who has moved onto greater things. Her album #1 again this week and 4x platinum. She's doubled the Finn sales here, we are heading towards double platinum in Oz. Which is still totally fine, I think over all the Finns related musical past has scored something like 40+ Platinum albums for Australia alone... still good to see Missy doing it, I'd rather she be at number one then the Australian Idol dicks.

Nice start to the day, yep the Monday Tattslotto win- $27.80, so breakfast is covered thanks to the Luck Goddess.

My bathroom smells of L'Occitane soap. I put one block in their last night and it's everywhere, which is ok, it's a good smell, not like a bad fart or 10 day old chicken.... I notice driving down Chapel Street that L'Occitane have their own shop, I was not tempted, I prefer to pilfer it from the Fairmont Hotel chains! (: It smells better when it's free.

Finally book in the 4WD, what an effort, trying to find the right day. It's only done 32,000 km's so it should be running fine.


---
February 8th
Watch 'American Splendor' movie and it is so damn cool. It's based on Harvey Pekar, and proof that America can still make some great movies. Harvey is such a scream and I love how they mix the real and the movie 'Harvey', the stuff when he finally cracks on the American TV show is excellent , 10/10.

Hmm the US budget deficit is $247 billion, I wonder how much that is per American? Imagine if a President spent the money on saving people and medical research, and looking after his fellow man/woman in third world countries, now that would be an extraordinary leader. You could do a lot with $247 billion!!! Give it to me George W I will happily show you how to save lives instead of take lives...

Catch up with Toija at breakfast, she walks into the Cafe glowing and that cool smile. I need to spend more time with our friends, before we all hit our twilight years...and I forget who you all are.

Deb V calls by and shows me photos of the amazing house at Broome in Western Australia, how brave they are, good to shake up your environment and sometimes it's just a matter of timing. Good luck guys, you have the Gryphon's blessing on this one.

The door bell doesn't stop, Kirsten from the Ballarat Fine Art Gallery calls by to grab some of our hand printed screened posters. They have an exhibit called HWATEVER HAPPENED TO THE REVOLUTION (Screen Printing In The Seventies) and it starts on March 11th. Always happy to lend them stuff for shows like this, little bits of history. Our friend Greg Mac. is opening the exhibit.

Slog out some stuff around the Enz latest 'deal' with Mushroom, put some conditional approval 'stuff' in the email, which just defines special releases and packages a bit more. Seems like we are always doing Enz stuff, takes on such a large part of the day.

Jerks next door keep everyone awake, I'm sure it's only a matter of time before we get some good news and they leave. Mark is buying the rest of the street Moet on that day to celebrate...let the countdown begin.


---
February 9th
Chinese New Year- The Year of the Rooster. Cock-a-doodle-do!!!!

'Lost in La Mancha' is on cable, love it, both frustrating and funny, talk about walking into a disaster as far as a movie goes, and oodles of bad luck... the flash flood in the desert made me laugh and cry for the director. Always good to see Johnny Depp on the screen.

Hair needs a quick dye, it's dark Golden Brown. Looks good.

So we hear that Spike from Buffy is returning to Oz for another convention and to play a solo show at the Hi Fi Bar. Mr $55 is now cheaper...... wonder if the gig will actually happen this time?

Very sad news for our mate Bic Runga, her Dad passed away today. She is about to jump on board the Finn tour, so she'll now be with her family in NZ and rejoin the tour later on. She always seems so young and of course it brings up the stuff around my own Dad dying, guess it always will. We love the Runga a lot, hate to see her sad. Hang in there girl.


---
February 10th
Wow rather cool sudden motion sensor in the new G4 power-book, it's great for those of us who drop their power-books. When it's falling it knows and protects the hard-drive and data. Now if we can just build one into Rosemaree and Rebekah when they fall over....

Mark moves to the bedroom again because of the noise next door, decide it's time to rally the neighbours and send in more complaints, and call the owners. The line has been crossed.

The Rolling Stones pocket watch arrives, it's a limited edition 1000 made thing, and looks surprisingly great. One for the collection, it goes with our Rolling Stones Tongue telephone. (:

Do stuff for the Finns all day and quite a bit for the Enz. Speak to Eddie in NZ, and Noel Crombie here in Melbourne....looks like extravagENZa is moving ahead.....

Just have to grab a copy of THE CULT OF MAC for Mark and Ben seeing they will both probably end up marrying their Apple computers, it seems the perfect book for them. Hard to find though, will have to go the extra yard for a copy, but I know they both like special books.


---
February 11th
Finns USA tour starts at the Belly Up Tavern at Solana Beach California, turn on the computer to numerous great emails. A good start with a passionate crowd.

Am at Coles supermarket and who is in line next to me but Miss Olivia Newton John, she snooped over my shoulder at the various Juices I was buying. I was so in the mindset to start singing 'You're the one that I want'......in the hope that the Coles check out chicks would start dancing and join in....and give me the back up vocals....she looks good 'our Libby'.

Start addressing endless CD boxes for fanclub stock, have to check every name and address so it's a tiring task. Takes a good week to do it all.

One good thing is that I fill the Church charity stamp bag from my efforts.


---
February 12th
Oh sounds like Neil has some serious cold/flu bug, he doesn't sound too good. He's a trooper he'll get through it. Sucks that he has this at the start of a tour.

Arthur Miller died today, I remember reading DEATH OF A SALESMAN at High School and loved it.....The Crucible is really good too, which was based on the 17th century witch trials of Salem...but of course was really a parallel between the witch hunts and the McCarthy & House Committee ' find all the communists in Hollywood' bullshit. Hey and never forget Arthur and Marilyn Monroe, for so long he has said such lovely things about her, when he could of sold her out. Arthur was cool.

Spotted you Missy Higgins at Rufus Wainwrights show tonight. Missy must be happy she's still at #1 on the charts and 4x Platinum here in Oz. People nudging each other when she walked in... Dr Higgins the celebrity....to think I just knew her when she assisted me in ear operations.

Noel doesn't turn up this weekend, slack bugger. Grrrrrr.


---
February 13th
Spend the morning writing out cheques, Car Insurance, House insurance, credit cards and the home rates. At the blink of an eye I have wiped $4000 out of my cheque account. Thank God Rosemaree's kindness is cooking us dinner soon.....those Beenami apples will be all we have.

So finally Wade Robson and Brett Barnes, the 2 Aussie kids who 'slept' with Michael Jackson are now named as witnesses for the defence. They could possibly blow the whole thing out of the water, especially Melbourne boy Brett Barnes.....time to speak up!

Meanwhile Whacko collapses and the case is delayed while he has the flu, maybe he slept with Neil Finn and caught it (urgh). Try not to picture that.

The Jackson fans are such fuck wits, they really are about as tragic as you can possibly get, especially the ones who try to look like Jackson, probably because they have no life of their own...creepy, and they really can't handle the truth.


---
February 14th
Valentines Day. Get up early, sneak down the road and get a small present for that special person.

Leave early as I have to drop the car in for it's service, and intend to spend the day and maybe the night at Beenami.

Go shopping for 2.5 hours while the car is being serviced. I do buy the new BEN LEE cd single which is 'GAMBLE EVERYTHING FOR LOVE'. All 5 tracks on this single are brilliant, if the album is only 50% as good it will be incredible. GAMBLE EVERYTHING FOR LOVE is my single of the year, it could be massive.

As I play it on the way to Beenami, I realise on a few tracks that Ben Lee sings (and writes) a lot like our old friend Johnny Justin. If Johnny would of stayed true and had some belief in his material he could of easily had the chart success that Ben Lee is having, instead he's working a cover band through the horrid old Crown casino, such a waste of so many good songs. I guess that's the deciding factor sometimes, if you believe in something enough to make it happen, Johnny certainly had the talent, makes me sad when I think about all those wasted hours and such good songs.

Anyway, grab a copy of GAMBLE EVERYTHING FOR LOVE and help make some REAL music chart. www.hmv.com.au will have it for overseas friends who have such high regard for my musical hit picks (Bic, Jet, Green Day's American Idiot etc). Shit just buy it because a quality release is rare!!!

Beenami is looking like a jewel in a field of grass. Yes it needs mowing... those wombats are not doing their job. Despite the massive storms in Melbourne, not a single tree has collapsed up here, which was a relief.

The mower wouldn't start, which sucked, obviously I got the fuel mix wrong...I corrected it, a pile of blue smoke later and it's chug chug chugging along. I mow the front area, and a small part of the massive open range area (it normally takes 2 days to do this)....strip to my army singlet as the sun is getting hot. I finally surrender and put the mower away.

It's that time of the year for blackberry's and Mark loves them, so I pick 200 (for some reason I counted while I was picking), there are thousands. To my surprise all my organic fertilizing has helped and the apple tree's have an abundance of fruit, so I pick a big bag of apples to make apple pies. Finally the yellow flowers are out so I pick them, can't go home on Valentines day with no flowers.

So I'm sweaty, grotty and have that kind of sexy hard working man yakka odor, it should be bottled, it has that 'tough man come fuck me' scent. I think Deb is having bottles of it on the Famous for 16 Minutes merchandise area....if you can't find it ask her...NO DON'T kidding, she'll kill me for this. 'Beenami Working Man' scent is not on the market..... you'll all just have to find your own sweaty person I'm afraid.

We really need to get the tank water system set up. I fill a solar water bag and decide to hang it on the side of the barn....totally strip and have a shower. Now that will scare some wombats and any passerby's. Being all nudie in the bush and soaped up is a good thing, hell we all came into the world naked, just some skin. My shoulders are kind of brown from the little bit of sun....and the sun block stopped me getting fried. The sun, the gum tree's and several dozen wombats perving at me. How good can it get?

Nude shower over I head on home, can't stay away on Valentines day, so surprise I came home. Ah the last of the great romantics, I know *grin*, no wonder I like that Ben Lee song....gamble everything for love folks..just do it.


---
February 15th
Good to see Green Day won a Grammy for best Rock album (American Idiot), really they were one of the few things worthwhile, yet another shite Grammy Awards.

Put new plants in the hanging basket, they are the ones from our shopping excursion with Foxy Jen. We all had to restrain ourselves in the Bunnings Plant area, the sausage sizzle people outside were handing out 'Yeti Missing Person' flyers as it has been so long since he has visited the sausage sizzle they are extremely worried....not to mention falling profits.

Had a call from the Wave Aid people and they handed over a cheque for $2.3 to the Tsunami charity's, so good effort from all who worked at the show and those who donated. Nice to see.

LOST continues to do well on Australian TV, the #1 show in Melbourne beating 'Desperate Housewives'. Good to see the X Factor floundering, Mark Holden and Kate Cebrano are absolute knobs! Fuck them and their lame opinions... all they are doing is trying to resurrect they floundering careers.

Body Corporate meeting tonight and the owners of the house next to us were too gutless to show, as they knew that the other houses were going to take pieces out of them, because of the noisy tenants. I must really scare them. Good to see.


---
February 16th
Give my local council their rates, on time too, someone's got to pay for all the silly ideas around Prahran.....

Support Mr Moore and buy 'Fahrenheit 9-11' on DVD, gotta support the fat guy. Each time I watch this I pray for another pretzel miracle around George W, why would anyone vote for him is beyond my reckoning. Each day that goes by is one less day that he is in power, hold that thought people.

Well the Kyoto Protocol comes into effect as of today. Shame on you Australia and the USA, 2 of the industrialised nation countries refusing to ratify it's worldwide agreement on climate change. Sometimes Australia gets it VERY wrong and this is one of those times. That's what happens when hoWARd is in bed with Bush.

Call our tour manager and Neil Finn is really sick. So ill that it is almost certain that the Finn Bros show at Boulder will be cancelled. The rest of the tour party have had to have shots so they don't pick up this bug. It will be the first time in 25 years that Neil has blown out a show, and he is devastated. As always he doesn't want to let the fans down, if anything that alone will somehow give him the energy to do it. It's the 11th hour but still hope. I just hope he doesn't make himself worse by forcing it. He's a damn trooper though, these days artists cancel gigs at the drop of a hat, but you have to chop Neils legs and arms off to stop him performing.


---
February 17th
Well Neil got his 2nd wind and Boulder happened. I know fans knew he was sick but very few probably knew just how close it came to being blown out.

Picking up laminates for the Finn archive room and the Life membership cards and decide to call into Kmart at Richmond as they have a 15% sale on, so I get the 2nd season of the original Star Trek for $100. Save $40 not bad... really can not afford this but it was such a good saving.

Next stop it's the old Mushroom Records building at Albert Park, you know the one that Split Enz 'paid for' as we all say.....Gudinski is now there with his Liberation Records. Have my Enz meeting around the ExtravagENZa release, the first week of May......they were all happy with the input.

Email Tim the gist of the meeting, just so they know....

Driving buy Cafe Rosco on the way home and wing in and buy 2 gourmet pizza's, am not in the mood to cook and these are really healthy (well kind of) ok they just taste great...and only because I forgot to check my Tattslotto and the money Goddess gave me a $20 win. Yey.

Love the 'Total Film' magazine that Jayne sent as it has the Fantastic Four on the cover from the upcoming movie, can't wait, the FF were my favourite cartoon hero's when I was a teenager.... the Four look very cool. Thanks Miss Jayne...this should be a great movie.


---
February 18th
Hmm lock in Marks special surprise, a week to go, I am giving him 2 guesses every day, but he won't 'play the game'....for some reason he keeps saying 'Hookers and Gack'!!!! Yeah right, you wish that's what the surprise is...

Far too much passion happening in the showers around our house.... it's becoming some sort of weird roman orgy house, out of control, or did I just dream it?????

Have been making a lot of Chocolate Mousse for dinner party's etc and people have been emailing for the recipe. I have to say this is the best Chocolate Mousse recipe as they always turn out nice and solid and taste great.

Peter's Chocolate Mousse Recipe '05

200g dark chocolate. Break it up. Some packets of cooking chocolate are 250g, if so just use all of it.

20g of butter
3 eggs separated
1 cup of cream whipped
1 tablespoon of caster sugar.
+ Cake icer.

Place the broken chocolate bits and butter in a small saucepan (low heat) and stir it with a wooden spoon until it has melted.

Stir through the egg yolks and put aside.

Next whisk the egg whites until those fluffy soft peaks appear, and continue slowly adding the caster sugar...now beat them till they are stiff!!!

Fold the egg-whites into the chocolate mixture and gently fold through the whipped cream. (I usually save a small portion of cream for later).

Spoon into serving glasses. I get 4 out of the above.

Next I put a teaspoon of sugar into the remaining whipped cream and whip it again till it's solid.

Put the 4 Chocolate Mousse in the freezer for 10+ minutes to help set.

Remove and use the cake icing gun to put small cream stars on the top (hey food can be art!). or you can put raspberries etc.

* * * *


---
February 19th
25 years today since AC/DC's lead singer Bon Scott died. For some of us the ONLY AC/DC is the Bon Scott lineup. Mark reminds me that we were in Mildura picking fruit (of all things) when we heard the news. It was a sad day.

We'd seen the lineup at Wollongong Town Hall when we were at school, a great show and yep Angus in his school boy uniform dropped his pants and bared his arse to the crowd. Accept no substitutions Bon Scott= AC/DC = the best, the voice and the way he sings those songs. Rock in Peace Bon, you are missed.

Catch up with Gold-Member for some breakfast, it's been too long, always good to see our latest addition to the Melbourne family.

Mark has to feed Terra the cat today as our friends are away. terra is an old cat and probably doesn't have too long to go, so we are extra nice to Terra even suffering that bad Meow noise.

I spoke to the Estate Agent and she assured me that the evil tenants are leaving in a few weeks. I asked her to marry us...such good news. Finally the garbage truck will arrive to take the trash away! It will be so weird for Mark to sleep in his room for more then 1 night per week. We are both so happy, as are all the other people who have suffered their inconsiderate shit. Wishes do come true!

As a one off the Camberwell CD/Collector Fair will be at Box Hill Town Hall on March 6th (1022 Whitehorse RD, Box Hill) Doors open at 9.30.

I am actually in the country so there will be a Club Stall at this Fair, so come along, say hi and find a bargain. We will be in the Foyer. So mark this down in your diaries...see you at the fair.

Rosemaree cooked for us tonight, our favourite and we are super spoiled. Nice to see her and just chat, always a good thing.

Watch Metallica 'Some kind of Monster' on DVD. It's a really Rockumentary ... so much angst! '20 years of hatred sold 100 million records' says Lars Ulrich who founded the band and plays drums for them.

If you are interested in the workings of a band, check this out... it will probably turn you off ever being in a band *grin*. We loved it. One for the tour bus.


---
February 20th
Breakfast down at Prahran, and start the morning with Slade's 'This is my Town' on endless repeat for the lovely 'people' next door who right on time woke us up...we are counting the days. Enjoy Slade fellas x 1000...and oh yeah we won... you are being kicked out. the 'Get on your way' line is the song was especially poignant !!! *grin*

Last week they found a fossilised skeleton of the oldest rabbit. Gomphos Elkema was found in Mongolia and is 55 million years old. Cosmo's great, great, great, great, great, great, great, great, great, great, great, great, great, uncle.

Decide to start on the Apples from Beenami and make 8 apple pies, and we still have some left. Listen to Skyhooks demo's while I am cooking...weird I know. Demo version of 'Powdertown', 'Headfull of numbers' and 'Dr Love Joy' excellent.

Do three hours straight on CD boxes for the mail out next week, if I can get three hours a day in on addressing them etc they will be done on time. Mark is spending hours working on DVD stuff in the G5, he's climbing up the computer ladder of Geekdom.... there is no stopping him.

Waiting for Noel to drop in to sign the huge pile of True Colours covers, he's the only signature we really need....I will start putting WANTED Posters out soon if he doesn't show. (:

That's it for us, work, nude showers in the bush and more work.

It feels like it is strange times out there, so many friends are going through extreme shit, just remember stop for a moment, and remember to breathe. Look after yourselves.

PG

---
If there are any problems with this site, please contact webmaster@aswas.com.