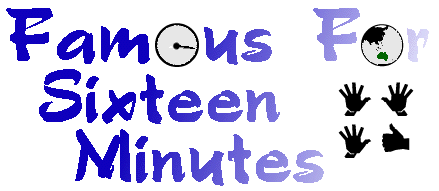 The Life and Times of Peter Green
Archive: 7 March - 20 March 2005
---
March 7th
Spent the start of the day signing copies of Glamour & Wings off flies, I've actually thought of some new things to write inside the cover area! Yey. Maybe I do have a knack for signing books after all. Next time someone whips out a copy of Glamour I'll be as calm as a cucumber (are cucumbers really that calm? ... and how do we know this)?... and I'll quickly scribble some witty quote inside the book. Or maybe not!

It's kind of hot today, so wear some black shorts (again), the problem with this is that the new Bond underpants are made in an odd way and certain body parts do drop through the front!!! My shorts are well..short! Could be a risk of exposure.

Had so many emails around the 'Bath time for Banshee' photo, yeah she is a cute kitty. 10 weeks old now. I called the Vet as she has to get her 2nd shot in a few weeks. Bet she bites me while she's getting it.


---
March 8th
Call the family at Wollongong, they do worry me beyond repair, so book a flight up.

Oh Kelly Osborne, why does she do that to herself...she looks like mad Vivienne's love child. The Osbornes are on Hamilton Island, their holiday reward for doing the MTV awards, apparently they are so well behaved it's scary...but Kelly's looks are horrid.

Hmm find out that one of the creeps next door has something like 13 fines and has to go to court, they might throw away the key....! One can hope.


---
March 9th
Florida State University dig up a 16 minute (hmmm weird that..Jims 16 Minutes...!) 1964 film of Jim Morrison, young nerdy and pre-Doors...

Give Banshee her worm paste today, she loves that- NOT!

Cosmo is at the door laughing at the cat.....perverse rabbit, he likes to see the new 'fad' suffer. I bring Cosmo in and have a serious cuddle with the bunny...you can tell Autumn is arriving soon as Cosmo is shedding hair too. Out of the blue he bit me today, just a peck...and then gave me a rabbit kiss...talk about pleasure and pain. What is going on in his mind. Maybe he is warning me, 'see I can bite'...

Spock and Rosemaree call by tonight and we proof read parts of the 'Letters to my Frenz' book, it's good as it means it is rolling along, still a bit to do but coming together. I think it's going to be 12 or more extra pages in length.

Rosemaree brings dinner, I make desert, so all the workers are fed. It's a nice night and we get a lot done. Thanks guys.


---
March 10th
5000 people turn up to see Princess Mary & Prince Frederick- she looks great, dresses really well and she is like a superstar, the kids love her. This is how a royal should be, not the pasty old scummy English Royals, URGH! The Queen looks so bitter and horrid, a friend said she'd have a better chance of cracking a fat then cracking a smile!!!!! *GRIN* how rude.

Spend the day boxing stuff up, and kits and other fun stuff, 3 mail bags later and it's all gone. It scares me how much our postage is every year, when you think that a standard overseas letter is now $1.80! I think we cover the wages of half of Australia Post.


---
March 11th
Steve from the Blue Elephant drops into Daguerres and we have a chat, he's looking healthy. Good Tatts.

I paid our phone bill and electricity today, unlike Michael Jackson who's now handed his financial control to his brother Randy, cash shortfalls meant the phone and electricity wern't paid. Who's Bad! Michael is.

The Parking Girl delightfully tells me she gave the evil ones next door another parking fine, a nice farewell from the neighbourhood.

Really enjoying our friend Gabrielle Bates latest lot of art. She's got a show at the Jackman Gallery soon, so head to the website and have a peak at what she is up to, art-wise:
http://www.jackmangallery.com.au/artists_gabrielle_bates.html

Get side tracked by work and my good intentions of going to Ballarat for the 'Whatever happened to the revolution' screen printing show, so I never made it. Greg Skyhook opened the show so that would of been entertaining.

We work on through the night and actually see the Sun come up!


---
March 12th
Dark glasses on for most of the day, those all nighters are a killer, we both got a lot done though.

Hurrah they have finally started moving out, there goes the hydroponics kits... there goes all their clothes in garbage bags. It's the first time these people have ever made the effort to clean up the front yard, and they are probably only doing it to try and get their bond back.

I tell them Goodbye, so long.. F*ck off. Of course I have a very warm smile when I say that. But it's from the heart (:

Start reading Agatha Christie's THEY CAME TO BAGHDAD. Wow lucky Agatha isn't around today or George W Bush might arrest her or homeland (in)security on grounds that she is consorting with terrorists. The book is dedicated to 'All my friends in Baghdad'. I'm reading a first edition and it was released in 1951, great book , it really captures some of the essence of the land.


---
March 13th
Breakfast with my buddy Rosemaree, I borrow the Commonwealth Games order form from the newspaper, as I want to get Mum and Sis front row tickets for the opening of the games, swimming and woman's hockey. 3 things, that's as much sport as I can endure!!!

Start listening to Radio NZs ENZOLOGY ten part-er, it's really good, my only dislike was the narrators voice and some of the script but even that improved by the third disc, a really fine job Jeremy. 5 stars.

Charts are in early and delighted that Guy Sebastian's single misses out on a Top 10 debut, despite all the pushing. Over-joyed. Meanwhile Ben Lee is still in the Top 10 with his new album, it was his highest debut ever so he would be delighted I'm sure.

Wow it is hot outside, we live in the downstairs area of the house today where it's lovely and cool.


---
March 14th
Long weekend so a public holiday, we decide to work through most of it. Head down to my health food store and buy the Ultimate Internal 15 day Detox program kit.

Am going to start this in just over a week, I figure the Easter long weekend is a good time for fasting and stuff....hell 15 days is a lot when it comes to a controlled diet. You get this 4 set of tablets for Stomach Clear, Liver Clear, Bowel Clear and Intestinal Clear. Add to that the special 'eating plan'. Basically it takes a load off your digestive system and allows the digestive organs to have a well deserved rest. The fibres and herbs then do their job...so it could get slightly gross (*grin*). So my diet has almost zero processed foods, no dairy products, no animal proteins (with the exception of fish), no alcohol, no caffeine and especially no sugar.

Oh the pain, no chocolate. I've been told to expect headaches, nausea, possibly vomiting and low energy all from withdrawal symptoms. So pretty damn major.

The first day...a glass of warm water when I wake up with a dash of lemon juice (this will kick start the digestion), 20 minutes after 200mls of pure fruit juice. Breakfast- raw muesli with soy or goat milk...or porridge with fruits. Bowel clear tablet (nice name).

Mid Morning- 2 pieces of fruit and a cup of Green tea (30 minutes before lunch take a stomach clear & a liver clear tablet).

Lunch- Sandwhich wholemeal bread, avocado instead of butter basically sprouts and legumes. 2 Intestinal Clear tablets.

Mid afternoon. Fruit & Green tea again. I am allowed to nibble on pumpkin seeds or sunflower seeds.

30 minutes before dinner 1 stomach clear and 1 Liver clear tablet.

Dinner
2 Intestinal clear tablets with dinner. I can have brown rice, steamed vegies, wholemeal pasta etc every so often some steamed fish. For desert 1 Bowel clear tablet (*GRIN*).

Oh the pain... 15 days. This will be a test as to how strong I am. Wish me luck and if any of you send me images of chocolate cakes you are dead! (:

Thankfully the Detox program also comes with some half decent recipes' (Bean & Lentil Stew, tasty Green Rice..we'll see how tasty it is on day 3 etc) so I won't go insane.

Watch the News tonight and I see that Shane Warne and that stupid wife of his are leaving Australia to live in England, poor England it's like we are sending the convicts back *grin*... we all are hoping it's a one way ticket.

Drive 7 year old Genevieve to her new house today, and it's the most amazing house, and impossible to even describe here. I had on my big chunky glasses and on the drive she looks up and says:

Genevieve: 'You look like Elvis today'.
PG: 'Is that a bad thing?"
Genevieve:' No better to look like Elvis then Britney Spears'.

How cool is that, great quote from a 7 year old. She then says...

Genevieve: 'Do you know that some strange people say Elvis is alive'
PG: 'He is, he's driving this car'!


---
March 15th
Meet up with Alan a few doors down from us and we share the train to the city. He's off to the city for the cheese and wine festival. He is over the moon as he is on the other side of the evil tenants and is so happy they are going.

I decide that I need to find a really good black suit, a la' Nick Cave, it's the new look that I want.

We carry another 4 bags of mail to the mail boxes today, at least they have now doubled the boxes in size so we no longer have to shake them to make all the mail fit.


---
March 16th
Italy pulls troops out of Iraq. The Invasion of the Willing is cracking, Bush is sure to ban Pasta and pizza because of this.

Book my Etag for the trip to the airport, my flight gets in after midnight so I have to allow for that.

I am stopped by Fashion TV on Greville street, they wanted a quote.... I give them one....

Faves

Food: Fetta stuffed Peppers
Song: Catch my Disease-Ben Lee
Book: They came to Baghdad - Agatha Christie
Accessory: leather wrist bands, red sunglasses and black older style suits.
PG Quote: 'Black is the new black'. Fashion TV- Greville St Prahran
Creep: Dicko from My Restaurant Rules- I hate his horrid nasal accent.

Visit Rosemaree and Mindy and have a lovely cuppa tea. Nice to escape the phones and the office.


---
March 17th
Get a really nice email from the boss (no not Bruce Springsteen, my real boss Neil Finn). Apparently 'Part of You, Part of Me' is going to be the next single for Australia and New Zealand....no release date yet.

Very sad news that the brilliant fantasy writer Andre Norton has died. I know that she was really close to Mercedes, good writers are hard to find.

Adelaide's Catholic Archbishop Philip Wilson proves the Catholic Church can sometimes do the right thing, I know most of them are total hypocrites but throwing his support behind South Australia's Statutes Amendment Bill supporting Gay Rights was a gutsy move. Of course the low level creeps from the Assemblies of Dog (opps meant God) refused too. But yeah good move Archbishop Wilson, maybe he is one of the good guys. The Pope is looking horrid, I'll be glad when he goes, it's sad to see him just decaying in front of the masses.

Funny to see Oscar winner Susan Sarandon at our local breakfast haunt, I doubt anyone knew it was her (nice glasses) and was that her son with her? I was dying to yell out 'tell us about it Janet' since she was in the Rocky Horror Show but thought she'd hate it and think I was some weird RHS fanatic. She seems pretty normal. First Olivia now Susan..good old Prahran.

Huge thank you to Tina & John for all those unused stamps, and the cat card. The one difference is that the 2 cats on the card look like they would let their owners groom them..not Banshee, she attacks me when I brush her.


---
March 18th
Book car valet and pack my bags. Decide on a carry on only so it saves me some time at the airport.

Great to see Ben & Jen and off to Topelz for some dinner. Easter Eggs all round, how special do we feel. Ben's off on the Finn Tour soon so be nice to him, and no calls for Yeti if he walks on stage or he will have my head on a platter!!!

Some more Diary book sales come in today. BANG! has now over taken Hussy as the biggest Diary book as far as sales, and Glamour is going through the roof again. I think people just decide they need all three at 4.00 in the morning and suddenly email me to reserve a copy. I will start on book #4 TRIP around June.

No idea why I am even going to bed, waking up at 4.30 or 5.00 in the morning to catch the flight to Sydney. Crazy.


---
March 19th
Too hyper to sleep, so get almost zero. I wake before the alarm and climb out of bed into the pitch black of morning.

Leave by 5.00 and it's still dark as I'm walking around a semi deserted Melbourne airport. Have some breakfast at the freaky flyer lounge. Read Agatha Christie on the flight, no chance of sleep as a crying baby is in front of me.

The air traffic into Sydney is a nightmare so we circle about for a further 30 minutes. I am so glad to be off the plane and on my way to Pops. The baby stops crying when we all walk out the door.

Sis has already started painting the fence so I get changed and into the work. It's the main point to get the house into order. I plant masses of new flowers and we remove old bulbs and turns the soil. The repainted fence looks great as I drive off into the sunset to Mums.

I start falling asleep early, and a few aches from the painting and garden cleaning.

I hear that Neil and Elroy are playing as Neil Finn and Rex at the King Kong wrap party in Wellington, probably JW on bass. They'll have fun.


---
March 20th
Wake up early to the smell of crispy bacon and toast- thanks Moogie, god bless her. Sis arrives and the family has breakfast. We share our Easter eggs, I get so many, very spoilt.

Back to Pops and today we work on the massive Vegie patch. Make an executive decision and splinter it back by one third, Uncle Des tells me that Uncle Jack wanted it to be that way, so I'm doing the right thing. Sis is amazing, we get into the gardening and I know we are both starting to ache, still we complete the mammoth task.

Mums cooked a smashing roast...tastes great as always so a reward I think.

Head to Marks Mums place in the afternoon and see the monolithic new TV, very funky!!!!

Roast sandwiches in the evening and I say goodbye to Mum, I know she's worried about heading into hospital but she has to do it. I'll be here so only a flight away. Sad to say goodbye and we all get a bit teary.

I play one of Marks compilation CDS, AC/DC... Bon Scott lineup ONLY (of course)...some serious PG singing on the way.

My flight is the last out and they actually turn the lights off in the freaky flyer as I am walking out the door. I printed out the latest ARIA charts and Guy Sebastian really drops with that horrid single...

I see on the news that it is the 2nd Anniversary of the Invasion of Iraq...funny how they now call it an Invasion and when it was happening it was called a Liberation of Iraq. I'm wondering how many Iraq's feel liberated two years down the track. I did write in my paper diary- may someone please shoot Bush soon....but I shouldn't put that on the F/16 should I, it's bad for people to get killed....even an evil bastard like Bush. I've mailed him a new bag of pretzels, lightening might strike twice *grin*.

I sit next to a really sweet English Mum who's just flown in to Australia with her family, they are really eager to get a house in Melbourne as they love it. So she talks to me about suburbs etc etc.

Arrive home after midnight, once again restless sleep, it's a hot night outside.... but even so it's always nice to be here after being away for 2 days. Cosmo and Banshee and Mark all fuss over me. Hey, 2 animals and a human love me, what more can I ask for!

Stay happy

PG

---
If there are any problems with this site, please contact webmaster@aswas.com.