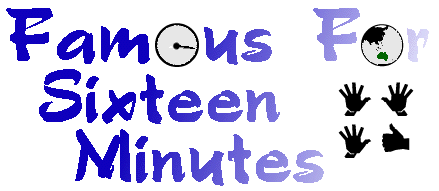 The Life and Times of Peter Green
Archive: 7 November - 27 November 2005
---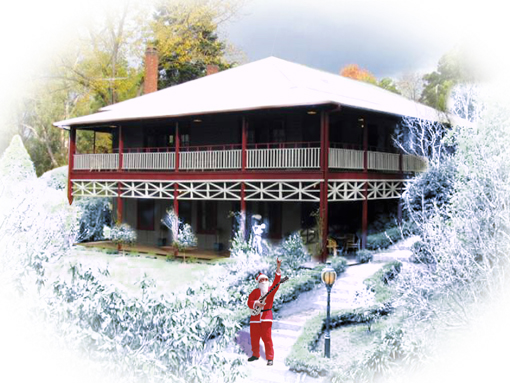 Happy Christmas, F/16 Readers
From Kalorama
Ho Ho Ho
---
November 7th
Somehow in between this big move, the Finn, Bic shows, the ol' F/16 Diary has fallen in between the cracks....so I'm a week or so late (Oops).

The days have been spent boxing stuff.... it's a huge task, and areas like the Library are a killer. Trudi calls by with some more packing boxes, smaller ones as she says we are all getting old and can't carry big things. This won't stop Mark from loading up the back breaking boxes. I'm sure the removal men will love us on the day.

She Will Have Her Way is now released in NZ, and I know the Enz ExtravagENZa live CD will finally have it's NZ release over the next few weeks. She Will...now Platinum in Australia and nudging the 100,000 mark (almost).

EMI are doing a re issue with the bonus disc of the 'original' version of the songs, just in time for Christmas, imagine that *grin*. Still a good present, and prefer people to be buying Finn songs then Guy Sebastian.


---
November 8th
Happy Birthday Isabelle in France, glad you enjoyed the Wild Australian Dog Book.

She Will Have Her Way still Top 15 after 6 weeks, some strong releases this week so it is holding it's own.

Keep looking for a house for Robin to buy, a few have shown up but not quite what she wants, seems everyone is moving house or buying them.

Have a weird phone conversation with my Mum, scared me a bit.


---
November 9th
Aussie Movie WOLF CREEK debuts at #1 on the Australian box office chart.

I get the plumber in today to give the Greville street house a once over, fix a few things for the new owners, thought it was a good karma thing to do.

Get our voltage detector for the walls at Kalorama, with all the art to be hung, I just want to make sure we are not putting art nails into power lines behind the walls.!!! ZAP!!!


---
November 10th
If Skyhook Steve Hill would of hung around a bit longer, he would of turned 53 today.

Finish boxing up the kitchen today, why we need so many strange plastic cooking 'things' is anyone's guess. We must of won a lot of contests at those tupperware parties in the eighties.

Send the Melbourne Weekly some of Pete & Sue's images for the upcoming Art show. I keep calling SPAN gallery SPAM gallery in my media stuff, I spend the day pulling my foot out of my mouth.

Notice Bic's WINNING ARROW single at #40 on the NZ chart, this is from airplay only. Not long till we are in NZ for the fan warm up shows, will be good to see the BICster again, been way too long. I hear that Neil is going to play piano at these shows too- cool.


---
November 11th
Today is a day of change, car registration, drivers license, voting at the electoral office, gas, fuel, our mail, vet, cat ID tags, subscriptions, and a dozen other things. I can't remember our last move being this full on.

Call Sis at 7.00 and chat for awhile, she is visiting for a few days so that's really cool, she gets to hang out at the new house. Both of us are disappointed in Mum , driving us both a bit nuts with worry.


---
November 12th
Finish mailing the O'Doherty's art invites. The 'possible' ENZ tour gets put book, closer to May, still waiting for confirmation, but people are talking about it so it's safe to mention it here.


---
November 13th
Head to the airport and pick up Marks Mum and step Dad, really good to see them, although it is a brief visit. Arm wrestle Marks Mum over the last of my chocolate Mousse.

We drive them to their exotic cruise boat for their 14 days ocean epic journey. An amazing Melbourne afternoon, Sun is out the beaches are full, palm trees swaying, and the side walk cafe's are doing a roaring trade. Melbourne at her best. I lie to Marks Mum saying it's always like this *GRIN*.


---
November 14th
Jaine B from Ireland sends us this lovely St Bridgids Cross for the new house, already have one Irish cross so this will go well with it. Nice though (thanks).

A huge electrical storm hits Melbourne and a house in the Dandenong's is hit by lightening and explodes. I jokingly say- I wonder if that was our new place. My face goes a nice shade of white when I find out it's at the very end of our road at Kalorama....close.

Nicole is on the list for Homebake (thanks Boss..thanks David).

Start putting all our plants in a big cluster out back for the move, Kalorama has enough plant life but some of these are perfect to add to the grounds.


---
November 15th
1/2 a million Aussies take to the streets around Australia to protest John hoWARd's work place destruction. It is a concern...

Buy Banshee her new tag, and get the new details on it. Just in case she decides that living as a Feral is a good thing. I've noticed a few feral teenagers around the area....don't want to add a Feral cat to the collection.

Start de-icing the fridge. This sucks, it takes forever, it's like a part of the Antartic ice mass has broken off and slipped into the fridge...hours later I've only remove one tenth. Will be glad when the new fridge arrives, this is such bull shit. Cut knuckles and frozen fingers.


---
November 16th
Buy all those that helped us move a big tattslotto ticket, be nice if they all won something.

The Aussie Socceroo's did so fine to win their spot for the World Cup, lots of celebrating in Melbourne tonight.

Mark has filled hundreds of boxes with the books from the library, where did they all come from?


---
November 17th
War of the Worlds is on DVD, so grab a copy, the local supermarket is selling it at some bargain price.

Call the Stonnington city parking person and they are brilliant, making sure the trucks and our cars don't get fined next week, most councils wouldn't do this, they've always been great to me about this stuff.

Rosemaree calls by with dinner for us, one of the last times that we eat here at Greville street, so lovely that she did this, we are worn thin.


---
November 18th
Well settlement went through at the Kalorama House today, so officially...it's ours. Hell now we're done it *GRIN*. The day before Christmas it will be mortgage free, what a brilliant Christmas present.

We take a car load up, and get the keys. It's strange, like it's not ours, guess that will be the feeling till the place is set up. We find all these things that we were unsure of or simply forgotten. The garage is HUGE, 4 cars worth, and a great work place. We love the new office, lush green treescape out the windows and King Parrots on the grass.

We remember to call Foxy Jen for her birthday today.


---
November 19th
All our friends turn up at Greville street, right on time and we load up the cars. Phone Ben who is still in the land of sleep and says to call back.

meanwhile we have all these cars ready to go, so I leave Mark at Greville street waiting on the Yeti and head off with the girls in their cars.

It's quite a convoy and no one gets lost, we make good time and they are all fantastic. The Amazon Woman that I know, carrying boxes and bags.

Head to the Verandah to get coffee and run into Goldmember and Joost...so they come back to the new place. Gold member really really pregnant! Looking good.

The girls head home and Mark calls that the Yeti and him have packed the truck from the lock up and are Kalorama bound.

They arrive and we get it all unpacked. A huge effort and thanks everyone. We owe you guys.


---
November 20th
Another day another group of friends. Trudi and Robin and that magnificent artist Gabrielle Bates all carrying boxes. mark admires Gabrielle's strength lifting one of Marks rather packed CD boxes. Rosemaree turns up again to help for the 2nd day, and with her brightly coloured car she is easy to spot in the convoy.

They all love the new house, love is probably not the right word, amazed by it...as are we.

The parrots all land to say welcome... and it's natural calm descends on all those who enter the big metal gates of Ailsa Craig!


---
November 21st
Happy Anniversary baby. Another year skims by and we are still united, together against the world. You'd expect after all these eons the love factor would fade or tarnish but it's stronger then ever. I am a lucky man.

Who would of guess that 25 years ago we were hitching to Sydney to see KISS on their first Australian tour!!!!!! Too weird.


---
November 22nd
Today is the big day, the main removalists. The Prahran council are true to their word and let us get away with the parking as 2 gigantic trucks fill up the street. They are the best removal people we have ever had. Totally professional and never one complaint about the endless piles of stuff, heavy boxes, statues, art, art Art...filing cabinets, tables, massive beds. The carved statues are wrapped and boxed, the art is professionally packed which is a huge relief.

I pack the 4WD and take up a load to Kalorama by myself...have to get back before the trucks leave. Really tired from the last few days but determined to get as much done as possible today.

By the time I get back to Greville Street the trucks have left, only by 10 minutes, so Mark and myself fill the car with stuff, almost forget the cat and rabbit (how could we). As soon as we clear the main lights on Chapel Street Banshee decides she wants out of her carry box so she sits on my lap while I drive and watches all the cars. A girl in a sports car mouths 'cute' at me...I realise it was Banshee she was cute-ing at.... damn thought I still had 'it'!

As we drive up our country dirty road we spot the 2 trucks in front of us, and they can't make the drive in, too steep and too sharp for these new trucks with the low backs, so they use the secondary entrance to the estate.

The next 4 hours are spent carrying stuff down the stone pathways and into the various rooms. I climb onboard with the crew and help. A good work out.

The young removalists appreciate our art, love Vali Myers and the Edie Sedgewick...which is cool as the Edie is one of my paintings.

By 5.30 we wave the guys off, I give them some extra $ for beer money and they are happy.

I jump in the shower and start the drive back to the city for Pete & Susans art show at SPAN gallerys. I'm only fashionably late but must look like shit from all the driving. Spot Miss Trudi on the sidewalk leaving the show so grab her as my date and we revisit the exhibition again. So much art...love it. Gabrielle Bates and Christina White are there and with Trudi we all check out what's on offer. The O'Doherty's have some great paintings. I'm biased I love their stuff.

Trudi offers to help me pack another car load from Greville street so off we go....she's worried that I might nod off at the wheel but I assure her I'm ok. Play Transvision Vamp really loud and put the cool air on to keep me awake.

Wow it's sure dark up here, till you live in the mountains you don't know what dark is, it's like someone has draped a black stage cape around Kalorama.

I'm home by midnight so don't turn back into a frog. We look at all the boxes, endless...where to start. I unpack some of the kitchen first..... and then fall asleep in my own bed in my new room.


---
November 23rd
Up fairly early and we start on setting the place up. Today we have the electricity man arriving for the home, the office, the gas man, the Telstra phone man to add in new phone lines for the house and office, the Foxtel man to change the satellite stuff, the new desks arrive for the office and the new cabinet, and Simon delivers the new fridge which fits in the kitchen with 2mm to spare. I don't think Ailsa Craig has seen this much activity since it was a guest house in the 1920's.

Every single trades person falls in love with this place, it becomes a normal thing for people to reach out and rub the dark wood that she is made of.

Book the valet service and Etag for the airport, I leave for NZ in 48 hours.


---
November 24th
Mark shoots off the photos of yours truly as Santa for the Kalorama Xmas card. The shot on this main diary page is not the card, but Spock did a great job with this reject shot I just had to use it. Good one Wolfy. Thanks Mark too...my Santa crotch was a bit low, who designs these weird Santa suits anyway?

Pack my bags for NZ, throw in stuff at random, really would love to just stay here. My energy must crash soon.

Grab some soap for Sharon and some presents for Neil, that way they have them. Glad Neil enjoyed the Dylan DVD, it's a good one. What to get the people who have everything...my endless thanks seems a bit lame.


---
November 25th
Kalorama - Auckland

A big electrical storm hits the Dandenongs and I'm awake at 4.00. Climb out of bed and I'm off by 4.30...driving through the dark, lit up every minute with a lightening flash. Only a bit scared....

Call in and check on Greville street, it looks like a Tomb inside, we haven't started cleaning her yet so the odd cobweb hangs down and dust where big cabinets once stood....reminds me of the Valley of the Kings with all it's Gold sponge work.

Arrive at the airport early and eat at the Freak Flyer lounge, I am yawning a lot. Three crying babies on board- oh joy. Eat Penne Pasta with Beef Ragu for dinner

Campbell and Bic have me staying at the Carlton Hotel a stones throw from the Herald Theatre where the 2 fanclub warm up shows are.

Wander over and Campbell is outside, think he was worried I was late. sadly the 10 inch Vinyl for the '...Arrow' first single haven't arrived in NZ so they couldn't stock them at the show.

Sitting in the control room while the gear is being set up and Neil and Sharon walk in, squash onto the couch. Bic turns up in a great outfit, she's a woman now... still looks incredible.

It's a great night, dance up back with a few mates, nice intimate show, Neil with his back to the audience, very relaxed. Goes well.

Head to the band room and have a chat with Bic, and she says she loves what the house looks like and to make room for a singer songwriter in March (:

They offer me a lift but the hotel is up the road, and kind of enjoy walking home in the mist. Order room service and sleep well.


---
November 26th
Auckland

Sharon wakes me with a call, rush into the shower and meet them outside, a windy wet Auckland day. Head off with Neil, Sharon and El for breakfast, and it always feels good. It's funny I never think twice that I'm with Neil and that most of NZ would probably be watching him out of the corner of their eyes.

head back to Finn manor, really to see Lorraine, and the dog is so healthy and happy...she's fitted in well. A very lucky pooch.

We head to the building, and I get to see the new studio, should be ready mid year, something very cool about an artist putting his earnings into something special like this. The desk for the studio was used by The WHO and it's mammoth.....the room has a great vibe. Love this building and if I lived in Auckland this would be the only place I would want to work. Tell Neil the new interior is the same dark wood as our new house.

Head downstairs and we cut across to Sharondelier. I walk in and I see it.... THE LIGHT. We needed a new lamp...this is it. It's perfect, and the dark droplet crystals are the perfect match for the pool room walls. Sharon see's the twinkle in my eyes and then ten minutes later we are wrapping it up. It looks like a giant elephant foot. Glad I'm flying back business class so I can sneak it onboard.

I decide to walk to the hotel, carrying this wrapped wonder...and all afternoon I consider unwrapping it and plugging it in. She is a beauty, the finest piece from Sharondelier.
www.sharondelier.com

I love the jewellery in Sharon's shop and a few Finn music lovers have fallen for various pieces too and bought them on line. Check it out for that unique Christmas gift.

head back across the road for the 2nd Bic show, think Bic sang betetr tonight, some of her finest vocal moments to date. Campbell tells me that the album has shipped double Platinum already and yep it did come in at #1 on the NZ charts.

I fall in love with RUBY NIGHTS and NO CRYING NO MORE.

Have a chat to a few dozen Bic fans that night, and one Canadian lass gives me a Canadian surprise parcel, which she promised on line. The chocolate was shared in the band room (:

Say goodbye to everyone, have to pack. get a few hours sleep.


---
November 27th
Auckland - Kalorama

Up at 4.00 (again) and check out. The Auckland streets are filled with misspent youth struggling home from all night partying. A few offer wild sex....yieks.

Arrive and the airport is still dark, check into the Business counter and the staff are great, my fake elephant foot shaped parcel won't be a problem to take on board.

Grab some Jack Daniels from Duty Free for Mark, and I'm short by a bit so the airport girl covered it, totally sweet.

Have a seriously good healthy breakfast in the Qantas frequent flyer lounge and head to the departure gate.

Only 4 of us in Business class so I'm stoked, get spoilt and even some sleep.

Arrive Melbourne, call into Greville street and load the car up... home by 10.30. The house is looking great, mark has been unpacking endless boxes.

It's starting to look and feel like a real home, our home. I sit outside and masses of Rosella's Cockatoo's and King Parrots land. The red Parrot I name Racist Ron as he seems to hate all the other bird but comes and chats to me.

Not that this magic place needs more plants but I add in some Bracteantha Bracteata, Dryandra, Chrysocephalum Apiculatum and Bavera Rubioides into the garden areas.

Mark told me when he awoke this morning he sat and looked out at the lush tree's and gardens and realised just how lucky we are. It feels so incredibly right, and yep I'm STILl doing my one good deed a day...gotta pay back that debt! *GRIN*

Sorry this diary is a bit late, setting up the new office has side tracked me and made it impossible to even sit down and right. We are now operational and starting to clear the back log of Emails and work. Thanks for giving us the time to do this, we appreciate it.

Take care, and enjoy the lead up to Christmas, and sometimes the best gift is showing support to your friends when they need it.

Ho Ho Ho.
Love from
The Gryphon that ate Christmas (which I'm sure Tim Burton would love to steal as a Movie idea!)

---
If there are any problems with this site, please contact webmaster@aswas.com.