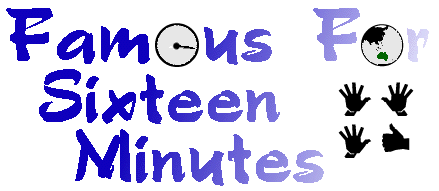 The Life and Times of Peter Green
Archive: 17 April - 29 April 2006
---
April 17th
You can tell we are getting close to the Enz tour, the office is manic, and even typing out a diary update is closer to a luxury. It's good but I've forgotten what it's like for the Enz to hit the road and all those things that are part of it. For 7 shows it feels more like a year of touring.... Nice though, just to have the day to day contact with the Enz boys is (usually) fun. I keep picturing this jigsaw puzzle of them in a massive sea and all the pieces are floating about, hopefully getting closer and closer together to be one for the June romp!

Today was spent in front of the computer, endless Emails around work. My personal Emails have fallen behind , so if you haven't heard from me, it's just work has taken over, sorry....


---
April 18th
Cancel out 3 meetings to make the one merchandise meeting at Noels. David is present and Brian from our merchandise company. I use the Navman to give me some short cuts and get me to House of Crombie on time. The lovely Sally welcomes me and says 'what meeting'? She must of read my face and quickly adds 'I'm sure it's all ok, they'll turn up soon..I hope'. So do I.

She is right and the meeting is on. Straight into the important merchandise... the Enz Tea Towels. Forget the T-shirts, the badges, the signed Frenzy lithographs....it's the Enz tea Towels that are the objects de' arte! I can tell that some at the table think these will be a limited seller , I KNOW they will be the coolest item and a MUST HAVE item.

Some good ideas and yes girls I did bring up the request for girls/lady style shirts to be done, so you should be taken care of. The infamous 'Enz snot' T-shirt is still my fave and that old old old design will finally be on a shirt (the original run was only a dozen or so Tee's). Enz beanies and scarves....perfect for the chill outside......should be some great souvenirs for everyone on this tour. No idea what the prices will be like but after seeing the Stones with $60 T-shirts I was a bit horrified, that is crazy and so many people were buying 3 or 4 shirts.

Zoom from the meeting and get home just in time for the 5 bookcases arriving for the library. The truck driver has a moan over our location, was cold and non caring, get over it, it's your job.

Mark starts the construction work, after 5 months it will be great to have the library and Marks 'hole' (sounds rude) set up in the wine cellar.

Visit the travel agents and up our travel insurance for Nepal, with all the unrest and the (almost) ousting of the Nepal king I thought we should be covered for all emergency's. I'm sure Nepal will settle by September, I've been in a few revolutions so what's one more...bullets in my hairdo indeed!


---
April 19th
Go to sleep last night with the sound of Marks construction company putting together the library. It's looking good and once again endless cardboard boxes empty on the kitchen floor.

Call the Mac-Apple people as our G5 fits the serial number for the problematic logic board. Thankfully Apple have decided they are at fault and will cover the problem and repair it. Glad because it would normally cost $900-$1000. A lot of G5's around the world are having this problem....just glad Apple know they are at fault. So if your G5 is failing to start up that could be why.

Speak to the Chubb Security people and they are all locked in for the new system upgrade. It also runs direct to my mobile, technology love it (when it works).


---
April 20th
Win a massive $33.30 on Lotto, all those '3''s again, covers breakfast, thank you Goddess.

Another day of photo scans and picking images, this time it's for the Tour Program. The scans go on and on and on. Mark is over it.

No idea why, but playing a lot of Neil Young this week and Suede's second album. They seem to live in the car.

Kevin sends the latest BAY OF PIGS CD called ' For Lovers only', it's got all the LLT boys in the band and Peter Lawler on vocals. For copies contact www.deviantdonutmusic.com Was a welcome surprise...so c'mon Lovers grab a copy!

Pick up a container of Tulips from the roadside 'trust' stand. Basically you just leave the money in their letter box. It's a massive property full of thousands of bulbs, and the prices are great.


---
April 21st
Notice that the News is slowly leaking out about what we have been working on for the past few months. We had the opportunity to redo ALL the Enz studio albums, decent artwork, photos, cover art from the original LP's and Eddie Rayner locked away in a Brisbane studio bringing up the sound to something resembling 2006 standards. Frenzy which always sounded like total cr@p now sounds amazing. I love that album and the muddy sound just made it difficult around so many great tunes. Warners have been exceptional around their support for this. A few years back Eddie and myself always hoped we could get 2 of the Enz albums reworked and available to the masses every year, but the upcoming Enz tour has now given us the chance to have all ten albums available. While the vibe is strong...now is the time. All TEN albums in stores May 20th.

Later this year we should have The Living Enz available again as that needs a LOT of work, and our friend Sue's excellent photos will have extras added to the cover art (that's Laura for getting them to us- bingy bingy bingy)... and maybe some good news on the infamous Rootin Tootin Luton sessions too.

A big parcel arrives from Jennifer G. in NYC, she's been working on the Soprano's TV promotion...and one Mr Yeti is being a bit spoilt with a collectible or two...we may fight him for the Soprano's Ice Bucket! Thanks Jennifer- very cool.


---
April 22nd
Speak to Susan O'd in Sydney and looks like the other two painted Ukelele's art pieces will be arriving in a week. The three will look fabulous on the wall. She's now doing a few portraits from smallish passport photos... whilst Pete is getting ready for his next big art show. They can certainly churn them out. Send Neil the link for Pete's Sydney art show, and I know he likes some of Reg and Pete's art.

Dinner tonight, head to Indian By Nature at Mount D. Just wanted to go out and eat and I know they'll keep our usual table for us. Delicious as always.


---
April 23rd
Work in the garden this morning, surrounded by fog. Miss Banshee jumps out and scares the daylights out of me, the eerie fog brings out the sabourtooth tiger in her...GRRRRRRR Attack Cat-watch out world.

Our friend Rebekah turns up with her mates Nikki and Rebecca. Nice to have some visitors, even though the rain has started. Show Bec Miss Boo the chook and she gives her a pat. Must of agreed with her as Miss Boo laid an egg that night.

Head to the Pig & Whistle but being a Sunday it is packed out, most of the food places are. Call into Churinga for lunch instead, as everywhere else was full, never been here for lunch, breakfast is good....lunch was a bit average. In the end I'm here to see a friend, the food stuff is always secondary. These days even average food tastes ok to me , think it's something to do with the millions starving, we are all a bit pratty over food here, as long as it's not totally horrid I don't give a toss , we should count our blessings. I think I'm eating less these days, which is good.

Head home and the girls go and explore Ricketts Sanctuary. Phone calls all afternoon, just people wanting to catch up. Curl up on the phone chair and talk the evening away, that classy Sharon Finn lamp adding a warm glow to my phone face!


---
April 24th
It was so cold last night, it snowed nearby, and the fog came right up to the steps of Ailsa Craig. Felt like we were living in a lighthouse at sea, expected to hear ships fog horns all night.

Koji comes to our rescue with some scans we needed (thanks Mr K.Aussie!) good onya lad!

Pick the final 2 photos for the Enz book, there was space at the end of the Paul Interview, so used some shots of him at Tauranga in New Zealand. It was a big outdoor show, I think one of the first times Hessie had been to NZ with the Enz. he's wearing those godaamm horrible pink socks that the guys used to wear....I remember Nigel had green ones and Tim orange ones... So picked a live shot from sound-check and one of him on the back of the tour truck. He is such a baby face in these shots. Nice to sign off on the last lot of photos.

Nigel's brother sends me a photo of Nige in his first band The Satellites ...aged 7 I think! Great one for the Newsletter.


---
April 25th
Anzac Day. There was a small stone shrine near The Verandah, was thinking of leaving some flowers there in memory of my Grandfathers brother who suffered through the War as a POW. When we arrived at the Verandah the shrine was already covered in flowers. I'll probably never want to attend the dawn service at The Shrine in Melbourne ,and I hate War but the diggers I like and what so many gave up in the name of being an Australian.

Have breakfast and The Verandah is super busy. Joy the owner comes up looking rattled and says ' remember how you said you'd help if it every got crazy...well....'.

So I drop Marky home and for the next 3 hours I become the waitress, the sexy little waitress. I refuse to be paid, just a good deed. Insanely busy, about 1000 hungry mouths, every table taken, people sitting on the stone wall and even on the grass area holding up homemade table numbers. I worked the kitchen with Melba....it was relentless and ended up being their busiest day...ever. Have a nice souvenir of that crazy day, 2cm burn on the inside of my index finger from the upper oven. Ouch. It was fun in a crazy way, and I think once a year is plenty. Hey good to help a friend out.


---
April 26th
I get up way too early and the Chubb security person blows it as his car has broken down, so they are sending another guy..I stumble back to bed for an extra hours sleep.

By the time we are home the security people arrive and start laying cables and drilling holes, adding sensors and teaching Banshee and Cosmo how to use semi automatics. By dusk it's all complete. Ailsa Craig is a high tech safe zone. My final act is to climb one of the red wood trees and place one of the cordless security cameras, it would be easy to fall but I'm cautious.

Unlike Rolling Stones Keith Richards, who at that very same moment was climbing a coconut tree in Fiji with one Ronnie Wood...you just know they'd be tooling about...anyway Keef fell. He was lucky, imagine if he would of died from the fall. Keith Richards, the man who survived heroin abuse for all those years is killed by a coconut tree..very uncool! Later on he is flown to Auckland hospital for observation and recovery. he was probably getting Charlie Watts a coconut, I gave Charlie a taste of his first ever coconut in the Stones band room in Adelaide on the Voodoo Lounge Tour..so maybe Keith was feeding Charlie's coconut addiction.


---
April 27th
Today all we did were scans of Enz photos. This is my life and Marks life.


---
April 28th
Take the G5 back to Apple today, and it's going to take about 6 hours to repair and replace. We use the time to head to Mr Judds to get more signed CD's. Talk to him about his next Video clip, think yours truly may be making a guest appearance as a 'black, gay, promoter'.The question is do I trust Mr Judd to give me the black make over....you just know he'd use permanent skin paint. He seems in high spirits and committed to his Novelty Act cd.

Call into Spocko's next and see the baby and Miss Bob..babies have such small fingers and toes, I am amazed and partly clucky..anyone wanna have a baby with me!?

We call into the exotic TGI Fridays for some Dinner (NOT)....it could be worse... it could be TGI Thursdays!

Driving down the main stretch and wing into Dick Smith's Super store..just to buy a CD...an hour later I have over spent my pay, my extra work money and the biggest TV in Australia is being delivered on Tuesday. We saved $1800 it was just too tempting ..... and would never ever be that price again.....you leave the store thinking 'what have I done'. But hell it is a motherfucker of a TV!

By the time we get back to Ailsa Craig it is dark, the chickens are still out and we were worried, in case Mr Fox paid a visit. Thankfully all the critters are ok, and one of the girls has left our daily egg (rent paid).

We sit down and watch a movie, our usually big TV feels somewhat small compared to the mega-giant we just paid for. Glad we have the new super security system, but hey it takes 6 people to even lift it so it's not going anywhere fast.


---
April 29th
Work in the office with Mark all morning, on Enz stuff-who would of thought. After that plant some Leucojum Snowflakes and the Star Of Bethlehem Bulbs.

Head off to Nigel Griggs place at 2.00, use the Navman and it takes me through the most cutest small towns in the hills, so scenic. Arrive and Nige is at the gate, I give him a selection of Vegies that we have grown as a present. Sit down for a natter and a cuppa. He's pulled out several boxes of Enz slides for us to use.

It's good seeing Nige, he's a good mate and we understand his love for the Hills and some solitude. He's off to visit Igor tomorrow, I think he misses that goat of his.

Home in time for dinner, it was strange as the satellite in the car was all over the place, the little arrow sometimes not on the road...a bit weird but I made it home safely.


---
April 30th
Last day for April, means my birthday (May 11th) is not so far away, another year younger (: (: Happy Birthday Suz too, by the time this latest diary goes up.

It's an egg a day still, and I've been told not to expect any eggs, these chooks are sure happy. They now follow me around when I go visit them, Mark is still chasing Belinda around the pen trying to put her inside the house at night.

For those of you venturing out into the hills next weekend, remember to call into the Kalorama Chestnut Festival. It's at Kalorama Oval on May 7th, and I have no clue as to what it's all about..but we are attending, all monies raised goes to the Mount Dandenong School. Probably bad line dancing in chestnut suits we think.....

Better go and get back into the Enz work, 5 weeks till we are all on the road which is a blink of an eye really. Have a feeling this Split Enz show will be one of THE gigs of the year.

On Ya! (eh Phudd)

Gryph

---
If there are any problems with this site, please contact webmaster@aswas.com.