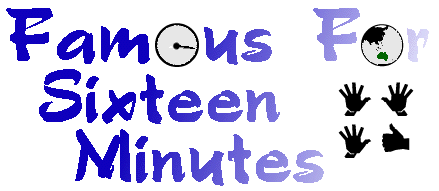 The Life and Times of Peter Green
Archive: 1 May - 14 May 2006
---
May 1st
Late , Late, LATE let's hear you all chant. I've had such good intentions to take time to pen the latest F/16 entries but the last few weeks have been crazy at best. So as the weather turns from a sunny day at Kalorama to something with more bite... I'm sitting here tap tap tapping away. On with the show....

All work lately has been on the Split Enz Tour Programme, poor Mark scanning away, I'm sure he knows every wrinkle, every costume, every cockatoo haircut no more Split Enz he cries!

I've started doing rough page drawings, scribbling notes in side bars and creating piles of OK'd, Not OK'd, hated and 'hide away for future blackmail' piles of photos. In the end we work with what we can. It should be good.

Have a pile of Nigel's slides that need converting as well , it's all Enzless! Some great shots Nige.


---
May 2nd
A parcel from Susan O'd arrives, the two hand painted Ukelele's to match the third in the kitchen, they are great together. I love Susan's stuff, she'll do well, her art keeps on selling.

Go through some Phil Judd photos that I took of him in his studio with that giant spanner, using one in the glossy newsletter. Not my best shots but rushed it, you never know if Juddsy is comfortable or not (usually not) so use what we can and be happy that it's something new. Good to see he is sketching people again.

Wolfmother still kick goals overseas, the album debuts at #25 in the UK, go guys, that's pretty cool. All those white unicorns.

Everyone was lining up to see Dr Chiro, this is one of my last visits for a month or so till after the tour..and then I will really need those acupuncture pins! have some super heat packs for on the road, just in case.


---
May 3rd
Suuz in Holland's birthday today, hope they spoil you girl!

We are at Knox City and I get lost from Marky. So I do some shopping knowing he will surface again later on. Find these really cool Hawaiian style boxer shorts in cotton, nice Hawaiian girls and they are super cheap... can't believe the price so buy them...and some woolen underlays for the beds.

Visit our Egyptian people and grab Rebekah's birthday present, it's an Egyptian Cat God music box...so cool...she will love it. or I'll have it (:

Mark grabs me a pair of 'airwalks' for the tour, that's all I really wnated, comfort for on the road- happy feet.

Home in time for the courier, get the parcels away to our Merchandise company. All on time.


---
May 4th
Come June we will be taking advance orders for TRIP, the 4th F/16 diary book, instead of covering 6 months it will cover 1 year, and the first 100 copies will come with the 'Rated PG" DVDR. Late 2006 release, as I'm going to need some time to work on the dvdr footage... fun though, and a nice break away from the band stuff. A new diary book at last...just gotta write it!

Wow Robert Doyle looks like cr@p, think his leadership is crumbling fast, at this rate the Liberal Party won't even exist in Victoria, how nice is that, now if Little Johnny will just retire or go away- I grow so tired of the mutual arse licking between Bush and hoWARd, why don't they just go and get a room somewhere (try not to picture that folks) and Bush's dickhead brother Jed getting the thumbs up from his brother for a potential leader- sorry takes me awhile to get that much vomit off the computer screen. Worldwide suicide indeed! The only good Bush is...well you all know the T-shirt.

Hmm the power went out at Kalorama this afternoon, the office all dark, we still carried on with our work, always something that needs to be done.

Hey the Enz re issue CDs are out in 3 weeks time, will be great to have some fresh version of the classics in the stores. Warners have been really supportive around these re issues , it's easy to slag record companies off but it was a pleasure to work with them. I hope the fans support these.

Mail off a parcel to the Finns, with Neil & Sharon's birthdays so close together I decided to send them a photo in a frame, myself totally naked wearing the horses head from the tour! Oh come on, I like my job I wouldn't want to scare them too much! So instead we found this snap of Sharon & Neil from the History Never Repeats film day, Shazza with her short dark hair and Neil white face makeup and early Enz cossie giving her a hug- cute! They might hate it, but it's history and I like it...well the frame was nice....

Loving Pearl Jams new CD, it debuts at #2 here, I bought my copy from a chart store. Soon some stores wont be ARIA chart stores I hear, HMV, Sanity etc are considering doing their own chart...weird.....I like checking out the ARIA chart. If there are 2 charts it will be interesting to see how many spots difference the top ten is....


---
May 5th
The delivery arrives of the new TV cupboard/stand....all metal and wood very solid and it needs to be. That garish TV so huge if it fell it would kill someone..hell it's a beauty, what a bargain.

Rob from the printers arrives with 2 large boxes of our Enz 8x10 photos. Give him a cheque straight away, one less bill to pay. Who would of thought that in 2006 I'd be getting Enz photos by the thousand.

The 21st National Tattoo Convention was on in Melbourne today, 300+ people got new Tattoo's. No extra creatures around the Gryphon I'm afraid, I'm a one tattoo kinda guy.

David H tells me that Mr Doyle has officially gone...wow that was fast. Ted Baillieu replaces him, oh NOT TED..Ted is Dead.... they should of went with Louise, more woman in the top jobs in Politics I think...gawd TED, really is he any better then Doyle.....the Vic Liberal Party is so much like Hedwig & the angry inch...6 inches forward, 5 inches back..... oh well guess it keeps them out of office in the next State election. Maybe the Greens will get even more votes! That would be nice too. But Ted.... what were they thinking. Ted Is Dead bumper stickers now available.


---
May 6th
So sad, Grant McLennan of the Go-Betweens dies in his sleep in Brisbane. I haven't heard anything more on this, another one gone. Sad days.

60 Minutes start their filming in NZ of the Enz boys, well some of them.... shots with the dogs and Piha I guess....it airs just before the tour so extra publicity.

Work the side garden all afternoon and my energy levels drop, so decide on a nap, Miss Banshee joins me and the cat gives me a cuddle in bed. I finally wake up THREE hours later.

Head up to the chooks and the run is full of feathers. 'Oh no!" I mutter and a wave of panic takes over me, I try so hard to be calm. I call for them but no noise, there are feathers everywhere and the top of the wire fence has a huge dent where something BIG has jumped or landed.

I check in the house and see Belinda and Sharon, by this stage I am so close to tears, one of the girls has been killed. It's only then that I know how much these 3 silly critters have truly touched my heart and I am so upset, yeah they are only chooks, no idea how they have creeped inside this old stone heart of mine. Just as the waterworks was about to start, this little tiny head pops out from under the steel frame... Joan lives! This little brown hen is so stressed she somehow found a way to defeat death and I have to drag her out of this small space. She's shaking as much as a chook can! So all three are ok, and they start making noises.

That afternoon I drive to Bunnings and buy 100 metres of barbed wire and start adding it to the fence. I look at them the 3 luckiest chooks alive. I have enough feathers to stuff a pillow but oddly enough the girls don't look chook naked...still 3 lovely lookers (for chooks). Poor things, imagine feeling safe and happy and some creature descends and tries to rip you to pieces. Ailsa Craig must have some strong protections on her to save these three. If it was a fox they were VERY lucky, usually no chooks survive a fox attack.


---
May 7th
Chestnut Festival at Kalorama Oval today. Our questions will be answered, what does one do at a Chestnut Festival and what does one wear? Brown I guess.

Wake up at 6.30, can't sleep and no it's not excitement about the festival... the valley is covered in fog and the sky has an eerie glow to it, ol' Sol is finding it hard to get out of bed too.

It rains, it floods down, it hails and some sleet, the temperature drops so quickly that the hail doesn't melt. The super slide at the festival becomes the new Kalorama waterfall. I avoid the festival till the weather changes.

Ben and Jen arrive, right on time, that Foxy girl has been good for you Yeti on time all the time- who would of thought *GRIN*.

We head to Kelly's at the top of Mount D and get a table by the fire and watch the weather change. One of the last meals for us before they head off to BrisVegas, and it's really nice. Kellys have these amazing hamburger lunches, healthy ones though.

They drop me off at the festival, determined to show my community support, and yes we win another prize on the charity raffle, some super meal ticket for food. I buy some plants and avoid the chestnuts cooking on an open fire.

I think next year they need someone in a giant Chestnut Suit- King Chestnut and 2 squirrels...running around him. No I'm not volunteering. I watched the bands on the main stage, ok the ONLY stage, the audience of 5 of us applauded and urged them on. It was nice to hear the valley drowned out by the sound of guitars! No chestnut line dancing, no chestnut tug of war.... but hey I went!

A huge branch crashes down over the vegie patch, I take this as a sign that the old tomato plants should be removed and the old sunflowers... I will do this soon.

Logie Awards are on, and the brilliant 'Love My Way' scoops the pool. No idea how anyone with Foxtel can not watch this brilliant show. As Miss July says, it's equal too if not better then any of the USA drama's. She's right.

Wins Best Drama and Dan Wyllie and Miss Claudia K win best Actor and Actress. Finally John Wood gets the Gold Logie. Sherbet reform and sing Howzat and I can confirm that Skyhooks were by far so superior as a band!

Sherbet don't hold up too well in 2006. Bert Newton falls down the steps after the show and Joan Rivers says 'FUCK' on TV several times and isn't bleeped.


---
May 8th
Happy Birthday young Rebekah. Give the ol' gal a call and sing.

I like some of Tim Storriers art work, it's showing at the metro5 gallery in Armadale. Need to check it out.

Birthday parcel arrives from Meredith, a Warhol book and I am stoked as this one has the 'Toy Painting' series which I have been dying to check out, very inspiring. Thanks Meredith, it's a beauty.

So Rod Laver is booked for Pearl Jam on November 13th, same Venue as the Enz and Kings of Leon from the States are supporting. Vedder is in fine voice and it's so nice to have Pearl Jam on the airwaves instead of shite like Human Nature.


---
May 9th
Hear from Sarah M who's working at Frontier now, so she's back in the old Mushroom building again. Good to see.

The 2 guys from the Beaconsfield mine disaster are the luckiest 2 men alive, now watch the media have a bum fight over who scores the big interview, must be worth around $3-$4 million. Sad for the family of the guy who didn't make it. As someone who's Dad spent time repairing the main machinery in the Wollongong mines, it's always a dangerous job. You sometimes wonder if your family member will be killed.


---
May 10th
Play some serious Cure cds in the car, am in love with 'Wrong Number' it's my fave Cure song this week.

Email Neil an Enz group shot with Paulo in it, to go with his tribute at the start of the tour programme. It's such a nice shot, they look like a bunch of old codgers from some chess club..Nige in his Cardigan!

Head to Spocks at 2.00 and yes folks we finished the book, proof reading etc, it goes off to the printers next week, finally- yey! Just great to have it completed. The cost of printing kills us though, when we add the artwork costs it actually costs us about 10c a copy! Crazy but them's the breaks, will have to charge a bit more in future. Means we give almost zero away.


---
May 11th
Happy Birthday to the old Gryphon of the skies...hey that's me. Thanks for your cards, emails, presents, candy bouquets from Holland and countless other wonderful stuff.

As per tradition Mum calls insanely early and wakes the household......my birthday starts off shitty every year, you'd think for once she would let me sleep in.

Fix the spare room for Marks Mum and her husband, they arrive this weekend and Mark is in pre-stress parent mode.

Am shouted breakfast at Mt Evelyn by this incredibly good looking man, -oh it was you Mark! Thanks it was a really nice day.


---
May 12th
Banshee gets her flea drops, not that she has any fleas but good to make sure. She just lets me do it...good cat, bad cat.

Afternoon Margaret and Allan arrive, well get the call and they have made it all the way to The Verandah, so I drive off to meet them. Take them in to meet Joy and Brian and Joy wishes me a happy birthday (minus 6 years so I'm happy).

It's cold and dark outside but Ailsa Craig is warm and toasty.

They are great in laws and totally stoked to have them stay, our Mums are pretty cool really.

Wolfmother debuts at #22 in the USA.


---
May 13th
Some of the gang are coming up this evening for a birthday dinner at The Snooty Fox. Table is booked and it's near the fire.

I get some incredible birthday presents, all of them great, and it's really nice. We are all at the Fox except Tania who is late again, she is always late. When it's nearly an hour I jokingly say 'she's probably stuck in a ditch somewhere'. 20 minutes later there is a tap on the window and there is Tania. She doesn't come inside, weird. So eventually we check outside and yep there she is STUCK IN A DITCH. She missed the drive and crashed the car into the drainage ditch. A local guy and his family were amazing helping and we finally got the car out.

My dinner is cold and I give her the other half, so I miss most of the table talk, but just glad she is ok. The Worlds worst drivers have nothing on her.

We all head off.... and home by midnight.

Around 1.00 I just wake up, and look outside my window, no idea why. A few metres from my window a very large Fox is walking down the walkway towards my room. I am so astounded by this I kind of wave instead of freaking at it...it see's me, turns and bounds away, no rush though....way too strange, almost a religious experience. I wake Mark and we head outside, all the motion lights and security stuff activating, the girls are all ok in their pen... it's all too weird.


---
May 14th
Happy Mothers day Mum.

Call home and she has the tulips, she's a great Mum, I just want her to be happy. I cook a Mothers Day lunch for Marks Mum, tastes pretty good. Pick a massive basket of vegies from the garden.

She tells us how she does like Sci Fi and Mark scoffs at her in one of those 'yeah right Mum" tones.... she looks him squarely in the eye and says "Live Long and Prosper" and does the Vulcan sign perfectly with her fingers. I have never seen Mark be blown so much away, just stunned- so cool!

Go to the hen house and the girls are laying again, they have now laid 2 dozen eggs, so they are paying their rent.

Finally one some trashy magazine and am horrified at how horrible Pete Burns, one time front man for Dead or Alive looks- truly fucking awful- he used to look so cool and is just a huge sad joke, really really bad. The perfect pinup boy/girl for Going overboard with plastic surgery. Ych, some people just can't age gracefully.

That's it for another diary, at the time of writing this the Enz Australian tour is only 3 weeks away, will be a load of fun.

Stay safe

Gryphon.

---
If there are any problems with this site, please contact webmaster@aswas.com.