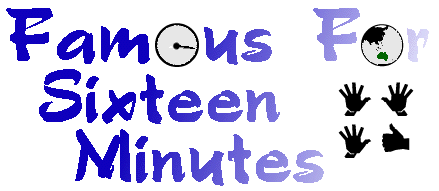 The Life and Times of Peter Green
Archive: 20 February - 5 March 2006
---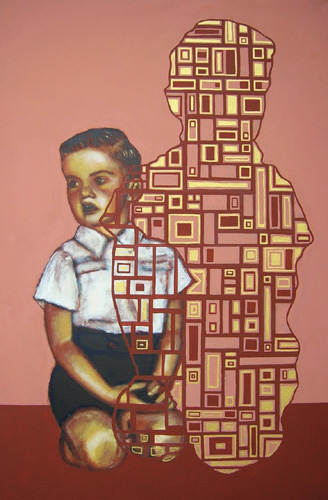 PG age 6
'Pathway' Painted by Gabrielle Bates

---
February 20th
The advance ticket selection for the fanclub members worked really well, several thousand Frenz get a chance to get some very, very good seats to see Split Enz. It all went rather smoothly, only a few hiccups, more-so people who have never bought tickets online before. I kept checking, at one stage Ticketek seemed overwhelmed by the amount of people trying to access the online buying area.

Quite a few fans are buying when the public tickets go on sale in the hope of getting better seats, occasionally you can as venues tend to be split down the centre for these advance ticket sales. We were up against Snoop Dog as he had advance tickets on sale too, no idea why I find this funny, I'd love to know what Snoop Dogs advance ticket sales were...and what the people look like that will be buying his.

It's a long day, endless phone calls and Emails. I'll sleep well tonight.


---
February 21st
Breakfast at the Verandah, Mark almost chokes on a chicken bone.

Sit and watch the fog roll away and the sun breaks through. They say NZ is God's country, when you look out at this I'm not sure it is... or at least we have a little patch of it here at Kalorama.

Dr Warrick, put me in a different room today, it was some small alcove, really cosy and I almost fell asleep with my porcupine quills all upright on my back. Imagine if I did and I roll over in my sleep- OUCH! Got the OK to start riding my bike again, 'as long as I don't fall off' he quips.

Email Frontier around the 2nd Enz show for Sydney and Melbourne, they'll let me know, I'm more worried about the warning we will get, have a horrible feeling it will be rather instant.


---
February 22nd
Enz tickets on sale to the public today, and for an hour I can't even access the Ticketek website. I get 7 minutes warning for a second show, and even though the Sold Out Press release goes out, it's never really totally Sold Out, always some stray tickets left...but it's impressive, 2 Sydney shows 2 Melbourne shows...and rather solid sales in the other 3 states. Could this be Split Enz most popular moment as far as people wanting tickets for their Live Show? I think it is... we've had some fast sellouts in the past but these are damn big Venues. David H who's looking after the band for this one, has done a great job, and I enjoy working with him. Enzmania returns.

I take some time off to do 'house stuff' like book the gutterman, hope he has some decent mountain climbing gear for our roof. Notas steep as Greville street but some spots are scary high.

Chat to Phil Judd regarding a possible track for Rare #4, and it looks like he might be contributing something, it's good and he'll get some good Karma back for doing so- trust me PJ!


---
February 23rd
We've had Miss Banshee the cat for one whole year, and she's really become a fairly good cat, still a tad insane but I like her individuality. A part of me just doesn't want a cat that sits there, I enjoy her putting up some fight...after all cat owners are slaves to their cats....not the other way around.

Finally finish a mass of emails, I ache, all over, hands , back, emails seem such a simple thing but in their thousands on a regular basis it's scary.

Headlines' Man killed by Emails'! I can see it now.

Waiting on the official word for my work on certain projects. Just need to lock all this in, before I really start the Enzless hours.


---
February 24th
Dr Chiro is really zapping me today, think he turned the voltage up, it's more like shock treatment! I'm sure there were more quills today. How many more months to go?

Send off my Invoice for my Bic Runga Wage, been doing a lot of Bic stuff lately. Her Sydney State Theatre show (March 17th) has almost Sold Out, some decent seats left for Melbourne (Hamer Hall on March 16th). The Commonwealth Games have made sure that the public are not buying many concert tickets (except for the Enz) so if you have never seen BIC live, grab a ticket for Hamer Hall...and Neil Finn is in her stage band that night so an extra enticement.

Book some flowers for our artist friend Gabe, I pick a really nice selection and my flower people are good, the flowers always seem to last.

Grab another 12 bags of concrete for the garage/art room, we are about half way. Figure it will take about 2 tonnes of concrete to do the whole area. It is a slow process. I ask Greg Skyhook if he has any bodies he wants buried under the garage floor, now is the time. He chuckles....

Shite night (that rhymes!) no sleep...brain ticking over. Sleep is a long way off in the distance.


---
February 25th
Chat to Noel about merchandise ideas. Give him some figures from previous tours. The Split Enz tea Towel idea still excites me.!

Mark and myself are being less blokey about our concrete, the novelty has well and truly gone. After the first ten bags fatigue sets in.

Waiting a few days for Autumn to arrive as I have a stack of Anemone and Tritonia bulbs, they should go in, in Autumn. Decide to send Mum 100 of the bulbs, for her amazing garden. I'm putting ours around the circular drive way, just to add some colour. I have to remember that with Anemone' the pointy end goes down (doesn't it???). Hell hope so or I've planted several hundred bulbs the wrong way.


---
February 26th
I start to shell some of the dried out sunflowers, so I have a few bags of black seed that the parrots love so much. All this work to save $4!

Banshee is now trained to chase the white cauliflower butterflies, so the Brocolli and Cauliflower has a chance of surviving. The sky goes from blue to grey in the blink of an eye. No warning, not even from my toes...a storm just rolls in, lightening, and massive rain. I love it. Love the sound of rain on the tin roof, just sit and watch it bucket down...so cool. I've learnt to chill out up here.


---
February 27th
The lovely Gabrielle Bates blows my mind a tad by sending me an image 'Pathways' for her upcoming Sydney show titled 'Growth Theory 101'. It is rather trippy and I just realise what a little Alien I was at times.

It's strange in some photos it could almost be a different boy, my hair going from blonde to dark brown, my skin to tanned to almost Goth white.

Anyway it's on the main page, and a huge thank you to Gabrielle, she just makes all of look so fascinating. I'm stoked as the painting is the main shot they used for the Invite for the show too. Thanks Gabe! and Deb as always for putting it on the site.

For Sydney siders that love some art, head along to:

"GROWTH THEORY 101".
Gallery- Chrissie Cotter Gallery- Pidcock St, Camperdown.
Dates- April 19th - April 30th.
Artist: Gabrielle Bates.


---
February 28th
Take the 4WD to the Holden dealership for a huge service and even the air con is re gassed. Just good to maintain the machine. They give me a hire car for the day, so we go for a bit of a cruise. The Hi Fi Superstore has now closed down, thought it would. They had to compete with JB etc.

Bic's BIRDS album has hit the Triple Platinum mark in New Zealand. Not long till the Australian release, and it will have a bonus 5 track live cd (from the Cicvic Theatre show last year in Auckland).

She plays tonight in London Town at Dingwalls with that Neil Finn bloke on piano.

Speaking of England, Crowded House's WOODFACE cd has re-entered the UK chart, no idea why, but it continues to sell. Go Crowdies!


---
March 1st
I still think February should have 2 more days, it throws me going straight into March after the 28th. Can we protest this somehow, send a petition, blame George W...someone has gotta be accountable for those missing days. Who stole them, the sock thief? The Hamburglar? Mrs hoWARd?

Oh well I put up a good fight. Welcome to March, Autumn here in Oz and I pray that the thousands of trees at Ailsa Craig do NOT lose all their leaves at once.

Spend most of the day on the phone talking to Enz boys, takes forever. I leave Nige till last as I have many vegetable questions for him. have a half decent chat to Marie Finn, Tim's off swimming somewhere.

First day of the month so I do the monthly sales report for Rocket Pocket Books. There has been a major surge in the sales of the third diary book GLAMOUR, making it our biggest selling book this month.

Late March we plan to put the Enz book into the printers, that's if we can find our new book printers. Thankfully Spock gave me some good suggestions, so it should all go well. The excess stock of the Enz book will be out on the Enz tour, which is great as it forces the 'final date'.

Call up and cancel Dr Chiro, just too busy tomorrow.

Very sad to hear from Phil J. that his Mum has passed away in NZ. To make it an extra horrible day Nigel's Dad is now in hospital and it's not looking good. It's part of the guys private lives so if they want to let people know more I'm sure they will. Our thoughts are with you guys.


---
March 2nd
Wake up very early and start work in the office by 8.00. Get a lot of work done and not interrupted by the phones, the music industry doesn't start work till 10.00! So I've got a solid 2 hours jump on everyone.

Heard from Giles and Fenella, sounds like the Bic London gig went very well. She said she'd be back in 4 weeks but I don't have any new dates yet for Ms Runga.

The Yeti calls in for one of his visits, one all draw on the Pool table for Igor Snr and him.

Lunch is devoured and we all make short work of the Kalorama Apple Pie (Yum extra chunky apples).

Give Ben an organic garden selection to take home... 3 types of tomatoes, & basil. parsley, chillies and snow peas. Most of these are grown from heirloom garden seeds, which have a wonderful biological diversity. So no amounts of synthetic fertilisers ,pesticides etc. They taste so much nicer then the commercial hybrids and cultivars that are around. Could explain why I now have ten zillion tomatoes growing (I pick 30-40 a day!!!). Well I'll never be short of tomato soup this Winter.

Mark and myself are now official freaks as we fit into the 4% of the food grown in Australia that comes from our own backyards. For more information and where to buy Heirloom garden seeds (and plants) head to: www.diggers.com.au

They have some great stuff, and a really good way to improve your life style..we are what we eat!

The day ends with a sensational sunset and the King parrots fly in. Suddenly the back of the house is packed full of birds, some we haven't seen for awhile. One Eyed Jack the one eyed yellow crested cockatoo, and he is having a conversation with Destructo one of our regular cockatoo's. It looks like a Union meeting of the birds. Maybe Bic Runga could of used a photo of this Bird get Together on the cover of her album.

The tree is full of white cockatoo's like some weird dame Edna Christmas Tree Decorations. Love it, and all you hear are those screeching Cocky calls throughout the valley. I'm sure it drives some people nuts.


---
March 3rd
The Rolling Stones are coming to Australia and we are right in the front of the stage. Such brilliant seats, and probably the best gig to see them. Rod Laver is almost the smallest show, as most of the other Venues are open air, even NZ is 35,000..we are 13,000. They play here soon too, in April, not far away. Hi Keef!

I think it's funny how Split Enz will play 2 Rod Laver Arenas to the Rolling Stones one show. Go Enz!

Mark is happy and I hear him humming Rolling Stones classics all day long, he doesn't know he is doing it.

Mark the gutterman arrives and almost chickens out when confronted with the east side of the house, but he does 95% of it which is great. Means we can get the run off water tanks, great for the garden water, and an extra safety factor for bush fires, environmental and saves us some money too (and thanks Mr Bracks for the rebate).

Am digging my Mum so much at the moment, all feels great, and just happy she is still with us, will be good to see her in a few weeks.

Call Noel and let him know the infamous Split Enz 'snot' T-shirt has arrived! Such a classic Enz design.


---
March 4th
Fran, Nicole and Rosemaree arrive...Fran doesn't think twice about zooming up our sometimes steep drive way! She even leaves our gates intact.

I catch up with them at RIPE, the girls have saved a table for us. Not as insanely pack as it usually is, I wonder if it will be much quieter in Winter?

Get a call from Campbell and Bic's Sydney show at the State Theatre looks like it might sell out- pretty impressive. Go girl!

After the girls have left, Mark and myself attack the old Christmas tree, as Green Pick Up Day (no that's not me on the street after a cheap date)... it's our twice a year rubbish days for trees and leaves etc... anyway it's on soon so time to put all this useless stuff out.

I do the concrete work myself today, give Mark a break, I do ache. The bath feels damn fine.


---
March 5th
Happy Birthday Mum!

Call up Moogie and sing to her....how old! Yieks. She'll kill me if I write it here.

Alison and Kym call by in the afternoon, I'm in the garden planting bulbs for Autumn and pulling up weeds. Loving it and Rosemaree's present just saves my knees from caving in. It's one of those garden kneeling pads.

I get an email around some battery hens, so have a quick look at the chicken coup , some work but i'll get it up to speed for the poor old things. Give some of these battery hens a real life, running space, greenery and food and buckets of love. It's like saving some POW's of the animal world. Half of them can't even walk, but Ailsa Craig bulges at the seams with animal love so they'll be gorgeous in no time, and hopefully reward us with eggs for the world best chocolate mousse.

So take care, eat well .... and remember Aussie music lovers Bic Runga's BIRDS album (with a live bonus cd) is available now.

Gryph.

---
If there are any problems with this site, please contact webmaster@aswas.com.