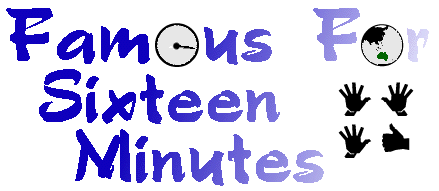 The Life and Times of Peter Green
Archive: 21 August - 3 September 2006
---
August 21st
Been putting it off, but today is Washing Day. I'm sure it's my large loads of washing that have almost destroyed our washing machine...... plus Cosmo has some weird fixation with the back area of it, wonder if the Bunny of Love has been chewing on wires and cables.....think i'll need a new machine for Christmas, this one has lasted years. It did my God-son Timothys endless nappies when he lived with us, he's now in his twenties (and hopefully no longer wears nappies) so that says how well this machine has lasted. So yeah 4 lots of washing....and I am one of those blokes who separates his colours.....but hey it's the music industry so you can imagine how big the BLACK pile is.....

Call back Bongo Skyhook and he isn't home, his band is playing the LION in Toorak this weekend, wish we were in town to see it, but all weekends now filled in before we head off.

Still amazed at how good Hedwig and the Angry Inch was. The season starts in Melbourne on September 9th (Opening Night). It's at the Athenaeum Theatre (188 Collins Street). If you live in Melbourne and want a really fun night- GO AND SEE HEDWIG!!! Website:
http://www.hedwig.com.au

Thought I'd check out the other side of Miss Hedwig and head to iOTa's website.... http://www.iota.com.au

Happy to see that he has a clip up for his new single HANDLE ON IT. It's on YouTube...anyway check it out. Liked it the sound and his voice, so yeah support the local Aussie talent, I bought 4 copies, FOUR! Some mates will like it I'm sure, and hey for a short time Waterfront has signed copies. So tell me what you think.....hell $4.95, 3 tracks and signed, worth the plunge.


---
August 22nd
Work on a Rocket Pocket Books sticker that will go out to some of the fans, it's a bit like a round military jacket logo......so a quick ten minute scrawl. Hopefully El Spocko will get what I mean, he always does..... have to start working on TRIP when I get back and the RATED PG dvd. 86 copies of the 100 have already been spoken for (100 free copies with the first 100 TRIP book orders)...so only 14 to go and thats it, all the DVDs have been spoken for.

So if you haven't ordered the 4th diary book (TRIP) yet now is the time if you want the bonus DVD.

Decide to go and clear out some of the excess BIC bits and pieces that have been sitting in the office. We only have dribs and drabs of weird sizes and 2 and 3's of things...but they'll all go to good homes. I am amazed these days how many Emails i get from areas like England. Nice to see. I find 7 Crowded House t-shirts ion the box too..rare!

Send Dr Paul and Katie Bardot the Enz book....Paul will love it, ol' rock dog that he is (:


---
August 23rd
Write down my contact for Tiger Tops, I am always weird over someone getting 50% of money that I don't know, in a place like Kathmandu, always feels risky, but hey gotta have some faith that our bookings are all fine (YIEKS). Hi name is Lama.......we'll see. Homeless in Nepal I can just see it now. At least I can sleep in the temple....

Lovely day outside, I think Winter is nearing the end, it wasn't as bad as I thought, no real snow up here, it went close but looks like I'm going to have to fake another snowy Ailsa Craig Christmas Card.

Mark just gave me one of his super rare Rolling Stones cds. There is the original version of 'As Tears Go By' on the cd, like THE ORIGINAL...and it was called 'As TIME goes by'...Jaggers voice is so pure...sounds amazing...never heard this before. VERY cool boyfriend......also the wonderful 'Fucking Andrew (Oldham) ".....

those wicked Stones...so filthy, the Beatles could never do this....I love it when people unearth those hidden 'other' songs. Mark does great compilation CDS...yeah he was one of those compilation tape guys..... thats why I love him.


---
August 24th
Breakfast at Churinga...Pancakes for me and Scrambled Eggs for Marky.....Sonia sits and has a chat, just us and the mist outside.....

Mail Sis a small birthday present, she'll be spoilt in the next few weeks, so she can consider that the main present. She is so excietd about heading to Nepal......I'm wondering if she is going to come back!

Get the latest TIME magazine and good to see Hillary Clinton on the front, an interesting reading. Imagine if Hillary become President...a dynasty? She is one of those Love Her or Hate Her kinda gals, at least all the Hillary Lesbian rumours have finally stopped....like who cares?

..and speaking of Politics ...there has been some talk of yours truly running as an Independent in the upcoming State election. It's been rather scary the calls we have had....and the offers.....the Victoria Electoral Commission have sent me the Candidate Handbook.... electoral regulations and electoral law....I have some major thinking to do on this. The main thing that keeps me from saying 'yes' is the invasion and the last pieces of privacy that we have will be thrown out the window. It's also a lot of hard work......is now the time? It's also working out the right platform to stand with, there is so little wrong with the area up here....obviously the other candidates have to toe the party line..but being an Indie there is no set agenda..... guess that can be one more thing that I will be thinking of while in Nepal. Am really honoured that so many people think I can do this, not sure if I think that........


---
August 25th
Wow what a good morning....find a pile of gold coins next to my car door....a club member sends the club an amazing donation , just out of the blue, just loves our work.....so generous, head inside and there is a parcel. I decide to open it on the counter.....it's from our artist mate Shane (see last F/16 diary update)...and I almost fall over backwards, 'The encounter with St Bilby' art is starring up at me..I think I might of 'gasped'! Check out:
http://www.outbackart.com.au/HOT_OFF_THE_EASEL_/hot_off_the_easel_.html
and scroll half way down to see this amazing piece of art. It's a Giclee version, and just as lovely. Shane has always had a generous heart but this is awesome. Kareena behind the counter can only say WOW...and suddenly customers are gathering around...it's the St Bilby Love-Fest! What an amazing way to start the day.

Decide it's an omen and call into the newsagents and buy a cheap lotto ticket. Sometimes you have to roll with days like this. We are having breakfast and my Morrisons coffee card gives me 2 free coffee's.... is God making this PG's Day of Good Things? (there's another art title for you Shane!).

Head to the light shop as Rebecca at the store managed to get in the 4th and final art deco light for the hall way. So soon it will be complete...my list of 'to do's' for the house is now very small.

Lily Tomlin touched down in Australia, she's just great, and I think she has this beauty, which does get better with age (and maybe skin products!). Mark points out that she has the right balance around the War In Iraq...and her dislike for Bush. Unlike some (urgh me!) who just call him a shit head, she is far more subtle .... she probably means shit head but smiles when she says it (opps).... anyway Lily Tomlin, gorgeous creature as Edna would say. Maybe she should run as our Indie member.

Sad to see that Don Chipp died, he played such a major role in the Democrats, a decent bloke, and will always be remembered for protecting the Franklin river in Tassie and he also freed up the censorship laws in Australia...we lost a good ol' boy today.


---
August 26th
OK 200 eggs later, the chookas show no signs of quitting, as the weather gets warmer I'm wondering if they will increase their egg quota, they are happy gals.

A huge thank you to all our friends who voted for Skyhooks on the Countdown Poll for WHO WAS THE BEST AUSTRALIAN BAND ON COUNTDOWN. Skyhooks were behind (it was those 3 Sherbet fans doing 2000 votes each)...anyway our friends came to our rescue, I think everyone voted....even my sexy web mistress cast a few votes (thanks Deb)......still time to help if you want to get to heaven.... http://www.countdown.com.au/fans_polls.asp keep Skyhooks #1! Thank you everyone.

I mean c'mon Sherbet why would anyone bother voting for them.....snore!!!!!!!!! They have no spark... someone I know slept with one of them once..so I'm led to believe....

Our neighbour comes over and asks if I can lock up their chickens as they are away for the weekend, so I am now the local chook sitter.... cool, they are good neighbours so will happily do it. Our three girls are nicer..yes I've become one of THOSE parents...'oh our children are so much better looking'...... well they are......(: Their big dog comes running at me and licks me to death.......

I call the hairdressers and my usual guy doesn't work there anymore, so I tell them whatever, whoever... and I'm booked in for Monday..snip snip, dye dye... the Gryphons got a new 'do'!


---
August 27th
Wow 2 weeks to go to we are in exotic Nepal. Am going to pack my bags one week before, good intentions of traveling light but the collection of stuff already building up on the shelf to take doesn't mean I will.....after hundreds of flights you'd think I'd learn by now.

Buy a copy of the 1945 book 'Kings Cross Calling' from Ebay. The main reason is that Rosaleen Norton did the cover illustration. The ol' witch of Kings Cross herself and hopefully some of the internal art. Was really happy with the price, think some coven-esque 'acquaintances' tried for it too...but ol' lightening fingers Gryphon was too fast...Mark says I'm becoming an Ebay junkie.

Out back with the chooks and Banshee just loves to crawl amongst the grass and stalk them...especially the black chook Belinda. It always ends up the same..Banshee commando style wiggling....she quivers her back, fluffs her tale and makes a lunge at Belinda... she never once tries to hurt her... no claws nothing like that, it's Banshee's sick game of trying to scare her.....and then Belinda stands higher (which for a small chook isn't very high) and runs at the cat. This time however Miss Belinda was really pissed and continued the chase, those skinny chook legs racing along and she succeeds in pecking a small chunk of fur out of Banshee's tail. Instead of dropping it Belinda carries it around in her beak and shows the other 2 chooks, I can almost hear the chooks sniggering (do they snigger?). Of course Banshee never learns... and keeps going back for more daily. One day all three will chase her......... have to say it is kind of funny to watch...and yeah I did film it.


---
August 28th
Have some lunch at Montania today, which is always a good thing.

Haircut today with Migel and he does a great job, shortish, very dark but with tints of red, feels cold around my ears. Mark tells me I won some lotto money, the exact amount for my haircut...so it was worth getting that ticket last week. A free haircut and enough left over to buy some new shades.

Call into my travel agent and pick up Sis's E-ticket print out...we are ready to rock. I still like having a real ticket....

Hear from Tim Finn and the record company, the ball is most certainly rolling for COULDN'T BE DONE, nice song deserves to get some airplay.

Get an email about Woodface being part of the Great Australian Albums documentary and they want to film some sort on Interview.... hoping I am here for it, and we should have a bit of footage for them to use too. Still think they should of done the debut album as THE Crowdies album, Woodface has been done a bit too much.... not sure when it airs ....


---
August 29th
Happy Birthday Sis! My baby sister is a woman! Brothers hate that..... hard to let go of that protective 'stuff'.

Receive a really nice mail from Tim Finn, he's flying me in for the very first show of the Tim Finn World Tour....can't release any information yet as it's just being worked on, but NZ will (obviously) have the first date, just nice that he cares that much to cover my air ticket, yeah I'm worth it *GRIN*.... but it will be early October.

Oh Ok it's at Sky City Theatre, Auckland... by the time this goes up I'm sure I would of released the information or Tim will.....

How brilliant to have Matt Eccles on Drums in Tim's band, still one of my favourite drummers EVER....guess that means that Betchadupa are going through a quite stage... just great to have him on board, and a nice guy as well. UK fans The Scala on October 20th (London)...... not even sure if the venue has this info available yet.

Check out The Ghan train, for a future birthday trip...have an idea of taking some of my friends and celebrating a major birthday on board. You can book the whole carriage..sounds pretty cool to me.... zooming across the desert, a bit rolling drunk on a birthday... (probably throw up).


---
August 30th
Send Spock his birthday card and a hand-drawn PG design for a Rocket Pockets sticker, kind of like the Star gate cloth patch from the show....but with our funky Rocket Pocket logo on it..... stickers are good. Took awhile for me to get this mailed....

Go to RSVP for the Melbourne Hedwig and realise it's the same night as the Countdown show.... think I may have to go to Countdown and then try to catch the Hedwig after-show party, it's a hard life... next day it's a flight to Nepal so can't misbehave too badly.


---
August 31st
Last day of Winter, waving it goodbye, wasn't that brutal, and the next few days they expect glorious Spring sunshine up here on Mount D. It's youngen' Zowie at the Verandahs birthday and yours truly is granting her wish by making her some homemade Profiteroles. So I am up at some stupid hour cooking....

Always wake up to the horrible news of 40 fur seals that have been shot by fishermen at Kanowna island near Wilson Promontory fishing village of Port Welshpool. It's not the first time according to some ranger friends. It looks like the fishing boat Tahoma was busted, which is great. I seriously hope they get jail time for this. There is no excuse, it's evil and the public are sure to lynch these guys... maybe Seals should get the taste of human flesh..so yeah cut 'em up feed them to the ocean critters. You can always write to the owners of the boat -Australian Crayfish Enterprises and tell them you won't buy their product.


---
September 1st
Happy Birthday Laura (Bingy Bingy Bingy).

First day of Spring and it is truly magnificent. It's funny how ol' Sol can charge our batteries. Got heaps of work done today. It's the warmest first day of Spring in 150 years.

September 1st is another important day for Victoria Police, it's the start of their campaign against Ecstasy. They have new salvia testers that show if you have "E" in your system, a world first for Police.

Fun quote from Uncanny Xmens Brian Mannix at the first show on the Countdown Australian Tour. "I've never seen so many drugs backstage...there is Viagara everywhere ...' *GRIN*. The backstage area of the Countdown show is an alcohol free zone...and yeah loads of old rockers....

Funny to look on the shelf and see a really small pile of the Split Enz book, all the boxes now gone, we can see the office floor again. I know these last few will just trickle out to everyone over the next few weeks....last chance.


---
September 2nd
Happy Birthday Wolfy!

All these birthdays. Have a chat with our friend Cecelia today and realise her little girls birthday is around this time too.... as many September birthdays as May ones. have to catch up when i get back.

Heard the Liberal party guy from Queensland giving some speech and his voice really annoyed me.... I hope Peter Beattie gets in for another term. I've only ever met him once, at the Verandah at Kalorama and he seemed a nice enough guy for a Pollie...(:

The Polls keep saying it's going to be very close in QLD, I hope Labor or the Greens do well....not the Liberal party with the guy with the horrid voice.

Seeing it's such a great day, we do some work outside in the yard. Clean up some of the tree drop and box it for the fire. Next we install all these motion lights around the walk way, do it all ourselves from scratch. Till we install the sensor I end up using my old dark room timer..it's good just to get in and do things, yeah we are those sort of guys that are given a Q-Tip and go out and build a shopping mall.

Feels great and hey they even work!

Buy a new Wild Child drink that's on the market- Apple/Carrot/ Beetroot/Lemon, sounded so revolting just had to try it. OK Coca Cola/ Sardine/ Snot/ Fish Oil are probably a worse combination......!!! It (the first combination not the 2nd) tastes really good..nice surprise.

Mark is cleaning out the 4WD, it really needed it, he is so thorough, it's like a brand new car on the inside.


---
September 3rd
OK Spring is over, it's back to Winter, rain, fog, cold.....and apparently it's this way for a week.... we need the rain so that's ok.

Catch up with our neighbours who live up behind us, they have just had their house built, well it's 95% complete, really nice family, we get along with them... we seem to be surrounded by good people up here. They tell me they like Chocolate Mousse.

Today I pack my bags, leave in a week.... so good to have them all ready. Thought about the holiday a bit today, so yeah am excited.

Just finish boiling the kettle for a cuppa tea and the power goes out at Kalorama, Mark comes up from the office , he isn't happy. It's part of living in a national park, I'm use to it (: Only off for an hour ...

60 Minutes tonight and Dame Edna is one of the main stories, it's a good one, she returns to Moonee Ponds... and is side by side with her manager Barry Humphries. perfect, can't wait for her Theatre run. Maybe I should sleep with Dame Edna??????? Mark keeps trying to convince me that Dame Edna is a man...that's pretty sick of Marky.....why would he say such a horrid thing, she's such a classy lady.

As I'm typing this, news just came in that Steve Irwin aged 44 years has died. His love for animals is worldwide, and really started at the Gosford Reptile Park, that his parents owned. He was stung by a stingray at Batt Reef which is off Port Douglas...went into cardiac arrest and died. Despite all the Crikey stuff, he really did a lot of good around animals, and de-mything the 'evil' ones....like big snakes and crocs.... the world is a lesser place without characters like him.

On that note, if I don't see any of you ever again (hey I AM flying Yeti air and landing on small landing strips in Nepal in the jungle)...just remember I love what I have done...and sometimes you don't live life till you actually go out AND LIVE IT. The world is such an amazing place, why anyone would not want to explore it always evades me .....go for it, I say.

So the next diary update is in 3 weeks....when i am back.

Don't behave too much.

PG

---
If there are any problems with this site, please contact webmaster@aswas.com.