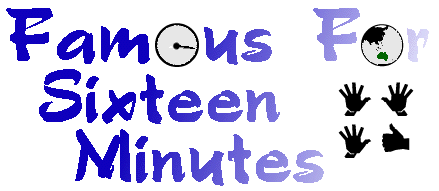 The Life and Times of Peter Green
Archive: 29 May - 11 June 2006
---
May 29th
A quick update from the middle of the Enz tour. I think Deb is away for a week so this might be updated a bit later, just timing.....PG

Breakfast at Mount Evelyn today, the good cook is on, the other guy is OK but our fave cook gives us what we want. Mark is happy.

Pick up Will & Grace 3 and 4 from the Video shop, we have a thing for Will and Grace, starting to call Mark ...Wilma, some of you will get it that have watched the show.

Give Eddie Rayner a call in NZ, which is always fun. His Dat player has died so delays with his track for the rare #4 fundraiser, it will happen, just put back a bit. Eddie is already in tour mode, he is so funny, always plenty of time for Edwyn! (:


---
May 30th
Decide to take the afternoon off so we head to the movies at Knox City, not packed so it's really good. Half price Tuesday but it's not really half price. It's a bit like telling someone their lunch HOUR is really only 45 minutes (not an hour).

Call the Passport place and get my renewal form underway, so easy to renew my Passport here now that I am in the system. I put John hoWARd as my long lost relative in the hope of a diplomatic passport. Gotta try.

Dye hair , just do it myself instead of the funky hairdresser, just a time thing and couldn't be bothered, kind of a rustic red.

Settle up the Chocolate Mousse at the Verandah, with all the Enz stuff and touring just giving it a break for a few months, hey it pays for my new coat make a donation to a charity at Knox City so it's good Karma money, see even charity's benefit from the Kalorama Mousse!!!!

Am loving the Enz reissue CDS, played Corroboree today and loved it, well done Ed.


---
May 31st
Last day of May, all the birthdays are done for another year...well all the May ones.

Send off the cheque for the Split Enz book, 2 big massive cheques actually, wave at the money as it drifts by....goodbye money. So yeah book underway.

Give the tour suitcase a good clean, it's a great case, I seem to be able to squash everything into it. Every so often have to sit on the damn thing but it fits.

Jayne the amazing sends us SFX, I love the new Dr Who Cybermen... the old ones were the first Sci Fi creatures to really scare me when I was young (ish!). The new ones look cool and yeah they have the tear drop on the eye.


---
June 1st
June is Enz month...just everything Enz Enz Enz... it's like looking down the barrel of a gun and here it comes fast!

Winter too, it is getting cold up here, we LOVE IT!

Happy Birthday to us, our 10th Year for this Diary site. Hey thank you everyone for making this little diary a cool thing and sticking by it. A quarter of a million visits sure beats the original 1,000 I had hoped for. Don't take it too seriously (hell I don't) just some fun....but thanks. Happy birthday, it'll be a teenager before you know it. Will talk to Deb about some 10th Year Birthday Tshirts I think.

Go visit the beautiful girls at RIPE, we have a table, and it's so perfect. Go through all the mail before eating, it's starting to flood in. The first 50 orders for the 4th diary book TRIP have arrived. The first 100 will get a bonus DVD ('Rated PG')so get in quick.

Drop Mark home and I head to Nigels. I am right on time (per usual) and Nigel notes that 'Peter you are exactly on time again...how do you do that?'. I actually thought I'd be late!

Let the Navman guide us, arrive the Hotel and spot Harper Finn and his Sister n the foyer, which means the Finns and Ed and Mal have all arrived.

Nige checks in, checks out (his room isn't ready) and checks in again (his room is now ready). I call David and reconfirm Griggs arrival at Hotel... and off we head to the rehearsal studios in Fitzroy.

We arrive 1 minute early....so ahead of time. meet the owners and new crew, old faces as well which is nice- Dugald is onboard so very happy. The rest of the Enz arrive and it's all go go go. Straight into it....Shark Attack and 129. Giant Heartbeat is rehearsed but (so far) never played on tour. Think I filmed that? Side tracked by work so Camera is on but I am not always in control.

I love my job, really love it, I can just sit and watch rehearsals for weeks if need be , it's the Enz... I'll say that again IT'S THE ENZ. It's so damn familiar, even the bantering. Family, all oddball Uncles. Great to see Mal and we have some nice chats, he signs everything that is in front of him ...ok he ignored the I Owe You 10 million dollars I sneaked into the photo pile!

Day one of rehearsal, 28 songs.... 8/10 I'd say so only a few things, but it will all fall into place over the next few days.

Home by dusk and it feels pretty good.


---
June 2nd
Today I am working in the office, give the band a break....get my bag tag, I am Bag #17 on the tour.

In the evening I ask Noel how it went 'A bit crusty' he joked...but ok. he's still working on all the other bits including Cossies with Sal.

The Enz are the front page of the EG in the Age today...so the saturation continues. More media still to come.

Open a present from Bruce A. in Canada and it's just what we need a fantastic photo frame, went to buy on the other day and never liked any of them, this one is perfect.


---
June 3rd
Rehearsals start at 11.00 today, there is a cool little coffee area in the studio so they make me a coffee when I arrive. Unpack all the expensive lithograph fine art paper tour posters. They will all be signed and numbered (out of 500). I score Poster # 001 for the office.

The band are so much tighter today, they only run through a few songs twice, Noels stuns us with his hard rock guitar attack, it has to be part of the set, very cool. Wacks me on the head with his spoons as he sneaks past.

The official camera man arrives and films more of it... we have filmed 4 hours ourselves...

100 posters are signed except for Neil, he'll do them in Queensland. Duges gives me a parcel of white guitar straps , so the fully white costume idea has been knocked on the head....so we have an extra lot of white shoes and guitar straps. If Noel is not using them I might get some for a charity auction and Debs Frenz.com fundraiser...later on.

We finish by 5.00 and load out begins. I drive Nige home to Emerald and it's always fun as we love to chat. I drive through the forests and back roads in the dark it's a bit spooky and the fog rolls in.


---
June 4th
Day Off, time to pack. Book Etags and go through calls with David, my flight is changed (again) as the cossies are not ready so I'm waiting behind and being cossie courier, arriving on the day of Dress Rehearsal.

Cook some food for Mark to eat while I am away and make him some chocolate mousse. he is going to have a lot of omelet's as the chookas have been laying a lot of eggs. I have a talk to all the animals and tell them they must behave while I am away on tour. Especially Banshee who has a habit of driving Mark nuts!


---
June 5th
Costumes still not ready so I will be leaving tomorrow, so my day is spent in the office.

I'm ok about it, as long as I make the flight and Dress Rehearsal. My mobile gets over 200 phone calls around the show. I hate getting SMS/Text messages so I refuse to even look at them. People have the number, just call, how hard is that to do? Grrrrrrrrrrryphon!

Not a lot of sleep, a bit hyper....have I remembered everything? Mark runs through the camera with me again...I'm onto it.


---
June 6th
Melbourne- Brisbane QF616

Up early, out the door and at Crombie mansion 2 minutes early. Sal is still sewing, did I really cross-stitch on the last shoulder pad? Hedwig is making coffee, I go and clean my teeth.

So these are the cossies...Renaissance Couch I call the design....I love them.

Wave goodbye to the Crombs (Noel is already in BrisVegas) and zoom to the airport valet parking. Upthe stairs to group booking. Some young band is before me all excited, no idea who they are, my phone will not stop ringing and people are staring.

The lady at check in see's a bit of the shiny purple fabric poking out and asks me IS THAT THE NEW ENZ COSTUMES...DISCO? No I tell her Renaissance Couch, the purple is just protection wrap.

Flight to Brisbane is fine, I read, try to nap, hate the food, and arrive to find my driver waiting to take me straight to the Venue.

Say Hi to all and catch up with Noel, he starts ironing, I start hanging the cossies...and set up the camera. We have never had footage of the Enz seeing the cossies for the first time and I REALLY want that captured.

Tim is first in and straight up to the cossies, the others all stumble in... Neil loves his, it's all good.

The manager of the Venue walks me to the front area and 6 people await me. I slightly panic...only 6! It is 2 hours before... say only 6 turn up I wonder.

Reegan tells me she has 6 radio MMM contest winners so we are going to do their thing after the show. All fine I assure her.

I manage to eat (this is rare for me).....the phone is ring ring ringing.

30 minutes to go and the 6 are now a mass of Frenz, I love these guys, sounds really sucky but we have the best fans, they rock, they are fucking great! Fun, kind, cop a serving from one and could of bitten but didn't, I am in a nice mood. Catch up with both Cathy and Allie, in the middle of all of this. Cathy lived with us at the first apartment in Toorak, went to school and endless gigs with us so way way way back...just great, will always be a mate. Allie we fractured our friendship on absolute stupid stuff but it's all good and she is back in our life in such a good way- so I'm extra happy these 2 are here.

Throw everyone out into the not so cold Brisbane night (compared to Kalorama) so a role call and let them into Room A. Only 2 no shows so happy. I've allowed an extra 60 in, it's about as far as I can push it but it means 60 extra Frenz get a chance to see this.

basically let everyone in...the lights dim and here are the Enz in their new flashy cossies. The reaction from these 160 people in a 10,000 seater is astounding. The band love it... the songs roll out Shark Attack, 129, One Step, I Hope.....it's probably the best reaction Jamboree gets on the whole tour-everyone singing along with Tim.

Ben and Jen show up, Ben having an affair with a computer and leaving Jen to watch the show, we find each other in the dark and I introduce the soon to be Mrs Shapiro to Mrs Finn. So we sit and watch the show.

It's the full show so 2 hours later.... have to tell them all to go home, a very very very happy lot. I am stoked.

Back to the Hotel with the guys in the Van, they try to stop to sign stuff but the vans windows do not open so they wave and all that...kinda spinal tappish.

I check into the Hotel by 11.00 at night, a bit fried but can't sleep. I think insomnia will be my friend on this tour. It's been a long day.


---
June 7th
Brisbane Entertainment Centre

As I'm having a shave this morning I remembered that one idea was for all the Enz boys to shave off their hair, totally for the tour. Neil said YES, Tim said No Way, had to be everyone... it would of been amazing and what a reaction....

Soundcheck is at 4.30 so I get some shopping done, just odds and sods.

I'm giving my special Tour shirt, one only. Has the Enz Snot design on the back and embroidered on the front is the tour crest from Spellbound. I love it....a great white long-sleeved shirt too. (Thanks Brian).

Check out the merchandise and it is very very very cool. We've done it. The Tour Programme just right, and the ushers say it's the best they have ever seen. Full of content. I'm delighted, all the band are happy.

I'm at the Hotel again and run into Sharon and Mal Green, we have a coffee and I head off bead shopping with Sharon. She's such a good mate, my comfort pillow in a tour of madness. A fun afternoon. Hessie was right Sharon has amazing eyes. Outside in the daytime I realise this.

Head to the gig with the band in the Van, they ask if the fans liked the dress rehearsal... Gawd yes!

I am wearing the lucky red bowling shirt as is tradition for the first official gig on the tour...gotta do it. Even if it meant my white long sleeved Enz Snot shirt stays in the bag till tomorrow.

Have my red torch from my 2 mates (: and help the Enz enter the stage..I spot these familiar hairy legs and know that Duges is in the "bag'..well it's more like a 'cosmic Amoeba'..funny hand and head areas....

The crowd are on their feet, 'Shhhhhark Atttttack". It's going off Brisbane is singing, dancing and just loving Split Enz.

I'm back in the band room, fixing a few things up, checking with Dee about the encore 'area'....basically it's the spot between stage and band room for a drink and a small wait for the encores.

Ed's hair is looking good, helped him with his 'Rockstar' gel tonight, looking good. Nige is pacing the stage..that red bass .....

A good show, back for 2 encores, and for the first time ever I LOVE ' Double Happy' I've hated it in the past but loving the 2006 version.

In the van heading off, after a small collection of family and freinds backstage. The vibe is high. An honour guard of Frenz is near the gate but the windows dont open again on this van...so lots of waving.

Someone in the van starts whistling 'Big Spender' and we all join in.

In my room I call Mark, missing him already....it's not too late...


---
June 8th
Brisbane- Sydney

Noel Mengel gives last night show a 4 star review, Nigel thinks the review doesn't say anything *GRIN*....I like it 'As ever Split Enz add up to something more than the sum of the substantial parts'

We arrive at the airport and I walk the guys into the freaky flyer, David is taking care of the bags, bless him. I get a call from the yeti and he is in the Freaky Flyer too so we track each other down and swap seats... sit next to our mate on the flight to Sydney town, always a a good thing.

Speak to Di and she is coming to the show. Bummed we blow it and dont catch up.

Can't believe we are back to back with all these shows... talk about ona roll.

Here from Ron regarding being filmed for an Interview for the upcoming 'Farewell to the world' DVD...think it will be done in Sydney. I'm ok about it, I seem to say NO to interviews these days no idea why.

It's packed at the show, Sydney is up and dancing from song one. So pleased, I hate the sit down crowd , unless the song is slow and that I understand. Old farts sit down get up and shake that thing. It really does intimidate some people, I'll never understand that and I'm so glad the Enz encourage people to dance. The dullest shows are always the ones with sit down crowds, the energy from those moving on mass just feeds back to the band and ignites something....dance on you groovers!

Hang with Malcolm and Di for awhile, a good couple, always plenty of time for them. Mal is drumming really well, he's doing well.

Stay at the record company function on the roof till 2.30... it's an astounding view, over the harbour of Sydney..so high up. I consider hiding here and sleeping on a couch. A fine misty rain is descending over the Harbour...Luna Parks lights go off and then the main lights on the bridge.

I take that as an omen to go to bed.


---
June 9th
Sydney

Have some food at the Quay, the usual place, and good coffee. I walk to The Rocks for the Video Interview, just because it's good to walk. Check out an art gallery and go close to buying a painting. Gee I need more art (cough).

Am taken by car to another area for the Interview, they light me well against black and I do a half decent Interview. On the way in I run into Michael Chugg who has also done his Interview for the DVD. Need to talk about the Crowdies guys, and totally ok about this, it gets to Paul and a huge tear just rolls down my cheek and my voice turns to soft melted cheese.

I ask them if they could stop filming..I compose myself...'my Ophra moment' I tell the 2 film guys- they get it and are really kind..we redo that again and I keep it together. They compliment me on the Interview. Taken back to the Hotel in my Limo (actually it was a Saab!).

Did you know that a teaspoon of sugar requires 50 cups of water to grow it!

Show is good tonight, they felt like a real band, it's some turning point. Danced a bit tonight with Marie. She's a good dancer.

Loads of VIPs walking about. I call my Sis afterwards and she did come along...go meet her and ask if she'd like to come hang backstage for a minute. She brings her partner Mark and I introduce her to everyone. Thye are all so nice, Jimmy Barnes and his wife, The ODohertys, the Enz the girlfriends the crew...I think it blew my sisters mind a bit. Am called off a dozen times around mini disasters to work stuff so she see's what I do.

Walk her to the door and there goes my Sis off into the night..I do miss my family...but I'm with my other one for a few weeks. Sit on the couch with the Finns and have a cuppa. Carolyn and Judy are with Richard Finn, they get their Merch so they are happy... Richard is mighty, has me in stitches, so much like my grandfather-love the man. Just makes me grin.

Susan OD grabs me and does my non smiling photo for her portrait series, she snaps Neil and Sharon too...begs me to get one of Mark. Mark and a Camera...I'll have to hide n the bushes.

Arrive home to my room..can't sleep so I read....


---
June 10th
Sydney - Melbourne Travel day.

Call Amex and miss them, so my $1 million dollars Nepalese (about $2000 Aud) is still waiting for me.

On the plane with Dee our Tour manager and he is good to sit next to, we have quite moments and good chats.

Home to Kalorama today... can't wait.

As soon as we arrive at the airport we all notice how cold it is, 4o. Ouch.

Arrive home and feel like I have been gone for weeks. Banshee is pleased to see me and meows a big welcome. Home is where the heart is.


---
June 11th
Melbourne-Rod Laver Arena.

This one was always going to be special, the most tickets sold, the largest amount of Frenz of the Enz.

Trying to get to the venue and find out that half the streets in hawthorn are being dug up for Tram track repair...felt like I was going in circles. My friend Karen from Holland calls in the middle of my frustration..will meet her later on.

Do my work stuff, and there is an electric feeling in the air, weird.

Get the news that the Enz SPELLBOUND-Tour Edition is now at #5 Nationally and #1 on the Australasian Artists chart. Go Enz!

Catch up with karen and good to see her and chat, Willy looks after her and she sits with Mike Chunns and Robert Gillies and friends ticket area (:

The Enz hit the stage and the Frenz are up...second song in EVERYONE is up, it's electric this is how it is meant to be. The seats will be cold tonight.

Enz fan Gretchen is up onstage being 'proffered' for a wet towel flick by Eddie. The towels are massive, so I bolt to my backstage table and rip one apart...and no was not silly enough to take it up on the stage..I threw it... c'mon ME onstage it's just asking for an arse whack...not gonna happen..Gretchen can take the honours in her technicolour dream outfit! Go girl.

Was this the best show on tour...if not it's close..but hey tour is not over yet. Tonight they were the best band in the world, my band, the Enz....

On that note I'm signing off..... this is a great tour... for the first time in a long time I wish it would go for six months.

Thanks for being so passionate

Gryph.

P.S.-rushing to pack the bag again so I won't check the spelling etc...sorry I know it is painful

---
If there are any problems with this site, please contact webmaster@aswas.com.