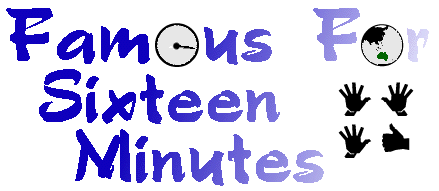 The Life and Times of Peter Green
Archive: * - * 2006
---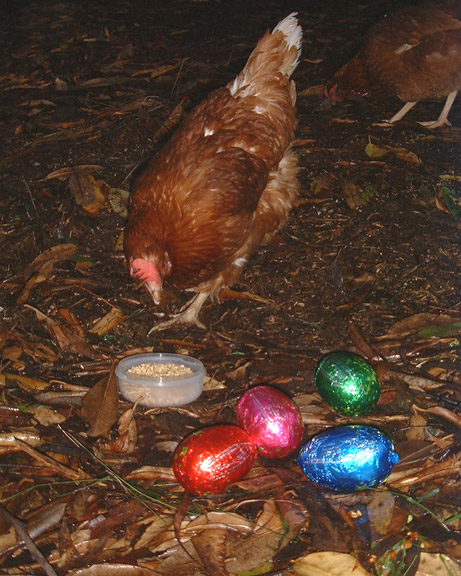 Happy Easter From the Girls At Kalorama Joan, Sharon & Belinda


---
April 3rd
Feels a bit odd filling in the paper work to request our deeds for Ailsa Craig. Even when you have finished paying off the home loan the bank still manages to squeeze a bit more out of you for transfer fee's etc. Saying all that Westpac have been pretty good to us, so I don't blink, just pay it. Will be nice to have that bit of paper in our hands, well locked away in the vault. Still feels fantastic and a bit surreal.

Bic has dropped out of the National Top 50 this week, in Australia. It's #57 so not a major crash, drives me a bit crazy that all three of her albums are just below the Gold mark in Australia. It's a psychological thing I guess, getting that Gold record just makes it feel like it has achieved something here. I'm sure there will be a time where she becomes flavour of the month and the back catalogue sells and they all hit the Gold mark.

Weird though as Mark points out that she does make the 20 Most Beautiful People list in WHO magazine. It's a weird old picture they use... odd. I want to make the 20 Strangest People list.


---
April 4th
Mail in banshee's ID tag money for the year, she has a new red ID tag, add to that her 4 bells and reflector tag and I'm surprised she can lift her neck up...the wildlife is safe.

Email Greg Skyhook about the SBS Doco on The Plaster Casters, it's mostly around Cynthia and has some moments. Good to see the various plaster and bronze cocks, my god how well hung was Jimmy Hendrix! Yieks! It is fairly current (n all areas) from plastering the cock of some fresh new musician to the various 'pieces' going on display in the New York art gallery. I love these quirky doco's.

We watch 'Festival Express' on cable TV tonight, Janis looked so happy. Quite a few Aussie bands have done similar smaller version of touring by train...The 'Reels by rail' tour, etc etc. It's a good doco movie, captures the spirit of the time.

Fall asleep during my session with Dr Chiro today, still thinking about having some needles jabbed into my ankles as they are still a bit sore... will try and not look at them..I have managed to avoid seeing what they look like...only a micro intrigued. It works it's not painful and Warrick knows his stuff so it's all win win win. Cool that I get so blissed I cat nap. ZZZZZZZZZZZZZZ!


---
April 5th
Liking the idea of touring very little every year. Prefer to go on a big adventure holiday to parts unknown, just once a year...this year it's Nepal. So the Enz Aussie tour and Nepal. That's if the King of Nepal resigns and the fighting stops. I can see my Sis and Mum looking at each other worrying if we will be held hostage. I'm sure it will settle by September. nepal here we come.

We put Miss Banshee in her carry box as she has to go off and get her 2 shots- Feline Enteritis and FRD shot. This is a worry, her last visit to the vet at Prahran, had her latch onto the Vet, bite her, growl like a dog and put on a major performance. We were mortified.

We call into the Verandah for breakfast and Banshee sits in her cage next to us, meowing, pleading to be let out. Sophie goes up and says hello to Miss Banshee...and she hisses! Oh dear...this will be fun.

The Vet is a young 'en...and banshee must be smitten... we are both holding her, no hissing, no growling, no claws..first needle..no reaction. Has she died? Has he sedated her? No Just Banshee (no relation to Just Jack..sorry Will & Grace joke).... 'the second needle will sting her' he says...so I am ready for the bloodletting. Nothing......' what a great cat he says'.... we can't believe it..no reaction, she even purrs when he pats her. Too weird.

I get him to check and see if her microchip is still in her body..and it is...the first one lasted 10 minutes. We take our very very good cat home, and confirm to the vet how happy we are! He'll be seeing Cosmo in 6 months for the bunny jab!

Olinda has a pretty good Fish & Chippery. Been working and running about all day so something simple for dinner. Call into Mandala which is a few shops down and they lock the door for closing but tell me I've got an hour... way tempting. My pay arrived so to hell with it, if I'm going to splurge anywhere it's Mandala... and my 'Elton John..the shop is yours' moment has to be taken advantage of.

One of the regular gals I chat with tells me she has a baby fox, and I mention Vali and her foxy, to her. She knows who Vali is... and loves the story. I promise to bring in some photos.

Mandala presents in the car, dinner and good thoughts in my head... drive through the forest to our house. The sun is sinking, and all these golden rays mix with the mist through the massive tree ferns, this is magical.


---
April 6th
Work on Enz stuff all day, feels like I have been doing this for months. Eddie is in Australia doing his bit, the day just wings by.

Take some time out and head up to the Chicken coup, Mark is reworking a second layer of wire and we are bricking areas to keep it fox proof... and to a degree Banshee proof.

Horrified to read that the Federal Government and our horrid PM John hoWARd allows Victoria to receive funding for TEN medical school places at University. Currently NSW receives funding for 244 spots, WA-125, QLD 142 and Tassie 21. If Robert Doyle is the head of the Victorian Liberal Party why doesn't he use some of his time and energy to encourage the federal Government to fund more Medical school places (university) in this State. It's a shitty political move by the hoWARd government and Doyle is a gutless dick for doing nothing. We so desperately need more skilled doctors and the Liberals want to play politics with those wanting to become Doctors. Shameful.

The Indian Restaurant at Mount D. has now become 'Indian by Nature', we try a few new dishes which are really good. A few things I have never tried, not even during my time at Gunga Dins. Good food, and Rebekah would like it's nice hot flavour.


---
April 7th
Found out we have a Walnut Tree growing out the front of the main entrance to Ailsa Craig. Pick a bucketful of Walnuts. Take one inside from the tree so I have a show and tell with Marky on the unique packaging that they come in. Mother Nature is pretty damn cool... and hey free walnuts. So far Ailsa Craig is giving a lot back to us.

We go for a drive to Spocks to finish a major part of the Enz book. Get a lot of work done, will be up to the proof reading part soon.

Bob comes home and we get to see baby Jordan when he awakes, such tiny fingers, I am forever amazed at babies and their fragile existence. So amazing, all good.

Several calls to David, all good news about the Enz merchandise for the tour, will be some fun stuff. Onto it soon.


---
April 8th
Stupid Flu or something, been working a lot so think I'm run down, need a few days off, doctors orders. Like all this stuff my body just speeds it through and gets rid of it asap. Sick = Boring. Hate it. let me get sick later on when I'm old and grotty, things to do today. The Doctor is pretty determined that I need a week off..I negotiate like it's a record deal..I win..he's not happy. he looks alarmed at my temperature..I don't want to know.

Flights to catch, and my Mum is good, all goes well.


---
April 9th
Flu horrible, and nice to be back in my bed. Too much running around, just relieved Mum is ok. Things are looking good.


---
April 10th
Call the chicken place today, the lady will stay there an extra hour to see us. Trying to work out what to get, there is an Australian breed called Australorp... have to check them out.

The Navman gets us to the destination at Coldstream. Ten minutes later I'm holding 2x Isa Brown chooks and a cross Australorp/ New Hampshire Black. Mark holds their wing out so they get a clipping so they can't fly. Basically it puts them off balance. We have chooks!

All three of the girls fit in the box...even though we have 3 boxes..they are cosy. We find Neil the Rooster, but he is so so so loud, singing all the time to the ladies...so he stays, maybe at a later date.

Mark releases them into their new home, a huge pen, especially compared to the small steel cage they were in (2 per cage). These chookas will be spoilt. They love it, digging up the leaves, it's just like the Forest Floor in the pen...so some weird flashback to where chooks originally came from...the Forest.

We name them. As per my promise, one of the Isa Brown (kind of a malty brown colour) chook is called Sharon after the lovely Sharon Finn. Being a good boy from the 'Gong the other Isa Brown is called Joan after my Mum. Mark calls the black New Hampshire Belinda. It suits her.... some of our friends went very close to having a chook named after them.....!

They get loads of greens, and pellets ... you give chooks only a little wheat, otherwise they get fat and slow down on the laying. Within 15 minutes we spot an egg in the middle of the chook run. One of the girls is already paying her rent! (: How cool is that.

Banshee is sitting on the other side of the fence just starring at them, what are these strange beasts? Eventually they get use to her and Joan even stares Banshee down- a mean feat.

Email Sharon Finn the good news, one oddity, the Sharon chook does have an extra toe... handy though as she can dig the leaves quicker! Go Shazza.

Locking them in for the night was an experience, as yours truly has to capture the...Mark looks like a D grade horror movie creation chasing the chooks with his arms wide open. Run chooks run, Markys gonna get ya! Cute!


---
April 11th
Have a fever all night so little sleep. Mark looks after me, he is so good to me, my best friend.

Read some blurb from a friend who has been worked on CANDY. It's out May 25th and stars the lovely Heath Ledger and Abbie Cornish. The tale of love and heroin addiction ..it's the movie of the Luke Davies novel. Will be cultish...

Look at the new security system, it's wireless and has zoom on all the cameras, records a few weeks worth onto the hard-drive from all 4 cameras, even night scope...so finally we can see what Banshee and Cosmo really get up to at night. We will have eyes all around Ailsa Craig... smile!

The Stones play their first Aussie gig tonight, it's an Open Air show, just under 60,000 people. The set list is a bit predictable, Mark thinks Melbourne will be the same, I'm hoping he's wrong and they'll add some relics. Some may say they are the relics!!!Opps.

Mail Deb a small thank you present, not saying here what it is as it will spoil the surprise, has to be a bit arty...(: Wrap it in endless bubble-wrap as it is a bit fragile.


---
April 12th
It is an amazing Sunny day, the weather has been cold and grey and wet lately but today, superb. Work on some writing credits and recording credits all of today.

So tempted just to run outside and lap up this sunshine as I know this will be one, if not the last sunny day for awhile. Jack Frost is just around the corner and you can feel people in this National Park just starting to get ready for the upcoming cold snap.

The chooks are already up to 3 eggs laid, the third being this small cute egg. Mark is convinced Miss Boo-Belinda laid it. I add it to the egg pile.

Rent is being paid girls. They must like it here as it's the time of year that they tend to slow down on their laying... I'm starting to talk to chooks now....sad bastard am I!


---
April 13th
Keith Richards make the front page of the Melbourne Sun, hanging out his freshly washed stage scalves to dry on his hotel balcony. You can tell the Stones are back in Melbourne, on the news every night and the CD stores are playing endless Rolling Stones. hey it's only Rock and Roll but......

We close up the office half way through the day and head to the city. Call into the Market Cafe and catch the family just as they are closing up...one of Cons wonderful coffee's and cheesecake. They lock the door and we all sit inside having a chat, really nice. Go to JB and our friend is behind the counter and she gives us this big discount, so cool. Next it's the Oxfam third world shop, hell we are so rarely at Chapel Street these days so some shopping is called for. Have dinner at Daguerres. All shopped out.

Next it's off to Rod Laver for the Stones, and our special car park area is free, it's such a short walk to the Arena. I've forgotten the Enz are playing here in a few months, the giant blue Split Enz sign is hanging off the front of the Venue and Marks Enz scanned shot from 1979 is popping up on all the Venue TVs...so great to see the Enz everywhere.

The Merchandise booth is doing really well, the line stretches right back. We decide to buy inside, am wearing a Jose De Niro necklace with this metal ninja star type shape on it, a lot of people stop me wanting to know where I bought it, both men and woman... I guess I'm the only guy wearing something like this, both subtle and cool and hopefully no slashed artery's by the end of the show from jumping around and dancing...the Ninja star isn't that sharp.

Inside I spot this brilliant Stones Tattoo You picnic blanket, it's bizarre folds up into a bag...and has a great Tattoo You Stones logo on it. Love it, must have it...and all sold out. My merchandise experience of prior tours tells me I can still get one...the display copy. I get them to call in and ask..and it's mine. A collective moan from Stones fans behind who are all eyeing my prize. Can't always get what you want guys....

Head inside, and our seats are extra specially good again.....right down the front, and tonight every seat is taken, it's a full house. Our seats couldn't get much better, we can see all of Keefs wrinkles. (well on his face!). We love this band.

The Stones....well MUCH louder then last time, and the set list is really great, a million times better then Sydney. Yes all the classics are played, but the fan in us just LOVES that they also played, the rarely ever played SWAY, WORRIED ABOUT YOU & AINT TOO PROUD TO BED. Especially 'Sway'.

Jagger looking incredible, Keith being Keith- God bless the ol' pirate... though he did a lot less of those weird leg kicks that he usually does... Ronnie played better this time round and Charlie still looks like my grand father on drums...

Sound-wise so average, the one disappointment , is it a digital thing....? not sure just too many areas where it was awash .... but saying that, it was a great gig. Every person danced. I checked!!! My feet are sore.

Good to see Mark dancing, I danced my cute arse off... best exercise I've had all year. The crowd was as mixed as you can get, oldies, kids, couples, everyone. Mark and myself make the big screen for a massive 5 seconds...

It finishes with Brown Sugar, the roof exploding streamers over us all. Still hate how they never do second encores as Melbourne really, really wanted one. We head home to Kalorama, knowing that the Stones are still the Greatest Rock and Roll band in the world. Notice Coldplay are playing Rod Laver soon...boring! The worlds most dullest band.


---
April 14th
Happy Easter folks.... zero sleep last night, feel crappo, ears are buzzing and Mark is deaf.

Head to the bakery and they give us some extra Easter treats. The woman next to meet spots my Stones tour shirt and says she loved the show last night.

Sleep way most of the day, Coma like.

By afternoon the weather shifts and we rush the girls into their house. It floods down with rain, icey cold, it's the end of the world.

They are all snug and have some extra wheat, at least their house is high and dry. Spoilt chookas.


---
April 15th
Whip up another batch of Chocolate Mousse at The Verandah... spend an hour proof reading the Enz book, slow and steady it's coming together.

Spend most of the day on the phone, people calling around Easter, all good.


---
April 16th
We drive to Churinga which is the restaurant opposite Ricketts Sanctuary, our first time. The owner Sophie looks after us, great pancakes. She fairly new to the Mountains as well, so we get along. tells us how foxes killed their chooks... and Mark spends the rest of the day adding more fox proofing to the girls run.

I try to get the silly chooks to pose for an Easter snap for the diary...even stuff one of them in a cane Easter basket...and give up..I get one snap out of this...and hopefully it's on the website (thanks Deb). I'm just hoping Deb received it safely...as I had to put the camera chip through a TECH box to even open it.

Anyway have a nice Easter, it means many things to many people, so whatever Easter means to you I hope It was enjoyable.

Take care

Chook chook chook.

PG

---
If there are any problems with this site, please contact webmaster@aswas.com.