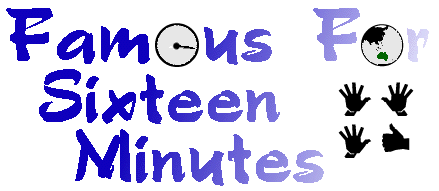 The Life and Times of Peter Green
Archive: 4 September - 17 September 2006
---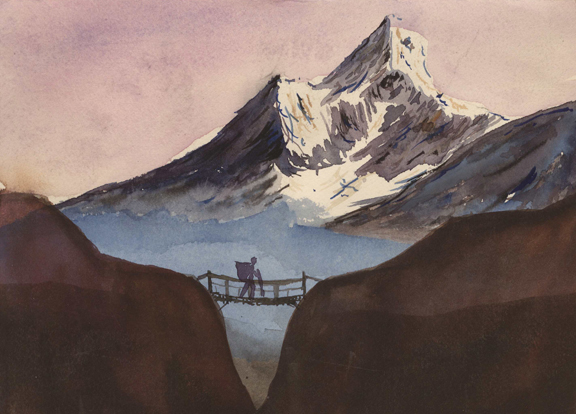 Water colour: PG on Khuti Khola Bridge, Nepal (thanks Trisuli our guide/painter)


---
September 4th
Spend most of the day working on Tim Finn related stuff, so that once we return from Kathmandu it is easier on the office, instead of an insane rush. His new single COULDN'T BE DONE is out September 30th here, pretty much the day I start work again in the office, so my timing is tight.

Really starting to look forward to the holiday, keep trying to picture Kathmandu streets, so many tiny stone alley ways, it seems a lot like Cusco in Peru. Tin Tin in Tibet? Guess I will soon know.

Try to call Neil and Sharon tonight to say good bye but missed them, maybe they are out having a last meal in Auckland or at Tabac? I'm sure they'll get our message when they get home.


---
September 5th
In the morning Lorene drives up with our Skyhooks Mirror. It's really for the bands archives, as our other one is at the Hard Rock Cafe Surfers Paradise on loan for a few years. Was worried it would get wrecked during transport so thought we'd bid on this one on Ebay. Lorenes daughter owned it, a huge Skyhook fan their heyday, so she's probably chuffed that it's kind of going back to the band.

Lock in some USA dollars with Travellex at the airport and they are really cool and give it to us commission free. Rosemaree has been working away on our Skyhooks Update sheet that goes out with the Interview DVDR, will mail them all on the way to the airport.

I have packed my bags but keep wondering if I have forgotten something....I'm sure I can buy it if I need to.


---
September 6th
Good to see that the Sea Shepherds are powering ahead. Operation Leviathon will be one of their main direct contact efforts to stop the ruthless slaughter of Whales by the Japanese Whaling fleet in the Antartic Whale Sanctuary this December. They need to raise $3 million, launching 2 ships, 50 crew members and helicopters.... this is one to support (I just bought 4 tshirts)..anyway check it out. Can someone remind Japan it IS a sanctuary for a reason....

http://www.seashepherd.org/leviathan/


---
September 7th
Drive to Mt Evelyn and pick up a box of CD mailers for the Skyhooks Interview DVDrs. They came out really well. Next one I hope to do is for Straight In A Gay Gay World, the third Skyhooks album. Going to 'rent' a black sheep for the background shots.... it's a good fan thing to find out some stuff around the recording of albums and songs. Plus Mark loves working on the DVDrs. Good to spoil the fans.

Win again on Lotto, a massive $33.80, each week some little win, my only gambling, my once a week ticket, just seem to win every week now, gotta love that.

Sit down for an hour and run through our plan for Tim and his Imaginary Kingdom, be nice for him to have a Top 40 single again. We will make it happen.

Notice that The Age newspaper EG Awards are coming up. It's one vote per person, so if you are reading this please cast a vote for Crowded House, Best Group and best Album Woodface. ALSO for best Venue please consider voting for The Palais Theatre. I get so worried about all the talk of developers taking over that wonderful part of St Kilda, so for The Palais to win the public vote for Best Venue could make a huge difference. So many great shows at that venue- The Hooks Farewell show before going to America in the seventies, Split Enz (Neil getting an electric shock from his microphone at that venue), Crowded House, the Finns, so yeah it's a venue that's close to my heart. So if you can spare 5 seconds, Vote Crowdies & The Palais Theatre.

http://www.theage.com.au/articles/2006/09/21/1158431820827.html


---
September 8th
Start on the good old Malaria tablets. That Doxycycline gets into your blood. Doesn't stop Malaria but kills the parasite I think...so heaps of dead things in your body......hmmm I think i won't think about this too much or I'll vomit. Always get the daily Malaria not the weekly tablets.

Pay 4 bills today, so up to date with giving everyone my money. Why do bills always come in fours?

Clear loads of Emails , just seems like they are endless, are people getting them all in before we head off?


---
September 9th
Go and grab some lunch for three, as Rosemaree (God bless her) is coming up to pick me up. She's taking me to Aunt Trudi's place, and then I head off to see the Countdown show at Rod Laver Arena. The weather is kind of crappy, and say goodbye to Marky, I really don't want to let go and Rosemaree pries my arms loose with her tyre lever. Call into Trudi's who is kindly giving up her bed for me. Love what she has done to her place, will look nice when the wooden floors are done, sometimes it's not the size of your house it's the calm and warmth that it offers. Really like it and hey no rent so for that reason alone it feels extra good I guess.

Wave goodbye to Rosemaree and head off with Trudi to catch up with Robin. Some of our other friends are off to see Hedwig and the Angry Inch tonight, the Melbourne debut, I am off to see Countdown with Robin. I would love to see Hedwig and feel a bit jaded about Countdown. Wearing my Skyhooks Tshirt and great to see so many Countdown fans wearing Hooks tee's. Our seats are wonderful (huge thank you to Sarah)...Robins loving it, at least John English didn't do that weird Vampire song. Steve Cummings I loved, doing The Sports songs, and our old mate Brian Mannix from the Xmen had the crowd up and dancing...still the same old Manno.....was disappointed with David from Real Life and hated the Countdown dancers (urgh)... still think it's weird that Boom Crash Operas were not even asked to be part of the show. The band that stole the show, as I had hoped were HUSH...just so brilliant, they played really well, and fire breathing dragons and fireworks guitars just added so much. Lead singer Keith Lamb I didn't even recognise, he looks like a chubby John Butler and boy he sang so well. Just couldn't sit in my seat any longer and joined the rest of the venue getting into this great band. I hope HUSH do a real tour, would love to see a complete show. Hmm Sherbet, now it's not just the Skyhooks V's Sherbet war (we all know Skyhooks won that anyway)...but Sherbet seemed, well kind of dull, noticed a lot of people leaving and hell they didn't play Slipstream that night..something was missing, they were just not very good.....maybe HUSH being so magical just showed them up....but in the end it was probably a good thing for many people, and so many Aussie artists did well $ wise. All the acts came out onstage and did a rousing version of Skyhooks 'Living In the 70's' so that felt good. A fun night, great production, really good stage crew (saw you out their Dugald) and we had fun flashing back to the TV show that was such a huge part of our youth.....

I arrive at Trudi's to find a note under my pillow saying how much she loved Hedwig tonight..... I'm just glad Hush Rocked.


---
September 10th
Sydney- Bangkok

Slept well in Trudi's comfy bed, but woke early and ready to go. Sneaked around to Trudi's sisters house but it seemed very quiet so I assumed they were all sleeping....even listed up against the door, which must of seemed odd to any passers by....so i went back 'home'. Trudi arrived an hour later and we went for some breakfast and then off to the Airport. As I'm leaving the Freaky Flyer area for my Sydney flight the Sherbet Boys and Keith Lamb from Hush walk by, I lean over to Keith and tell him that Hush stole the show...he looked happy.

Arrive Sydney and call Sis and tell her that I am here, we catch up at the International Airport area...good to see Mum and give her a cuddle. She gets all teary as her 2 chicks leave the nest for Bangkok and then Nepal. My Sis starts getting teary so i decide to usher us in. Catch the combined BA/Qantas flight to Bangkok, it's a British Airways plane so the seats are different. Still sleeper seats, although during take off a huge drip of water runs out of the roof onto my seat. Have to say the BA service wasn't up to scratch, my food was still frozen (yieks) didn't make a fuss, good to diet anyway. Chat to Sis and watch movies and read, 9 hours is not a big deal...so we arrive in Bangers in no time. Hessie used to call it Honkers, Bangers and Katters, a habit I find myself doing ALL the time.

Customs are fine and the Amari Hotel is at the airport, we missed the entrance so had to walk back through all the people saying goodbye, so we waved to everyone pretending we knew them.....room service and some sleep.


---
September 11th
Bangkok - Kathmandu

Well it's THAT date and yes we are flying. Have some breakfast in the Zepplin room at Amari, the best bit is that they have fresh honeycomb that you peel from the hive yourself. Yum. Have started the trip off eating well and avoiding the local water. No singing in the shower. Can't believe in 4 hours we will be in Kathmandu. Spot a huge bowl of Dragon Fruit, sounds like the perfect meal for the Gryphon. Dragons for breakfast.

The Bangers airport (see told you) is great, Sis spots several massage areas in the airport and we vow to have a massage on the way home, we figure we will need it. We are flying Thai Business Class to Nepal, and it's a good service, comfy seats and cool movies. The flight goes by quickly. We fly over Kathmandu and it is scary from the air, very third world-ish and the Airport is tiny. I think Thai are the only major airline to land here, and you have to walk across the tarmac. We are met out the front by a driver sent from Kantipur Temple House where we are staying. It is truly insane, just like Cairo airport, taxi drivers grabbing for bags and hawkers surrounded us....talk about shell-shock. We make a dash for our car and the driver plays defense ...we are off and running.

First impressions, the roads are full, there are Rickshaws and motorbikes everywhere and people in different garb, beautiful stunning Indian woman and nepalese men with chistled jaw bones. The houses look like a segment of Iraq has been grabbed and lowered down on Kathmandu, mostly dust I think. 30 minutes later we drive down a small alley way and arrive at Kantipur Temple House, the lighting is subtle at best, but it's kinda funky. Love my room that over looks the courtyard, carved wood everywhere and as Sis points out NO TV. I love not having a TV. We meet the manager Digimar who I have been emailing for a few weeks, he is just great, anything we need....he will get my sister a TV if she wants one...

I have a sneaking suspicion that we are the only guests it seems exceptionally quiet, cool. The Maoists have scared away a huge percentage of tourists from Nepal which is sad as it looks lovely outside.

Grab Sis and we head out, into the craziness. The streets of Kathmandu are well trodden, not just by humans, a Sacred Cow wanders past, and the penalty for running one over is 12 years!!!! Hawkers descend and sometimes just racing into someones shop is the best escape. We are in the old part of town and its beautiful. I love it's rustic charm, the buildings seem to grow out of the earthy streets. We notice how nicely dressed the school kids are, all huge smiles, education is important here. Every so often Jennifer gives me a 'did you see that' sorta look..... we are both wide eyed and trying not to show it. Sis has the conversion prices on her hand (so subtle) mine are in a really small notebook....we get it down pat after a short while.

Head back to the Hotel and wait for Mani Lama from Tiger Tops, the mystery man....and he doesn't show. I freak inside, has he ripped off half my accomodation money at Tiger Tops, all horrible thoughts run through my head......I have his cell number so call him....'oh didn't want to come into the office today he says...' no apology for freaking me....etc so we make a time for tomorrow.......'please be their' I stress using THE Voice. I am relieved, all sounds ok.

Digimar organises our dinner on the roof of the Temple how, possibly the best view in Kathmandu, he is great, tells us the history of the place, points out the land marks and has a fun sense of humour.

We go out at dusk and run into shrines and stupas at every corner and road, and offerings everywhere. The smell of pure spice invades my head and trips me out as it always does...i'll have odd dreams tonight.

Say good night to sis and get some sleep, on and off, the sounds of Kathmandu very subtle in the night, it doesn't seem very loud by midnight, a calm settles over the city.


---
September 12th
Kathmandu

up by 7.00, it rained last night so the streets will be muddy, get out my chunky hiking boots. I am tired this morning, a bit hard to breath. Today we are heading to Durbar Square. There are a few Durbar Squares but this is the Kathmandu one. Durbar means Palace. The city kings were once crowned and legitimised here and they ruled from that place. It's also the traditional heart of the old town. It's made up of 3 squares all linked together.

We hail a rickshaw and a young lad with a pearly smile takes us to the square. It's a hard ride, so many pot holes. He likes his woman and flashed that smile at all of them. Fun kid, we give him a bit extra, ok a lot extra, sometimes it's good to do it, he's probably supporting his family. The average yearly income is about $300.

We obviously gave him too much as he stalks us, we catch him out of the corner of our eye following us. We call into a breakfast spot near the square and he waits outside so we take him a coke. A cat that resembles Rebekahs expensive leopard cat walks in, I've seen a few here already they must be the most common cat in Nepal, worth a fortune at home. Our stalker asks us if we would like a cat....no...try explaining that one to customs.

Kasthamandap is the oldest temple here and it's the place where we start our walking tour. We watch the locals put away some huge holy shrines, seems there was a ceremony yesterday. A holyman (Sadhus) blessed me, told me he need not do so as it appears I was already blessed.... knew that *grin*. He has cool dreads and a beard and smells of earth, he is the real thing.

Grab some samosa's from a local shop and Sis ends up buying a mother & baby some milk powder, it's a scam but as she says, she didn't care, if someone has to do that they obviously need the money...and it wasn't a fortune, like $4.00. We are told that a lot of the beggers are from India and most nepalese would never do that. We are not fazed but you can become jaded being asked for Rupees every 5 minutes. We walk through the craft markets after endless Temples... Sis buys some bits and pieces....I am saving my $ for a big shop day.

Head back to Kantipur via Rickshaw (no not the stalker.,..he eventually went away) and I have a nap. Mani Lama turns up right on time and gives us our flight tickets and details for the magical Tiger Tops.

Eat some food at Brave Gurkas and it is nothing like what I expected, I obviously got the name wrong and ended up with some weird soup, wasn't vile but bland. Waste not so I had most of it as my sister laughed, she played safe with Spring Rolls! Eventually she will have to give up the safe spiring roll diet and eat local...


---
September 13th
Kathmandu

I keep hearing that so many people come to Nepal and go home totally changed. I can imagine that happening.... the city is totally nuts at times, but there is something about it. I'm not sure if peoples lives are changed on a permanent basis but it seems like a good thing. We are out the door again by 7.30 and I buy a camo. shirt for the jungle, that way you don't scare the birds...all green and brown is what you need. I have some army pants already. I could join the military, I certainly look the part.

..and speaking of the army, they are all stationed near our hotel which is near The Palace. Not sure if they are expecting trouble from the Maoists but I see them every day doing their drills....

Taxi to Swayambhunath, or the Monkey Temple as it is known by us mere touristo's! It sits on top of a huge hill west of Kathmandu and overlooks the valley. A tribe of monkey's sits at the temple, so many cute monkey babies, all being deflea'd by Mum. They have a habit of attacking any woman tourists wandering around by themselves. I call into the art shop that is part of the temple area and buy a painting by Shiva Maharjan, his friend and art student Binod is nearby so we hang and sit on the 365 steps and chat. Nice guy, it's always nice to know what people think on the other side of the world. I start buying metal (brass) door handles, cool shapes, nude maidens and elephant headed cast objects. You can never have enough odd door handles..my Sis just shakes her head. They are getting heavy I have to stop. Buy this bell for the girls at The Verandah, it relates to womanhood etc...

We eat some food in the cafe and the kids who run the place keep staring. I find out later on I look like some nepalese soccer player, explains why people in the street have been stopping and taking the odd photo, and here was I thinking it was just because I am a a stud/freak. The guy from Tiger Tops walks in and is staring and he reconfirms it... how odd, if they knew how poor I am at soccer...(: Huge eagles are flying over Monkey Mountain....6 of them.... must be the odd rodent here.

We exit down the 365 steps, one for every day of the year. Stop our my birthday and Marks and chant some nepalese prayer for good luck. At the bottom am under siege by Holy Men, these felt like fake holy men.... I could see right through them..... one stuck some red blessing on my third eye.... grabbed sis, ignored the taxi boy sniffing glue and fled back to the peaceful Kantipur Temple House.


---
September 14th
Kathmandu - Tiger Tops

8.30 in the Lobby and our driver takes us to the airport. We are very early, the Airport isn't open yet. Help a mother and daughter (she was pretty hot) carry their huge bags and parcels into the security area. The big thermos were full of Dahl. They owned a house in the hills that they rented out to trekkers (no not the Star Trek variety, the hiking kind). Wish we would of grabbed their address now sounded a perfect place to visit.

The airport manager comes out and greets me, brings me into his office and says he is making our life easy. Does he think I am the soccer player?That always worries me, Sis is so funny she is outside and will not surrender our bags, such a little terrier, it is inherited. I pop my head out and say it's all ok... and she lets the very tall and very short men grab our bags and tag them up for the Yeti Airlines flight. I still don't ask why we have this VIP treatment, but I swear I spotted a copy of HUSSY on the mangers desk?! *grin*..or was it Soccer Weekly?

We go through security, Sis heads to the "Ladies" check area (it looks like a change room at Myers apartment store) and I head to the "MEN" , I ask and totally confuse the security check man 'say you are a transvestite or a sex change, which door"?....he stares at me like I am nuts. Not that I am either I am a book writing soccer star...

We are in the main departure hall, and you just sit and watch the passing parade for an hour or so....flights are called mostly in Nepalese. One set of hikers had 6 days of their flight being cancelled due to the weather...so they are basically nodding off in the corner, I'd be over it by now and hitching a ride.....

Sis braves the airport toilet, a word to the wise NEVER use public toilets or airport toilets in Nepal...they make your eyes water and you will be wrenching for days....

I love the shades of new colour in her face when she emerges..yellow, green, pus brown..... 'well that was horrid' she says.

I spot a batch of middle ages ladies and say to Sis '$100 they are going to Tiger Tops'...and I add 'those 2 are a gay lesbian couple'..... it could be the spice but my Gaydar is well tuned today. Now with flying in Nepal, I always say, if a flight leaves less then 30 minutes late, it is on time. Such is the case with Yeti air.

Oh also every airport has a business man in a cheap suit with cell phone glued to his ear, as he talks holding the phone with his right hand, he is scratching his balls with his left......every airport Sis and myself prove this to be the case, no exceptions...the Ball scratching Business man syndrome.

I work out that our Yeti airlines flight is boarding, and as we walk to the 2nd security check, the group of 18 English woman (3 are men) walk with us....I'm right.

We are driven across the tarmac in a Yeti airlines bus, and I watch the face on some of the English woman when they see the plane, it is small, VERY small and I wonder how we will all fit. I point out it could be worse we could be on one of the old russian helicopters sitting in the hangers next to Yeti air. Famous last words as we were to find out later on with our WWF friends.

People look confused when they are given a ball of cotton wool and Yeti mint, I tell some of the ladies to put it in their ears (the cotton not the mint)because it will be very loud....especially take off.....it's a Twin Otter DHC-6 if that means anything to anyone...no..well that really means it is small and obscure (: (:

The take off is fine, but if someone could collect my heart it's on the tarmac at Kathmandu domestic..... great views from up here, you know the poverty, you see it and as the jungle approaches you are kind of happy to not have it before your eyes anymore. Don't get me wrong, I LOVE Kathmandu and especially her people and the smells and old world feel...but my heart pines for the green of the forrest, it happens when you live in Kalorama for a year.

Ouch a screw falls out of the roof onto my head and breaks my train of thought during the flight..hmmm is the plane falling apart....please Goddess let it fall apart on the ground....

Our airport that we were landing at is washed out from late monsoon rains...so we head to Bharatpur. landing is fine, the odd screech from one of the other passengers. They seem like a nice lot, we haven't gotten to know them yet but they seem good.

We are all sitting on the curb of airport Bharatpur waiting for our life, a dozen local teenagers walk over and stare at us, I think they are trying the old hypnotic mind trick of willing Rupee's out of us *GRIN*...it fails, our minds are still at 10,000 feet with Yeti air. The van arrives and yes some air conditioning. A giant grasshopper lands on my Sis's arm and she recoils, I grab it and one of the older ladies takes it outside. They are brave, they'll be taming bengal tigers in no time.

We drive and drive, down muddy worn out dirt roads and tracks, it's nice to watch village life roll by...shattered when is see a few people with mp3 players and a spray painted sign Saying 'Britney Spears Forever'..... the air conditioning is failing and we now open the windows, a chance to wave and greet locals.... sacred cows aplenty, rice crops everywhere...and dogs....one old man runs at the van screaming at us....the guide says he is just drunk, most of us think it is something more.....but don't say it. Eventually our van pulls into the muddied worn out airfield (Meadowlea) and lunch is on. Samosas and the best rice I've ever had..and an abundance of coke (the drinking kind). I lay back in my cane chair and watch everyone. An interesting group....an older man (turns out he is 78) obviously loves his camera and takes snaps, his name is Jeffery .... quite a character....a bit of a loner but he fits in.....a percentage of the group love their beer, which is fun, some cluster in threes and fours.....my Sis is already chatting and asking them questions. I call her 'The Survey Queen' as she wants to know it all.....I taunt her, she gives as good as she gets...I have a great sister and so far not one fight.

Back on the bus which takes us to the river....well it's a muddy stream so tiny and surrounded by bullrushes. OK dug out canoes, cool but the river....no mini stream (son of stream?) is so tiny i think they will get stuck...it all seems insane but we climb on in. The canoe guides push long poles and get some momentum happening but you can hear us scraping the bottom of the 'son of stream'.....and I wonder just how far we have to travel.

20 minutes later and the current speeds and we are spat out onto a HUGE river....and it is like Eden. The sunshine, massive jungle trees, birds and the odd fisherman...we are given local umbrellas to shade us...we are now just drifting down the river like some strange African safari... people are joking, the dug out canoes are racing....I wonder if my bag would float if the luggage dugout flipped...oh well Tiger Tops has a shop.

We spot an alligator on the bank who glides into the water....we are all still excited and not afraid.... in a dug out canoe you get to know the people around you, it's a good way to enter Tiger Tops. Eventually our calm river boat journey reaches it's destination..the Chitwan national park, well we have probably been on it for ages as the Rapti river flows through it. As we climb up the bank, the tree line is moving, run it's the monster from LOST I want to scream....but it's a nicer giant...4 Elephants emerge from the jungle, the first has massive gleaming white tusks .... Sis and myself and another Jen are scooped up and on it's back..away away into the jungle we cry.

I am at the front, and can scratch his dotted ears, his giant eyelashes astound me...... I love elephants. My sister is next to me and she has this grin, I now know what an ear to ear grin is...she is having the time of her life. We head to the river, surely not I think...surely so...Mr Jumbo slides down the bank and into the Rapti. His huge thick legs show the stream no mercy, so powerful, and soon we are across. The guide on the back of the Elephant points to the 5 metre high grass...and utters one word 'RHINO'. We are off, all four elephants into the tundra .... and we give chase....not in a brutal way, but in a way where you can observe the Rhino...and we do, it's only a few metres away, watching us..... this tag and chase continues for half an hour....Elephants, Rhino's, calming rivers, the jungle... all the fast pace of Katters is gone.... we continue on through the jungle and suddenly we burst forth onto Tiger Tops itself.

It's just like the pictures, bambo apartments set in the tree line, actually set on a giant tree..... a huge round Gol Ghar (kind of a massive round eating room) sits between the 2 lodges, and in front of that an open lawn area with safari cane chairs and tables in a semi circle. We all gather in that spot and meet the manager and staff. Only 40 people can be at Tiger Tops Lodge at a time, it will always be this way.... there are maybe 26 of us.... pretty much the first batch of people to come through since monsoon.

The great news is that last night a baby elephant (girl) was born here, the first in 26 years. The last elephant born was the big male that we rode in on. We are so eager to see the baby, and apparently the mother is really happy to show everyone. The baby does not yet have a name. Sis and myself are given room #1, in the last half hour we have had some good old Pom V's Aussie baiting.. been fun... we hold up our #1 fingers....

We settle in, the rooms are great, fully solar powered, I LOVE our solar shower, the whole shower room is SILVER, so Warhol I think, so perfect. beds are comfortable and behind the window curtains are steel insect blinds, no windows. No need to lock ones room here... all very honest. Everyone has their own torch and so great no TV no phones in rooms....f resh bottled water .... and views to die for.

Back to Gol Ghar for our welcome slide show, chat and food. We get to see snaps of many of the Chitwan wild life.... the food is great, and we sit with the group and eat... already we feel a kindred spirit with this mob of Poms.... could be because we all survived Yeti airlines. It's been a long day, I fall asleep to the sound of the Jungle animals only metres away.


---
September 15th
Tiger Tops

Wake up early to bird call and peep out the window just as an elephant walks by, he is so close he could wash my window (well if I had any glass in it).

We both bolt out the door and go and see the baby elephant..... at the elephant area. They have 14 elephants, only the one male, the rest are females. They usually don't encourage breeding here because of the cost of raising an elephant.... however during monsoon and the period where T?T is closed, the Elephants are out on the grass plain... eating and eating.... However there are wild elephants in Chitwan, and one is infamous... Romeo is his name. Romeo sneaks into Tiger Tops and has his way, hence the baby elephant, yep Romeo is her dad! I stole a few apples from breakfast and the mum has just gobbled them up. They have a small 'finger' type piece on the end of their trunks and this curls around the apple and it's popped into her mouth. She is intrigued and comes over and sniffs me pretty much all over with her trunk, she is really checking me out, I stand still knowing that if she wanted to she could kill me rather quickly.....

It was the best thing I did, for the next 4 days she gets to know me and feels safe with me around her baby girl. So much that by the final day we are hugging and scratching her and the little one, and she is so trusting. One group of new Tiger Tops people she says NO to rather quickly by throwing a huge parcel of grass and hay over them and bambo. When an elephant says NO it isn't subtle.

The baby elephant is so incredible and so damn hairy! I am sending DEB some snaps soon for the photo archive area of F/16 so check her out soon.

I love the mum and her baby but my favourite elephant is Chan Chun Kalia, she LOVES apples, she wants more and more, and rolls her trunk over her head, in elephant language that says 'give me more' or 'give me a sandwich'. One day I help make the elephant sandwiches , they are rice, mollases,rolled up in wild banana leaves... they are gobbled down so fast. Chan Kalia could eat whole orchards I think. One day she wrapped her trunk around me and gave me a cuddle, scared the living hell out of me at first as I had apples in my pocket and wondered if she was going to think I was a huge Peter Green apple and ram me down that huge mouth and be chewed on by all those teeth. Elephant have rows of flat chewing teeth, pretty much 6 whole sets during their lives.

Breakfast is with The Chicks, it's a small group of the younger 'ladies' from the group... they are the coolest (well?).... the food here is really healthy. Tiger Mountain has it's own organic farm...so 90% of the produce is local, and washed in very clean water.... so no 'nepal belly' (diahorrea)!

Our guide who has been at Tiger Tops for 32 years takes us on our first jungle hike. The first thing we spot, just 3 minutes walk away, are huge Bengal Tiger paw prints in the mud, it spins me out a Tiger was THAT close to camp. It's a male and fresh, only 4 hours old.... the guide knows him, a local, out looking to mate. A local gal tiger lives close by and is ready to have her first litter...

Birds, boar, butterflies and Bambi the deer (original!) we spot them all, by the end of the hike I can pick the difference between 10 sets of footprints...I do fail making the Tiger call, mine has an accent I tell our guide. I do get better but it sounds like a Tiger having an orgasm ...hell it might turn them on, better stop! Only 1 or 2 leeches...we are lucky.

We are near the river and spot that denizen of the grassland wilderness, the one horned Rhino with calf today, in the water having a swim. She looks like a giant wet leather sleeping bag.

In the afternoon we get to do the thing I have always wanted to do...wash the elephants. We head on down with them to the river, and in they go, an elephant lying down in the river causes a small tsunami! Sis and myself are in straight away.... Chan Kali spots me and rolls her trunk up wanting a sandwich.This makes her keeper laugh "knows you' he says...'yeah Peter Green Apple' I say..... you wash behind their ears and I learn the elephant word to make them soak everyone with a shower

It really is hard to describe just how cool this is, what PG at a loss for words, get outta town! Afraid so, guess the only way is to say, if you ever have a chance to do this, DO IT, magical...

I am covered in river mud, sand in my undies and bliss on my face..... eventually back at Tiger Tops and get changed for the next adventure for the day. Nothing could possibly the last hour .

We all sit outside on the verandah and watch a huge electrical storm hit the area, the jungle is lit up like a giant christmas tree, and the rain finally cools us down, the humidity is crazy here.....I sleep well tonight, I was born in a cross fire hurricane..so I'm told....


---
September 16th
Tiger Tops

It was the return of the Monsoon last night, everything smells so clean and earthy today....I slept well and decide to have a sleep in today. Wave at Sis as she goes out with the girls for the morning ride. I wave at her from the balcony as she goes past on one of the elephants, huge smile.

I go down to hang out with the baby and mum, and have my small bag of produce for them. The Mum is eating bambo and throws a piece at me....I pick it up and throw it back in the pen. For the next 5 minuets she searches with her trunk for that exact piece... picks it up and again throws it at me, it becomes a game, she is way too clever. I hide the bambo under some leaves and she finds it within a minute. The baby walks over, the first time it has done that, usually she hides under the safety of Mum. Her trunk is so soft like suede.

Go for a hike with two of the girls and a guide to Bell Tower Hill, it's not a super steep hike but last nights rain has added some mud so the going is tougher, the 2 woman are so strong and determined, even when it gets hard they continue and we all make it to the hill. It overlooks the whole of Chitwan National Park and we watch the wild animals drinking at the river. I bring along a nice chocolate bar so we celebrate the climb.

When we return to Tiger Tops I sit on my garden seat and t watch the rhino on the plain eating the fresh grass.. notice one of the gals Kath (and yeah we do call her partner Kim) is still here so we sit together and have a huge chat and laugh, and the odd drink. A lovely way to spend the day, and we tell some of our secrets to each other, get teary over lost pets and before we know it, it's evening.

Some of the girls are sucked on by the Jukha today, now before you think it's some pygmy tribe with breast fetishes, they are the local leeches... evil fuckers.

They just wait for some warm blooded bright thing to be near. I haven't had any problems but the guide tells me it's because of my camof pants, it confuses them (really?) well for whatever reason Sis and myself have been ok. The others have plaster and blood stains (yieks).

Mmmm nice desert at dinner tonight, Sis attempts to steal mine. The WWF people arrive in the evening and I have a chat to them. Each year we give some healthy donations to the World Wildlife Fund. They show me the new satellite phone, very funky. Little did I know that in a few days time they would all be dead. It does my head in, they boarded an army helicopter heading for the Eastern Mountains and it crashes only 2 kms from where it took off, really bad weather and it takes a few days for the bodies to be found. It all seems very surreal.

We sit with the Poms tonight and Sis and myself shout everyone at the table a farewell drink. Will be very sad when the group goes as we have all bonded well, and they are very diverse. Two lots offer to fly us with them to India, so generous and very tempting, but we have the whole of Tiger Tops to ourselves tomorrow...and whatever we wish to do, we can... so yeah MORE ELEPHANT WASHING!!!!!!! *GRIN*

We all chat to the late hours, Jeffrey telling us we are both lovely 'kids' and it was a pleasure. We are meeting everyone for breakfast....so our last goodbyes saved for the morning.

I leave Sis to chat and as I am heading back to the room several jackals run across the path scaring the spotted deer, the jackals are pretty damn ugly so I chase them.... and suddenly I realise I am chasing at least 12...I am outnumbered so I stop. There little eyes shining like jewels in my torch beam. The deer have all escaped so at least that part is ok.


---
September 17th
Tiger Tops

Up early so check out some of the photos of people who have been to Tiger Tops, there's Mick Jagger on MY elephant!!!! Hillary Clinton (no sign of Bill) and Cameron Diaz. I try to picture Mick washing MY elephant... and fail.

We are all eating breakfast together, and I suggest a School of 2006 Photo call for the group in front of the Gol Ghar. So they all squash in and Sis and I take snaps with all their cameras. We walk with them to the platform to board the Elephant. You arrive at Tiger Tops on Elephants and leave that way. We are waving, a few are all teary, including my Sis. Numbers are swapped and suddenly it's quiet... just Sis and myself surrounded by all this lush beauty.

Our friend who looks after all the visitors says, "so what are your plans for today.?".... Wash the Elephants..... and she says would we like to go see the tented camp in the hills... we will have our own Elephant and Chan Kali is waiting for me!

One thing everyone did for me was steal all the fruit at breakfast, and as they hugged us goodbye they all slipped apples and banana's into my bag...the Elephants would be spoilt today.

We walk to the river and give the girls a wash. The elephant trainers put on a show and the elephants turn in circles, splash each other and are having the best time, they love the river , it finishes with the trainers perfectly balanced on the elephants back.

We saddle up for the ride to the tented site. We cross several rivers and after awhile I am one with the natural movement of this huge beast...if you don't get with the motion you can have bruises in spots where you have never ever had them. The grasses are massive on the plain, if you fell of you could be lost forever.

Rhinos are in the river and we have a mother just in front of us, so some good photos.

Eventually we arrive at the tented place and the view is amazing, a massive plain .... tea is served, and we sit and take in the beauty.

A few hours later we are back home. One of our new staff friends takes us on a walk to a 'blind' where we can watch the local birds over a lake, I spot a few cat-fish in the lake.... and blue kingfishers are everywhere.

We spend the evening having dinner with 2 of the people who work here and I am given my own Tiger Tops shirt, I look so official, and I do hear the job for manager is soon to be vacant...hmmmmmmmm maybe I can apply for daily elephant washer?

That night we pack our small bags, it seems very weird leaving. Jennifer so wants to stay and vows to return with or without me. Next stop Kathmandu, and the ranges around Everest..... as I fall asleep I hear the elephants serenading us with their calls.....night Chan Kali, night Romy .....

Gryph

P.S. Remember to cast a vote for Crowded House & The Palais Theatre in the AGE EG Poll. Thanks.

---
If there are any problems with this site, please contact webmaster@aswas.com.