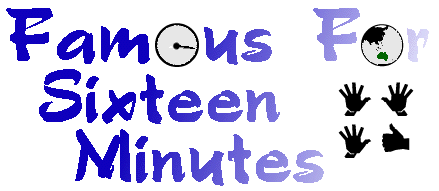 The Life and Times of Peter Green
Archive: 6 March - 19 March 2006
---
March 6th
Neil arrives home today, guess he shouldn't unpack his bags if he is flying in for the Sydney and Melbourne Bic Runga shows. BIRDS is out in a week here, I am guessing but I think a #25 debut for the album. Sometimes I'm right, sometimes I'm so way off with my chart predictions. (It debuts at #26 so close but no cigar).

Carry out all the extra rubbish in the yard for the Waste pick up, such an easy way to clear out all that useless stuff that came with the house. Even rake the paths and clear out all those leaves (12 boxes!). It must take them ages to pick up all the excess rubbish around the Yarra Valley.

Woodface jumps on the UK charts (#153) has to be because of the James Blunt Bside cover of 'Fall at your feet' , can't think of any other reason. The English love the ol' Woodface.


---
March 7th
Call the Hard Rock Cafe again in Surfers Paradise and remind them they have a lot of my Archive stuff that has to be returned. They keep making excuses and I'm a bit over it.

Watch 'KINSEY' on the movie channel, such a great drama. For those unaware Kinsey was a biologist that launched the sexual revolution, best seller books and the moral majority freaking out.....even today there are 9 states in the USA where oral sex is against the law. That is nuts, if it was ever enforced the courts would be full! Liam Neeson and Laura Linney were exceptional in this movie.

Call the Mac Shop for the new computer, now to transfer the database(s) URGH! Can't just fire wire it (drat).


---
March 8th
Pay our water rates and they seem very cheap, must be all those buckets I am putting out when it floods down. Still going to install that environmental water tank for the garden. In 2 weeks time, and Mr Bracks will give us a rebate.

The Rolling Stones tickets are on sale for the general public today and they sell out in 15 minutes. The Strolling Bones still have it. We are so so so close, wonder if Keef will wave at Mark again?

Have stopped reading books (again), I keep thinking that my bed is facing the wrong way, it drives me crazy. My room is such an odd shape it's hard to just turn it around, especially with two lots of built in robes. Could just be me.... I love books...I'm sure I'll start again soon.


---
March 9th
After Dr Chiro I head to Bunnings and order 30 more bags of concrete, the never ending art room floor. I can see light at the end of the tunnel.

U2 cancel shows, The Edge's kid is really sick, so he's with the family, I think they are rescheduling later this year for Oz (and everywhere else). Bono is holidaying in Sydney, he loves Australia. It must be tempting for him to live here.

Work on the Enz projects... type type type. David and Gordy have been so helpful around all of this, makes it easier when people are supportive.

Late afternoon sit out on the lawn and work- the perfect Autumn day. The sun flowers look sad today, maybe their time is up or the cold mornings might be wrecking them. The vegie patch though is loving it, fresh produce everywhere.


---
March 10th
Off to Mount Evelyn for some breakfast. Really relaxed till a family of screaming kids arrives and they run riot, crashing into people and crying. Mark pulls out his samurai sword out and sanctifies the room by chopping off their body parts. The breakfast crowd are satiated as silence settles and all we hear is the sound of blood drip drip dripping down the steps. He opens his mouth....'how hard is it to have a peaceful breakfast?'. Sword back in the publishing bag we continue to eat our eggs, no one will dare disturb us now! Good one MG.

The good deed of murdering noisy children pays off, we win $24.00 on Tattslotto. I keep forgetting to ask the Gods to add some extra zero's on our wins...but hey a win is a win is a win, it covers breakfast. (and a tip for the waitress..the sexy little waitress to mop up all that blood).

Call the travel agent and they send the incorrect itinerary again for Nepal...GRRRRR third time lucky maybe. Hell maybe we are not meant to go on this trip? I can't think like that.

Totally mess up the Chocolate Mousse order for The Verandah, I buy all the ingredients EXCEPT the Chocolate....a Chocolate-less Mousse..not quite the same. What an idiot I am.... so it will have to be delayed till next week.

Finally the last piece of concrete is laid in the art room and garage. Yey, we are so over this DIY moment. 2 tonnes we laid. Is that nuts or what? All just to prove we are blokey and not useless.


---
March 11th
Put the special wash over the concrete and it bubbles and foams and fizzes like a lemonade spider drink. You have 20 second to scrub it down and then wash it off, it leaves the concrete all full of Aero bar type bubble holes and this means the paint will not lift- see how professional am I to know this!

Work all day in the office, give up my Saturday and most of it is spent on emails. We still get a few thousand a day. I'd hate to count how many Emails have arrived since we have been online. I thought the Internet was to make life easier?


---
March 12th
Interrupted sleep last night, as it really rained, and wind. Mark leaves his Blundstones out and they are like fishbowls in the morning... I should of dropped some tadpoles into each water filled shoe. he is not happy. Wait till Winter when they are full of snow MG.

Charts are in, late in the night and Bic debuts at #26 on the National chart with BIRDS, almost Top 10 in Sydney. It's still her highest album debut in this country so not bad. The Finns have now spent 6 months on the Australian charts with SHE WILL HAVE HER WAY and creeping up towards Triple Platinum. I was out by one spot, a close guess.

Mark and myself start working on scans for the Enz.... the early poster stuff is always so cool, love that first single VERTIGO label poster... all that art house B&W stuff.


---
March 13th
Was weird today, packing up some washing and a T-shirt that Paul gave me ages ago just fell out onto the floor, so instantly thought of our lovely ol' Uncle Paulo. In less then 2 weeks it's been a year, feels strange, and even after this time I still think young Paulo is just away somewhere. Think on the 26th I might just wear that shirt and play some of those wonderful songs from Rare #3 cd and some LLT stuff. I remember when he gave me the shirt, we were having a cuppa tea and he just pulled it out of a bag and said he was ironing some shirts and thought this one would suit me. Simple as that.... slightly Goth vampiric shirt so maybe he knew me way too well (*GRIN*), God bless ya Paul.


---
March 14th
Clean out one of the fountains today and now it runs really well, the water is really spurting out and 2 baby red Rozella parrots climbed in for a bath.

Wow scary figures from the USA where the National debt ceiling of $US 818 TRILLION needs to be lifted!!! When Clinton left office in 2001 debt represented around 57% of Americas Gross Domestic Product. It's now 70%. Household debt a record 22.1% of household wealth, and rising fast. It's out of control. Grow your vegetables people and bring down your household costs (:

Pay Telstra which is part of our Foxtel Cable bill too. Loving cable TV lately, some great stuff has been showing, I use to complain about Foxtel but these days I love it...hell just to keep seeing LOVE MY WAY makes it worthwhile. Still can't believe that some people who have cable never watch LOVE MY WAY, it's brilliant! and so honest.


---
March 15th
Wake up early, well I really didn't sleep very well, mind ticking over...I am lucky as the flight was put back by 30 minutes so I have some extra time. The Commonwealth Games Opening is tonight so the city is buzzing and gleaming, like a Madam from a Brothel ...all tarted up is Melbourne town.

I arrive at the airport just as the flight touches down, walking through security and Sis calls... and I walk around the corner straight into her, Mum is sitting on a bench like they have been waiting hours not minutes.

The flight was pretty horrific loads of turbulence so my Mum looks like Joan Green..in skin colour as well.

Arrive home and she loves the house, think it blew her mind a bit. Went for a walk around the grounds down all the walking trails, and right on queue a family of cockatoos lands on the lawn in search of seed. The fountains are all going and the giant ferns all green and shiny, small rays of sunlight breaking through the canopy over the wooden benches under the trees. (Sigh).

A few hours later and we head off to the MCG for the opening of the Commonwealth Games. I leave the 4WD at Greville street as I still have my Prahran car pass for a further 2 months, and we catch a train the 2 stops. If you have a Games ticket you get free public transport, which is great.

Inside the grounds and we are all given a blinking strobe-star. 90,000 are given out for free and we are not told why..just yet. Very cool.

Our seats, 3 rows from the front, incredible view. The crowd is both vocal and having fun. An hour later it all begins... and what can I say, you just had to be their. TV broadcast didn't do it justice, the atmosphere was mind blowing.

Kinda trippy moments like the Koala bears doing the wire work, loved the kid on his skateboard flying around the Arena.....musical highlights....one of my fave bands- The Church, performing 'Under the Milky Way' and suddenly 90,000 blinking stars lit up the MCG. So that's what they are for.

I refused to stand for the Queen, and was revolted that Dame Kiri's performance was lowered to her singing 'Happy Birthday' to the Queen, like who cares. The Dame has this voice but is reduced to Happy Birthday, URGH!

The Volunteers received a massive applause which was great, and I was far far too patriotic and sang 'Advance Australia Fair' VERY loud but hey I knew the words without looking. It felt so right and to hear that Australian spirit in song was pretty awesome!

The Athlete's, they must of been stoked, what endless applause, Canada, Scotland, Ireland and Norfolk Island and of course Australia got a huge applause from the ol' Gryphon.

There was fireworks, and the blade riders with rocketpacks ablaze with fireworks were sensational....weaving in and out and suddenly the back of the pack lit up with pinwheels.... add to this motorbike riders, giant cockatoos. My only one question- WHERE WAS OUR GAMES MASCOT... that Black Cockatoo should of been there flying about next to the beautiful Winged-Tram that flew across the stadium sky line. We left during the fireworks and I remembered a secret way into Richmond station which got my little ol' leg worn Mum ahead of 80,000 others trying for the trains.

We were home in Kalorama by 12.30, I'm not a big sports fan, rather climb a mountain myself, but tonight was special and I went their a bit jaded, more so , that my Mum and Sis wanted to attend..and left feeling great and kind of proud. Huge congratulations to Premier Bracks, and Victoria for doing it so damn well.


---
March 16th
Feels very weird missing Bic and Neil at Hamer Hall tonight. My Mum says she spotted Neil in the crowd cheering on the swimmers today, who knows could of been?

Feels like I haven't had much sleep, climb out of bed early and cook breakfast for everyone. I am both Chauffeur, Bag Carrier and Cook... hey it's family I don't mind.

The Parrots land and watch us eating breakfast, so they get some early food too. Destructo the Cockatoo lets out a massive screech (as is his way).

We drive back to the city, heading towards the Hockey stadium today, and lock in the Navman. Have to park miles away at some 'Park 'N' Shuttle' service area. Can't find it so we head towards the stadium. End up parking at Melbourne Zoo. We've supported the Zoo a lot so we get some free Parking which is nice. Running late, and Mum is walking so slow, stress levels are high and I don't think any of us have had much sleep. Sis and myself have a momentary spat ... and it gets a bit vicious. I sulk as only I can do *grin* and try to ignore everyone. I do enjoy the Canadian Hockey Girls on the field, have a chat to some of the team on the practice field before their game. Spend some time away from Mum and Sis to have a break and to cool down. Canada win their game and I'm cheering on Nigeria (?) in the next one.

It's getting cold and about to rain so we head off. By now we are all talking again, all relaxed and the traffic isn't too bad.

The office is quiet, most people know I'm away at the Games so zero calls.

Cook a roast for dinner, potatoes, peas, beans and other organic fodder from the garden. Make Mum do the beans, guests have gotta work for their money. A big chunky apple pie for desert.

Let Mum and Sis watch their TV shows, so Mark and myself escape reality TV land and play pool...I'm sure I am adopted! Mum has an early night and the 3 of us watch GARDEN STATE, Sis doesn't get it and leaves half way... we like it, though it was hyped a bit. Good soundtrack!

Banshee sits on me like a normal cat for a massive 15 minutes.


---
March 17th
Breakfast at the Verandah View, Joy spoils us ... sit outside and watch the fog roll away. I promise Joy that the Mousse will arrive soon.

Take Sis shopping in Olinda, a few cool shops. I buy too much. Hopeless. I still must be crappy if I'm shopping to this degree.

Drive home via the back roads,so scenic and some great houses for sale. Make some sandwiches for lunch. Have to do a few hours work and some phone calls about the Enz tour and other Enz stuff.

Have some calls around Bic's State Theatre show, sounds like the album is selling really well in Sydney town, BIRDS is at #11 in NSW. The show is almost sold out, which is great for Bic. She is slowly moving from cult status here.

Head off to the airport and Mark comes along for the drive. Call into Bunnings and buy some more Rasta Red paint for the concrete and a container of their best Gold paint for the tree root. A Gold tree root poking out of the floor...c'mon that's cool. It called making a positive from a negative *GRIN*.

Traffic is a nightmare and the Navman sends me on some alternative routes because roads are closed for marathons and public floggings!?

On the express way the traffic is bumper to bumper, so I exit and try back streets... in the end I drive over a closed road area (glad I own a 4WD) and get us onto an open stretch of road. Zoom to the airport and they make the baggage area with 20 seconds to spare... (add stunt driver to my list of family commitments) the last bags on the flight belong to my family. Wave goodbye and we head home. I love my family but we are so used to our own space, saying that they are always welcome as it's nice having them around.

I sleep really well. No coughing, no toilets flushing. (:


---
March 18th
A category 5 cyclone called Larry lashes out near Cairns and Townsville, massive damage to houses and the sugar cane and banana industry. Thankfully no one is hurt. A second cyclone will be following it in a few days time.

All the fields are just flattened and debris everywhere. We call up and make a donation to a fund that helps the families who have lost everything. Charity begins at home I guess.

I am up early making Chocolate Mousse for the 'Verandah View' in their funky kitchen. So every Saturday and Sunday KALORAMA MOUSSE is available EXCLUSIVE to The Verandah View up here at Kalorama, prepared by the Gryphon. The address is 1284 Mt Dandenong Tourist Rd, Kalorama. So if you are up for a Sunday drive or visiting and want to see a beautiful part of Victoria, head on up to the Dandenongs...and call into the Verandah View and scoff down one of PG's Chocolate Mousse. Two of them go instantly before I put the box in the freezer. The rush is on.! (: YUM. Mark is designing a logo for it! (Cute Moose!).

Spend the afternoon watching the Commonwealth Games on TV... Great to see Josh Jeffries win his Gold in Gymnastics. Dreams are made in Melbourne he says....it's a good win for us short guys! (:

Call Pink to see how Nigel is going in the UK, I guess his Dads funeral is over now, and he's looking after his Mum. We are thinking of you Nige.


---
March 19th
Well yesterday marked our 4th month living here at Kalorama, it has really gone fast. It feels like we have lived here all our lives, loving it so much.

Good news for Tasmania and South Australia as the Labor Party romps it in, in the State election. I know little about the Sth Aussie Premier, but with the Tasmanian Labor guy- Paul Lennon, he seems ok, and is very supportive of Aboriginal reconciliation and it's an agenda he has been eager to pursue.

Bring on the Victoria election, it's not like the Liberal party actually have a leader in Victoria... Bracks must be delighted. Even John hoWARd is stepping away from Robert Doyle like he some contagious disease.

Three years since the Invasion of Iraq and still no weapons of mass destruction and hey a civil war is building up....hmmm do you think that idiot Bush just got the name mixed up...Iraq has a "Q" George Iran a "N' you should of went for the "N" one. No backing out now I guess.

Phil Judd's birthday tomorrow, and to top it off his Novelty Act CD will arrive from the pressing plant tomorrow on his birthday. So we should be sending out stock mid week (a few days early). Think Phil and Spock are visiting on Wednesday and he will be signing copies to all those music lovers who bought copies, so not long now till you receive it. We have about 10 signed copies still available for those who love their CDs signed by the artist.

Heard from Tim in America and his recording is going well, he's homesick (which is normal) just good that his next solo effort is under way too.

So some good music coming up.

Be kind to people ...

Peace!

Gryph.

---
If there are any problems with this site, please contact webmaster@aswas.com.