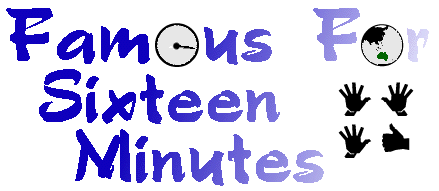 The Life and Times of Peter Green
Archive: 9 October - 29 October 2006
---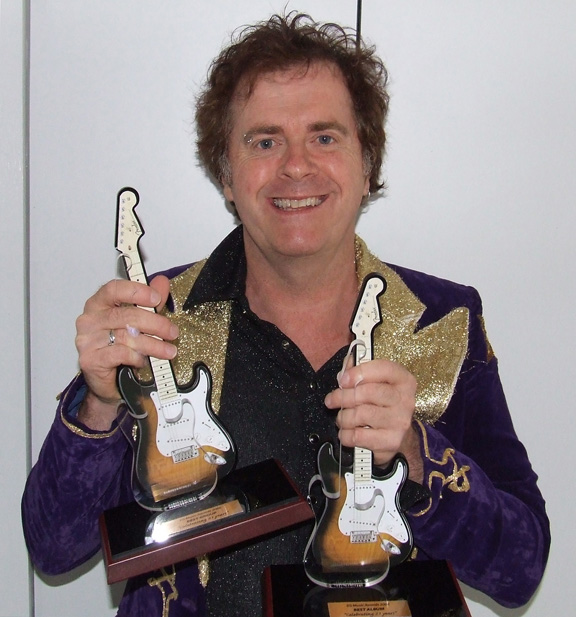 A Huge thank you to all the F/16 Readers for voting in the EG Awards.
PG pictured with Best Group & Best Album Award


---
October 9th
Oh good old North Korea starting it's Nuclear Testing... also find it a bit perverse that most of the countries doing the finger wagging have more Nuclear weapons then the rest of the world combined. All I think about when i see Kim Jong-il is the puppet f rom Team America.....still can't see him as a 'hard drinking playboy' as described by one paper! Marky G is far more a playboy compared to Jong-(very) ill! (opps meant 'il'). Good to see John hoWARd supporting nuclear power for Australia....what a dick, with all the sun that we get you'd think that solar would be so damn obvious (and clean).....apart from that Nuclear Power is so expensive...once more our PM takes us down the wrong road.

I'm waiting for Origin energy to send out its latest mailing, as there are some good rebates being offered by the Bracks government and Origin itself. On a 1002 watts system you get $2500 as part of the green solar rebate and a further $4000 from the Victorian Government rebate...pretty decent as it means they pay around 60-70% and in Summer the system should be creating enough power to cover around 60% of our office and home use. Nice clean energy.

www.originenergy.com.au/solar

It's such a cleaner environmentally better way to go.....and I've never heard of terrorists blowing up many solar factories!!!


---
October 10th
Thanks to Wendy in Qld for the very cool welcome home presents. How marvelous to see my Gryphon tattoo on a mug, just brilliant!

Back to Dr Chiro for a prod and a pinch and a sticking of the porcupine quills. Can tell I am back on the computer as my upper back gave an 'ouch' when the acupuncture needle went in.....nice session kind of dosed off.... just day dreamed.

Work till the early morning, both of us, got a lot done and kept forgetting to have breaks. A long day. The white board is full of plans and stuff for the next 6 months.


---
October 11th
Tim Finn kicks arse at the Prince of Wales. He is in fine form, and although this one isn't a sellout it's a pretty decent crowd, and he gets a good reaction. Have a feeling that Victoria will have the highest chart placing for 'Imaginary Kingdom' (it does...debuts at #40 in the Top 100 for Victoria).

Pay the printers today, so most of our bills are up to date, just 2 more to go....and that just leaves the huge postage bill. It sure adds up, every overseas envelope is now $1.85!


---
October 12th
Voting going well in The Age EG Awards, Crowded House kicking butt for Best Band and Best Album (Woodface). Great to see The Palais Theatre matching The Espy for best Venue votes and how funny, Deborah Conway only 1% away from bumping Kylie off as Best Female! I love awards especially the 2nd and third spots, always interests me. The Crowdies fans are such an army, no one is like them for passion....they just make it happen.

We take some time off after several days of hard work and head to Monbulk for lunch. Those gourmet sandwiches are soon gobbled down.

It ends up being the hottest October day for a century, the weather is pretty intense these days.

I send Neil a moanful email over one of our record companies, just getting a bit tired of them and not being included in stuff, stupid really they are the first to call when they need stuff, so good to be pissed a bit. The Sex Pistols might of been right.......(don't ask). Neil replies straight away , he is so onto it..makes me laugh too, which is what I needed.


---
October 13th
God 'Girlband' are flopping, they sold only 600 copies of their single and that included downloads....'Girl-bland' as we are calling them, when will people realise that it really is over and been done to death, there is nothing original about this project.....*Snore* So nice that so few Australian idol people are nominated in the ARIAS....they creep into highest selling single nominations every year but thats it....

We give Miss Banshee a wash today and Mark films this 'event'.....so funny to see her fox like tail become a skinny stick....she is ok in the water, just gives a sad look but doesn't try to escape.....well she was born on Tsunami day ....these days she at least controls herself from jumping in the bath with me......Cosmo will be getting his wash in a week or two when the weather is warmer. he's getting to be an old rabbit.

Feeling really happy these days, could just be the Spring sunshine, life feels pretty stable...which tends to mean something crappy is hiding around the corner.


---
October 14th
Tim Finn's Imaginary Kingdom is out in Australia. I am so determined that Tim Finn will have a Top 40 album in Melbourne and Top 50 nationally, it's been a decade since Tim had some solo work on the charts.

While I'm out heading to the bakery I detour and drop into the 'Bloomin' Lot' plant nursery at Mount D. Buy a Echium Candican such cool looking plants and bee's love them... the plant guy gets way too confused and charges me twice on my Amex and then ends up giving me cash to balance it out, such confusion... not sure when I'll go back, just worried I'll be triple charged....you want to support local but I want it easy not harder.

Mark puts together the Stones 1978 Live at Fortworth Texas cd..great sound and even better artwork.... the Stones should just employ him to do the art......

Start mowing the lawn, such a task....eventually when I'm an old man I'll get a sit down lawn mower.... a part of me likes the push and shove of the old bone-breaker mower that we have...my fault ,as I put the machine through hell, I'm surprised it hasn't fallen apart. It's great, kind of drift off into the surroundings while I'm mowing, the massive trees the endless birds, banshee in the birdhouse with her mouth open..hoping some exotic parrot will just fly in....it's not going to happen Miss Kitty.


---
October 15th
Box one of our spare cds player and send to Sis so she can send to her friend at Tiger Tops, nice thought, hope my Sister (sometimes) bad taste in music is not being sent as well (opps). At least some nepalese girl will get a huge buzz out of this present.

Call into The Verandah and have some coffee and cake with Joy the owner. Loads of tourists today, all outside loving the Verandah View.... I just like to have a sit and read the Sunday papers. Draw devils horns and darken in teeth on the odd Liberal politician...I am so childish.

After noon is spent catching up on emails and boxing Tim Finn c ds for the masses.


---
October 16th
Mario was suppose to turn up and check the new security system but obviously side tracked so we head off to Knox and other places. Hit some stores hard for Tim Finn cds, all going to real homes. I notice Imaginary Kingdom debuts at #21 in NZ and has moved up a few spots to #18. So Top 20 for him in NZ. Now that Neil has abandoned NZ everyone loves Tim more..and yes that is a joke....as Tim said 'It's ok NZ Neil will be back...'! *GRIN*

Suddenly Wings off Flies is the hottest book item, that fans seem to want it , even when it was first released we have never had so many people wanting copies, it's really nice to see it get it's second wind. I hadn't looked at this photo-book for awhile and suddenly got drawn to opening it up and letting all those memories come washing over me. It's nice, wish there was a way to capture the essence of the shots...the smell of beer sodden gig carpets...

Am suppose to start a rough for TRIP the diary book but too many emails and too much work so I never get this started today. Can someone send me an extra few hours a day as my Christmas present this year..never seems to be enough.


---
October 17th
At 9.46 pm the US population officially hit 300 million people- amazing.

Just seemed to spend half the day on the phone, checking on this and that, eventually I think Mark and myself are going to need to get an assistant .... I'm sure we would drive them insane...but there is a point that you reach where it will be a necessity. By the way that wasn't an official 'please send us your resume' comments....not yet...........!!!!!!!

Would you really want to enter our strange domain.......oh scary!!!!! Mark would be the kind boss, I'd be the evil one.


---
October 18th
Xmen 3 on DVD, and really it didn't deserve the slight slagging it got...it's still good, I love The Beast the more and more I see him in action. Such a wonderful blue fur-ball.

Have the design for the Christmas card in my head...going to relate it to the Crowdies this year and not so much us.....wish we had a budget for thousands of Christmas Cards to be done and mailed, oh we'll will make it happen...somehow.

Call in and see Miss Taverna in the afternoon, she has helped us heaps lately, much aprpeciated, so when are you moving to the Hills girl?

Great to see Miss Bic Runga win so many NZ Music Awards, and I do email her that it's a damn fine black frock she wore, stunning....NZ just loves her so much.


---
October 19th- 22nd
The start of several really crappy days. get a sick feeling in the pit of my stomach as Sis calls and tells me that Mum has been rushed to hospital. Sends me a bit nutty with worry and I book flights, cars and all the usual last minute stuff. Try not to think of the price, and in the long run i don't care, just have to get home. Even going through all the stuff here seems very difficult so i won't. I'm just relieved when she is home and looking better. Just not the time to lose our Mum, and it does spiral me into some dark sad place. I'll deal with it, as that's what you do. Take my lap top and answer a few emails, always makes it a bit better when so many people seem to care about you- thanks ....

Home by Sunday, need sleep and have a few more days off.... just need a week out of my life to get through it. The rest of the people will have to wait for signed Tim cds and all of that, for once am having some ME time. Mark looks after me and I am just happy that Mum is out of any danger area.

We head to our neighbours place, the lovely Hisako and Martin and their 2 gorgeous kids. It's an open house as they have been re building the place next door and we make the effort to call in. I'm fried and probably look like crap but these things you do.... it was a good tonic, got to meet many of our neighbours, also to see our house from a different angle.

Hell we live in an amazing mansion, well Lara Croft lives in a mansion, we live in a lovely house.! We are the last to leave, what!!!!! Mark is now some social butterfly , he is never the last....way too weird! We stumble home and my body needs sleep....but I check my emails for the charts. Yes Tim Finn in the National Top 50 (#48) and #40 in Victoria which is excellent.... good to see. I sleep well.


---
October 23rd
Well the results are in for The Age EG awards- a big thank you to all of you for voting. Crowded House kick butt, Best Group and best Album Woodface.....also truly amazing, The Palais Theatre makes it to #2 but only 1% of the vote behind the Espy. I'm sure it scared the hell out of the Espy as we all expected it to win. The funny thing is that Deborah Conway was only 1% of the vote behind Kylie too... imagine if she would of bumped off Kyle's......there would be an outcry! Anyway nice to see Crowded House doing so well... and we know it was because of the passionate fan base. Not sure what Neil wants to do as far as collecting awards etc, maybe Nick is in town?

Order the West Wing Season 6 & 7 from the UK, they just haven't been released here yet and Amazon Com UK has them on a super special price, was just way too tempted, gotta have my West Wing fix, the last 2 seasons.

Do a little bit of work in the office and Mark finds me asleep on my desk, really worn out....need a good power nap of a few days!!!!!!!!


---
October 24th
Nice news in The Age Poll- 'Libs face crushing loss at Poll'. Makes me all warm and fuzzy inside. Especially good for Labor but great for The Greens (the political party not my family) as the Green vote just keeps on increasing. One of the other Polls is funny as it says that 65% of Victorians do not recognize the opposition leader....wow bad PR job.

Find a really good nasal and ear clipper.....good grooming gotta have it...memo send one to the opposition leader, he had massive nose hairs on the news today.

Send the Woodface TV doco people some more bits and pieces, they are flying to Wales to Interview Neil, which is a 'must have' be crappy without him in it...filming yours truly in Melbourne in November.


---
October 25th
Hear from Neil and he wants the ol' Gryphon to pick up the award for Best Group....I tell him I am so shy....but truly honoured so he gets my nod ....clothes and speech..oh shite! Have an idea for the clothes especially with the wonderful Dave Graney MC-ing.

Australia unveils plans for the worlds biggest solar energy plant, right here in Victoria. It's in Mildura and will create enough energy for 45,000 homes. I hear the Victorian Liberal Party are going to axe the Bracks Energy scheme. This sucks, why would anyone destroy such a great environmental thing simply for Political gain. One day the various Political parties might actually work together and say when something is a good thing...no matter which side thinks of it.

I call Origin around their Solar for Houses Project (also part of the Victorian Governments rebate) and someone is coming by to check out our roof, same sort of system that we had at Grevile street, annoys the hell out of me that anyone would want to stop this sort of wonderful environmental thing happening.

'Tripping Over' debuts on Tv tonight, quite a good drama series, kind of like 'Love my Way' not as good but I still really liked it, hope it does well, channel Ten are flogging it so it should get a half decent audience. After all the free to air stations rejecting 'Love my way' and it becoming a smash on cable, they are all probably kicking each other, so a good time for a half decent drama to be aired, pity it's only 6 episodes.

I get an email from the company that makes the B9 Robot from Lost in Space, it is identical...and they make 50 per year, they cost $25,000 each , think I'll invest in solar instead!

Danger John hoWARd Danger!!!!


---
October 26th
So Andy Taylor leaves Duran Duran, 'unworkable gulf between us'...at least they are honest I guess....

No sleep as the stupid award speech rolls around in my head, in the end I know i'll bin it and just waffle from the heart.

So the BoyTown movie turns out to be a bit average, really the songs let it down .....think my #1 movie is The Killing of a President, instead....I'm sure it will get canned in America...


---
October 27th
Age-EG Awards

Catch up with Miss July in the city, funny as a few friends and music industry mates wanted to come along as my 'date' tonight. It's going to be a full house and also for some a really good chance to get some more work in the industry. Gotta be seen and heard at these things if you are serious about having a job in this industry, lets face it none of us are getting any younger.

Post some mail at the Kalorama General Stores and show Miss K the Greg Skyhook jacket for the awards....she loves it, guess being in a band she can appreciate it's glam side.

In the city grabbing some Tim stock and paying a few bills, meet Miss July in front of the ANZ building and head to the car. The Parking Meter officer lets me park for awhile as the meter is crappy and just swallows coins....so free park in the city- yey.

We head to St Kilda for some food at one of the newer places 'V'....think we all had a liquid lunch here last time (HIC)......food was fine, run through my speech with Miss July, she knows I'll forget most of it!!!!!!!!! End up stripping into my Awards clothes in the Prince Car Park...semi nude Gryphon flashing butt at all the passers by!!!

Arrive the Prince Ballroom and it's half full, by the time we are up onstage it's packed. Really nice people coming up saying HI and offering to buy drinks, which i decline, more worried if I am even slightly pissed onstage I'll stuff it up. Go and see Duges and he looks after us.... he just does what he does...always feel secure when ol' Duges in in charge.

I meet Ron Peno from Died Pretty which is great as I like his stuff, especially 'Generation Landslide' still left wondering if he thought I was trying to pick him up, all felt a bit 'hidden under current' during our encounter- weird. Paul Kelly is always the same, and Steve Cummings says hi, he is suppose to be the one presenting the award. ..I like Steve kind of known him for many years.

After Dan Kelly (no relation to Paul) I head backstage and get changed..... the running times and a few artist late shows have put it all out of whack and now Dan Kelly is presenting me with the Crowdies award, more confusion as Steve Cummings wanders out too...whatever ..I just go for it...all a twitter and speedy... goes fine, the Crowd are really nice and obviously some lovely Crowdies fans in attendance that just makes life so much easier (thanks everyone). Dom' the Age Photographer from our Countdown newspaper article is at the front snapping away, his flash almost giving a few people strobe like fit attacks... anyway speech all done, give the award a little peck....suggested that Duges picks up Woodface award for Best Album.....and he does well.... so grab the two guitar shaped awards and put them in the coat and head back out front. Fram from Spiderbait says 'Good job' and I walk out with him....he covered a Skyhooks classic song tonight and did a really nice job. Watch a few more acts, the auction for "Support Act' which raises money for musician in need. Happy to report that the framed signed Enz poster that we donated went for $850 during the Auction, second highest item on the night.

As I headed for the stage Michael Gudinski grabbed me and said 'remember be humble'.....which I usually am ? But he was ok, our years of 'stuff' have dissolved a lot and I get along ok with him in 2006, much nicer and it's more relaxed since the days of him wanting to throw me out of an plane!!! Head off before the ending with Miss July and almost knock Bonnie Tyler off her feet, she was obviously the secret guest from overseas. Gives me a million dollar smile and I head out into the rather cold chilly Melbourne night.

Make sure Miss July gets home safely and head back to Kalorama, it's getting incredibly cold for this time of year....I turn up the heater. Arrive at Ailsa Craig and it's now late, walking up the path and notice that all the walkway plants are covered in white....looks like the inside of a rockstars nostril after a cocaine binge! (opps) . It is now really cold, surely this is just hail...I make a grab for the plant and holy shit it IS snow. After a Winter begging for snow, and not getting any, I am blown away that late October we have snow at Ailsa Craig. It's not massive but the steps are covered and some has fallen off the roof....too weird. I go inside and tell Mark that it has been snowing and he looks at me like I have been award partying way too hard!


---
October 28th
Wake up to the news that yes indeed it did snow at Mount Dandenong- Kalorama last night, it also really pelted down in Tassie, enough to build Tasmanian snowmen/women.

Spend the day cleaning the paths and raking leaves and any dead wood. The fire ban starts up here in 3 days so really it's our last chance to clean up and get rid of some of the leaves. 4 solid hours we work away at this, it is never ending.

Bec and Dorothy turn up, pass on the three huge bags of charity stamps (thanks to the many readers who have been sending these in- just great). Have baked some profiteroles as I know someone really likes them. Good to see the Boothoids and wave from the Verandah as they drive off and take a garden wall with them (Opps...someone can never can my driving every again!!!). I head back inside to the roaring open fire in the pool room, still chilly outside.

Take the Music awards down to the office, guess I'm keeping these till Neil is back in town, gate keeper of the awards that's me.

Play the wonderful 'My Better Half' CD- Tex Perkins & Tim Rogers... cd, some great songs...plus the hidden track is a lot of fun. Album of the month.

Get an email from Reg and it appears that the wonderful Dog Trumpet are playing at Half A Cow's birthday bash at the Annandale Hotel in Sydney on November 19th. I wish they'd play Melbourne, we love the DT's....so if you are in Sydney go check them out.

The wonderful Shane G sends us some jpegs of the 2 new paintings, one is a present (secret) and we have to choose, c'mon he makes it so hard to do so.... I wish my art skills were 100th as good as his, Australia really has some great artists here, I think the best in the world, but hey I am biased.


---
October 29th
Daylight savings just kills us the first few days.....it's what time! Are we just sleeping in later or something?

We head off to Lilly Pilly but it is closed on Sundays so we dare to go to RIPE...tell Mark to jump out of the car and grab that outside table.....before the tourists get it. The lovely Miss Pippa comes over and takes our order, RIPE is full of rock chicks, they want to know all about the EG awards.

Speaking of awards, the ARIAs are on tonight, sometimes I go sometimes I just enjoy watching it on TV.... was a good ARIA awards, Wolfmother win a few awards and they thank 'banshee' which was funny.........Silverchair do a killer version of Midnight Oils 'Don't wanna be the one', as the Oils are being added to the ARIA Hall Of Fame. The song finishes with Silverchairs Daniel Johns spray painting 'PG for PM' on a fake brick wall...........how did Daniel know about my possible running in the Victorian Election?......oh it means Peter Garrett not Peter Green.....so many PG's out there. Great to see Garrett and a few others stand up and be counted and especially give the wonderful John Butler a pat on the back and stand united around the hoWARd government etc......made my night. Great to see Claire Bowditch win the best Female Artist Award, she is about to have her baby but still managed to climb the ARIA stairs to collect her gong, and also do some very sweet backing harmonies..... Human Nature were so lame, how can anyone like that shit, totally tragic.....and of course their manager is David Caplice, says it all really...doesn't he manage Guy Sebastian too...El Crappo Management! They were pathetic. Apart from that and Rogue Traders not winning a thing (there is a God)...it was a good award night.

Have an early night (1.00) up early to greet the Solar Energy woman, will be nice when Ailsa Craig is all decked out with solar cells, and once more the Gryphon will be on his perch watching the power usage clock going backwards (Yey). Before I go to bed I email Steve Bracks and the ALP, there has been some talk of some preferences going to Family First party, as someone considering voting ALP or The Greens I thought I'd send in a protest email. I know every election some preferences will always go to vile homophobic parties like Family First, but it would be sad if the ALP give them more preferences just because The Greens will do so incredibly well in this election....I've also asked Mr Bracks for a return of the 'Music For The Future' program, it's a good support program for young artists.....be interesting what sort of reply we get. If 'Family First' are on the preference area up here The Greens will get Peter Greens vote *grin*.....I truly find 'Family First' to be disgusting, hell I'd vote Liberal before FF!!!! (Urgh). Elections always bring out the best in me *grin*. Family First Last....!!!!!

Take care and finally the diary has caught up at last....(yey)

Gryph.

---
If there are any problems with this site, please contact webmaster@aswas.com.