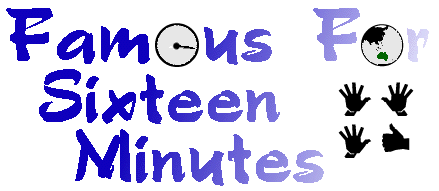 The Life and Times of Peter Green
Archive: 10 December - 6 January 2008
---
---
December 10th
Wow 35 years ago the Enz debuted live at the Wynyard Tavern, 2 dozen people watching... the start of it all in many ways.

Marks new HD Video camera arrives, exceptional and rather sci fi looking. he has this smile on his face- Mr High Tech himself! A good thing. Wish we had it back in the seventies.


---
December 11th
The Crowdies at Royal Albert Hall tonight , was tempted to ask Neil and co but decided it was more sensible to stay here and work in the office, and glad I did, got loads and loads of work out of the way. Just leaving things for a week or so means loads to do when I return... seems like we are always playing catch up. Sometimes missing a few shows is really worth it-as odd as that sounds- plus that endless flight to England is a bitch.

We can't believe how Amazon.com has gone down the toilet as far as buying items. Missing orders, they never reply to emails, so incredibly frustrating. They were such a great online company once, we've started looking elsewhere now. Mark found pages and pages of people complaining about them, so seems we are not the only one. The express service took nearly 2 months, and it's a service that you pay for. No idea why it went via Europe and then onto a NZ mail centre and finally here to Australia. I don't know- amazon.com thumbs down.

We understand that delays happen, god look at the Enz Live DVD and the messed up menu problem, but at least we let people know. Amazon used to be so good too.


---
December 12th
I returned from the afternoon mail out and surely I didn't see what I thought I saw?. Our office doors are open as it's that sort of wonderful Summer day.... Mark always warned me that 'anything' could walk on in..I thought he meant stalker fans? I bolt down the lower verandah and in the office to see a huge Echidna go walking by Marks desk into my office area. He didn't even spot it- and it is such a big one. So as you can guess your two critter lovin' boys spent the next hour 30 minutes checking it out..and attempting (and failing) to get it to head back outside, no ants in the office so it's diet would consist of the bands archives! The thing with Echidna's is that you really can't force them, they lock those spiny feet into the carpet and curl up into a ball.... I try to gently use a flat bit of board to move it out..it really is inch by inch.... finally we are near the door, Mark is filming and of course it decides to let go of the carpet just as I give it a small push.... next the echidna rolls like a soccer ball outside.....and Mark has footage of yours truly with a stick. It looks like I'm attacking the poor thing, I know there would be animal lovers protesting and I look guilty as hell. Thankfully it looks bad but wasn't, the creature is totally ok and headed under the house. Of course Mark is killing himself laughing as it really did go rolling off.

I head up to feed the chickens and lock them in. The Echidna walks past the hen house, stops , looks at me and accelerates ....'it's that guy with the stick' it must be thinking. I call our neighbours so their kids can see it, but Echidna has already gone. We are amazed at the hairy legs on this one . This would never happen at Greville street. The joys of living in a National Park.


---
December 13th
Get a few boxes of Christmas cards done, send a few out..... I would of missed heaps of people but at least I made some sort of effort. Mark shakes his head, watching me signing each and every one...he's amazed I've mailed as many as I have.


---
December 14th
Fantastic Four 2 on HD dvd in Europe- the fan boy in me is so happy. Still pissed that in the end Sony will probably win out with the horrid Blu Ray over the much superior HD. Depressing.

Breakfast at Morrison's this morning and they give us Chrissy cards etc. I'm eating healthy.... nice chilled out morning. Sit and read the endless cards- nice that so many people care about us.


---
December 15th
Wake up to the sound of rain on the roof. The Silvan Dam covered in fog. The hiking groups heading down to Kalorama reserve are like ghosts in the fog.

I give the Verandah View girls a big lotto ticket between them, who knows they might win, syndicates always do well. It was the thought that counted as well.

Wrap some more christmas presents, it's coming up fast, as is my sisters wedding, 2 weeks away now. Where has the year gone, hope the ice statues are all ordered *GRIN*. She is still fighting the idea of people wearing 'hats'- maybe she read about hat makers in the 18th century breathing in poisonous fumes from the mercury used to make felt hats? Maybe she just hates hats? I love hats, especially if it's super sunny, will stop us getting fried from the Australian Summer Sun. Anyway I have my top hat...kind of cool just carrying it under my other arm...we'll see. Very Vampiric, less Willy Wonker, and not like Slash.


---
December 16th
A lot of people are coming up to the top of the mountain today, just for some lunch and a bit of a get together. I'm keeping it smallish.

I'm awake early and making my christmas pudding, each year I make one now- just for tradition. Rebekah needs those lucky sixpences that are hidden in the pudding, find one and a financially good year is assured.

A chance of rain and grey skies so we join a few tables together, our kitchen is half decent size so we can have two long tables for 20 and room to move. Plus it has a nice view over the valley.

Really nice day and great to see so many, of our other family. Toija and Marco turn up with young Oliver, who spends the day walking around holding hands with Deborah's Georgia. It's way too cute, they are both just a few years old but just cute. Cosmo the bunny is patted and adored, the kids love him. Banshee takes one look at 'little people' and bolts.

Jake thrashes everyone at pool, he truly hasn't learnt the lesson of winning gracefully, so I was happy to kick his arse in the final game. Next time I don't think the players will be as kind *grin*.

I do miss Robi, just feels like she is about to walk in the door, we have a toast to her of some half decent Moet. Miss our mate.

Anyway lovely day, good food, good friends, I count our blessings.


---
December 17th
Hear from Bic and she is playing a few shows in NZ- Hadley Park in Christchurch with the CSO and maybe another in Auckland, glad she is back in front of crowds soon.

A house near Greg Skyhooks sold for nearly $900,000 so he must be happy with that. Those house prices just keep ticking over, I am stoked not having a mortgage, best thing we ever did. With America slipping into recession and interests rates jumping up here it is scary for many.


---
December 18th
Visit Dr Warrick at the Chiro center for the last time this year. He has been amazing and just helped my back a lot, I still dont look at those acupuncture needles though. The whole staff really do spoil me- nice folk.

Chat to Mr Yeti this evening, they will be staying for a night so that will be excellent, fun for us all.


---
December 19th
Call my barbers and lock me in for a chop and dye job, got to look good for this mega wedding.....nearly their Marky!

Find a wedding gift for them so that is another thing off my list.

Eat at RIPE, and the owners shouts us coffee. Good coffee today too, hard to find sometimes. RIPE is still good but we miss the waitresses.


---
December 20th
Email Fran some information on slim line water tanks- hope it helps them. Thinking of a third tank for Ailsa Craig...we'll see.

I have caught some strange stomach bug, and it doesn't go away over night. Must be all those kids at Ailsa Craig. So feeling like crap. Spend a few days in bed, being sick is so boring- over it.


---
December 21st
Finns office closes, we close soon too, email free till January 14th. That is luxury. Time to have a few weeks off. No emails till after the 14th! Thanks.

Rosemaree has offered to cook some of her magic healing food for christmas day. We are staying here over Christmas and heading 'home' for the wedding, so a christmas at Kalorama with Miss R.

So many christmas cards and fine presents from people- blows my mind a bit- thank you everyone- you know how stoked I am. Thanks for all those US postage stamps everyone.


---
December 22nd
Rain Rain Rain and I'm still a sick puppy.

I work in the office for a few hours just to tidy some stuff up and reply to people, but feeling crap so losing the vibe.

Mal Green calls, he is flu ridden too, we chat, cough, bark. Always have time for Mal. Both Greens are sicko's! (:


---
December 23rd
Breakfast at the Verandah, coffee was ok, gee I must be sick *GRIN* (joking).

Our neighbours- Jason, Jodie and the kids call by. The kids are amazing, so well behaved, we love it. They give us this huge chocolate crackle christmas tree, so lovely we don't want to eat it. have a few drinks, it is christmas and it does help me feel better- hmmm maybe that is the answer-stay drunk!

Everyone loves Marks two christmas presents- two Shane Gehlert paintings- LOVE them. Shane has some pretty cool stuff on the site , really the prints are the perfect presents...check it out: www.outbackart.com.au

Have a look at- Mining Boom 1 and 2, that's what Mark scored for christmas. Love St Bilbey. Thanks Shane- move over Mr Ryden.


---
December 24th
Christmas Eve- Happy Christmas everyone.

Call friends, family, and just chill out.


---
December 25th
We sit around our (live) Christmas tree and unwrap presents, with the kids- Banshee and Cosmo (the chickens already received a whole bunch of silverbeet for their present and are walking around the yard clucking out christmas carols?).

Rosemaree is here for lunch and spoils us, so glad as I just couldn't cook. We spend a nice day just laughing, all good.


---
December 26th
Ben and Jen arrive and finally I am much better. Manage to cook some fajita's and we swap presents. Mine is perfect... lovely.!

Another fun night, the pool table gets a working out, and we all crash in the wee hours. Benny is looking good after surviving the Crowdies world tour,


---
December 27th
Up early and I cook breakfast for the troops. Ben works on the Macs and I sit with Jen on the deck and just catch up. Banshee and Cosmo are outside having a play.

Before they head off we go to the Verandah, lovely Wendy from Queensland spoilt us with a voucher from the Verandah, a total surprise and perfect. We all raised our coffee mugs to her- a sweet surprise. Some people have hearts of gold.

We head home via the back road and we see B and J's car heading to the airport, a quick visit but nice for us all.

I head home and pack our bags for the wedding, we leave tomorrow for Wollongong!


---
December 28th
Melbourne-Sydney-Wollongong

Up early, and I'm vibey, Mark just snarls.... opps.

We say goodbye to Banshee and Cosmo and the girls, they are looked after and fully fed even for emergency extra day if we need it. I still hate leaving Kalorama. Give Benny a call for his birthday! have a good one.

Just click over to cable news and Benazir Bhutto was killed today- very sad day for her people and democracy in Pakistan. It must be in political turmoil, crazy and fucked up.

Arrive at the airport on time, and eat at the freaky flyer. Flight is slightly delayed but we are soon in the air. Our hire car is at the other end and between Mark and the Navman we are on our way to Mark's Dads place first. He is up Moss vale way, and an hour and a half later we arrive. It's a lovely area, similar to the Dandenongs in some ways. Hang out with Peter & Kerri for an hour or so.

We are on the road again and go through Moss Vale-starving so we grab a burger from Bernies cafe and sit on an empty side road and devour them. I go for a walk and find an old farm house on several acres. A bit spooky.

We head past Robertson and the BIG POTATO!!!! Arrive at Wollongong, call into my Mums and grab Marks suit and take him home.

I'm soon home again and laughing with Mum, the bridesmaids are here also. I decided that a small part of me must be 'rock dog' so yours truly has heavy metal blue nail polish on my toe nails...I tell sis no one will know...but i will *GRIN*. If I'm carrying my top hat under my arm I'm going to know I have punked up my toe nails.... I am an evil brother of rock! hey if they can all have spray on tans I can at least be rock tragic. Keef Richards would get it.

Spend the evening working out which shades to wear.

Mums house is so hot, outside isnt much better, next pay cheque Mums gets cooling- crazy woman to suffer this. We all stay up till 1.00, my sister is so excited.....so weird all of this.


---
December 29th
All my friends are getting married, their all getting old, staying home on the weekends they're all doing what they're told..... (Skyhooks).

Well the girls and my Mum are out the door, hair makeup, and all that goes with it. I'm out driving, dropping in ties, shirts, flower things. I decide Mums house is lacking in flowers so buy up all they have, the complete back seat is full. Call into my Pops place for more vases and visit my uncle.

Mum and Sis are not back yet so I become flower man..and by the time they are home every spot has flowers. Nice surprise for Mum. Good for the photographers too.

Photographers arrive, 2 camera crew- God this is bigger then the Rated PG dvd!!!! neighbours dropping in presents, my Mums house truly is now a sweat box..... I spend some time getting ready, scrub up ok. I pick the 'right' glasses at last... carry the top hat, wear the top hat, dance with the top hat. Pull Cosmo the rabbit out of the top hat!!???

The next hour is a blur of photo shoots, filming, trying to catch Mums little dog. Call Marks Mums and no answer so I know they are on their way to the wedding site. Is this what all weddings are like.

The 1955 Silver Rolls Royce arrive and stretch limo for the bridesmaids... it's really on now. Mum grabs some champas out of the fridge for the girls... we pop it, and pass it around (HIC)....where is my valium?

Sis looks stunning, so proud of her, wish Dad and Pop and my Uncle where here to see her. I'm wearing my dads cufflinks , and we climb into the Rolls and are off- the three of us- Mum, Sis and myself..no camera people no video.... all three of us sigh at the same time... and just chuckle. Peace at last. My sister waving to people on the street like Queen E. has arrived for a royal visit.

We head to a Park area that over looks the sea. A gazebo with flowers has a group of 70 people waiting, no one has fainted yet. My Mum departs and I'm left with the bride, yeah I'm giving her away. We assemble, bridesmaids, flower girl and finally it's just Sis and myself at the top of the walk. We subtly elbow each other... we comment on people and are both fairly cool. We do the walk, it's a blur. I spot Mark in his suit, what a dashing man he is, as proud of him as my Sis.

People are snapping away, camera crew and the madness starts again. I do my bit and 'giver her away' (3 goats, 2 cows) and sit next to Mum, pop my top hat on and enjoy the ceremony- so happy it's not one of those endless ceremonies- gawd I hate that... this is all good.

The happy couple are covered in rose petals instead of confetti and suddenly that's it- this part all over. Chat to relatives, and snap away photos.I help my uncle pack up some chairs, see cousins and other family. We wave goodbye and head off to my Mums for an hour. Well that was fairly easy!

The reception was at the Novotel which over looks one of Wollongongs wonderful beaches. Car Park is for guests but I do my bit and they let us in, which is great as parking looks like hell. Sit with the family in the foyer and sip champagne, great to see my cousin Lea, she has always been really great, has a big heart and a good dancer.

Doors open and in we go. The room is fantastic, tables incredible , giant strands of white fabric twirl from the roof, Edward Scissor hand like ice statues and so much food. We are table #1 (of course!). I have to make the first speech of the night so on the podium, and am glad I'm over and done before that bead of sweat rolls down my face.

Serious dancing from the relatives, so good to see as my family dancing and singing were always such staples of growing up- all smiles. Mum is still a bit iffy so much later on we take her home.

Grab a 6 pack of beer from the fridge and Mark and myself escape the heat and sit by the lake, just chatting. Eventually he's home and his gorgeous Mum makes us a cup of tea. I arrive just before the bridesmaids stumble on in (hic). So that's it wedding over, and i can finally climb out of my suit. All the best Sis.


---
December 30th
Sydney-Melbourne

No sleep again, try on the couch where it is cooler. Mum's parrot a great wake up call, just shrieks once... I'm awake and making toast. Say goodbye to Mum and we are off for the drive to Sydney airport.

QF423 is an hour late so we have some breakfast in the freaky flyer lounge. Mark goes missing but eventually I spot him at the magazine area. He spoils me by buying Anthony Bozzas book on Slash from Guns and Roses, cool! Will be a good rock and roll reader.

Flight finally leaves and we arrive to the coolness of Kalorama. The animals are all excited to see us. Unpack my bag, and crash on the couch and start to recover. Mark isn't feeling too well, think he got a bit sunburnt at the wedding.


---
December 31st
Mark is still a bit fried so we blow out seeing a few friends. By the late evening he is much better so it was the sun. Watch The Beatles HELP on TV, been ages since we watched this one, those wacky Beatles.

A few calls, and we count in the new year. Someone sets off fireworks at Kalorama oval, crazy as we are under full fire ban up here for bushfires, and the temperature outside is still around 100! It's the hottest new years eve on record for the hottest year. I misbehave a bit tonight, but it's new years eve so always a good excuse....no doubt I will waffle too much while off the planet.

A really expensive bottle of champagne arrives from the Finn clan and the Crowdies boys- how cool is that! Thanks everyone. The courier man looks like Bob Dylan... am I hallucinating?


---
January 1st 2008
Happy Birthday Merelyn, I always get it wrong and call her on new years eve- I am hopeless.

I'm recovering today, Mark is better though worn out. Cosmo has gone off his food again, he does this once or twice a year. Am hoping it's just the heat.

I love my christmas gift from Miss Merlenz and Maz. A copy of Dulcie Dreamers 'The Silver Branch'. This book was printed 60 years ago and has a wonderful Rosaleen Norton drawing at the start. Roie and Dulcie knew each other well. The cover is a Norman Lindsay drawing. If Roie was the witch of Kingscross, Dulcie was the queen of bohemia. You can understand why they were mates.


---
January 2nd
I have been playing Eddie Veder's 'Into the wild' soundtrack CD, love it. Some of Ed's finest work, but hey I am biased. 'Hard Sun' just sounds excellent on radio, one of my favourite tracks on the CD.

Sit with Cosmo outside and he eats a bit of parsley and some grass. All of a sudden he starts running around- he NEVER runs off, so here am I chasing the rabbit. Something doesn't feel right, I am worried about him.

He is off to the vet today for his Calicivirus shot and Moss our vet checks him over. Cosmo's teeth seem ok, his heart good but Moss finds that one of the boys kidneys is much much larger. Which tends to mean cancer. So an ultrasound and a day at the vet later on.

Take him home and we are worried about him. Poor little bunny.


---
January 3rd
Drive to Mt Evelyn to buy some Crunchy Combo for the rabbit- it is his favourite food.

He still wont eat it, I'm firing some liquids like Ribeena down his throat so he has some energy. We just sit with him and pat him.

We pack up all the christmas decorations today. Carry the tree down the trail and plant it in the big square stone area near the trail, perfect for a tree. The conifer is surrounded by ferns, looks magical. Nothing like a live tree being planted after christmas.

I spot a red car at our back gate, it's blocking the drive and I'm raking leaves so I try to find out who owns it. Don't just want to go off because a car is in our driveway , as long as it doesn't block it for ages- no point stressing out over little things like that- just too easy for people to get angry over nothing these days.

Walk to the front of the property and spot a photographer......he's taking snaps of a fairy on a log. Ok it is a woman in perfect fairy outfit, she looks exceptional. I chat to them and tell them to take their time with the car. She looks great, just does it as a hobby....a fairy in our garden- cute. So us.


---
January 4th
Sneak into the office and do a bit of work, only 2 hours, we are still closed and email free till Jan 14th.

Process a few more donations to the club charity project, we are just short of $8000.00 mark which is 80% of the total, so in the final stretch for this. Will be great when it's done- and CARE can start building the classroom for those kids. Here is a link so you can see where we are up to: http://www.frenz.com/fundraiser.php

Banshee the cat was really sweet today, she walked into Cosmo's room, and just gave him a big sloppy cat kiss. I kept feeling it was like her saying goodbye. The vet can't do anything for him, and he just wont eat, I'm spending as much time with our furry friend as possible. I've tried everything, and I know I'll have to make the drive to have him put to sleep. We hate the thought of this wonderful bunny suffering.

Went to bed at midnight, Mark gave Cosmo a huge pat.... by 1.00 I was awake and headed in to see our sick bunny. The little ball of fluff seems exhausted , so I sit with him, rug him up and just pat and talk to him. At 2.30 he decides it's time and just dies in my arms. Not in a horrible way, just goes to sleep. I hope when i die it's like that, so quick. he feels like a little stuffed toy. Huge tears well in my eyes , yes he's a rabbit but such an innocent cool little bunny. I sit with him, and think of good thoughts, salt tears, only a few, I'm holding them back, his little white rabbit body still warm.

I decide to wake Mark up, and he is awake, was going to check on Cosmo too. We are such big softies, I take him in to see how 'asleep' like the boy is. Nothing to fear, no horrid death. Seeing Mark upset, just upsets me as much. We love our animals.

I have some green tea and we sit with Banshee on the couch. She tries to cat talk- no idea what she is saying, but animals know. She's lost her friend too.


---
January 5th
No sleep, I'm up early digging a grave for the rabbit in this area where the two birds are buried. He's in a decorated box, filled with flowers and we bury him, say a few words. Cosmo curls up next to the spot and watches. We place a stone with a bronze rabbit on it- Cosmo used to knock it over every day... going to attach it to a really cool river stone, so even if the ghost of Cosmo returns he'll have problems knocking it over.

It seems strange, rabbits have such short life spans and Cosmo lived nearly double the average -must be all that love and good food. At first we all thought 'he' was a 'she' as rabbits have the unique trick up sucking their testicles back in (don't try that at home boys!)...as he hopped up the stairs of Greville street we soon worked out he was living a double life as a woman! *GRIN*. I went back to the Famous for 16 Minutes archives, 20th December 1999 when he found us at Greville street Park. He could of been killed by one of the many dogs in the park or run over by the endless traffic - but he zero'd in on us and many good fun years were had. We won't get a replacement, that's not us, but you never know some other creature will probably just enter our lives.

So emotionally tired, and just sleepy from sitting up- a heavy heart I have.


---
January 6th
Email Warners again to see how the replacement stock is going, and our Enz One Out Of The bag dvds finally arrive a few days after our office re opens (yey). That will be fun, boxing up so many. So better enjoy this time off.

2008 laid out before us, going to get as much out of this year as I can, explore and travel and try and be more kind and patient.

have a great year everyone.

Love and Peace

Peter

---
If there are any problems with this site, please contact webmaster@aswas.com.