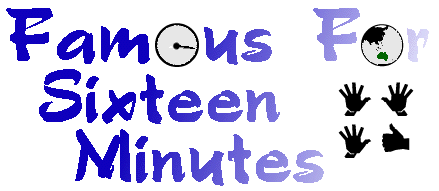 The Life and Times of Peter Green
Archive: 12 February - 25 February 2006
---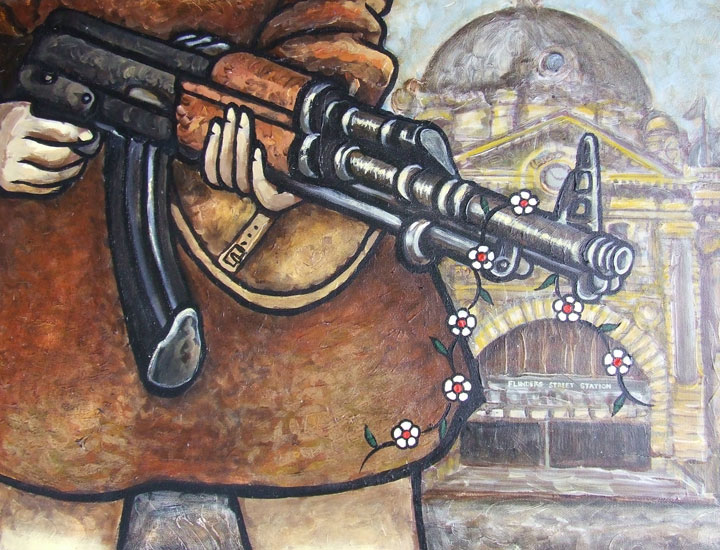 "Vigilance Badge" (Flinders St. Station) Gabrielle Bates 'Brownies With Guns' art


---
February 12th
Still sitting on the news that Matt Sherrod is the new boy in Crowded House. Triple J almost ran with it, which was Nick sending off an email to a mate.... only minor chaos and it looks like it didn't end up going to air. Funny as our regular media contingent has been patient and the phones very quiet. What a nice change. Still getting the daily barrage from drummers wanting to join, feels ok saying the spot has now been taken. (Hurrah)

Was a warm night last night and woke up to the vegie patch full of red Roma tomatoes. Just that smell when you brush past the tomato plant, love it. Fresh vegies again-cool.

Have a feeling it will be a few months before we get any confirmed Crowdies Tour dates, apart from Coachella truly have no dates, so waiting, waiting, waiting. (Ok a special show at Bristol- maybe?)


---
February 13th
Up bright and early for the Solar men today, and I can't believe it, they are on time. Amazing considering one flew in from Tasmania this morning. They are exceptional and get the work done in no time at all. Changed the roof plans a bit and had 3 solar panels on either side instead of an array of six together. The system is pretty cool, it allows us another 4 panels later this year, when I get paid for the many hours of touring that i am sure to do (Yes? No?). In Germany more people are employed in the renewable energies industry than in the fossil fuel industries. Germany is incredible for solar, they lead the world, which is sad as Australia is the sunniest place....you'd think our tight-arse federal government would make an effort. Can't believe John Howard is still talking Nuclear while the Polls show 80% of the country detest the idea. Solar little Johnny not Nuclear.

Email the door list for the Tim show at the Forum off, have a feeling it will be one of his better shows, a lot of fans itching to see him play and Melbourne always has a passionate bunch. With all the Crowded House stuff going down, it's easy to lose track of Tim and his live shows, but the fans haven't, he'll do well. I hear Imaginary Kingdom is close to Gold status in New Zealand, so if anyone is after a copy of the latest Tim Finn release head to: www.marbecks.co.nz and type in IMAGINARY KINGDOM. Overseas fans get it tax free (I think and the exchange rate should make it worthwhile).


---
February 14th
Happy Valentines Day you romantic things. Yes thanks for the cards and chocolates and flowers and polaroids ...oh la la....!!!

Miss Gabrielle Bates art show is on at the 69 Smith Street gallery, the infamous Brownies with Guns show, highlight was the 80 year old Brownie in her traditional Brownie garb! Many people wandering up wanting the art we eagerly bought but sadly gone, gotta be quick with art...and Gabe's stuff is sensational. Now we have a few weeks to work out where on earth it's going to go. Really like "Vigilance Badge" (Flinders St Station) which is an acrylic on canvas, iconic Melbourne train station the ol' Flinders Street. I'm hoping the state government can save the incredible Flinders Street ballroom, as it's falling apart, there could be so many exceptional things done in the ballroom, a great art gallery for Australian artists would be a good idea.

Anyway for more of Gabe's art head to www.gabriellebates.com

Visit the Market Cafe people and was that Katie Bardot I spotted, she's getting rather skinny, not that any of the Bardot girls were overweight, but Katie looks greyhound skinny.

Mark has his first taste of Wheat Grass, little does he know it's a taste of things to come...because of it's fibrous nature, and being a grass we humans can't digest it, so it needs to be juiced, unless you have cow insides and 4 stomachs. It's nutrient rich, around 30 mls of wheat grass is equal to a kg of leafy vegies. It contains every amino acid , mineral and vitamin necessary for human nutrition so it is now a major part of the Gryphon's food plan. Just have a small bit of orange nearby when you gulp the shot down ....bite the orange and get rid of the grassy taste....think of it as the healthy tequila shot without the tequila!!! Marks eye's don't roll back too much....he suffers it.....!

Open the mail and we get an amazing offer for our Qantas shares, something like $10,000 profit. It still has to go through and always takes awhile, the voters might all say 'NO', but it's good top see airlines shares actually worth something in 2007. A part of me just thinks I should say No to protest it being partially sold out to overseas..hard call. The money or the box.


---
February 15th
It rains and hails, and Marks dad and Kerrie are in town. Usually hot weather follows them and I'm sure it will this time too. Tim Finn's at the Forum but we are with the in-laws and that's ok, as we rarely get a chance to see them, so happy to miss the show for this. All our mates tell us it's a good 3 encore night. Go Tim.

Spend a big part of the day working in the office, trying to geta s much done as I can, as we are having a few people stay over the next few weeks, and it usually means nothing gets done.


---
February 16th
Return some King island cheese for a fresher batch, double Brie. Way too nice.

Work is slowly creeping out that Becks drummer is now Crowded House's new drummer- the good haired Matt Sherrod.

Spend some time re stocking the book shelf in the office, all the F/16 diary book stock goes on the shelf, takes an hour to do as the first 3 diary books- Hussy, Bang and Glamour have all been finding their way out to people around the world. As you know we pushed TRIP back again by a few months (and Rated PG dvd) to deal with all the Crowded House stuff. The diary books do take a lot of focus so need to do TRIP when we have a few weeks off.


---
February 17th
It's a hot day which means Marks dad and Kerrie are still up here at the house. make some seriously nice lunch and that famous Chocolate Mousse is devoured. have to miss Gabes art opening, but I guess she appreciates the support with some sales from us. The wine will flow and i can picture people sitting out on the roof over looking Smith Street Brunswick on this hot and sweaty night.


---
February 18th
So Crowdies look set to do a warm up show at the Thekla Social Club in Bristol mid March. Funny as it suddenly is all starting to feel very real. new recordings underway, which partially saddens me as the 12 I have the on the advance disc, means a few might go, if they have recorded 4 newies you'd think 16 is too much......wonder what songs will get the chop? Keep forgetting to ask NF what the new songs are called.

Send Eddie Rayner some Ed Images, want him to pick a snap for the newsletter to go along with his Luton Interview. I'm stoked he is pursuing this release, finally be great to have Luton available to the fans after all these years, though it is a Holy Grail of Split Enz fandom......I wonder if people will be disappointed? I mean people ask for this release every week.... not sure what people are expecting...some of the songs are great some not so...

Well a knock on the door today and Jason from next door calls by. 'One of your trees fell down'!!! Sure enough it has, the one rotted one, and it fell in the most perfect spot, missed the gates and the giant redwoods, but across the drive....well up early tomorrow to chain-saw it. I have had day dreams of it crashing down so in many ways just glad it has happened.

I've been after a sign to start a new bit of my life, not a chapter, nowhere near as important as a 'new chapter' just a kick start and this fallen tree represents that. I'm all for signs at the moment, signs from God, from the beyond, from the musical deaties, bring them on. Not sure what I'll do when I see them but hey gives me something to look at in the Kalorama night sky!


---
February 19th
Up early, overcast skies, and I'm out sawing away at the fallen tree, it's a BIG tree, I'm just happy to get it off the drive so we can take the 4WD out. Mark stares in amazement as I lift a huge piece, 'tough little bugger, aren't you' he says. 'Yeah so macho'...I respond....sweat, blood and saw dust covering me. I smell good and earthy.

Take our Judd original and the Reg Mombassa Crowded House 'Farewell to the World' original art to get framed. Found a really great framer, and yeah it costs but the quality is there. Plus Phil spent a bit of time on our drawing so want to do the right thing and have it looked after. So we don't eat for a week, a bit of starving is good for the soul.

Attempt to fix the Dualet toaster and give up, will have to go to a specialist shop to get the bit that I need, or break into Nick Seymour's storage area as he has the exact same toaster but his probably works. Maybe he won't know if I swap them over? With so much touring coming up how will he ever have time to make toast for himself anyway.


---
February 20th
Someone asked me how I was today. It was worded like I have been mentally ill or in a plane crash.....I kind of starred them down , which in hindsight was harsh, I was worried they were going to hug me next, like they were glad I survived.... it was puzzling...so I said 'Fine....' full of question marks in my voice, like "Fine what do you mean...?" Silly grin and nod and run.... quick before the hugging arms come out and corner me, crushed against heaving bosom!!!!! I know this person was a hugger.

So how am I? I can hear you. OK, feeling a bit strange with all the band action happening in England, but you know it's nice weather here, no English grey so maybe I should just be patient. Why would you leave this? iI could do with an extra hundred hours a week for work, some more sleep...... I've paid all my bills except phone/ foxtel so that feels good. Even evil ol' American Express is happy. So how are you?

Cut some fresh flowers for the vase in the kitchen, free flowers are always a good thing.

Peggy and Mark #2 are meant to arrive today.... I'm assuming for dinner around 7.30, but in the middle of cooking a call comes in and they have only just crossed the NSW/Victorian border.........so they will be here around midnight. Oh well, more food for us.

It's good to see Mad Dog, we have all been through so much, nice when one of the original Toorak Flat tenants comes back into our life (Hi Cathy!), I'm happy that her new boyfriend is much greyer and looks older then me, not me being vicious but that's always welcome...... but he seems ok, and nothing like Mad Dog led us to believe. So all good. Nice to have them here.


---
February 21st
Sitting around the kitchen table and briefly mention to Peggles that we are putting Beenami up for sale soon. Not sure why i told her, possibly because she has been to Beenami and there is a photo of Peggy laughing on the lawn...looking happy. It's that Forest air and lush green, just brings out a calm in us all. Anyway a minute later she is saying she might be interested. I always worry about selling to mates, feels strange even with a mates rate discount and bonus couch and table.... also I want her to be over the moon with having it. It's a great buy, land wise as it's now part of the gourmet food and wine trail, and not much land for sale around that area.

So I tell Mark 2 to be neutral and give honest debate around it when they visit their tomorrow. The good thing is , it means we know who owns it and that it keeps the loggers away and won't have some ugly house being built and ripping up the land. So it could be good...I can picture Peggy with a rocking chair, shotgun under her arm keeping an eye on her Piedmont Antique store in 20 years time.

I notice that Tony Blair has announced that thousands of UK troops will begin withdrawing from Iraq within weeks. Finally some intelligent action, will only leave 4000 troops, well 4001 if you include Prince Butthead, it's so typical of Bush to try and add more- have a problem, add more troops and make it worse, yep Bush's place in history is secured, 'Wanker of the Century'. How many days left till he goes away?

Go to RIPE and all 4 of us have some breakfast (no one ever thanks me for shouting breakfast), Peggy and Mark 2 head to the city first, and Mark 1 and myself head home. As we round a corner we see a mother echidna wandering across the road, ever so slowly. We block the road, emergency lights flashing and get her across safely, she does curl into a ball and let her spikes pop out- such cool creations...have to tell Peggy that Beenami has a tribe of Echidna's that live on the 5 and half acres.

We are all watching Dr Who and I keep hearing alarms, I'm told it's just the Tardis....I head outside and I smell smoke briefly and more alarms. We find out later that there was a suicide on the Tourist Drive, smashing into a power pole and then a huge tree and the car burst into flames killing both people inside, dental records are needed as they are so burnt. Sad to hear.


---
February 22nd
Well Peggles is back from Piedmont-Beenami - "yeah really want it' like it's a new handbag....she says it so calmly- still stoked as it feels really great and she has the vibe, good to see. They are off for more travels before heading back to the USA......her final comment on Mark and myself is ' they're capable of anything'! Which some would think , well thanks thats crappy, but we took it on board and LOVE THAT! Yes we are.....eventually I will have to get that printed on a T-shirt. "Capable of Anything".........maybe when i die on my tombstone.

Mark finishes off his Skyhooks editing, cds and dvds, the archives is looking healthy for the old Hooks. He is hooked out.

Greg Skyhook sends a UTube link that some fans filmed heading to Shirls crashed helicopter....it's the real thing, the message from Shirls parents is on display...... guess people make different pilgrimages.

Call Ben and tell him the good news re: Beenami, next week the Yeti is calling on by and we are all heading up to Beenami for the big clean up, clear the tracks and just have a day or two, will be good to see our old mate, miss him a lot since he moved to Queensland. So a few days hanging out, working the property ,sweat and fun.


---
February 23rd
Sharon Finn sends some photos for the mail out , very happy that one Mr Johnny Marr from The Smiths is in the shot, he has played guitar on one of the new Crowded House songs- way too cool. I made sure I packed my 2 silver elephant candle holders that Johnny and Ange gave me for my birthday, so generous of them and they are so lovely...so they are now in my bedroom. The Sharon photo is in front of the studio, nice B&W. How happy is Matt Sherrod..he beams in this photo, big huge smile. Nice shot Dawny and thanks.

Have been playing 'Lullaby" and "Wise man' two of Liam Finns new songs, that voice sounds like someone I know. So an album from the young Finn?

Have our new solicitor Cindy who does all my paperwork on 'stuff' she's cool and doesn't hassle, think i surprised her with how together we are with legal paperwork. Think she was going to offer me a job.

Dying to go to Warrick for my acupuncture but totally side tracked by work, I vow to fit in a session soon, doing some exercises and being good but need a correction or two, plus i want to give that Echidna a run for her money with my spikes in my back.


---
February 24th
Need to get 2 more Indian tiles from the Dead Cow store in Boulder City, I know I have a Tee somewhere with the stores net address on it. have a plan to put them all around the huge gas oven in the kitchen, will look pretty damn fine, but a real tricky job, so it has to be done right. I am 2 tiles short.

How great Japan has now called off it's Whale hunting because of the fire on the Nisshin Maru. Good, be stoked if the whole Japanese whaling fleet sank, I would not have the slightest problem with that happening.

Emails won't stop today, just seems like the world wants to be in contact, so I am rolling with it. Buy some extra food, if the Yeti is staying and the boys will be working away at Beenami their appetites will be bottomless pits. So I'm ready for some serious cooking next week.


---
February 25th
Finally get to announce that Matt Sherrod is in the band. It's strange as no official statements has gone out, well I haven't seen one. maybe it's all just happening naturally.

Watch 'Jarhead' excellent movie.

Favourite album this week is Bob Dylans MODERN TIMES, I know why it has done so well, just Dylan doing what he does.

Bec calls in for lunch and stays for dinner- BBQ. We do a little photo session and the Kookaburras come and viist. Really like her new tattoo, looks good as it is.

It's a lovely day here in Oz, sometimes we feel really blessed. The solar is churning out the power, the little wheel spinning backwards and was happy to hear that there is talk of a rise in the 'feed tariff' which means we get paid more for the energy we make and feed back into the State grid. I like how the suns rays are basically sending out this email to Deb to put on the diary site, clean and green.

Anyway that's it and yes I am very late with this diary entry. Am sorry, the days are a blur and work is out of control.

Be good to each other.

PG

---
If there are any problems with this site, please contact webmaster@aswas.com.