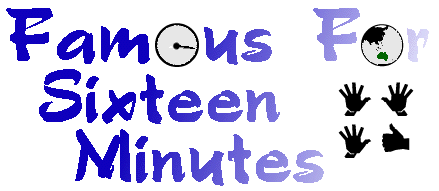 The Life and Times of Peter Green
Archive: 15 January - 28 January 2007
---
January 15th
One of those days where almost nothing that I planned happened, or happened like it should. Not like it was one big major disaster, just seemed to be a day where the elementals were playing havoc with my universe and things seemed to be going side ways. So by 4.00 I'd had enough and surrendered control to whatever force was steering this manic Monday. "I surrender just do what you have to do" waving my fist in the air, sounding like a Kalorama crazy man...i should of glued on a fake beard....

There'll be days like this...I'll just sit on a log and whistle.


---
January 16th
Was meant to go and become porcupine boy today but had to blow it out- which totally sucked as the sessions are great. All that extra energy and the aches are going fast. But every so often work takes over, and blows out my 10.00 session.

Spend all day on the phone.... and it's heating up outside. Banshee walks past and eyes the cool office so she's inside all day- bet she wishes there was a zipper on that cat coat! She is well behaved, usually she's a terror in the office- who needs kids.

Mark cooks Omlettes for dinner, just had to use up some of those eggs.....the kookaburras stealing some bacon....spoilt creatures.

Nui from the Herald Sun calls..... he's funny, tell him to get straight to the point...'I hear a certain band is rehearsing drummers'.......

Oh shit he knows.....so I reply ' wow who...are you saying you are giving up your journalistic life to become a drummer?"

I'm still playing hard to get...he goes quiet, I laugh. Nui has pretty much always done right by us (ok there was the Nick/Neil 'stuff' but that's bygones and zero to do with me on that one).... so I laugh and he kind of has some sort of scoop. Turns out one of the auditioning drummers has been calling the media and telling them pretty much everything, which is pretty crappy.......

So Nui does tell me when this scoop is being printed, at least I'll have some time (like a day or so) to get things ready for the onslaught. I picture this extremely long train running out of control down a very large hill.....oh well.........once we get this bit over with the touring etc should be fun.....


---
January 17th
Neil calls which is great, I mention the Nui leak and he's fine, think we kind of like it happening this way, seems more natural without the big press release number....he's in Melbourne next week so we promise to catch up for some food and chat. That will be good.

Greg Skyhook drops in, and we plan and talk Hooks stuff for later on in the year. "Your other life' says Mr Finn who calls during this meeting......I feel like a cheating husband being caught out! *grin*...yes my other life......(sigh).

Call Colin at the solar company and I still have to wait for the new date....they have a staff shortage....I really want all this done before our lives become Crowded House Forever.

Meanwhile the charts are strong. 'Farewell to the world' dvd hanging around the Aussie and NZ charts.

I'm not sleeping too well, tick tock crowded house are back tick tock...ideas, thoughts, disaster plans, Paulo....I dream Paul, yet again. Lately the little mite has been invading my dreams. Which I don't mind too much but it's always on the same stretch of beach...nearly always the same dream.


---
January 18th
Speak to Mr Judd today about his song for rare #4 and he's onto it in February when he starts on his next album. He sounds good but the last of the portrait work, they are really nice, if he ever does one of us I'd love for it to be as freaky and wacky as possible. He does freaky really well, (who would of thought)! *grin*!! he has about 50 of the signed Novelty Act cds left and that's it ...www.philjudd.com , the club has now ran out so Phil is the only chance to get a signed copy.

Pick the last of the gardens silverbeet for the chooks, they love it, if they were let loose in the garden they'd pick it bare. Looks like I may have to buy some from the supermarket. It's weird buying some vegies again after being able to just walk out and pick them. All part of the country experience I guess. My ten million tomatoes are starting to come out, so I think the neighbours will go well with all the extra's this year. It's either that or a lot of tomato sauce using Rosemaree's family recipe.

I spend part of my day daydreaming who the next drummer will be, the media explosion hasn't happened yet so i can afford to day dream. I dare say by week one I'll be well and truly over the drummer audition emails.


---
January 19th
VH1 in America is showing our Farewell to the World show as part of their 'classic in concert series. Was going to go to the Chiro today but it's closed, thought some spikes in before the stress would be a good thing.

The 4 songs the drummers have to rehearse are: Pineapple Head, Mean To Me, Now we're getting Somewhere and 'Four Seasons in one Day'.

Chat to Jason about new power boxes at Kalorama and a few other electrical things for Ailsa Craig, so we are ready for the change over to the massive solar panels in February. It is sure to be a late Summer so we'll be creating a lot of extra power all the way till mid-year. Big job though, the joys of being a home owner, updating power boards and stuff. There goes my pay.


---
January 20th
Call into the Verandah for a quick coffee, and sit and do some writing for an hour. Knowing this will be my only time in the next 6 months that I can do this sort of thing. Joys sits outside and has a chat.

Send Iarla the stats for Gold/Platinum awards for the website. It will be active soon, which is such great timing and a huge effort on Iarla's part, looks great will be such a good thing for the fans over the next year. www.frenz.com/crowdedhouse/ check it out.

Neil has given Frenz.com the Ok to use the video material from SNIFF section of his old NilFun site...a lot of fans wouldn't of seen this footage, so it's great that they can access it again.

Starts raining while I'm at the Verandah, quite cold too, good, keep raining we need it. The fog also rolls in, the air smells great, all those gum trees. Email Suuz and Miss July to keep an eye out for the piece in The Sun, just in case it goes up early while I'm still sleeping.


---
January 21st
Well Nui's piece is in The Sun and it's a lot more detailed, some mistakes, like it IS a Crowded House album and Mark Hart is also in the band.....but most of it is correct.

I worked on a VIP email and general email the night before so today is spent mailing people. Some media bites already. I'm going to film Neil tomorrow , the first ever Crowded House Interview, so I'm hoping a segment of that can be used for the net, as seeing Neil explaining it is always better then a press release.

The phone calls start, the Emails are out of control, it's been a long time since I've known it to be this full on. Drummers from numerous bands are in contact, a few are our heroes of yesteryear. One is Paul Hesters favourite drummer- which is Smiley from Hush. Paul would love it that Smiley emailed around this, I'm not sure that he even knows that Paul just loved his style when he was growing up.....


---
January 22nd
I am up at some silly hour and getting ready to fight the traffic and head to Prahran, I'm only 5 minutes late and Neils in the foyer of the hotel waiting. We head off for some breakfast and chat. It's great, so rare you get to spend time just eating and talking, usually on tour there are so many people. So by the end of breakfast, i feel like I fully understand the Crowded House situation and I can tell you that Neil is totally doing this for all the right reasons.

Back in the Hotel and filming, suggesting more Neil footage ends up on the Net like this instead of press statements...which are a bit one dimensional.... I decide not to have a list of questions and just talk....prefer that these days with many Interviews. So its about 30 minutes and I'd say most of it will end up in the next mailout or on something that neil might want it for.

The lifts at the hotel smell very farty and it's not either of us...the doors open and a woman pops her head in and jumps back- 'it's not us' i scream sounding very guilty! Why do the lifts at this hotel always smell 'funny'.?

Anyway Neil is about to head off for the first day of auditions, and I've got my list of 1001 other things to do. I go and clear the old P.O. Box 333, which does get cleared once a month still, always a few stray letters, i'll probably always keep this Box as well... can't get rid of 333 it's on so many album covers.

Call into the Market Cafe and see the family, it's a quick drop in as my car is in a 1 hour zone and the parking police are everywhere today. So many of the shops on Prahrans 'Golden Mile' are empty, sad to see Hares and Hyena's gone.... the Porn shop has closed..... don't you hate that readers *grin*.

Arrive home by early afternoon and feel beat, (which is funnya s that was the name of the Porn shop- BEAT) Mark starts some editing on the footage so it can be used on the internet. It always feels like a long day heading into town, good to see Neil though.


---
January 23rd
The Melbourne Arts Centre spire changed colour last night from blue to pink to honour the gay midsumma carnival.

Another 17 hour day here, it's becoming a regular thing, from media to general emails, the days are very very long. I'm worn out already and we don't even have a drummer yet. Not for the hope of trying, so far hundreds of 'drummer applications' have came in...crazy. Poor NZ office as they have to listen to all those MP3's of people drumming....everyone wants in on the 12 month world tour.

Decide to take some time off and have lunch at RIPE, the girls make sure we get a table which is great, need to chill out, RIPE is as good a place as any. Laura looking damn pretty today, she's one of our RIPE favourites, nice sense of humour.

Chiro was exceptional today Warrick whipping my back into shape, with such long days it's a blessing. Came away full of energy. Some of the natural tablets he has me on just make a massive difference. I know his website for these will be online soon so I'll run the address on the diary site- just good for high quality healthy tablets, there are so many suss 'health pills' out on the market it's good to let people know when you find the real thing. So will include that in the future.

I have to admit I am totally failing with the diary for these two weeks, It's taking me ages to do this, and it's really just the work load around the new reformed Crowded House. It seems to be sucking in every second of our time and in many ways it hasn't even started yet.

At least the media have been good and not too demanding....


---
January 24th
Tania and Jake come by for some breakfast, I'm away for Tania's birthday so we have her present here...what every Kylie lovin' 40 year old needs....a Kylie doll holding the very special Kylie perfume. Actually the perfume is pretty good...the doll is pretty scary, way too much like a weird Charlene period.....and hey you get some Kylie plastic pumps with it.......anyway Tania loved it which was good. Jake grabbed his Christmas present that was left here by mistake so we all strapped on some 'arm lasers' and fired invisible rays through the house at Kalorama.... pretty cool..and yeah i dug it.......so childish I know......

Liz sends WEEDS season 2 so i can watch it on the lap top.......am saving it for the tour bus, assuming i am touring......major assumption. Great present though.


---
January 25th
Notice the press release is starting to pop up everywhere, we just keep ons ending it on......seems like every second day is Crowded House in the media. Keep going through photos, Neil's rejected a lot of them but that's a good thing, prefer him to tell me what he likes and doesn't like.

There was talk of doing a new photo shoot early February but till they have a new drummer that seems unlikely.... and the email requests for auditions roll in...it's now every second email. I am totally amazed at just how many drummers there are in the world....I know I keep saying that but every day more and more turn up.

Hear from Shane G. about The First Settlers painting, such a good one, one of Shane Gehlert's finest moments ,,,,, just blows me away every time I look at the jpeg. I wish I could paint even one tenth as good as that.


---
January 26th
Happy Australia Day....Mark and myself are going to have BBQ for dinner, just the two of us. I think the Deli guy was chatting me up, Mark says the proof is the huge bag of prawns he gave me, about $35.00 and they were marked as .35c. OK I did flash those crystal clear blue eyes....

it's ok to window shop? Hell if I slept with him I'd be in cold meats for a year (and that wasn't a sexual innuendo ). Not that I have any such plans to sleep with anyone for any sort of meat cold or hot...am I burying myself here...I think I am, I'll shut up now.

Iarla worked all night to get the new Crowded House mini website up and running www.frenz.com/crowdedhouse/ It turned out really well, I know he's still got stuff to do but it's cool.... will be very handy for tour dates and all those other 'band on the road' sort of things. Fine effort lad and thanks to Deb too for a place for the mini site to live.

We watch several Aussie movies tonight, one of my all time favourites 'Travelling Light' with Pia Miranda and the charming Brett Stiller. Some of us think Brett Stiller is this years Brad Pitt who was last years Rob Lowe! Pia well she's just too cute.....one of those Aussie movies that will become super cultish.....see it, buy it. be it! Pia is this years Pia....she always looks the same.

Give the people at Lilly Pilly a box of free range eggs, we had too many (again) ....Joan, Belinda and Sharon just love it here, still paying egg rent every day.


---
January 27th
Fred Skyhook called and woke me up, he wants to send in for the audition, sure...what's one more....he understands just how many have done so.

Greg Skyhook is in Sydney and Fred woke him up even earlier for my new number. (:

Keep playing Split Enz 'Snake Charm Boogie' what a cool groove. Chat to Nigel about it on the phone, parts of it are used in several songs methinks.... if Split Enz ever record a new album it should be called Snake Charm Boogie....

Barry Humphries (yes Dame Edna's manager) has his art show on at Savill Galleries at Sth Yarra, it's the 'wish you were here' holiday paintings'.... a bit too bright for me but on till FEB 28th.....

I planted an Orange tree today....near the Pear tree...can't have enough fruit trees. All along the fence hundreds of baby kiwi fruits are growing, they are hidden so I must of missed them last year......fresh fruit, just the best.

So with the polar ice melting and the sea rising, maybe our tree change was a good idea, might as well be on top of the highest mountain range near Melbourne.....Noah Green.....all these animals it sure feels a bit like it....our friends will flock to Ailsa Craig when the floods roll in and cover Melbourne town.


---
January 28th
Churinga for breakfast, good to see Sophie, Sonja, Sissily again...she makes me my favourite pancakes. (oink).

Oh Hillary don't ignore the hard questions on Iraq, if you are going to be President you are going to have to face up to them at some stage. Mark's pissed that she ignored them....I think it's a bit lame but i'd still vote for her, be good for America to have a President again.... not sure what they have now but ....... wonder if she'll make it to the top. ?

Yet again The Rolling Stones are the biggest money makers in the music business, $193 million.......they held the previous record which was $170 million..in fact every year since 1978. Amazing. U2 get close but not close enough. Scary amount of money.

Windy night, trees crashed down and Banshee saves two baby birds. They are only a week or two old....and suffering from a night in the cold...so almost dead. She is such a weird cat, she gently carries them like a mother lion...and slowly puts them at our feet. First one and then 5 minutes later a 2nd...she doesn't try to kill them or eat them, so amazingly gentle. We are pretty sure they wont make it, and our vet friends tell us the same but Mark and myself have to try, so for 4 days we are up feeding them every few hours.... they get to know us after day one and will sit on our finger (two on one finger that's how small they are).....day 3 and baby bird just dies..his little heart just stops....and nothing i can do can help. His friend looks on and just makes baby clicking sounds.... the next day the 2nd bird dies. I am so saddened, I knew we had almost zero chance. We did all the right things but just too far gone.....but they had some time all warm and being looked after. Instead of just dying slowly on a rocky path.

Mark was upset, we both would make hopeless vets because we'd need therapy everytime we lost a bird or a small creature. I know we should be blokey and tough but it's sad. Makes me wonder why both of us get more upset over animals dying then some people dying. We tried our best.

Now that I've bummed everyone out......... take care, stay warm and stay alive!

Gryph.

---
If there are any problems with this site, please contact webmaster@aswas.com.