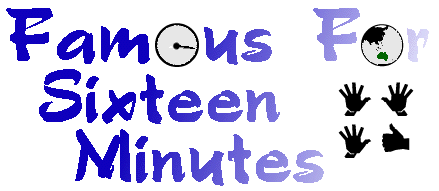 The Life and Times of Peter Green
Archive: 1 January - 14 January 2007
---
January 1st 2007
Happy New Year!

Happy Birthday Merly!

Seems strange waking up and it's another year. Rosemaree is still asleep, no early start, and I feel great, so decide to start this year off by giving in to what my body wants....that's sleeping in (not having a wank!) Gawd you guys , clean minds for 2007 , clean minds!

I'm now sitting out on the decking having some green tea, watching the world turn. I close my eyes and try to feel the turning of the planet, how fast are we spinning? You'd think we'd feel it! Maybe the world really is flat.

What has 2007 got instore? I think I know what one of the main things will be, but till I get the OK, these lips are sealed, not even a zipper, they are super-glued closed. I'll just wait. So I'll be sitting here on this rather comfortable chair, just watching the trees waiting, waiting for the word. Mark walks out and just puts his hand on my shoulder, I look up and smile. "Another year eh?". Feel like two vampiric immortals watching the world decay and turn to sand around us.


---
January 2nd
Head to RIPE and the girls have a table for us. For the first time I decided to phone ahead and glad i did, it's like a plague of locusts chewing up everything in sight, tourist invasion of the Mountain and the food places. We roll on up and just breeze on in....

Email the contest winners today, the girl from Tassie is stoked with her prize. I decide to call her and she is almost in tears, the famous 'never won anything in my life' line.....so good to hear someone be that happy over a parcel. The little shaped enamel crowdies pins are brilliant.

Am thinking this years project will be raising money to build a classroom in one of the poorest countries in the world. It costs just under $10,000 ($9450 to be exact). I figure each year I must be in contact with at least 10,000 people. If everyone gave $1.00 this could happen. What's a dollar, really nothing in 2007. So i think that could be the thing I'll do this year. So by Christmas 2007 am hoping we can hand over a cheque to CARE Australia to make this a reality. I can picture yours truly on tour with my little metal tin hassling concert goers for a dollar.!!!!!!!!! What do you guys think? How often do we get to help people by handing over a buck.


---
January 3rd
Must be my good karma for wanting to do 'build the classroom', win $27.55 on tattslotto, so put it all in a tin....the classroom already has $27.50 in donations!

Well Morrisons was meant to re open today but it didn't, looks like the floors have been re-painted, so they are probably not dry yet, so we head to the Verandah for brekky.

Notice that former playboy model Dita Von Tesse is filing for divorce against Marilyn Manson. Too much boozing MM...isn't he seeing another younger woman too? I'm sure the tabloid press will love it, all the juicy gothic details.

Enjoying the time off, it's as close to 'normal' as I get, mow the lawn, water the plants, cook and do all that sort of stuff. I walk past the office and avoid it totally, no urge to walk in, feels great.


---
January 4th
Hot day, Summer is here at last. Call Olinda Pool and no one is answering, can't believe it's not open yet.

Head to Mount Evelyn and Morrisons are playing the Live Opera House show as background music, it always feels odd hearing Crowdies whilst eating, surrounded by people, i watch a couple in the corner tapping away to Hessies beat and singing the odd line. At least they sing the correct lyrics, though it's fun when people sing the wrong lyrics in public.....

Have an afternoon meeting with Dr Chiro today, it's 3.00 and I am the first cab off the rank, the first time in a few months, relaxing with the odd shoulder ache. Warrick soon snaps me back into shape, he knows what I need (Ouch).


---
January 5th
Spend the morning chain-sawing dead tree branches that came crashing down last week, most of them are huge and wider then I am, so it's a good bit of work, strip to my singlet and pull the right macho faces whilst doing this. Very blokey eh?

Great to see Ben Yeti & Jen, we are spoilt with the most beautiful table lamp, sits really well in the kitchen. Now our second gift is more potent, Scorpion Mezcal, with the Scorpion still in the liquid and yeah like the tequila worm you do eat the scorpion. Jesus this stuff is strong, I remember having some shots with the Yeti on tour and it almost killed us. This will sit in the liquor cabinet till the right time, IS THERE A RIGHT TIME? Maybe suicide, I shake just thinking about it's potent taste!!!!!!!!!!

The kookaburras pay us a visit so I get Jen to feed them, 'diver' is first and lands on her arm and wants to eat all the food, what a little piggy, for a skinny kookaburra he sure eats a lot. In the end there are 5 of them all making a noise wanting food. They are getting a taste for chicken (watch out Belinda, Joan and Sharon you might end up Kooka food).

Cook dinner (Kookaburra Pie...nah not really) and Mark does some entree sausage rolls, all gobbled down...the house smells of nice cooking oder. It's really nice to catch up with these guys, Brisbane is so damn far away, it's only when you see people you know how much they are missed. We watch Hedwig, as the Brisbanites haven't had the pleasure of Miss Hedwig and her angry Inch..... ends up being a late night, about 4.00 in the morning.....night kids.


---
January 6th
I am awake first and cooking breakfast, I now know what Robbie & Rosie go through on tour being first up and getting the breakfast ready for everyone. I am a bit bleary eyed , but some lovin' from the oven is served.

Send the Yeti's on their way, wish their visit was a bit longer.

It's hot and muggy, the cooling system is a joy, 17 degrees of luxury.

Hear from Caroline & John, the couple who lived downstairs in the Woodface apartments, they ended up buying Tim Finns Periscope studio house and really fixed it up so it looks amazing. Nice to hear from them, they are heading up to Ailsa Craig for a visit soon, seems everyone is.

Cook Pasta for Mark but i decide on a dinner of fruit for myself- Peaches, Strawberries and Yoghurt, no idea why, just what the body was craving.


---
January 7th
Call in and see our new friend Martin, it's his birthday so he gets a copy of 'Wings off flies' one of the few signed ones, signed by all the various band members. Think he's stoked. he asks if we were once 'groupies' -how funny!

Am sitting outside, it's really windy and a fine mist of rain is blowing in under the verandah. I feel like I am one of those lighthouse keepers looking out to see as the weather changes. Happy to get a bit wet, feel incredibly calm.

Hear from Sharon in NZ, which was nice, Neil sitting next to her, laughing and chatting so much forgot to speak to him, which was insanely rude of me (sorry Fang), guess it's going to be a really full on year full of surprises and music....

Watch 'In her shoes' with Cameron Diaz, Toni Collette and Shirley Maclaine, cool movie, I understand why it has such a cult following.

In contact with our new Hong Kong printers, so I guess they will be doing the new diary books, sad that it has to be done outside of Oz, but the prizes here, even at mates rates are killing us , so Honkers it is. It might be easy and I might not have to fly in, could well be done via the Net.

Spend an hour in a cupboard, yes a cupboard, unscrewing hanging bars and trying to redo the whole thing for our costume archives. It's a pain in the bum, and I'm going to have to redo the whole thing from scratch as all the bits and pieces are the wrong size and shape. I'm tempted to put on Sarah Michelle's Buffy coat and work in that, it's very comfortable and a size super small so it would fit one of my arms at best...........but it's nice and soft and hey Buffy wore it ....gotta love that- slay me baby! The cossie archives is great.


---
January 8th
I check to see if Banshee is still registered and she is, till April, chased an unregistered cat off the property the other day, never seen an animal move so fast, it was a cm away from killing a parrot and I startled it...so the bird got away and the cat exited stage left.

Feeling really odd today, kind of empty inside, a little sad and blue.... what's that all about? Need to have some fun, so we watch Aussie movie 'Kenny' which is great and deserves it's success. I really do know why, but now not the time or place.....gotta deal with 'stuff'.

Drinking a lot more Madurah Green tea, it's part of my daily ritual... just by itself, thinking of using the saki holder that Miss July gave us for Christmas as it's the right size for tea. Have a feeling we do have a japanese tea set somewhere in one of the cupboards.


---
January 9th
Smoke covers the whole of Melbourne again today, it's nice up here, it's probably all blown down to the city...it feels like these bushfires are never going to end.

In the office doing some work on Crowdies figures, just working out how many Platinum and Gold records they've received worldwide.....coming together but because it's over such a period and many of our contacts have moved on it's contacting new people ....will be a fascinating fan thing when we have all the stats in. I'm making some headway.

Quite a few phone calls today, just people catching up, and wanting to visit, Greg Skyhook is coming up here next week so we can have a meeting about Skyhooks and their catalogue. Be good if we can get it up to speed like the Enz cds. (with no product recalls *cough*...am still waiting on more Frenzy's to be pressed....they did say February so I'll be patient).


---
January 10th
Back is sore, pain killers, thermal gel and hernidisc homopathic tablets, puts me in a pretty average mood. By evening it's all gone, crazy that a back ache can wipe a whole day out of my life.

Notice that Recurring Dream only needs to move 14,638 to hit 12 Platinum here which would put it at the same level as Savage Gardens debut, meaning they would be equal for Biggest Selling album by an Aussie Group. Pretty sure Savage Garden have slowed down to a snails pace while Crowded House just keep on selling, I'm sure Christmas sales helped a lot, so closer closer closer sick of all those #2 things around this band- #2 in America with Dont Dream #2 in Australia with Better be home soon, #2 with biggest selling album by a group..saying all that rather be #2 then #102.... but determined we will be #1 for Biggest selling album by an Australian group.

Banshee launched herself out of the bath at me tonight, it was like Flash Gordon's rocket ship taking off, she just went flying up the white sloped sides and into the air, she's been such a tool, just having fun but I wasn't expecting a furry missile, I did catch her mid flight. Nutty fur ball that she is. yeah it was kinda cute.


---
January 11th
Lunch at Montania today as we had to go to Mountain Gate, get a few things done. We walked past a busker who was doing a half decent version of 'Fall at your feet' coming back half an hour later he was singing 'Better be home soon' , dropped my coins into his guitar case.

Favourite album at the moment is 'Time On Earth' , loving it, took 3 plays but suddenly it all clicked and enjoying it.

Mark has started transferring all our Skyhooks footage, a huge job, will take a month, Greg will be dropping in any of his stuff, will be good to have it all transferred.... time just erodes stuff and all of this is history. So I let him work away in his office while I'll be doing the day to day stuff.

I can hear Molly's voice muttering on while I'm typing this, it's when the Hooks announced their Mercury Records deal from a special launch/function at the Barron of Beef only a few miles from our current house..... what ever happened to Skyhooks multi million dollar deal? 5 year contract, 2 albums per year......(Phew) The moralistic Mike Willesee Interview with the band is as hysterical as it was way back then....talking about masturbation and sex the good old Hooks just take the piss out of him, a wonderful piece of Australian TV.


---
January 12th
I find a second walnut tree on the property, it's bigger but not as nutty (*GRIN*) the walnuts are all in their green pods getting ready to drop. Ailsa Craig continues to surprise us. The kiwi fruit plant I put in must of been the correct sex as the other plant now shows signs of baby kiwi fruits, all growing along the fence line. The weather seems perfect for them up here.

We are back in the office next week, so will answer the email build up when I'm back and after I've caught up on work. The badge company just emailed and the square Crowdies badges are underway next week now that they are back from holidays. So it's all rolling along.

Did a book stock count on the little diary books- Hussy, Bang and Glamour. The third book Glamour has now overtaken Bang and Hussy as the most popular of the books, not sure why but every man and his dog seem to be buying copies of Glamour, possibly it's to complete people's collections, who am I to ask? So I don't. Really all three books are close to the same amount of sales but over the last year it's been Glamour that has outsold them all. I guess it's sales will slow down once TRIP hits the market. It will be funny when stock runs out, I like that they become some sort of rare collectors item.


---
January 13th
Sun, no rain, the weather man lied again.

Coffee at The Verandah, have a chat to Nick one of the locals. Part of the collection of people who have made us feel really welcome up here, it's a nice community and they don't invade which is fantastic.

While I'm on holidays I decide to mow the other parts of Ailsa Craig, fall down the gully once, my Blunnies just don't grip so flat on my arse....I spend more time looking about to see if anyone spotted me making a tool of myself. Looks good when it's all attended to and the wild is controlled a bit. Beenami is going to be an effort but we'll get it done.

Next I have to give Banshee her 'all wormer' paste. Syringe it between her teeth, nice frothing yellow mess, she doesn't hate me for too long, think she just found it pretty hideous, but it's for miss fur balls own good. I get all the good jobs, I notice Mark is hiding while I am covered in yellow mushy wormer paste (urgh).

Our invite arrives for Gabrielle Bates Art Show. February 14th- March 4th at 69 Smith Street Gallery (Upstairs- 69 Smith St Fitzroy). It's the GUNS 'N' BROWNIES art series, this is some of her work that we both love, am hoping my pay day is around the date of the opening, hey can never have too much art. www.gabriellebates.com check it out.


---
January 14th
Chat to our old mate Melissa, good to have a talk, still doesn't have her drivers license, not sure who will be last her or Mark (or Johnny). Today seemed really long, just dragged on forever, and I know I should of made more out of this time off, especially with what i expect to be a crazy roller-coaster year coming up.

'Farewell to the World' is still at #4 after 2 months and edging the Platinum x4 mark here. I thought the DVD would sell more in the UK, it doesn't seem like it did very much in England which is weird as the video sold really well. Australia still loves Crowded House, notice they made it to #3 on the Music Max Top 1000 Favourite bands/ artists (at least it wasn't #2!!!! *GRIN*) madonna was #2 and U2 #1.

Loads of thoughts are running around in my brain, our course will be laid out in front of us for another year soon....it already feels very different to 2006, I know some of what is hiding behind Door #1.....but where will it all lead ?

bring it on.......

Gryph.

---
If there are any problems with this site, please contact webmaster@aswas.com.