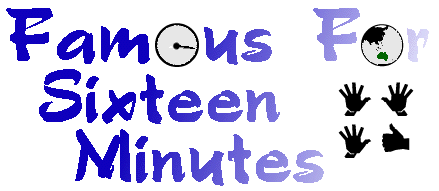 The Life and Times of Peter Green
Archive: 26 February - 26 March 2007
---
February 26th
"Love My Way" returns tonight, so well written, just a bit sad that this season is a lot shorter.......good to have something great back on TV (ok Pay TV!). Nigel Griggs will be happy being a huge Love My Way fan.

Pans Labrinyth has to be my movie of the the month still, it continues to do well.

My favourite album is Dog Trumpet's ANTISOCIAL TENDENCIES, am playing the Doggy boys even more then the new Crowded House material (imagine that!)

You can get copies of the Dog Trumpet album via www.halfacow.com.au so take a chance and order some music that many of you probably have never heard of, it's good to take a leap of faith and Pete & Reg's new album is excellent. The Sydney Morning Herald just gave the album, ALBUM OF THE WEEK, so for us it has to be Famous for 16 Minutes ALBUM OF THE MONTH! Antisocial Tendencies....lovin' it!!!!


---
February 27th
Last day of rehearsals for the new look Crowded House, first day in the studios with Steve Lillywhite....he'll whip a few new songs out of them. The number keeps changing, was 2 now 4........even more new stuff to listen to- wonderful.

In 50 years time Melbourne's population will be above Sydney's if it keeps increasing at the same rate- Melbourne seems to be THE place to live these days.

In 50 years time Kalorama will probably be no National Park and just a huge shopping mall. In 50 years time I will be some crazy old man muttering about glory days with bands...hmm some may say that could be me now. But you all know i will still look gorgeous..a 70 year old hotty!


---
February 28th
Poor old Billy Thorpe died today from a massive heart attack. There was a talk of another Sunbury Music Festival to celebrate it's anniversary, so I guess that might not happen now. I actually preferred Thorpie the writer over the singer.....though I did love 'Most People I know think that I'm crazy' which one of the uncles bought at Unanderra and I played over and over and over....... probably sent my family crazy all those years ago.

Order flowers for Mum via Qantas, it's her birthday and I know she loves her flowers. Hope they get the order right this time...and arrive on the correct day.

Had quite a few emails from readers in different states asking about our solar panels and the various government rebate scheme's. Hopefully I've passed on the correct information to people. The rebates differ from state to state. I just got my final bill so I've had an extra month of energy before paying for the 2nd (and last) installment..... I'm sure if the solar panels etc were cheaper more houses would have them.


---
March 1st (opps I did type in Feb 29th!!! I confess)
Well looks like HD dvd's will do better then Blu Ray (which suck)...you know it's a good sign when Porn companies decide to use HD not Blu Ray. We are loving all the HD dvds at our house, who needs to be an 'ice' junkie when HD is around.........watch endless movies and let the world disappear .... no I'll be good, off to work I go...

Well it's Autumn but really just Summer running late, someone has to correct the seasons, they are no longer the time periods that we have set them on...Summer in Australia should really go through till April 1st.

The inspector arrives to sign off on the solar array, he's ok'd it all, a good job......so I can now pretend that we have not had it on for weeks......(opps).

Meant to email Nick to find out what his ideas are for the Crowded House cover art. Maybe it's good to wait and be surprised, he usually has a few ideas, I remember Woodface had all these off shaped 'lettering' made from kitchen components etc and that all changed, so the album art will probably come from a vast NS source....or some old reject he finds in a drawer *GRIN*.

I decide to give the chooks some feed late in the evening and don't lock them in.....at all! I'm surprise hungry foxes did not scale the fence and have chicken tonight!


---
March 2nd
Wake up and instantly freak about the chooks, bolt up the trail in my dressing gown (ok I don't own a dressing gown but it was a good visual). The girls are all walking out of their sleeping quarters, all fine....but they don't say hello, pissed that I forgot........sorry Sharon, sorry Joan, sorry Belinda. My punishment is simply no morning eggs!!!!

Head to Mountain Gate and visit solicitor, next to Knox and buy some Gold cinema tickets for Robi, a present for doing my tax. Buy Andy White's CD and a few other releases.

Spend the afternoon working on some questions to ask Greg Skyhook for the Interview for the 3rd Skyhook album.....easy to do......

Hear from Peggy who is in Sydney and getting her solicitor together. She sounds excited, and happy which is great. She should be Beenami is lovely!


---
March 3rd
Starts raining and some fog....which is great, we do need that rain.

Work in the office, a very solid day and evenings worth of work, since Crowded House's return it has been crazy here, I'd forgotten just how 'full on' , full on can be.

Order Split Enz LIVE IN AMERICA, obviously a bootleg on the HMV site.....interesting times ahead.....some heads will roll for this one, I expect.... guess we are all approaching it slowly, so fans that collect can probably still grab it.....but will be interested to see how far legally all this goes.

Hmmmm Hairball Snr starts seeing purple aura's, think he's been spending too long on that computer....


---
March 4th
Get way too excited over Giraffe Manor segment on Tv's Getaway programme, amazing Hotel in Nairobi. Nothing like a Giraffe head leaning into your bedroom window for a feed. Thought it would be a great place to send ,my Sis and her boyfriend for a honeymoon, now just have to find a way for him to travel.

Anyway check out this place: http://www.giraffemanor.com

Would be nice to have some Giraffe at Ailsa Craig.

Head into the city to pick up the Bates artwork.....have some breakfast with Marky at Cafe Beelzebub on Smith Street. Good coffee.

This is the last time we see Gabe before she heads off on her adventure of a year in Malaysia, which is both exciting and sad. We'll miss her.

With 5 bits of art under our arms we say goodbye, I hate goodbyes.

Mark wants to drive to Prahran to pick up the new HD DVD player (Blu Ray sucks don't waste your money, get HD! It will be up their with all those other horrible Sony flops- Beta Video players, Mini discs and Michael Jackson! Opps).

So I park on some side street and wait for Mark. I'm sitting in my car reading and there is a knock on the window. Two Scottish fans have been to the Greville Street Bookstore and one has a copy of Glamour in a paper bag (my books are like Porn, now sold in brown paper bags!!!!!!!!!!!!) anyway I sign away, normally I'm all red faced but a year+ in the Blue Hills and I'm happy to sign books, hell if someone has bought it why not. Anyway I sit with them on the bench and they get a list of places to eat, I suggest they take the tram to St Kilda down Chapel Street, and then back up St Kilda Rd to the city. So I wave goodbye to my two new friends as Mark turns up with some huge cardboard box with a crisp new HD player inside. We even get a free movie- Apollo 13 and it looks sensational.

Arrive home and put up some more nails and holders for the art, move a few things about, 'Vigilance' (Flinders St Station) ends up in the lounge-room, which was a good suggestion MG. Only one big space left, and think that will be one of my new paintings, that I have to start work on soon.


---
March 5th
Happy Birthday to my dear old Mum. If she spots the 'old' in that sentence I am done for. She's great these days and much healthier and laughing a lot more, really relieved. Of course Qantas and the Flower people mess up the order, so they get a call......Grrrrrr.

Decide that the morning rain, means we shouldn't go to Beenami, don't want to mow wet grass so we wait., a few more days won't matter.

Spend the day in the office working, the media have been very quiet.....but the fans very loud....we are getting close to record numbers of Emails a day.


---
March 6th
Our washing machine has bitten the dust after nearly 2 decades, so unplug the hoses and we put it on the 'barrow' and take it to the garage for the next trash pick up day.

Check out some of Rhett Hutchence's bits and pieces on Ebay, he is the brother of Michael H. from INXS. I do like Michael's glasses and almost put a bid in, but a change of heart, felt a bit creepy...but they were nice french frames....guess the usual shit is going down between Rhett and his Mum over Michael's stuff. The media love it when families fall out.

Our friend at Lilly Pilly has become a dad again so it's closed for a week, so we have breakfast at Deli Platter at Mount Dandenong- it's good.

Our in the wheat grass machine, it's a LEXEN silver metallic and arrives in some huge heavy box, at first I thought it was the new washing machine it is that heavy.

I'll be having wheat-grass growing in no time at all.


---
March 7th
Washing machine arrives, right on time, we know the delivery guy, his company does all the fireworks at events and concerts....

Wow Captain America is killed off in the latest Marvel Comic Issue (did he eat one of george bush's pretzels?) He (bush) has so little respect from me that I won't even put his name in capital letters. How many days before he goes...can someone tell me.

Anyway Captain America is shot by a sniper, killed by a bullet seems too easy, he'll be back like Superman.... we all need some heroes ......

The new washing machine is great and has some fantastic water saving ECO-wash, saves 2/3 of the water we used to use...and so quiet, doesn't sound like it is going to blow up like the old one did. Domestic bliss.


---
March 8th
We had good intentions to head on up to Beenami for another big clean up, before it's handed over to Mad Dog, but it was raining today (again)so we passed on the idea, nothing worse than mowing and cutting when it's raining and wet. Plus Peggy's famous leeches in trees may drop and kill us!!!!

Poor old John Inman, grandfather of my friend Cathi, died today, aged 71, infamous from the tv show ARE YOU BEING SERVED, his partner Ron Lynch must be devastated, wonder if Cathi is attending the funeral ....

At 1.30 walking across the office floor and there is a huge noise like 10 trucks going around the house, Mark looks up at me startled...'earthquake' I mutter.......

It's on the news, and not a massive one, the funny thing is that the epi-centre is at the Bunyip State Forest, in fact it's almost exactly at Beenami...how funny we would of been up their mowing. I check with a friend and she tells me Beenami is totally ok, it was a very light earthquake, stretched out as far as Moonee Ponds (did Mrs Everage report it?) I'm glad Beenami was ok..hear that Peggy it's all ok *GRIN*.

Banshee has taken a liking to Marks fish oil tablets, he leaves them on the coffee table and she uses her little dracula teeth to bite a hole in them.....every so often they just vanish....no wonder her fur is nice.


---
March 9th
Look at Michael Hutchences glasses and get eiked out so dont buy them.......too weird.

Parcel arrives from Eddie Enz..he's working away in NZ, can't wait to hear the finished Luton tapes.... go Eddie!!!!!!!!

Spend all day on the phone, look up and it's 6.00.....another day lost forever.


---
March 10th
How cool is The John Butler Trios' GRAND NATIONAL, the new album, love the art work as well. Brilliant that they include a slip for Nuclear Free Australia. if anyone wants to email John hoWArd and tell him Nuclear Power is totally the WRONG WAY to go- go to www.pm.gov.au/email.cfm Anyway excellent album, this will get loads of play in the office.

Wow some of the new USA coins are missing 'In God we trust'...what does that mean....scary! I'm sure they bring in a fortune on Ebay ...and not just from the unGodly lovers.


---
March 11th
Gold member and little Georgia call by today, Georgia girl in pigtails, and way too cute. She spots Banshee and Cosmo the bunny and gets so excited 'C-A-T' Even the rabbit is a CAT.....take some photos, she is lovely like her Mum, and nice to have a kid rolling around the yard....though calling Mark Dada was interesting (something you need to tell me boyfriend?).....but then she called him C-A-T! Nice to see them both. Lots of friends visiting these days, people seem to enjoy their escape to the Mountain.

Greg Skyhooks rocks up today, and we film the dvd for Straight In A Gay Gay World, Skyhooks third album 'Is This America' from that album is one of my all time favourite Skyhook tunes.... have always loved:

"One day in New York
Sunlight hits the streets
I thought I heard the sound of the second coming
But I listened again and heard the subway humming
Then one night in Dayton
In a drunken haze
I thought I saw the star of Bethlehem
But it's just the light on a Holiday Inn"

For a young teenage boy in Wollongong Australia in 1976 that was so damn exotic and poetic..... still lights my fire in 2007!

We light up the lounge room for the Interview as it is dusk, sound recorder is clipped on and we go for it. This is our third filmed Interview with Greg and he's relaxed, you know it goes well when the fan side of you goes 'oh I didn't know that'.

Afterwards we three head off for some Indian but it's way too packed so we grab it for take away and eat back at Ailsa Craig. Greg Macainsh is like a father figure, always been exceptionally kind to Mark and myself, and we value his council. This sounds like a reference....


---
March 12th
Ok today is clean up day for Beenami, our last time we do this, I'll take loads of pictures......

The drive is nice, call into Yarra Junction and have some lunch at the little coffee house. It's a public holiday today so people are out driving.

Beenami smells amazing and the earthquake didn't even move a cup, everything still standing Peggles! Mow and clip and clean.....the bath is sparkling white, and I even clean every window. Mark starts on the drive in track and between both of us we have it looking exceptional by 6.00. I lean on Mark worn to a frazzle, this has been a day of really hard work but we wanted it handed over in good condition. I do fill our big 30 litre water tanks, which i spill on my pants and it looks like I have a serious bladder problem. marks hands are shredded and cut from working and saving Australian marsupials...

Black Face Kangarroo comes to day goodbye and wants to know what I am doing in 'his' barn! I climb the apple tree and pick the last of the fruit, it's great for juice. The car is filled to the roof with our stuff, feels ok knowing Mad Dog will be the new owner, we know she loves it up here.

Mark plays some of his compilation cds all the way home....worked our arses off but it had to be done.....


---
March 13th
Breakfast at Morrisons, they so know what we want this morning, coffee was great too. Not much spare time these days so am making time every day to have breakfast. Got to have some 'me' time even if it's only an hour a day. The fuse has been lit for Crowded House and the vibe from around the planet has been astounding. I wonder if there are some fans out there that have no idea that the band are a group again....surely not?

Recurring Dream keeps climbing the Australian charts here, we are nudging slowly closer to 12 Platinum sales which will put the band at tie- #1 spot for biggest selling album by a group. 2007 is the year that this will happen... think it's starting to get to at least 3 million copies sold worldwide. With the band reuniting again, it's the sort of album that the general public will grab hold of. It's Top 30 again in Victoria.

Buy a huge bag of chook food, the chickens will be well fed for a few months, all organic and healthy. Hope it puts some feathers back on Sharon who is a bit chook- naked these days. They seem to be slowing down their laying for the upcoming cold months ahead.


---
March 14th
Our 'Farewell To The World' original artwork by Reg Mombassa will be back from the framers soon, you know the image, the dog with the guitar lead up it's butt! Such nice tones, all; derwent pencil, will look great in the office. Dropped it into the framers the same day as the Judd original, like a few people have said the frame for the Judd art costs almost as much as he was paid. It is so good deserves to have a brilliant frame.

Send Iarla the 'Paul at Bent Street' pix for the Crowded House mini site, thought it would be nice to have something up for the sad second year anniversary, he has such a wicked grin in the photo. We miss the little bugger so much.... how could of this happened? I guess that's part of it when someone goes that way, the friends left all feel they could of done more, and that's probably not true... just sad. Guess we think of all the good thoughts, with a lot of them it was stuff that happened after he left Crowded House, we probably grew closer to Paul during the period when he was no longer in the band.


---
March 15th
Wow Formula One's Bernie Ecclestone is really Andy Warhol's missing twin, just Andy was way cooler..... he's been in Australia for the race...yes Mr Warhola..opps Ecclestone.

Our wheat-grass is growing at an insane rate, at $20.00+ a tub i could run a wheat-grass company....the return of Peter Green Thumb! It costs me about $3.00 to grow.

Kelly T pays up her bet with a packet of Tim tams for me, true to her word. Thanks *GRIN*.

Finally get around to mailing Miss July's Christmas present, it was the last one, just sitting here, so easier just to pop it in the mail. At least it won't go stale.


---
March 16th
Rain and fog today, finally, bring on the rain, fill those dams.

I assemble my Lexen live Enzyme Juice extractor - very cool and shiny metallic ! Looks a bit like a robot!

Send my Sis some $ for my Mums airfare to Cairns, a few days holiday for them both at the top end of Queensland. Amazing up there, and they are going to take the steam train up to the top of the mountain.


---
March 16th
Just worked in the office today, ended up staying till midnight, Neil Finn is most certainly getting his wages out of me this week...this month...this year.

It was good though, got a lot done, just all these bits and pieces that needed my attention. Would love to work out how many hours a week we actually do work.


---
March 17th
Bic is at SXSW today, one of the last Bic Runga shows for awhile, I considered jumping on a flight to LA but the mail out wasn't ready so it seemed like a lot for a few days.... I'm sure the Bicster is gloriously pregnant and glowing.

Call into the Verandah for some coffee, it's busy, and a bit cold outside. Most people squash inside but I don't feel the cold very much so I brave the elements.....

Make some Chocolate Mousse today and drop some over to Martin and Hisako and the kids, usually they are devoured by now. (The mousse not the neighbours).

Bob Skyhook is playing at the Prahran Hotel today, if it was a few years back we would of just walked down to watch him play, major effort to drag us away from the hills. Miss seeing Bong having a play, such an underrated guitarist.


---
March 18th
Crowdies do their webcast today and it's a nice way to start it all off. Loads of positive emails...a few hiccups but overall it goes well.

The wheat grass shots have started and my energy levels seem to be double, my little TO DO lists are being scribbled off at some fast rate, maybe it's all in our head. Mark is a brave soul, he takes his shot glass of the 'green' and just gulps it down, I take a bite of an orange after mine just to get rid of the taste.

Trudi and Robin are up here today and they have some green as well, I should be billing everyone $5 a shot like the juice bars. people get amazed at the tray as it is so lush, sitting by the kitchen window.

Call the Verandah and see if they can hold an outside table for us, it's very busy and all outside tables are full, oh well in doors it is...but when we arrive Brian and Joy have created an outside table area for us, with flowers and a reserved sign, we feel a bit spoilt guys. We all talk about Africa and Giraffe Manor, can't believe we were all watching that episode on TV.... I wonder if I can ride a giraffe.....i think I've spotted pictures of some people doing so? Anyway it's a lovely day, great to spend it with friends...


---
March 19th
Crowdies debut, special fan show at Thekla Social in Bristol. Some very happy fans, and the Emails start pouring in ...

Silverchair debut at #1 with 'Straight Lines' , I'd prefer the Chair to be at #1 instead of crap like Guy Sebastian and Justin Timberlake.... Go Silverchair. It's interesting that it was mostly download sales that got them to #1.

Home made hamburgers for dinner tonight, all that fresh produce from the garden, ok I didn't kill anything for the meat.......(Phew).


---
March 20th
For the first time in Victoria's history the whole state is officially in drought ...we need more rain......it never seems to be enough. The Liberal Ted B (B for bullshit anyone?) says Victoria will run out of water in 60 days. That was around 10 days ago...he'll cop so much crap from scare mongering in 50 days time when the water keeps on running.

We keep on filling up our big containers even during the slightest down pour , and in May our water tank arrives for the gardens and vegie patch and general use.... we all do our little bit but it's in the hands of the Goddess.... some Church prayed for rain a few weeks back...they should of asked for a LOT of rain..not just rain... one lot of rain fall a month doesn't really mean God is listening....


---
March 21st
Call into Ripe and Miss Laura serves us, she's off to boot camp in Hawaii in a few weeks, we'll miss her. With the sale of Ripe we hope the quality of the food stays where it is (and the prices)...a few of the staff are also going.....the ones we know (maybe it's us?)

Apples latest Leopard is out in a months time, dubbed the Vista killer, which isn't too hard to do, considering Vista is a very second rate copy of what Mac has had for many years.... talk about overrated, so glad I don't use a PC.

Wow fantastic Split Enz at #1 on the VH1-Countdown voting....means a really solid chunk of video play on VH1....and Skyhooks the only group to have two songs in the Top 10, thanks to all our friends who we drove crazy with the voting. Go Split Enz!!!!!

Rob arrives in the afternoon with countless boxes of the latest glossy mail out....Mark is so happy to see these, ok NOT!


---
March 22nd
Talk to Phil Judd, had a few worrying emails, he's ok folks. Still no news on the recordings of Red Rover...am assuming he is in his studio as you all read this.

At 10.00 tonight there was a huge flash of light over the skies of Kalorama and a very loud explosion, like a gas main blowing up....I kept telling people it was a meteorite, when in reality it was probably kids at the local park with a pipe bomb.....who knows. All the residents at Kalorama were outside with torches, it looked like Invasion of the Bodysnatchers or something, and the fog was rolling in so rather creepy.


---
March 23rd
Keep failing when it comes to updating this diary, but don't ever want to do a MySpace which everyone seems to do these days (boring...no points for being original), sure it's easy but I guess when it comes to what everyone else does...I don't! So if the readers are patient enough to wait the diary will always continue this way.

I noticed the Essendon Record/CD Fair is on on April 29th. That's always been a good fair for fans to find collectable bits and pieces....it's at 3 Russell St, Essendon (opposite the station). Worth checking out.

Get a call that finally Anthony Callea the Australian Idol singer, the highest Australian single seller is just about to come out of the closet. gawd that rocks our world..ok not at all, please it's been the worst kept secret for ages, "hey what Liberace was gay???...truly...I know he won that court case but he was, really."..... like it really matters. I think some Australia Idol singers should call a press conference and announce they are straight! At this rate in 5 years time we will have enough Gay Australian artists to record a compilation album...........maybe a EP.


---
March 24th
Share a table with young Nick at The Verandah on the weekend , the locals are great up here, nice to have a chat and a coffee...and hear about his wild tales of daredevil jumps off the Kalorama Gap on his bike!!!!!! Ouch- nice scar, crazy bugger.

Try calling my Uncle around the Moruya house and he is never home....give up after the 5th attempt. Oh my family.....!

Return Greg Skyhooks call, he is busy with The Palace nightclub court case, I don't know, I never really liked The Palace, thought it was a bit of a shit hole with crappy sound. I just checked the website and they don't appear to have many young bands playing.....and I wonder why Vince Neils show has been cancelled...I remember Vince from his wild days at a Capitol Records party (opps)....let's not go their.

NSW election is on today and Labor romps it in for it's 4th term, think their vote is down by 4%, the Liberal guy looked incredibly pissed off, like he had been chewing lemons all day....the Greens did ok but not as strong as the Victorian Greens. At the end you see John hoWARd going around kissing Liberal butt, like they won, must be an election coming up for the old goat to get desperate TV exposure even when his party loses......well he does have the lowest opinion poll rating he's ever had.....God life is good......!

What a great place the world will be when Howard and bush are gone.


---
March 25th
There is a Vintage Car rally at the oval, it's the yearly event, some great cars, especially the hearse .....just lovely and so gothic!

Go in the CFA raffle and we don't win, WHAT! Now come on we always win the raffle........ then again first prize was a weekend at a Kalorama Guesthouse..... so probably good that we didn't.

Spend the afternoon picking flowers from the garden for Paulo, two years tomorrow since his sad death and Mark and myself are heading up to Blackwood. I go overboard with the flowers and fill up the back of the car, but it means i can leave a few at some of the other graves....

Get my washing done.....

Use the Gillette Fusion 5 blade shaver, which I thought would be a total hype job wank fest, but it really works, those micro pulses just add to a clean shave...should I do the advert? Should they sponsor me?


---
March 26th
Up early and just out of the shower, throw on my black jeans and I find $35.00 in the pocket, which is weird as I never just put money in my pockets, think it's 'money from heaven' and just enough for the petrol for todays adventure- thanks Paulo!

Head to Prahran for some breakfast, visit the Market Cafe crew and pay for P.O. Box 333, for another year, even though we don't use it we will keep 333.

It's a long drive from Kalorama to Blackwood. All along the highway there are grave markers from car accidents, they seem to be everywhere. As we approach Blackwood Mark plays some music, 'Private Universe' was on as we arrived at the town limits...felt right.

Arrive Blackwood and the sun is shining through those amazing ghost gum trees. Some people have been to Paul's grave the day before, lots of flowers and it looks tidy... and Anne's headstone is up next to Paul's too. We are the only people at the cemetery which is really great. Spread all the flowers out and say a few words to the ol' Uncle Paulo.

That old blanket is still their, and a part of me hates it but a part of me is glad. Plant some seeds at the front of the grave, nice to have some flowers growing.

I wasn't sure how I'd be this time, but all was ok.....well for awhile. I knew it was time to go when some sadness just rolled over me. So we say our bit and Mark looks at me with that knowing look- we miss the little chump. Right on schedule that white cockatoo flies over and squawks a massive one, this time he circles the cemetery. It's so perfect, that's three out of three times now, the lonely cockatoo....makes me grin.

So two years on, just as confused about it all, but what can we do, just roll with it and celebrate what he left us, and hold those good memories close. Maybe that's what that old blanket at the grave is for, something for us all to hold onto.

Take care

PG

---
If there are any problems with this site, please contact webmaster@aswas.com.