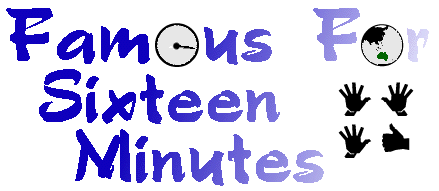 The Life and Times of Peter Green
Archive: 27 October - 3 November 2007
---
October 27th
Melbourne- Auckland- Crowded House NZ Tour

Bang! Yes that's it the starting gun, off and racing like a greyhound chasing the mechanical rabbit (sorry Cosmo!)... off we go for the Crowdies Australasian Tour.

Wow back on the road, how strange seems like ages ago... better put my tour hat on. It's like being Tom Hanks on his little island... have to learn to be part of touring society again! I've packed the soccor ball with the face on it!

Up early, way before the alarm, zero sleep, pre tour jitters, dreams of dogs, mostly greyhounds and poodles ... yieks.

Rosemaree on time as always, bless her- off we go in the purplish car.. some nice morning chat- gets me to the church on time! Thanks girl!

My frequent flyer clicks over Gold status again for the year, Qantas reward me with a business class upgrade- see me dance..sleeper seat, so will be able to nap!

QF25 leaves a little late, I'm not fussed, book and sleep on my mind.

At airport looking for a sign with my name on it (no Not Mr Creep aka-Peru) but find one of our long time drivers...so no sign needed.

Stay at the Hyatt, we used to stay here years ago with the Enz when it was The Conty... I remember the insane week where the crew, management went nutty... sex drugs and rock and roll week.

Wow the place has changed, a new wing, I have a suite...so cool so comfy, I love my room- stuff the tour I'm living here for a week !!! *GRIN*. I go for a walk, misty rain falling...nice.

Check out Sky News- I like Labors latest environmental package for schools- $20,000 to every school in Oz to install solar panels and extra for water tanks- this is a good thing! Bring on the election. I've packed my UP YOUR HOWARD tshirt for the Aussie Tour. Talk politics with Nick every day...we all seem to really dislike Howard, hey thats not too hard.


---
October 28th
Auckland- Vector Arena

Does it feel weird being back, it does! Well that will pass as soon as I start working.

Wake up call from Mr Yeti, so good to see the bloke. Some of those crew boys are like my big brothers. Walk to Cina Cafe for breakfast, sit down and hear Neil Finn singing 'Throw your arms around me' on radio- I guess this will happen a lot being NZ!

The driver doesn't arrive so I taxi to the venue ($15.00 for my tax lady). So good to see everyone. A few tired faces but jet lag I'd say.

Soundcheck is fun, wow some really nice revita glass drink coasters- I am hopeless around gifts and truly they are not expected- so sweet though.

Stage looks great, bits and pieces rising and falling, so Nick!

Private Universe starts the set, the crowd goes off. Bic, Daryl and baby Joseph turn up- what a kid.... does my ehart good. I can't figure which parent is glowing the most. Bic has the night off, a luxury as all you mothers would know. Walk her, Tim and Marie (nice hair cut Marie) up to their seats, coming back during the encore to colelct Tim.

Ok the greyhounds..Nicks idea, and tonight is the first night they appear from the Greyhound as Pets people. Dogs and owners just the best. The band come hang with the dogs, I take Bic in and the animals wander over and give her a bigw et dog kiss. Fun to see what reactions they bring out in people. So I spend a lot of time with them, I think of the Suede title 'Dog Man Star' ..I want it on a Tshirt!

We sneak the dogs over stage right....during the encore..a furry 'lure' entices them onstage, they really run... one wanders behind..like the pied pipers boy with the bad leg....our crew have captured the rest but our stage manager Daniel has to grab this one..the audience cheering, Daniel gets a boo when he grabs the last one..poor Dan.

The dogs are so happy, it was my fear, if they would be scared etc but the dogs love it!!!

I walk the corridor and find a vector security pass, my new name is NATHANIEL I will only answer to that the rest of the night. Party on at Tabac.


---
October 29th
Day Off Auckland

Up early, post mail, can hear the crew and band storing, like the 7 dwarfs (not really)...our floor seems like it's lost in slumber land.. sleep by do means comes too soon- don't bet on it! I love my hotel room- thank you Helen E.- the two Eccles just make NZ perfect for us all.

Call Eddie Rayner, dropping by to film for the 'you know what'.???!!!

Read the review in the NZ Herald..a good one, nice Crowded House are back review.

Head to Eds, I'm way too early, so the driver takes me down the road...to Columbus Coffee house for an hour. walk to Ed's , Harley lets me in, he's playing guitar.

ed is back soon, off with his brotehr to buy paint-I sometimes forget they have sisters, brothers and paint verandahs like us all.

The new house is great, had a warm family feel to it. old records surround the piano. Ed does his bit at the piano. We go on an archealogist music dig and unearth a 4 track one inch tape..are these 4 unreleased Enz tuns or works in progress....interesting.

Back at the hotel, had dinenr and I am obsessing over the glass towers, empty of people but all lit up. Call Marky, miss my betetr half. Love ya!


---
October 30th
Auckland-Wellington

Breakfast at City Heights Coffee lounge, another sunny day in Auckland. 'Four Seasons' playing on radio- it seems endless Crowdies songs getting thrashed this week.

Matt outside, going for a walk. Crew, some band assemble and we are off on our bus to the airport.

Air NZ manage to temporarily lose my luggage and Mark Harts- I am convinced the airport air NZ woman is punishing us because we stood up to her on baggage, no way am I putting a $8000 video camera through with regular luggage.

Our bags are found and they deliver them to the hotel later- thankfully this rarely happens. Marks wife is on tour, she is lovely- good to chat to.

Anothee nice hotel room (I'm sure this is your doing Helen)and why does Dee always get room 404? The mysteries of touring.

I start reading Mick Browns ' Tearing down the wall of sound' The Phil Spector book... I now know why Phil is Phil, are all Phils Phil?

I watch 'whatever happened to..' on TV 1, Eddie from the Enz and Brent our promoter are playing in a reformed Space altz tonight. 'Out on the street' is that what it's called, it was #1 in NZ way way back- a song about early morning transvestities.? That was fun. Alistar Riddell was so Bowie-ish way back then.

Wow oil is now $93 US per barrel, a new record high- strongd emand and middle east problems...push it skywards- I predict $100 a barrel before Christmas.


---
October 31st
Wellington- TSB Arena

Off for breakfast and run into Marky Mark and we eat at the venue- wise call. The Harts join us- healthy start for the day. Mike Chunn drops in later, but no band around, good to see him... I talk Mental Notes 'stuff' with him.. I'm hatching my plan.

Glenn who does that excellent lighting runs through various lighting looks with me, knowledge isa good thing, each song that pops up I watch the lights now- great!

More dogs tonight the wonderful people at GAP help us out again. Check out
www.greyhoundsaspets.org.nz hey they might have a few photos up?

The small room near backstage exit is actually called The Dogs Room, the local crew are delighted as it REALLY is a dogs room, full of 8 greyhounds.

I am enticed to climb on a metal mover machine and hold all 8 dogs..I look like some weird gladiator ...I find out it doesn't have a brake..as the dogs start walking fast... i feel like caesar rolling around the corridors-fun.

Great audience tonight, set starts again with Private Universe, World where you live, Dont stop now. People dancing everywhere. Dogs are applauded, Biggles the greyhound has a change of heart and comes back...I give one a smooch onstage as she returned...the crew have the rest. Dogs are all tails up and excited and happy when we say goodbye.

It's Halloween, could not find a pumpkin in Wellington to carve... but my Sambhain vibes were with me- happy halloween!


---
November 1st
Wellington-Christchurch

Mark suggested Arabica for coffee , near the Hotel so I head over- good coffee. Did I mention davey Lane is onstage for a big part of the set- a nice Melbourne guy-some of you would know him from You Am I. One of my favourite bands. he's a fun bloke, shit hot player- lives in Melbourne so hopefully he'll do the drive to Kalorama.

Off we fly to Christchruch- Matt/max next to me on the flight, going to film an interview with him sometime soon. He has a new haircut, and wild tales of TV's at early morning food places!!!!

Wow my room today, it's in the residence side of the hotel...like a small house, the best bed and pillows...

I am computerless on purpose for this tour..so good, but the temptation of free internet in the foyer beckons me so I clear some mail... in fact this diary is rushed on the previously mentioend free foyer net.

Watch some more election news- Shadow minister for health- Nicola Roxon gives Tony Abbott a swift kick up the arse- how appauling was Abbott today first abusing that Asbestos victim and 35 minuets late for a tv debate and then going off at Roxon- what a creep.

Call Mark, he tells me how he was on the bus to the supermarket and a 85+ year old lady was talking to the bus driver' swearing saying 'that old arsehole Howard has to go' funny when an old lady calls someone old. Made Mark laugh.


---
November 2nd
Christchurch
Westpac Arena

A cavernous venue, we must be at least 98% full, so pretty much NZ tour was sold out ... Soundcheck was good today, the life members got to hear 2 new songs, well potential new songs.... Honour Bound and The Only Way To Go Is Forward.... so cool....before the lifers came in Crowdies were playing 'Indian Lake' (cover). Neils over the flu, almost and the voice just rolls like waves around us.

Giant piles of chairs stagged like plastic trees are on the floor area while the lights are being tested... wonderfully odd looking in that edward scissor hand way....

In the band room adding some extra water, a loud singalong of some neil Young songs is happening, makes me smile, the band are happy , very happy- this leg of touring has been so positive.

No dogs tonight, maybe never again, never say never around Crowded House...rumours of David, Dee and myself in dog suits echoing around the corridors. Transit Lounge in the set again tonight, the press love this one, but for me the audience in fine form, some nice vocal work. Davey Lane giving 110% onstage, what a player. The band tonight were perfect, the set, I'm never sure what a perfect set is...songs like Transit Lounge are loved by some, confusing for those who love 'the hits' you know what I mean... 'the only way to go is forward ' gets an airing before a strong 'Sister Madly'... I loved it.

Fix up the aftershow room, but they end up in the band room... everyone back at the hotel bar afterwards.


---
November 3rd
Wake up early, pack my bags..some breakfast with David, Helen and Brent. Onto the net for this short diary update. As I'm typing this I can hear the morning chatter, Neil and Nick in the background, Bennys loud Yeti laughter...Dee being Dee, the harts just walked past waving... a normal day on the road afetr some fine NZ dates...roll on Australia.

Off we go to the airport QF46.... see you soon Australia. (and sorry Deb bus is here no time to correct my spelling mistakes-sorry world).

See you at show

PG

---
If there are any problems with this site, please contact webmaster@aswas.com.