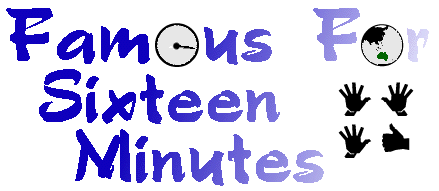 The Life and Times of Peter Green
Archive: 29 January - 11 February 2007
---
January 29th
Well Neil's in Sydney for the continuing Crowded House drummer auditions. The Emails are starting to flood in now, it seems rather endless , just how many drummers can there be in the world... answer LOTS! I remind him that Reg Mombassa's art show is on at The Rocks, everyone knows him for his Mambo art but his water colour work is exceptional.

ARIA charts are in and Crowded House are all over the charts, so funny, the band are still not a real band yet and already charting, how odd, it's all the publicity in the newspapers....and radio and TV, Happy to see that it's Recurring Dream with a bullet performer this week as it helps move it closer to that 12 platinum mark. One of my few goals this year, is for the band to have the biggest selling Australian album by a group...we'll get there.


---
January 30th
Really focus on the office today, for the first time in months the floor is almost empty of work...that just leaves the desk. A few bits and pieces of stuff to do, you know I hate it when it's something i really don't want to do, those things always climb to the bottom of the pile.

Had a few drummers try to avoid the system that is set up for auditions. You tell them, 'this is the only way' and they still try several other ways to grab Neil and persuade him .... no time for it, in the end it will be their loss and they'll blow it. Haven't heard how Sydney is going, but at least Neil & Nick are giving it their best shot.

If anyone is after good quality health products go to www.emed.com.au

I'm using some of the Eagle brand tablets for my back and they are really exceptional....plus they are practitioner based so the quality is high. I just avoid most of the supermarket stuff these days and I notice the difference. They do deliver overseas.


---
January 31st
Finally sent Deb some images from Nepal, my fault, the originals I sent were huge files, didn't even think twice... the latest few are smaller so they should be up on the Photo area of the diary site soon.

Funny as I do miss Nepal, every so often I think about it, those dusty crazy Kathmandu streets and that lush jungle..... lately I have also had the urge to head back to Peru. Really want to visit Chan Chan on the coast next to the sea. It was the capital of the kingdom of Chimor (Chimu Empire) and it's Sth America's largest mud brick settlement. It's about 8 miles in size so quite large ruins...and dates back to the first millennium AD, it's 26 foot walls were covered in gold, and you can imagine them glistening by the sea. It held around 50,000 people. Around 1470Ad the Incas raided Chan Chan and stripped it of it's precious metals etc.....unlike Machu Picchu, Chan Chan seems to be always empty of touristos so I have to go there....just when my travel list was shrinking I add to it (Mark's rolling his eyes). It's weird, as much as I love it here at Kalorama, every so often I get the itch to explore, especially the ancient. Just time getting to these places, so much easier witha transporter...beam me up Scotty (which probably was never said anyway).


---
February 1st
Well 11 months till Christmas.

I keep forgetting to send Jen the photo of her with the Kookaburra, the cameras upstairs, need to bring it downstairs....that simple- am hopeless. I promise it's on it's way soon girl.

The second pressing of WINGS OFF FLIES seems to be finding good homes, lots of people after the photo/coffee table book last month, our biggest book selling month for Rocket Pocket Books.

Not sure how much of a success the book company is, but a great vehicle for the little diary books and all the others. Just got to make time to work on TRIP and the Rated PG DVD, Crowded House have buggered that one up for a few months... it will get done but the band cause such havoc, usually in a good way but overworked (again)...already!

Martin, Hisako and the kids call by so take some time and chat on the decking. It's good that they can do this as it forces me to have a break from the office and have some normality.


---
February 2nd
I keep watching the days slip by my on line diary deadline... I grasp at them and they run through my fingers- will I ever catch up? I keep trying, take time in the afternoon, and the phone rings or the Emails come in, or a tree falls down across the drive, or a tasmanian Tiger is sited at the Verandah- all these things are thrown at me and I am so easily sidetracked......focus Gryphon focus....

Today is flea collar day for Banshee, and she is fine (Phew) it's easier putting a collar on a bengal tiger...but today very well behaved, she must be saving 'it' all up for a brutal attack on our feet and arms later on.

Eating at Mt Evelyn today, the coffee is great and very few people, when it's empty we always joke that the staff poisoned someone again.....we are pretty mean.

Keep hearing rumours around 'our new drummer' , hope it's not someone really obvious, that would be a bit boring......


---
February 3rd
Sydney sweet Sydney I love your red roof's and I'm spending all my money in your telephone booth's.

Sydney auditions under way still and catch up with Dr Rose for some anti cancer stuff for our friend.....do you realise just how good fresh carrot juice is for you, and it's all lies about going orange from carrots, the possible skin colour change relates more to toxins and crap leaving your body.

A long day, and Melbourne is apparently hotter then Sydney today.

Tania's 40th tonight, hope you had a good one. had a strange dream around Chad Hunt (and thankfully he kept his clothes on!) he does win the award for biggest dick.....Chad is so funny....is it true he disrupted Michael Lucas at the Virgin Megastore (Union Square) demanding new Lucas porn star Ben Andrews have his dick measured (Chad had a ruler with him)......eventually Mr Hunt was evicted from the store....oh those Porn Wars and who has the biggest light saber!!!! What a funny old world- love it.


---
February 4th
Gawd Richard Dalla Riva wins the dirty old Liberal man of the month award, forced to resign for murky sexual harassment allegations of a teenager......wonder if it was revenge- Dalla Riva was a key player in the destabilization campaign of previous liberal leader (VIC) Robert Doyle....what goes around comes around, dirty old bastard!


---
February 5th
Listening to Skyhooks 'Guilty Until Proven Insane' album LOUD in the office while I'm typing this, so frantic typing moments will occur!!!!!!!!

Solar Ruth calls and all is go with the solar for the house and office.....they know we may be doing some serious touring this year so this solar installation has to happen soon. The solar is installed and this diary updated has been sent out via solar power.....yey! Green and clean.

Hot day today, just under 40o (Phew) the house is so cool inside......Banshee so wants to unzip her coat.

Crowdies are still in the album and DVD chart here, only dropping a spot or two.....have a feeling the Crowded House shows are going to be massive.


---
February 6th
Got paid so went the whole hog and ordered both seasons of 'Voyage to the bottom of the sea' on dvd. Yeah I know the Flying Sub is only in 2 episodes, it always seemed like more....Marks Mum has a Richard Baseheart thing...so in good company...... as Mark pointed out it won't be as good as I remembered.... maybe, maybe not.

Jason arrives and installs the new power board, so the 1960's one is now gone and something modern has replaced it, so Ailsa Craig won't burn down.

No word from Neil yet.....waiting, waiting...


---
February 7th
Breakfast at RIPE- great crowd today, loads of young people and good coffee. We sit out the front and watch the passing parade ...the Japanese tourists avoid me in my Anti Whaling T-shirt......good, keep clear....I bite!

Been thinking that no one ever has love-bites on display these days...or takes 'Mandy's' ....... not sure why those 2 thoughts drifted into my mind...think I need to receive a really good bite (any volunteers...all sexes can apply..must have clean teeth!).

Pick up our boxes of cd mailers, most came in for the upcoming Frenzy and Mental Notes, not too long now, the autographs take forever.


---
February 8th
Hey I found all the boxes of Christmas decorations today, hidden away in one of the high top cupboards, so much shelf space, weird having empty cupboards. I had to almost climb inside to retrieve them. It's like crawling inside the Pyramids, worried what or who I will find inside.

Send Nigel some money as we sold a few more copies of his SLEEPER cd, nice that people want it in their music collection. Tell him some more feed money is arriving for Igor *GRIN*. have a good chat with him on the phone.

Neil's playing the charity show for SCOPE tonight, such a generous thing to do. Probably one of the last times we see Neil before the Crowded House juggernaut gets underway.


---
February 9th
Wow Anna Nicole dies in a hotel room in Hollywood, wrong one though- Hollywood Florida....a fatal dose of celebrity. Sad and creepy and let the circus begin, it will you know. As soon as Prince Frederic- Zsa Zsa Gabors 9th husband puts up his hand as father of the child you know it's going to be a freak show....and Britney has a burn out session and goes nutty..and looks like Dr Evils stunt double.

I drive to Mr Judds for a quick trip, Mark has to stay at the office, the art looks exceptional, loads of red toned pastels - and what are those Kangas doing on the lawn Mr Judd.....had to have it a bit bent- anyway we love it....feel a bit special. Will look mega framed.

Get home just before the Friday afternoon traffic starts.... my ears pop at 1000 feet when I'm heading home, a sure sign that Ailsa Craig isn't far away.


---
February 10th
Can't believe it, several decades later and still buying Skyhooks singles on Ebay. We keep our archives pretty much up to date. I do need to find a dutch 'late last night' Enz single with picture cover, ours was stolen years ago and need to replace it, so if anyone wants to sell a copy or finds a spare let me know.

Send Eddie some questions on the LUTON sessions to be included in the next glossy newsletter, so stoked he is pursuing LUTON. Go Ed.


---
February 11th
So Crowded House have their drummer and I still can't say... by the time this goes up it should be on Frenz.com somewhere....did Nick nearly blow it by telling someone *GRIN* so Nick- we love him.

How brilliant to see the Sea Shepherds engaging the vile Japanese whaling fleet. The best part was after the Sea Shepherds departed and the Nisshin Maru- the floating slaughterhouse of the sea ended up with a fire below deck, and it may well force the japanese whaling fleet back to their home soil. Though I was tempted to write 'good fuck off out of the whale sanctuary" I decided not too....Oh I have- oh well- sorry...well only a little bit. http://www.seashepherd.org/news/media_070214_2.html worth checking out...maybe it's karma from the dead whales, c'mon Japan time to end this incredibly vile practice. Good on the Sea Shepherds for having the balls to stand up and do something, no if some of the Japanese themselves would send letters to their government telling them it's time to end this..............!

Huge thank you to Deb for putting up some of the photos from Nepal (see Images area of this site)....how cool are those Elephants in the river.

Take care everyone

Gryphon.

---
If there are any problems with this site, please contact webmaster@aswas.com.