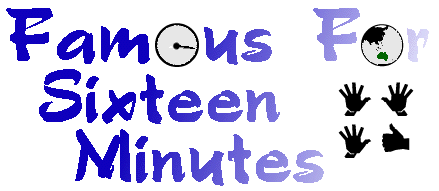 The Life and Times of Peter Green
Archive: 4 June - 8 July 2007
---

Yes she did it! Rosemaree true to her word-eats the scorpion!


---
June 4th
Another day another diary entry. Deb is away for 3+ weeks so it['s like having a break from the diary. Yes life rolls on but no one gets to know what we are doing- cool and after all these years weird!

Today was great finally caught up on all my Emails. Do you know how rare that is, it's the same odds as winning tattslotto. Lets face it, it isn't going to stay that way... and I know as soon as I turn on the computer tomorrow they will be lining up again. Crowded House will ignite way too many Email fires.....


---
June 5th
The new police station opens at Olinda , the neighbouring suburb, the Kennett Liberal government closed the last one down, so it's nice that under Steve Bracks one has finally opened again. We haven't experienced any full on crime up here, I'm sure there is , maybe we have been lucky, or people are just scared of the attack cat Banshee.

Visit the Crombie's and Noel signs the last of the Enz Frenzy covers, sit with them for awhile and have a chat. Talk about where we are all being buried and how... one of those table talk moments. No cemetery's up here at Kalorama, maybe we should open one. Could be because it's a National Park... it would be a cool place to be buried, and I'm sure there are probably lots of undiscovered bodies already in the forests...those that the foxes and wild creatures haven't dined on!

We head to Prahran for the day... The Prahran Market cafe is really empty today, in fact Prahran is a bit like that everywhere. Clear old post office box 333, mostly junk mail and a few bits of fan mail. It's always odd being back, and once again the few people we see seem very stressed out. Good to know we can leave.


---
June 6th
The Crowdies are doing an industry show at Hotel Cafe in LA- I'm just happy that some of the fans get to go, and hey they get free drinks and food, that's cool, why do i always miss our free food shows. Bring on the free food guys!

The Bulletin magazine arrives, has a major article on depression and there is Paulo right in the middle of it. I hope he is remembered for more than taking his life, he had far too much talent and too many nice moments to be remembered by just that. I guess it shows anyone can have depression but Paul just seems to be one that they always box with it. It depresses me to see Paul in the depression articles so much.

Speak to Chris about the arrival of the Jukebox and oh yeah I'm excited, I keep wondering if it's as chunky as I imagined and can't wait to replace the vinyl 45's with my own. My friends will have to realize this is my Jukebox so no shit like Coldplay .... anyone moans I'll tell them to get their own....tough!

Bob Dylan tickets on sale today, it was a hard call, went close but still have no idea if I'm here and as Mark pointed out it's Rod Laver and I'd love to see Dylan in a smaller place...... so I didn't....oh well Bob maybe another time and place...a small place.


---
June 7th
Churinga for breakfast- they have those really small sausages that we like... and we are the only people so it is peaceful. Watch the birds land and they sit and stare at us.

The Dalai Lama arrives in Melbourne and his little grin just does my heart good. Wow the stage looked impressive, whoever set dressed it did well, all calm. He just sends out an abundance of good stuff. China shuffles it's feet puffs out it's belly and try's to point out we could lose some trade if any politicians meet with him... oh get fucked China that's what i say, don't try to dictate who sees the Dalai Lama.... China must really be scared of him.

Have so many carrots in the house so they are all juiced, no wonder my eyes are so good. The chooks get the husky bits after the juicing and they love it, nice and sweet. No the eggs are not orange.

Oh for those who asked, my jukebox is a Rowe International- made in Grand Rapids Michigan. Serial number 109698. A lot of Rowe jukeboxes are scattered worldwide and all in working order. Tough jukeboxes.

I'm out in the garden rounding up Sharon, Berlinda and Joan and I notice a truck zooming past up the dirt road with a jukebox tied to it's back... Gee I think ,could that be it?, lets face it, how many Jukeboxes would be cruising around on trucks throughout Kalorama.... there's my baby- god it looks huge (the Jukebox.... it's not a Sir Les moment!). The guy delivers it and if I'm lucky it will just fit up the garden paths. These small windy paths with stone boundary's run through the length of Ailsa Craig. Mark wanders on down and the three of us just take control and move it- it is dusk...and the light is going fast. At one stage this monolithic creation from the gods gets stuck on the rocks, we lift and drag it over.....finally reach the steps and it's one at a time lift pull drag....grunt moan scream! We are so close we'll get it up the steps if it kills us.

It's wheeled around the big top verandah and through the double doors of the pool room, fits perfectly into the corner.....and looks like it could of been used in the start of the 2001 movie. Yes it is the monolith alright. Oh look at those titles... some horrid 45's that will have to go go GO- MMMM Bop by Hanson, Ebony & Ivory by Sir Paul, Tonight-New Kids on the block, River of Dreams-Billy Joel , Give It Up by Cut and Move and Rozanne 97 that really shit re issue 97 version with the crap rap in it, if ever there was a shameful Police moment this is it.....talk about destroying a good song...so yeah these must go. I'll keep The Troggs Wild Thing, Black Dog by Led Zep, Creep by Radiohead, Smoke on the water, Blue Monday, Rock the Casbah and others.... and the other 80 spots I will fill with my own choices.

It has weird flashing lights and is damn load!!!!!!!!! Sorry Barry our neighbour, we'll be drowning out his Slim Dusty!

So I'm stoked, I love this chunky mother of a machine....and what fun- DONT STOP NOW by Crowded House will be added as a vinyl 45! The final one added.


---
June 8th
You know the Crowded House train has left the station when suddenly your IN box takes 30 minutes to download the Emails. People are excited, I'm in a weird head space so not sure what I am. Maybe over it already???? Not Crowded House just.... hmm not sure...work maybe?


---
June 9th
Feeling a bit worn and slightly depressed for no reason...'hollow' is probably the word I'm thinking of. Still waiting to hear back from Neil or management or anyone regarding the USA tour, how hard is it to say Yes or No. ? I know it's a budget thing....

Speak to Mr Judd who is doing some of his freaky wonderful art for the cover of the next diary book TRIP. Honoured will be an outstanding cover, probably the best thing about the book!

The roof guys arrive and do their stuff, not sure if they got the joke when they were on the roof above the pool room and I hit A112 on the juke box and 'up on the roof' played!....

Do our target Australian mail out for the Dont Stop Now cd single, just have this feeling it will do well in Victoria, Top 20 debut in Victoria would be great.


---
June 10th
Double brie chese on crackers and green tea...way too good but freaky dreams.

Loving The Rollins Show, Aimee Mann was on performing 'Save Me' - cool song. Rollin's is great, such a good show, nice and short without the crap..... love his anti Bush intelligent tirade. HR for President. I am captivated by his thick neck. You could never break Henry Rollins neck!!! You could use it as a breakwater for boats!

Walk out of the office and decide to paint the downpipe to the water tank and the railing....dark clouds are approaching fast full of rain...so the Gryphon has a hairdryer outside trying to dry all the paint work on time.... what a dick I am...but saying that i do get it dry just in time.

The water tank is full by 4.00 in the morning, several thousand litres work...is the drought over ? It is at my place.


---
June 11th
Looks like the Judd track for the fundraiser cd will be WHITE NOTE HELL.... i wonder if it's a sign of things to come, musically, I like this tougher McPudd!

Stoked!!! I won the Ebay auction for 'Memo from Turner' on vinyl for the jukebox. 4 x 45s available and all with different picture covers... one of my all time favourite songs.

Decide to send my Mum some bags of food via Woolworths on line... good sons do that? Don't they? She hates it says it makes her feel like she is some charity case..which she isn't. I can't win.


---
June 12th
Welcome to the world Eppi girl!

Bite the bullet and order Time On Earth vinyl from the UK...24 pounds later...... I just don't trust the UK record company etc to send us a copy. need it for the archives.

Wow the Charity project is doing well, way over one third of the way to the total, so many generous people out there. A few friends have been tight-arses and haven't donated a measly dollar yet, oh well when it's favour time I'll be saying no. How can anyone be so cheap not to spare a buck for something so positive. Email me if you want to contribute a dollar or more.

Have added a lot of names to the thank you list, more to come: http://www.frenz.com/fundraiser.html


---
June 13th
Ever had one of those weeks where you get a bit tired of people moaning, so far I've bitten my lip but the odd person that has emailed I've truly thought about telling them to get fucked, or at least find someone else to moan to, it's just wearing thin. Every so often it gets tempting just to finish up and do something else, and you know it really isn't many but one or two have their heads up their arses.... It's rare I feel this way but lately it's becoming more of a regular thing. I really don't want to know, maybe that's it. The vibe is going.....


---
June 14th
St Kilda's Palace nightclub trashed before it was handed over, sure sounds like sour grapes, really it was always pretty crap anyway now it just looks crap. It wont be missed.

Loving Mark Seymour's WESTGATE cd, the new album is good. The only fault is that a few of the songs are a bit samey, but really give me a new Mark Seymour album to much of the rubbish that is floating around. It deserved to do more than it has. Out on the Liberation label.


---
June 15th
Christ it's cold today, Winter on top of Mount D is a lot more brutal this year.

Staying healthy, the last of the wheat grass, banana smoothie and other good stuff...lots of fruit and soup.

The fire is going, so nice and snug, all that tree drop got to do something with it.

Rosemaree calls in at 4.30 and brings one of her exotic meals with her. She completes her dare and yes crunches away on the scorpion. The alcohol from the Yeti is SO strong, the scorpion is pickled beyond repair but as Rosemaree pointed out it's very crunchy. We film it for the Rated PG dvd later this year. I still can't believe she did it, Rosemaree didn't even flinch, down the hatch *crunch crunch*. I've included 2 photos from the moment!

The Jukebox gets a work out tonight, serious pool playing and I'm not working. No Denial No Denial No Denial!


---
June 16th
Verandah View for some food, it's really fogged in, I sit outside with a blanket coffee and work away on TRIP. I am the only person here. Loving the solitude in the fog.

Post 2 bags of mail for Australia. Use up every stamp at our local post office. These sacks are massive.... holy back break!


---
June 17th
Start playing Cheap Tricks SEX AMERICA box set, it's been staring me in the face for so long.... and it feels like the time is right for some Cheap Trick in the office. Hey Cathy remember when we hung out with Rick from the band on their first Aussie tour.?! I wish the packaging for Crowded House's upcoming box set would be like this one....SEX AMERICA has been put together with a good solid package job.

Also playing 'The stuff that dreams are made of' super rarities and unissued gems of 1920's and 30's...2 cd set on Yazoo records. Of course it has R.Crumb cover art, it was very cheap at JB HI FI. Just had to have it. Sounds nice and scratchy.


---
June 18th
Brunch at RIPE.... not sure if it's as good since the place was sold, but we keep having the odd breakfast their....we miss the girls though. Drive to KNOX next and grab some Dont Stop Now stock.... all helps. Off to Prahran next, and clear 333, mostly rubbish mail. Loads of driving today.

'Torchwood' debuts tonight on channel Ten. Weird that it's not the same channel as Dr Who...... I like the first episode, so happy it's not like Who. Though we do love Dr Who too.

Watch Mel Gibsons Apocolypto- it's good really good.


---
June 19th
Happy Birthday to Alison. How old?

Dr Chiro at 9.45 really good sessions but my shoulder is aching from too much computer work...Warwick just make sit all better and gets me ready for any touring, if it happens.

Nigel calls and we have a chat on the Enz stuff- which is basically Luton and the Enz dvd, both will be released but going through the hows whens why's... it's ok....I'm just glad we will have them both out. Freaky fog, snow like rain....!!!!!!!!


---
June 20th
Recurring Dream a mere 3000 units from 12x Platinum here..... am working on it *GRIN*. How hard can it be, the House vibe is growing stronger every day, the Best Of will surely keep ticking over. I have a few more for the guys to sign that need to go to fans so these will be done at the Corner.

The UK office calls at 8.30 when I'm in the bath wanting VIP emails done for the shows, I'm finally relaxed.... puts me in an average mood, not Miss C's fault but some of the stuff around Crowded House is getting more and more unrealistic , for the first time I really think I want to bail. Like I love this band and Neil Finn has a heart the size of Texas around us, but all the other stuff....could just be me, mid life crisis here I come *GRIN*.


---
June 21st
Heard from Gabe from Kuala Lumpur, her art is going great guns, we miss her heaps between monkeys and diving she is a tad homesick but also having a great time.... was nice to see some jpegs of her recent art- wow!!!! Great when an artist escapes the safety of it all and is inspired, good to see.

Fantastic Four-The Silver Surfer opens at #1 in the UK, USA, and Australian box office. It was always going to get slammed by some critics, lets face it a guy who looks like the Oscar statue riding a destructive surf board is easy pickings for some reviewers.... we love FF, was always my favourite comic heroes.... I'm glad the movies defy critics and have a strong following.

Mr Yeti calls from the UK and that's always a thing to cheer me up.... CH tour sounds grueling in many ways.... guess it hasn't really started yet as far as full on touring. Miss the crew, all good chaps. I could handle a few weeks on that tour bus.

The NZ fanclub show sold out very quickly...in fact all of them have, as the real tour approaches the smaller shows become a rarity. I want Bob Dylan to do a small show like this. Cmon Bob!!!!!!!


---
June 22nd
The Australian population reach 21 million today.... when you think that the population of the New York metropolitan area is about the same as the whole of Australia, and our country is as big as the USA it makes our 21 million very small. I love this, less people chewing up the environment , more room to breath and escape...... why would you want the over crowding?

Notice the version of Stare Me Out that is on Dont Stop Now single different to the one Neil sent me at Christmas....he did say there were several versions of it out. Suddenly there were extra words when i was singing along *GRIN*.


---
June 23rd
Breakfast at The Verandah, while everyone else is in Hyde Park London.

Bec calls in at 2.00 and we light the fires to warm the house, what a cold day. I spend some time in the office, I am a terrible host but had to get some work done. I've given up having any weekends to myself..... we work through till 3.00 in the morning. The office is warm as the fog creeps up to the door! I envision axe murders or Phil Judd with an axe running wild through the Kalorama mist! Use the bat poles to go upstairs...oh that's right no one knows about the secret entrance via the right notes on the piano. All we need is an Alfred! Each band office should have secret entrances....


---
June 24th
Well what a fine debut in Victoria for Don't Stop Now- #14 in Victoria's Top 200, #34 nationally...all the work in Victoria has paid off. Really proud of #14, hear from the boss who says thanks for the hard work. I wonder what the UK chart position will be, Alec says mid week is #24 but I know by now not to trust mid week charts, I am still worried about the UK chart.

The band are playing The Outsider festival in Scotland which has been a low seller festival...and the shitty weather doesn't help. Maybe some of my Australian Winter weather attached itself to the email to Neil last night...the Kalorama fog and rain has invaded Rothiemurchus Estate at Cairngorm National Park Scotland!!! (I bet i spelt all that incorrectly)*GRIN*. Wonder if 'Weather with You' will save the day, it usually brings out some sun.

The total for the club charity project has now moved past one third of the way..... I'll be glad when the classroom gets built, it will happen.... just takes some time with everyone sending a dollar- but great that they do. So thank you people!


---
June 25th
Call Jason around our heating, looks like our main gas heating system outside has blown up! KA-Bang! So another $3500 gone. Trying not to think of that, but not too freaked, just all part of it I guess. Will take weeks to install.

Work on the single sales all again today and the pre-sales for UK-Europe. people always want the front row..... and some don't understand why 'they' can't have it ....at the end of the day it's basic maths- and a good dose of being lucky. I'm trying to be nice to people but every so often I just want to say, 'what do you want from me'...... I'm not a ticket agency, next tour I vote for no pre sales!


---
June 26th
Am bad and order a dvd box set on Amazon Com....bad bad bad........! I haven't told Mark yet... like we need more dvds! (NOT)


---
June 27th
Make several failed attempts to do the diary today, just having no time....and lost the vibe to write. Trashed it.

Massive storm moves through, I'm talking end of the world type of storm. Kalorama is targeted , 150 year old trees coming down everywhere, the wind is intense and I wonder how Ailsa Craig will do. It's the test isn't it..... well by midday the power is out, totally. I venture out as I don't want to cook so go to the Olinda fish and chip shop..I take their number in case I can't get through to pick up the food. It takes me ages, I see huge trees crush parked cars. At one stage a tree comes down on the car in front, just clips the ladies car..I manage to use the 4WD to pull the tree off and to the side of the road, the woman is shaken so I let her park her car and drop her off at her home.For the next 45 minutes I am helping remove trees and motorists...next time someone in some really small car moans about 4WD's they should be reminded of many small cars I had to help out while going to buy dinner. I am a bit scared as there are trees flying through the air... and the main roads are closing up tight...I get to Olinda and grab the food. The girls from Mandana worry that I'm driving. On the way back a tree clips the top of the 4WD and I speed up so it bounces off with the motion... a bit slower and it would of pierced the top like a spear. (Yieks). Finally home and eat dinner under candlelight.

Head outside as I keep hearing loud crashes.... have the big torch and shine it up into the trees, look down the valley and see hundreds of torch rays shining upwards, Kaloramians are out inspecting their properties, it looks like a scene from ET...very magical despite the storm still ripping things apart. I hear metal shredding next door and Martin pops his head and torch over the fence and says its an old oak tree at the bottom of their property. We are ok, just a few tree limbs, which is astounding with the massive trees we have. Ailsa Craig has some serious protections on her me thinks...... and we are surrounded by the best neighbours who care about us.

Mark is reading under candle light, I have the fire going in the lounge room and a stock of fallen tree wood.... I have a feeling the power will be out for days with the destruction I've witnessed. Snuggle deep into bed, at least our gas is working so we can cook and boil water.....just us and the animals and the elements and I wouldn't have it any other way....well for the moment.


---
June 28th
No power still and the radio says all the main roads are closed. I manage to get a call to NZ to let them know I can't use the computers and office...but we are safe. I do get the newspaper and am amazed that they have found the mummy of Queen Hatshepsut at the valley of the kings. She has always intrigued me as I really thought Tuthmosis III would of destroyed her body....the hatred was so great...

She ruled Egypt for 21 years (1479 BC) most famous of the female monarchs, and she sported a false beard and declared herself Pharaoh after the death of her husband-(half)brother Tuthmosis II. Tuth III went as far as defacing images of her from the temple walls. If you are ever in Egypt check out Al-Bahari, it's a wonderful temple carved into the side of the mountain at the valley of the kings. Engineer Senmut designed it. It now looks like she could of died from diabetes related symptoms and she was obese...that's if it is her and from all accounts, DNA etc it is...... amazing! It's all I've been thinking about today...they've found her!

Well find the perfect present for Mark, some computer slippers, great for the office in Winter. They plug into the port of your computer....nice and toasty! I spotted them in the latest copy of Rolling Stone magazine.

Ailsa Craig is now glowing yellow from all the candles.....

Hear from a friend that Travis F is getting some more film work on a new movie Ivory, not bad for a country boy turned Calvin model.... good to see....my friend is a calvin person too, and keeps me in free underwear God bless him.


---
June 29th
Still no power.... which sucks as I want to watch Lost and the new season of Dr Who tonight.... make a deal with whatever deity controls such things and the power returns 30 seconds into LOST! Gotta love that. Mark says 'you always get what you want' which isn't true but it's nice to have power on again. I deny my luck...but whisper a thank you upwards!

My horoscope, which I rarely read says ' You are no longer quite sure what you feel or why you feel it. Your emotions have been stirred up lately. You feel a little vulnerable and exposed. You can allow new magic to enter your life'. Ok for once it is 100% correct...that is EXACTLY how I feel.

'Factory Girl' getting some good movie reviews after quite a few average ones.... I'll wait to see it first, Sienna Miller does look good as Edie Sedgwick though. I'll wait for the dvd.


---
June 30th
Buy Pizza tonight, we havent had it in ages, drive through the hills with Phil Judds Novelty Act playing, I still like this CD a lot, considering how many CDs we have to play it's a funny I seem to grab this one. Had some fans emailing wanting signed copies via the club again, so will speak to Phil and see if he has any left and make it available autographed for the final time. he must be running low on stock now.

The emails have now doubled and back to thousands per day..... they keep slowing me down with all our other work.... but i try to answer them all. Thanks for being patient.


---
July 1st
Wow second half of the year already.... I've decided to leave my 'blues' in the first half of the year.....I keep wondering if I'm just missing some sunlight! Foxy one suggests we escape to Magnetic Island for a few days, a good idea. Escape is on my mind again.

Hmm was right about UK, Dont Stop Now moves up to #41..... still think it was the wrong track as a single but who listens to me on such sings *GRIN*. Wonder who decided on it?

Word seems to be out that our Split Enz book is down to the last little pile. Been trying to call in all stock from stores but there isn't much. If you are after one of the last copies go to the bottom of this page and click on merchandise. The Frenz.Com merchandise area is the only way you can get one of these remaining Enz books. I'm not planning a re print on this one, but will do with Wings Off Flies...our photo book.

Seems like Crowded House will be on every TV show whilst they are in Australia.... Neil says he will sign the Time On Earth covers at The Corner show, so whatever he is happy with I am.....


---
July 2nd
The album is out today and I noticed our local JB HI FI has a huge painted cover on the front of the store and the main display bin has copies right by the door. Head up and buy a few dozen, I'm sure it all helps.

Rosemaree calls and with this being album release week we've got no hope of seeing anyone.... just work takes over and got to stay focused on it. There are a lot of albums with TV advertising so it's a tough week, I'd love for it to debut at #1 but these days you take nothing to chance. I will be stoked if it is Top 5..... I keep reminding myself that all the TV show promotion starts from this weekend so we miss the first week of charts.

My sisters company wins a small business award at Wollongong. It covers pretty much the whole of NSW, really proud of them. She gets stuck making the speech, must of been fun as the guy giving the award is the manager of the company trying to buy up all the land and kick their business out of the place.... Go Sis.....give them heaps.


---
July 3rd
Rain rain rain, and the water tank fills up quickly..... it's good to see the dams getting some serious run off, the Victorian dams climb to 32+% full, hope that continues. Our local dam is 85% full.

Chat to Mr Judd and he is indeed doing the cover art for my next book TRIP- he has some interesting ideas. I've warned him not to make me too freaky! *GRIN*

10.00 and back at Dr Chiro, my last visit for awhile because of work. Great session and my back is very happy.

Finally some sun in the afternoon so I close the office and go for a walk through the Kalorama hills with Mark. I look at the new chateau they are building, ok it is a mansion and decide I do like it (if it's painted a different colour) ...it's strange, I keep having the feeling we are going to live in it..how weird is that. Struggle up the steep steep steep walk path and in the end grab Marks arm and just lumber up.... my great protector. Decide to buy a community bench to put at the top...one night I'll just secretly cement one at the top so the locals have something to sit on. We see the Chateau from the other side, it is MASSIVE!!!!!!!!!


---
July 4th
Grey day but no rain yet, can see all of the mountain range from Morrisons at My Evelyn. A chilly 1o outside. Brrrrrrrr.

Notice the media keep saying 'Welcome back to Neil Finn & Crowded House' ....hate that, it's like that wanky Judith Durrand and The Seekers bullshit. Hope that changes...it's band.... just call it Crowded House guys.

Had a dream last night about the stone carved temple at Petra (Jordan) you know the one in the Indianna Jones movie.... so detailed woke up and couldn't focus for awhile.

Run into Barry our neighbour and he tells me the metal grinding noise I heard was a massive tree crushing his shed....! Some areas still don't have power.


---
July 5th
How great are Black Rebel Motorcycle Club (http://www.blackrebelmotorcycleclub.com/) I notice they are in the UK this week...go check them out. I first spotted them on Henry Rollins show. I decide to buy one of their T-shirts from the online store...and gee I need another shirt (not) but hey good to support these guys. Love the band.

Transfer some more Amex points to my Qantas points total, only 10,000 more to go so we can have a holiday. Business class return Uk tickets for free- yes please.

Starts on some basic ideas around the story board for Rated PG- Mark just rolls his eyes...'and who will be wearing these Cat and Bear outfits' he asks!


---
July 6th
Oh hope Liam doesn't spend too much time with Crowded House, his own album is brilliant and deserves full attention. Kind of funny how it received a higher star rating in Rolling Stone than the new Crowded House release. If Neil was my dad I'd be baiting him with that *GRIN*.

Well up bright and early, the Crowdies arrived in Australia very very late last night, the flights out of the UK kept being cancelled, they all look very bleary eyed. The crew are up around 5.00 and heading into the studio the guys are following, 4 songs on Sunrise....and really the sun does rise when the show is on. One song changes, Pour Le Monde is replaced by Silent House. It's kind of a dorky show but good to see the guys playing 4 songs on any show.

The public tickets go on sale for the band (Australia- NZ) this morning and it is really intense....a second Melbourne show is quickly added....as one sells out, Perth also is a sell out. Sydney selling fast but management holds back on a second show...so I guess this will be released next week if at all? Emails are now a record amount for us and memberships and a few people come out of the woodwork. I'm emailing back very short replies *grin*.

The second Sydney show (6th) and the 2nd Perth show (17th) will go on sale Thursday July 12th. Second Melbourne already on sale.

We head down to KNOX and I grab some bits and pieces from JB just in time to see them change their store biggest seller chart, Time On Earth moves from #2 to #1 on their sales chart, hope it stays that way, and I'm taking this as some sort of omen...for a top 3 hit!?

Why should anyone believe Glenn Wheatleys 'shame and grief' over being busted for his tax scam? This is the same man that lied about John Farnham never playing shows again , just to sell some concert tickets. He shouldn't get special treatment simply because of his job- do the crime, do the time I say....maybe it's punishment for lobbing Farnham on us for all those years!


---
July 7th
Wow overload of my diary books, some sort of strange rush from the Frenz.com merchandise page, signing Hussy's, Bang and Glamour for a part of the afternoon.... and they are all on their way, special Saturday mail out...and all signed for those who ordered them.

Live Earth on in the afternoon, at Aussie Stadium Sydney and it goes from empty to packed in a very short time. John Butler just wonderful, and his 'say no to nuclear energy' shirt just makes me happy... Jack Johnson seems to be in some strange place on the bill but he is a rugged good looking man...isn't he girls ....and a fine surfer...and he can hold a tune too....and love his environmental recording studio...I wonder if Neil's studio has solar? I think he is sick of me mentioning solar panels *GRIN*

Well the crowd goes off to the House and the power (for the stage lights) goes off during C.House.... but they rise to the challenge as always and the crowd goes off again... people dancing singing pashing..... it's all good, Live Earth works......now Neil about those solar panels....


---
July 8th
Well Crowdies arrived in Melbourne on Qantas flight QF 435 today at 2.30 for Rove and the intimate Corner Hotel show on Monday. ..and look no rain today, it nearly always rains when any Finn is in town! Still time I guess. Just as the plane landed it starts to rain... see it always happens.

Well our manager tells me the album came into the National Top 200 at #2....... so close but you know I am overjoyed with that, Top 3 just makes me very very happy. Dying to know the State charts but wont for awhile. So for those of you who bought a copy of TIME ON EARTH thanks for doing so..... so what does that make it..... three #1 albums, three #2 albums (and Afterglow and Farewell to the world live cd).... there is still next week to get it to the number one spot!!!!!!!!

Take care everyone.

Peter

---
If there are any problems with this site, please contact webmaster@aswas.com.