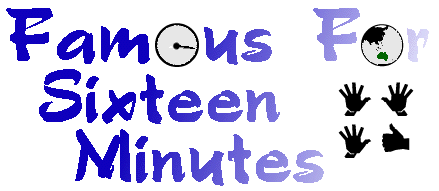 The Life and Times of Peter Green
Archive: 6 August - 19 August 2007
---
August 6th
Wow!!! The Land Of The Giants dvd box arrives from the USA- what a freakicious creation. 9 DVDs, spindrift keychain, cloth badge, postcards, comics, all in a GIANT cage! So strange but so compelling .... Irvin Allen would of loved this. Now how to fit it onto the DVD shelves in the library. All those episodes..that giant hand with only one finger that ever moved! Climbing the rope with the giant safety pin on the end. Retro bliss!

Heard from the tour, sounds like it is all going well, a bit grueling, some complaint emails that the merchandise people have been a bit rude sometimes? Wonder if they are employed by the venue? Wouldn't of happened on my watch.

Strange here in Australia, haven't seen anything about the Crowded House Australia Tour for ages, gone very quiet as far as live? Time On Earth is still in the top 20, a mere 900 copies till we hit Platinum here. It will do it.


---
August 7th
We spend the day in the office working away, artwork will arrive soon for the Rare #4 fundraiser cd, so that is coming together. Next it goes in for pressing and yours truly has to start writing out all those endless CD mailers. I should surrender and just work for Australia Post, maybe the angry woman who has it in for me at the postage owing area, talk about a chip on her shoulder- imagine having to go through life being such a cow....I should work with her. (NOT)

I think Winter is finally letting go , and Spring is arriving fast. It's been a harsh one up here for some, a few people look a bit insane, too scared to look them in the eye in case they are hiding an ice pick under those big fluffy coats! So many pregnant people- hmm we know what you have been doing all Winter.


---
August 8th
Call Bec and say goodbye, she's having an adventure overseas, some diving .... good that she is exploring some new countries. Why would you lock yourself in a box, escape and check it out people. Stay at home and be boring when you are old, explore the planet while you can still walk.

Well Liam Finn is still ahead of Crowded House in NZ, he is #15 this week and Time On Earth is #17, just good to see another Finn on the charts. I think the LF album is around #50 in Australia. It deserves to be doing better here.

I cook a roast today, a few last surviving vegetables from the garden and a weird looking parsnip! We don't eat a lot of meat, haven't for a long time, so the odd roast tastes extra good. The Sunday roast is such an Australian tradition, ok this is Wednesday but really since when did I ever worry about what everyone else is doing, eating.....roast carrots are very good for you.


---
August 9th
Our friend Karen runs into Robert Plant at the airport, sends me a photo, he has the same hair as his Led Zep days but as many wrinkles as Jagger, looks a bit grumpy though.

So Paramount & Dreamworks will be releasing it's next lot of DVD titles on HD...they have declined to go with Blu-Ray- citing quality and costs to be the main reason. Good to see, Blu-Ray is so horrid when you compare it to HD. It's yet again another Sony flop- remember mini discs!!!!!!!!!!!!!!!!!!!!! Sony- Mini Discs, Michael Jackson and Blu-Ray.....oh what a legacy! So if you are buying high definition check out the quality of both HD & Blu-Ray, it will be rather obvious when you look at them side by side. Australia is still so incredibly frustrating as far as purchasing HD here. Pretty much on line only , as JB did some horrid deal for Blu-Ray.....and we have never seen a single person even looking at the Blu-ray stand at JB.

A lot of HD's we now buy from Europe, just a wider range of releases. I think Lurid are the only Porn company that release all their titles in HD (HD from start to finish), so I guess they are the leaders in HD Porn and I'm sure you didn't really need to know that. Not sure how I even knew that!!!!!!!! Mark tells me that they send them out on DVD not HD DVD...and no idea how he knows that either....


---
August 10th
Oh good news from the Enz this week, a few nice photos taken around the time of the Luton sessions , so few photos from that '78 period. Neil looks about 12 years old! Tim an amazing crop of hair. It feels strange knowing that the infamous Rootin Tootin Luton tapes will be finally seeing the light of day in a few months time. The other surprise will make a few of the die-hards happy too.

Was driving to the bakery today when I spotted an oldish lady who's grocery bag had obviously fell apart and her supplies were all over the side of the road, on the road. felt bad for her as someone had plowed over her carton of milk. Anyway I stopped, we seem to have a thousand of those green recycled bags, so I just picked up her stuff and gave her the bags. Hey she's doing me the favour, how many green bags does Peter Green need? I'm a bit of a sucker for the granny types, never really knowing my grand-ma, she didn't have far to go so I didn't need to go the full boy scout and drive her. Hell she may of been a man pretending to dress up as Nana, there's a lot of that strange stuff that happens in the hills I've been told! Now that I have done my good deed does that mean I can do something really wicked to balance it out? Oh doesn't work that way...cmon it must. ? I feel the need to be bad.


---
August 11th
Sleep in, body needed to recharge, I did bake some fresh bread though. Grey day up here, looks like England. Our kitchen smells damn fine.

New stats show 'Grey Divorce' is a rising problem in Australia (I'd say the world). The 60-74 years group is now hardest hit with divorce rates now 70% for men and 81% for women. Scary as apart from lonely old age with no partner, the chance to rebuild financially is slim as peak earning has passed by. It's usually when both retire and are suddenly stuck with more time together. I guess because I live, work, and play with my better half it won't be a problem, think we wanted to stop killing each other years ago (ok except when I tried to drop several phone books from the third story of the house onto your head! Opps).


---
August 12th
Happy Birthday Allie! Hope the magic guitar pick helps!!!!

Three eggs from chickens today, and all three different..they are freaks. One of the eggs was long and skinny....bet it hurt to lay that one. One was brown and speckly, and one well a regular egg! They all eat the same food....I think Belinda nibbles on more shell grit as her eggs you could play cricket with them (if you didn't have a life) and they wouldn't break!

Watch 'Party Monster" on cable with my long lost brother Seth (Green) and Macualay Culkin..... yeah I know Macaulay- you just think of Michael J etc..yieks! (please try not too). Such a nutty movie...so extreme and yeah we loved it......not what you'd expect. Money, success, glamour and fame. Made in 2003, meant to be the true story of Michael Alig...Seth playing James St James and Macaulay plays Michael Alig, spot Marilyn Manson playing Christina...the original with the original people came out in 1999...file under shockumentary! I'll have to get the original, be interesting to see the original Party kids.


---
August 13th
Totally blow it on Ebay, I got the time wrong and the bear suit I decided to bid for, well the time ran out by a minute, I never do that, was not very focused in the morning. Not too bad as missing out on the bear suit led me down a long garden path to a door that said- DOSHOP! Oh so many animal costumes to choose from. Need a few for some friends to wear for the Rated PG dvd... was way too tempted by the two Chipmunk cozzies for Mark and myself. A friend suggested we wear them to the next Kalorama Chestnut festival and carry a bucket and see if people will put money in it- such a twisted idea! Oh well bear suit zero- but chipmunks x2, bumblebee, and tiger look like being all ours. Gotta start filming these segments before it get's too hot, will be a sweat box in those outfits.

Crowdies Mark Hart sends me an email, a mini interview for the next mail out, am hoping Sharon will have a really good offstage shot from the tour bus that i can use.


---
August 14th
Wake up to an incredible sunny day, crystal clear sky, and just stand in the sun for a minute in front of the office-feel damn fine. Bounce into Warrick's for those acupuncture needles been awhile so waiting for the odd pain but it's ok. So content I almost snooze. He gives my neck a big crunch, it needed it- too much computer work. Funny thing the old body, always seems to bounce back into shape after a few corrections. I think I'm lucky, I've found one of the best Chiro guys around. Healthy salad for dinner- which Mark hates.


---
August 15th
Head into the city today for band work. Also via Prahran so we go visit our friends at the Market Cafe. As i sit looking outside I realize I really really miss all that lush green forest. See the lotto lady next door and she has this infectious laugh, says we both look really healthy. Mark's now getting a delayed tan from Magnetic Island. Oh that reminds me a few snaps of cute Aussie animals and nice scenery are on the photo area of this diary site (just head to the bottom of the page). Look at the face on that Echidna (thanks Deb for adding these).

Stuck in a small traffic jam heading home, how do people deal with this every day? I see the tv towerrs on top of the mountain and know I'm home.


---
August 16th
Well it's Elvis's anniversary of his death which also means it's my Dads. Elvis gone for 30, my Dad for 21 now. Feel sad today, call Mum and she is so amazingly strong, especially compared to past years.

Good timing from the lovely Yeti couple, a big present box arrived for Markys birthday , full of some rather exceptional goodies, a highlight on a sad day. Thanks guys.


---
August 17th
It's a sunny afternoon so I escape the office and repaint the bird house and the decking rail. Send Miss Banshee out to keep the cockatoo's out of the bird house and off the railing till the paint dries. Thankfully she is smart enough to know it's wet so I don't have to remove paint from that Pepe skunk like tail of hers.

A few friends call and are coming up this weekend, we seem to be seeing people all the time now , the weather is much nicer so it must tempt people.

Well we are almost half way with our special charity project, so we have half a classroom in a third world country (: So if you want to make a donation email me, we figure we can get 10,000 people to donate at least $1.00 each. A bit over the 'yeah of course we will do it' people who never do....and amazed at how extra generous some other people are. We do accept Paypal for people from overseas. The barometer and thank you list is at:
http://www.frenz.com/fundraiser.php


---
August 18th
Sit down and write a letter to Isabelle in France, she sent me two letters so it was rather nice to add pen to paper, even my shitty scrawl. We have been writing to Isabelle for several decades now, I hope she escapes her convent and goes to see Crowdies play Paris.

I wake up early and bake some fresh bread(again). Joy at The Verandah calls and is having a disaster day so I do my good deed and go and get them their huge tray of scones from the bakery. Sit with lovely Nelly from our Post Office and chat and laugh- she has a kind heart, like most of the people up here.

Talking to my sister about her December wedding, we have our suits and stuff but think I'd like to get Akira Isogawa to make me a shirt ,if he can. He is one of Australia's best clothes designers and I tend to see 99% of his stuff on woman... not even sure if he makes guys shirts. I know RPM & Husk in Melbourne carry Akira's stock so will have to head into the city and see what they have. If I'm going to give my Sis away I suppose I should look the part. I do threaten that Mark and myself are going to wear the two squirrel costumes we just bought...she doesn't mind as long as it's not a hat. is there some term for people who are fearful of hats?


---
August 19th
Kath & Kim returns to TV tonight, no longer on the ABC , channel 7 have grabbed the foxy duo from Fountain Gate! Tonight's show kicks arse in the ratings, the largest TV audience of 2007.

Watching the second season of DEAD LIKE ME on dvd, such a well written show, they should of given it a third season, the characters were just starting to grow.... it will be one of those cult tv shows- we do love Krystal! Reminds us a bit of our Rosemaree!!!!!! (opps).

We have some breakfast down the road, such a nice day decide to do the drive to Beenami and pick up our other lawn mower. Bit of a drive but we decide it needs to be done. Arrive Beenami and yep, someone has stolen it the damn mower. The rest of the house is fine just no mower, how weird. I have all my tools at home to repair it too, so send out a death curse to the person who did this... a bit shitty.

Home in the afternoon and email Peggy, who tells us a friend took it and wanted to repair it..... nice if we were actually told. What a waste of a day, at least we know it wasn't stolen!!! mad Dog please send my mower back (GRRRR).

Nice to get an email from Sharon Finn, in the band room touching base, always nice when they do that. Sounds like the tour is going ok, but long. I do miss the guys a bit.

That's it from the top of the mountain.

Life is great.
Gryph.

---
If there are any problems with this site, please contact webmaster@aswas.com.