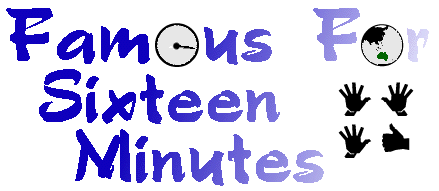 The Life and Times of Peter Green
Archive: 9 April - 22 April 2007
---
April 9th
Easter Monday, a holiday and all things religious. The Churches seem more packed this year, people needing something extra in these strange times. you can see it in their eyes occasionally, a sadness that touches their souls. Something about people laughing out loud that adds extra joy. RIPE was full of laughter today, the hills are not as crazy as I thought they'd be. A lot of bike riders but few cars.

We say goodbye to Miss Laura who is off to boot camp in Hawaii, she gets a small gift from us, will miss her and her smile. She's a bit of a spunk like most of the girls at RIPE. She'll stay in contact we know that. She has promised to mow our lawns!

We finally find the right spot for the Judd art.... next to Vali, seems to be good company! Love it, ol' GrandPa Judd captured Marks eye's perfectly. he deformed us a bit, which is his way...


---
April 10th
Happy Birthday Goldmember. I end up mailing her this exceptional frame from India, thought with the photos I took of her and the girl it would be a good gift. Not sure if i trust Aussie Post though...

I'm off for my last Chiro session fort a month, and it's better this time, I am more relaxed and my neck 'pops' as it should. Porcupine Boy will be absent for a month.

Rosemaree arrives at 11.00 and we head off for some food. We are spoilt, really spoilt, she makes her super pasta dish so I don't have to cook dinner. Any bachelors wanting to be romanced through their stomachs Rosemaree is available!!!

Incredibly sad that Johnny Cash's wonderful lakeside house in Hendersonville Tennessee burn't down today, it was being renovated by it's new owner, Bee Gee Barry Gibb. Always liked that place, it seemed the place to go when you want to recharge and escape the world. Playing a lot of Mr Cash lately. 'Hello I'm Peter Green' (doesn't quite have the same ring to it!!! ) Our family was brought up on a solid dose of people like Johnny Cash....it's a good thing.


---
April 11th
Put some more wheat-grass sprouts in, am trying to time it so there are always some growing, the weather throws out the rhythm of the growing cycle by as much as 4 days. Wonder how my Sis will do with hers.?

Miss Banshee off to the vet for her injections, she meow'd a bit but was really good, no blood, no attacking the vet. She's really healthy and sleek like a leopard!

Keep an eye on what new books Mercedes has been writing, need to contact Mercedes and husband Larry, it's been too long. Hope we can catch up with them when we tour America with Crowdies later on this year. They live in Tulsa, so hope we go close to that city. That would be cool.


---
April 12th
Oh more trouble at Xavier College, they certainly failed big time in the PR area. It will settle, the media loves it when private schools fuck up.

Visit the Crombies, see Sal briefly and Noel is home with Griz. We swap some eggs for lettuce...Cosmo is happy. Noel is busy signing covers, the last lot of Frenzy's are close to ready, only 1 or 2 signatures to go....yey!

It tends to wipe out a huge part of our day when we visit people now, by the time we are home it's around 2.00. Think I'll become more of a hermit!


---
April 13th
Lunch at Monbulk, yes those gourmet sandwiches are calling us. Do some shopping and banking and all those bits and pieces. No rush as we are really heading to Nigels and he wakes up late....so we stall around. We drive to Emerald and have a coffee and give Nige a call. He's having some work done on his place, looks good.

We meet Phoebe the sheep who is so happy, Nige has worked wonders with her, nursing her back to health- not many people would take the time. I'll always remember Nige for his love of animals even more so then his bass playing in the Enz! Always fun to visit the Codge..we debate reality TV (our thumbs are majorly down!).

The Chookery cafe is the place at Emerald for coffee, at one stage it was invaded by little old ladies who had that little old lady smell about them.!!!! Their fragrance overpowered the smell of Hill Coffee.


---
April 14th
Today we just spend the whole day working in the office, head down arse up..work work work.... till 3.oo in the morning. We take a break and in total madness keep on going. We worked till the sun came up....in the end I was slumped on my desk. Very happy we caught up on everything but shaking my head in the madness of this. The sun rising over Kalorama, are we nuts or what?


---
April 15th
Keep finding ladybirds in our kitchen, carry 2 outside every day. is that as sign of good luck or something?

Work in the office till 12.00, and that's it. It is the weekend. The guys leave in a few days for rehearsals in America. Looks like I'll be on the tour for later this year as my name and details appear on the work visa's. Still that doesn't mean anything... I'm happy to go where they send me.

Cook honey mustard chicken for dinner! Too good.


---
April 16th
On the way back from breakfast, call into our local nursery and they have some Wollemi Pines. For those who have no idea what they are.... on September 10th 1994 David Noble discovered this really odd tree whilst hiking in the Wollemi National park. The park has heaps of hidden never explored areas, and is around 500,000 hectares in size. He basically stumbled upon this grove, a single canyon system remaining from the age of the dinosaurs...a short drive from Sydney!

After 5 years the trees develop these small tiny bubbles on its lower stems, they remind me of the inside of an aero chocolate bar. The leaves themselves look like a stegosaurs tail....it produces 3 types of foliage and it's growing buds were called 'polar caps' as they develop a white waxy coating. It's just amazing this small group of trees survived, especially during fire season. Anyway you can see some great shots of the Park and the pines (check out King Billy) at www.wollemipine.com These would probably make a great unique present for some lucky gardeners. Can't wait till ours is a full size tree! The living fossil tree!

Send Noel a birthday card and a copy of Reg & Pete's cd thought he'd especially love "Antisocial Tendencies". Can't believe Noel turns 54 tomorrow!

Good to see Recurring Dream by Crowded House climbing the charts, almost in the National Top 50 after 10 years of release. Go Crowdies.


---
April 17th
Happy Birthday Noel!

I was going to sing when I phoned but told the Cromb that's the reason why i work with musicians , that way I never have to sing, they can do all the singing. I did have a birthday duet from Sharon & Neil one year which was pretty sweet.

A thank you to the person who put Paul singing at our 'wings off flies' book launch on UTube, probably Gracie. Nice that it's floating around a bit....had a few people asking if it was too late to grab copies of 'Wings off flies' as they 'missed' the launch??!! No worries we have more printed. As I was tooling around with some Shed bits and pieces the other day I remembered another band that Paul played around with called The Fez. Mike Rudd and Bill Putt from Ariel and Barry from LLT and Hessie were in it. I remember he showed me this photo and encouraged me to buy a red Fez whilst visiting Egypt (and I did)...it sits in the office on top of one of the filing cabinets. It's funny I always think of Paul everytime I see a Fez!

Somewhere he has a photo of both of us wearing our Fez's at the Elwood studio. Welcome to the brotherhood!!!!! The Fez did play, I think it was the last night at The Shed, with Ruddy and Putty as he called them. He loved the Ariel guys... fond memories.


---
April 18th
Well after I went to bed, I awoke again around 3.00 and just couldn't get comfortable. The left hand side near the bottom of my rib cage started to ache. By 5.00 it was like someone had hit me with a baseball bat on my ribs. By 8.00 I was awake and climbed out of bed in some pain...determined to feed Banshee and let her out. Something was wrong, it feels very odd. I'm trying to stay calm, keep thinking it may be a burst appendix ...trying to remember where it is....one part of my brain is going lower right near the cecum, the scary part is saying 'what if you are wrong and it's higher left'?

It's not like the one off kidney stone incident all those years ago on the Crowdies Tour in Adelaide, it's a different pain. Hell I have to go to hospital...I knock on the door and wake Mark. I walk in and huge tears of fear well up in my eyes, I'm scared. Just a strange sensation, it takes a bit for me to cry.... Mark jumps out of bed, I hassle him to feed the chooks..how weird is that. I decide to drive down the mountain to the hospital as I'm convinced an ambulance will get lost finding us....and that means a helicopter on the oval...which is cool but Mark is terrified of helicopters...I want Mark with me.....so we head off. Shit the fuel gauge is close to empty, so I call in for petrol. The girl says 'great day, hows the band?'...and wants to talk...I am white like a sheet so I just blurt out 'sorry I have to get to hospital'....pay and run out.

At Greville street I was use to The Alfred Hospital being so close, and it's a great hospital. How bad is Ferntree Gully going to be? We arrive and I fill in the details, the reception woman asks me stuff..defacto....blah blah....she smiles at Mark, well it's 2007 all that is fine. I don't seem to wait long and am ushered in, I grab 2 Time magazines out of my bag for Mark, was worried he'd get bored while I was dying, so he at least has something to read.

Two Doctors visit me and both are fantastic, it's so clean and very cool gear being wheeled about, (PHEW) it feels good. I'm connected up and they check pretty much everything. Off for a lung X-ray, and before I am wheeled back to my room, Room #5, I notice my Lung X-rays pop up on my Doctors computer, all within 2 minutes. She goes over the X-ray and gives me a 'thumbs up'- I like this Doctor. She tells me my X-ray is very very clear, which is great. Looks like I have pleurisy. Even sounds horrid. The covering on my lungs is inflamed, infected....

With my uncle and dad dying around heart stuff they decide to give me a full check too and all that is perfect, I'm a healthy bugger, except for Pleurisy.

I was meant to be getting my haircut in a few hours....the nurse volunteers to wheel me down to the barbers ... in my hospital bed.

She also manages to give me a free chest waxing with those impossible to remove electrobe stickers. RIP! Ouch ....'you can swear' she says..I DO! 'Now you know what it's like waxing my legs' she confides! *GRIN*. She removes the odd chest hair.....I swear again.

I am sent home, rattling with pills and they seem to be working, the pain is almost gone, I'm no longer terrified....

Mark finishes the last copy of Time as I walk out...he looks relieved, think he thought I died in there.

Still time for a haircut, I run in with my hospital band on, and they put it back by an hour so i can get some food, am starving.

Eventually we make it home, have a sleep and feel strange but much better...what a weird day. Told to have a week or two off.... but I confess that I'm on a flight to the USA as a surprise for the Crowded House guys. If you are reading this please keep it to yourself. I'm ok to fly providing the pain etc has gone.....lets just say it feels better, I AM going to take it easy.


---
April 19th
Hear from Andy White and he is playing at London's wonderful 'The Luminaire' on April 28th. Check out the show if you live in London, will be a fun night. Tell Andy you read about it on PG's Famous for 16 Minutes Diary site, he loves a good chat after the show.

The Simpsons turns 20 today...2 decades how amazing!

The Mental Notes covers are back so these are all mailed on their merry ways. I wonder if this album will ever go Gold in Australia, we keep pushing the sales up bit by bit...it really deserved to hit the Gold mark in 1975...30+ years later and it still has a few thousand to go. So much crap goes Gold within a week....

Feeling a bit better today, you kind of know it's not 100% though, a very weird feeling. I just want to board that flight, feeling ok.

After 14 hours you tend to feel horrid enough when you land. Had a few people emailing asking if I am going to Coachella and I truthfully answered 'NO" because I'm not. Just the two warm up shows, I always like warm ups much much more, don't love festivals all that much. Really it's a weeks holiday, am email free, refusing to take a computer, and not working just another punter. I should be aon a flight home just as the guys walk onstage at Coachella.


---
April 20th
The valley is covered in fog and it was cold this morning, woke up coughing and all that. The fog triggers this off....hide deeper and deeper under the bed clothes. Pleurisy sucks.

Have to get up and go into the city to grab my spending money from travelex and pick up some CD stock. Was hoping our sales will keep Recurring Dream alive in Victoria (it moved up one spot to #54).

Run back to the corner of Exhibition and Bourke Streets to meet Merl and Maz. They were going to stay the night but are visiting for the day instead.... with yours truly feeling like crap it's possibly a good idea. They are their and someone is checking out the female traineee recruitment police officers! (It's not me!) Wicked girl! Arrest her now!

Drive home via a eatery near Camberwell...I don't tell them I have a fever, had to use the bathroom to cool down. It's good to see them and nice to be at home just having a cuppa while the bird life poses for photos. Banshee checks them out at a safe distance, skitty kitty. We wave goodbye, a nice visit, a quick visit.


---
April 21st
Pack bags and they are full of mail and parcels, I fit in 3 pairs of underpants and two pairs of socks. I'm sure some will say it's an excuse to shop......I'm just worried that my bag will be overweight. Oh well, it's just worth doing....getting rid of loads of postage.

Banshee follows me from room to room, she knows I'm heading off and I expect to open my bags in America and she will pop out.

Have a chat to Greg Skyhook who is fixing his house...as is Melbourne's way, he starts on the roof and it rains. After months of drought, it suddenly rains when he does this....like washing your car. I still think they will lose the case with the The Palace night club, it will probably end up in the supreme court or something..... it's strange I don't know anyone that goes and see's bands at The Palace...everyone I know goes to The Palais.

So good to see the plants covered in rain....I'm sure this will help the dams a bit. They still sit around 30% full.


---
April 22nd
Watch Superman II, and it's had some good changes done to it, I'm glad the very original producer has edited it back to the way he thought it should be....very cool. Looks great on HD DVD.

All the trees around Ailsa Craig are turning golden...some with bright red leaves as well...natures colours...exceptional.

In 4 days will be seeing Crowded House play, it feels very strange, like I'm imagining it. Looking forward to it.


---
April 22nd
Well I am email free till May 3rd, so am hoping people won't email me till after that date. I am hoping to have some time to recharge in the Arizona sun. I'm sure I'll see a lot of familiar faces at the two shows, as long as people realize I am not working at the shows, just dropping in for a visit. The next diary installment should be a fun one, been awhile since I've headed off from the eden-esque Kalorama.

Wish me a safe flight!

PG

---
If there are any problems with this site, please contact webmaster@aswas.com.