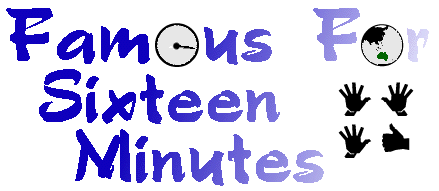 The Life and Times of Peter Green
Archive: 12 May - 25 May 2008
---
May 12th
Wow so many cards at the Post Office box, the day afetr your birthday and you think that's it, all over for another year. Looks like I will be having a birthday week. Cool! Thanks everyone.

Sad news though, as my Mums little doggy Snowy died. Since both her kids have flown the nest he was a great companion and I worry how much she will miss him. One of those dogs that seems to understand every word you say, feel sad her her. We all need turtles as they live longer.

I saw this guy being really horrible to a woman today and called her ugly. As we walked past Mark and myself said rather loudly- 'Well he can't talk, he's a total swamp donkey himself'. Love Swamp Donkey- a deeply unattractive person, it's one of those expressions that will stick. George Bush is a Swamp Donkeys-Dick!

Radio station VEGA has it's voting on today, and our seventies (sometimes) Glam band Skyhooks are up against David Bowie. I never thought we'd win that one but we did with a mere 54% of the vote. VEGA are playing loads of Skyhooks- feels like 1975 all over again. Great that they are again getting such high airplay.


---
May 13th
I need to take some 'me' time soon and catch up on reading, I have the everest of book piles developing next to my bed- where has all my free time gone?

Our final day for VEGA and I am amazed, Skyhooks are now in the Grand Final bumping off Queen and other heavy weights. They are up against AC/DC so we know we won't win. They only lost by 6% of the vote that isn't too bad, hell #2 and up against The Beatles, Crowded House and several hundred other acts- they have to be happy with that. Bassist songwriter Greg is on radio which is nice. I know we needed the votes so i allowed myself to be on air- which always makes me cringe but the DJ was happy.... the things we do for our bands! I think I owe every friend I know a favour or two now.

Speak to the travel agents and our VISA's are now in at the Chinese consulate, Russia is apparently next....I always feel lost without my passport close by.


---
May 14th
Crowdies at the wonderful San Francisco Fillmore tonight- it will go off- this road test of songs is a good idea.... and I love the extended encores, good to see.

Hear from Mr Judd and he looks like climbing to the top of Kalorama to visit us- hope he brings his oxygen bottle, the air feels rather thin these days.

The government releases it's budget, I'm fine about the rich paying and really like the $1.7 billion for low emissions technology, they DO need to get the solar rebates right though, it is a worry.

Order the Stones LET IT BLEED book, i think I have $3.73 left in my bank account- but it's worth it-we love those limited editions. Mark saves my financial hide by going halves in it, unlike our Skyhooks million dollar riff book- we won't rip it apart and share the pages!!!! Well we were 15. Mary Ann you are a goddess for all your help with this.

The Underbelly DVD, how great is that Aussie drama?- it's still not allowed to be shown in Victoria, I think many people are breaking the law *grin*. It is excellent. One of the best birthday presents from my Mum and Sis... not that I : 1/ have it 2/ have watched it...... 3/ smoked it or did anything else to the box set.


---
May 15th
Thanks to Ralf for sussing out a copy of Tomb Raider- Cradle of Life- with the way too sexy Angelina Jolie (PRRRR) this 2003 action film is a fun one and really hard to find on HD- seems every shop in Germany has now sold out as people around the world do the last minute HD grab before they are extinct. Will AJ would do a Tomb Raider Three?- well maybe not now while she is carrying twins..or maybe so...proving pregnant women CAN do anything! The movie cost $100 million and grossed about $300 million world wide so worth making a #3. I know at the time America panicked as it only grossed 65 million domestically ...and weird that I even know this- what a fan by geek I am! Where was I ? Oh that's right- thanks Ralf!

How many more days till I get paid- oh that many, wonder if we could eat Belinda, Joan and Sharon. I keep thinking about that Rolling Stones LET IT BLEED book- we are crazy for buying it, but sometimes when it comes to something amazing you just go for it. The 'Mental Notes' fundraiser Auction is like that, my favourite collectable on that is one of the Enz Usher Jackets that Noel designed and worked on- they look like the Split Enz Frenzy costumes with True Colours on the back. So cool, who ever ends up with this Item will be stoked as it's sure to be one that gains in value. It's so totally Enz! A great auction item.


---
May 16th
'Underbelly' gangland drama is now Australia's fastest selling DVD even though it's not available in Victoria yet. So weird.

Great to see California's top court tear apart a state ban on same sex couples having a constitutional right to marry. Excellent move by the supreme court and you know marriage should be the person of choice not a piece of skin between your legs. So 60 years of bullshit over thrown- every so often California really gets it right. I hope Australia pulls it's finger out soon too over this.


---
May 17th
Rain, fog, mist, sleet.. it's all happening at Kalorama this morning.....sit outside in my Arctic jacket with Nick and Nelly- and we just watch the world roll by. So few tourists, in fact zero... arghh peace and quiet on top of Mount D! It just feels like we are cut off from the rest of the planet today- the land that time forgot..watch out for that dinosaur!

Work in the office for most of the day, Mark wanders down, says he just walked in some chicken shit..no idea how he does it but if there is a bit he will walk in it- he sounds very much like C3PO today! I mimic him 'Oh R2D2 I just walked in some more chicken shit'! *GRIN* I am so gone for writing this....he will get back at me.


---
May 18th
Well it looks like Blueberries could well be the best fruit to eat. They zap free radicals, great against agina, enhance cognition and the classic-cause new neurons to grow......so far in rats..but hey they taste good with yoghurt so I'm all for them. (blueberries not rats).

Weird DVD chart for Australia, I notice the Crowdies Farewell To The World has re entered again at #27, for it's 35th week on the chart. It is Platinum x 3, so I guess it keeps ticking over. I did spot it in the JB HI FI catalogue so maybe they are doing big business, be interesting to see if it climbs higher.


---
May 19th
I've been chatting with Bic (Runga) every few days, which is great- she's off to LA for a short while....I know she will be playing at the *new* LARGO on June 17th and July 8th....possibly some other stuff which hasn't been locked in yet. Tickets for the first Largo show are available, don't think the 2nd one is available yet..... all info via their website: http://www.largo-la.com/largohome.html

It will be a chance to hear a few of the new Bic songs too and all those old favourites- a good night guaranteed.

She sounds great, motherhood a good thing and the baby is growing so fast, he'll be running around backstage very soon i suspect (with those big ear protectors on that rock kids wear).


---
May 20th
I kept getting sidetracked via my window in the office- the bluest skies I have ever seen.... I just couldn't stop peering at them... not sure if I got much work done today. Too many emails as always, I drown in them- honestly I am going to be the first human to die drowning in emails! Somehow we have replied to nearly all.

I hear Mark working away, the odd curse as the 'wheel of death' appears on the Mac he is more consistent then I am.... I think finally he is used to my loud fast typing. Banshee the cat makes an appearance on the security frame of the window, she looks like a version of those Garfields that people used to stick on their car windows. She just likes to hang their watching us.

Decided to watch as many of the MASH dvd box sets as possible..... you forget who great the scripts were, and not to mention Max Klingers exceptional cross dressing outfits, and that rather large nose and hairy arms...perfect for the part. A bit of Klinger in all of us!


---
May 21st
Happy Birthday Sharon Finn. Too hard to find her, are they at the beach house so I (boringly) Email. Have a nice day and enjoy our gift. It smells great.

Some sad news from a good friend of ours, we hate it when good mates are sad. We are here for you.


---
May 22nd
Star Treks George Takei (Mr Sulu) can finally marry his boyfriend of 21 years- Brad Altman- thanks to the great news from California. All those other states that banned gay marriages, get your heads out of your arses and stop living in the 1800's. You show them Mr Sulu!

We have a chat to Spock (not Sulu's friend OUR Spock) re: TRIP- he has that same damn virus that I have had....he has lost his voice (so i do all the talking) - I'm sure it will return for the BCO show at The Espy in early June. I think BCO are adding a show in Cairns too.

Mr Judd sends us a rather funny cover for TRIP...we like it so much it may well be considered with a few smaller alterations.... I'm glad he's working on this.


---
May 23rd
The Henry Rollins LIVE IN MELBOURNE episode was on tonight...loved his anti Howard rave as he walked on stage- just killed us. We get the idea he really wants to live in Australia, I'd love to have Henry Rollins as our neighbour (: These spoken word shows are brilliant- the perfect environment for Hank! He inspires!

My friend Trudi W sent me this information, it's only for Aussie readers and there are probably a limited amount.....just go to the link and you can get 2 free Energy saving Light Globes. A limit of one set per household but even 2 more of these per household will save a lot of power when it's added up across Australia. It's probably a limited offer so be fast.

http://www.greenenergywatch.com.au/freelightbulbs.php


---
May 24th
Sitting at the Verandah and chat to a really nice Canadian couple- they say they want to live up here, have had the best time- nice to hear.

I open the paper to read the great news that the ANZ bank look like pulling out of the funding from the horrid Tamar Pulp Mill in Tasmania. This is GREAT news, serves GUNNS right- bunch of arseholes- I'm glad their share prices are falling too- they really are a vile company and deserve bad karma. This made my day- and may well save some old growth forests.

We spend today in the office working. Got loads done, we haven't caught up but getting close-feels great.


---
May 25th
After 9 lonely months in space The Phoenix will land on Mars tomorrow morning (and it did! The photos are amazing). It will search for ice on the Martian arctic surface.... half the landings are a disaster so great that this one went well. Space is the place!

Well our charts are in and Crowded House's FAREWELL TO THE WORLD dvd jumps 7 more spots so #20 on the Australian DVD chart. It's still on triple Platinum but nice to see it back in the top 20, it refuses to go away.

Phil Judd and his apprentice Pete arrive and right on time. I thought they would be late so they find me in camo's wielding a giant chainsaw on the dead fallen tree..... Mr Phudd is impressed at the strength of my arms as I carry a huge log (ok it was very light but looked good). He tells me the new album is about 85% done , so more Judd music in the not too distant future.

They visit for a few hours and it's a fine day- good company. Phil snaps a few shots of the stone Gryphon statue near the door way for possible use on TRIP the upcoming diary book. Apparently I am going to have a beak!!!! Do I trust this man *GRIN*..oddly enough i do. Pete beats Mark at Pool...well that sounds good. Anyway a nice Sunday gathering and a good one to finish the diary with.

Take care

PG

---
If there are any problems with this site, please contact webmaster@aswas.com.