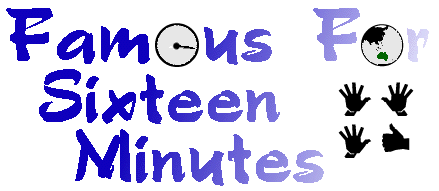 The Life and Times of Peter Green
Archive: 14 April - 27 April 2008
---

Boom Crash Opera
---
April 14th
The day starts well, Mark all smiles as the latest Rolling Stones cd arrives- 'Shine A light' - another live cd but this one is a good one...the last few have been a bit average.

I hear from Tim Finn today, he started on his new album, with several Enz members helping out... no drummer? Not sure if that means there are no drums?

It's finally raining, just a fine mist, seems so long since we have had rain... the northern states are getting loads of it- but Victoria is drying out- c'mon God bring it on. Forty days and forty nights of rain would be cool, lets see how Ailsa Craig can float.... hmmm maybe not with the office downstairs.

Royce from the States sends a very cool present, a Best Of Book on Rollins 2.12.61 Publications. The only one I didn't have , so feeling a bit spoilt. Mark can hang with Mick today, I'll hang with Hank!

The mail out goes out later this month, so start on that, envelopes, text, images- it takes awhile to compile it all but I fire the starting gun today and we start.....


---
April 15th
Great breakfast at Lilly Pilly- they ran out of a few bits and pieces so we were forced to have something new and it really was just perfect, left feeling very content.

I'm in a different room at Dr Chiro's and it's the room I like the least- for some strange reason it reminds me of a hospital room- and it feels cold today. Warrick gives me neck a good cracking (well it's the air that makes the noise) and I'm a good patient- just let him get me back into shape.

I hear from Miss Merl and she finds the second book that I need in the Mystique series, so at least I know it was released, I'll have to get it later on, just have a small mountain of books growing by the side of my bed. Banshee the cat actually tripped over some last night. They are becoming a berlin wall of books...


---
April 16th
I notice that Warhols silent B&W movie BLOW JOB (from 1964) is out on dvd soon. I remember asking Andy W a few questions about it and found the scraggily piece of paper from all those years ago in my 'archive boxes'. At the time few people knew who the guy was that was filmed (from shoulders up)....you never actually see him get a blow job just 35 minutes of facial expressions. Well I notice on my bit of paper that Andy says it was De Verne Bookwalter- my handwriting was as horrid all those years ago (as it is now) so it could be spelt slightly differently..... and it does say 16MM Boley...with Second Hand underlined....so I guess that was his camera of choice..... not sure why it being a second hand camera was important to me..maybe I was saying Andy never spent his money, or maybe saying second hand is fine as long as the job (no not blow job) is done....!!! Anyway I'll have to get this in a few months when my Amex card recovers. Love to eventually have all of Warhols movies.

A nice surprise to see that Doc has buried the hatchet with some of the Angels. They start their Oz pub tour late June- July- wish it that Mr Eccles on drums- he really kept a musical edge to that band, I'm sure Buzz will be fine though.....it looks like being the Face to Face Anniversary Tour-which is cool- a great aussie classic album. Good luck to them.


---
April 17th
As I'm writing today, our dear ol' friend Vali Myers popped into my head. Funny after people have died that they sometimes do that, I swear i can almost smell her perfume, twirling around me like a will o' the wisp.... at 72 she was the most passionate person, not just her amazing art but her code on how to live her life.... at least the Net will keep much of her life alive- I noticed the art studio closed down, seems so long ago now, all that dancing and Turkish Raki - every time Vali poured, more went on the carpet then the glass, god bless her. Anyway this moment is dedicated to you 'foxy' from your gypsy tinker boy.

Hmm and if you feel adventurous go for a search of Vali Myers on the net. She might change your life, or scare the pants off you. I'm just honoured to have one of her original works of art.

Mark finishes Kareena's birthday present, a very special live cd, what more can a skyhook fan want!

We hear from Mike Chunn who has generously donated two items to the charity auction around Mental Notes, Mike is just so generous around things like this , still waiting on the Finns.

Half way through the day I remember that it's Noel's birthday (is he 55?) so give Cromb a quick call and he is at home, just back from NZ.... I email some of the band just to remind them as they are all a bit hopeless around birthdays.


---
April 18th
Spoilt today as Marky shouts me breakfast- yum- a nice relaxing start to the day- we are still both flu-y, boring. Inflicting large human populations with our germs.

OK it has to be said- Ryan Reynolds is hot! One of the excellent cast of Smokin' Aces movie.

Oh The Pope blames a breakdown in the values of society- but not the church clergy who have molested and destroyed the lives of so many- so piss poor. Last year 689 allegations of abuse from members of the Catholic clergy were received and the church paid $655 million to settle those child abuse cases- it's up from the previous year by 54%. I'm sorry, the church needs to look at itself- shame too as I'm sure there are some amazing good church members.... time to stop blaming the rest of the world and it's vices though.


---
April 19th
I have coffee at The Verandah and meet Stanley the bulldog- what a smile!

The Verandah girls all come over and have a chat, it's a bit quiet so they can do that. One wanted to know the finer details of my sex life..that kind of threw me.

Spock confirms that yes indeed Boom Crash Opera are playing at The Espy (St Kilda) on June 8th. The good news is that it is a FREE show. All those classic BCO hits- Hands Up In The Air, Great Wall, Onion Skin, Dancing in the Storm, Best Thing, Her Charity...so many.

It will be the original line up, and I guess this is like a warm up gig for some other possible shows... I know there is a show at Waves at Wollongong on July 4th. Is my Mum cooking them lunch?

So Melbourne music lovers come on down to The Espy for what will be a very enjoyable night. Liberation are also putting out a BCO dvd of live performances in October. This is sounding like some paid plug....well I'm not paid!


---
April 20th
Bec turns up at 12.30, just in time to pig out on Markys home made sausage rolls. She arrives like some whirlywind, something about the bakery staff and something else......I wasn't sure if it was the eye of the cyclone or the pool game but she settled, maybe it was the calm of Kalorama... trees are good for that.

I spent some time chainsawing, we've been doing this for several weeks now, the BIG fallen tree is now just a very big tree with no limbs, all the other broken branches chopped for fire wood..... we have been attacking this every day. I hope we don't have any more sleeping giants come crashing down.


---
April 21st
Banshee the cat now sleeps in my room every night, she's great during the sleep hours but she is like a little old person and wakes up just at sunrise. This morning is no exception so I'm in some slippers bleary eyed looking at the huge bank of fog over the valley- asking myself what I am doing awake. No joy...but at least it's pretty.

My favourite song at the moment is 'Snookeroo' by Ringo Starr. Hows that for an oddity.

Finally have a chance to go through all the negative boxes for the Adam Ant photos for Miss K. She'll get a chuckle out of them, you know they are kind of cool shots. Sorry I've taken so long.


---
April 22nd
I request the latest BCO snap for my media and general use...notice most of the band have shiny craniums, Spocky the only one with a head of hair! I do have to stop calling this the Bald Crash Opera shot, as I know it will stick.

I start the day as the porcupine boy of Kalorama. Dr Chiro throws me a curve ball with a new correction .. a change.... it does the job feel really great.

We spend most of the day getting envelopes ready for the massive mail out, most people don't know just how time consuming these mail outs are. Think of your christmas card list and times it by a thousand! No wonder I need chiro, our backs ache...


---
April 23rd
I get our tax ready to go in, yey my pay from the NZ tour has GST so I think that's a good thing, it will make my accountant smile. It feels really good that we have caught up with the tax stuff, huge thanks to Carolyn, and she is so patient with us. I think she gets amazed that we don't try and claim everything!!! We are like her bad misfit children, and the furthest thing from her straight clients.

Had some nice emails today around our Charity Project, to build the classroom. We are now at $9316.10, so only $684.00 to go before we hit the target. It will be brilliant when CARE Australia start building. You never know what the students might become- that's the exciting part- giving someone a chance.

The link to the $ barometer and thank you list is: http://www.frenz.com/fundraiser.php

If anyone has the vibe to donate a few dollars you can email me for information (peter@frenz.com) and please include what country you are emailing from.

Rosemaree has started on loads of typing for us, which is great, my typing skills are truly limited- so once again she saves the day.


---
April 24th
A part of me just wants to jump in the car today and drive to MOGO Zoo and meet those amazing white lion cubs. They have certainly grown. It's a privately owned Zoo and near Batesman Bay on the South Coast. Check out this link: http://www.mogozoo.com.au Banshee has been tiger enough lately.... as she gets older she will hopefully stop attacking us! Maybe i can dye her hair white?

Finally found a place that can print out Miss K's ANT photos.... the negatives are so old some machines don't recognize them... think she'll enjoy seeing them. Ant music for Ant people.


---
April 25th
Anzac day today. There is a little stone shrine near The Verandah, and nice to see so many locals leaving flowers on this special day. I don't like or support War but have such a soft spot for the old Diggers.

Speaking of old diggers- we hear from Phil Judd and young son Pete and they are coming up here to hang out for the day- better be after we have recovered, don't want to give anyone this horrid virus, cough whatever it is-alien life form that has invaded our bodies.

I ran into some music collectors today and they were telling me just how big the collector fad for stage passes and especially tour itinerary's is these days. I've kept all of ours, and they are kind of cool I guess, a great way for people to see what we all do during a work day. They wanted to buy my 'collection' but it's not for sale. A few I might donate to the club auction to raise the money for Mental Notes , but apart from that we are holding onto them. Have to say the passes do look cool framed.


---
April 26th
Well the boss left for the USA today, I wonder how many times Neil Finn has left Auckland airport over the years. Safe flights and tour guys!

Banshee now wakes me up every day at sun up... feels like I'm in the army or something. She is so good during the night, but as soon as the kookaburras start their chanting, she just wants to go eat and head off outside....I stumble back to bed, every so often I look at my hair in the mirror as I stumble past- if nothing else it makes me laugh. I'm adjusting to the morning wake up meow.

Three fans are at The Verandah this morning, I don't sit at the same table, the one next to them which is fine, I'm hear to relax. They want a photo so I stand in the usual spot, always feel like a bit of a dick doing so. They are nice though, so no sweat. I cover their coffee as a surprise, as they are still sitting when I head off.

We work in the office till midnight, yes on a weekend, another habit I need to break.


---
April 27th
Rosemaree is coming up today, I'm cooking a roast, and a baking a chocolate cake..... it ends up being a relaxing day and keeps me away from the office. have a Glayva for my throat- that alcohol and honey has to help- doesn't it? Light the fires, hey we have heaps of firewood now. The Master wins all the pool games, I just watch.

I'm told it's snowing on the mountain just down the road, and it sure does feel like it- the air has a bite to it. God must hear my prayers as we finally get some rain- hurrah.

It's an amazing time of year on top of the mountain, the infamous chestnut festival is on next weekend, I'm trying to encourage Mark to slip into one of the chipmunk outfits and run across the oval during the nut festival..just for a laugh- hope he does it. So with the Crowdies away touring America I'm kind of happy to be here working, no major urge to join the tour bus. For those attending, enjoy the shows and those new songs.

Love Life!

PG

---
If there are any problems with this site, please contact webmaster@aswas.com.