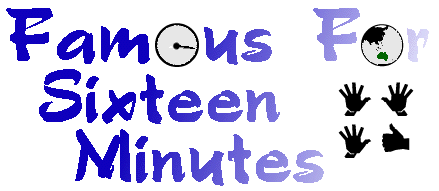 The Life and Times of Peter Green
Archive: 17 March - 30 March 2008
---
---
March 17th
Well we just had the warmest March night on record, I slept ok but you can spot people walking about who obviously hadn't. Ailsa Craig is like some living, breathing entity she seems to expel all the warm air and replace it with cool just when we need it. We love this house, kind to her and she lets us live on her like some good willed siphonostomes on a shark!

The power was meant to go out today (again) while they did wire work but once more it was cancelled...so we had power in the office.

I spend some time in the yard, just raking up leaves and bits of chunky fallen down tree. It can be endless, in reality I could probably work the gardens of Ailsa Craig 7 days a week!!!


---
March 18th
REM front man Michael Stipe comes out and says he is gay. Well who didn't know that , maybe he thought it was time to make it 'official' for whatever reason- really it's his business. Has anyone ever seen Michael's eyes up close (in real life) they are amazing- little orbs of colour. Good luck to him.

I leave for the NZ tour in a few days, David asked if I wanted to sit in on the Auckland rehearsal days but really it's best I stay here and work, too many things to do. Some people would think I'm insane saying no to that.


---
March 19th
A few people emailed me about Arthur C. Clarke passing away- if you get a chance check out his 'The Nine Billion names of God' . He penned it in 1953 and I've always loved that short story. A group of Buddhist monks have long sought to discover the one true name of God. They create this writing system in which they calculate they can encode all the possible names of God (no more than 9 characters) when they know the name existence will have no meaning...to cut a short story (well shorter) as they are running off during the last hour of the computers computation "overhead without any fuss the stars were going out"! I love it.

Will be sad with Arthur gone, he was aged 90 and passed away in Sri Lanka. A fine body of work.

The Enz are now Top 20 in NZ with Spellbound Tour edition. It's hit Platinum in NZ too- so both countries Platinum awards. Plan to do a push on the One Out Of The bag dvd while we are in the country, I'm determined it will reach #1 on the NZ charts (it does!).

Start painting the box for Neil's birthday present, I'll be away for his 50th so thought i'd take it to NZ now. I make it a red box with giant glittery swirls of this specialized paint that I have created. It's strange stuff as it dries clear with micro glitter... so the box itself is rather cool. Mark finds it and thinks it's some artwork I've created- I take that as a compliment. I pack Paulo's snare drum in loads of bubble wrap. I know it's the one item neil would love so for his special occasion it seems to be right. Sharon's gift is the perfume variety. Both born in May like myself.


---
March 20th
I have a chat to Warner-Mushroom about Mental Notes going Gold, and we are just under 2000 units. So I'm going to find a way to raise the $25,000 to get the final stock for this to tick over. It will take me 6 months but it means all those original members who played on this classic Enz debut will get a Gold record- if I have my way. Mark thinks I've got an obsession on this one, he's probably right but it should be gold and you know if I can make that happen so be it.

My bags are now all packed, rather heavy. I have some sort of panic attack in the afternoon.... very odd.


---
March 21st
Melbourne-Christchurch

I leave home at 5.30, it's dark on the mountain despite the full moon. No cars, no people, a few small glowing eyes in the woods. I arrive Montrose to see a convoy of camper vans heading the other way for the Easter vacation break. I get green lights all the way, and make it to Melbourne airport on good time. I walk Pauls snare drum into the fragile area- we are flying Air New Zealand today and I'd hate to see this prize gift broken during transit. I buy Sharon some Mitsouko which I hope she likes.

My seat is great, an easy flight and catch up with Dugald at the other end. As we are lining up more and more of the crew arrive from different parts of the world. Our driver has a sign so we are on our way to the hotel. It's one of my favourite hotels- loads of trees and not quite in Christchurch city centre. It also has 2 computers with free internet in the foyer- a hotel rarity!

I'm in my room and hear these voice 'Peterrrrrrr Greeennnnnnnnn....Peterrrrrrr Greeeeeeennnnn'. I squash my face upside down on the open window pane and look skywards for Angels... I see God instead. Yes Mr Noel Crombie on the balcony above me and Nigels turtle head pops out of it's shell and grins. I head up one flight and sit on the balcony. I bring some french chocolate from Isabelle the first French Fan- and it's good just to sit watch the sun go down. A small plane flies by with a banner on it- think it's the one promoting the show! Noel and Nigel are my two old gentlemen of the band - they help me make sense of the crazy stuff sometimes- once in a blue moon they might help create it but they are the rock that the good ship Enz anchors too.

Later on I'm in my room, just want to order room service and chill out before tomorrows dress rehearsal. Sharon and Neil arrive at 3.40 so head upstairs and give them their presents. Neil had no idea and it just made his night, with a bit of sadness too I expect. Sit and chat, and have a laugh. It's so easy to fall back into all of this- we gypsy's of the road....


---
March 22nd
Christchurch

I am heading off for some breakfast to get out of the hotel but head into the front breakfast room to see who is up and having a coffee- some people always are. The Finns are present, Eddie and I am introduced to the lovely Marie. They are off on a drive and ask if I want to come along but decide I should do some pre tour work, it's all just too close. Noel wanders in wearing a rather cool brown nz shirt.

I'm down the road and The Underground is closed for Easter- hate that, my favourite CHCH coffee haunt. So I eat at Decadence instead. The wall that was covered in Crowdies posters last time is now covered in Enz posters. A good job Helen and Brent- they are working these shows- be nice to see them soon. You know when you find people who are a good team and you put your trust in them and it always turns out well- the Eccles are like that with us- part of that family of ours that they probably do a hundred and one extra things for us, just to help make the magic happen. Plus they both have such rock and roll hearts, that still beat loud for the music- which for all of us is the main reason we do what we do. Plus they are fun.

Loud up the van with all my stuff- tripods, the new HD camera, bags and boxes.... arrive at the Westpac Arena for the dress rehearsal. Lighting is running way, way behind.... but we do it anyway. Twenty five fans wait patiently outside , and they've flown in from everywhere. I know most of them, some by face, some by email name..... they are so patient.

David our heroic manager and myself set up 25 chairs in front of the stage..the floor area is empty of chairs, well not laid out by big monolithic piles like some piece of art. So the 25 get to sit . I divide it up so stage right has people who want to dance, stage left people who want to sit. I set up the camera to film....

The band are onstage so no satin bag entry..... but it is a dress rehearsal so suits. John Walsh tells them they didn't wear cozzies at the Brisbane dress rehearsal- I cough and point out they most certainly did (several Frenz still remember the lights low while Tim pulls up his stage pants moment).... so cozzies are on.

It's fun, easier for some band members then others, and I sit with Marie near the camera, ok sometimes I do dance. The ending is funny...normally they take a bow, but tonight they work on it, so they are huddled, and chatter and work out what to do, Michael B looks at them like they are mad... it starts me laughing, the 25 start laughing, the band are laughing, it's hopeless but eventually they bid everyone goodnight.

Walk the Frenz outside, it's a cold night, so give them all a chance to use the toilets before I throw them out into the Christchurch blizzard. They all look very very happy. Nice to see.

I am 'home' again with the guys- Noels Deli is open for business in Nigels room so share cheese, crackers and tomatoes- it's like being at home. Mark is probably snacking on the same as I speak. I give him a call.


---
March 23rd
Christchurch

I got very little sleep last night, pre show jitters? The lighting crew got even less, after the dress rehearsal they stayed on and erected the lighting rig- worked till 4.30 and back again by 9.00. The general public have no idea how hard all the other folks behind the scenes do work to put on a show. When we all complain about rising ticket prices think of the blokes who are at the venue putting up lights till 4.30. Our hats are off to you guys.

Set aside some time for TV ONE news to film Tim, Neil and Noel- extra push for the 2nd Auckland show and just good for NZers to see that the Enz are back. Chatting to the interviewer and she has never been to a concert, of ANY type. David and myself were totally blown away by that. So we make sure she is coming to our show- so she will no longer be a concert virgin!!! We film the news interview in 'the library' , the guys do fine, after all this time you'd expect they would.

I send off a last batch of emails and run into Helen and Brent and take a few minutes out for a much needed coffee (I do owe you one Helen). They are happy with how it's all going, we are all excited about the first show, only hours away. Kind of exciting.

I'm at the venue and the Phoenix Foundation guys walk past and say hello, they remember us from a few tours back. Nice guys, and I hope this gives them extra exposure. They have a new album out called 'Happy Ending' it's on the Flying Nun label and really worth checking out.

Walk in our lucky club member people for soundcheck and I'm rather spoilt with a massive container of home made cookies (which will end up in the band room-if I eat that many I'd become huge!) and also a bottle of Yukon Jack which you can't buy in Australia- so priceless. I'm amazed that Kathleen managed to get this to NZ safely!!! Thanks guys.

Michael's relatives are at the show tonight so I'm taking extra good care of them, water, ear plugs, a few are quite old so I'm wondering if Noels guitar 'solo' will leave them with bleeding ears.

I take a few photos, a nice fun group shot. The guys are all fired and ready to play, we almost have to hold Tim back. Noel wants to test the new bag and Nigel is off somewhere else so I'm dragged into the bag, which gives a very different view of the Enz world. Of course I am stirred no end, mostly by Eddie but it's kind of fun...like we are in the stomach of some giant creature. 'Cmon Pete you love it in here with us'...Ed!

I line up the bag with massive help from Dugald and we walk them to the stage, I find it best to attach my stage torch at the front so they 'follow the light'. The bags wobbles up onstage and a massive cheer goes up, the crowd love it- kind of cheesey but it's very Split Enz. Straight into Shark Attack and the masses rise off their feet and run forward, the ushers never had a chance. I love watching people dancing and enjoying themselves, and Christchurch is certainly doing that. Give It a Whirl, 129 and Bold as Brass my favourites for the night.

We set up the small 'mini band room' just inside the curtain it means the guys are really close to the stage- but they can have a drink, chat etc. Pretty much the same deal as Crowdies. Two encores tonight, real passionate calls for them too.

The show over I bump into Emelyn Crowther and his wife Jo. Always nice to see them, he just always comes across as the most unassuming guy, nothing like what most musicians are like- which is nice. Think they are coming to Auckland too.


---
March 24th
Wellington

Some sleep but not much, weird as I usually sleep so well at this hotel. Davids out the door and asks me to do the count for the bus just to make sure everyone is on it. Sharon and Neil arrive so I sit and have a coffee with them, the hotel refuses my card and says it's on them. Nigel wanders past and heads to the computer, bit by bit all the band and crew arrive. The bus is here and Nigels not. I start looking, Brent checks outside. Finally he turns up, right on the dot- which is Nigels way. I wasn't really panicking just don't want to leave Codge behind. We both sit up the back reading. Harper takes over the loudspeaker system and gives us Harpers Guided Tour. He is growing so fast and will become a good looking man- such a perfect mix of genes.

Nice flight to Wellington, right along the coast. David and myself have front seats. Neil, Sharon and Tim behind. I am captivated by the views. Arrive at the hotel and decide to just watch movies and order room service.


---
March 25th
Wellington

I make a note to double check that seedless grapes are on the rider for Nigel. You can walk to the venue from the hotel- so I do just that. Breakfast at the gig. I remember this venue well as I always end up with very sore feet from all the running about. Pretty much the same set as Christchurch. The sets won't vary much because it's only a handful of shows. Usually on the last night a few changes will be added. (I hope).

I walk past the 'dog room' at the venue and memories of those greyhounds from the last Crowdies tour come rushing back.

Show Nigel to the dressing room and ask him if he'd like to come out front and meet some of the Enz fans and he says yes. I get them to shuffle together for a group shot- an extra bonus for everyone. Good ol' Nige he's always taking time out to talk to them.

A good show again, Tim in fine voice, Neil's hair seems extra fluffy tonight? I cant even remember writing that in my 'real' diary but it's there. The Crombie clan are backstage and there sits Noel amongst them chatting. I interrupt the family reunion to remind him about the cozzies and road case. By the time he is back it's already been whisked away so we have semi sweaty costumes packed in a case heading off to Auckland, they will be a bit ripe by the time they arrive.

My feet are really aching tonight, a huge blister on my heel. I'm one of the last to leave so I climb into the mercedes with David and Noel- I can't walk an extra step. A cluster of fans are gathered so I walk Noel over for some autographs- my huge stage torch lighting up the album covers...also some Frenz in brilliant costumes. There's Nigel sitting on a step chatting to the McNamara brothers - I hope they don't bait him too much about Manchester beating Liverpool- he may well ban them from the Auckland shows (:

I am back in room, packing my bag and finally crashing off to sleep at 3.00


---
March 26th
Wellington -Auckland

Sleep ok- a real sleep-no drugs required. I have some fruit which I grabbed from the band room before going 'home' last night, also some cashews.

I think about Hessie, it's 3 years today. I decide to wear this Tshirt he gave me , many years ago, just as a reminder- all good Paul thoughts today. Miss you buddy.

Davids off to do the airport set up- so good when we arrive at group check in everything is ready-tags and stickers and boarding passes.

Meanwhile I'm in the foyer- redirecting Tim's bags onto the bus. Sit with Sharon and Neil and Eddie. Michael rolls up- his tour bike fits into this cool bike bag, very funky. Nigel on time and we are all off to the airport. Sit with Ed and we talk about Hessie- soon several other people are telling stories-feels good.

At Wellington airport and the luggage machine seems to of gone on strike- bags take forever to go through. David walks me into Air NZ freaky flyers.... Dugald eats way too many hot dogs- I walk with Nige trying to find something healthy or at least fresh...... they next announce the arrival of doughnuts - I opt for an apple.

I sit next to Sol on the flight, he has very cool dreadlocks, and he's been to Cusco Peru- so serious Peru chatter between us. He's also been filming some bits for the upcoming Wolverine movie- I guess it's the 'lake' scene stuff as hinted in the previous Xmen movies.

We finally arrive Auckland and the tour party splits- some people head home, Nigels staying with the Finns as well. The rest of us are on the bus and get dropped off at the hotel. I sit down the very back all by myself. The skies are blue and cloudy rain is on the way I think. Go for a walk and buy food.


---
March 27th
I get to sleep in, over the drapes and sit on the balcony- it's grey outside. I walk to City Heights Coffee shop. I spot Marky B walking down the street and call him in for a cuppa. He's off to drop in some washing to be done, so I walk with him and find a $2 per hour cyber bar.

After clearing some emails- I head up to Real Groovy and JB HI FI. JB have a large Enz display near the front door, Real Groovy a massive gig poster of the Enz in the window.

I walk around Real Groovy and so far nothing I want. Noel is also in the store with a handful of cds. I spot the updated version of the Syd Barrett book (Crazy Diamond) and decide to buy that. More books just what we need. I also grab a Trek book and the latest Anne Rice. Walk with Cromb and he shouts me coffee and cake (nice treat- thanks). I go back to the hotel as I have the urge to read.

Michael Barker calls so head top his room and chat- he's off to Japan straight after the Enz tour finishes. I grab his guest list for Auckland.


---
March 28th
Auckland Show #1

I make sure there is some good quality honey backstage for Tim, not the poisonous variety that has been floating around NZ over the past week. The guys have been playing 'Carried Away' at some of the soundchecks, at Wellington they even played 'Two of a kind'. Michael asks if I have a copy of Carried Away handy, so I grab a LUTON cd from merchandise for him- so he can learn the drums for it- I'll happily walk miles just so they add this to the set. Whatever it takes.

Some good friends of Tim's are flying in and I want to make sure they have the best seats- so I scamper up the side of the arena ... 'Go Peter Green' they cheer from the stage. Yep seats are great....it's harder to scamper back down.

Chatting to Marie during the show, we both agree Charlie is sounding damn fine- I think tonight's version would have to be one if not THE best version Tim has ever sang.

It's 2.00 and finally back in my room, David and myself stayed behind waiting on merch figures, hell David even washed the costumes!!!!!!!!

~ he is a hero. My day consisted of guests names from the guys, making sure our band room was ok-I finally got rid of the horrid smell that seemed to be in the band room.... Noel changed part of the stage bag tonight, it seemed to work better, just a rubber clip at the top.... though Neil had a few problems with that steel ramp- it was very steep - I think his italian shoes were not meant for such a shiny surface. I was a bit concerned that they might miss the ramp totally and fall off the edge!!!!

Igors off with relatives still, and being such a hell hour I decide that it would be rude to turn up at someone's house at 3.00 in the morning, so I'll catch up with him on the weekend or at the airport- rels come first I guess.


---
March 28th
Head off for breakfast and run into Nigel leaning on the hotel door. He asks about my $2 net cafe.... I give him directions. Walk down Queens street and every block I run into Enz fans, all the nice ones (Phew), and they are so vibey- nice to see.

Another fine Enz review in the Auckland Weekend Herald. Nothing but glowing reviews on this tour- makes you wonder why they are splitting up again after tonight.!!!!

Our driver arrives and I get them to drop Nige off at my cyber cafe- that way I know he found it ok.

Today is hell day for myself , David and Helen. The largest amount of comps for family and friends ever. We arrive at the venue nice and early. I have on a pedometer as I want to see just how many miles I clock up backstage. It ends up being 52 kms! Serious walking eh!!!!!!! I'm in and out to the box office, Helen and myself pass each other down the corridors we just grin and wave..kind of funny really. I have to say that some of the aftershow guests were rude arseholes- I held the Gryphon claws back- but one guy got a serious serving and kept a very wide berth from me for the night.

The wonderful Phoenix Foundation boys come up and say thank you and give me a full set of their recordings- how nice was that? It was good having them on board.

Band room is all warm and glowy tonight, try to keep it that way by keeping people out- am amazed at how many people try to crash it- some so drunk they could just walk. Sarah from Liberation is over and that's always fun- such a lovely lady. William is walking about taking photos and harper Finn takes over on our HD camera and films the family backstage in the room. I think he'll become a movie maker- he just seems to love filming stuff. Elliott does a cute dance while he films.....

The gig- really fine. I spot Titus and Carried Away on the set list, so climb the stairs to stage right and make sure I get it on video. Titus is way too cool- what a brilliant Judd song. It still saddens me that there is a split between them....sad really. We have some guy invade the stage tonight- and Duges was onto it.....!!!

The backstage get together was crazy, people drinking every drop we had and some demanding more ....(Phew). Eddies now rather extended family arrives, all the kids it's the brady bunch so many of them. He is so happy- I love that. An exception was Bic and Darryl- neat to see them both- they are always welcome.

So in a blink of an eye it's over. It seemed to go by so fast. Tim comes up and thanks me - just out of the blue- really made me smile. I find Sharon and Neil having a relaxing nap on the two couches , they go through this so often.... Dawny just smiles. I get it.

Noel packs the cozzies tonight, we dry them as best can...... the ripped shirts are now well really ripped. He donates two snipped off arm bits for the club auction and signs them.


---
March 30th
Auckland-Melbourne

I end up at the hotel at 2.45, pack my bags and answer Marks call- hope I didn't wake everyone. We'll all meet up at the airport in a few hours time, hope that Igor doesn't sleep in. Call Nigel and Kim to say goodnight, I know they'll be chatting all night.

I'm in the foyer it's dark outside and the hotel makes me a cuppa tea. Our driver arrives and a few hours later I'm in the air. Lots of people coughing and I can tell I will pick up some germs. Customs is insane at Melbourne, hundreds of people lining up, massive lines..... we are lucky- some nice customs guy gives us the ok and we head out the door and make our way home. Michael Barker has some honey on him so he has to line up- hell I would of thrown it- anything to stop going through the customs madness.

It's nice to be home and I'm now just left with the memories of a really fun tour. Later that night I'm starting to feel the flu or cold or whatever I have - the joys of flying. Have a feeling I'll be taking the week off. (cough cough weeze)

PG

---
If there are any problems with this site, please contact webmaster@aswas.com.