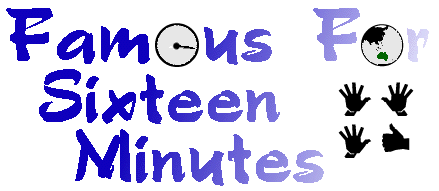 The Life and Times of Peter Green
Archive: 18 February - 2 March 2008
---
February 18th
I checked out the remaining seats for Tartuffe featuring the ruggedly good looking Marcus Graham - he reminds me of Dugald from Rockquiz/ Crowdies Crew... but the seats were really average so decided against it. Doesn't tartuffe mean 'the hypocrite?". Nice reviews of this version of the french playwright Moliere's work. The brother of Louis XIV was one of his patrons. Of course at the time (and probably now) moralists and the church (ho hum THEM again) were outraged. Probably his attacks on religious hypocrisy upset them. I like it when he passed away, it was after an attack whilst performing onstage (he had pulmonary tuberculosis) as the hypochondriac Argan ...he finished the performance but died a few hours later. (Feb 17th 1963). This would be such a wonderful ending to a movie on him I think.


---
February 19th
Greg Skyhooks arrives , well late *GRIN* only by an hour. Did some serious filming of Interviews today, the final 2 Skyhooks studio albums- always nice when the songwriter pulls out all those memories. I forgave him for being late when he walked in with that bottle of champagne - that will always win me over. We lock away the Hooks backdrop and some boxes of tour paperwork for safe keeping, as he leaves for Queensland soon. He'll be spending the best part of '08 up north, the land of the big peanut. Oh he also passes on a religious calendar that he bought for us in Roma. All these B&W shots of priests, way too good looking priests - they can't be real and they are all handsome and gay!!!!

Mark is using the new HD camera, which is exciting. Really fine interviews.


---
February 20th
The mountain is very quiet today, banks of fog are rolling through her. I'm sitting outside at the Verandah, the only patron , all rugged up, sipping my coffee, a bit of writing. It really does look like 'the land that time forgot' , I expect some extinct creature just to walk on by. (no not Boy George).

We work past midnight in the office. Mark wandered on down too- so here we sit tapping away and getting the job done. I wonder if Neil ever knows the hours we put in. Probably not.

The Shepard Fairey art book arrived today- what a fine art book- the perfect gift for a friend too, me thinks.


---
February 21st
Dave Edna's sour-faced bridesmaid- Madge Allsop, passed away today. She was 101 years old. She was played by Emily Perry- amazing woman and so stone faced onstage. She just made me laugh, she played the part so well.

Still on my quest for BEX box to do my arty Warhol- Brillo inspired creations- I know one will turn up. Someone asked me why BEX powder box and not Vincents ...just Bex sounds like Sex...and the box looks cooler. Vincent's was always a bit boring.


---
February 22nd
I work every day on TRIP, just the text, such discipline - every single day a few more pages are done. Shuffling through photos, we have thousands and thousands of photos, boxes and boxes... so even that is a monumental task. But it is coming together.

I locate a Bex sign on ebay (where else) and decide that it would be perfect in the art room and for a paint/colour reference. So add that to my lists of wants.

The grey skies are here again, and both water tanks full to the top. I wish the damns in Victoria were as full as our tanks.


---
February 23rd
The Crowdies are playing the 2nd of the Leigh Sawmill shows tonight in NZ. Loads of new songs in the set: Only way to go is forward, Falling Dove, Isolation,& Bound to rescue. Nick Seymour's Tom Jones moment with a bra on his head during the encore!!!

Looking for a decent George Bush mask on the Net and stumble across Bush toilet paper and the Hillary Clinton nutcracker at PrankPlace .com also just had to invest in the Bush Countdown keychain which tells you second by second how long the jerk is still in office. What a fun place is Prank Place.... Phil Judd might well move into their office!!!

Tonight I cook using Dukkah, which is inspired by the venders at the great markets of Cairo- basically it's chickpeas and ground spices... the smell is way too familiar. It tasted great.


---
February 24th
Win a BEX sign on Ebay for the art room, hopefully in a few days I will have one of those BEX powder boxes so I can start on the art project in August.


---
February 25th
The second Enz show went on sale in NZ for March 29th- it's the same day as Pete & Fran's wedding so I'll be working in NZ, which we all kind of guessed would happen. The Enz tours are one of my big wage payers of the year so I just can't give it up, plus I was committed before the wedding date, just one of those things I guess. Work work work.

My fave snack of the week has to be Golden day 'yoghurt & sesame snaps'. Excellent!!! I am addicted.

Happy to report the Charity project has nearly reached the $9000 mark, about $100 short. So we are close to 90% of the total to build the classroom in Africa. Here is the link to the total and thank you list. Yes we still accept donations (just email me). Thank you to all the readers who have been fantastic and supported this. http://www.frenz.com/fundraiser.php


---
February 26th
Of course the power is going to go off today while they add all new power lines to the top of the mountain, which means I won't be able to do a last minute bid on Ebay for those darn BEX boxes.... so I bite the bullet and put a bid in the day before.

I get an email that USA based band RACINE (s) second CD is on the way to me. Cool band, fronted by ex-Transvision Vamp gal , the lovely Wendy James (who now lives in NYC). It's just called Racine 2 but the first run has a bonus cd of 10 demo tracks. here is a link to the official band website. http://www.theracineworld.com/

They tour UK-Europe in March, loads of shows at Spain and Norway.

Well the power doesn't go out, they change the date, so we could of stayed in the office and worked. Oh well an unofficial day off I guess. We roll with it.

I get the Ebay BEX box (yay) so I have a template to work from for the art project, finally. After several decades of people taking these BEX headache powders you'd think there would be millions of empty boxes floating about! Not so. The powders were really additive , happens when you take massive amounts of phenacetin and that tends to lead to kidney disease!!!!


---
February 27th
Artist Martin Ball from Auckland has been awarded the Packing Room Prize at this years Archibald Prize Art show. It's a painting of Neil. It's the first year that there haven't been any politicians painted for the prize so I'm told. I email Sharon a JPEG of the NF painting. Mark says he looks angry in the painting, I think his nose is too long. Critics both of us.

and speaking of artists. Our favourite Shane Gehlert has a new selection of creations available. The Marsupial Blessings series- all icons and way, way too cool.

http://www.outbackart.com.au/HOT_OFF_THE_EASEL_/hot_off_the_easel_.html

Sometimes we don't need to eat, so splurged on the St Bilby from the series. It was such a hard choice as St Antechinus is amazing as well. I keep telling friends if they can't afford an original (and really the prices are so cheap for an original) to check out Shane's Giclee prints of the art they like. His work blows us away, unfortunately it means when we have new visitors to Ailsa Craig I spend the first hour on our 'art tour'!!!! Anyway the perfect gift, and his work will only gain in value. I would kill to be this talented, and if I keep substituting art for food I may well do just that. *GRIN*.


---
February 28th
Try (again) to work out the Qantas situation to England-Russia. Basically we can get to England Business class but can't get home for 5 months!!!!!!!!!!!!! I find a new Qantas guy who is amazingly helpful and he is going to go through every flight and find options. We run through some stuff and it now looks like we will fly via Beijing ...so yeah maybe the Great Wall Of China will be part of our holiday. That's cool- I've avoided China for years because of the appalling human rights issue but hey if it has to be a stopover so be it. Australia must have a lot of money at the moment with so many business-first seats sold. It costs about 275,000 flight points for the comp ticket.


---
February 29th
It's my Mums birthday soon and Sis and myself have organised a surprise party on Sunday, ok Sis was brilliant and organised most of it. So I am going to leave at some unGodly hour and catch a flight home, drive down the coast and be there by lunch. I pretend that I'm heading off to NZ for a weeks work and call Mum and say goodbye. I'm glad we only have surprise parties for her every ten years or she would stop falling for these things.

I check out the Great Wall and find out it is 73kms from Beijing (near Badalina)...hmmm i can make it......well maybe? Just can't blow the flight with so few Business seats, will be impossible to re book. This holiday will be a good one... Russia how cool is that.

Grab a money order for MR Judd. for the last batch of Novelty Act cds. You know what will happen, suddenly we will get all these emails from people who forgot to order and are now worried that the CD has become extinct. It always happens, we deal with it but it always happens. I haven't heard from him for a few weeks, guess he's working.

Looks like there won't be a warm up show for the Enz in NZ, just the gigs. The Enz NZ dates sure are coming up fast. Remember the mini site at www.frenz.com/splitenz/ has info on shows and ticket links. (Thanks Deb & Iarla).


---
March 1st
The Sydney Gay and Lesbian Mardi Gra is on tonight, the 30th Anniversary. 400,000 people turn up to cheer on the march, how amazing is that! Cyndi Lauper and Olivia Newton John perform at the Mardi Gra Party. I keep reading that Cyndi has pissed a few people off on this tour, so silly as the public do adore her, felt sad for those really young fans who waited hours and she ignored them. I know sometimes you can't sign everything but when it's just a couple of kids you'd think she would stop. I've lost count of how many times Neil and co have stopped the Tarago and signed stuff.

I pack my carry on bag for tomorrow. take all the table napkins up- it's handy having a Sis who owns several dry cleaners *GRIN*. Thanks Jen! I'm ready to go, I just hope I wake up on time.


---
March 2nd
I wake up before my alarm, it is still dark outside and about 5.30. If I had to get up at 5.30 every day I think I'd blow my brains out.

I leave early and manage to get to the airport with loads of time to spare- so coffee up at the Frequent Flyer lounge. Qantas help me by putting me on an earlier flight, which is great as it means I will arrive on time for the lunch surprise. We circle Sydney airport for 20 minutes as it's busy. I dash out of the plane and into the hire car and off down the south coast. Mozza playing on the cd player.

I have to turn down Bulli pass which is longer but I have no choice. I park in front of my sisters dry cleaners (it's closed) and call her to let her know I'm on the way. She tells me that they are 20 minutes late, all coded of course as Mum is next to her. Mum thinks she is going to lunch with Sis and her new boyfriend, not a surprise party at The Lagoon Restaurant for 40 people. Some insane driver almost rams into my car sending it into Sis's shop window, thankfully I did see them and just move, he missed me by inches.

I arrive at North Beach and put on a hoodie and go for a walk along the shore line. Give them some time to arrive. Way too many good looking surfers of both sexes, for some reason they come up and chat... friendly people here at my home town. I hide in the car and spot Mum and Sis drive by. I follow them at a hollywood movie distance.... and stalk them till they are in. I can hear the relatives singing to Mum so I call Sis and sneak around the front of the Lagoon. She puts Mum on ...'Hi Mum, a quick call from Auckland..... " She tells me the line is faint, "It sounds ok to me like you are in the room next door.." I walk up behind her....'Oh you ARE!" I say. She turns around, see's me and bursts into tears! Nice reaction.

Anyway it's a great afternoon, food is perfect and our waiter really cool... I catch up with all the cousins and aunties and great aunties... just nice. Mum has a ball.

Drive everyone home and make a quick visit to see Marks Mum, which is fun. She's like a second Mum to me , nice lady.

Am home and a bit exhausted, have a nap and wake up later on. Mum wants to sleep, it's all been too much, so I have the idea of getting the last flight out instead of the first in the morning. The thought of fighting Sydney traffic in the wee hours horrifies me. So I call Qantas and after some serious driving am on the last flight (just). By 2.00 I am in bed again at Ailsa Craig. What a long day but worth it, but warn Mum the next surprise party is in 2018!

Night everyone.

Gryphon

---
If there are any problems with this site, please contact webmaster@aswas.com.