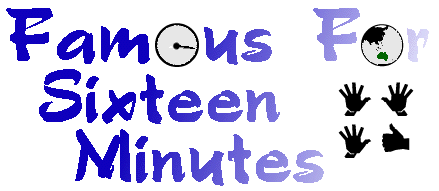 The Life and Times of Peter Green
Archive: * - * 2008
---
---
April 28th
It's going to be a long day as we have to start on the mail out- it's massive, so need to have a good solid meal, as we will live in the office. So we head off to see Sonya at Churinga. We are the only people their so we get our usual seat (over the heat vent) nice and snug and watch the rosella's darting between the trees. It's always a nice view as it's next to Ricketts Sanctuary and some of Williams carvings are nearby. It's a cold day outside, 3 degrees at 9.00 in the morning and a fine fog-mist-tree spirit curls around the ferns and red gums.

We get home on time to catch up with Rob who is delivering all the printing. So many boxes, we leaf half in the garage while the rest are carried to the office before the rain starts.

The office is great this time of year, always nice and warm - and if you are lucky you will see a stray chicken walk past off for their daily free range.

The guys are at The Fillmore tonight, don't think Neil is checking his emails as he hasn't gotten back to me , so I guess he can have peace and quiet as will I. The USA shows will be good, as the whole point is to road test new songs, have some fun and even audience requests of songs that haven;t been played for years. I email a request for 'Mansion in the Hills', wonder if it will make it?


---
April 29th
It hit zero this morning, suddenly we have cold days and it isn't Winter yet. The power is off today for repairs to the power lines on the mountain-that freaky storm did some damage I guess. We are at Mountain Gate...I'm crossing the road and spot a ladies hand bag. (Nah doesn't go with what I'm wearing!!!!) Pick it up- totally full with a bulging wallet. It's near the chemist shop so i hand it in to them- trusting they won't rip off the wallet. My good deed but I have to say the chemist people looked at us like we mugged someone. I guess people don't hand in money and wallets in 2008?


---
April 30th
The government have made some steps in the right direction for same sex couples. Areas like super, medicare etc, 100 federal laws changed ...as they should be- just basic human rights. No marriages or even civil unions (YET!) but it will happen. Seems all the polling shows a vast majority of people support same sex marriages these days- the Church groups would be shitting themselves over that- but Gods giving the thumbs up- they just can't see it for their hypocritic blindness.

Miss K is helping me out with some USA mailing, I reward her by stuffing her Adam photos in the parcel- ant music for ant people!!! God bless her (and no I won't mention MTV!!!!!) Sad that I missed the pJ party!


---
May 1st
Roadshow send us an Invite for Speed Racer, it's at Prahran, not sure if we have the vibe for the drive....still fighting this virus bug thing- after work and home stuff I feel a bit worn out. Not sure if I can go the distance for a premiere.

We were talking about escaping to re charge for a week but think we'll stay at home and recover. I think Mad Dog is in town from America so we will hopefully catch up with her if she makes contact. Donations are still coming in for the Charity Project. We are now up to $9576.40 So around $420.00 to go which is brilliant. Slow and steady but we will get to the magic total. people can email me (peter@frenz.com) if they wish to donate and we have a Barometer thanks to our lovelies at ASWAS located at: http://www.frenz.com/fundraiser.php


---
May 2nd
Well 'mansion in the slums' was played tonight by the Crowdies at 9.30 club... it's been awhile for that one. Nice reports coming in from the tour- the fans are having fun, I keep reading that Nick looks very serious onstage and not as playful- not sure what that's all about. Not sure if it was my request.

Big dark clouds over the Dandenongs as we head home, they look like they are exactly over Kalorama. As I am driving up the hilly slops, the heavens open up and it hails and almost sleet-snow. All the yards we drive past are covered in white, as are the trees- pretty as a christmas card. This is unexpected. It also makes the roads a tad slippery and the odd car has slid off the edge of the cliffs (OUCH).

Tonight's HD is 'Eastern Promises' which is an excellent find by Marky- all about the Russian Mafia. Plus a bit of naked fighting in a bath house! So yeah violent nudity restriction.


---
May 3rd
Have my coffee at The Verandah- sit outside and the tourists are taking photos of 'the view'. Suddenly 2 japanese tourists are looking at the view and not where they are driving and smash their cars together- it freaks them out. I shouldn't laugh but it was kind of funny....no idea why.

I read that Melbourne just keeps growing. For the first time it bumped Sydney off as Australia's most lucrative tourist destination and it's still Australia's fastest growing city. Suddenly when I am home, the relatives are all talking about their trips to Melbourne.

Suuz Birthday today- she'll be eating Finnish birthday cake...not sure what they are made from! Have a good one.


---
May 4th
The infamous Kalorama Chestnut Festival is on. They have timed it well this year- a lovely day. Mark chickens out of wearing his chipmunk outfit, so not to be the lone chipmunk I decide not to as well. We head on down to the oval as it supports the local school.

Lining up for a hamburger and one of those rare handsome mountain men is doing the cooking, actually his wife is stunning as well. Their kids must have good genes. He's a regular at Lilly Pilly and gives me a wink. So BBQ for lunch. By some plants and check out the stalls.

It's a huge crowd, thousands of people, and so many say hello....we are almost 'locals' - which feels good. The road to our place is packed full of cars- I've never ever seen so many people up here.

Email the girls to see if they want to eat Indian around my birthday, which is only a week away. I find this PG aged five photo, get Mark to crop out some relatives- no idea why I have a cup of tea in front of me....very odd. My hair has some blonde in it.... those were the days!


---
May 5th
A massive cyclone hits Burma and the death toll keeps climbing. We grab some donation numbers as we are near the banks tomorrow- every bit helps them. I just hope the government in Burma are not as extreme as they usually are and let help in. The number of dead just keeps climbing, it does my head in. Terrible. To donate (Australia 133240) or www.worldvision.com.au


---
May 6th
Call into our travel agent to sign off on the last bits and pieces and give them the last of my pay *grin* (sob). All paid for now, even hotels and transport- so that's good.

We drive to Prahran to visit Rosemaree as well as the Market cafe people. Nice coffee-love it.

Seems to take all day and we get home and straight to the office where we work till 4.00 in the morning.


---
May 7th
Melbourne radio station VEGA has MUSICAL GLADIATORS on...where bands compete against each other- songs are played and listeners vote...in the end it also means some very solid airplay. Our seventies boys Skyhooks are doing well, they keep winning their segment......we spend a few hours a day getting fans and mates to cast some votes. Even if they make the final ten it will be brilliant- I am determined.

We lock in flowers for our Mums for Mothers Day- they do love a good surprise from the florist.

Mark is checking out The Rolling Stones LET IT BLEED book- it's one of those super limited editions and about $650!!!!!!!! A must have..... looks exceptional- great quality books are hard to find.

We get some figures in from America and since the very sad death of HD- the 'other' version that we are now all stuck with (Urgh!)( Blu ray ) has actually had a 40% drop in sales. When you are the only format on the market you'd think sales would increase- the only thing that increased around Blu Ray was it's price. A 40% drop is HUGE. It really is to late to re think this horrid format isn't it? Sony are no longer giving out their Blu Ray sales figures- are they THAT bad? proving even with multi million dollar pay offs you can't polish a turd.


---
May 8th
I'm going to bite the bullet tomorrow and head to the Doctors and get something, this bug is not going away, I think Mark has it too. Our heathy lifestyle and herbal stuff is not cutting it- I want it gone so gotta get the drugs! Call and book with the doctor, they make a spot for me God bless 'em.

Loads of emails today- we are drowning in them so people will have to be patient for replies.

Happy Birthday Bec too- wow 40! You made it!


---
May 9th
Cook for a big part of the day, where a breathing mask so I don't contaminate everything. Make Bec her own birthday cake..it's a work of art......well to my drugged eyes it is.

Doctors was good and puts me on some very strong Doxycycline tablets and he's fairly positive I caught this on the plane back from the Enz tour. I've had it for that long, it's in my lungs (yieks). The drugs DO make me totally trippy, off my face by the time our guests arrive for the dinner.

Nice to see anyone, I am letting various comments rip, no idea why my brain doesn't connect with my mouth. I'm sure everyone will know it's just me off my tree on Doxy.... if not they really are not my friends, so couldn't be bothered over mini drama bullshit. I think it went well- I honestly can't remember. Indian was nice, I thought my Lentil soup was crap though, it should of been soaked for longer.

Nic and Bec stay the night but I've been told to spend the weekend in bed so I won't really see anyone in the morning.

However when I am walking the recycle out I do see some Gang Gang Cockatoo's. a lot of them- they only live in a very small area of Victoria...and they are amazing, almost owl like. The male is grey and a full scarlet face and they make this creepy 'rusty hinge' type of noise. Just stunning birds though- made my day.


---
May 10th
I spend the day in bed, the drugs are working, sleep on and off- my body needs this.

I do drag my carcass up to see the new Henry Rollins Spoken Word show and it's excellent. Loved Henrys description of him on the Russian train- something for us to look forward to (:


---
May 11th
Happy Mothers day Mum

and yeah my birthday too. Banshee is the first to give me a present, when I wake up she climbs up on the window with a dead mouse. We see so few here it throws me...she smiles at me and it falls out of her mouth! 'Hey dad here is your present, am I good or what' sort of look.

This year just so many cards and emails and the best -presents, somehow people got me things that I really love- so thank you everyone, it was a bit trippy but had a great day.

Take care

PG

---
If there are any problems with this site, please contact webmaster@aswas.com.