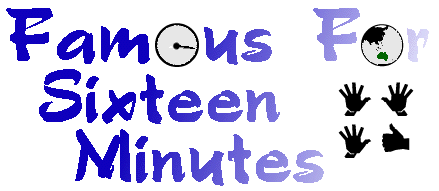 The Life and Times of Peter Green
Archive: 29 September - 26 October 2008
---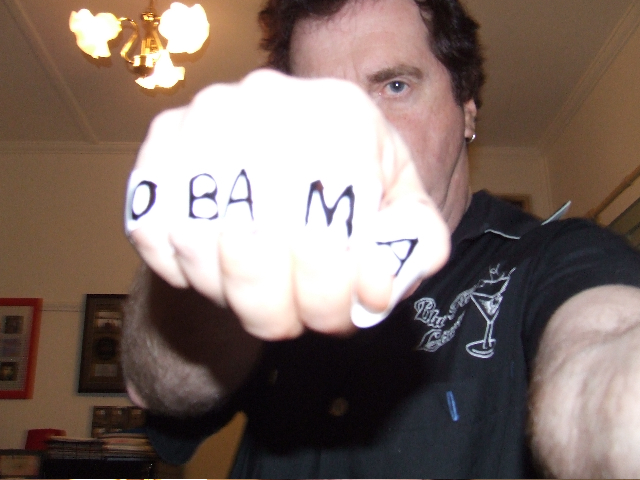 Boxing for Obama... just days to go!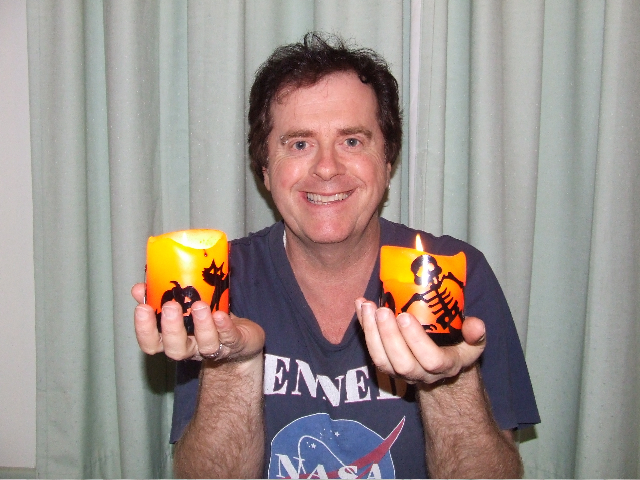 Happy Samhain-Hallowe'en to all of you!
---
September 29th
We sleep in (a bit) today, Cathi's getting herself to the airport while I go and get my back worked over. We still have some time for breakfast at Ripe which is fairly quiet today. Drop her off at Ferntree Gully Station and do the drive to Dr Chiro.

A few hours later and finally my spine is feeling fine. Well much better. See it's all that time answering emails, you guys are killing me.

Greg Skyhook and Bianca turn up. Have to say she makes a fine chocolate cake, a certain Skyhook having four slices (yeah we counted), always nice when people bring food. He heads to the office and signs the Skyhooks 1975 stage speaker. One has the band logo on it, the other it's peeled off so I thought it would look cool with all their autographs on it in silver. Great if we do another exhibit.

He loves his Rolling Stones nesting doll from Russia. Asks me about the live music for VEGA so I suggest the Hooks Palais farewell recording.


---
September 30th
I decide to email George Brandis, a Liberal senator that support reforms to eliminate discrimination against same sex couples, unlike that fucker Stuart Robert- piss off back to Bundaberg you homophobe. (Grrrrrrr) George on the other hand seems like a good person, the ying and yang of the Liberal party.

Watch The Who doco special movie thing... not sure what you'd call it but it's really good, great footage, wonderful historical document of a cool band. I keep wanting to call the 'Early Years' Diary book 'Teenage Wasteland'. Love that song and the title...who knows, Pete might let me borrow it! But it's two word..so far all the diary books have been one word, and each starts with a different letterof the Alphabet. B - Bang, H-Hussy, G-Glamour, T-Trip....

Frenz Com's Auction is happening soon (from November 1st). It runs for a week. Info available at this link. They do so much for our bands it is a really good thing to support. The Auction information page is located at: http://www.frenz.com/auction.shtml So check it out!


---
October 1st
Happy Birthday Jayne. For once I am not a slacker and actually remember to Email some birthday wishes. I am truly hopeless around birthdays.

The Australian share market clawed back two thirds of it's recent losses, but you know it's far from over, some serious times are coming up, you can smell the fear. I think in part it is that fear that slows the whole world down, and feeds recessions and all that bad stuff. I guess the good side for Australia anyway is that the housing market will improve again with banks dropping their rates on mortgages.

We are heading home for Christmas again this year, just the fact that I'm thinking of Christmas means it isn't too far away. Think for the first time we might have the Christmas eve party at Mums house, she'll probably hate that idea! Sis will take control *grin*


---
October 2nd
I have to rush out an update, Rosemaree's does a fast about face typed PDF for me which is perfect and I head to office works at Mountain Gate for some copying. There is not a single person at the copying area except some hairy chunky guy who is doing absolutely nothing. He says they are all booked out- yet not a single machine is making a noise. He obviously loves his job (NOT). I am over these big copy and stationery stores so I head down the road to this little old lady who is in one of those family businesses and give her our money. It takes an hour so time for a coffee and do the banking, pay some bills. Rather relaxing. I hope office works keeps losing our business as it means I can chill out. Crowded House live is playing in the coffee place, think it's a radio station, feels strange, is it the opera house show? Radio station is VEGA me thinks.

I mail off the cheque to Lone Wolf Media for the TRIP layout, which is now complete, and all the artworks and 'bits' will go off to Hong Kong next week. Takes about 9 weeks so if all goes well before Christmas book #4 in the series will arrive. Could make a fun Christmas present (well Dec 22nd arrival here). Only have a handful of spots left for the diary book with bonus RATED PG dvd, so need to remind everyone if they want the free dvd they need to pre order asap or they will miss out. Such a good bonus, I am honoured Marky- you did a great job. See you can polish a turd (like me) ! xoxoxoxo

Home to find Phil Judds LOVE IS A MORON cd, just waiting to be played. It's in a special one off limited edition cover, if there is one it must be VERY limited! Love the cover, hope he is using the image somewhere on the packaging, just excellent. I like this album more then Novelty Act. I liked Novelty Act a lot but something about the songs on this beauty, hope it does well for him, some people will be surprised. Think more women will like this one to the previous- possibly because it doesn't have chunky Phil in those stained long johns *GRIN* Yieks. This one has different art images and no PJ photos...unless that's him in the wrestling mask on the back? Anyway give it a chance it's money well spent.


---
October 3rd
Wow US bail out plan is $700 billion ($900 billion AUD) is that all. I hope it helps that is an awful lot of money. It could just end up being another George Bush mistake, i'll be glad when his Reign Of ERROR is over.

I start planting some more tomatoes today, the vegetable patch is calling out to grow some fresh fodder so in went a few more. I was digging around in my seed vault and found a few other things so they are in as well and no idea if they will grow. It can't hurt and I'll be wonderfully surprised by what pops up out of the soil.


---
October 4th
Sitting at The Verandah with Nelly and Nick and Miss Rosie and we watch this dog decide it wants to sit in the middle of the tourist road. It was so going to get run over, poor silly mutt.So Nick to the rescue and I call the owners name off the dog tag, he is a smelly dog (phew) at least he didn't end up on the front of someone's car. Every day we see the odd stray dog just walking about, they just go exploring I guess and get up to doggy trouble.

It's that time of year where we start on wheat-grass juice again, urgh! What a kick. But it does the job all powered up, ready to rock.

We've had P.O. Box 50 Kalorama for three years now, which means next month we have spent three years living on top of this mountain. Our friends ask us each year if we would ever change our mind, and I have to say the answer is NO. It just rolls out of our mouths so quickly.

Three years is probably long enough to work out if you genuinely love the place where you live. Apart from the beauty there is a calmness up here, maybe it's all the trees or that rich earthy smell (no not from the loo). Not sure but if I could bottle it, there would be less anger in the world. (Hmm bottled "Kalorama Kalm" via the F/16 merchandise area?). Are we hear forever?????, you can never answer that, but I think it will be for many many many years. But YES Forever!


---
October 5th
Daylight savings today ,so the clocks move 1 hour ahead. No wonder the chickens have stopped laying!

Nice day so work around the yard, I avoid the office totally, which is fantastic, see I CAN do it. I think Mark kept away from entering our work area too- how odd.

I decide to support Melbourne and watch the grand final and it's a shocker, the Sydney team Manly just kicked Melbourne's butt. Growing up I was a Manly supporter, my dad coached Bobby Fulton who captained Australia a few times (he was one of Manlys icon players). Seems like a million years away, music stole me away and really I never put up a fight.


---
October 6th
I can not believe Ailsa Craig is covered in fog again, ok who stole Spring. So strange, and so cold. we all sleep in as a protest.

Crowded House start climbing up the Australian charts with RECURRING DREAM for the umpteenth time, it's #19 on the ARIA Australian artist top 40 chart. We keep wondering who buys these, with so many copies sold here I often wonder that. These days a debut album can sell about 5000 units to go top 10........ in comparison Recurring Dream has sold 850,000 in Australia alone.... insane really. I guess in about 5 years it might hit the million mark in Oz. So one in 20 people would own it? Wow.


---
October 7th
I spend part of the day keeping the Crowdies warm up show information off the Net, will have to be heavy around this or scalpers will have a field day. They probably will anyway as it's easy to sign up for Frontiers pre sale. I'd like to think our loyal fan base would be above scalping. It's so nice to have some small shows and brilliant that Tasmania will be included. So few bands make the effort to play Tassie.

Good to see Sarah Palin is helping the US employment situation by keeping so many late night comics in business. See everything really does have an upside, even skanky would be politicians.

Australian share market has a small turn around today, guess it all helps and the 1% interest rate cut will help some home buyers. Finally some green on the market in a sea of red.


---
October 8th
God the world markets take a beating, Japan down by 10%! That is huge. I'm going to keep it as life as usual, otherwise it gets depressing. Plus the panic factor will not help things. It is amazing how fast the world economy can be brought to it's knees. Australia back to a sea of red.

11 weeks till Christmas.


---
October 9th
Heroes season 3 makes a return to Aussie TV's tonight, it's meant to be more like season one, to be honest I didn't mind season two, it really wasn't that bad.

Off to Dr Chiro for my weekly snap crackle and pop of limbs.

Run through loads of pre sale stuff with Frontier which is good, Mary is so onto it all, known her all my working musical life. I wonder if i'm out on the road for these shows.


---
October 10th
Nick and Nicolas baby was due around today, as Sharon pointed out, most first borns are late...but my Mark was an exception to the rule he was a week or two early....which is strange he likes a good sleep in you'd think he wouldn't want out of his comfy womb bed?

Frontier release the Tasmania newspaper adverts today, grab a jpeg and send to Iarla for the site. I like those sort of images floating about.

Clean up the little things in the office, the work white board, have the next 6 months mapped out,as best as we can. I can now look up and see what's approaching.


---
October 11th
Had an idea to work on 6 diary books all at once. Am I totally deranged?, one is hard enough. I start on this idea but honestly not sure if it will happen. 25 days to the US election, be glad when it's finally over.

Abortion is never an easy issue but Victorian state parliament gave women the right to choose a and free from threat of criminal prosecution and it was all done with a conscious vote. I know it's never an easy topic but there is something hypocritical about anti abortionist who threaten to kill people for voting against their wishes. I'm glad it was passed, and I'm sure every politician would of given it major thought, quite like how our parliament has had several conscious votes, seems more real and people don't have to toe the party line.

The Angels doco is on SBS tonight. They were one of our favourite bands, and one of our favourite people Brent Eccles (our Crowdies NZ promoter) was once one of their drummers. After watching it and see how negative Buzz the drummer was I'm sure they'll be calling Brent any day! He'd be insane to get back into that crazy environment. The Angels makes Tour Promotion look like a picnic in the park. I have to try and get a copy for Helen and Brent just hysterical and I still can't believe they let the camera on the wall type stuff get shown... but hey that's what makes it good tv? We thought Rick Brewster was very cool though.


---
October 12th
Wally Wilkinson from the original Enz lineup calls by with his wife Di (and their cute doggy). I call RIPE and they hold a table for us.

So there's Wally having some lunch signing the Mental Notes covers, the staff are all a buzz that an Enz person is at the table, kind of funny. They slide past and just watch him signing. It's nice to see these two as we get along really well.

Bec comes up later on and we sit out back on the decking and chat.

Late afternoon I decide to make home made pizza's with my super thin crust recipe, they turn out really well, and very healthy, so little sugar and fatty dough. Pretty easy to make really, and I just make sure I use organic flour. Bec takes the secret recipe home.


---
October 13th
We watched Alien V's Predator on Blu ray which was cool. Raol Bova is in it, he is a bit of a spunk eh ladies? But a bit average in the acting department. Alien eye-candy?

Tim emails me and he has some show case gigs in Australia soon to promote The Conversation solo cd. Oct 30th-The Polo Lounge at darlinghurst, Nov 3rd-The Troubadour in Brisbane and Nov 5th-The GershwinRoom at The Espy in Melbourne. By the time you get this tickets should be on sale. The Sydney show will go fast as it's a small venue. I'm glad he's playing Brisbane though as it gets left off the list with showcases a few times- so nice to see. The first single 'out of this world' is great.

By late afternoon I'm in a weird head space, over 'it' whatever 'it' is, the blues have arrived..oh well, I'll deal with it.


---
October 14th
We saw an article where it said 400,000 Blu ray players have sold in Australia, they forgot to mention that over 380,000 were Play Stations, so really only 20,000 machines have sold here. Blu Ray is only 1% of the Aussie dvd market, it's 5% in America and 1% in the UK. You'd think with them now having market control (no HD) it would be more...bring back HD! Ok that will never happen.

I finish the VIP emails at 9.11 tonight, I am in need of sleep.


---
October 15th
Booked my hire car for NZ and hertz NZ don't have GPS's that you can rent, a bit lame considering navman was created in NZ. I decide to use a road map like the good old days.

It's great to see the Aussie PM spending loads of $ on pensioners, carers, first home owner grants and other economic stimulai, far better then wasting it on invasion plans of countries, it's nice to see Australia looking after it's older citizens a bit more.

Oh the US is in Recession, why are people so surprised when this is said, oh I see it's the 'R' word, it's not that shameful.


---
October 16th
Excellent Spring day and it starts well- Nick and Nichola now have a baby girl, so happy for them. Nick emails me some snaps, way too cute guys!

CH pre sales are on today, people panic-ing and only a few getting it wrong. I am trying to be so patient today, I walk a few people through the steps, it's so easy. I figure if I can do this anyone can. I'm hoping this stops some of the moaning, it was all a bit lame really. If people have patience and just an ounce of faith they tend to be looked after. So stoked Tassie is included in these warm up shows. It's not a tour as such, but nice that it's not just one warm up.

I send the parcel, cheque, discs to the new printers... so TRIP is out of my hands and off to be printed. Takes about 9 weeks once they have it so late December as expected.

Mark has been working so hard, so I sneak upstairs and make some chocolate mousse for him, add some alcohol to it so it has a subtle orange flavour. Tastes pretty damn fine.


---
October 17th
Wow PM Rudd hits 71% in the polls, that's a high number, a good sign I guess, if you pay attention to polls.

That very average Oasis CD has had mixed reactions, #1 in the UK which is expected, it ships 200,000 their, but elsewhere it's not massive, debuts at #5 in Australia and ships 4946 copies. It won't be in the top ten here next week (it's really dropped to #32!!!). I gave it yet another listen, but in the end I've recycled my copy and passed it on to someone else. Some turds can't be polished.

Watch FUR (2006) with Nicole Kidman. Now we tend to think of Nicole as a runaway train of bad acting, the only exception is TO DIE FOR (1995) which she was brilliant in. I'm happy to report lightening can strike twice, and FUR is fantastic. She plays the part of Diane Arbus the revered photographer...it's really a good movie and of course ..it did nothing. Why do the average movies always do well and anything good dies a fast death. Anyway FUR is great, and thanks Marky for saving this treat...and nice to see Nicole can do it!


---
October 18th
Put my washing in the machine, head off to the Verandah and write down a few interview questions for Neil Finn..I'm a bit blank today... may just wing the interview, I am better that way.

God Obama is drawing the numbers at rallies. 100,000 at St Louis and 75,000 in Kansas. I had a dream last night that he won Florida and skinny things in G-strings were wearing Obama tees... must stop having green tea before bed.


---
October 19th
The ARIAs are on tonight, but before that our PM is having a forum on TV, to discuss the current state of the world.... it';s kind of reassuring and have to say probably calmed a few hysterical people.

The ARIA awards...The Living End started it, with what would of been a powerful performance if the TV live sound wasn't so horrid- it sucked. Sam Sparrow made a tool of himself by tripping over his weird cape on the drum riser, but he just continued on... I'm not sure he's a bit of a dag in the bad way not a good way. John Butler with short dreads, he was as cool as ever... JB one fine guy rather good looking with short dreadlocks.. Now PINK! She exploded, she paced the stage every square mm, her legs look a bit chunky but she sang her heart out and crowd went off. She loves being here and we love her. Melbourne girl Gabrielle Cilmi won most of the awards, hated that pseudo voice shit, Dandenong people shouldn't try for an accent change...she was a bit of a nob but hell she is only 17 so good on her. It was about 6/10 for the awards.... at least a few aussie albums will re enter the charts.

'So What' by Pink will probably climb back to #1 from it's current #2 spot here.It made #1 in the US so Pinky must be one happy girl. I think Phil Judd should do a duo with Pink and some music too! *grin*


---
October 20th
Bring the tour suitcase down from the lock up, taking it to New Zealand as the tripod has to go in it. Mark always says I take too much luggage, but he doesn't understand that most of the bag space is filled with 'stuff' not clothes.

I hear from Neil and pencil in his interview time, it will be good to see Shazza again too.

Recurring Dream is still on the Oz charts, it just won't go away, it's almost in the National Top 50 (#54)....#13 on the Australian artists chart. Eventually we will hit 13 platinum here, which is 910,000 copies.

Send in a few snaps for the two Split Enz sheet music books, I know Eddie has found a few bits and pieces too, a few snaps I've never seen before, yet another shot of Neil in his Elroy Jetson style space shorts.


---
October 21st
I semi pack my bag, it will be one of those last minute things. I'm off to get my hair cut and new dye job today...Migelle is away so the girls look after me. Mark wanders around Mountain gate while I get it done, so few people I like it when the place is empty.

We head off to the baby shop and buy some blankets and other baby stuff for the Seymour kid, found a really nice merino one, so snug I think I want to have it (ok it's a bit small). I like getting good quality baby stuff.

A light rain falls on Kalorama when we get home so I rush outside and wash my car in it, doing my bit to save water.

Bic emails and is back in NZ and offers for me to stay with them which is so sweet.


---
October 22nd
I wake up before Banshee the cat and decide to stay awake. I am forever yawning, Banshee looks at me with suspicion. She's fed and outside, she's knows I'm escaping for a few days.

I am at the airport and checking my Emails, well briefly at the freaky flyer. The Melbourne crowdies show sells out in 45 seconds, the 2nd straight on sale and that goes too. Each time I come here Melbourne airport seems to grow, another dozen arrival ramps for new planes, they are expecting a lot of tourists. Must be that cheap Aussie dollar.

We roll past the new Qantas 380, it's first super jumbo, they are buying 12, she is a lovely looking plane.

The flight over is good, new comfy seats decide to watch Indianna Jones movie again (the skull one) it's still horrid which is depressing as the other ones are so cool.

I study the road map from my friends at Hertz and work out where Eddie from the Enz is in location to the airport, so I head off. Arrive exactly on time, which is freaky when you think I've just walked off an international flight, Ed's impressed. He's in the studio out back so hang out in their for awhile, have a chat and laugh. He settles on the couch and signs the first batch of Mental Notes, the 2nd big batch isn't till February, this first one already sold out and going to good homes. Once we get batch two done we will never ever have fully signed Mental Notes cds available via us. The main goal is for this baby to reach gold. Seven signatures is a lot of effort and timing. Great to see Maree again too. Wave goodbye to them and head to the hotel.

I've checked in to the Auckland City Hotel, purely for it's location and it was via the Qantas website so thought I might as well earn some frequent flyer points. It's so odd to use a paper map again, I perversely enjoy it and I'm not too bad at navigating. The hotel is on a one way street (Hobson) so if I blow it's back around the block I go.

I have one of their studio rooms and the bed is really comfortable and it's very very quiet.

It's getting late so I go for a walk to find food, not sure if I've never noticed them before but Auckland seems to have a huge number of street kids and for the first time it looked really grotty. I know NZ is in recession but it was a bit daunting, and for a moment it felt not very safe. I walk fast so it's hard for any would be attackers to mug me. I have a kitchen so I buy some bread, cheese etc as well as it's nice to have that handy, Sleep ok apart from one door slamming it's a very peaceful hotel.


---
October 23rd
The NZ election must be on soon as there are quite a lot of Vote for Me signs up. It's so subtle compared to the upcoming US one. I am on the 8th floor and a fine drizzle of rain is falling, which is nice. I almost sleep in but with NZ being 2 hours ahead I don't. I'm off to Tim and Marie Finns, over the Auckland Harbour bridge to the north. I arrive 15 minutes early so sit in my car down the road and watch the white haired grandmas walking about. Marie tells me they play croquet down the road. I say that Tim's groupies are just older these days*grin*.

Tim is in fine form, chat for what seems like ages. I set up the camera and film the interview in HD. You can see some of the painting from the Finn Brothers 'Angels Heap' cd cover is in the background. Apart from the interview we run through a track by track chat as well. He also gives me a surprise item for the fans which I'm not saying at this stage....it's cool and very cute. He happily signs the numerous Mental Notes covers, and Jos's, Enz 8x10 which is a gift. Seems like I have been here for half the day and remember I am catching up with Neil & Sharon at 4.00, so I['d better zoom.

I take the short cut back to the city, saves me 10 minutes, my stomach starts to rumble, I've forgotten to have breakfast and lunch (opps).

I rarely ever get lost in Auckland but took a wrong turn and end up on the freeway going south, in a traffic jam. 20 minutes later I escape what seemed endless and head to Roundhead Studios. I'm early but don't want to leave all the camera gear in the car, I've snagged one of Brent Eccles car spots- I know he wouldn't mind.

Someone lets me into the studio, Miss J is away so no idea who it was they said I could sit on the couch (wow lucky me). I decide to go eat, walk past the main office and spot Sharon inside so head in. So good to see her and I cancel my food walk about to talk. She shows me some footage from her gallery show launch and it's really cool- a few pieces I just love and if I wasn't being good to my Amex card I'd love them for the house. You can tell how much time she has put into these lovely creations.

I go off on a bit of a grand tour of the new digs. Sitting in the main room and my wonderful 'boss' comes in with food and flowers. I thank him for the flowers knowing they are not for me, Dawny chuckles. Neil looks great, a new calm surrounds him, just good to sit and chat. He knows I haven't eaten so makes me some food and some tea- and that's one of the reasons why I dig these guys- always feel so part of it all. They have such big hearts.

Set up for the interview, it's raining outside so I'm sure the mike picked some of that up plus the drums being tested down stairs. The blood red drapes are behind him and we roll. It's a funny interview, nothing to do with Neil's answers or anything just the time - in between Crowdies albums, Seven World II, Crowdies warm up shows and what sounds like months of songwriting. But it's good really good, and I appreciate his generosity of doing this, a few times he makes me laugh (well inside , otherwise i'd be on it chuckling endlessly and Mark would be editing me out forever).

Sit for awhile afterwards and just talk, says I'm on the aussie 'tour' well the dates it's not really a tour so I'm stoked with that. They say goodbye and I feel like I'm running away from home! I go for a short walk and say a quick hello to Brent & Helen (and to thank them for the car park), never see them enough so even if it's a hello it's fun. I've probably interrupted their office but I just had to drop in for a moment. I miss Jackie at publishing, but I'm sure our paths will cross as they always do.

I take some sneaky side streets back to the hotel and get the turn right so I end up in the parking garage. Off for some food, late dinner. Try Bic and realize I have the old number, which was dumb of me. So settle in for some reading and TV. Call Marky, miss seeing him every day and that crazy cat of ours. Home soon buddy.


---
October 24th
Mike Chunn's driver (Jenny) calls and he is dropped off at the hotel, he's looking good, I thought he'd be hung over from the award night last night. He signs his name on all those Mental Notes covers- 'you're a good man Peter Green' he always says (I always feel it;s like it's 'you're a good man charlie brown' from Charles Shulz cartoon series)!!! So one to go- Emlyn.

I check out of the hotel and have a few hours to kill so head to Real Groovy on Queen street. I buy Mark the last Mick Jagger album on vinyl (2 LP set) for a mere $9.95 NZ!!!! Also find one Enz LP that I probably didn't need so buy that for the archives or a gift! Not much else that I wanted, but as always I found something.

I drive to Emlyn's suburb and go a few more kms to Orvieto for some lunch and coffee. I have forgotten that Auckland latte's come in those massive drinking bowls- so I have my caffeine fix for the next decade! I head up the road further to 3 Kings Park and lie on the benches and look at the trees and sky. I am relaxing, what a novelty. I make the drive to Emlyn Crowthers, I'm 30 minutes early and I know he is driving home from doing the sound at a gig last night, so he';s on tour. Thankfully he got back early and is home.

Good to see Crowth. His 20 year old cat comes up for me to scratch behind the ears, she is sweet and purrs and doesn't bite me like Banshee. He puts his last signature on the Mental Notes covers, plus Crowth was the one signature missing off my vinyl Mental Notes so he adds that. Take some snaps and have a chat... like with all the guys we talk about ' Mental Notes being played live". I still haven't given up on this idea, really Phil & Tim are the key if this will ever happen. It can't be forced.

Em waves goodbye and I take off for the airport, and make it with loads of time to spare.I try and buy this special Homme cold pressed eye cream but none in Auckland, think Myer Melbourne sell it. It's perfect for interviews when you are being filmed.

I'm flying back business class which is a small treat and I'm glad I did, the flight was packed and it was nice to have be comfortable.

The guy next to me was cool too, just had a chat and enjoyed the flight. Melbourne customs and immigration were so quick, my bag came out first and they just sent me through.I grabbed 2 one litre bottles of Glayva with the last of my NZ travel money, so have restocked the bar (hic). One hour and ten minutes later I was home at Kalorama. Still pissed that Mark made his famous home made sausage rolls while I was away, only the crumbs remain. What a world wind few days.


---
October 25th
Up very early and start boxing the signed Mental Notes cds to go out.

Emails, 2000 awaited me so started on them, CDs will be my first priority though. I go to the verandah for some breakfast while Mark is still asleep, I'm on NZ time so up two hours early. Some of my US mates send me some figures on the upcoming election , I'm stoked Obama is doing so well and I pray nothing messes this up. I'm horrified at the amount of people who have talked about the election to me that keep saying 'do you think he will be assassinated". It just freaks me out, so it must be on peoples minds. God I hope not, he could be Americas one good hope.

My new Mastercard hasn't arrived yet so I haven't bought my Obama teeshirt, which is a shame as I wanted to wear it on election day. No idea why the band is taking so long to send me my replacement card.

They've swapped from Visa to Mastercard, they seem the same to me.


---
October 26th
I am awake early and finish my tax stuff for Carolyn my accountant, it is a bit easier with this one as we had the month away. She's cool always reminds me on time to have it ready.

I take a huge container of cd boxes and mail them at Kalorama post office in the morning. A lot of them contain the bonus dvd RATED PG from the TRIP diary book. TRIP is still late DEC but I thought the fans would love to have the bonus dvd now so I've sent a few out, hopefully they'll enjoy it! Next I head to the Verandah for a bite to eat with Wendy from Queensland and her twin sister. her Sis looks a lot like our ol' buddy Robin, so that threw me a bit. I talk way too much per usual. It's nice to sit and chat, nice girls both of them, very enjoyable way to spend a Sunday morning.

I'm back in the office all afternoon till midnight boxing and getting Mental Notes cds ready, the first 100 Rated PG dvds have already gone out too, so it will be a good time for some fans, all these bits and pieces arriving in the post.

That's it for now, a mammoth diary (thanks Deb). By the time you read the next one the US election would be over and lets hope the polls are right. Go Obama Go!

Take care everyone

PG

---
If there are any problems with this site, please contact webmaster@aswas.com.